Autumn leaves are really beautiful in late November in Tokyo.
There are many spots to enjoy beautiful autumn leaves in Tokyo and one of the best spots is Takasosan (Mt. Takao).
It has been certified as three Michelin-starred tourist spot by Michelin in France
My friend, her friend and I visited Takaosan this time.
Actually some of the leaves were still green but there were also leaves that changed its color into beautiful orange, yellow, red, crimson.
I think we took routes that pass through most of the popular spots in Takaosan.
Here is the routes we took.
Climb Up : Trail No.6 → Biwataki Falls Road → Trail No.2 → Trail No.1
Climb Down : Trail No.4 → Trail No.2 → Trail No.1
I show you the atmosphere of Takaosan with video and picture here.
Takao Station from Shinjuku or Tokyo Station
There are 2 stations if you visit Takaosan from central Tokyo.
They are Shinjuku and Tokyo station.
And there are 2 stations to arrive.
They are Takaosan Guchi station and Takao station.
If you visit from Shinjuku station, take Keio line.
It takes about 45 minutes and costs 360 yen (About $3 as of 2017) to Takaosan Guchi station.
No need to change trains if you use this Keio line but depends on the train you need to change trains at Kitano station.
Take notice, there are also local trains but it takes longer than 45 minutes.
I recommend you to take limited express or semi special express as they are faster.
If you visit from Tokyo station, take Chuo line.
It takes about 1 hour and costs 920 yen (About $8.2 as of 2017) to Takaosan station.
No need to change trains if you use this Chuo line but the station it gets is Takasosan station that not Kakaosan Guchi station.
You have to walk from Takao station for about 30 minutes to Takaosan or you can change trains there using Keio Takao line to Takaosan Guchi station.
This time we came together at Shinjuku station.
As Shinuku station is the first train station, we could sit whole way.
Takaosan (Mt. Takao) Guchi Station
We arrived at noon in Takaosan Guchi station.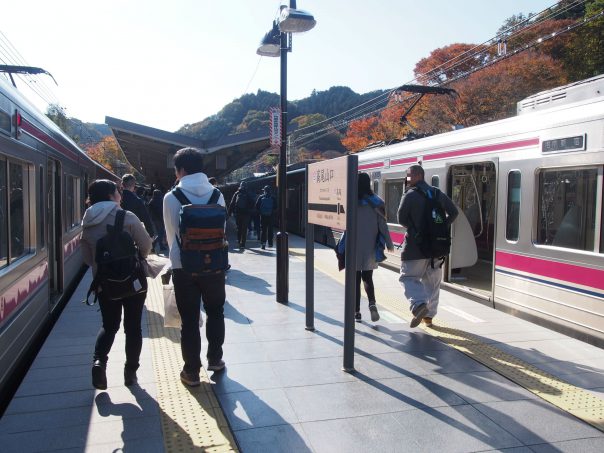 Wow, even from the station I could enjoy autumn leaves.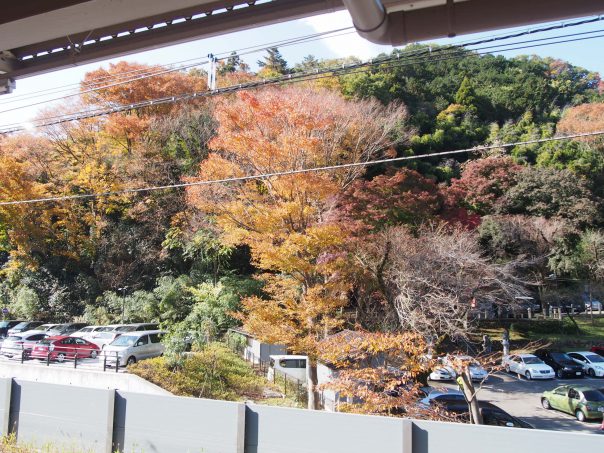 By the way, we have exact name for this phenomenon of leaves changing its color in autumn.
We call it Kouyou.
Kouyou is beautiful in Takaosan in this season.
Got out of the station and took a picture of Takaostation from outside.
Unique shape!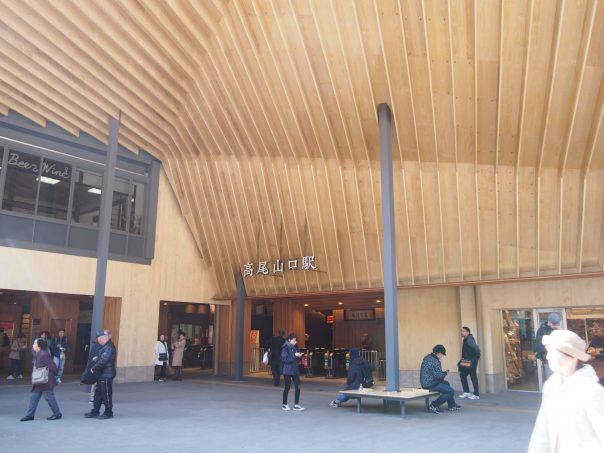 But I was wondering if the station was like this when I came here last time.
I became forgettable even more?
Just in case, I checked the station and found that it was renewed in 2015.
This station was designed by a famous Japanese architect Kengo Kuma.
He designed this Takao Guchi station under the concept of "unification of environment and architecture" and "breathing space".
To deliver charms of Takaosan, various traditional wooden frame works are also adopted to it.
Some leaves ahead of the station had changed its colors.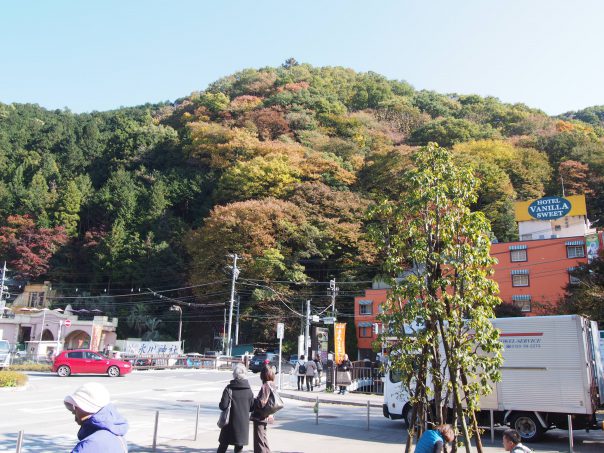 Let's get started now!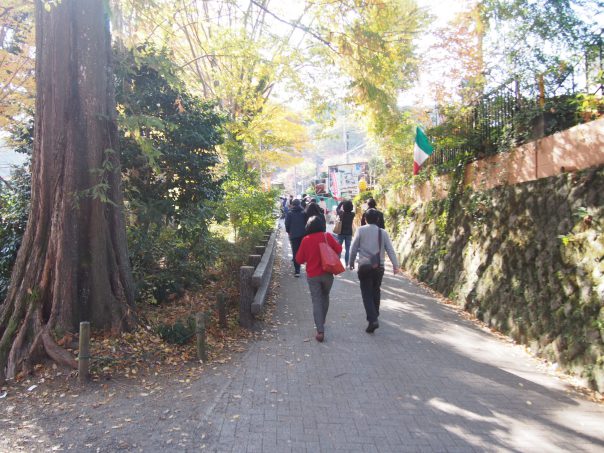 Trail No.6 (Forest and Water Trail)
This time we took Trail No.6 (Forest and Water Trail).
If you took the start point of Takaosan you just take the path on your left, that's Trail No.6.
The reason I took Trail No.6?
Because I wanted to see water fall!
First I met is Ojizo-sama.
They are guardian deities of children.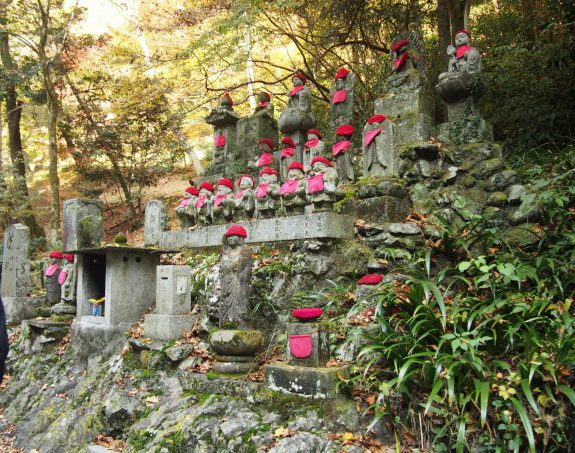 First I thought Takaosan is easy to trek but I have to admit that it was a bit harder than I imagined.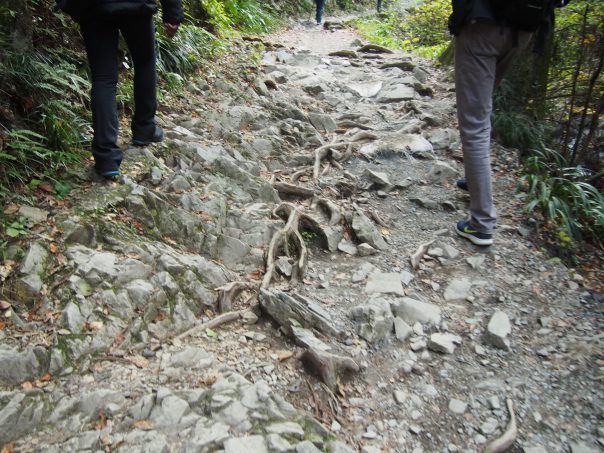 But I like this route in forest!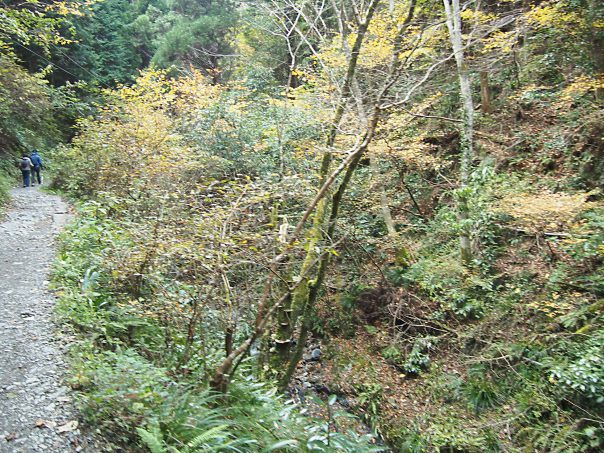 Iwaya Daishi
We could see lights on our right side.
The stone monument says "Iwaya Daishi".
Sorry it was completely out of focus.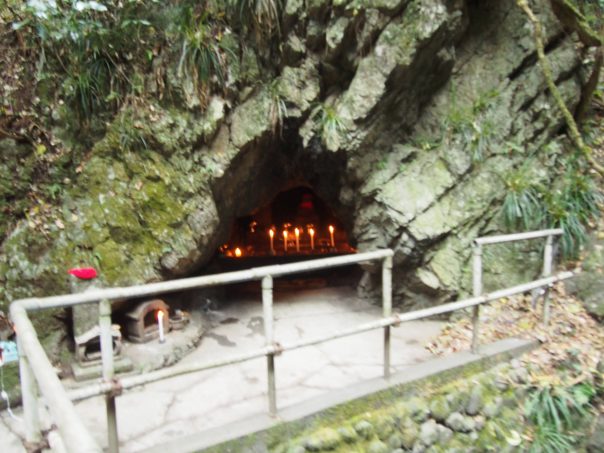 I couldn't know the details then but I could find later it was something related to Kobo Daishi.
Kobo Daishi is one of the famous Buddhist monks in the old days.
This place is one of the legends he made something miracle to help others.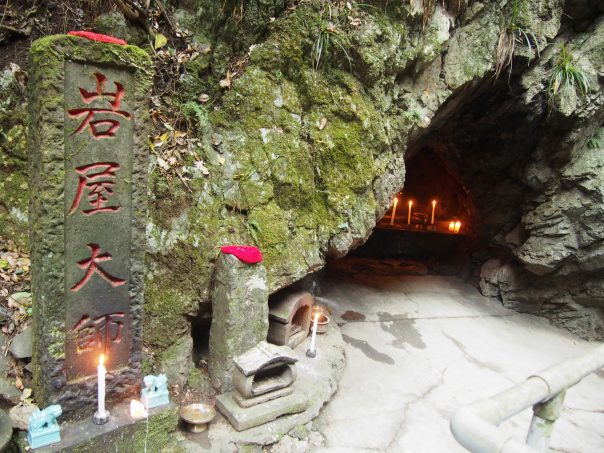 We stayed the main route a bit and went down to see river.
It was crystal clear water.
I checked the temperature of the water and it was cold but not that colder than I imagined.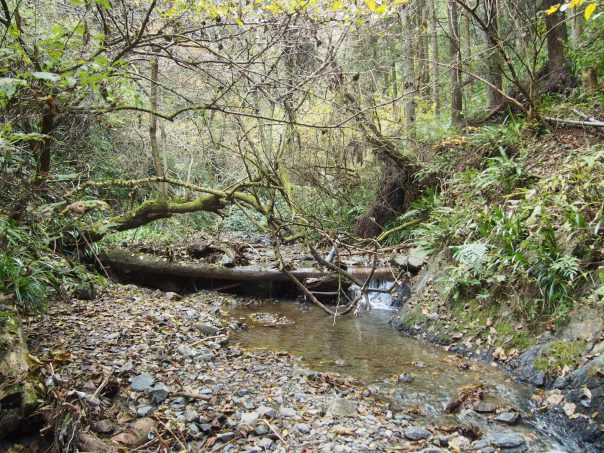 Biwataki Falls
Now I can see temple and waterfall!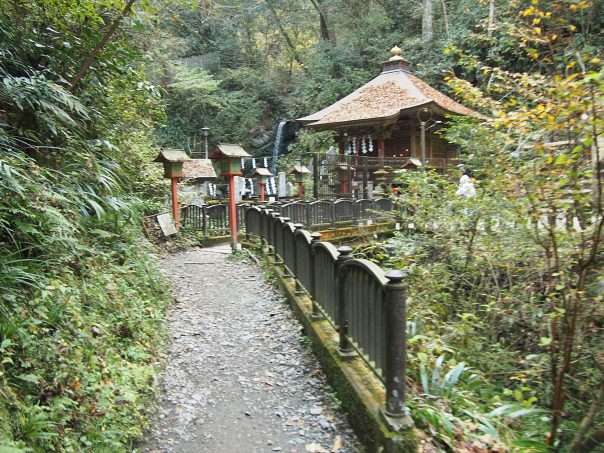 I see this is the place of Biwataki Falls!
Can you see the waterfall in the back?
Yes, I have to admit it was not like great waterfall like I imagined.
Anyway mission completed!
Looks like some trainee monks stand under the waterfall for practice.
Biwataki Falls Road and Trail No.2 (Forest of Mt.Takao)
Komorebi!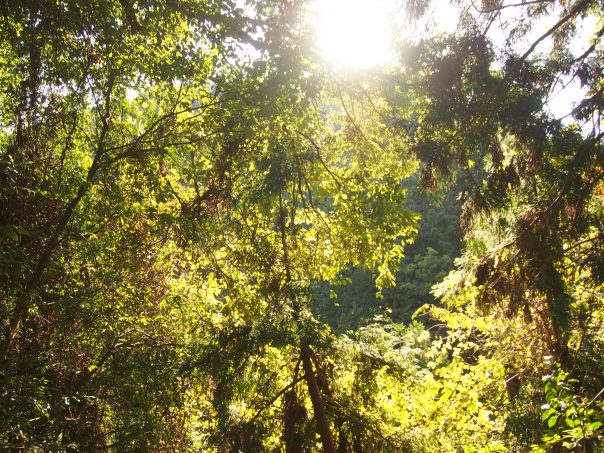 Komorebi is Japanese that means sunlight that filters through leaves.
Autumn Komorebi is beautiful!
Now we changed the course into Biwataki Falls Road which leads to most popular main road Trail No.1.
Wow, I like this path, too!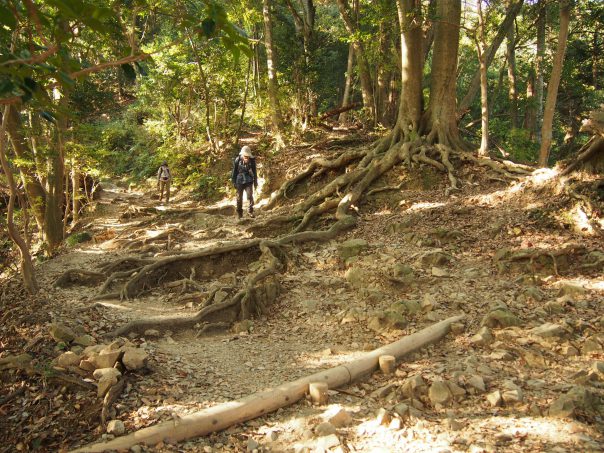 Found acorn!
Favorite of squirrel!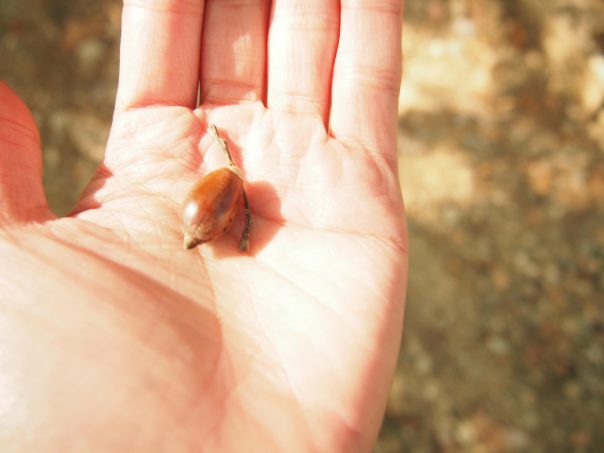 Oh my!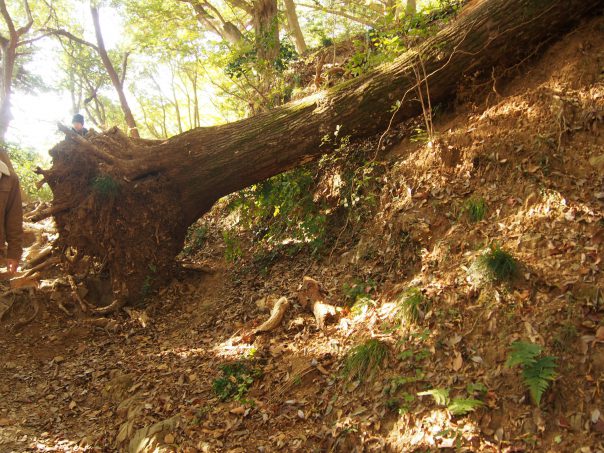 Trail No.1 (Nature and History of Mt.Takao)
Here we are!
Many people on this road!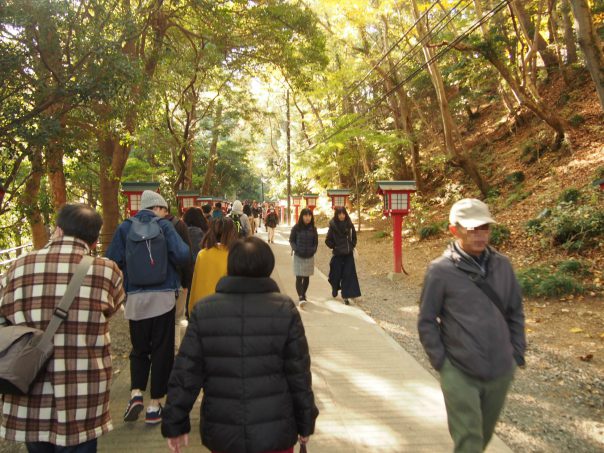 Yes, this is the most popular course Trail No.1.
Looks like we've already passed through Trail No.2 (Forest of Mt.Takao), too.
Otoko Zaka
Soon we came across long stone steps.
This is called Otokozaka and it has 108 steps.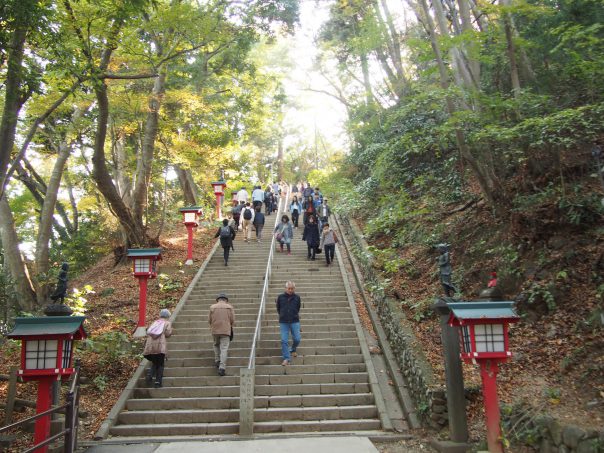 It is said that we humans have 108 worldly desires and looks like we can get rid of the desires at every steps while we go up this stone steps.
Oh, I didn't know that and did double steps I think, then I still have 54 worldly desires.
That's why!
Kunuke Gate and Sango Path
What's that?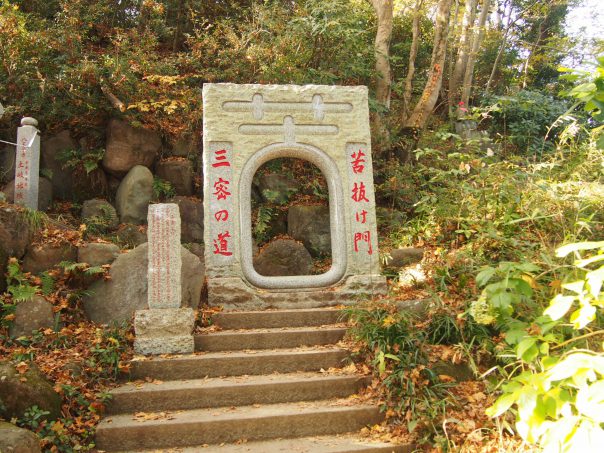 We could see stone gate on the right.
Let me see, yes, let's pass trough the gate although I don't know the meaning!
Later I checked the gate and found that it was also related to Buddhism.
In the world of Buddhism, phenomena of life is consists of body, mouth and heart.
They are called Sango and it is said that that's the source of worldly desires of human.
This gate is called Kunuke Mon.
Ku means pain and suffering.
Mon means gate.
So it looks like you can be freed from pain and suffering if you go under the gate and pass through this Sango Path ahead.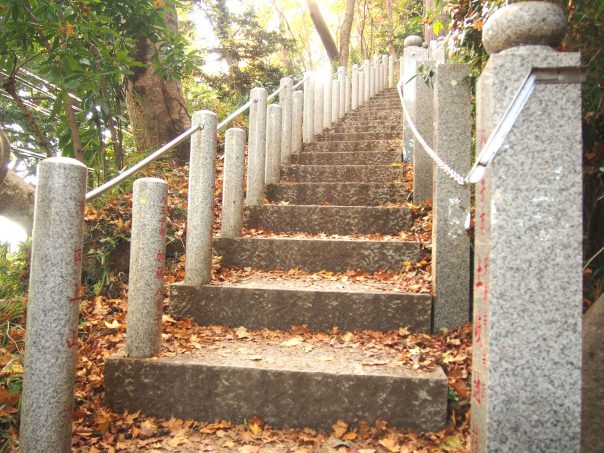 When we got to the top of the stairs, I looked up!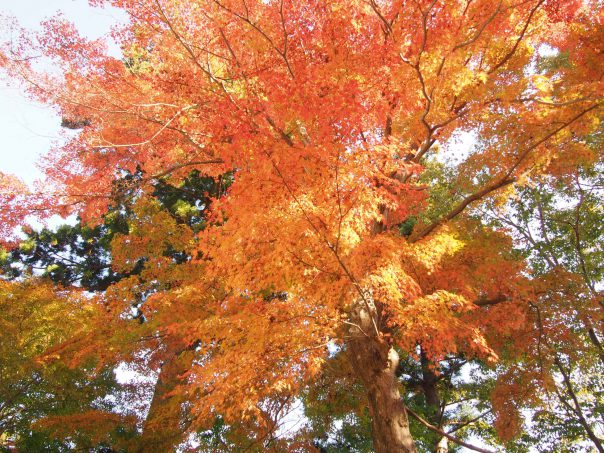 Wow, so beautiful!
Beautiful autumn leaves!
There was also Relics Stupa although I forgot to take a picture of it.
Mixed with green, yellow, orange, red colors.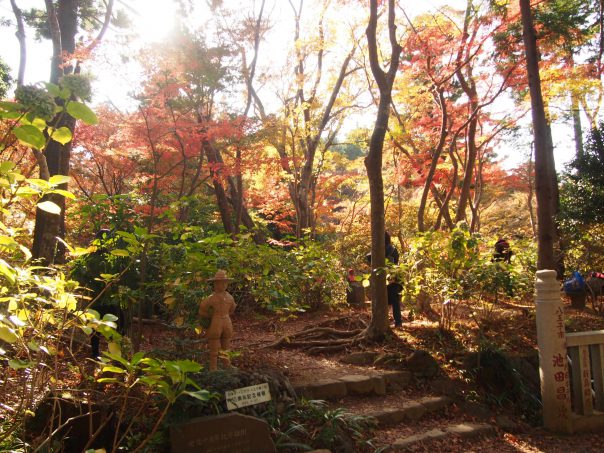 Gongen Chaya
We got back to the main road of Trail No.1 and found Gongen Chaya.
This is popular rice dumpling shop in Takaosan.
Looks good!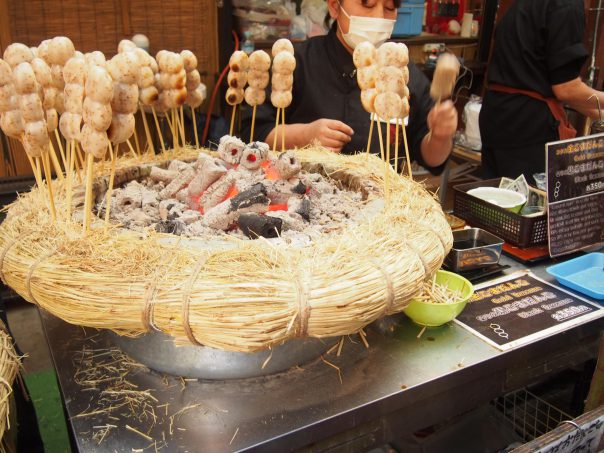 350 yen (About $3) for each, must be quality rice dumpling.
There were Gold and black sesame flavors and we shared Gold sesami rice dumpling.
It was unique taste but tasted good!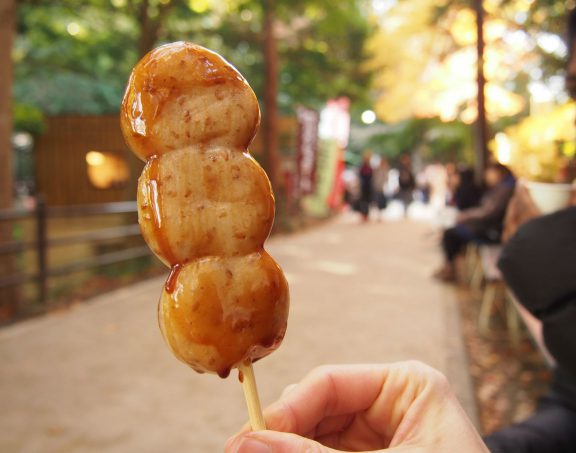 The bottom edge of the stick of this rice dumpling cut when the stuff give it to the customers.
The reason is to cut off suffering and death.
This stick is called "Kushi" in Japanese.
"Ku" means "suffering" and "Shi" means "death" in Japanese.
That's why!
We could also get Japanese tea for free there!
Keep walking along the street!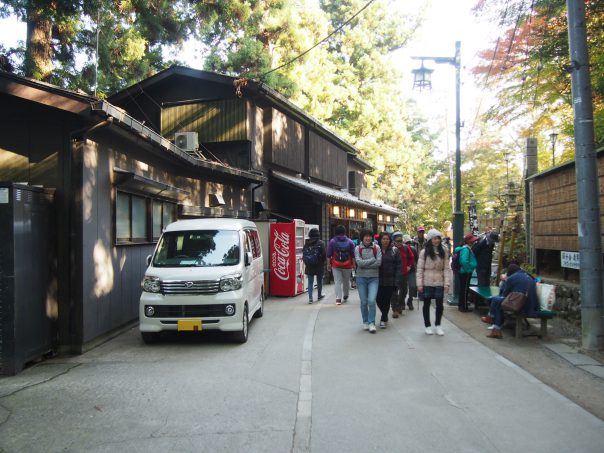 Temple and Tengu
Souvenir shop!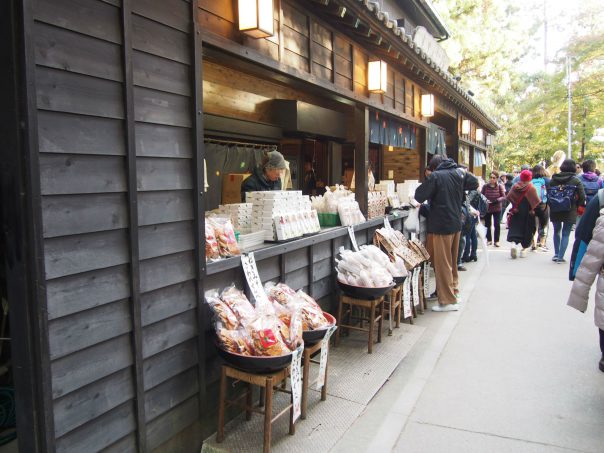 Got to temple gate!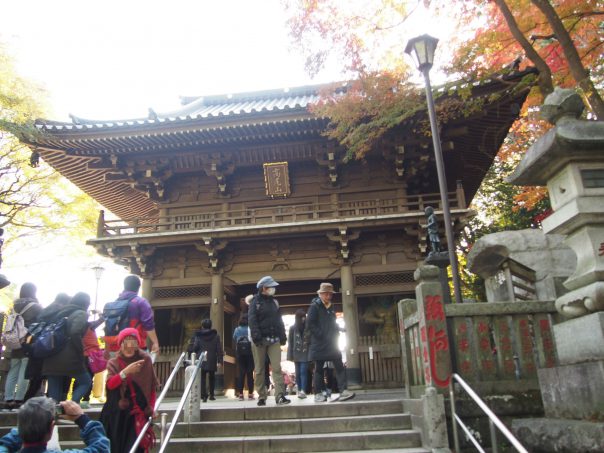 Found beautiful red autumn leaves and stones!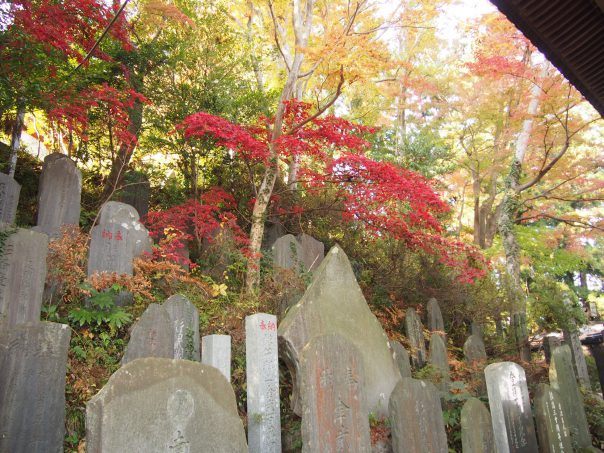 People were passing through a stone gate.
Must be something related to getting rid of worldly desires.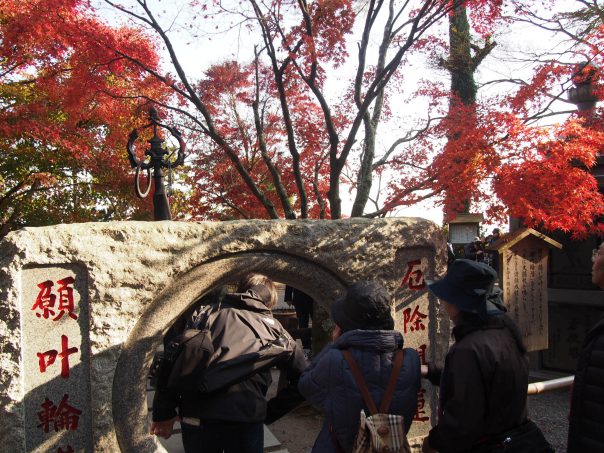 Tengu!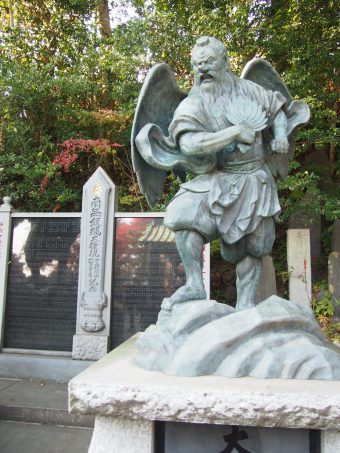 Tengu is, well, not ghost but a kind of Yokai.
It is a bit difficult to explain Yokai and becomes long sentence so if you are interested in here is the link all about Yokai.
What does Yokai mean?
Anyway Yokai has a supernatural power and its very origin looks like India.
There is a story once Tengu lived in Takaosan and many folklore, too.
Beautiful, isn't it!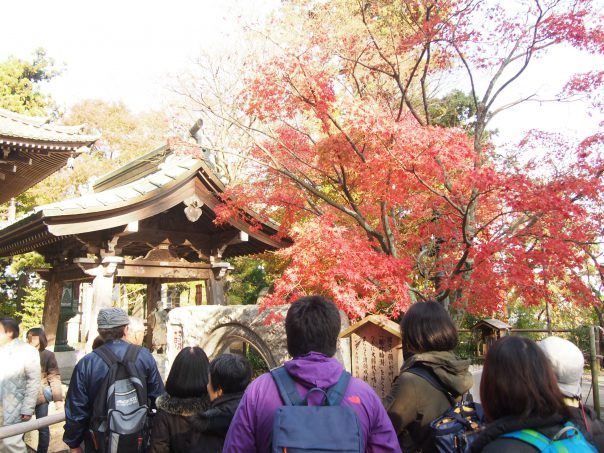 Oh, sign of Tengu!
Rather I want to meet Tengu!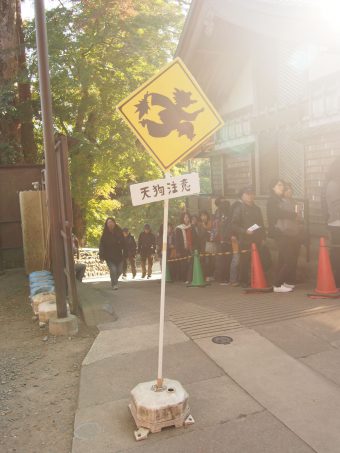 Flying squirrel, too?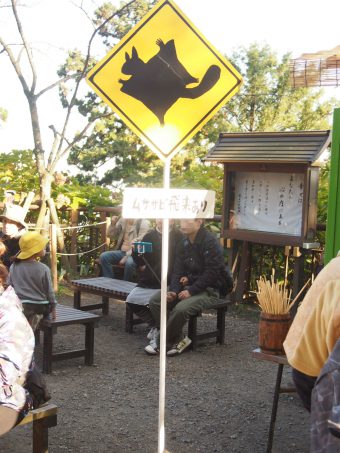 Yes, this is true, flying squirrels live in Takaosan so you might be able to meet them if you are lucky.
I've been to Takaosan couple of times but looks like I have no luck to meet them so far.
Cool vending machine under the tree!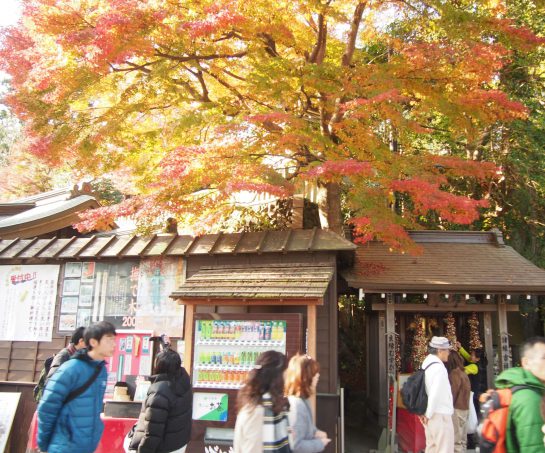 Yakuoin Temple
Walking up!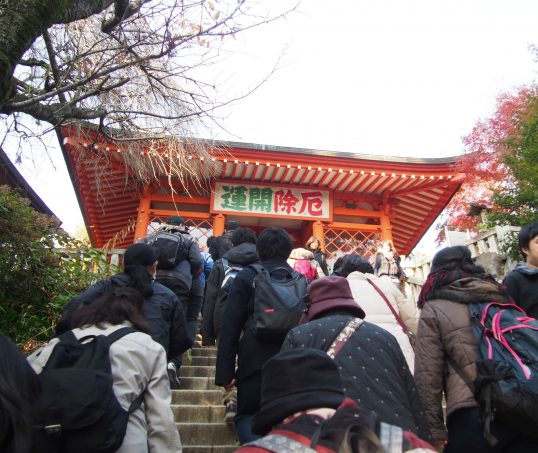 I thought I got it!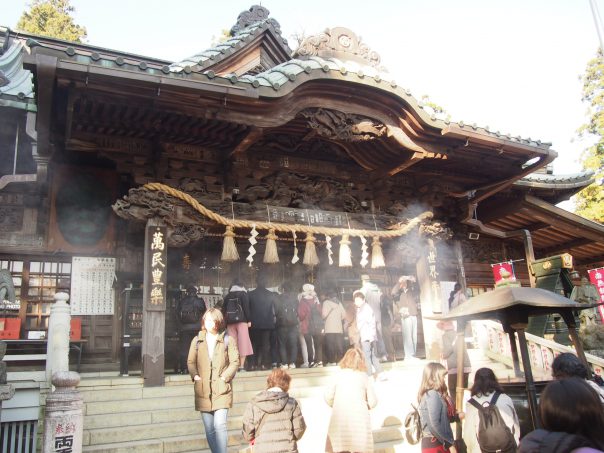 But it was not the main temple as I could see bigger temple and shrine gate ahead.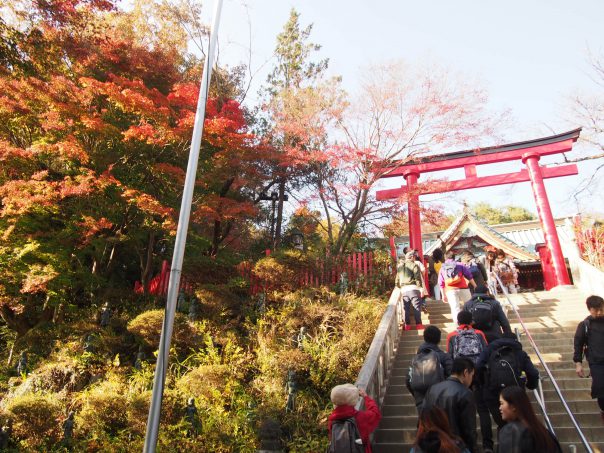 Shrine gate?
I thought this is temple but shrine gate?
Later I checked the reason and found that this temple was found before Meiji government promulgated separation of Buddhism and Shintoism in 1868.
So this temple was made when there is no distinct separation of shrine and temple.
Got to Yakuhoin Temple!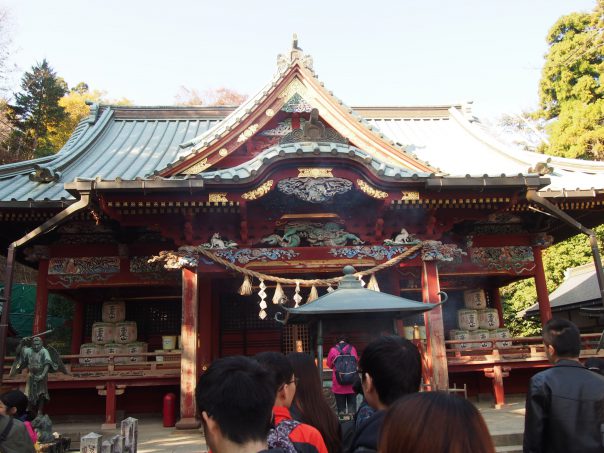 There is a Teng statue in front of the temple.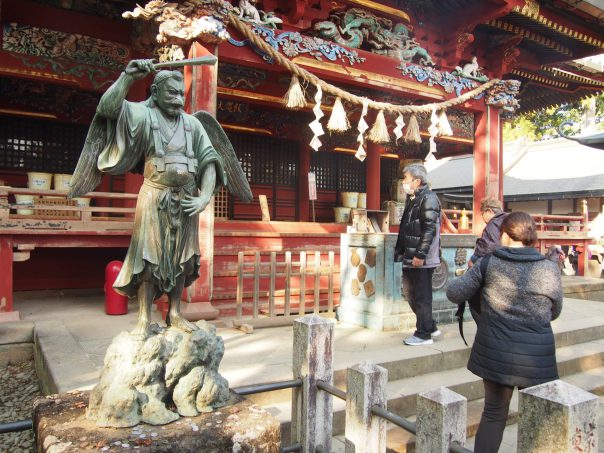 If you go around, you can also find small shrine of Inari.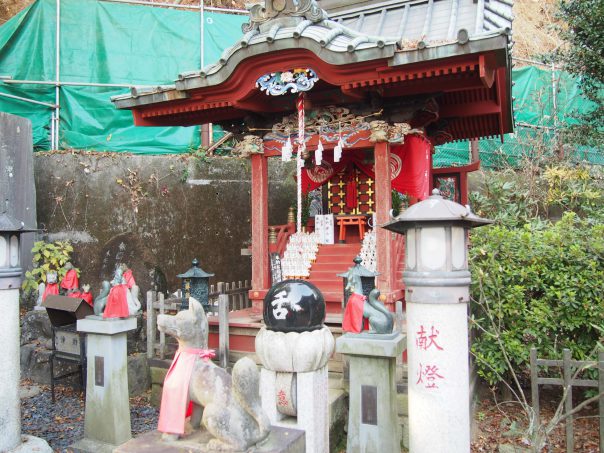 What is Inari?
It is a kind of sushi wrapped in fried bean curd.
This is the favorite of Oinari Sama (Oinari Sama looks fox but messenger of the God technically speaking).
Went back down.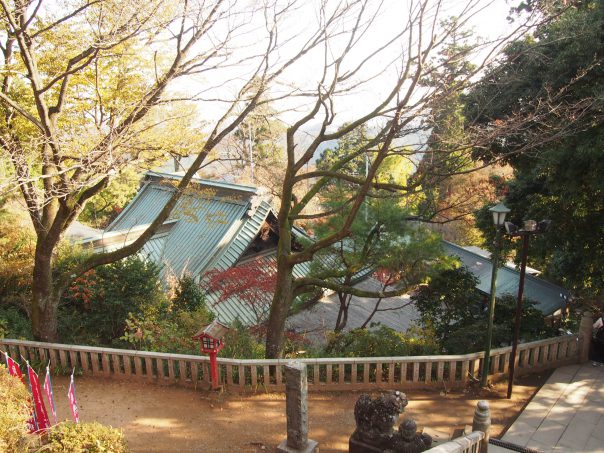 As always it became so long that I separated this page into 2.
Have a look next page 2 from down below, too!