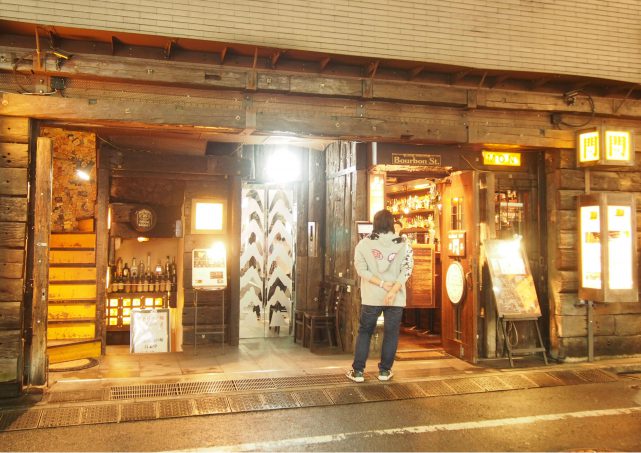 Have you ever heard of a bar which makes any drink to the taste of your favorite movie?
There is a bar called Hachigatsu no Kujira in Shibuya and that's the bar this time I picked up.
I knew only by the name as I sometimes heard about it over the past few years.
I myself was interested in the bar but the problem was I got drunk very easily so I put off to visit there.
But I happened to have a friend from UK this time and asked him the places he wants to visit.
Actually he has already been to Japan before and already visited many tourist spots at the time so he asked me back "Do you have any place you want to visit? I think you said you want to go to Maid Cafe or Hachigatsu no Kujira before".
He remembered what I talked abut and actually I've already visited Maid Cafe to show my friends from Chile around in Akihabara so I replied "I want to go to Hachigatsu no Kujira".
So interestingly I was the one being showed around this time, haha.
Appearance of Hachigatsu no Kujira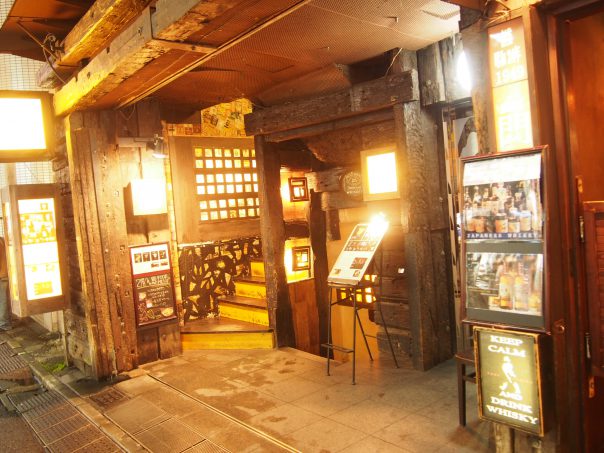 It took about 5 minutes from Shibuya station to Hachigatsu no Kujira.
When I first passed through in front of the bar without recognizing this is Hachigatsu no Kujira, I thought what a cool bar this is.
I always to and from just the main street when I come visit Shibuya so I did not notice there was such a nice bar located in the back street.
But there were 3 bars there, underground, 1st floor and 2nd floor, so I was like "Are these all Hachigatsu no Kujira?"
My friend and his friend have already been to this bar before so he was about to enter a bar on the 1st floor but the stuff told him "This is not, Hachigatsu no Kujira is upstairs".
He had a bit wry smile and I thought "I see there must be many people who come to this bar by mistake".
But this bar on the 1st floor was also very cool.
After I went back home I also checked the bar and found that this is also a popular bar with a long history.
The name of it is "Shibuya Mon" and looked like famous actors in the old days also came visit this bar frequently.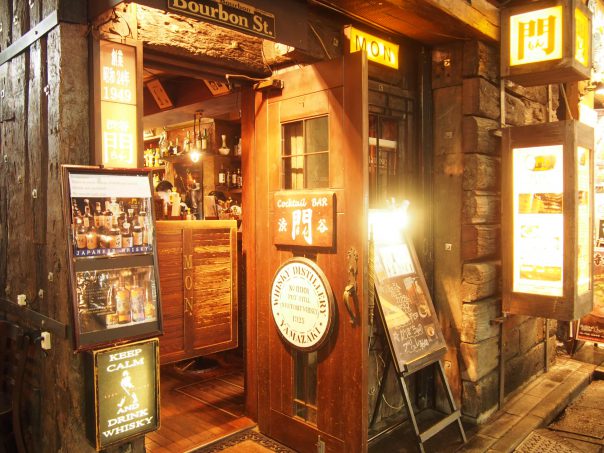 Inside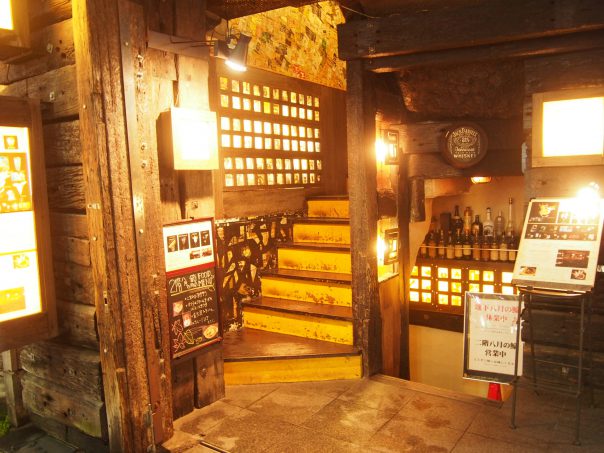 We went up the stairs.
And got to the bar.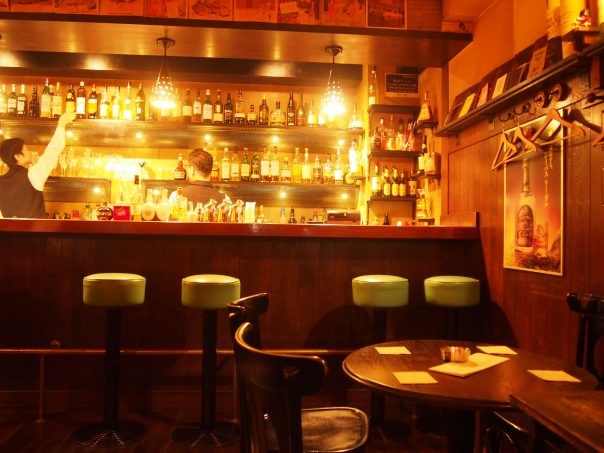 Oh, inside is also cool with woody touch.
I rarely come visit this style of bar as I rarely drink and even if I drink, the place to go is Izakaya, that is, Japanese style tavern.
When I got to the bar there were just 2 customers, yes I understand as now is 6 O'clock, too early to drink.
But that was good as I heard it becomes really crowded at late night.
And today was middle of a weekday, that was also good!
Menu and Price
We got to the table seat and the stuff gave us menu.
I asked her if it is OK to take picture inside and cocktail and she told me "Yes, as long as you don't use flash".
And I forgot to take a picture of the menu list.
Here are the some of the movie themed cocktails and the prices.
But of course, you can also order original cocktails not on the menu.
※Followings are the prices on November 2017 so there might be slight difference depends on the year you visit
A River Runs Through It : 800 yen (About $7)
Mask : 700 yen (About $6)
Forrest Gump : 850 yen (About$7.5)
Die Hard : 1000 yen (About $9)
CHUNGKING EXPRESS : 450 yen (About $4)
The Silence of the Lambs : 800 yen (About $7)
The Shawshank Redemption : 850 yen (About $7.5)
Seven : 700 yen (About $6)
The Matrix : 850 yen (About $7.5)
SMOKE : 800 yen (About $7)
La Femme Nikita : 850 yen (About $7.5)
Titanic : 850 yen (About $7.5)
LEON : 550 yen (About $5)
Life Is Beautiful : 850 yen (About $7.5)
Leaving Las Vegas : 750 yen (About $6.5)
Moulin Rouge! : 750 yen (About $6.5)
The Boondock Saints : 800 yen (About $7)
Dancer in the Dark : 850 yen (About $7.5)
Zatoichi : 900 yen (About $8)
Pirates of the Caribbean : 850 yen (About $7.5)
KILL BILL : 700 yen (About $6)
Charlie and the Chocolate Factory : 1000 yen (About $9)
Psycho : 800 yen (About $7)
Roman Holiday : 850 yen (About $7.5)
East of Eden : 850 yen (About $7.5)
etc.
※ These prices are as of November 2017
There are more names of the movies on the menu.
Other than the cocktails, I could also see light snacks and foods.
Looks like beef stew is also popular menu here.
I think average price of the cocktail is about $7.
Other than the drink, there was a table charge of 500 yen ($4.5)
Compared to ordinary Japanese style bar Izakaya, it is a bit expensive but as a bar I think it is an average price.
Try Cocktails
Yes, so we tried cocktails.
First I was going to order a cocktail on the menu but yes they can respond to most of all the cocktails related to the movies so after long thought I told her Death Note.
Yes, I've just read all the series recently so I came up with it.
Then she asked me "Which one do you want? There are 2 movies of Death Note."
What?
Oh, what I was thinking was comic, yes here is the place for movie, well, actually I have not watched both of them yet".
She sensed my embarrassment and added "There were 2 movies, one was L version and the other was Light version".
Let me see, yes I like both characters but I think I prefer L to Light so I ordered L ver. Cocktail.
And here the cocktail comes!!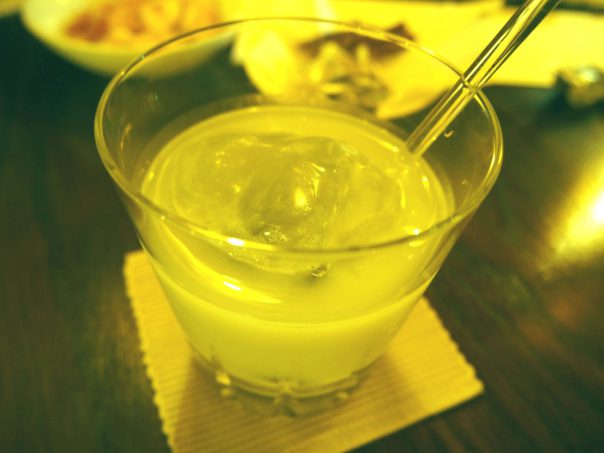 This stagnant white, oh, yes this is certainly my image of L.
(Sorry, I could not reflect exact color of stagnant white in the picture).
My friend ordered cocktail of anime called Gunbuster.
He is a big fan of anime and knows far better than me about Japanese anime.
Actually I did not know this Gunbuster until I heard it from him.
So I thought this is a maniac anime that they should not know, neither.
The stuff actually did not know the anime but told the name to the other stuff at the bar counter and surprisingly they could make it.
They certainly are well versed in all genres of movie as if they do not know the movie they decline the order, I have to respect the knowledge.
My friend's friend ordered Kirin beer!
Oh, yes he is right, this place is popular as a movie themed cocktails bar but no need to obsessed with it.
He also ordered Kiss Chocolate, I see, chocolate maybe match with alcohol although I have not tried it yet.
And next cocktail I ordered was, yes, I don't have well knowledge about movie that I picked up from the menu this time.
I found Nausicaa of the Valley of the Wind on the menu and ordered it.
This is a comic and anime movie of studio Ghibli and one of my favorite movies in Ghibli.
Here the cocktail came!!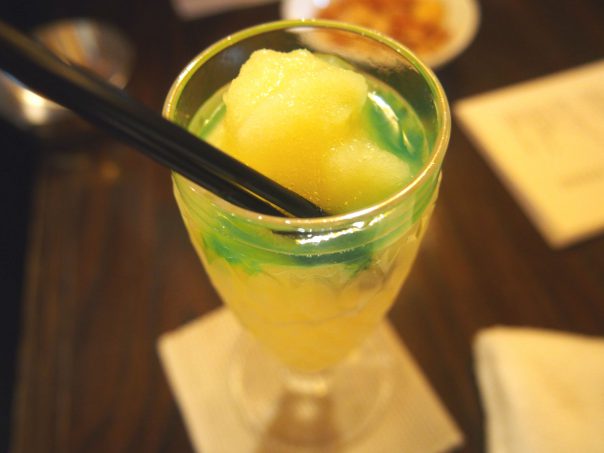 Yes, I can feel a touch of Nausicaa!
White, blue and sherbet and Pocky?
I think you know Pocky but jut in case it is a chocolate snack exactly like this.
I almost ate it and found that they are straws.
Anyway I could feel the world of Nausicaa from the cockail.
Taste was sweet and I'm glad as I could enjoy sherbet, too this time.
I like it!
My friends and his friend had ordered Fifth Element and Die Hard.
The stuff shook the shaker in front of us.
Seeing a standing performance of girl bartender was a cool experience.
3rd cocktail I ordered was Uchiage Hanabi Shitakara Miruka Yokokara Miruka (Fireworks, Should We See It from the Side or the Bottom?).
This was first novel and became both live-action and anime movie.
Anime movie had been released this summer.
As I missed the chance to see it, I ordered it.
And here it is!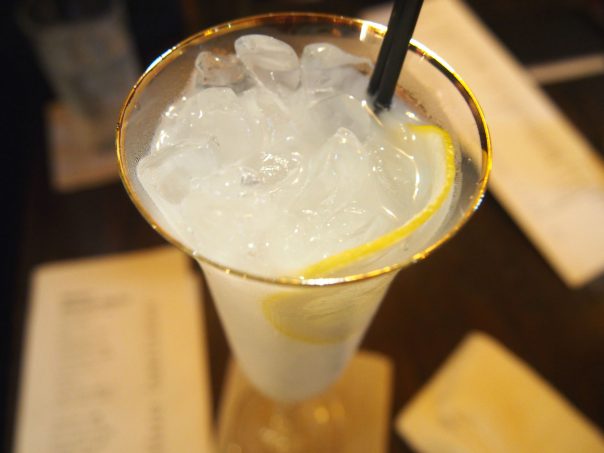 Came with lemon!
Fresh summer image of fire works in summer.
It was sweet but also fresh taste of citron, this was also very good taste!
My friend ordered cocktail of Gunbuster again.
He said this is very good taste.
He and his friend ordered 5 or more cocktails but 3 cocktails were more than enough to me as I got drunk very easily.
Actually what I or my friends ordered were not like picturesque ones although taste was very good.
I'll show you some other interesting cocktails from the ones other people ordered.
This is cocktail of Home Alone.
Certainly the cocktail reminds the image of Home Alone.
I wonder how was the taste!!
#暇なナースグルメ
八月の鯨でホームアローン pic.twitter.com/SHrY2gmEZe

— pino@nurse (@ns_2nd) April 28, 2018
This is Billy Elliot.
Carving of apple implies dance of Billy.
Sweet and sour citrus flavors of the cocktail reflects youth and freedom.
Great work!!
昨日作ってもらったリトルダンサー(ビリーエリオット)をイメージしたカクテル りんごでビリーが踊っている様子が再現されてるし、下のカクテルは甘酸っぱい柑橘系で若さと奔放さを感じたのでマジで感動しました そして美味しかった #八月の鯨 pic.twitter.com/wdiIPweOeW

— つくも (@out_of_parade) April 29, 2018
Zootopia & Charlie and the Chocolate Factory.
I see, this is the image!
Must be fancy and sweet taste!
八月の鯨にてズートピアとチャーリーとチョコレート工場だよ!これだよ! pic.twitter.com/OawrUB86XR

— あきと (@hirano_akito) June 22, 2016
I could see people are coming in and sit by the time we left the bar.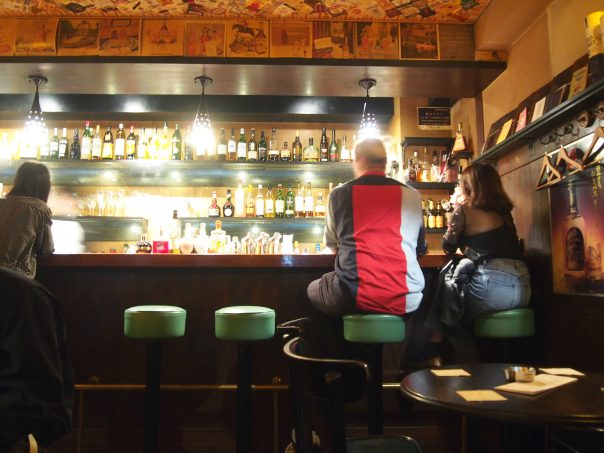 Summary
It was an unique idea, offering movie themed original cocktails.
And the greatest point of it is they themselves watch so many movies.
As for the master of the bar, he has already watched more than 6000 movies in 3 years!!
What a passion!!!!Σ(゚Д゚)
With this master, his stuffs must also have watched so many movies to respond to any order from the customers.
I see I'm convinced that's why they can make almost any cocktails.
But you know, there is also a case, although I think that's rare case, they can not make the original cocktail. Only when you order very rare movie which even they don't know, they can not make.
In that case, they tell you the truth saying "I'm afraid but I can not make it as I haven't watched it yet".
They can not image scenes, characters and taste if they did not watch the movie, that's why they decline in that case.
They do not pretend.
That's honest manner of them!
Each taste, fruits, combination of cocktails are made to the taste of the movie so you might become like I see I understand why this look, fruits, color and taste.
It is interesting like as if we were guessing a riddle.
If you love movie and cocktails, this is the place for you.
But this is very popular bar now so usually crowded with people after 7 or 8 pm whether or not weekday.
So I recommend you to visit early time like before 8 on weekday except for Friday if you want to enjoy drink in a calm atmosphere.
Or after midnight between Sunday and Thursday maybe also good as most people go back home although some people stay after midnight.
I come here again and going to order Charlie and the Chocolate Factory or Godzilla!!
Access and Map of Hachigatsu no Kujira
Hachigatsu no Kujira (The Whales of August)
Address
B1&2F, 2-8-13 Udagawa-cho, Shibuya-ku, Tokyo
Station
Shibuya Station (JR Yamanote Line)
TEL
03-3476-7238 (+81-3-3476-7238)
Seats
30 Seats
Opening Hours
18:00 – 29:00 (5 a.m.)
Business Days
Everyday
Twitter
https://twitter.com/shibuyamon