April is the season of Sakura and many new anime also start or started in Japan.
I selected 15 best anime among them by referring to some popular anime sites in Japan and from my own judgement.
I could see some of them in latest anime event AnimeJapan 2017.
You can watch video or PV for some anime from the link of official sites I attached if you are interested in!
Hope you enjoy new anime series this Spring!!
Attack on Titan Season 2 (Shingeki no Kyojin)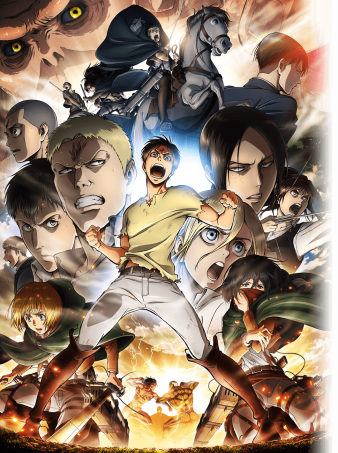 Source : Attack on Titan Season 2
I think there is no need to explain this anime as it became super popular anime and almost everyone knows now.
It was shocking experience first I read this Attack on Titan.
I've never seen such an anime that starts from main character's mother is eaten by Titan before.
I think that was shocking scene not only for me but everyone.
The anime became live-action film and I often see cosplayers of Attack on Titan every time I visit anime event.
It has already started on TV on 1st April.
How Season 2 goes?
Seiyuu
Yuuki Kaji, Yui Ishikawa, Marina Inoue, Kisyou Taniyama, Yuu Shimamura, etc.
Music
Shinzou wo Sasageyo by Linked Horizon (Opening), Yuugure no Tori by Shinsei Kamattechan (Ending)
Author
Hajime Isayama
Director
Tetsurou Araki, Masashi Koizuka
Attack on Titan Season 2
Official Website : http://shingeki.tv/season2/
Natsume's Book of Friends Season 6 (Natsume Yuujincyou)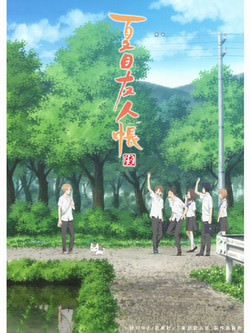 Source : Natsume's Book of Friends Season 6
Natsume's Book of Friends is one of my favorite animes.
It is already season 6 and that proves how popular this anime is.
The story is all about Yokai.
Yokai is like Ghost but a bit different from Ghost.
It is a unique supernatural being creature in Japan.
It is not just scary thing but has emotion and story behind it.
This anime is relationship between human beings and Yokai.
My recommended anime!
Seiyuu
Hiroshi Kamiya, Kazuhiko Inoue, Sanae Kobayashi, Akira Ishida, Kazuma Horie, etc.
Music
Floria by Tomohisa Sako (Opening)
Kimi no Uta by Rei Yasuda (Ending)
Author
Yuki Midorikawa
Director
Takahiro Omori, Kotomi Deai
Natsume's Book of Friends Season 6
Official Website : http://www.natsume-anime.jp/
Eromanga Sensei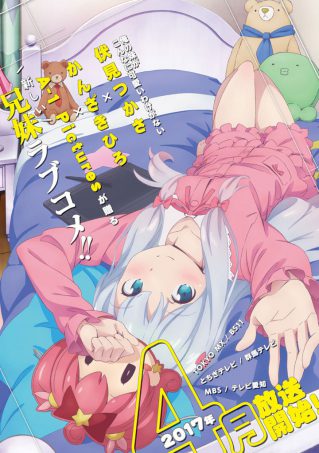 Source : Eromanga Sensei
It was surprising title Eromanga Sensei.
It's too direct!
Eromanga means in Japanese, well, sorry please look up it by yourself.
Anyway Izumi Masamune is the main character and he is high school student who writes light novel.
He has sister (but not related by blood) and she is Hikicomori.
Hikicomori is used for the situation or people staying home or one's room whole day avoiding meet with people outside.
Masamune himself has not seen even her face for a year as she was Hikokomori.
One day his classmate tells him he has been making a mock by unidentified illustrator Eromanga Sensei.
Eromanga Sensei was the one who illustrates characters for his light novel although he have not met with her yet.
One day Masamune comes to know Eromanga Sensei presents herself in a live movie.
There he knows who she is.
I watched 1st episode of this anime.
And it was interesting and funny.
I understood the reason this anime was selected among one of the best animes from others, too.
Seiyuu
Akane Fujita, Yoshitsugu Matsuoka, Minami Takahashi, Onishi Saori, Ibuki Kido, etc.
Music
Hitorigoto by ClariS (Opening)
adrenaline!!! by TrySail (Ending)
Author
Tsukasa Fushimi
Director
Ryohei Takeshita
Eromanga Sensei
Official Website : http://eromanga-sensei.com/
Sakura Quest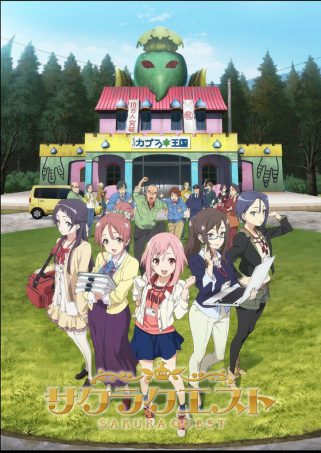 Source : Sakura Quest
Yoshino Koharu is a junior college student who is hunting for a job.
She applied for more than 30 companies in Tokyo but did not pass any of them.
One day she gets a call from a talent agency that looking for a sightseeing ambassador for the day in local place.
She once did a part-time as a model although the job was only one time.
Having not money, she takes the job as it is one-day job.
But the truth was not one-day but through the year.
She hates a hick town as it is boring and she longed for full-time job in Tokyo that she tries to go back Tokyo when she knew the truth.
How story goes?
Actually I thought many people sympathized with her for her desperate situation.
No matter how many job interviews we take, all of them end up in failure.
I myself got many "Oinori mail" from many companies when I was hunting a job before graduation of university.
Oinori means to pray in Japanese.
When a company decided to go with another candidate it sends us message saying "We hope you will find your success on the other occasion".
That's why this mail or message from a company called "Oinori mail" from student.
It's not a welcoming type of Oinori, isn't it, haha.
I watched 1st episode of it and it was very interesting.
Especially I like the theme of young girl in Tokyo do her best in deserted town.
As it is I think real problem in Japan.
Concentration of population in Tokyo or other big city while depopulation is progressing in the countryside.
Story itself attracts me a lot.
Seiyuu
Ayaka Nanase, Reina Ueda, Chika Anzai, Chiemi Tanaka, Mikako Komatsu, etc.
Music
Morning Glory by (K)NoW_NAME (Opening)
Freesia by (K)NoW_NAME (Ending)
Author
Alexandre S. D. Celibidache
Director
Souichi Masui
Sakura Quest
Official Website : http://sakura-quest.com/
Sakurada Reset (Sagrada Reset)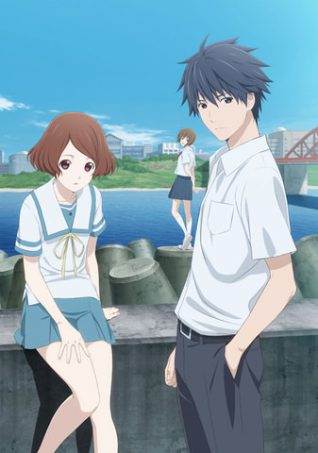 Source : Sakurada Reset
Sakurada is the town where more than half of the people have some kind of special power.
In first episode, 3 main characters appear, they are Kei Asai, Haruki Misora, Sumire Souma.
Kei has a power of memorizing each experiences in the past exactly.
Haruki has a power of resetting world 3 days before and people's memories are reset at the same time, even memory of Haruki herself.
Sumire was the one who made them meet.
This was very interesting anime and I thought it is a kind of riddle of justice and injustice.
One day Sumire asks a question of Kei like this.
God put a curse on a man in which man feels physical pain every time he sees those who are sad.
The man tries to help each of them to remove his physical pain.
And then God made copy of him that does exact same thing, that is, helps people who are sad.
But the copy has no emotion, just copying man's act.
God named the man and copy justice and hypocrisy.
Which one is named justice or hypocrisy Sumire asked Kei.
Kei replies hypocrisy is the man and justice is the copy.
I guess this subject of what is justice and what is injustice might be a theme of this anime.
Seiyuu
Kaito Ishikawa, Kana Hanazawa, Yuki Aoi, Takuya Eguchi, Yuki Yamada, etc.
Music
MReset by Yui Makino (Opening)
Tonariau by THE ORAL CIGARETTES (Ending)
Author
Yutaka Kouno
Director
Shinya Kawatsura
Sakurada Reset
Official Website : http://wwwsp.sagrada-anime.com/
Atom The Beginning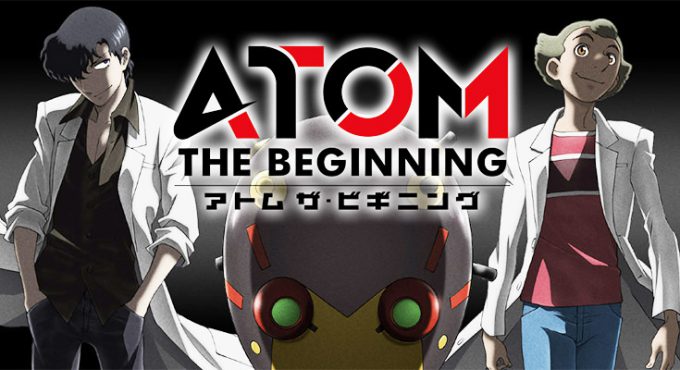 Source : Robosta
Mighty Atom is very old anime that was made by comic writer Osamu Tezuka in 1952.
It became animation in 1963.
This is the very first Japanese animation that had been aired on TV in Japan.
Comic writer Osamu Tezuka made a big effect on the field of animation and still has many fans all over the world.
As for Atom The Beginning, this is the story before Atom was made.
Dr.Tenma is the one who made Atom and Dr. Ochanomizu is the one who raised Atom.
And this story dates back to school days of them in which they had been studying and working on AI Robot.
What they first made is A106 and that's the main character or robot of Atom The Beginning.
Looks of it is not like Atom at all.
But is AI robot that it can move on its own judgement like Atom.
Before Atom made what was happening?
Osamu Tezuka has passed away in 1989 that this Atom The Beginning is not drawn by him.
With Mighty Aom by Osamu Tezuka as original draft, Atom The Beginning was made by comic writer Masami Yuki, Tetsuro Kasahara, visualist or creator Makoto Tezuka who is son of Osamu Tezuka, Tezuka Prodution.
Seiyuu
Yuuichi Nakamura, Takuma Terashima, Yuuki Inoue, Takahiro Sakurai, Mikako Komatsu, etc.
Music
Kaidoku Funou by After the Rain (Opening)
Hikari no Hajimari by Yoshio Nanjyo (Ending)
Author (Original for Atom)
Tezuka Osamu
Author (Original for Atom The Beginning)
Tetsuro Kasahara
Director
Tatsuo Sato
Atom The Beginning
Official Website : http://atom-tb.com/
KADO: The Right Answer (Seikai Suru KADO)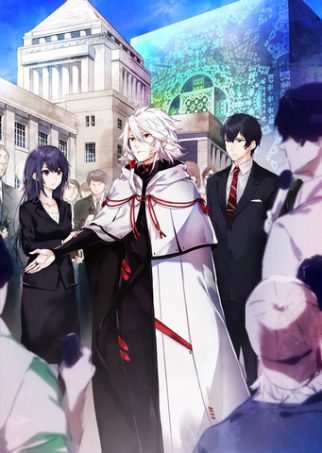 Source : KADO: The Right Answerr
When I first watched the PV, I thought the animation is really beautiful.
Kado is an angle or a corner in Japanese.
The story begins when the huge cube appears on Tokyo International Airport in Japan suddenly.
The passenger plane is absorbed into the cube.
The passenger included Shindo Kojiro who is a gifted negotiator for Ministry of Foreign Affairs in Japan.
He meets with Yaha-kui zaShunina inside the cube or KADO.
The existence of Yaha-kui zaShunina is completely wrapped in mystery.
He says all human need to keep thinking if he or KADO is enemy or not.
Professional negotiator Shindo Kojiro serves as a mediator between human and KADO.
This anime looks more focusing on negotiation rather than battling to solve the problems .
It's a game of wits.
Seiyuu
Hiroaki Miura, Takuma Terashima, MAO, Souma Saito, Kenji Akabane, etc.
Music
Tabiuta by Kadomidori Starring MAO (Opening)
Eien no Kotae by HARUCA (Ending)
Author
TOEI ANIMATION
Director
Kazuya Murata
KADO: The Right Answer
Official Website : http://seikaisuru-kado.com/index.html#TOP
Re:CREATORS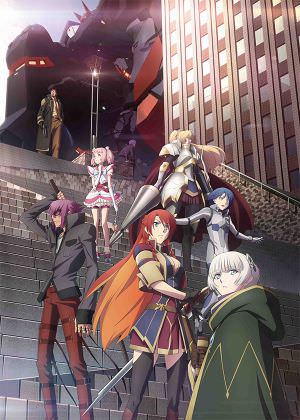 Source : ASCII.JP
What we see is anime and we are on the side to watch.
But if the characters of the animation appeared suddenly on the real world we live?
This Re:CREATORS is made by Rei Hiroe who is famous as a comic writer of BLACK LAGOON and Ei Aoki who is also famous as a director of ALDNOAH.ZERO.
1st episode starts when Souta who is a high school student being involved in the battle of anime world.
And the characters of anime comes to the real world Souta lives.
They were fighting in Yoyogi park near Harajuku station in 1st episode.
Music of battle scene is also great as Hiroyuki Suwano who composed music for Attack on Titan, Seven Deadly Sins, Blue Exorcist,etc. compose the music for this anime.
Seiyuu
Daiki Yamashita, Mikako Komatsu, Inori Minase, Youko Hikasa, Maaya Sakamoto, etc.
Music
gravityWall by SawanoHiroyuki[nZK]:Tielle & Gemie (Opening)
NEWLOOK by Mashiro Ayano (Ending)
Author
Rei Hiroe
Director
Ei Aoki
Re:CREATORS
Official Website : http://recreators.tv/
The Eccentric Family Season 2(Uchoten Kazoku)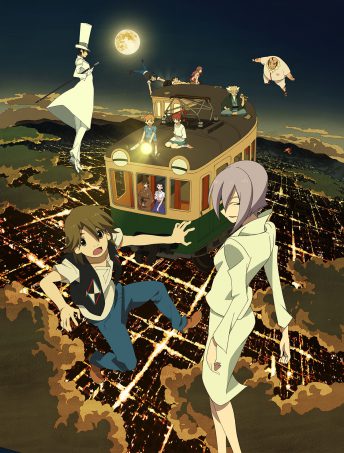 Source : The Eccentric Family Season 2
The story is about Yokai and human.
Main character is Tanuki or Japanese raccoon dog.
Tanuki said to have had a supernatural power and could transformed itself into human in superstition in Japan.
Yasaburo is Tanuki and transforms himself into high school girl in 1st episode of 1st season.
He often visits Akadama who used to be teacher and powerful Tengu once.
Tengu is a kind of Yokai that can fly in the sky.
But now Akadama fell from grace and lives in a small flat in the back alley of a shopping street like ordinary human.
The story goes in historical place Kyoto.
There are pros and cons for this anime.
But I like the light touch of the anime and Yasamubor's motto of enjoying one's life.
That's the subject of this anime.
Season 2 starts from coming back of son of Akadama for the first time in 100 years to Kyoto.
Their family fight develops involving Tanuki and human there.
Seiyuu
Takahiro Sakurai, Jyunichi Suwabe, Hiroyuki Yoshino, Mai Nakahara, Mamiko Noto, etc.
Music
Arugamama Sawagumama by milktub (Opening)
Moon River by fhána (Ending)
Author
Tomihiko Morimi
Director
Masayuki Yoshihara
The Eccentric Family Season 2
Official Website : http://uchoten2-anime.com/
Sword Oratoria (Dungeon ni Deai wo Motomeru no ha Machigatteiru Darou ka or Danmachi)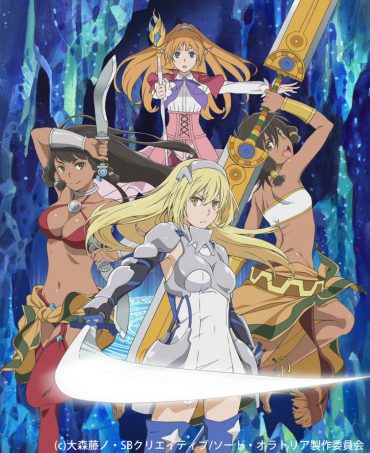 Source : Sword Oratoria
Dungeon ni Deai wo Motomeru no ha Machigatteiru Darou ka became popular, didn't it.
I'm surprised as the blue string of Hestia had released in reality.
Looks like it sold out in 5 hours in Akihabara, haha.
This anime still has many fans and people must have been expecting 2nd season.
And here it came.
Unexpected thing was it was side-off story of it.
Aizu Varenshutain, Tiona Hiryute, Refīya Uiridisu,etc play the role in this Sword Oratoria.
Seiyuu
Saori Onishi, Jyuri Kimura, Rie Murakawa, Minami Takahashi, etc.
Music
RE-ILLUSION by Yuka Iguchi (Opening)
day by day by Kano (Ending)
Author (Original for Atom)
Fujino Omori
Director
Youhei Suzuki
Sword Oratoria
Official Website : http://danmachi.com/
Kabukibu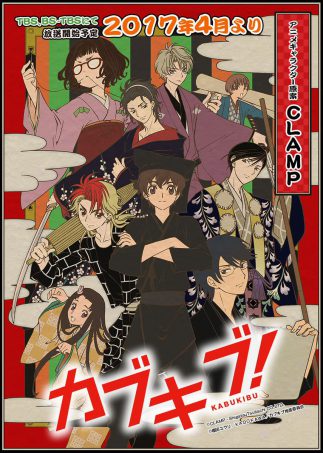 Source : Kabukibu Official Twitter
Kurosu Kurogo is a freshman in high school.
He is a big fan of Kabuki.
Kabuki is a a traditional Japanese theater form.
It is performed exclusively by men.
He entered high school but there was no club such as Kabuki.
I myself never heard of Kabuki club in school.
He thought, if there is no such club, then he can make the club.
He asks his best friend Tonbo to join and they scramble for gathering students and making Kabuki club.
As long as I know this is the first anime of Kabuki.
I myself interested in Kabuki that this is one of the must-see anime.
Seiyuu
Taichi Ichikawa, Yuichiro Umehara, Ryota Osaka, Kengo Kawanishi, Nobunaga Shimazaki, etc.
Music
Running High by Hiro Shimino (Opening)
‐OEDO‐ by Kabukibu Rocks (Ending)
Author
Yuri Eda
Director
Kazuhiro Yoneda
Kabukibu
Official Website : http://www.tbs.co.jp/anime/kabukibu/
Alice & Zouroku (Alice To Zouroku)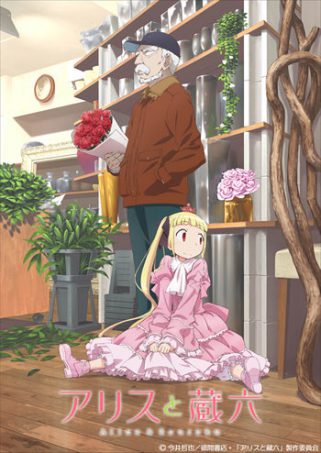 Source : Alice & Zouroku
The story starts from Sana escaping from a lab.
She holds special power called "Alice's Dream" that can make and realize every imaginary things.
She was called red queen and secret organization in the lab tries to catch her.
She ends up getting to Shinjuku and there she meets with an old man Zouroku.
Zouroku hates to do wrong so he is a traditional Japanese man in the old days who goes straight.
I thought this is interesting tag, little girl like princess and old man.
It was interesting scene Sara and little girls who pursue her got chewed all together by Shigeroku for destroying the town.
One of the best animes I want to keep watching!
Seiyuu
Hitomi Owada, Akio Otsuki, Aki Toyosaki, Natsumi Fujiwara, Akari Kito, etc.
Music
Wonder Drive by Oresama (Opening)
Chant by toi toy toi (Ending)
Author
Tetsuya Imai
Director
Katsushi Sakurabi
Alice & Zouroku
Official Website : http://www.alicetozouroku.com/
Anonymous Noise (Fukumenkei Noise)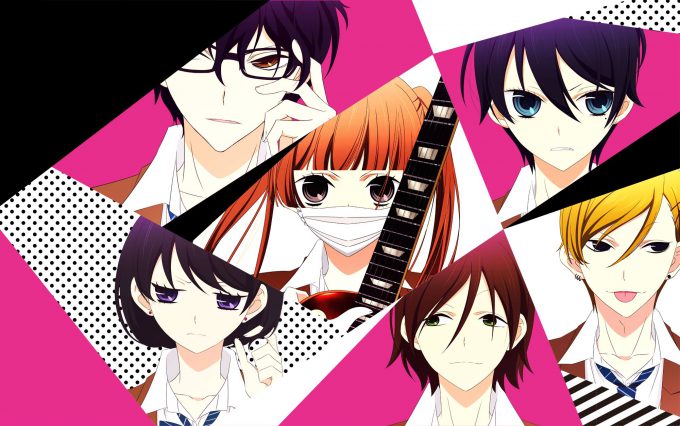 Source : Anonymous Noise
If you like music and romance this is recommended anime.
Yuzu suddenly leaves Nino after writing a short musical score for her on the beach.
Since then she keeps singing following the score he left.
Six years has passed, she still keeps singing and turns around when she finishes singing excepting for the figure of Nino on the beach, but there is no figure of Nino.
Momo is also the one she has a memory in elementary school days.
They were next-door neighbors.
And often sang a song of "Twinkle, Twinkle, Little Star" together.
When she enters high school she sees live of light music club in the school and finds Nino in the member.
Momo also sees her in the school.
How story goes?
I knew this anime in AnimeJapan 2017 that held on March 2017.
It stood out as real musical instruments of Anonymous Noise had been displaying there.
I could also see short PV on the screen there and thought this is interesting.
That white mask Nino wears stands out, doesn't it.
If you like anime focusing on music this is recommended.
I also really recommend "Beck" if you like music.
It became very popular music anime 18 years ago.
Seiyuu
Saori Hayami, Daiki Yamashita, Kouki Uchiyama, Daisuke Ono, Ayahi Takagaki, etc.
Music
High School [ANIME SIDE] -Bootleg- by Miou (Ayahi Takagaki), High School [ANIME SIDE] -Alternative- by Nino (Saori Hayami) (Opening)
Allegro by Nino (Saori Hayami) (Ending)
Author
Ryouko Hukuyama
Director
Hideya Takahashi
Anonymous Noise
Official Website : http://fukumenkei-anime.jp/
Tsuki ga Kirei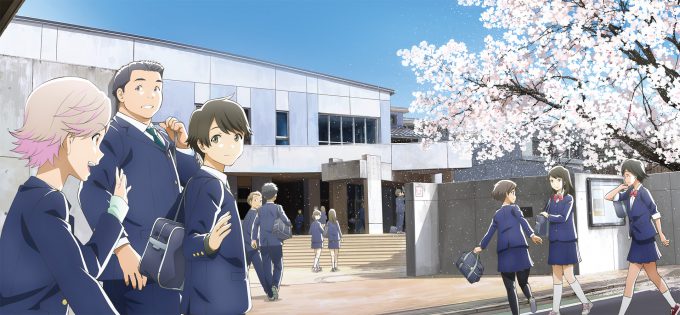 Source : Tsuki ga Kirei
I was surprised when I saw short preview of this anime first.
Because most of the scenes appear in this anime were really familiar to me.
It reminded me of old days rather I knew exact place for each set in the anime.
What I could remember was only one place "Kawagoe".
And as I imagined the set of this anime was Kawagoe in Saitama.
It is almost my home town and the closest modern city to me when I was little was Kawagoe.
I remember I often go see movies of Dragon Ball and Doraemon with friends in Kawagoe.
I'm sorry I was off the topic.
Animation is very beautiful and you'll be able to know a part of real junior school life of students in Japan through this anime.
Actually I could watch the cartoonist of Tsuki ga Kirei is drawing the picture in AnimeJapan 2017.
I took the video and the picture of it that you can see it from here. (Video is from 4:33 and the pictures are latter half in the article)
AnimeJapan 2017 Review The First Part
This is romance of junior high school students.
I also remembered school days.
If you want to know about Kawagoe I made article before that have a look.
You can see exact same house, shop, shrine, etc in this anime.
Strolled aroud Koedo Kawagoe that holds Edo Touch
From the following link of offcial site you can see full story of 1st episode.
Seiyuu
Shouya Chiba, Nozomi Kohara, Atushi Tamaru, Rie Murakawa, Eishin Fujimura, etc.
Music
Imakoko by Nao Touyama (Opening)
Tsuki ga Kirei by Nao Touyama (Ending)
Author for Character
loundraw
Director
Seiji Kishi
Tsuki ga Kirei
Official Website : https://tsukigakirei.jp/
Saenai Kanojo no Sodatekata Season 2 (Saekano)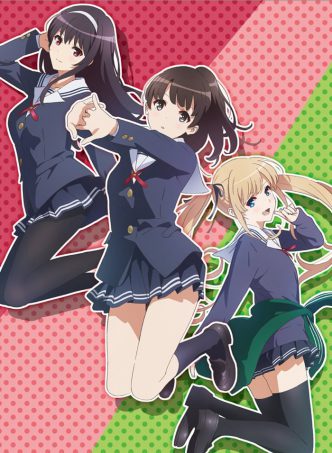 Source : Saenai Kanojo no Sodatekata Season 2
This anime also became very popular.
The 1st episode of 1st season starts main character Tomoya meets with a girl in the slope in Spring.
It was beautiful scene that can not be forgotten to Tomoya that he determines to make Gyaru game centers on her as a heroine.
He asks his friend Eriri Spencer Sawamura who is beautiful and popular among students to collaborate with him.
Only Tomoya knows Eriri's another face, that is Otaku and that she draws coteris magazine Doujishi, too.
He also asks Utaha Kasumigaoka who is also popular with students for her beauty and famous for maintaining the top grade for the school year since she entered the school.
But original nature of her is a sadist and has a kind of communication disorder, too.
Megumi Kato is the one Tomoya encountered in the slope.
For better or for worse, she doesn't stand out like other characters.
Always keep her pace and natural but I rather feel the character makes strong impression.
Including Tomoya's relative Michiru Hyodo, they come together and cooperates to make Gyaru game.
Seiyuu
Yoshitsugu Matsuoka, Kiyono Yasuno, Saori Onishi, Ai Kayano, Sayuri Yahagi, etc.
Music
Stella Breeze by Runa Haruna (Opening)
Sakurairo Diary by Mousou calibration (Ending)
Author
Kurehito Misaki
Director
Hirota Kamei
Saenai Kanojo no Sodatekata Season 2
Official Website : http://www.saenai.tv/