To the Top of Takaosan
Now we are main route.
And keeps walking.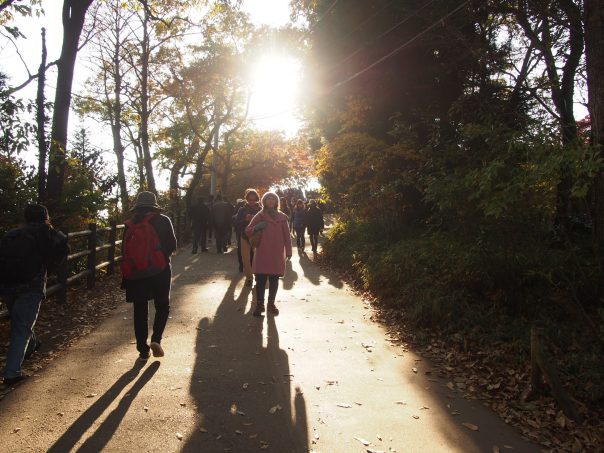 Looked up to see beautiful crimson color of leaves.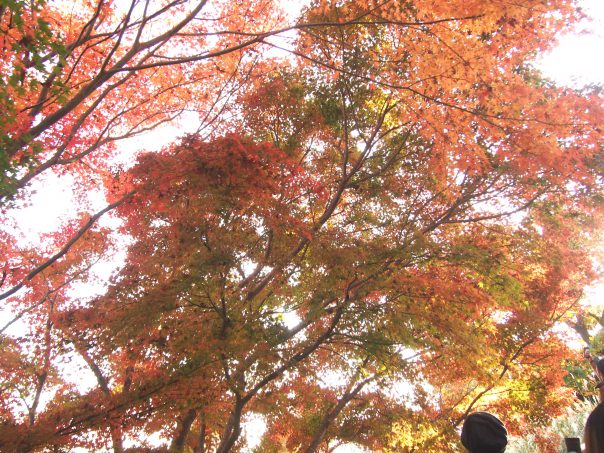 There was a view point with Japanese pampas grass right before the top.
I can see town in the distance!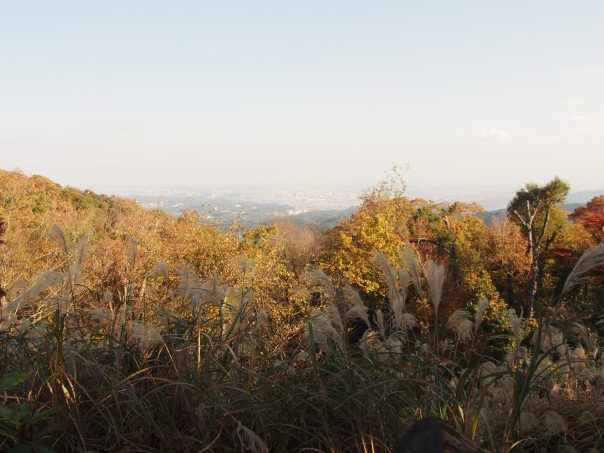 Got to the top!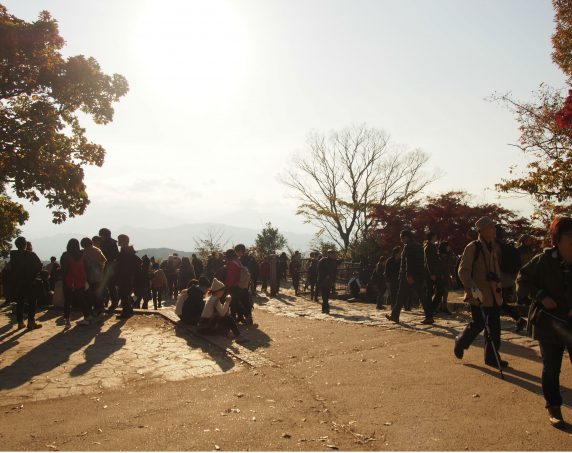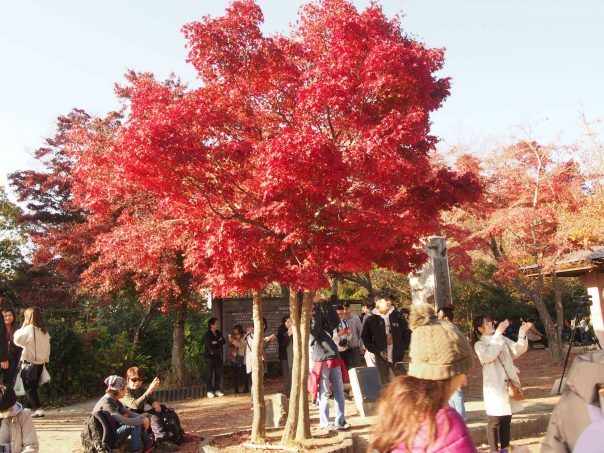 Height is 599.15m, yes not high and that's why anyone can easily enjoy trekking this mountain .
Looks like it took us for 1 and 45 minutes from the start point of the trek.
I think we went up at slow pace and had a rest at dumpling shop so I assume you can get to the top faster than this usually.
If the weather is fine, you can see Mt.Fuji from here.
Weather was fine but because of the cloud I could not see Mt.Fuji.
Maybe top of Mt.Fuji is in the cloud.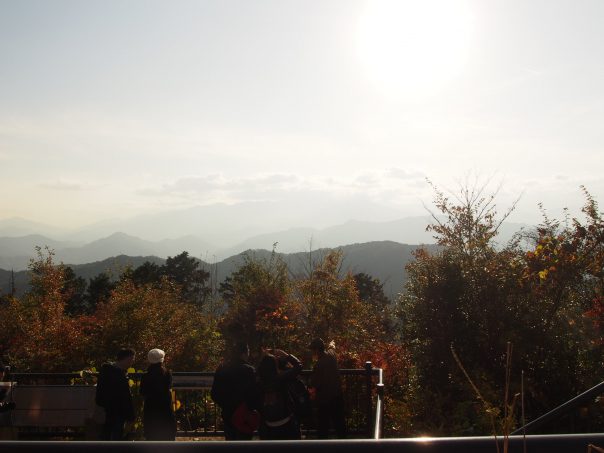 Restaurants
You can find restaurant on the top.
Tororo Soba (Tororo buckwheat noodles) are recommended here.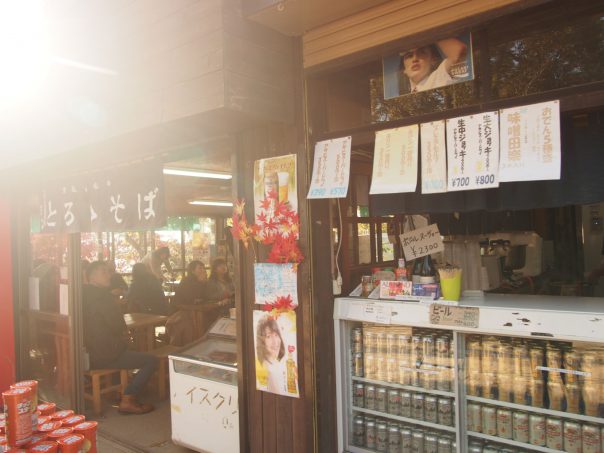 What is Tororo?
It is a pounded yam potato!
I myself sometimes order it at soba shop and I like it!
This is Yamabiko Chaya.
I like the old appearance of this shop.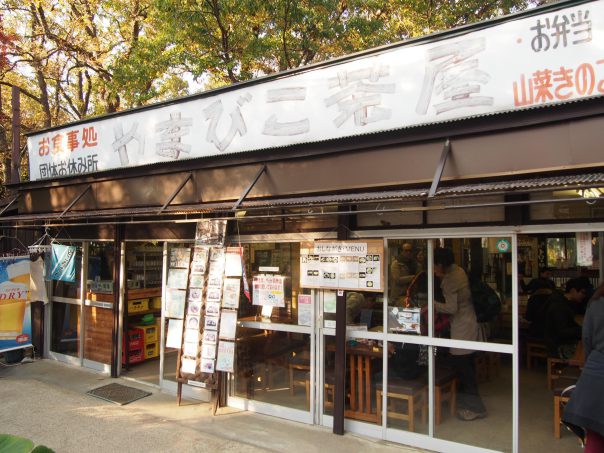 Recommended menu?
Yes, Tororo soba again and it is popular here, too!
Trail No.4 (Forest and Animals)
Now we took Trail No.4 for returning.
This is the trail of Forest and Animals.
Oh, sorry, out of focus again.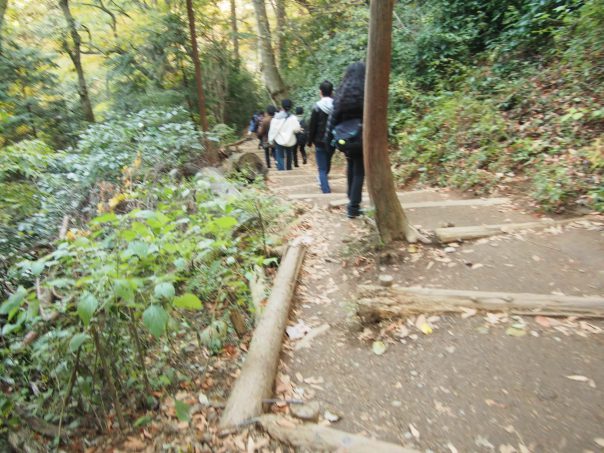 Miyama Bridge
The highlight of this trail is Miyama bridge.
Yes, now I can see people are crossing the bridge over there in the forest.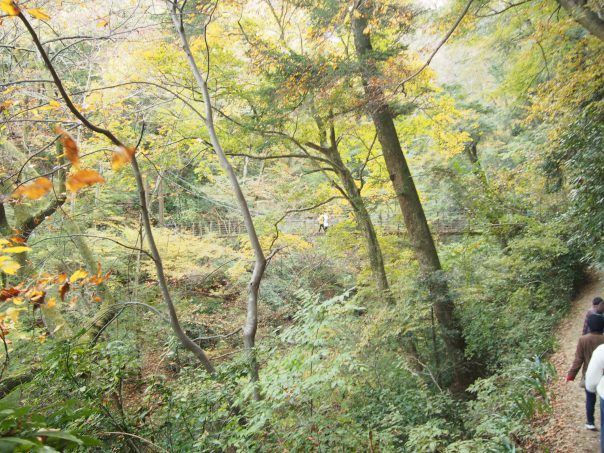 Here we are!
I like this kind of wooden bridge!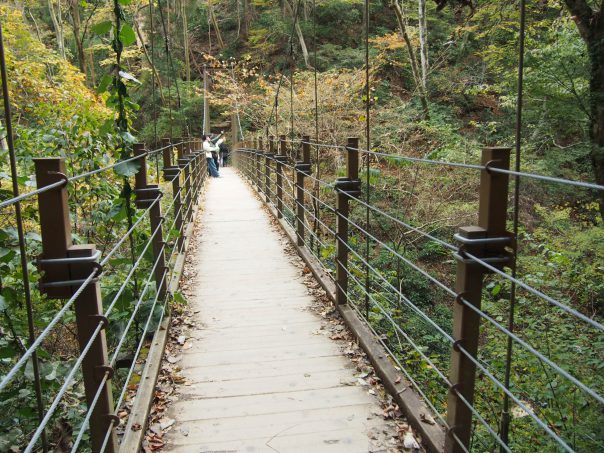 Looking down and I could see a river flowing.
This trail certainly passes through the woods.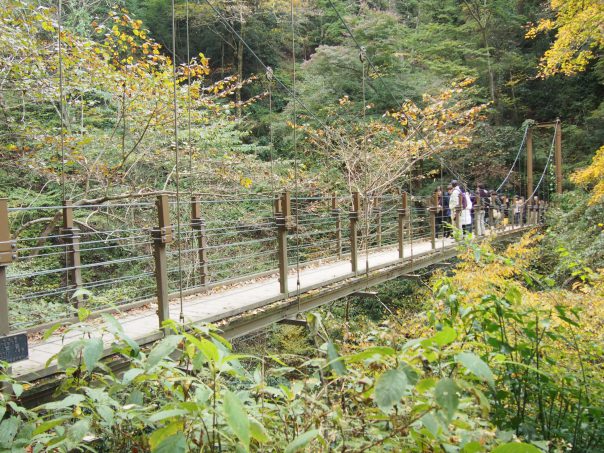 Back to Trail No.1
Tako Sugi (Octopus-shaped Japanese Cedar)
This trail led to the main trail of No.1 in the end.
And we could meet Tako Sugi.
Tako means Octopus and Sugi means cedar so this is Octopus Cedar.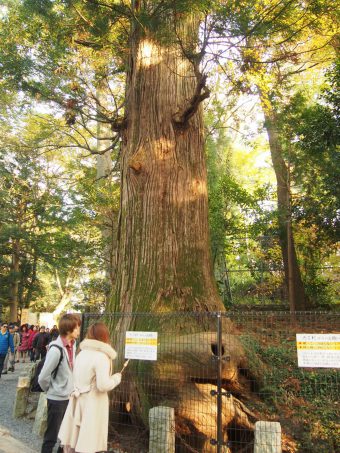 Why Octopus cedar?
Look at the bottom of the tree.
Doesn't it look like mouth of octopus?
Not?
May I excuse it for the fence surrounding the tree?
Sorry, yes, my shooting skill was bad in that case. m(_ _)m
The age of the tree is 450 years old.
Wow, it must have watched over so many things until today.
And the object stood close to it is Hippari Dako.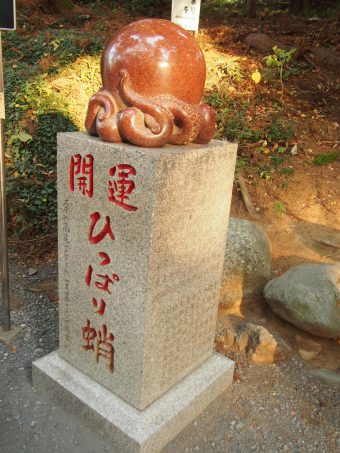 Hippari, that is, Hipparu means pull or draw.
Dako, that is, Tako means octopus.
It is said that you can draw luck if you pat its head.
Monkey Park
This is Monkey Park.
This is also one of the popular spots in Takaosan.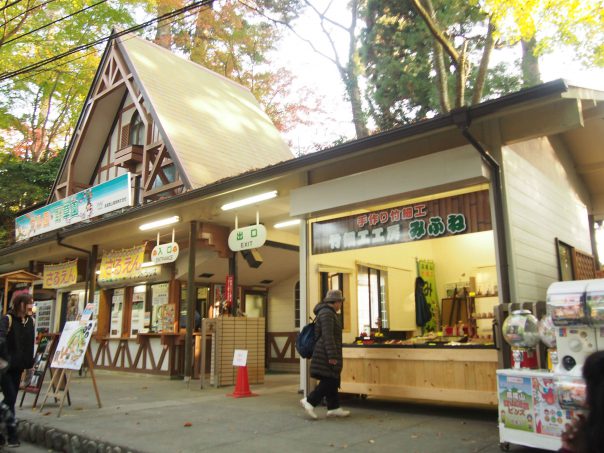 We did not go there but I talked with other friends who visited this park later and she told me it was really good and interesting park.
If you want to see monkeys, this is the place.
Juicchome-Chaya
Soon after Monkey Park, we could meet rice dumpling shop again.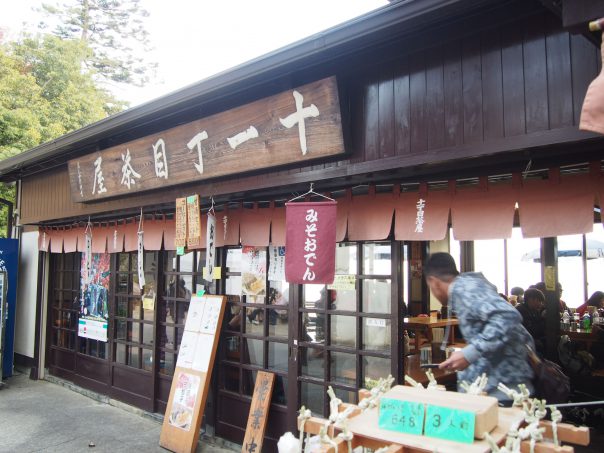 This is Juicchome-Chaya and it is also popular rice dumpling shop in Takaosan.
It started its business here in 1900.
Wow, more than 100 years!
You can eat Soba noodles inside but we attracted Yakidango (Roasted rice dumplings) they sell in front of the shop.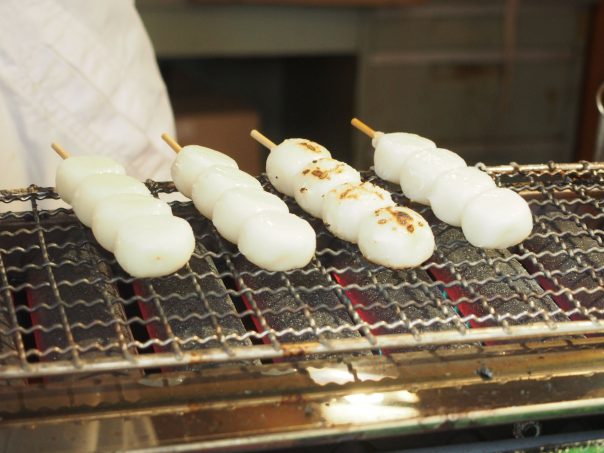 We could choose either from soy sauce or sweet soy sauce for the type.
We chose sweet soy sauce type called Mitarashi in Japanese.
Here it is!
Doesn't it look good?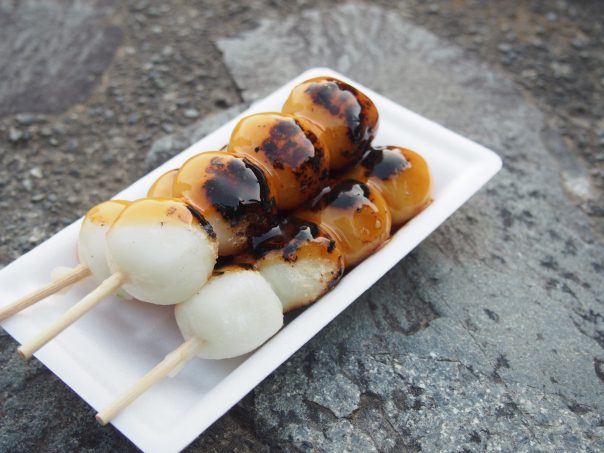 It was fresh, hot and tasted very good!
You might think it is a bit burnt but they burnt slightly on purpose for the look and adding accent to the taste.
Cable Car or Chair Lift
You're tired?
Then here is the vehicle for you.
Cable car!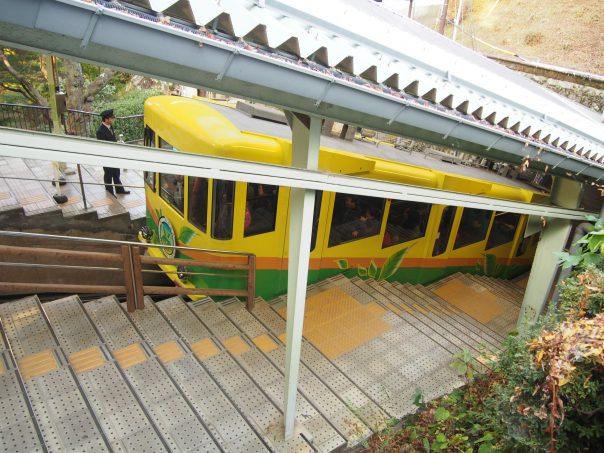 But there was a long line and we ignored it.
Actually there is also an another option.
It is Chair Lift.
But there was also long line.
If you do not care about the line I recommend you Chair Lift as you can enjoy air and beautiful scenery directly.
Both of them are same price but the amount of time to the bottom is different.
Here are the details.
Cable Car
One Way : 480 yen (About $4) for Adult, 240 yen (About $2.2) for Child
Amount of Time : 6 minutes
Chair Lift
One Way : 480 yen (About $4) for Adult, 240 yen (About $2.2) for Child
Amount of Time : 12 minutes
Tengu Yaki
In front of the Chair Lift, you can find this shop.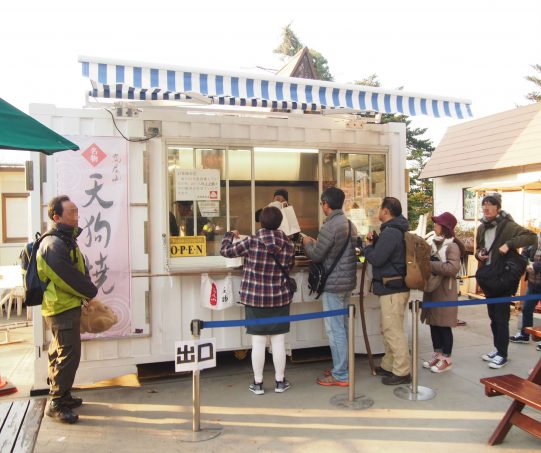 What they sell it Tengu Yaki.
Tengu yaki is, well, I can not explain as I gave up lining up in the end.
It is specialty of Takaosan and looks like very popular from the long line of people.
Here is the picture of Tengu yaki from official website of Takao Tozan Railway.
It costs 140 yen (About $1.2)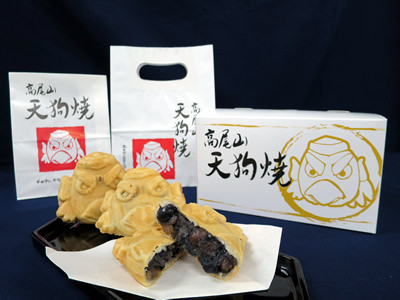 Source : Takao Tozan Railway official site
Tenguyaki
Website (Japanese)
http://www.takaotozan.co.jp/miyage/detail.php?q=miyage49f68eecef1c7
Kept walking down.
And we could get to the bottom of the mountain in about 1 hour.
There were souvenir shops and restaurants there.
Soba Restaurant Takahashiya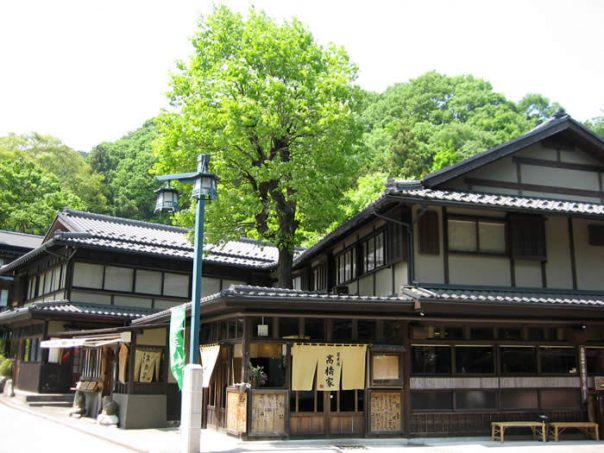 Source : Takahashiya
We did not have lunch although we ate some rice dumplings so we decided to have a lunch here in Takahashiya.
Above picture is from official site of Takahashiya as I forgot to take a picture.
It is popular Soba Noodle restaurant with the foundation in 1830 in Takaosan.
I ordered, yes most popular menu of Tororo Soba.
Here it is.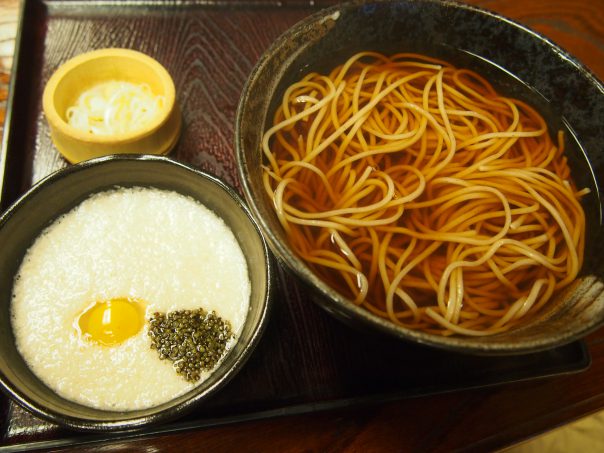 It was really good taste!
I recommend you this restaurant as it has traditional atmosphere inside and if you are lucky, you might be able to enjoy soba at traditional Japanese Tatami mat room in the back.
Takahashiya
Address
2209 Takao-machi, Hachioji-shi, Tokyo
Google Map: https://goo.gl/maps/GaLgjXz4AGz
Access
Takaoguchi Station (Keio Takao line)
Tel
042-661-0010 (+81-4-2661-0010)
Opening Hours
10:00 – 18:00 (Last Order : 18:30)
Shop Holidays
5 days between late July and early August
5 days between middle of December and late December
5 days between late February and early March
Website (Japanese)
http://www.takahasiya.com/index.html
It was already night when we got out of the restaurant.
Souvenir shops started closing.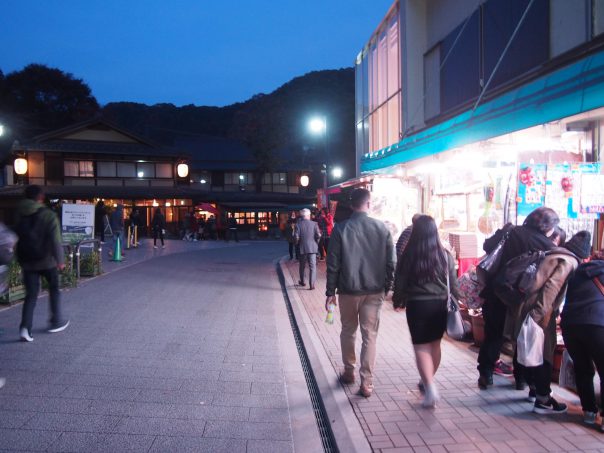 On our way back to the Takaosan Guchi station, I bought Takao Manju just for souvenir for myself.
Manju is a Japanese style steamed bun stuffed with sweet red bean paste.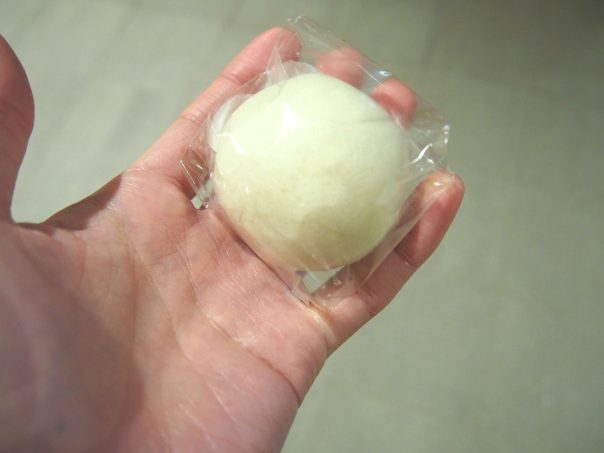 This Takao Manju is also recommended specialty of here in Takaosan.
Takaosan Onsen Gokurakuyu


Source : Takaosan Onsen Gokurakuyu
I did not visit this time but there is also Onsen here.
It is Takaosan Onsen Gokurakuyu.
It's just 1 minute from Takaosan Guchi station or I can say it is almost right next to the station.
If you are tired, how about relaxing in Onsen?
It opens everyday until 11 p.m.
Here are the details.
Takaosan Onsen Gokurakuyu
Address
2229-7 Takao-Machi, Hachioji-shi, Tokyo
Google Map: https://goo.gl/maps/DXu1rxBhVJG2
Station
Takaosan Guchi Station (Keio Takao Line)
TEL
042-663-4126 (+81-4-2663-4126)
Opening Hours
8:00 – 23:00 (Last Entry Time 22:00)
Business Days
Everyday
Price
Regular Fee : 1000 yen (About $9) for Adult (13 years old and up)
High Season Fee : 1200 yen ($About $11) for Adult (13 years old and up)
Baths
Cypress bath, Theme bath, Sauna, Outdoor stone-pitch carbonated bath, Natural hot springs outdoor rock baths, Sitting Bath, Cold Bath
Amenity
Dining, Massage
Website
http://www.takaosan-onsen.jp/english/
Summary
I had a great time in Takaosan.
It is about 1 hour from center of Tokyo and you can enjoy a lot of greenery, well, autumn colors of yellow, orange, red, etc. in autumn.
Even slow pace, 2 hours is enough to the top from the start point.
If you are lucky you might be able to meet flying squirrel.
Although I can not guarantee for Tengu but maybe if you have six sense.
Best season to enjoy autumn leaves is, yes, just now.
Latter half of November is the best time to enjoy autumn leaves in Takaosan.
If you want to relax blessed with nature around Tokyo, oh sorry in Tokyo, I recommend you Takaosan very much!
Takaosan
Address
193-0884 Takao-Machi, Hachioji-shi, Tokyo
Google Map: https://goo.gl/maps/AcBaYKckFcS2
Closest Station
Takaosan Guchi Station (Keio Takao Line)
Website (Japanese)
http://www.takaotozan.co.jp/