This is actually second time to me to visit cafe of Tokyo Ghoul.
Last time was, I just checked it from outside as there was so long line and I gave up.
But this time, I decided to visit on weekday and at around 3:00 pm instead of busy lunch or dinner time.
Thanks to that, I could go inside without waiting!
Yeah, I tried Mazui Sandwich, too.
Mazuin means gross-tasting in Japanese.
The taste?
I'll tell you in this article.
Visited Tokyo Ghoul:re CAFE that collaborated with THE GUEST Cafe & Diner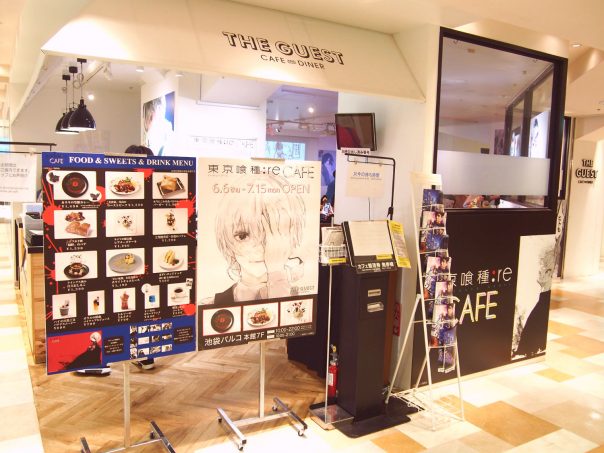 This Tokyo Ghoul:re CAFE is a collaboration cafe with THE GUEST Cafe & Diner.
It is a pop-up shop and opened this month on 6th June in PARCO Ikebkuro in Tokyo.
So I came here!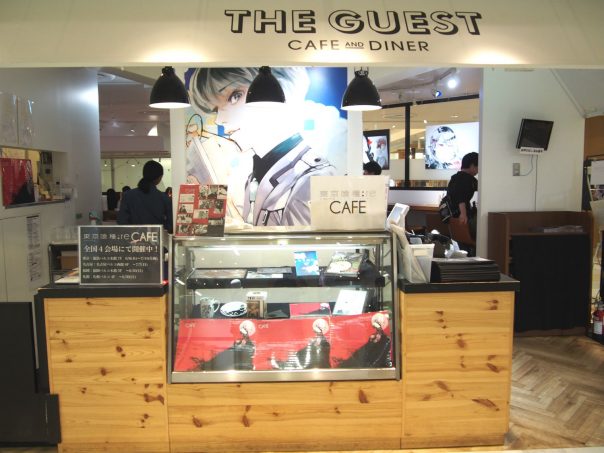 Today is Friday and the time is 3:15 pm.
No line at all in front of the cafe, this is great!
I had a seat at the corner.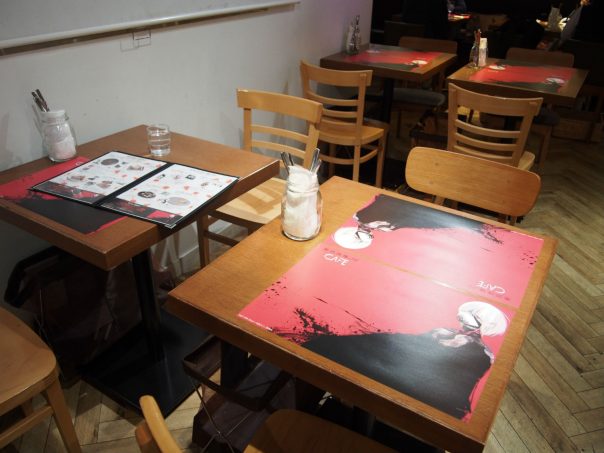 This is the atmosphere of inside of the cafe.
I could watch Tokyo Ghoul on TV, too.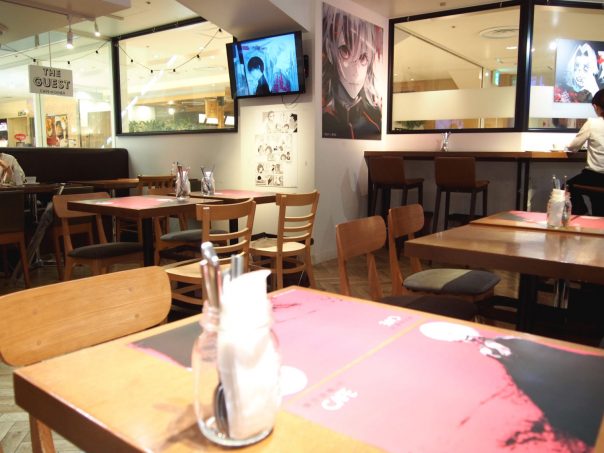 And checked the menu.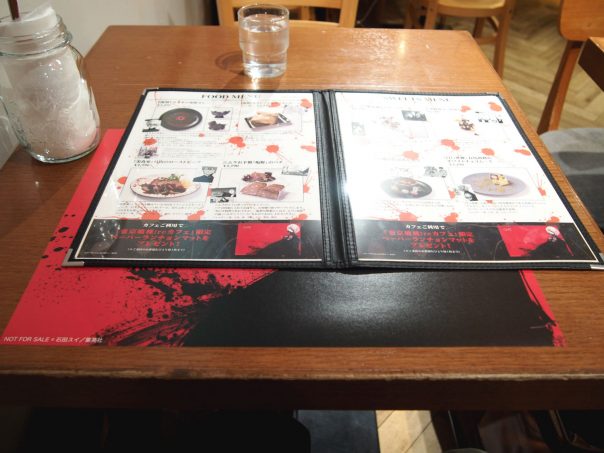 Ordering Scary Menu
Waitress told me "Kaneki's One-Eyed Curry" is one of the popular menus.
So I decided to order it.
I was also curious about both "Mazui Sandwich" and "Hontouni Kore wo Taberunoka? Burger".
But this time I decided to go for Mazui Sandwich.
Kaneki's non-alcoholic Sparkling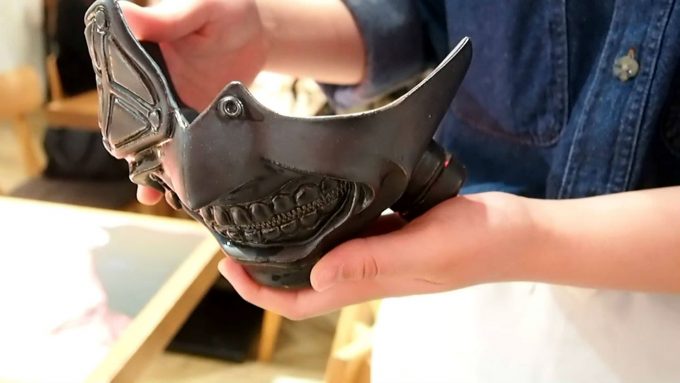 When I first ordered the curry, what I got first was this Kaneki's Mask.
This is cool!
This mask was made by ceramic artist Takahiro Koga.
I could feel the heavy weight of it.
And inside of it was non-alcoholic sparkling juice.
Pomegranate or something?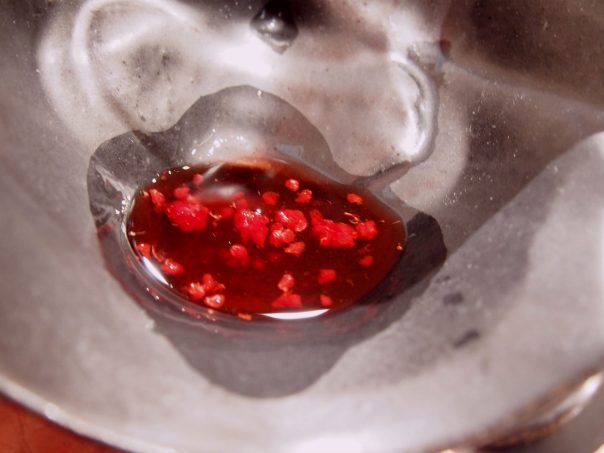 Anyway it tasted good.
"Shall I take your picture with the mask?"
Waitress asked me.
I thought it might be good but declined this time.
Then she told
"Shall I prepare the stand for a picture then"
That's a nice service so I said
"Yes, please"
And here it is.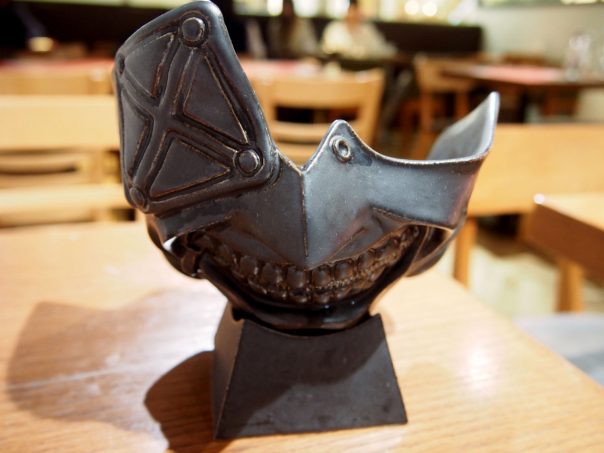 Kaneki's One-Eyed Curry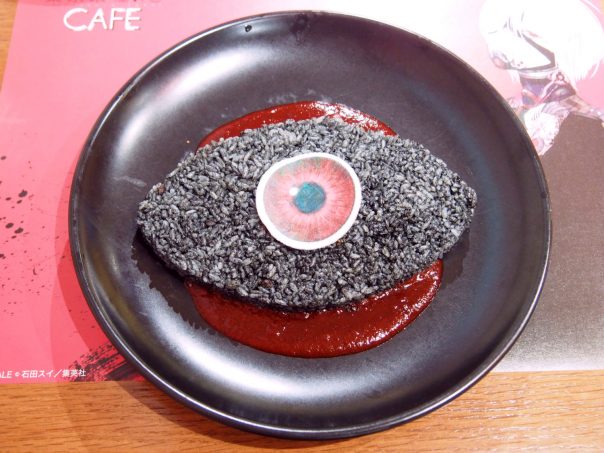 Then after the while, Kaneki's One-Eyed Curry finally came!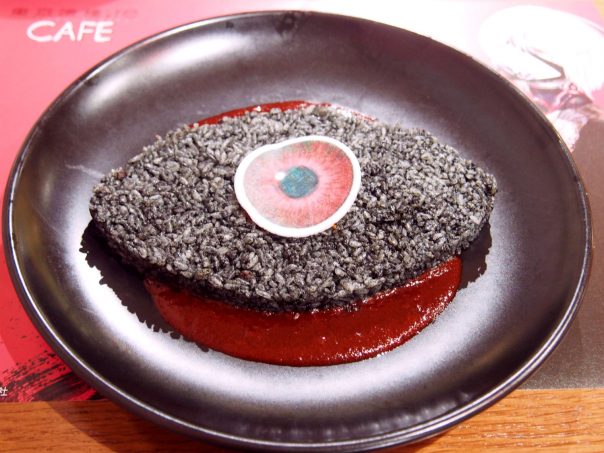 One eye on the top, looks a bit scary.
Anyway I tried.
And the taste was actually good!
When I picked up the eye part, beneath of it was beef.
For the eye, it tasted sweet.
It was a thin wafer or something.
Mazui Sandwiches (Gross-tasting Sandwiches)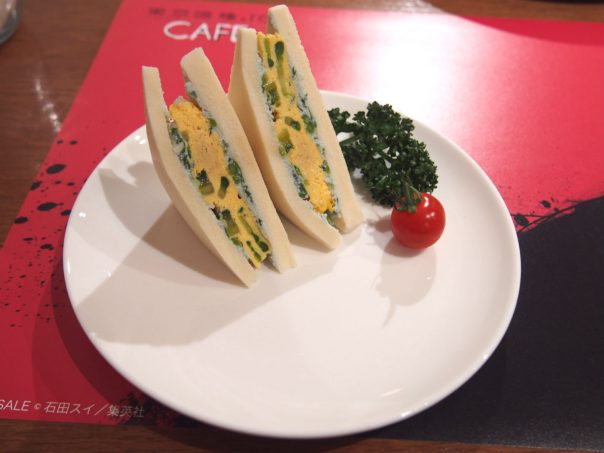 "Is this really gross-tasting?"
I asked a waitress.
"Yes, it is really gross-tasting"
She replied.
From the tone and her face, I found that she was not joking.
Worth trying so I ordered Mazui Sandwiches.
Here it comes!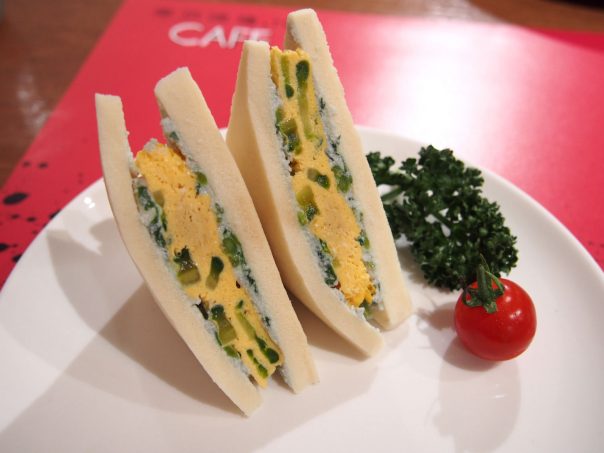 It looks ordinary sandwiches of egg although it already has a bit eerie feel.
Anyway I tried.
Oh, my, gosh!!(TДT)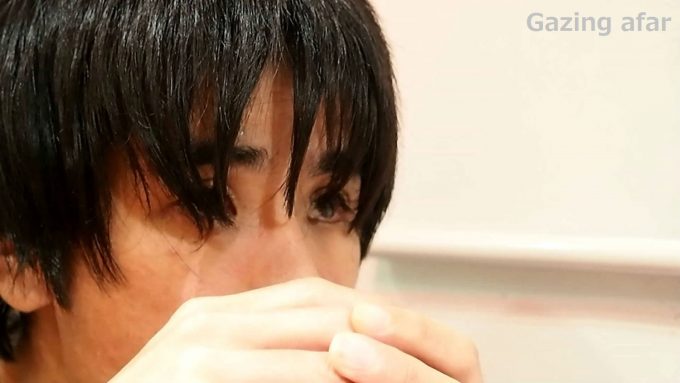 Without water, I can not keep eating anymore.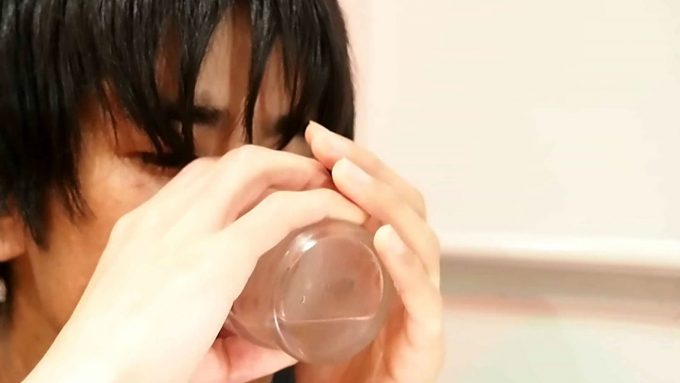 She did not tell a lie.
"Are there people who can eat this up?"
I asked her.
"Yes, there are some"
She replied.
I have to respect them and want to follow them.
So I cleaned my plate!!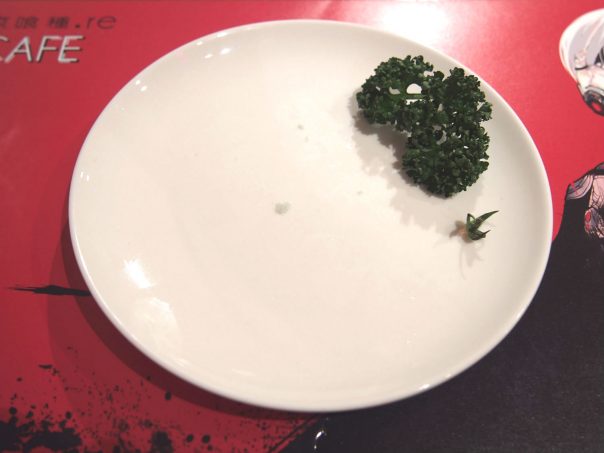 It was a great challenge.
Other menus
As I visited alone, I couldn't try all of them so I introduce some other menus from Twitter of official site.
Hontouni Kore wo Taberunoka? Burger (Can I really eat this? Burger)
東京喰種:reCAFE@池袋パルコ
只今カフェはすぐにお席まで
ご案内しております。

本当にこれを食べていいのか、、?
肉肉しいハンバーガーを
是非、ご賞味下さい。#東京喰種reCAFE池袋パルコ pic.twitter.com/dDWyWtnf2o

— 東京喰種:reCAFE@池袋パルコ (@THEGUESTcafe) June 16, 2019
Hontouni Kore wo Taberunoka?
That is, can I really eat this?
This is the phrase Kaneki murmured when he got a mysterious package from Yoshimura.
I was curious about inside of the burger.
What does the date on the package mean?
Gourmet Tsukiyama's Roast Beef
東京喰種:reCAFE@池袋パルコ
只今カフェはすぐにお席まで
ご案内しております。

今夜のディナーにローストビーフはいかがでしょうか?
そして、あなたも美食家に。。。#東京喰種reCAFE池袋パルコ pic.twitter.com/nDKYpOjTLb

— 東京喰種:reCAFE@池袋パルコ (@THEGUESTcafe) June 14, 2019
Tsukiyama was one of the unique characters, isn't it.
He has a strong passion for food.
I can see an eye on the dish.
They say it is made of cheese.
Enjoy scary look dish.
Nimura's Pate
東京喰種:reCAFE@池袋パルコ

只今カフェは待ち時間なしでご案内しております。
ショップもすぐにご利用頂けます。

こちらはニムラお手製「塩野」のパテです!
「塩野は無駄にしねえ」のように
塩野の血(バルサミコソース)をかけてお召し上がりください😱#東京喰種reCAFE池袋パルコ pic.twitter.com/PbfVQcZj8y

— 東京喰種:reCAFE@池袋パルコ (@THEGUESTcafe) June 13, 2019
This was the plate Nimura made for Eto, wasn't it.
Balsamic sauce is used for blood of Shiono.
Please do not waste Shiono.
Kijima's Rare Cheesecake
東京喰種:reCAFE@池袋パルコ

只今カフェはすぐにお席まで
ご案内しております。

「チーズが食べたい….」
死の間際にそう言い残したキジマをイメージしたレアチーズケーキ。
キジマの代わりにチーズをご賞味ください。#東京喰種reCAFE池袋パルコ pic.twitter.com/Rpiy8F50PN

— 東京喰種:reCAFE@池袋パルコ (@THEGUESTcafe) June 14, 2019
"I want to eat cheese", that's the last word Kijima said.
It's a cake with berry sauce.
Sweet-sour berry sauce comes out if you cut the cake.
Apart from the look, it must be good taste.
Tokyo Ghoul:re Shop and around the shop
In front of the cafe, there was a shop of Tokyo Ghoul:re.
Here are the goods sold inside.
Tokyo Ghoul:re Shop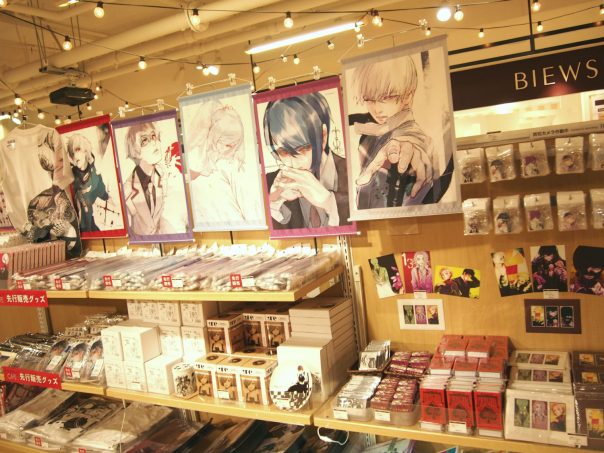 Poster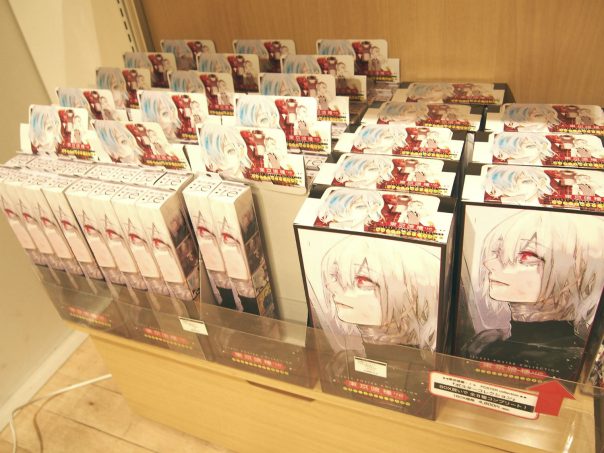 Acrylic figure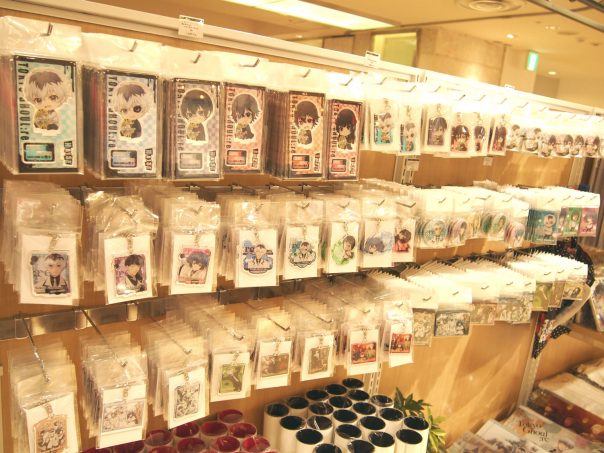 T-shirt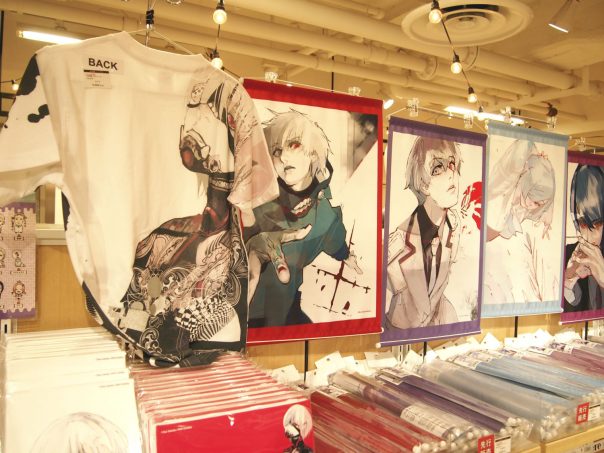 Plate & Coffee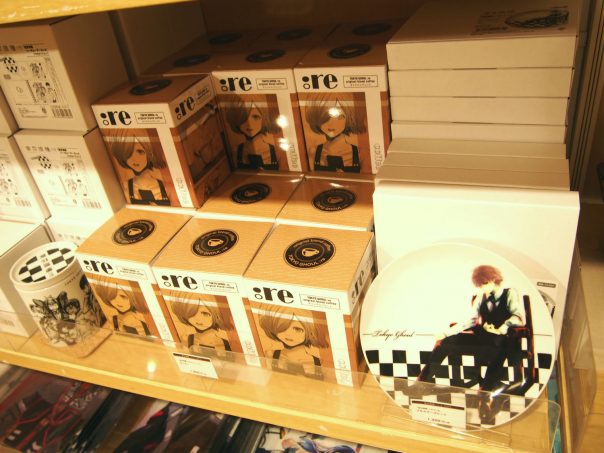 Towel & Poster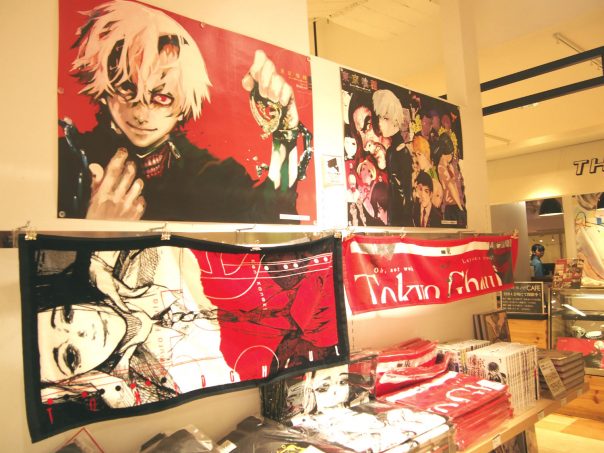 Comic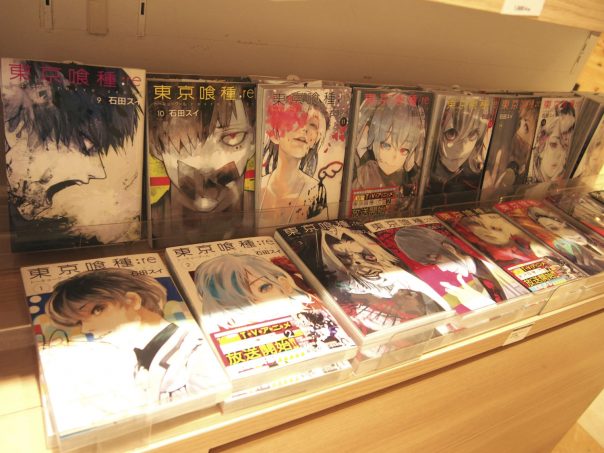 Wall of Tokyo Ghoul:re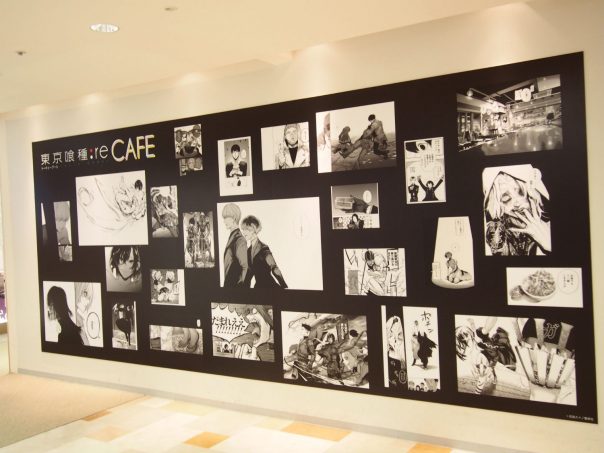 There was a wall of Tokyo Ghoul:re right next to Tokyo Ghoul:re CAFE.
You can see famous scenes you read in the comic.
Costumes of Tokyo Ghoul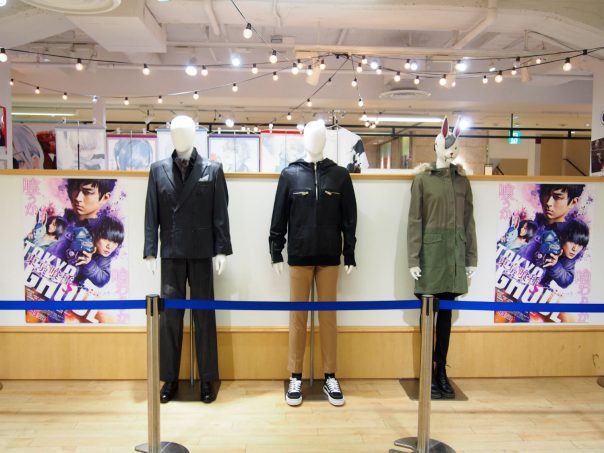 Costumes of Tokyo Ghoul had been displaying.
I could see costume of Kaneki and Touka but who's costume for the left one?
Anyway they are actual costumes used in live-action film.
Tokyo Ghoul :re x Roasted COFFEE opens in August in Ikebukuro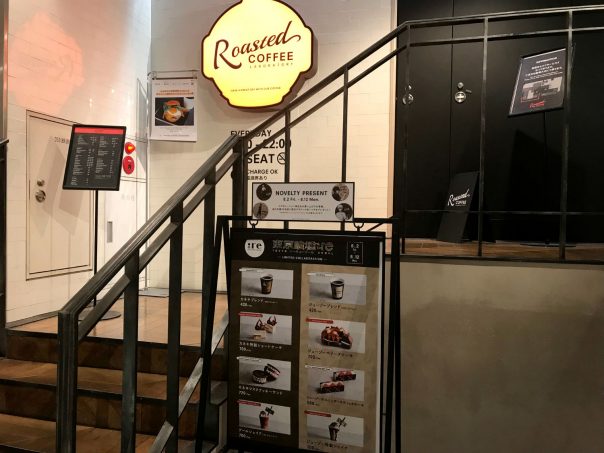 In August, collaboration cafe of Tokyo Ghoul opens for a limited time of 11 days.
The place is Roasted Coffee Laboratory Esola Ikebukuro.
So I've been to there.
There was a menu in front of the cafe.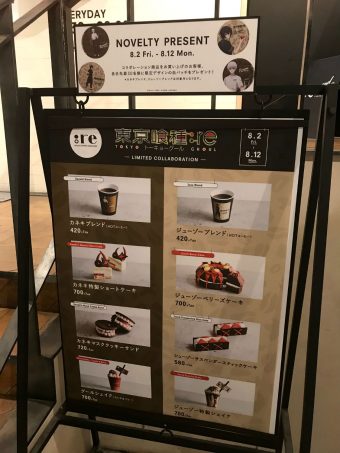 There are sweets such as Ghoul Shake, Jyuzo Shake, Jyuzo Berries Cake, Kaneki Masku Cookie Sand, etc.
Entering the cafe to find this is backdoor, so I go through table seats to the counter.
At the cashier, I was going to order sweets of Tokyo Ghoul but the staff told me they were all sold out other than coffee.
Oh, my, I had not imagined it, I might should have come in the morning time.
Anyway, he told me there were still 2 types of coffee, Kaneki blend and Jyuzo blend.
As I came all they way to here, I ordered Kaneki blend.
It was about $4 (420 yen).
I sat a counter seat in front of cash register.
Here is Kaneki blend.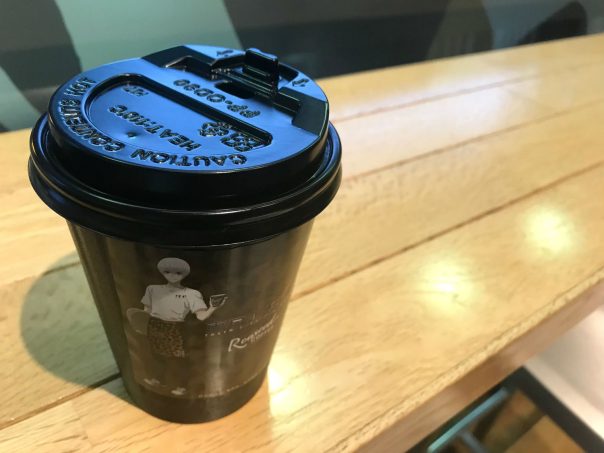 They say it has a flavor of dark choco and almond with sweetness like a caramel.
Certainly I could taste a bit unique flavor.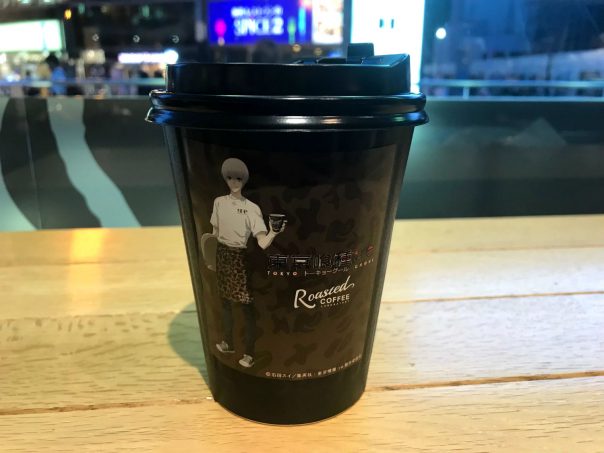 I enjoyed the coffee here for about 30 minutes.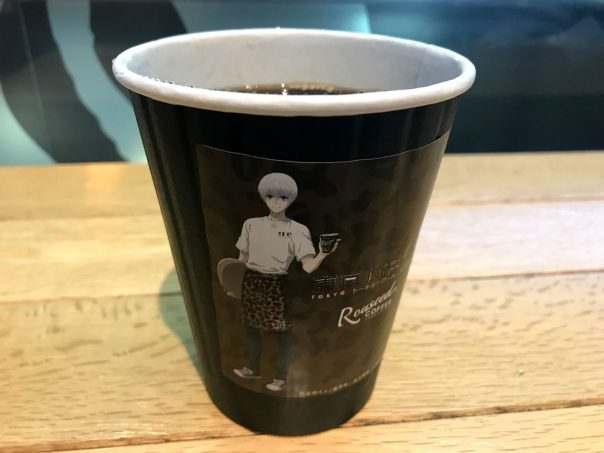 Looks like the first 30 customers to arrive can get PinBack button of Tokyo Ghoul on each day.
I recommend you to arrive in the morning if you want the PinBack button and sweets.
Anyway, I could not order sweets this time, but I was interested in Kaneki Mask Cookie Sand.
TVアニメ『東京喰種トーキョーグール:re』とRoasted COFFEE
LABORATORYのコラボカフェがオープン!詳細は下記URLをチェック!
(8/1公開予定) https://t.co/JRZ6BMVM4U#roastedcoffeelaboratory #東京喰種@tkg_anime pic.twitter.com/m6Z4MIhSGN

— 【BD&DVD好評リリース中!】アニメ「東京喰種:re」公式 (@tkg_anime) July 30, 2019
Summary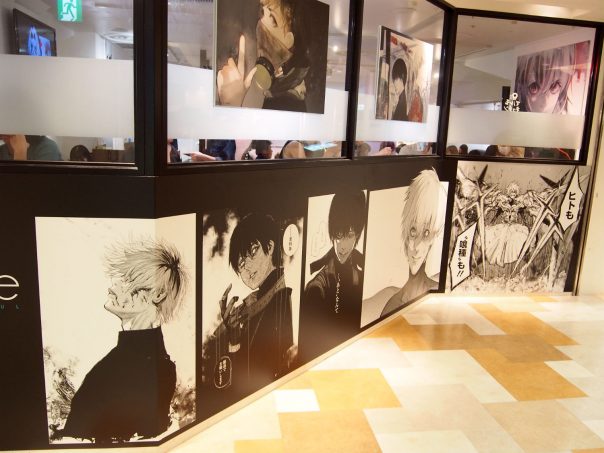 Close to Ikebukuro, there was a real cafe used as a motif of Antique (Coffee shop of Tokyo Ghoul).
It certainly looked like the one in anime both inside and outside although it had closed its shop in 2017 sadly.
I'm also curious about this film of Tokyo Ghoul next month.
Tokyo Ghoul Official Site : http://tokyoghoul.jp/
If you want to enjoy? baddest sandwiches ever, I think this is the best place for you.
But please do not hold a grudge against me after the challenge.
PS. If you are also interested in Tokyo Ghoul CAFE (not re:CAFE), here I visited it 2 years ago (Just visiting)
Tokyo Ghoul Cafe Opens with Horrifying Menu
Tokyo Ghoul:re CAFE (THE GUEST cafe & diner Ikebukuro)
Address:PARCO 7F, 1-28-2 Minami Ikebukuro, Toshima Ward, Tokyo
Closest Station:Ikebukuro Station (JR Yamanote Line)
Seats: 62 Seats
Opening Period : 6th June to 15th July 2019
Opening Hours : 10:00 – 22:00 (Last Order for Food : 21:00, Last Order for Drink : 21:30)
Holiday:Irregular Holidays
Website (Japanese):http://the-guest.com/tokyoghoul_re_ikebukuro/