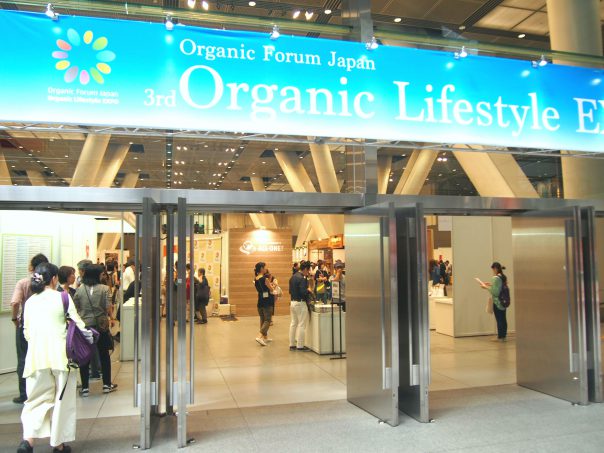 If you are interested in organic food, slow life, vegetarian & vegan, etc. this is the event for you.
This Organic Lifestyle EXPO is biggest organic event in Japan.
I've also been to this EXPO last year and could enjoy many organic samplings.
Here I introduce how the event was!
Please go easy on me for the pictures that are out of focus sometimes.
Contents
   1.12. TOHTO CO-OP
   1.13. Oisix
   1.14. SHARE THE LOVE for JAPAN (Vegetable Marcket)
   1.15. Association of Radix.
   1.16. NESCAFE
   1.17. Nanahako
   1.18. Alishan Cafe
   1.19. Organic Soy Milk Gelato (MUSO co., ltd.)
   1.20. FROZEN LAB.
2. Summary
Organic Lifestyle EXPO 2018
Patagonia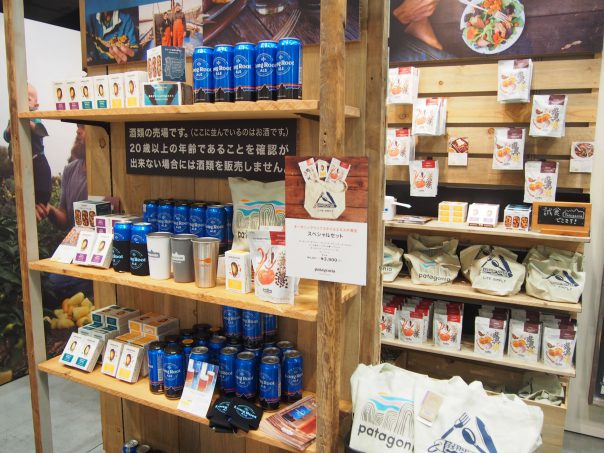 What I could see first was a booth of Patagonia.
It's a famous eco-friendly outdoor brand since its foundation.
The clothes are a bit expensive but good quality and worth it!
What caught my eyes most was this blue-canned beer!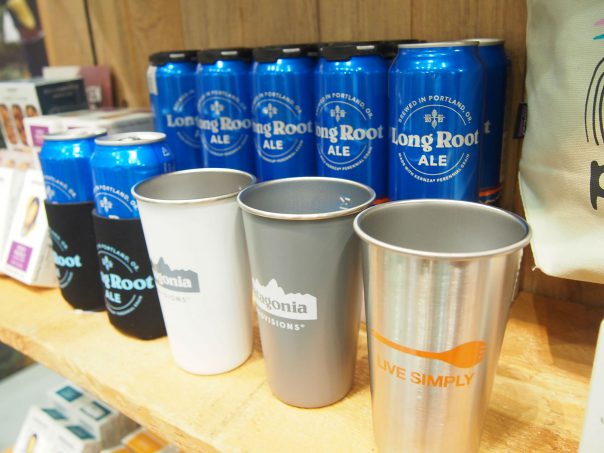 I did not know they also sell beer.
Name of this beer is Long Root ALE.
Organic two-row barley, organic yeast, organic hops are used for this pale ale beer.
What a quality beer!
Its volume is 473 ml and 626 yen (about $.5.5)!
Would you like one on a special day?
They were also selling organic soup in a stylish package.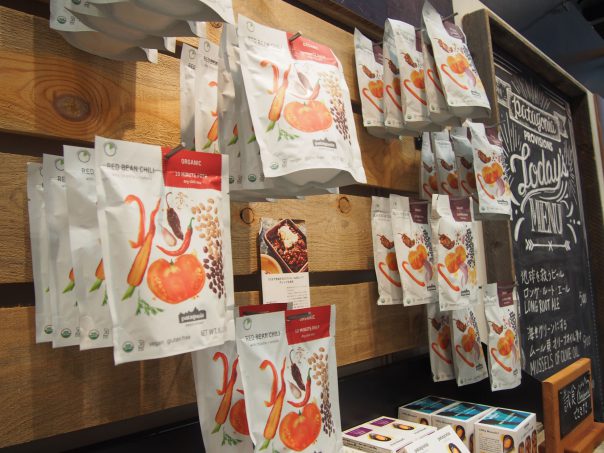 Just boil 1 minute in a boiling water and wait 9 minutes after putting lid on it.
You can make and enjoy the organic soup at various occasions like busy day in daily life as well as at outdoor scenes.
Kodawariya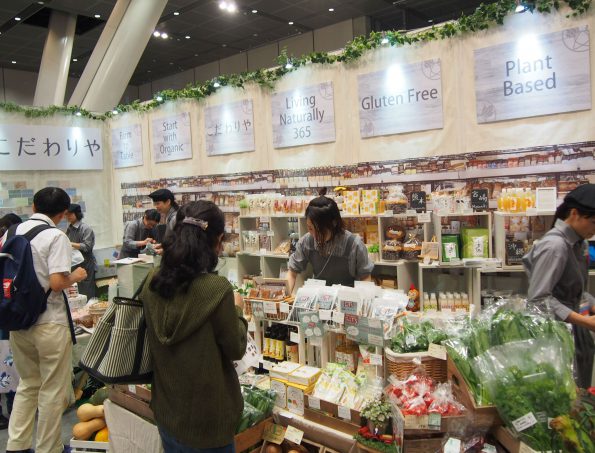 There was a booth of Kodawariya near the booth of Patagonia
It is a famous chain organic supermarket in Japan.
I could sometimes see the shop inside a big station or in department stores.
And I often buy organic vegetables at Kodawariya.
The booth was a kind of big and has wide selection!
From vegetables to sweets.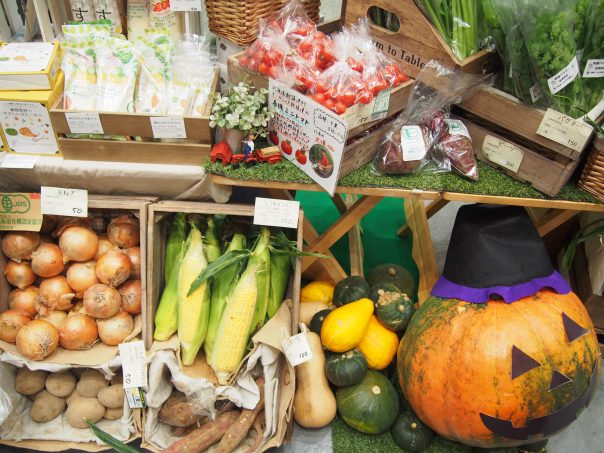 Cheap price!!
Pack of mini tomatoes is 150 yen ($1.3).
Here in Japan, not only organic vegetables but ordinary vegetables or fruits are expensive.
Usually you have to pay about 300 yen (about $2.5) for same quantity of organic mini tomatoes if you buy at the shop in Japan.
Must be special price only for today.
So I bought tomatoes and small pumpkin.
Yes, Halloween comes soon although I do nothing in particular.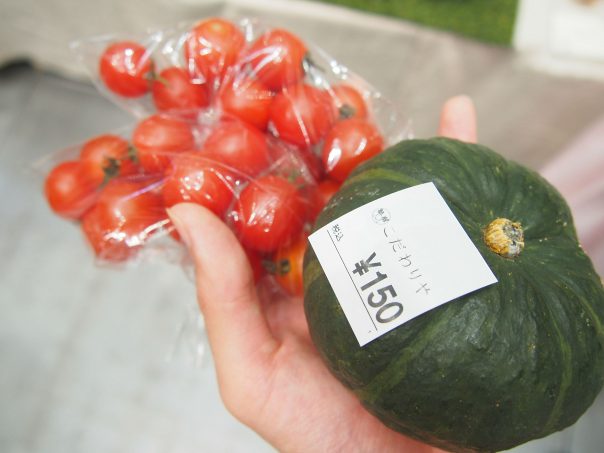 I told I did not need a plastic bag and they gave me organic tea bag and additive‐free nuts.
Generous!!
I keep shopping at Kodawariya in Tokyo!
YUM KAH (Nichifutsu Boeki Corp.)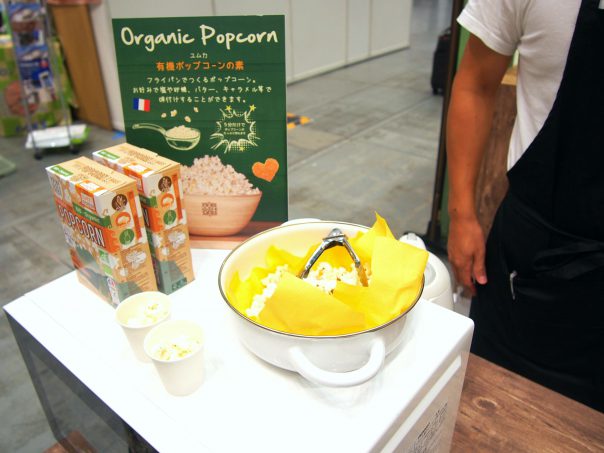 My friend's child was attracted by pop corn!
Yeah, it tastes good, isn't it!
I remember days in elementary school when I baked the seed of corn on stove in classroom.
But organic pop corn is rare!
I tried it.
Taste good!
Far better taste than ordinary pop corns.
Because of freshness? or organic?
This is pop corn of YUM KAH.
The corns are from France.
Importer is Nichifutsu Boeki Corp.
Ingredients are organic corn (No GMO), Organic palm oil and salt.
It looks like cooked by micro-wave only.
3 packages and 670 yen (about $6).
Quality pop corn.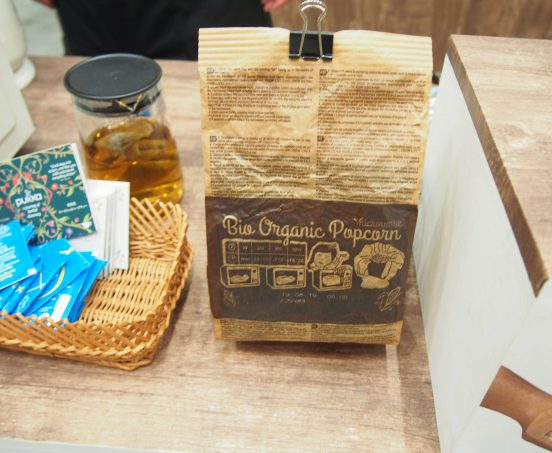 ROSE LABO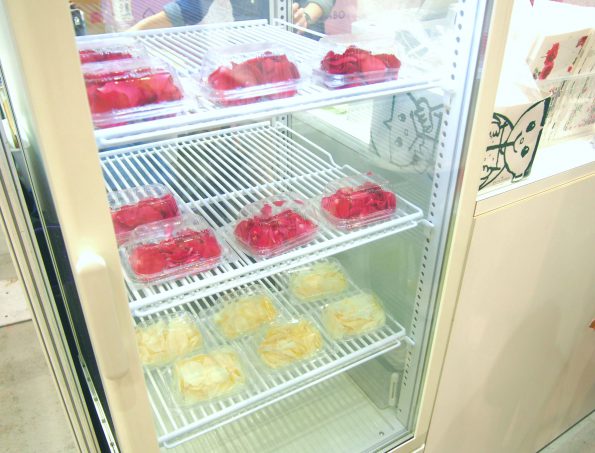 You can eat rose!
ROSE LABO is the company which grow roses organically in Saitama Prefecture.
They oversee all the process from produce to delivery.
Roses are abundant in vitamin C and polyphenol.
They were selling jam and syrup of rose.
Looks like cosmetics of roses you can also buy through the website.
I should have tried!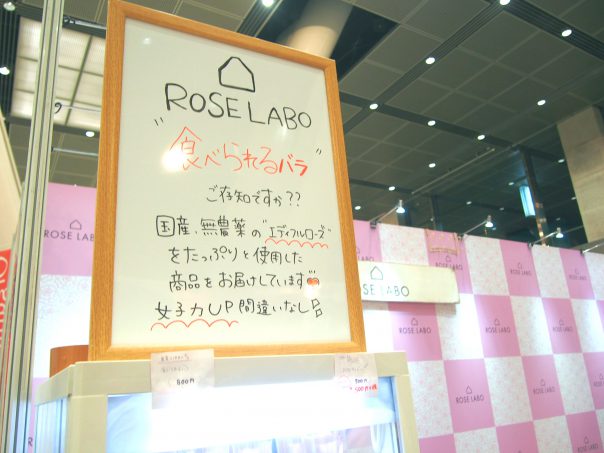 Soap of Aleppo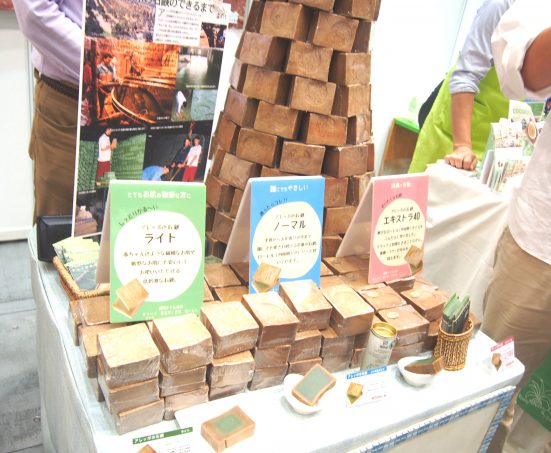 I sometimes see shop of Soap of Aleppo at an event such as Earth Day.
The soap has a great presence and gives us an impression of Ancient!
It is made in Syria which is said to be the home of soaps.
You can wash hole body including face and hair with this soap.
I missed to buy this soap but going to buy next time!
COCOFRIO (ALPHA FOODSTUFFS Corp,)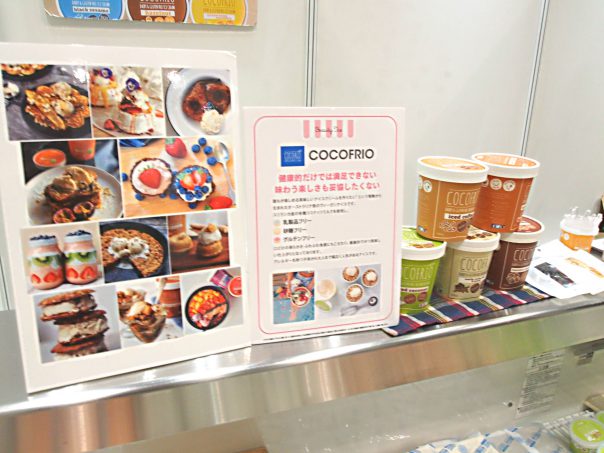 Found ice cream!
No dairy products and gluten.
It is a vegan ice cream from Australia!
Main ingredient is coconuts and rice syrup is used instead of sugar.
I tried it.
Yes, certainly I can taste coconuts and natural sweetness.
Taste good!
There are various flavors from vanilla to caramel, hazelnut, chocolate to Mango.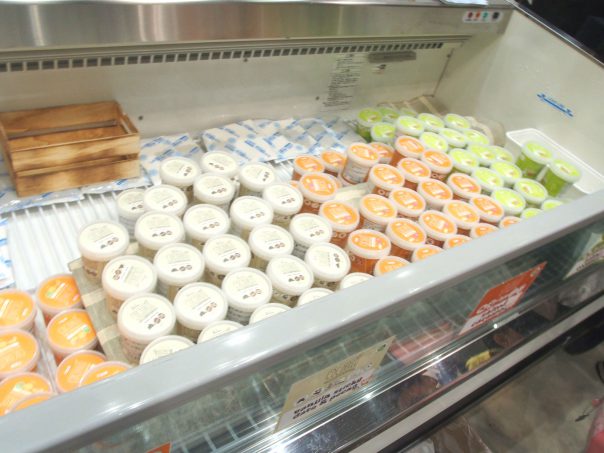 ALPHA FOODSTUFFS Corp, is the importer of COCOFRIO.
Mizukagami (Japan Society for the Promotion of Oumi Rice)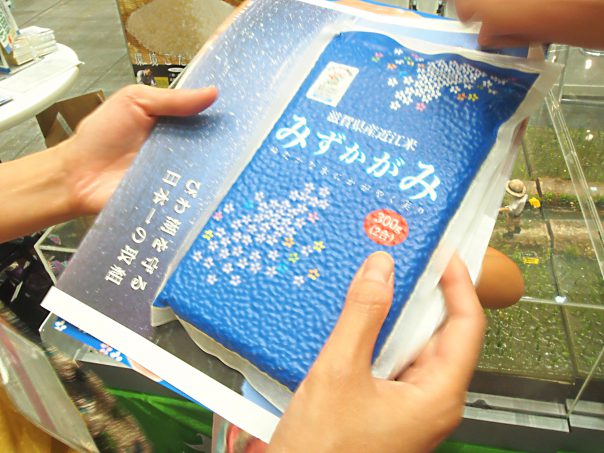 Friend's child is into something again!
I wondered what it was and found that there was a diorama of rice paddy!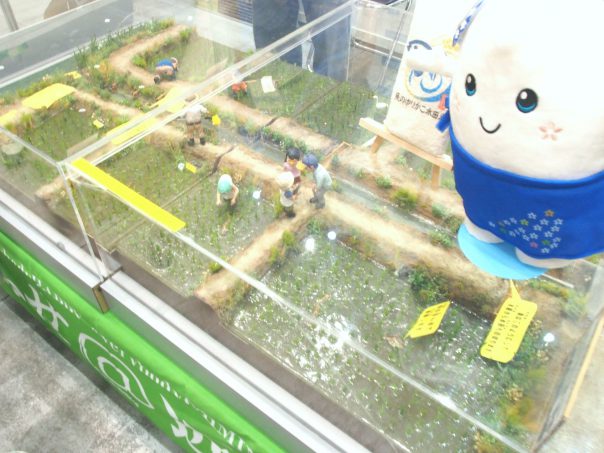 And I was also came to into it, haha
It represents the process of how to make Mizukagami which is a new breed of rice in Oumi.
Oumi is famous for its oumi beef and it is located in Shiga Prefecture that holds famous lake Biwa on it.
I see lake Biwa, I've been to there with my parents when I was little.
Lake Biwa was not a clean lake at a certain time in the old days because of domestic drainage and industrial waste.
But the quality of water got better now thanks to the great efforts by the people there.
This Mizukagami is not an organic rice but is made reducing the pesticides and chemicals by less than half compared to ordinary rice.
The water in the rice paddy flows down to lake Biwa in the end.
This process was created in the diorama, wasn't it.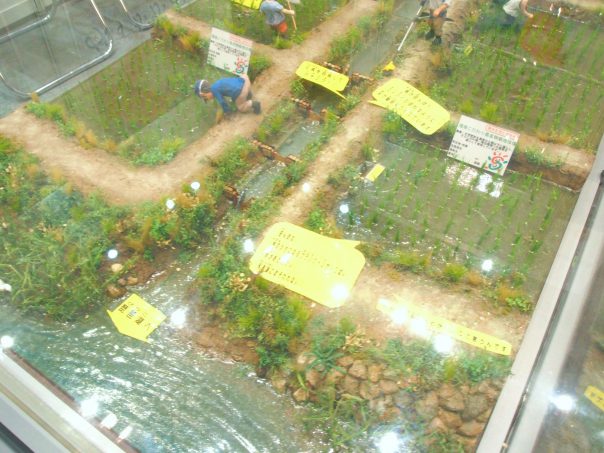 This idea of diorama is great as it is easy to understand and interesting.
They say the grade of the taste of Mizukagami is equal to Koshihikari, which is famous rice brand as most quality breed of rice in Japan, or more.
My friend got a package of Mizukagami by filling out a questionnaire
Maybe 500g or 1kg?
Anyway so generous present!
This is a booth of Japan Society for the Promotion of Oumi Rice.
Piene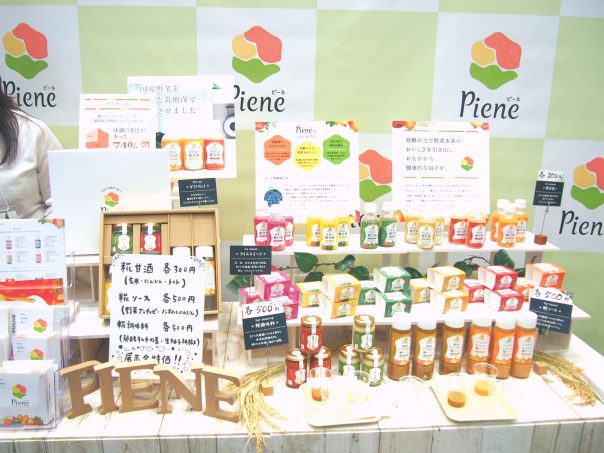 Colorful drinks are displayed.
This is a booth of Piene, which deals in a fermented rice drink of Koji.
Koji is a rice-malt.
Company's name Piene derived from Piene lactic acid.
Vegetable lactic acid is said to have stronger viability than those of animals.
And among the vegetable lactic acid, this Piene lactic acid is said to be the strongest against gastric acid.
Piene Koji fermented rice drink was made combining this Piene lactic acid and Koij.
Vegetables used in the drink are all domestic and no sugar or food additives used.
There are some flavors such as brown rice, carrot, tomato, etc.
I tried carrot.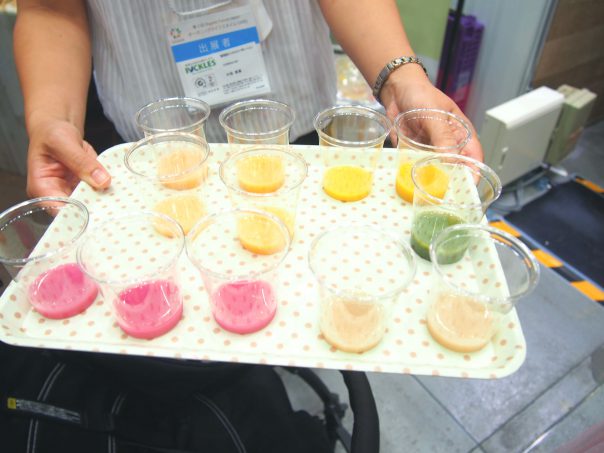 Yes, I feel I'm drinking fiber now.
For me, taste was good but I think some people might don't like.
First of all, there are people who do not like the taste of Koji and fermented rice drink themselves.
So I can say there are people who do not like the ingredients themselves from the first.
But, yes, it is good for your body as it's a combination of lactic acid and Koji!
Place to eat foods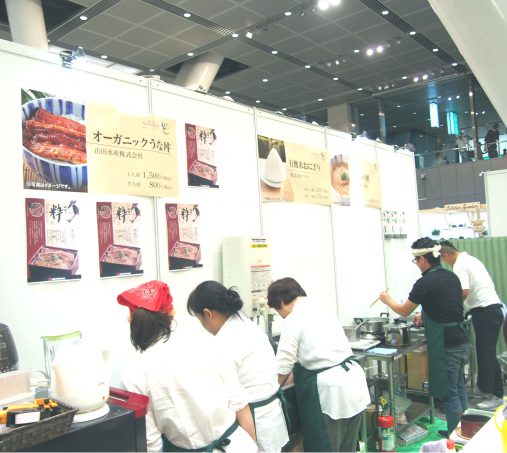 I need a short break now.
I found Japanese that says organic eel, rice rice ball and nyumen.
Nyumen is Japanese style thin noodles.
But organic eel?
What does it mean?
And I checked the information and found what it was.
Like organic vegetables free of pesticides, this eel was "no chemicals".
Usually chemicals are used to prevent eels from disease when they farm.
But the vendor Yamada Suisan Co., LTD. do not use any chemicals when they farm the eels.
It looks like the first eel farm without chemicals in Japan.
I see, that's why organic, I get it!
I wonder when I ate eel last.
Other than this place, there were 2 places in which we could enjoy foods with table seats.
Looks like they were the main places to enjoy foods.
So I went see there.
Organic Restaurant Village
This Mitsui bakery (Mitsui Seipan) make vegetarian breads.
It is located in Chiba Prefecture and all the vegetables and fruits as well as wheat are organic.
That's great!
Oh, Patagonia again!
You can enjoy Long Root ALE here!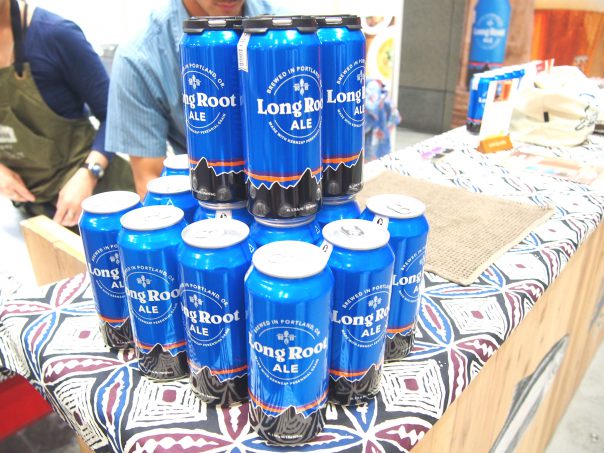 I could see sustainable kitchen ROSY and MOMINOKI HOUSE。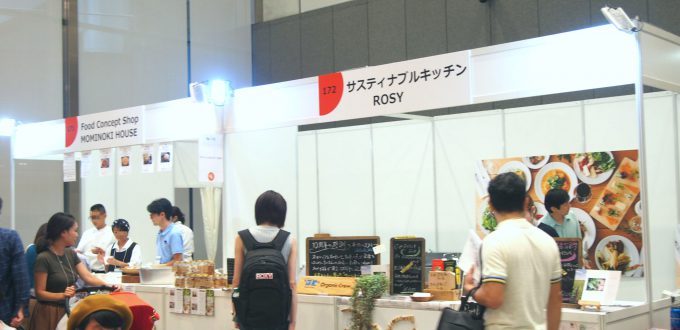 MOMINOKI HOUSE!!
This is organic restaurant located in near Harajuku station.
I've been to there and talked with chef a little bit more than 10 years ago.
He was the chef and owner of MOMINOKI HOUSE and very kind.
He had a long career of cooking at hotel and restaurant in United States and United Kingdom before he opened this restaurant MOMINOKI HOUSE in Harajuku.
The taste of the cuisine was good so I recommend you to visit the restaurant if you have a chance.
Sustainable kitchen ROSY looks like a new organic restaurant.
It is located in Kanda.
They say they use rice grown in-house over 40 years.
The restaurant is renovated traditional Japanese house.
Must be great atmosphere, yes, I'm gonna visit!
There are many other booth of foods.
But now I separate the page in two as it becomes heavy page with many pictures.
So to be continued to next page 2!