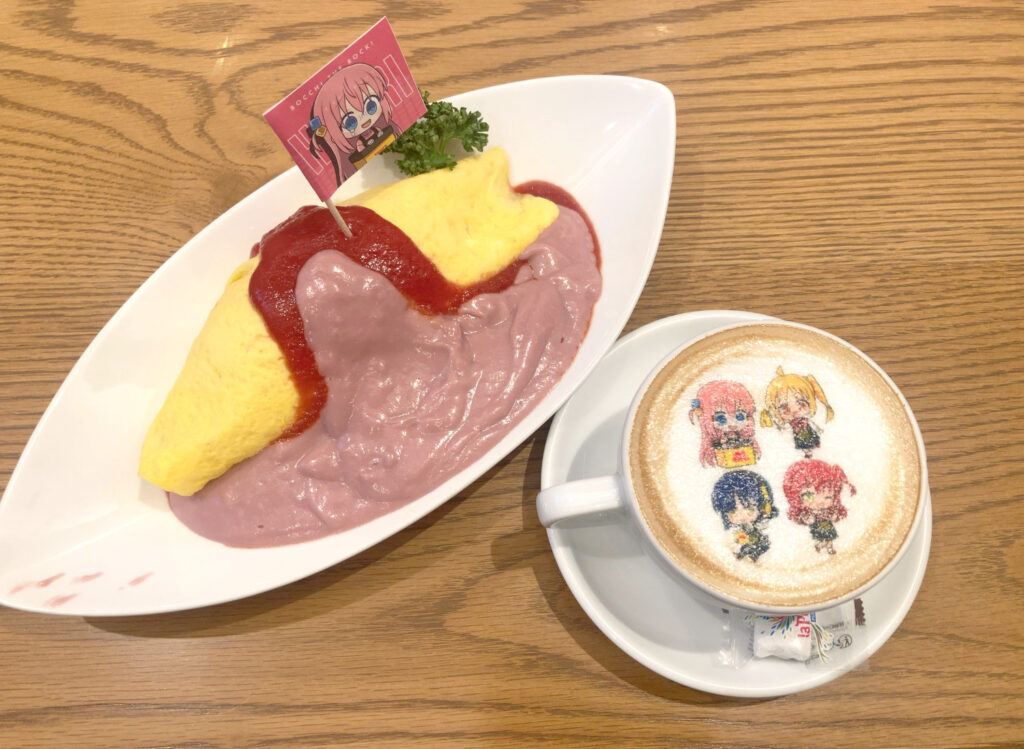 I recently visited the collaboration cafe of Bocchi the Rock!
I lost the lottery once (because all the days I wanted to go were fully booked) and was able to get a reservation on my second try this time.
In Tokyo, the first event was held at SMILE BASE CAFE in Ikebukuro (March 14 – March 30), and the second was held at TOWER RECORDS CAFE in Omotesando (May 11 – May 28).
I went to TOWER RECORDS CAFE Omotesando this time and would like to introduce the atmosphere of the cafe, its menu, and goods.
Access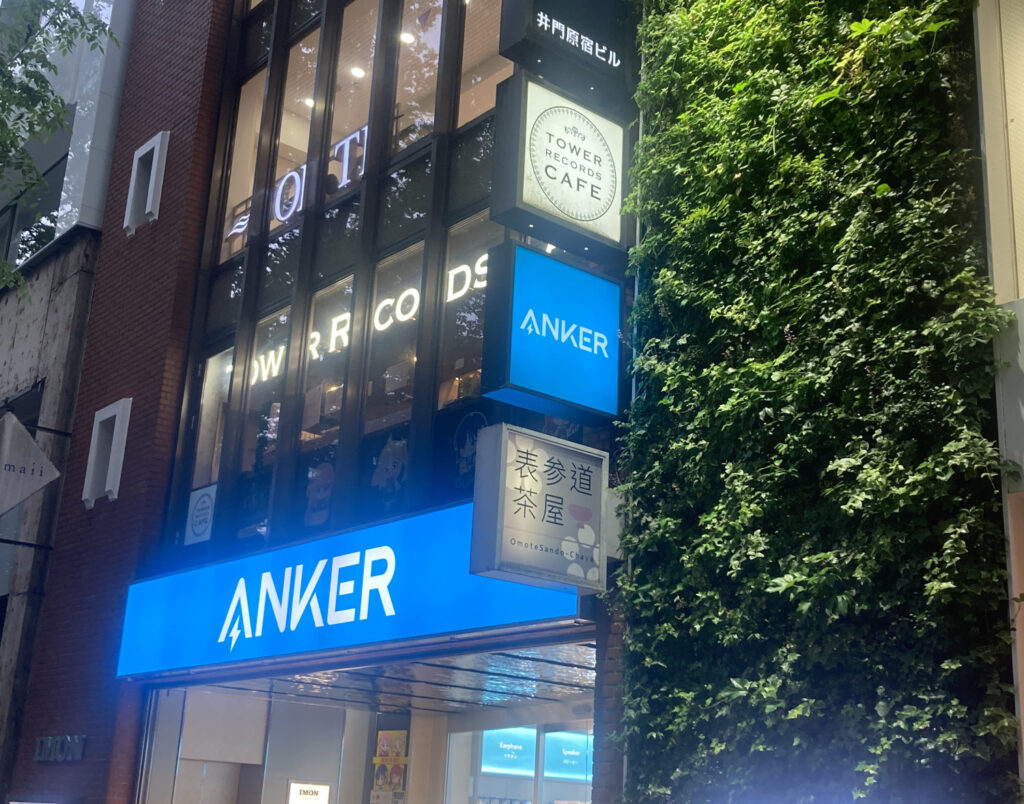 The nearest station to TOWER RECORDS CAFE, where the cafe of "Bocchi the Rock! is being held, is Harajuku Station.
It is about 300 meters from the station to the cafe, about a 5-10 minute walk.
After exiting the Omotesando exit of Harajuku station, with your back to the station, walk straight down the main street in front of you in the direction of Omotesando station.
You will come to a large intersection so cross the intersection and walk about 50 meters and you will find TOWER RECORDS CAFE on the second floor on your right.
Pre-order Ticket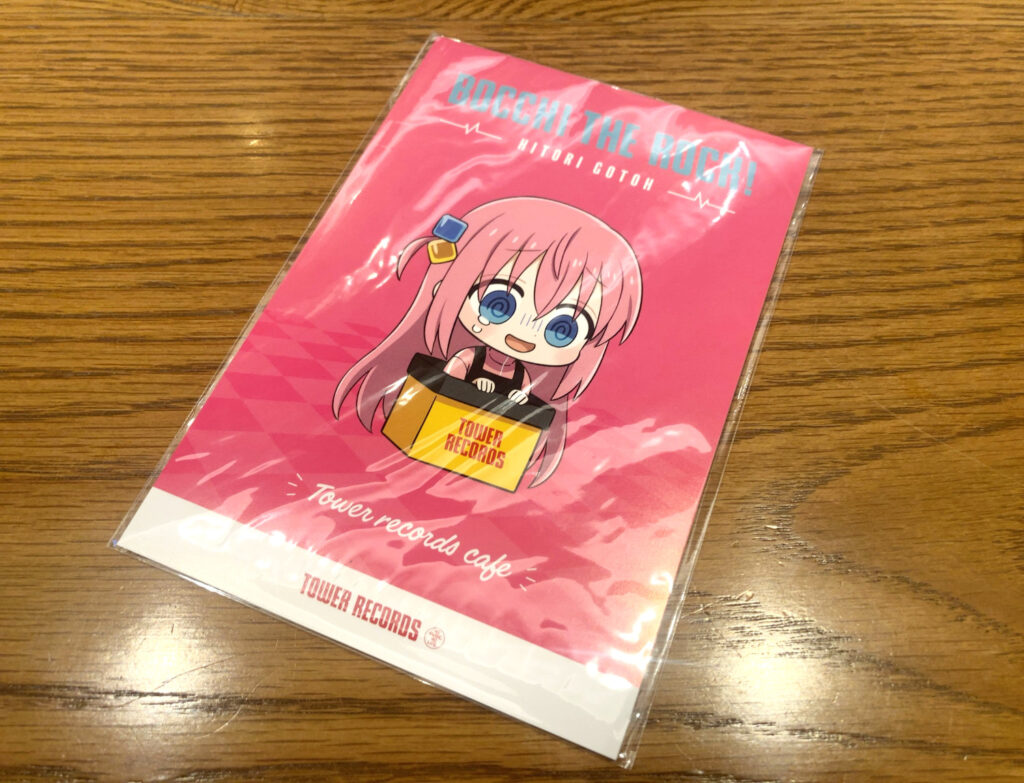 You need to make a reservation in advance for tickets to the cafe of Bocchi the Rock!
Price of ticket is about $5 (700 yen) per person, and in addition to that, you will be charged for food and drink at the cafe.
The last time the event was held in Ikebukuro in March, I wanted to make a reservation but all the days I wanted to go were already full, so I gave up.
So when I found out that the second collaboration cafe was to be held in Omotesando, I was ready to reserve a seat as soon as the pre-order started.
As a result, I was able to get a seat this time!
To Bocchi the Rock! × TOWER RECORDS CAFE Omotesando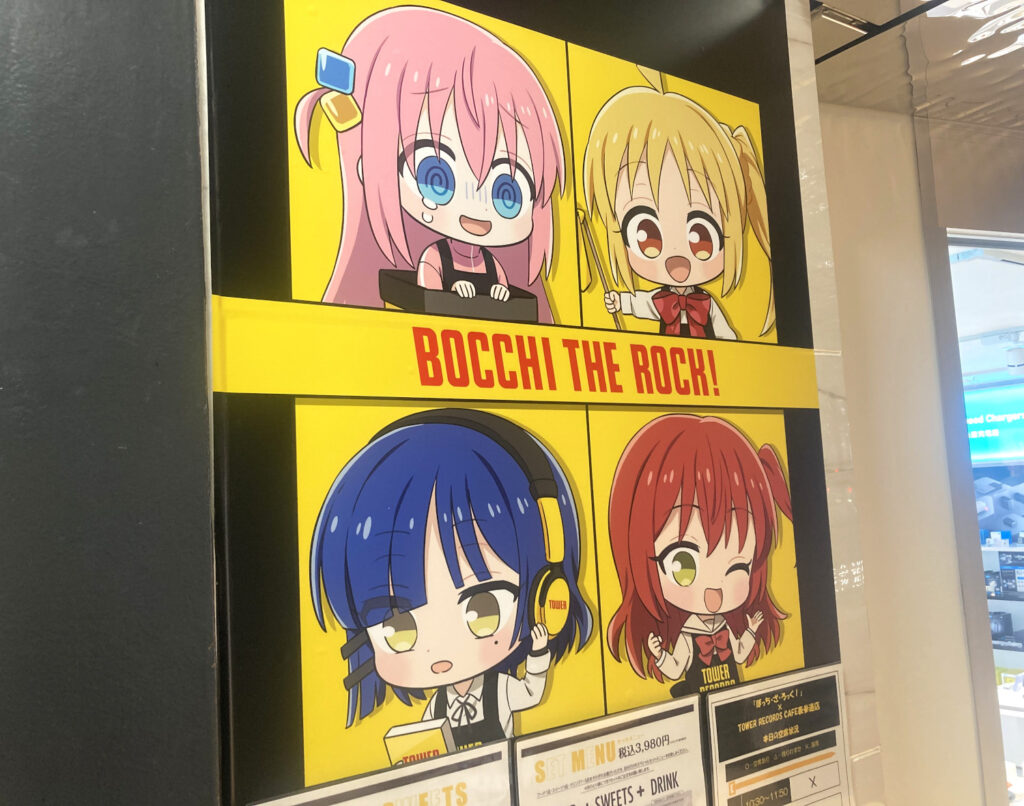 In less than 10-minute walk, I could get to TOWER RECORDS CAFE!
Collaboration cafe of Bocchi The Rock is being held here for a limited time from May 11 to May 28.
I didn't know Tower Records had a cafe.
Certainly, the cafe is excellent with Bocchi The Rock!
When the time came, a staff came to the first floor and guided me to the cafe on the second floor.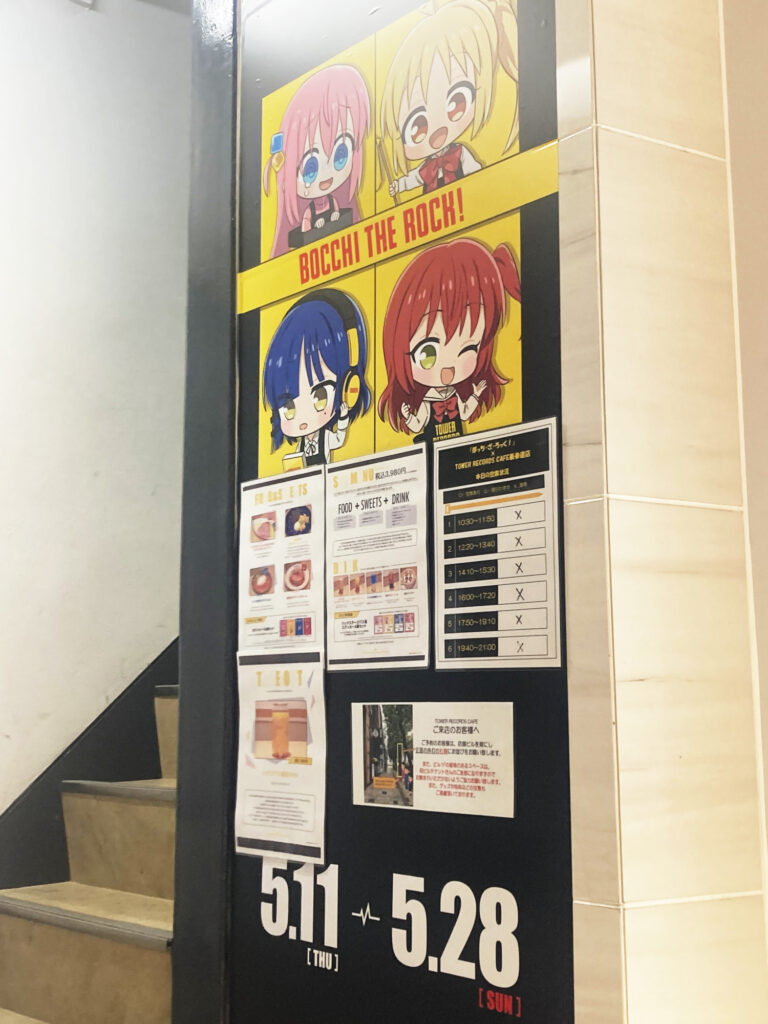 I was able to enter the store after showing the electronic ticket purchased on my phone at the entrance.
There were several people already eating inside the cafe.
They may have been from the previous hour, since the cafe is open from 10:30 to 21:00, with changeovers every 1 hour and 20 minutes.
Bocchi the Rock! on the walls of the cafe inside!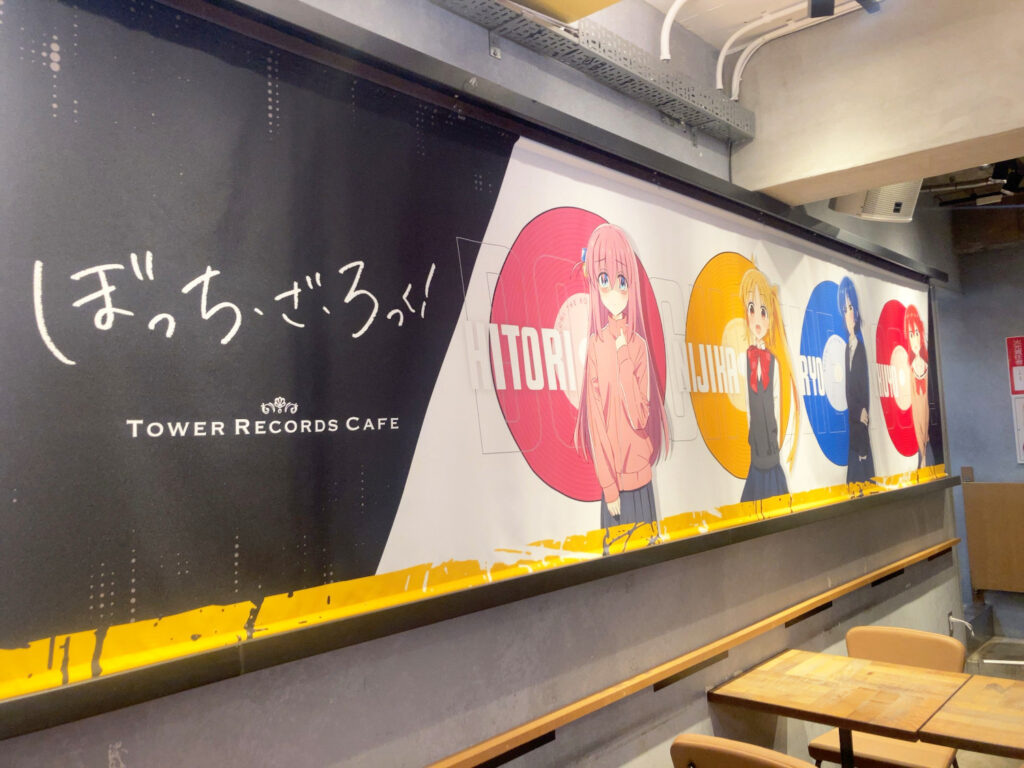 I could watch anime of Bocchi the Rock! and the theme song was playing inside the cafe.
The staff showed me to a seat for two and was given a menu and a sticker of Bocchi the Rock!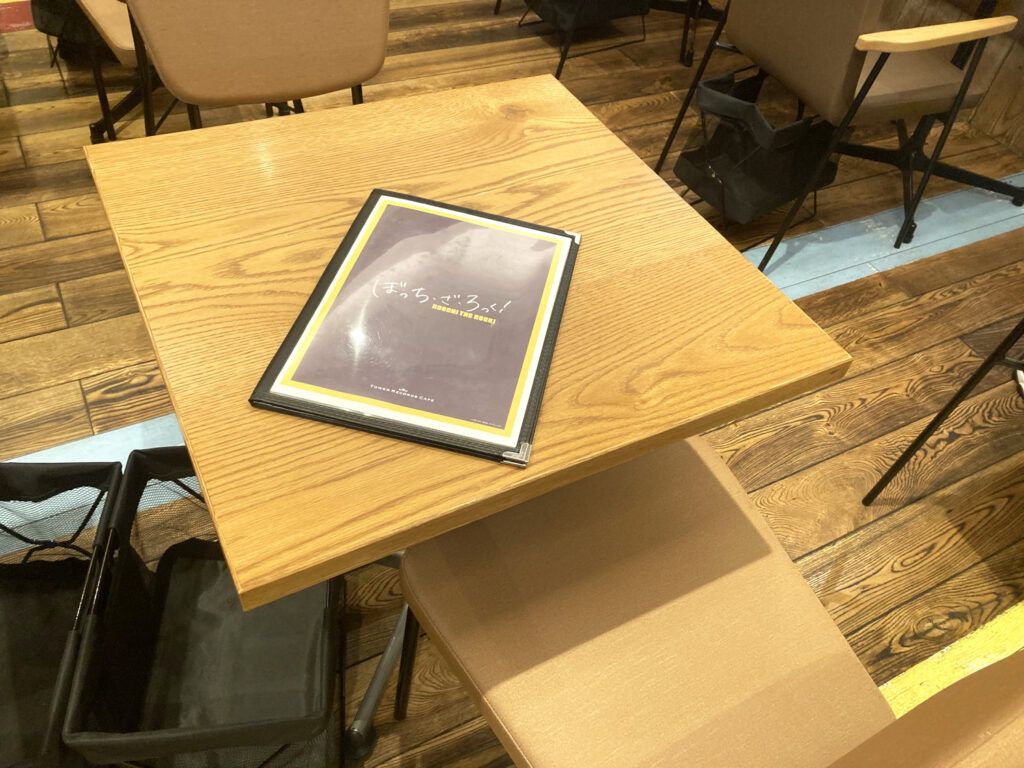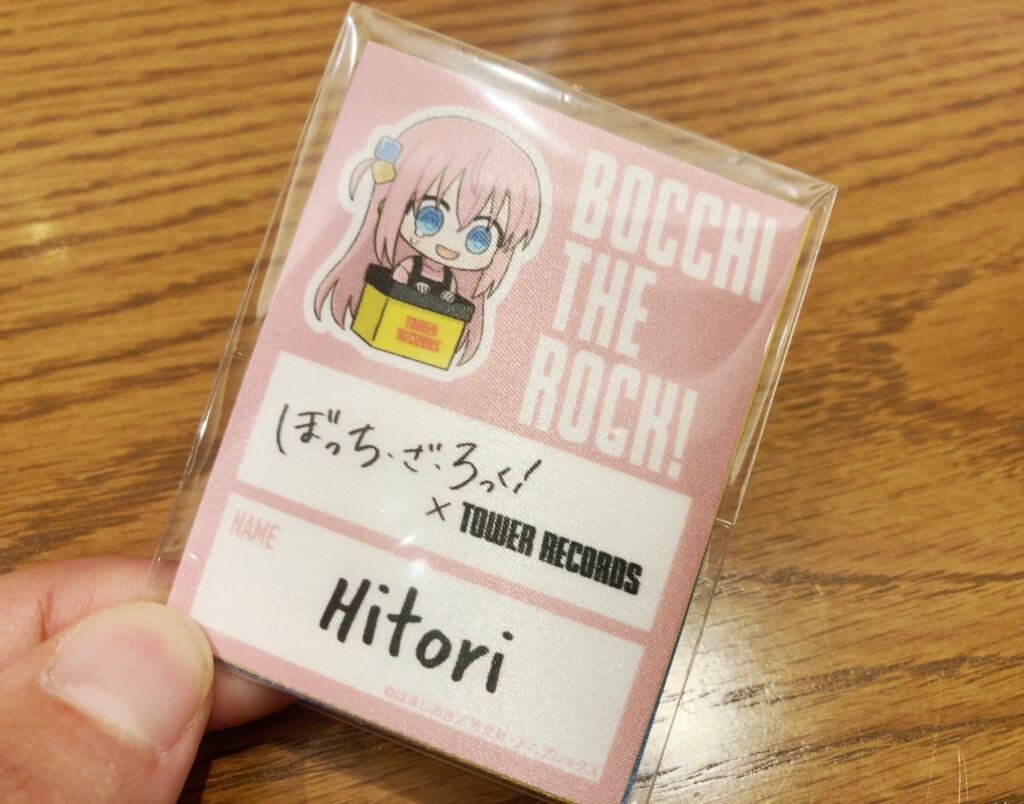 Check Menu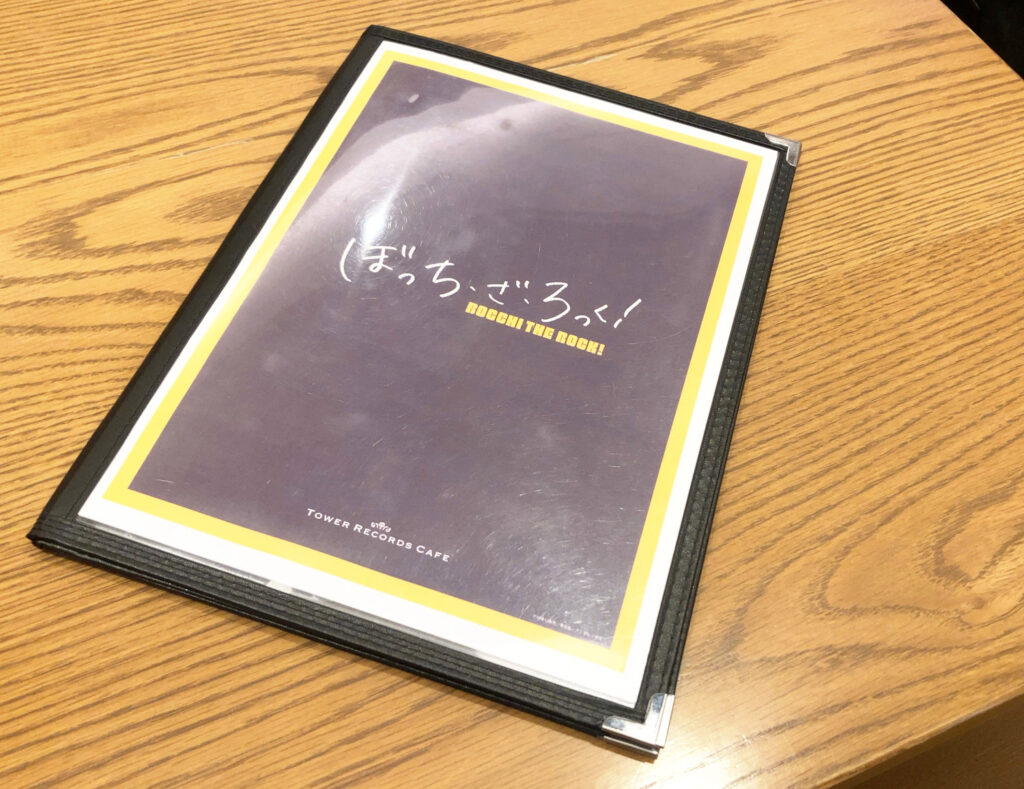 Now I check the menu.
Here are the main menu and dessert!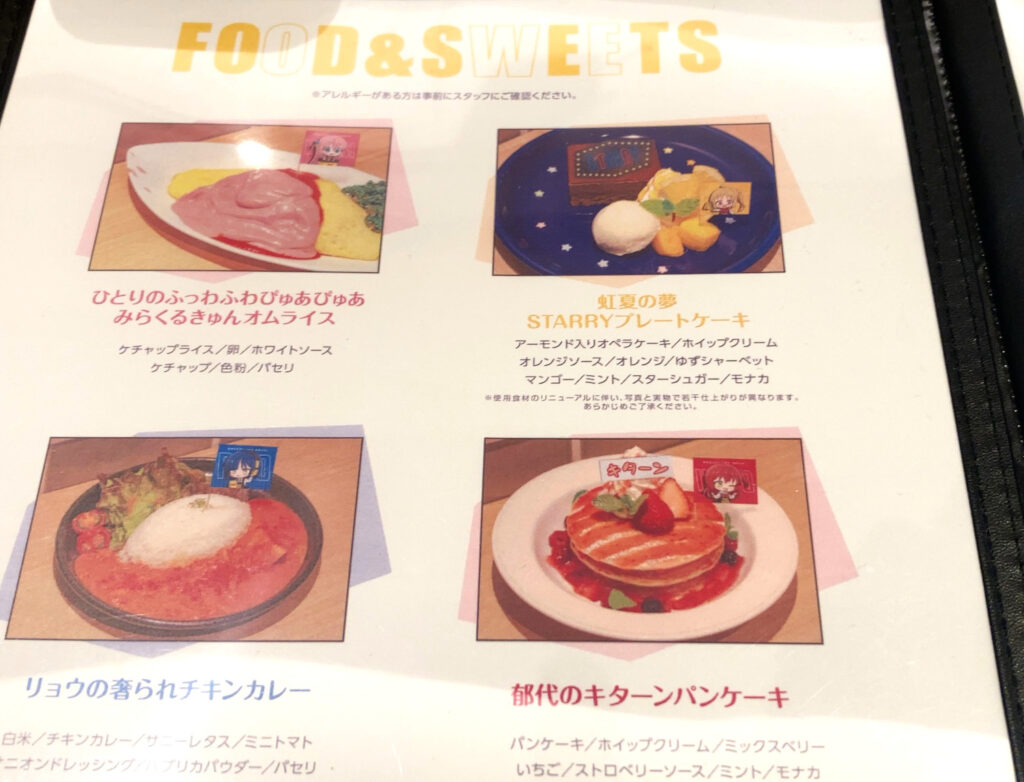 Hitori's Fuwafuwa Purepure Miracle Kyun Omelet Rice
Nijika's Dream STARRY Plate Cake
Ryo's Treated Chicken Curry
Ikuyo's Kitan Pancake
Here are drink menu!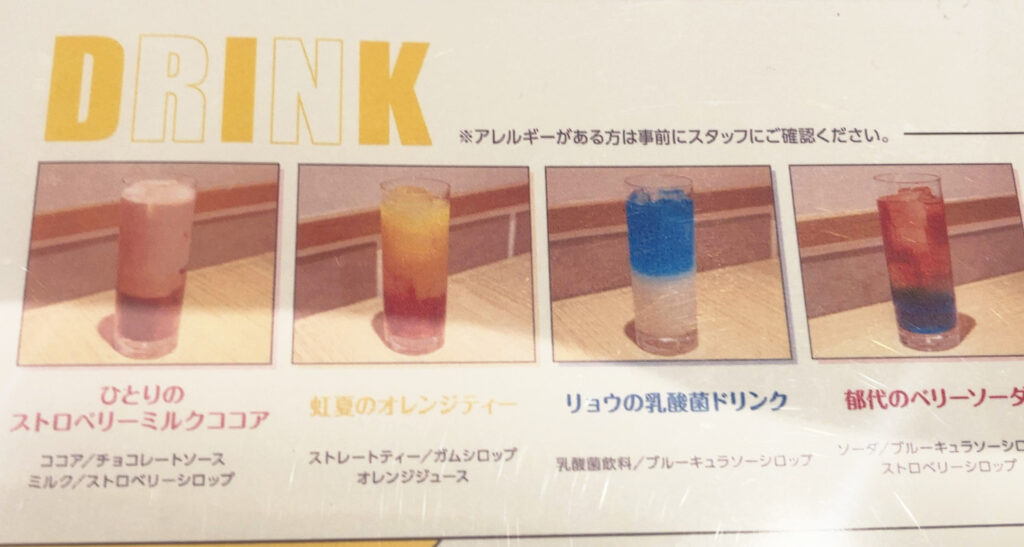 Hitori's Strawberry Milk Cocoa
Nijika's Orange Tea
Ryo's Probiotic Drink
Ikuyo's Berry Soda
Kessoku Band Latte
There was a drink for take-out as well.
Mango juice, isn't it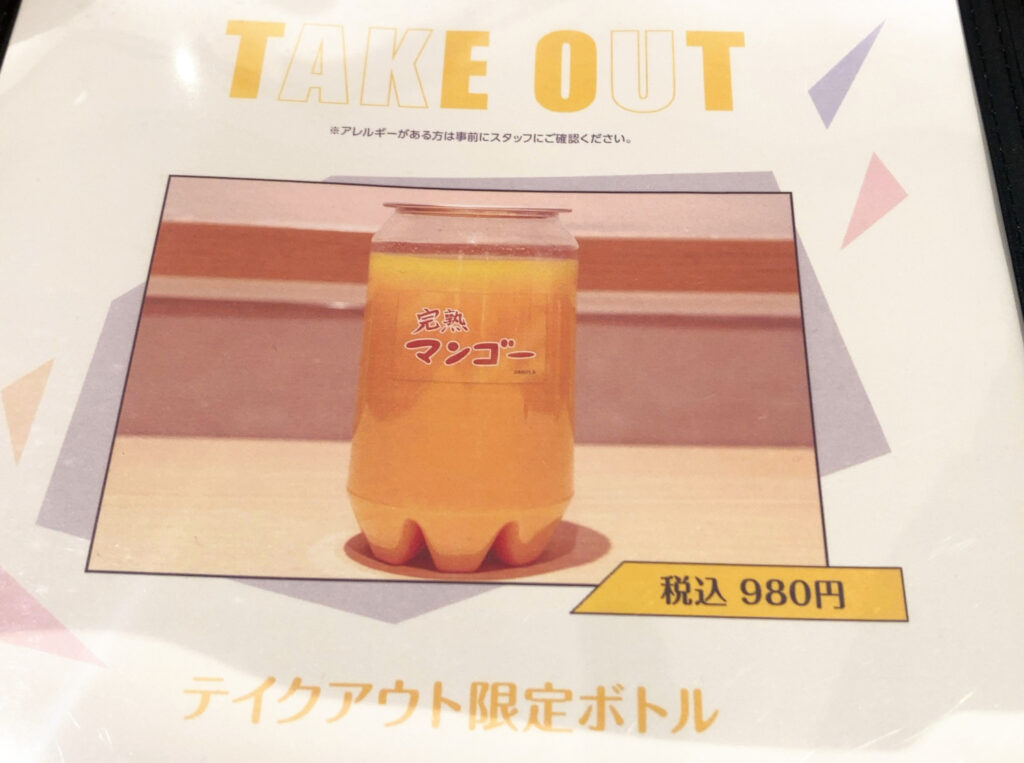 Hmmm, there are many menus to choose from.
Let's go with the heroine character, Bocchi's omelette rice, as a safe bet.
But when ordering, it takes a lot of courage to say "Hitori's Fuwafuwa Purepure Miracle Kyun Omelet Rice"
"I'll have this omelette rice"
I simply cut Fuwafuwa Purepure Miracle Kyun.
"This is a set menu so which dessert and drink would you like?"
The waitress asked.
I see, set menu only, I didn't check that.
Well then, which is better? Pancake or choco cake?
But pancake after eating omelette rice would be main menu after main menu.
I'll have the Nijika's cake.
And now drink left.
I'm curious about Ryo's Probiotic Drink.
But I'm going to go with the Kessoku Band Latte as it has all the main characters.
Order Menu of Bocchi the Rock!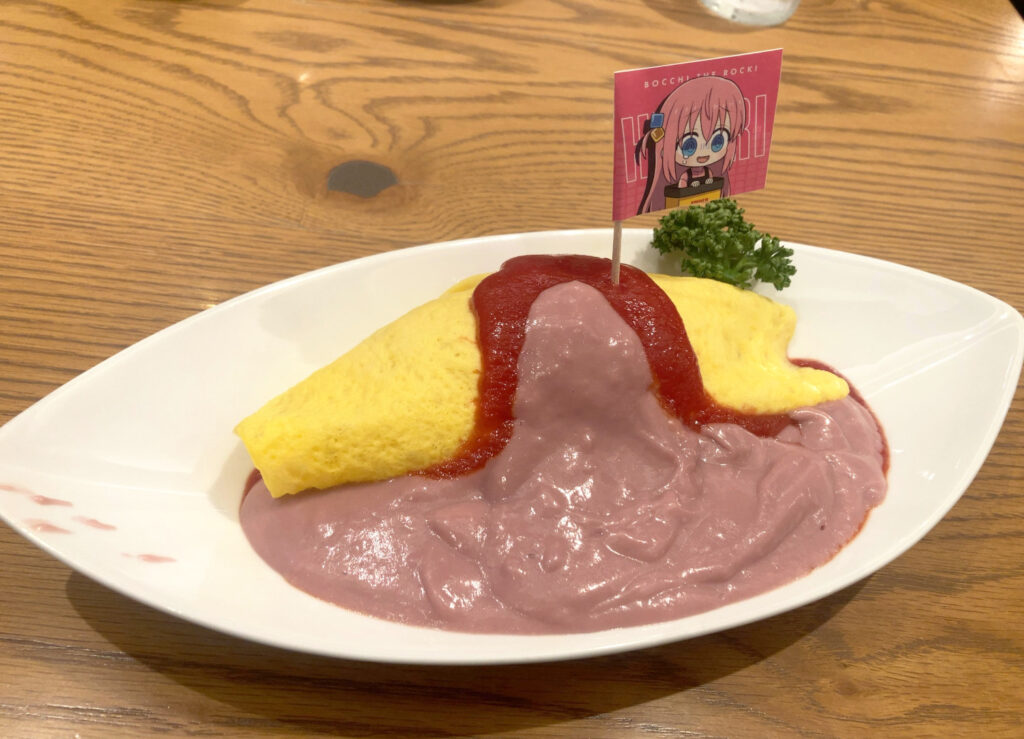 In the end, I ordered Hitori's Fuwafuwa Purepure Miracle Kyun Omelet Rice, Nijika's Dream STARRY Plate Cake, and Kessoku Band Latte, so I would like to introduce each of them.
This set menu is about $28 (3980 yen) including tax.
It's not a reasonable price as you could go out for a drink with this money, but the price also includes the atmosphere and many other things, so that's OK.
Hitori's Fuwafuwa Purepure Miracle Kyun Omelet Rice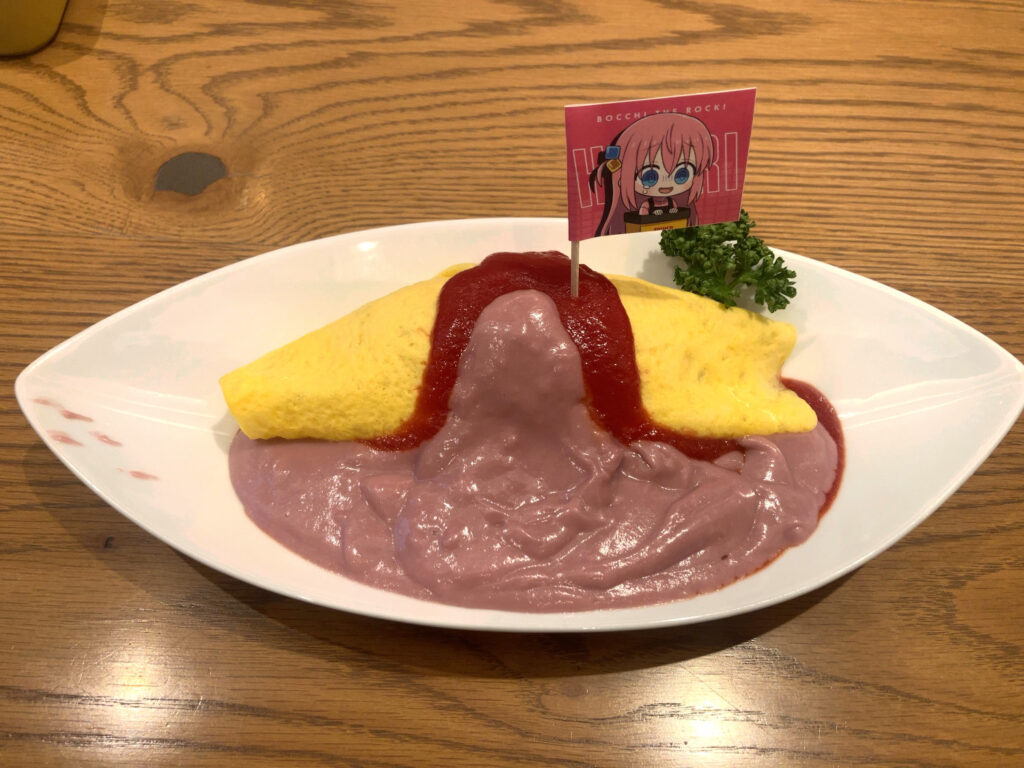 In about 10 minutes, Hitori's Fuwafuwa Purepure Miracle Kyun Omelet Rice came!
They say this is a recreation of the omelette rice Bocchi casted a spell to make it tasty from the scene at the school festival.
I see, I remember the scene like that.
The name is something, but the appearance is even more…
The omelette is covered with a lot of pink? sauce which may represent the color of Bocchi's hair or her character.
When I tried it, it tasted like a sauce I had had somewhere before.
I found out later that it was white sauce.
The omelet itself was a standard tasty omelet.
Nijika's Dream STARRY Plate Cake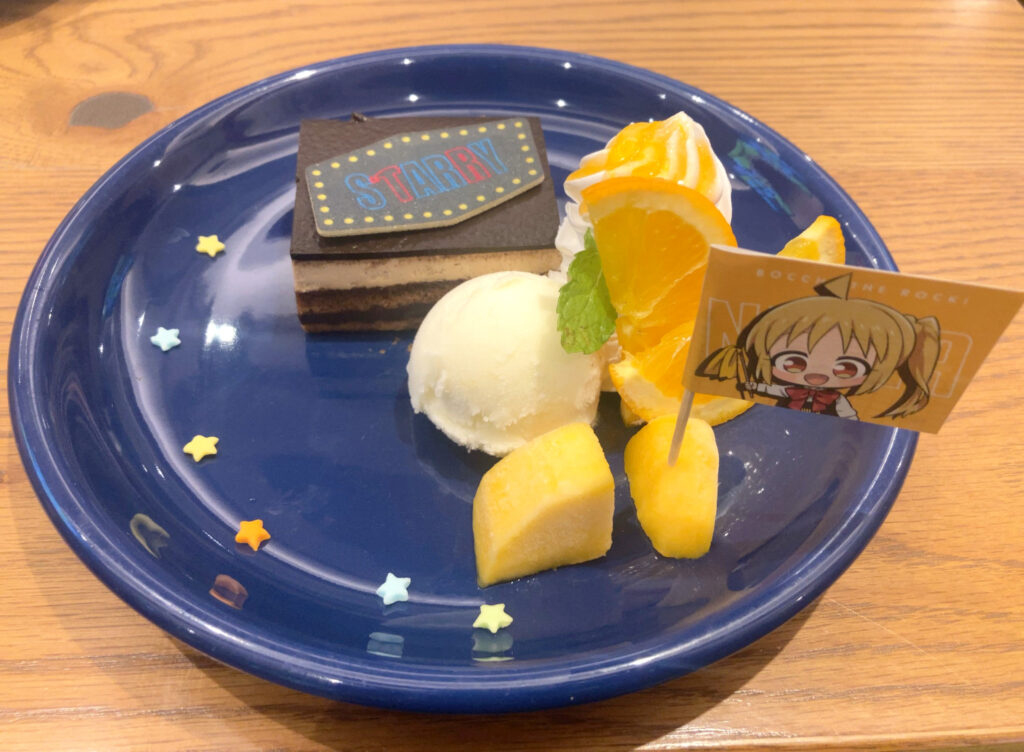 Nijika's Dream STARRY Plate Cake came after the omelet!
STARRY is the name of the live music club run by Nijika's sister.
Nijika's dream was to make STARRY more famous.
The plate is decorated with stars.
When I ate the cake, yes, it was a chocolate cake as it looks.
It was a rich tasting chocolate cake and delicious!
I first thought this flagged thing was a fruit such as persimmon or mango but this was yuzu sorbet.
This sorbet was also very good, with a refreshing taste after the rich chocolate.
I wondered if the stars were for decoration but I could eat them.
It tasted like Ramune and was tasty, too.
Kessoku Band Latte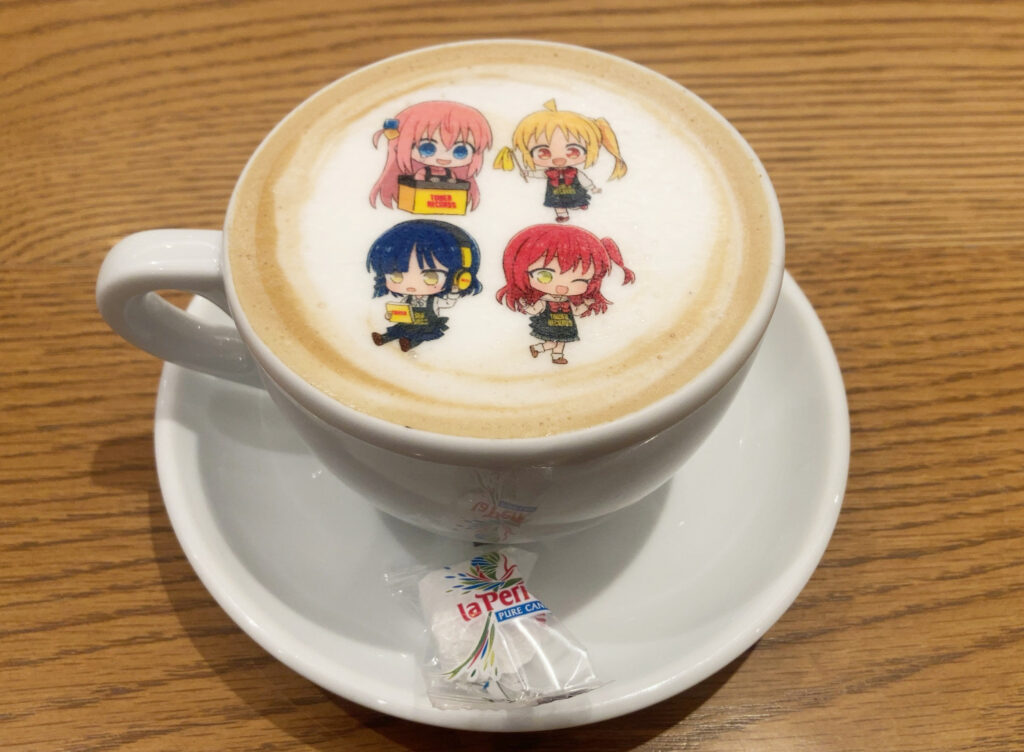 Kessoku Band latte actually came before the food.
It is a latte with an illustration of the band members printed on it.
I thought there was a film or something on the top and I wondered if I should take it off and drink it.
But it was really drawn directly on the latte.
Can they make such a detailed latte art nowadays?
The person who drew this could make a living with the skill.
I was curious about this, too, and when I looked it up later, I found that it was made by printing on edible film.
Wow, I didn't know that there was such thing like edible film!
With this film, they can perfectly reproduce any character, don't they!
I felt like it was too good to drink it because of the quality but I enjoyed this latte as well.
Goods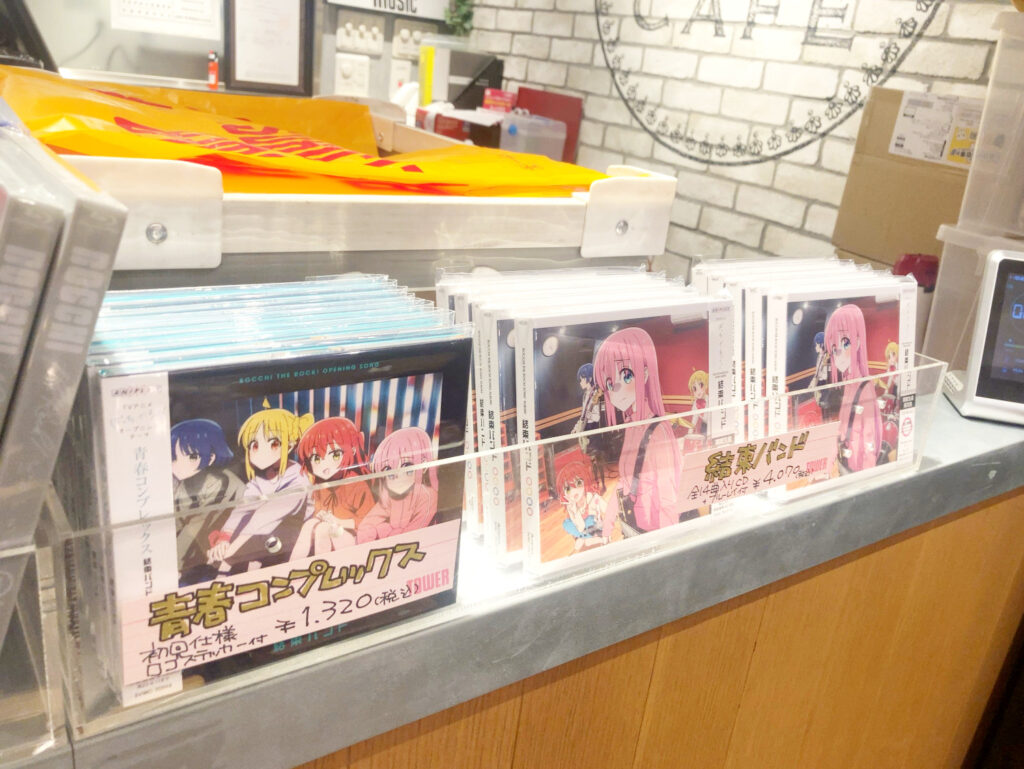 Variety of goods of Bocchi the Rock! sold in the cafe.
Mugs, clear files, towels, T-shirts, etc. that are collaborated with Bocchi the Rock! and Tower Records.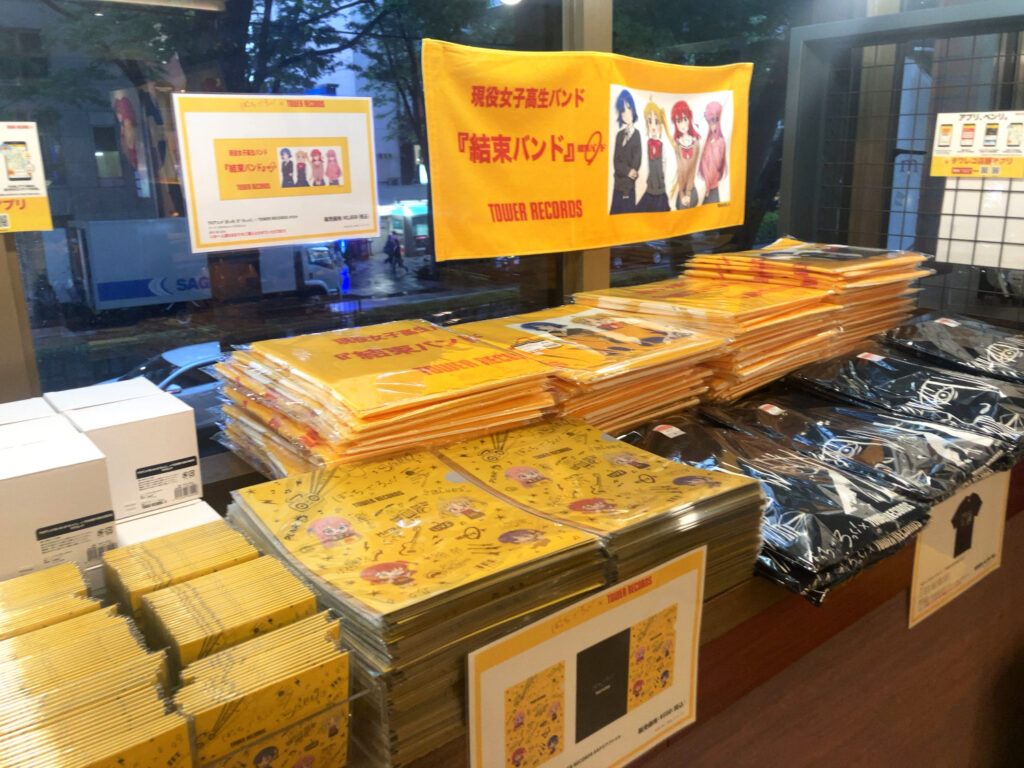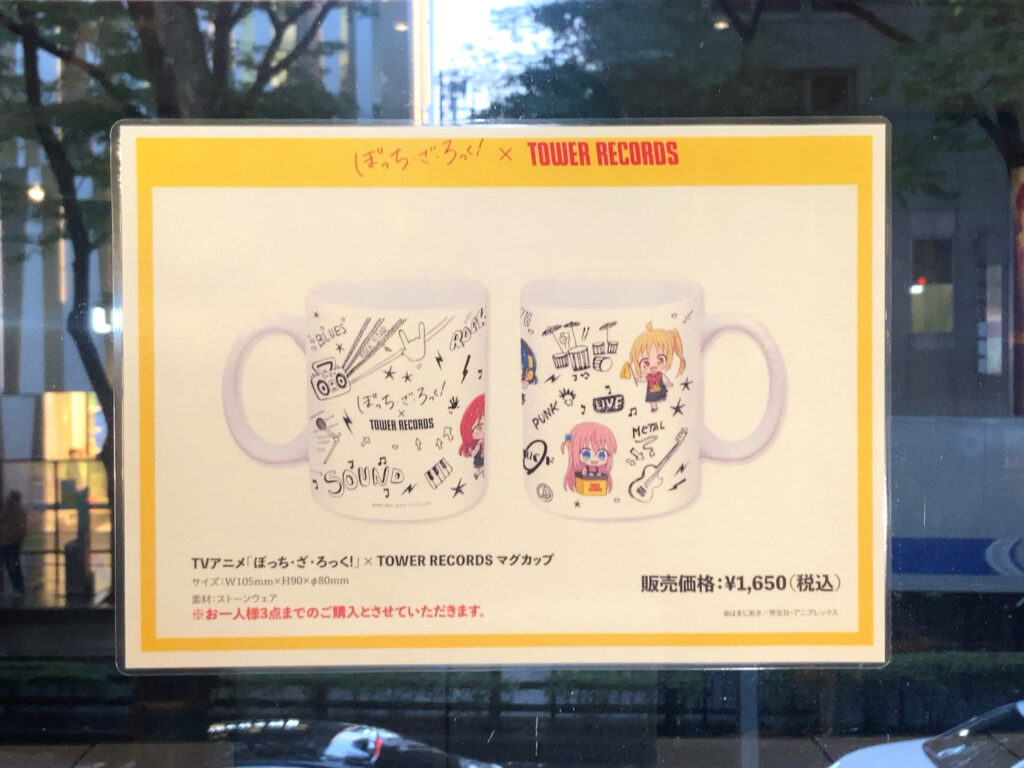 Blu-ray of Bocchi the Rock and CDs of Kessoku Band!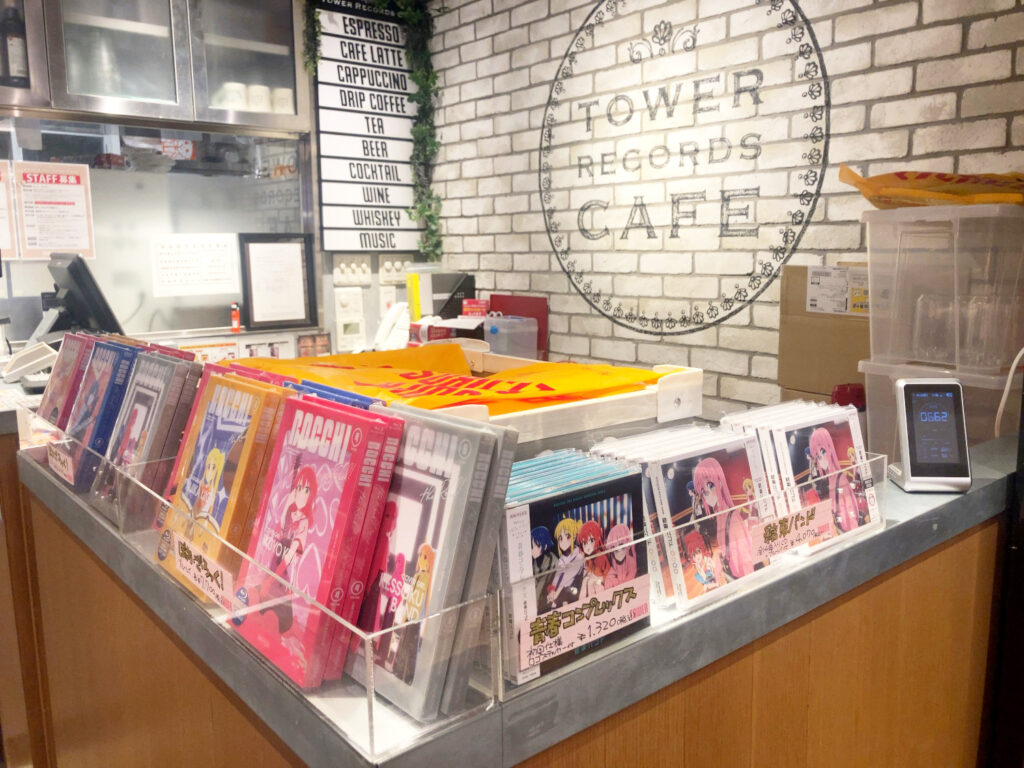 Other than that, key chains, can badges, coasters, etc were sold.
I didn't buy any this time, but there were many people who bought various goods at checkout.
Summary
Bocchi the Rock! is a popular anime, so I am glad I was able to get a reservation without problem this time.
It's amazing that a manga of girls' band has turned into an anime and actually released a real CD!
It seems that the band even held a live concert at Zepp Haneda on May 21!
Bocchi the Rock! and Tower Records' collaboration cafe was fun!