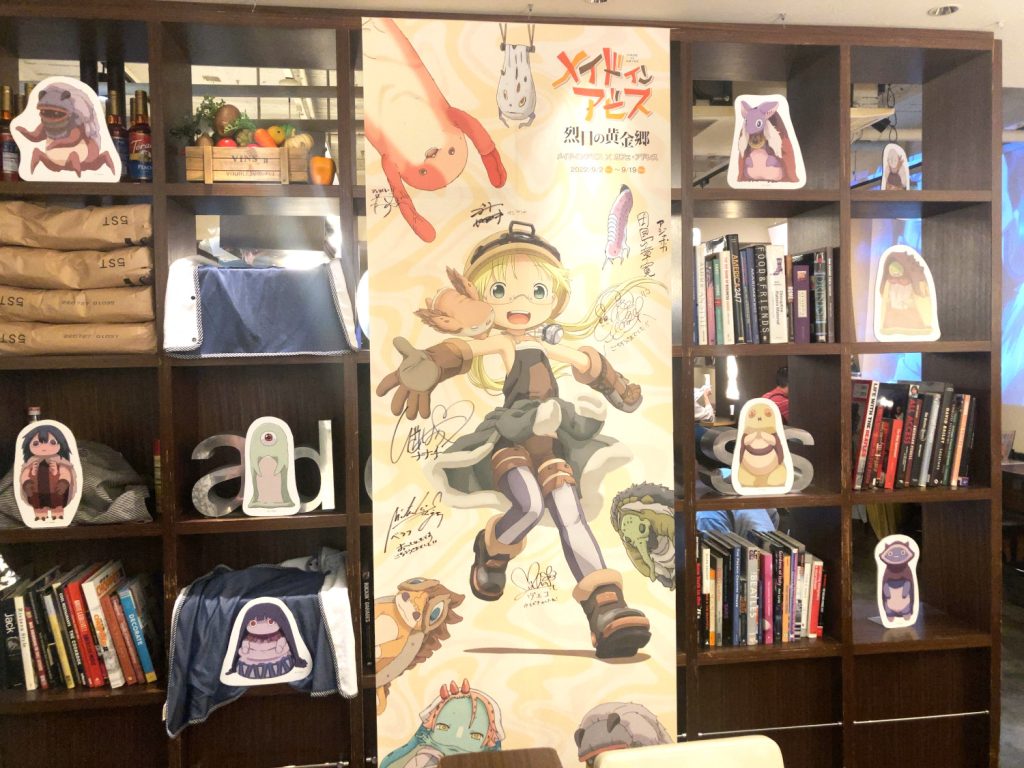 I introduced Made in Abyss Exhibition in the previous article.
Right after the exhibition, I also went to the Collaboration Cafe Made in Abyss.
Here I introduce you the atmosphere and the menu of the cafe.
Went to Made in Abyss Collab. Cafe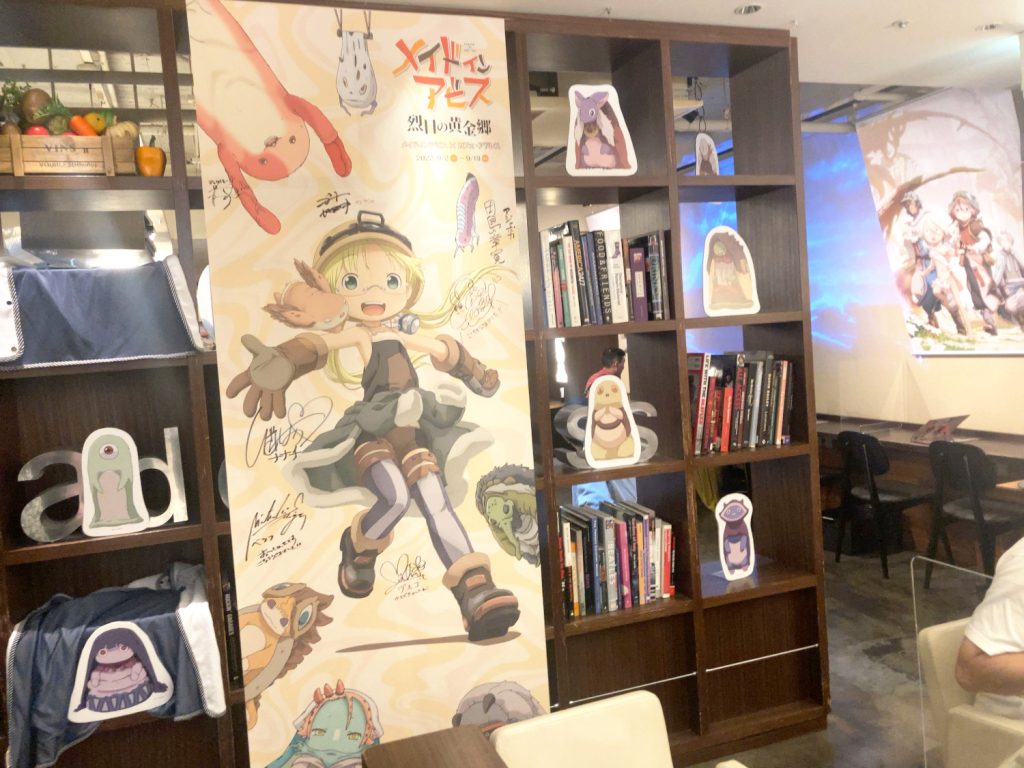 Made in Abyss Collab. Cafe had been holding at CAFE ADDRESS, which is located on the 6th floor of Ikebukuro PARCO!
Made in Abyss Exhibition had been holding on the 7th floor, so just go down 1 floor.
I'm sure many of the visitors who went to the exhibition also come to this cafe!
So, I also came here!
It's a great cafe decorated with Made in Abyss style!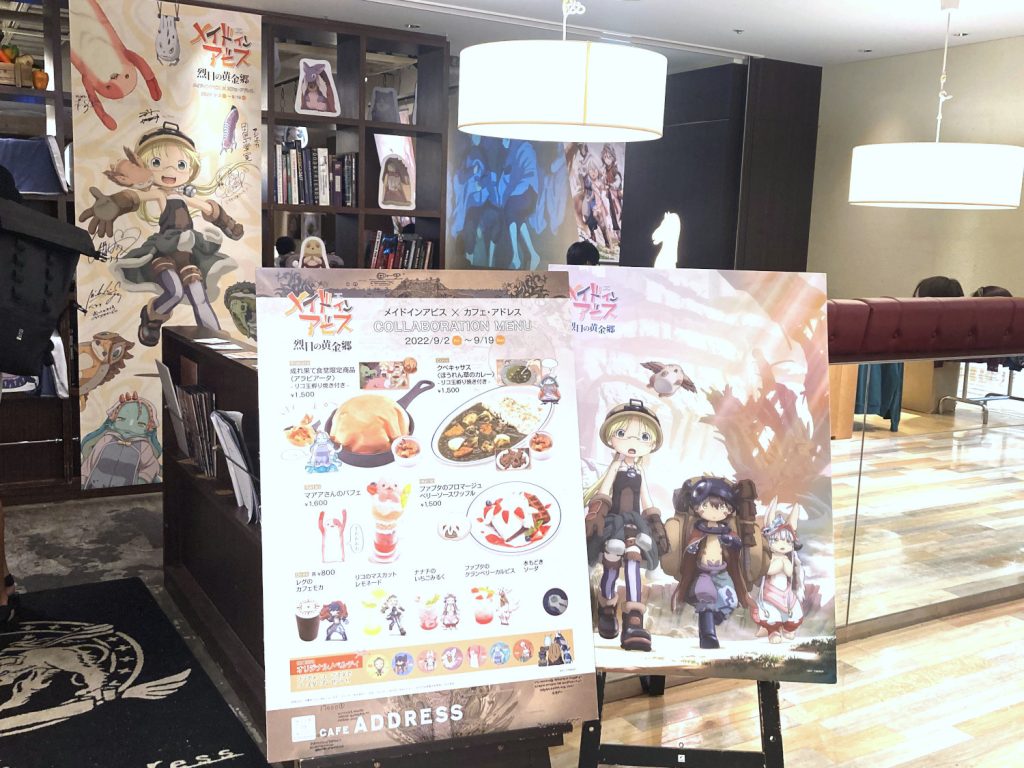 I'm interested in all the menu!!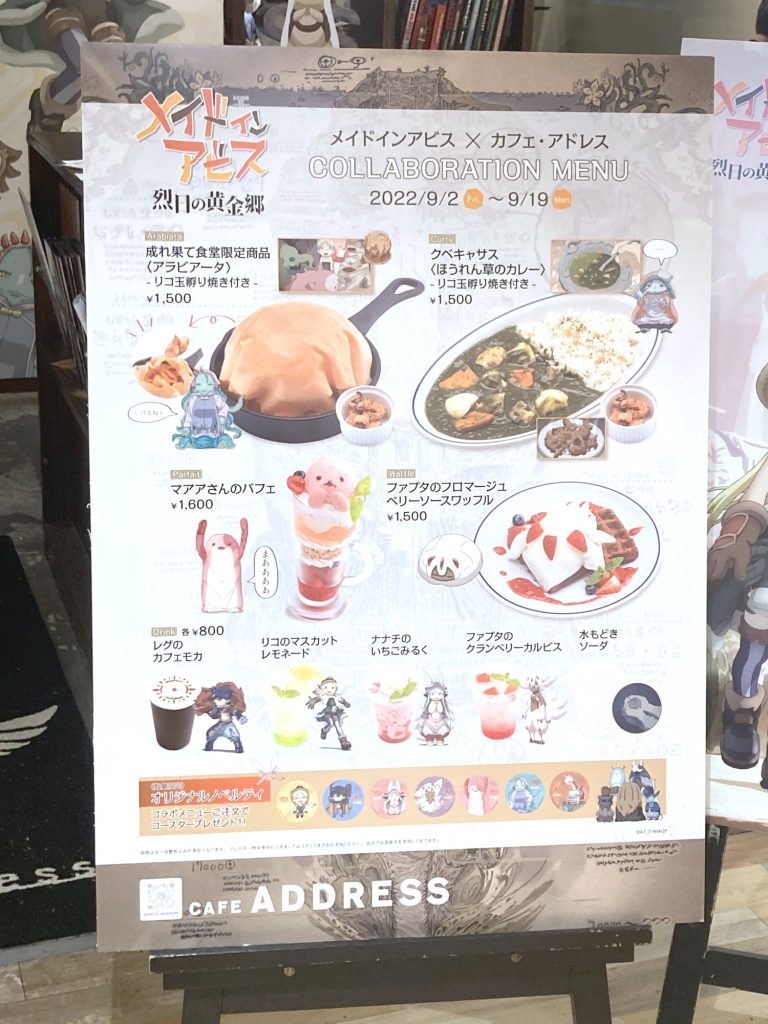 It was weekday around 2pm but I could see some people lining up at the entrance.
I decided to hang around for a while and came back.
Then I went inside the shop later.
Check Menu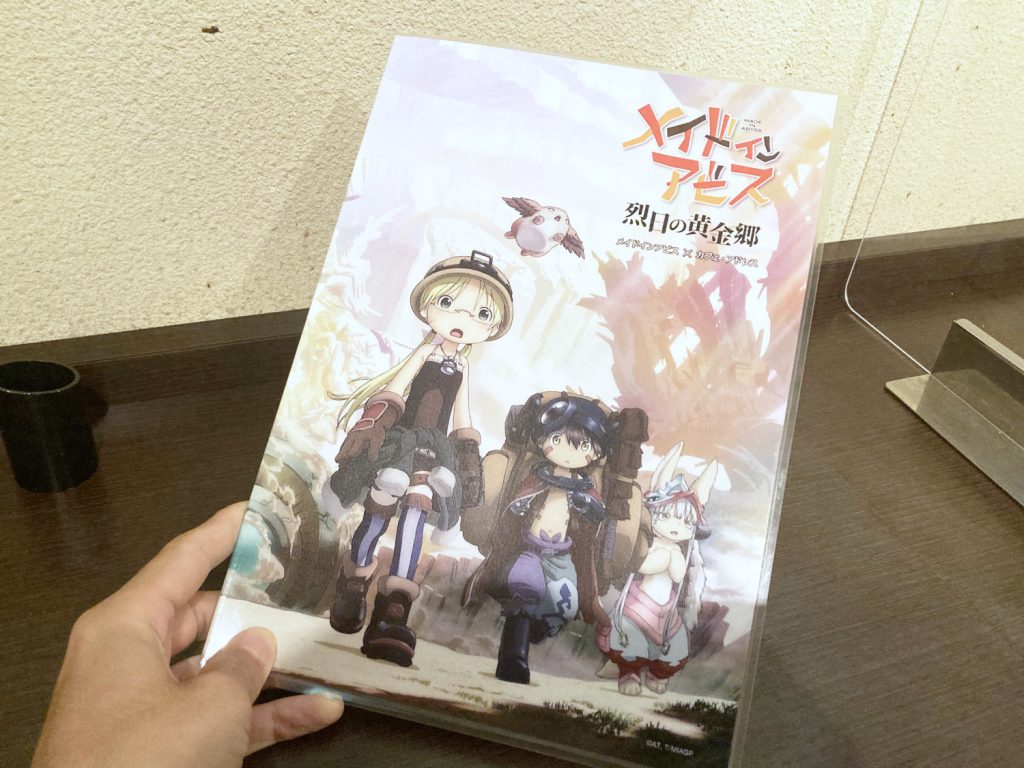 I was introduced to the counter seat.
I could see images of Made in Abyss on the wall right in front.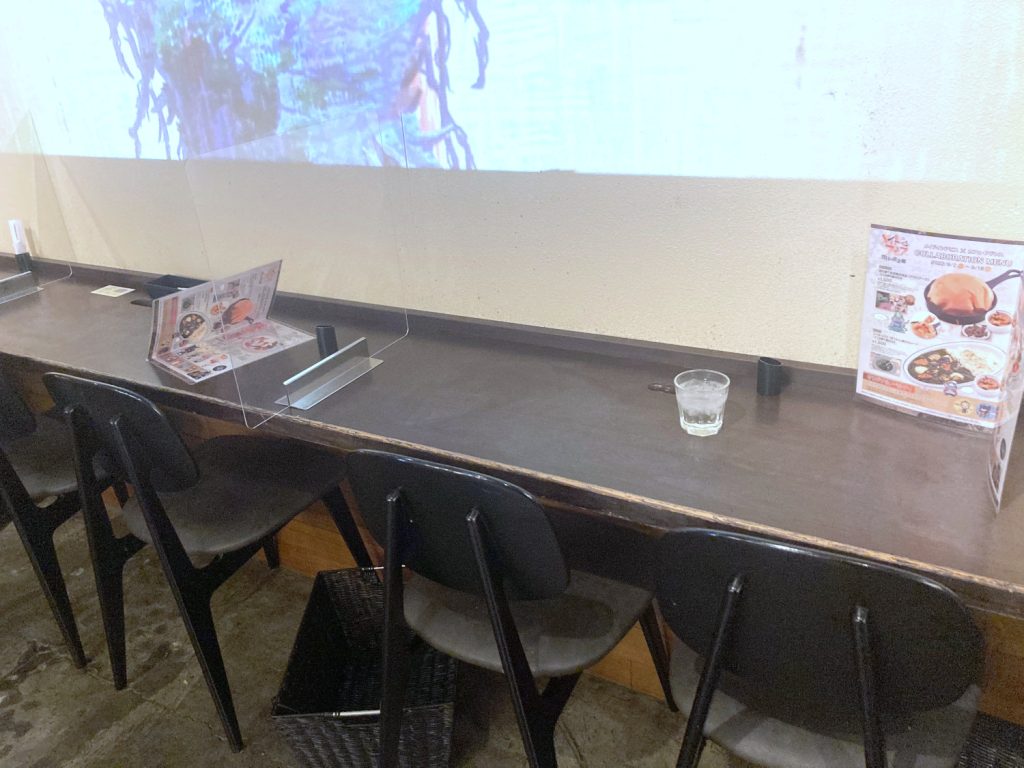 This is the menu!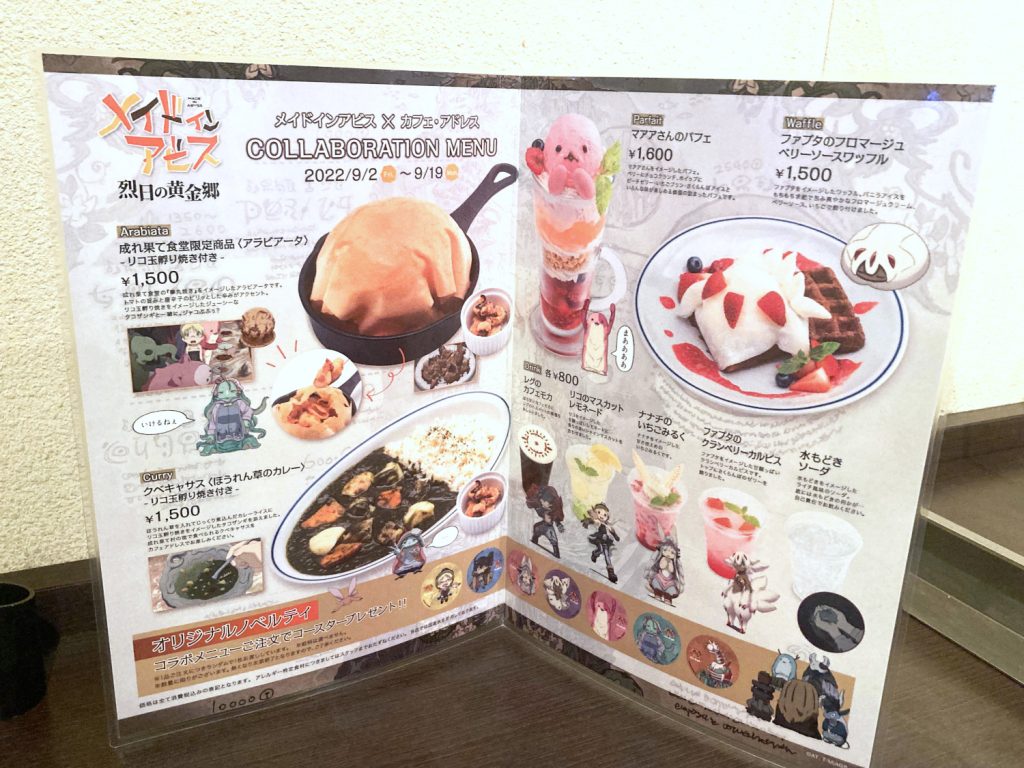 I'm curious about all the menu!!
Main menus are all'arrabbiata (Penne with Spicy Tomato Sauce) and Curry.
All'arrabbiata (Narehate Dining Limited) : About $10 (1500 yen)
Kubekyasasu (Spinach Curry ) : About $10 (1500 yen)
Dessert was parfait and waffle.
Maaa-san's Parfait: About $11 (1600 yen)
Faputa's Fromage Berry Sauce Waffle: About $10 (1500 yen)
There were drinks of each character, too.
Looks like Mizu Modoki Sauda is popular but becareful not to become Narehate (Hollow) when you drink it!
Reg's Cafe Moca : About $5.5 (800 yen)
Riko's Mascot Lemonade : About $5.5 (800 yen)
Nanachi's Strawberry Milk : About $5.5 (800 yen)
Faputa's Cranberry Calpis : About $5.5 (800 yen)
Mizu Modoki Sauda : About $5.5 (800 yen)
Order Narehate Dining Limited Menu All'arrabiata!!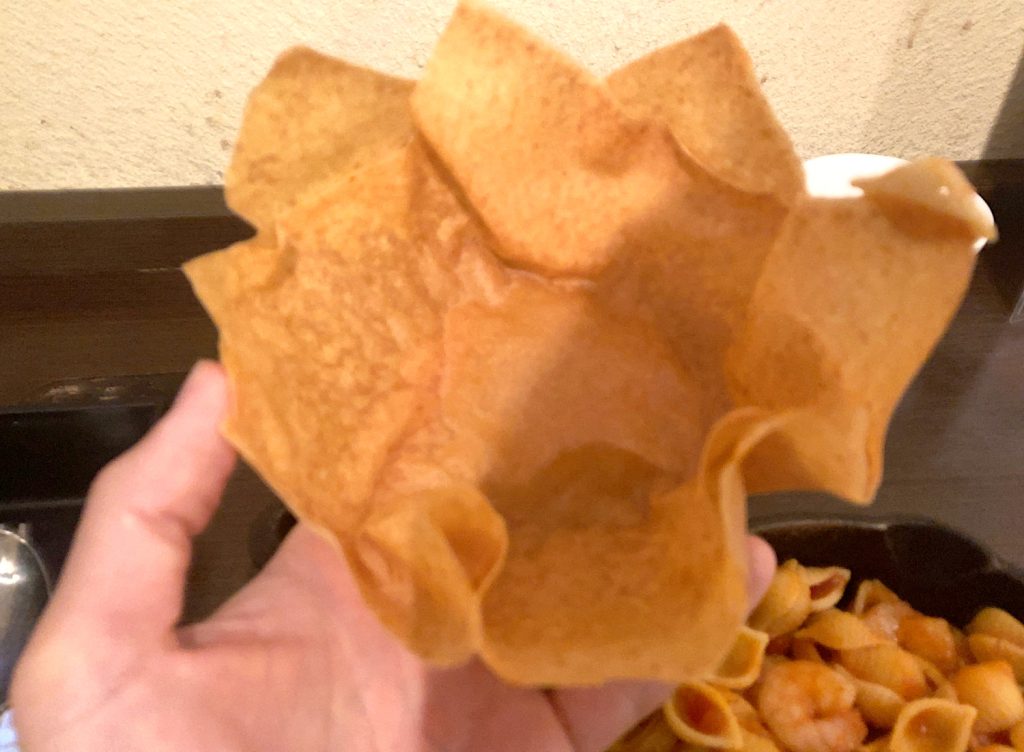 I feel like there is no other choice for my blog.
Yes, Narehate Dining Limited Menu All'arrabiata.
My main diet is vegetable, so I also want to try Kubekyasasu (Spinach Curry) very much.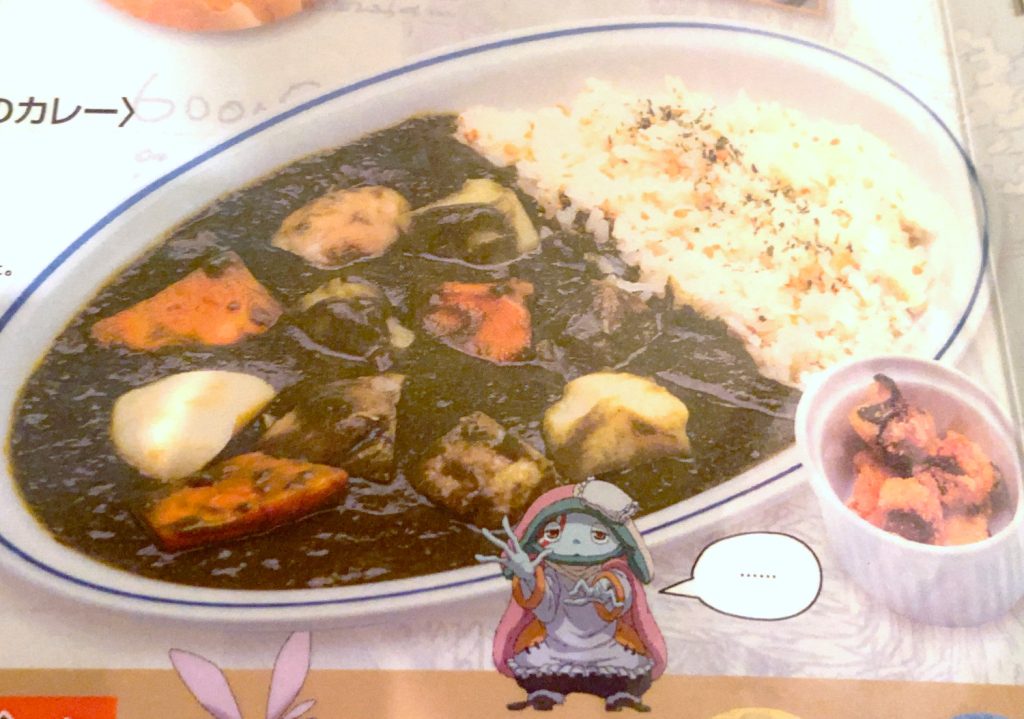 Anyway, All'arrabiata is on the top of the menu and for my blog, there is no choice but to choose All'arrabiata!
It was about $10 and I decided to order it!
And here it came!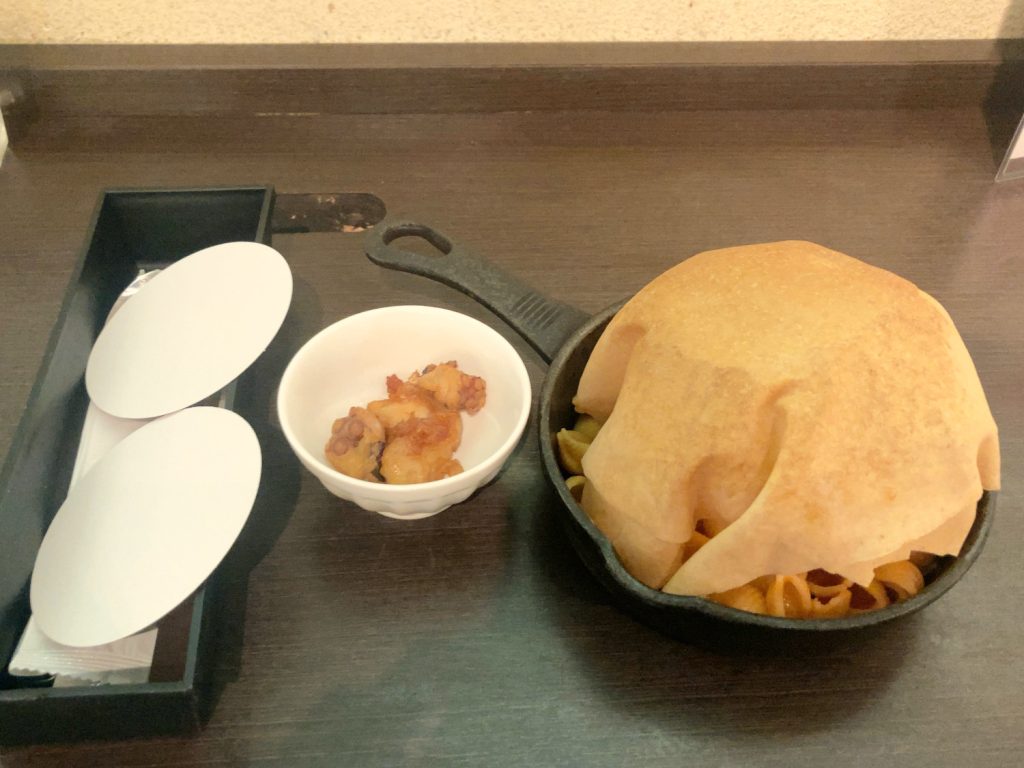 This fluffy cover? is said to be Baked Testis in anime.
I wonder what kind of creature's testis it is?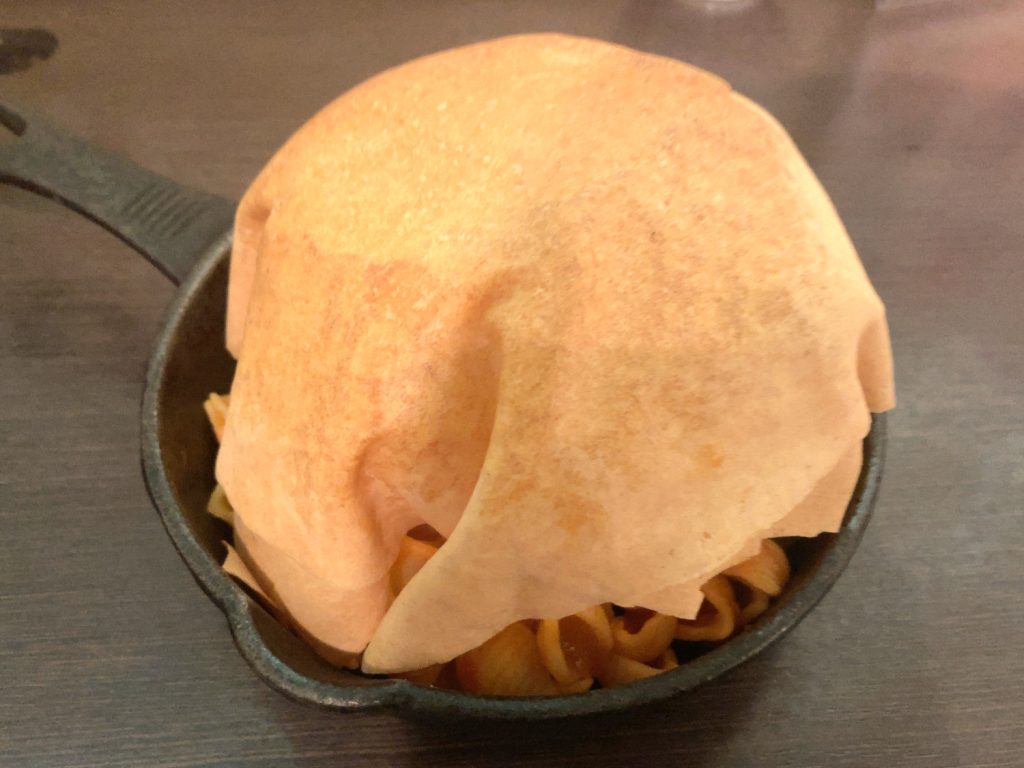 And what is these circle things?
Tuned it over to find coasters of Nanachi and Majikaja.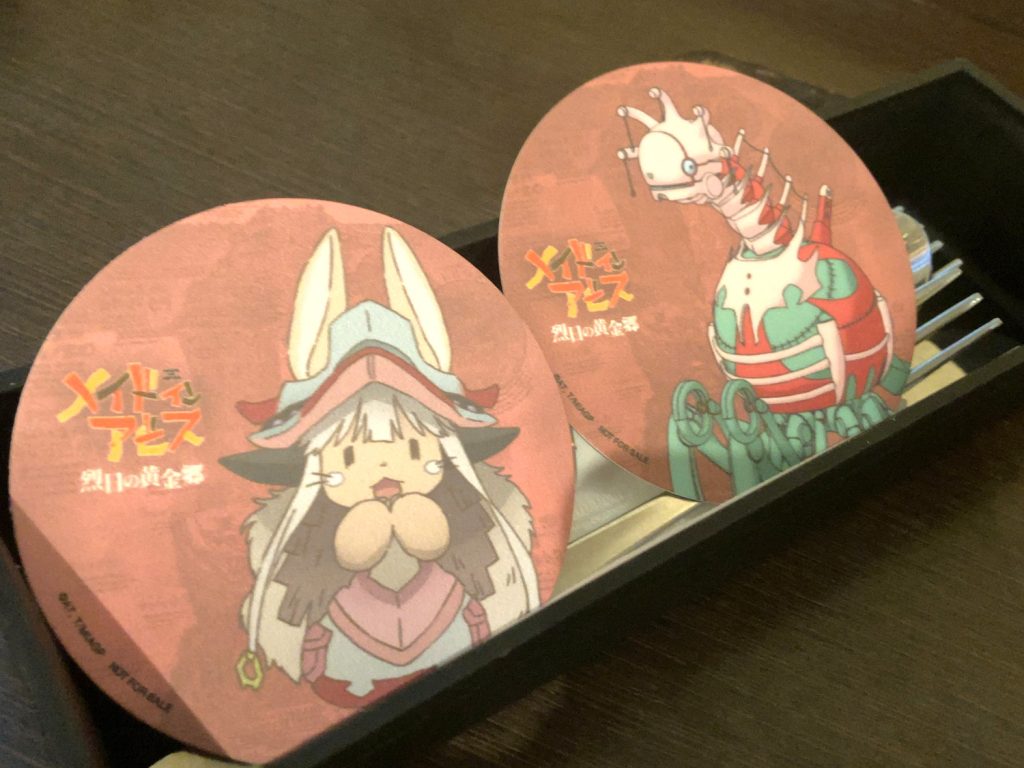 Looks like you can get a coaster of the character of Made in Abyss for each order.
As for me, I also ordered dessert that I could get two of them.
That's nice of them to carry the coasters in the state of face-down.
Meticulous attention.
Baked Testis was crunchy like a rice cracker and tasty.
Inside of it were short pasta and shrimps seasoned with tomato and hot pepper.
A little hot and tasty.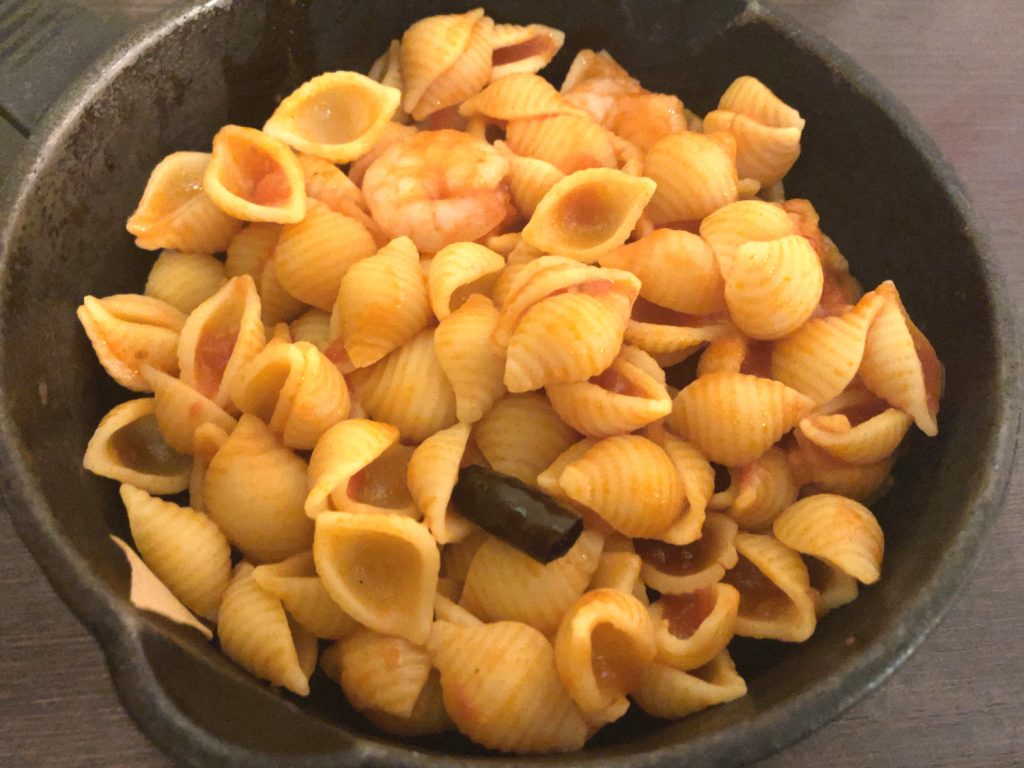 But it was not that warm like stew that it must have tasted better if the dish was warmer.
Anyway, I could enjoy the impactful appearance and I am pleased!
Oh, and the dish came with Riko Tama Kaeri Yaki.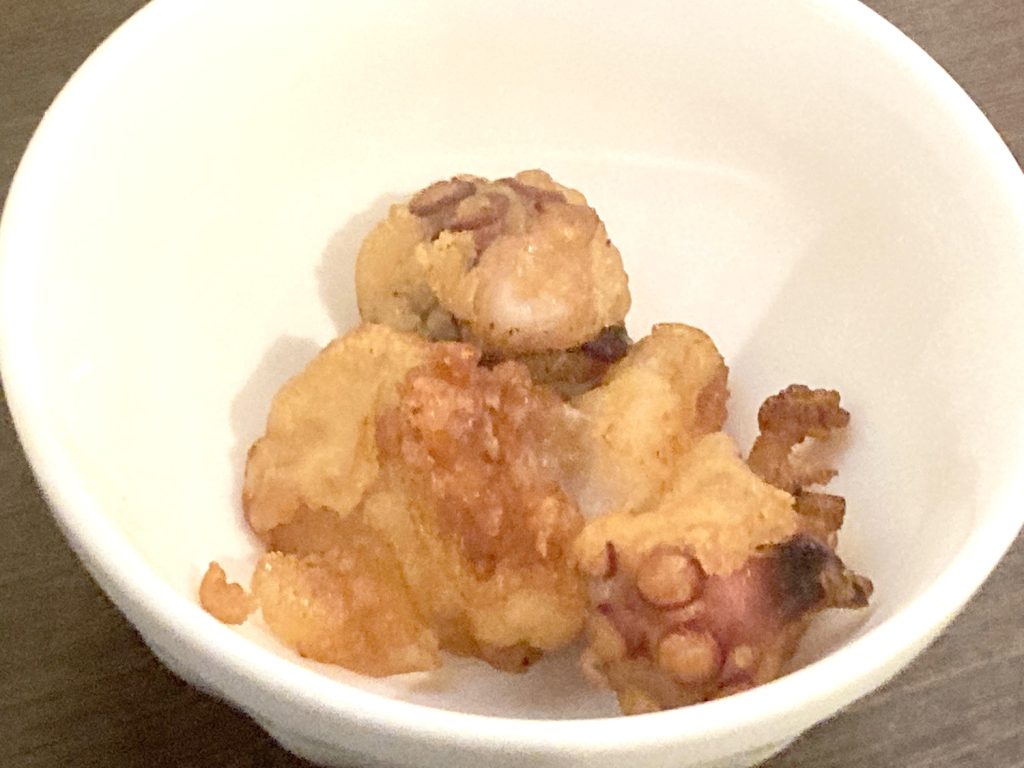 This menu also appeared on anime.
Riko fried the fresh eggs of a creature called Mizoujaku.
Here it was fried octopus.
The taste was, yes, good.
Come to think of it, I think this might have been the first time to try fried octopus
Maaa-san's Parfait for Dessert!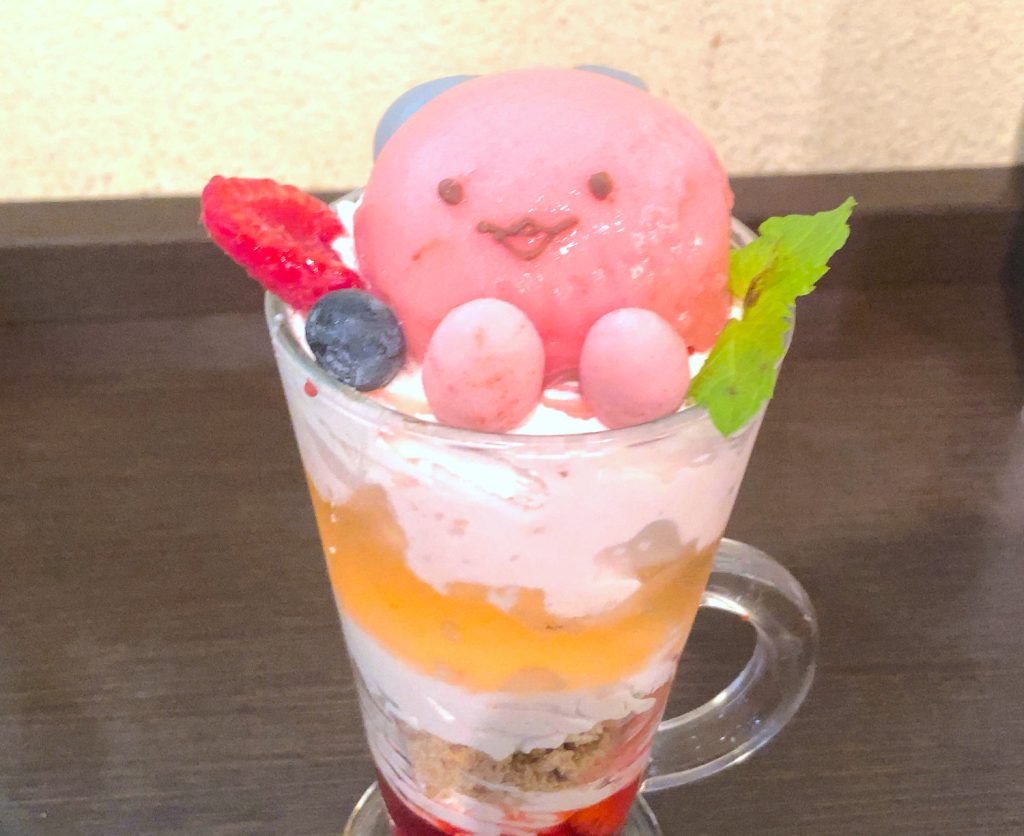 For dessert menu, there were Maaa-san's Parfait and Faputa's Fromage Berry Sauce Waffle.
Maaa-san is a kind of laughing fit to me in many ways, so I ordered Maaa-san's Parfait!
It's been a while to have a parfait itself!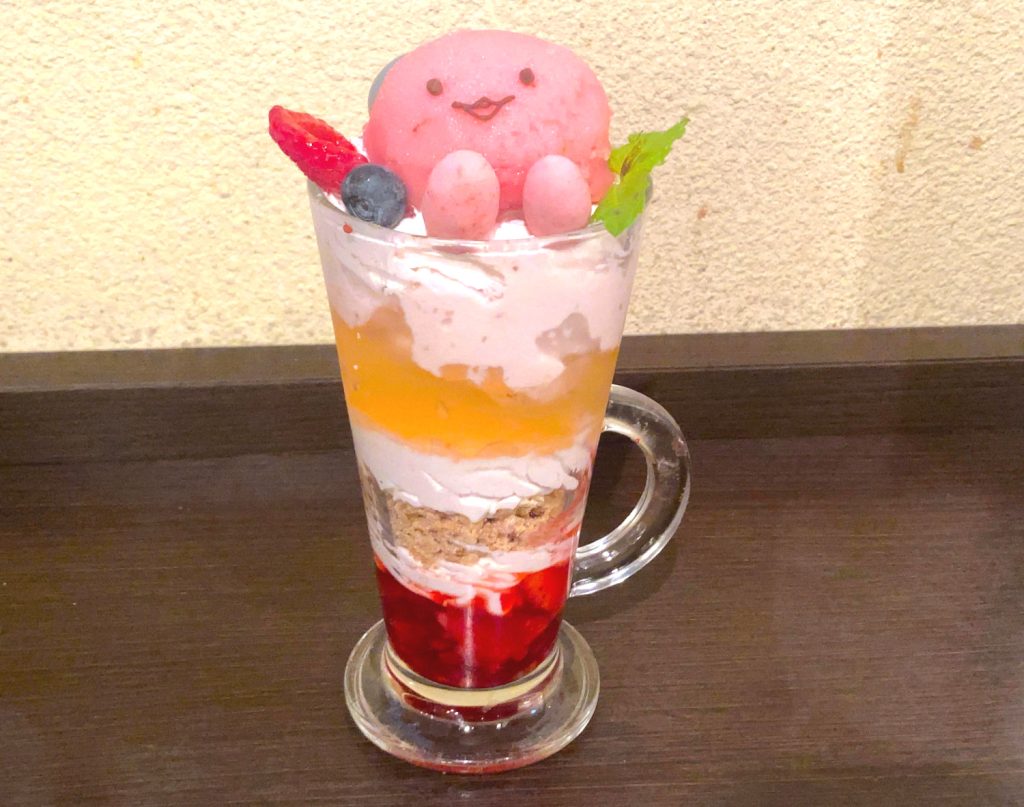 Maaa-san looks cute.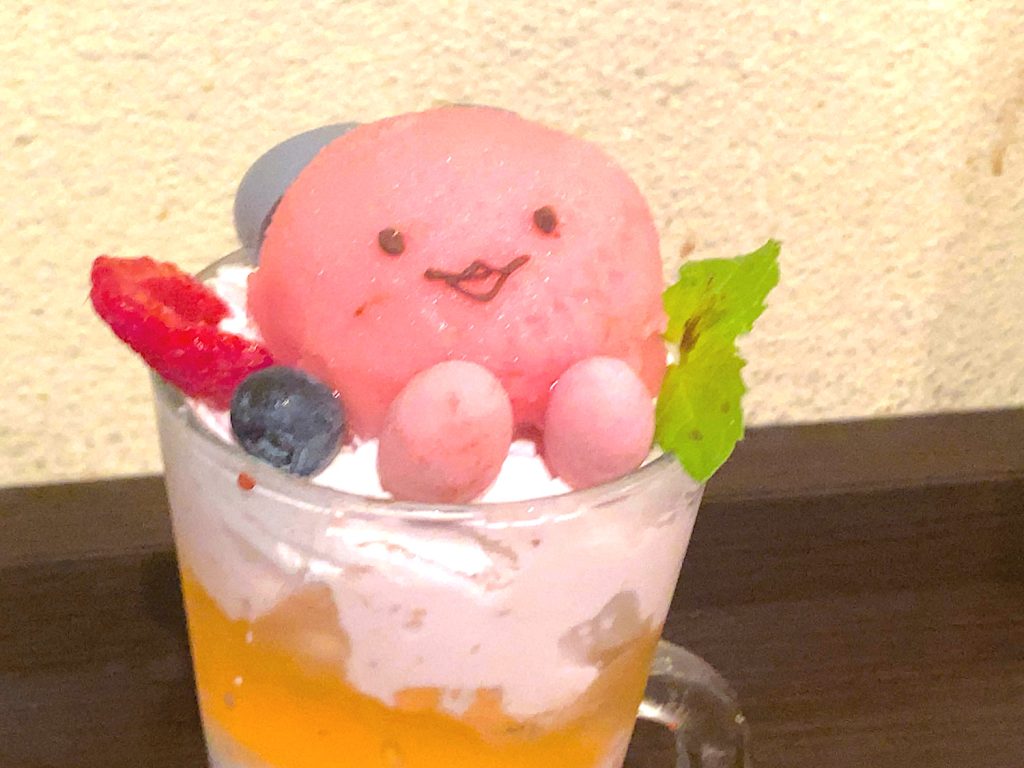 But I eat!
Maaa-san was made with strawberry sorbet and I could enjoy refreshing sweetness.
The hands were made with crunchy strawberry chocolate.
I forgot to take a picture but even Maaa-san's hip was reproduced with black sesame sorbet.
While eating, I felt this parfait is tasty quality parfait, not just the appearance.
It doesn't count just on the appearance but its quality was good!
It was also substantial.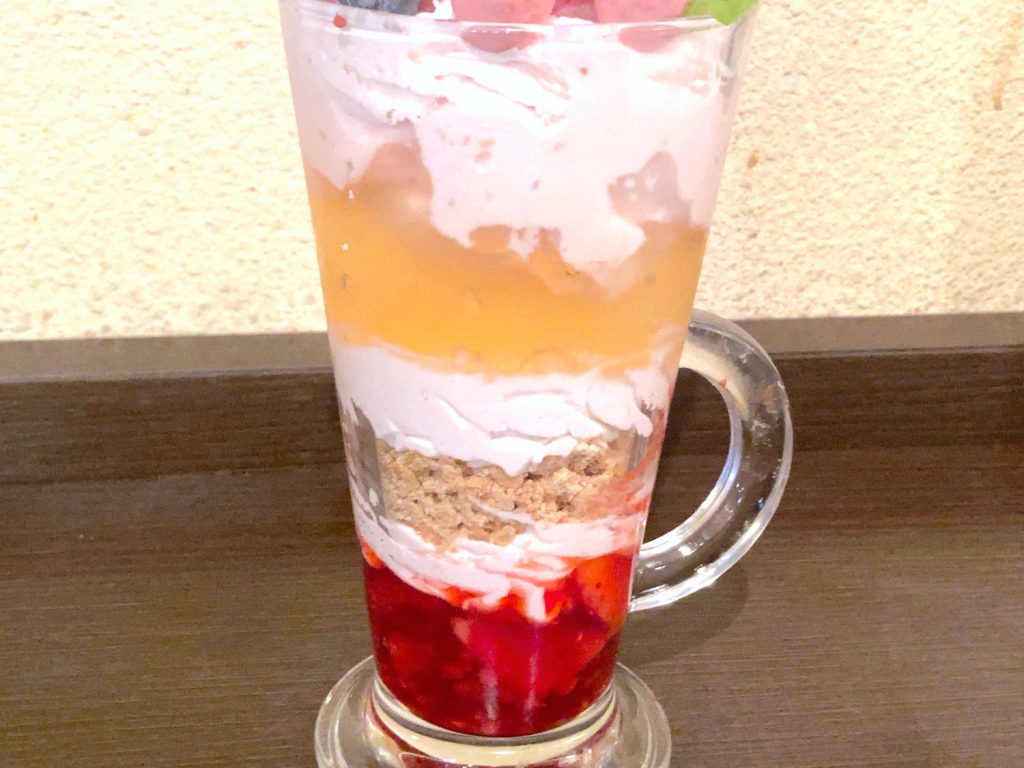 Maaa-san's Parfait was very satisfying!
Summary
Made in Abyss Collab. Cafe was something that treasured the atmosphere of Made in Abyss and I was very pleased!
The attention of carrying coasters in a state of face-down and quality parfait which doesn't count only on the appearance were great!
Exhibition in Ikebukuro was over and now it is being held in Nagoya in Aichi Prefecture until October 16.
If you happen to live in or visit around Nagoya City, check it out!!
Other Related Post of Made in Abyss
Other Related Post of Anime Colab. Cafe