I've been to Kurashiki Bikan historical quarter in Okayama Prefecture last week.
There, I stayed at old Japanese-style Guesthouse "YUURIN-AN"
I just wanted to enjoy traditional Japanese old house.
Here I introduce the Guesthouse.
Access
It takes about 15-minute walk from Kurashiki station to YUURIN-AN.
Leave Kurashiki station by the South Exit and go straight along the main street (Kurashiki Central Main Street).
Keep walking about 500 meters until you get to intersection Achi Minami and turn left there.
In about 100 meters, you'll get to T junction.
Turn right at the T junction.
Keep walking along the street for about 200 meters and you'll find YUURIN-AN on the left.
1. Leave Kurashiki station by the South Exitand go straight along the main street (Kurashiki Central Main Street)
2. Turn left when you get to intersection Achi Minami
3. Turn right when you hit T junction
4. Go straight for about 200 meters and you'll find YUURIN-AN on the left
To YUURIN-AN
In 10 minutes from Kurashiki Station, I found myself surrounding by the old traditional houses.
Yes, I had already been in a tourist spot of Kurashiki called Bikan historical quarter.
I checked my mobile to find that YUURIN-AN is right over ahead and found it!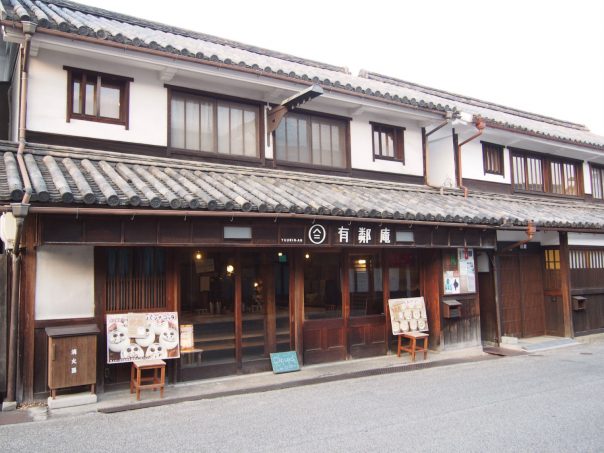 Oh, is this Guesthouse?
That's good it has sliding doors!
I felt I chose a good place to stay.
Entering the house by sliding the door.
There was a table right in front, in which some guests were siting.
Staff guided me and I also sat there to fill out the form for name, address, etc.
I first thought the staff tells me the place of the room I stay but all the guests came together at the table and introduction for each of us started then.
I've stayed many guesthouses and backpackers houses both in Japan and overseas but this kind of event is first time to me!
Looks like they value relationships among guests and staffs.
From the introduction, I could see some guests were repeat customers.
I felt like I can understand why some of them become repeat customers.
After that, each staffs showed each of us bathroom, toilet, room to stay separately.
This service is also very surprising!
Usually we just know the place by a small talk at a front desk when we stay at hotel but here they accompanied to each places separately for each individuals or groups.
Inside of YUURIN-AN
1st Floor
"Of course!!", she replied me with a smile that I took pictures and video inside of YUURIN-AN.
First, here is the entrance on the 1st floor.
Great dining table.
You can check-in and check-out here.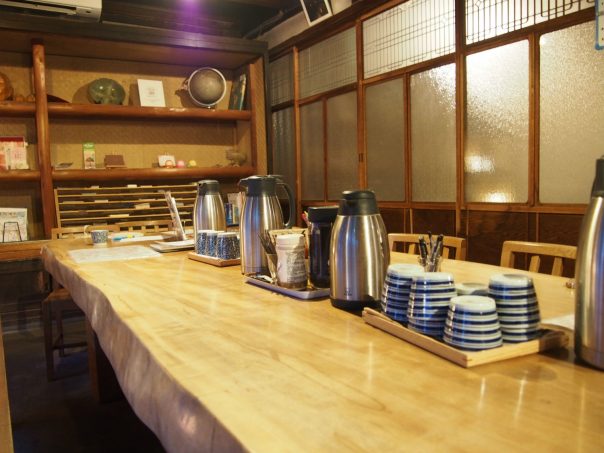 This is the picture I took the next morning.
I also like the atmosphere in the early morning!
You can also enjoy meals or drinks here!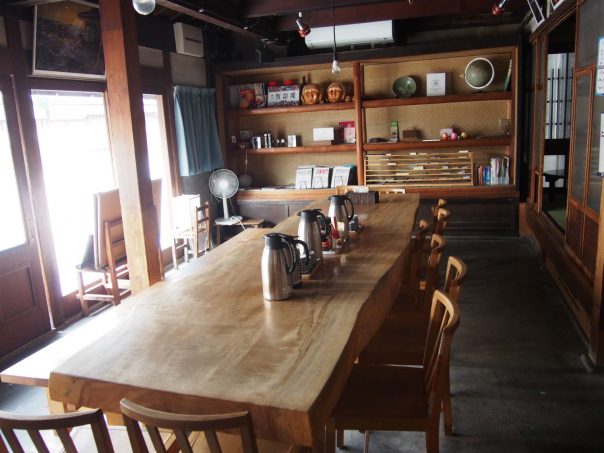 I went further ahead and found myself outside.
Here was a Japanese terrace, I like here!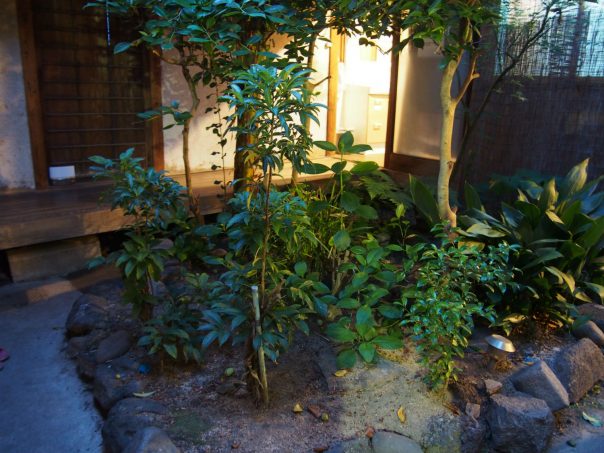 Right next to the terrace is room "Hana (Flower)".
Japanese room of 6 Tatami-mat size (9.5 square meters).
There was also a room called "Tsuki (Moon)", which has a skylight on the top, right next to the room.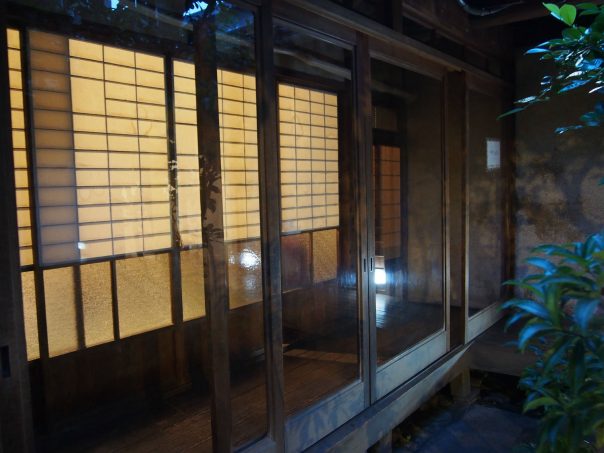 I took a picture at a different angle next morning.
Engawa (Veranda-like Porch) is unique to an old Japanese style house in local areas and I like it very much!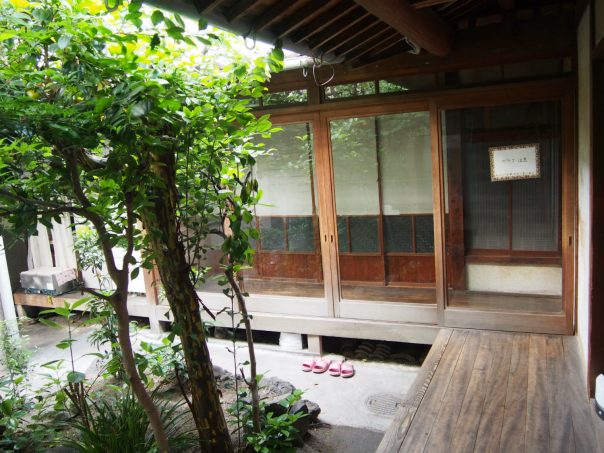 At the end of Engawa, there was a shared bathroom with a bathtub.
That's rare it has a bathtub as well!
Good news to those who want to relax!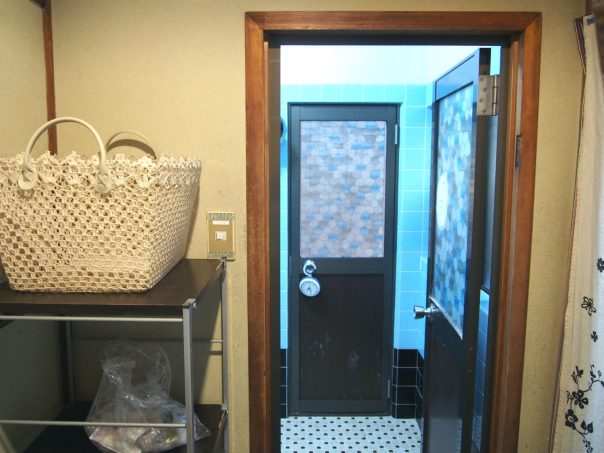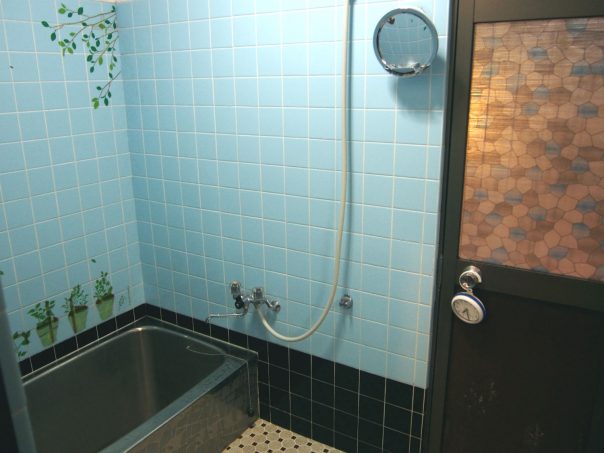 As there is a shared refrigerator, you can put your food and drink inside.
Don't forget to write your name on them.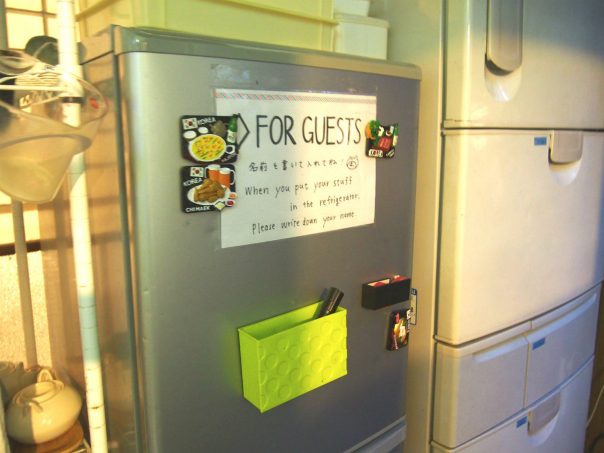 There was also a shared space called "Kura (Warehouse)"
I didn't take a picture so the picture down below is from an official site.
They say this Kura is a 300-year-old.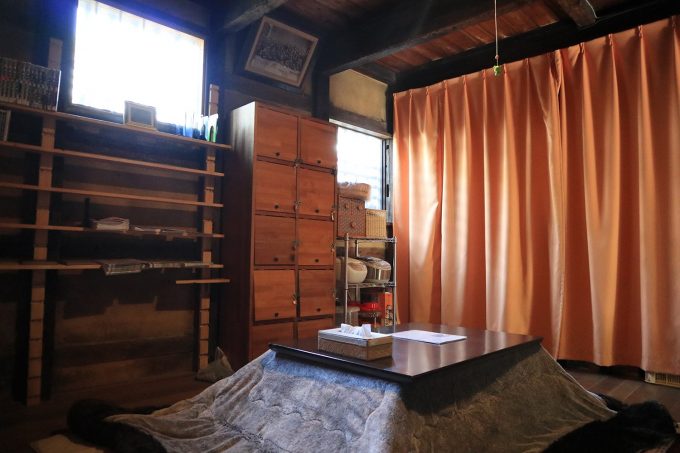 source : YUURIN-AN
Guests can relax here and use as a baggage depository before check-in or after check-out as well.
I had enjoyed talk with guests and staff with drinks and snacks at night here.
2nd Floor
The room I stay at this time is "Sora (Sky)", which is on the 2nd floor.
It is a dormitory room that is separated by gender.
Costs about $36 (3900 yen) per night on weekends and holidays (A bit cheaper on weekday).
Walking up the stairs.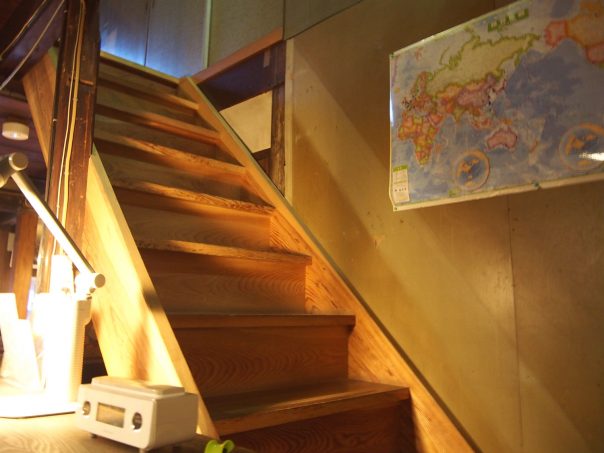 Looked down the stairs.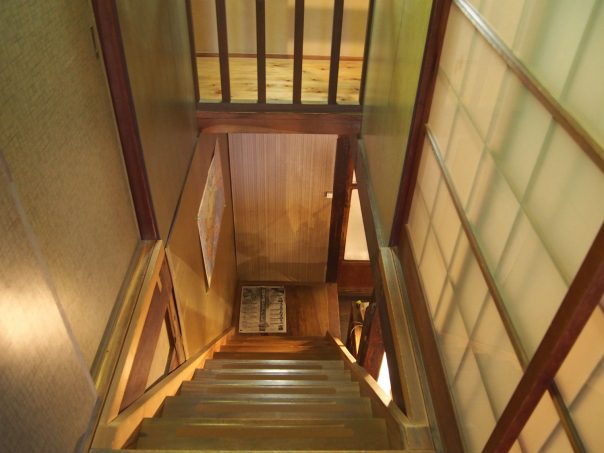 Entering the room and it was a Japanese style room called "Sora (Sky)" with tatami mats.
There was a guest already inside so I took just a part of the room.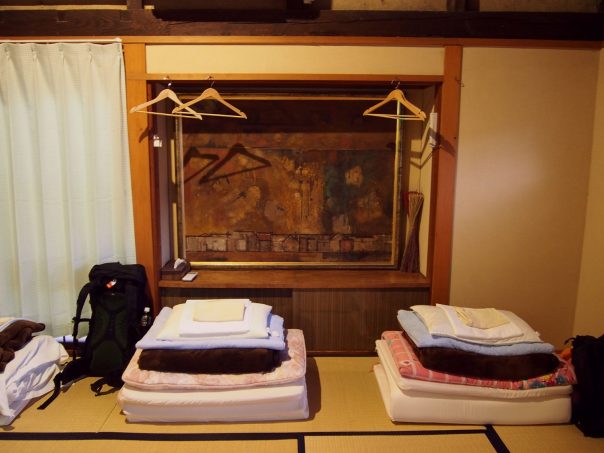 This time I slept on the tatami mat but it has also an attic so you can sleep there if there is a vacancy, too.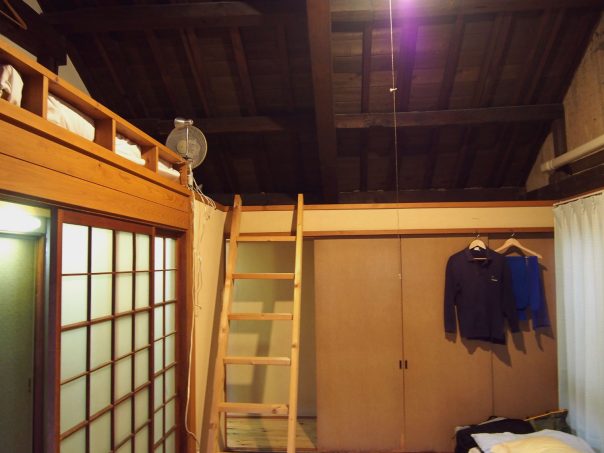 Yes, really Traditional House!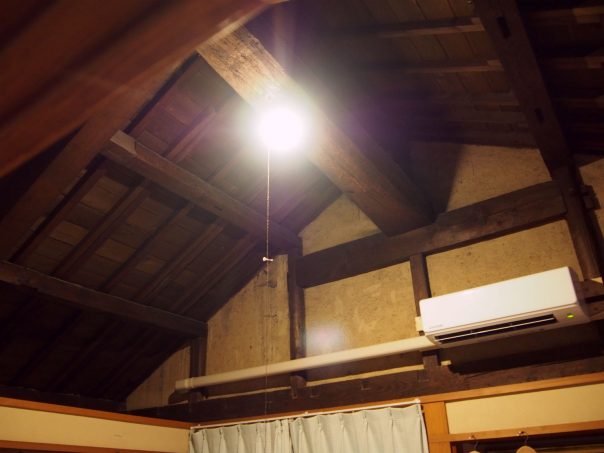 There was a bathroom on the 2nd floor, too!
Summary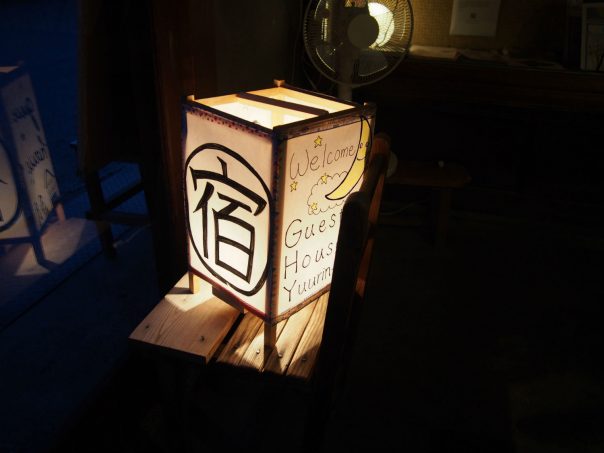 I've stayed at various guesthouses and backpackers houses both in Japan and in overseas so far but I felt the staffs of this YUURIN-AN is especially friendly.
Maybe that's the theme of this guesthouse.
First meeting but we could talk easily and drink together including staff (after she finished her job) at night.
2 guests told me they were repeat customers of this place.
Want to stay again, I understand people feel like that.
As for me, I'd rather feel like to work or run the guesthouse.
There are many attractive places like this guesthouse here in Bikan historical quarter.
If you want to enjoy meal or tea in traditional Japanese style house like YUURIN-AN, I also recommend Café Nature.
This is the article from my other website when I visited the cafe.
Café Nature (Kurashiki City in Okayama Prefecture)
Japanese style Guesthouse YUURIN-AN
Address:2-15 Honmachi, Kurashiki, Okayama
Closest Station:Kurashiki Station (About 15 minutes from South Exit)
Check-in Time:18:30-20:00
Check-out Time:-10:00
Business Hour of Cafe:11:00 – (Until the menu of the day run out)(Around 17:00 is the stop time of order)
Holiday:Irregular Holidays
Website :https://yuurin-an.jp/