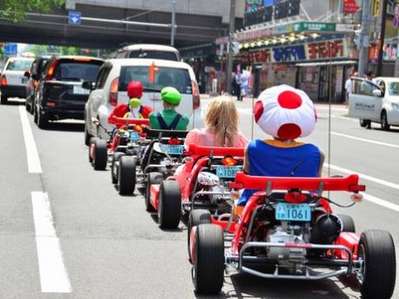 Source : Jalan.net
What do you associate when you heard the word Maricar?
That's the thing of this issue.
Actually I can't tell concrete opinion on this matter as it is the thing of complicated law or copyright.
But I picked up as I myself was interested in this mini car since I often saw it when I walk around Tokyo especially in these 3 years.
What is Maricar?
First of all, what is MariCar?
So I myself was going to check the website but couldn't access to it.
Looks like the server has been down because of too many access related to this issue.
Anyway I introduce it from the information I checked from other media.
MariCar is a company that rentals go-kart in Tokyo.
What MaiCar rent to the customer is X-cart that can goes up to 40 miles.
The total length is 2 m and the total width is 1.1 m.
Its engine is 50 cc.
Anyone can ride it as long as the person has a class 1 driver's licence.
No need to fasten seat belt or wear a helmet.
I felt like strange when I saw them driving the roadway without seat belt or helmet.
I myself wear a helmet when I ride on motorcycle.
But the point of it is it's not a car or a motorcycle but go-kart.
There is no duty of fastening seat belt or wearing a helmet for go-kart.
You can ride this go-kart at 2500 yen (about $22) for an hour.
You can also wear costume for free.
Popular costume I often saw was as you can imagine characters of Mario. (if it is OK to say it is Mario)
No need to prepare costume by yourself as Maricar rentals it for free.
Now Maricar has 5 shops in Japan as of March 2017.
They are in Shibuya, Akihabara, Fuji Kawagushi Ko, Osaka, Okinawa.
Following is data of Maricar in Tokyo.
Unfortunately I could not check its website rather even find official website after this issue.
Maricar Akihabara (Rental Shop and Advance Reservation Only)
Address : B1 2-4-6 Sotokanda, Chiyodo Ward, Tokyo
Maricar Shibuya (Rental Shop and Advance Reservation Only)
Address : 2-11 Shoutou, Shibuya Ward, Tokyo
Maricar (Head Office)
Address : 1-23-15 Kitashinagawa, Shinagawa Ward, Tokyo
Nintendo filed a lawsuit against MariCar
Issue of trademark registration
Nintendo filed a lawsuit against MariCar as MariCar used the name MariCar without permission of Nintendo.
Nintendo's video game "Mario Kart" is very famous and the scene tourists driving on the road using go-kart of MariCar reminds people of the game "Mario Kart".
MariCar rentals costumes of characters of Mario for the drivers and uses its picture and video for business purpose such as sales and advertisement without permission of Nintendo
The claim of Nintendo is the name MariCar makes people misunderstood this is all about Nintendo's video game or business.
It says all these things constitute unfair competition and copyright infringement against Nintendo.
So Nintendo requested the company MariCar to revoke its trademark.
Actually I thought the company MariCar has been doing the business after satisfying the all the necessary things such as patent and copyright, etc.
But looks like it was not.
Why Nintendo file a lawsuit now?
Actually I have seen people enjoy this go-kart since about 3 years ago.
I often saw it in Akihabara, Shibuya, Shinagawa, etc in Tokyo.
So Nintendo must know it, too since then.
But did not say anything about it.
Why?
This is one of the opinions but it might relate to the car accidents.
The more people use it, the more chances of car accidents occur.
If it is just a normal go-kart, that does not associate "Mario Kart", it is none of Nintendo's business whether it causes traffic accident or not (although best thing is not cause car accident whether it is Nintendo's or not).
But it is not, I think I can say it reminds most people of "Mario Kart" when people see the go-kart of MariCar driving down the street.
It was unfavorable thing to Nintendo which has target of making smile on the face of all the people that related to Nintendo as image of Nintendo dameged if the accidents increase.
And another thing might related to theme park Universal Studio Japan in Osaka.
Nintendo plans to Super Nintendo World in there.
As long as I checked it, it is scheduled to open before Olympic that held in 2020 in Japan.
And there is also opinion that says Nintendo makes "Mario Kart" in there.
I'm not sure if it is true or not.
But if so, it will be unfavorable thing to see non-related go-kart that is similar to "Mario Kart" drives down the street outside USJ.
Dismissal of Nintendo's opposition
Japan Patent Office dismissed the opposition of Nintendo.
It was a big surprise.
Most of all the people must have not imagined this.
As legal office of Nintendo was famous for its strong power and thorough job.
It won many lawsuit in the past.
Lawsuit against movie company of King Kong, Video game company for a dealership of Tetris, Uri Geller for pokemon things, etc.
The reason of the loss is that Japan Patent Office did not take the name MariCar is recognized broadly among citizens.
That means Japan Patent Office concluded that the name MariCar itself doesn't associate people with Nintendo's video game "Mario Kart".
Come to think of it, I have not called the game as MariCar.
I always called it Mario Kart.
So if someone said to me MariCar I could not have imagined it as Mario Kart in a instance.
But still imaginable name and I think there must have been people who call Mario Kart as MariCar although I think is is minority.
Anyway that's that.
It's the final conclusion of Japan Patent Office whether we think is is imaginable name or not.
But that's not the end of it as Nintendo is preparing for request of trial for patent invalidation and file a lawsuit for the Intellectual Property High Court next.
My Opinion
I can not say anything about this complicated lawsuit thing.
So apart from this matter, what I worry about is the car accident.
I sometimes heard it is dangerous as the go-kart is low and small for its body that big truck or car can not recognize it.
And they are usually driving in 5 to 10 cars in a low that I heard there are people that ignore the traffic signal and keep driving if it turns red in the middle of the line.
I'm not sure for this as I myself didn't see it and I understand the feeling the one want to keep up with but still it is very dangerous if it is true.
Actually a couple of days ago, an accident of this MariCar happened in front of Tokyo Tower.
Fortunately it was not such a big accident and no one injured.
But it was not first time but car accident of MariCar or other similar company happened several times before.
It might be one of the concerns as it can be ride like a game (Although this is the sale's point of it) that it has the possibility of removing the nervousness of driving real car in a public road that loosen the attentiveness or power of observation of the driver.
If it is just a thing in a video game, it just ends as Game Over in the game but in real, it really ends one's life.
So I hope people enjoy it with care at the same time.
Summary
In the middle of this issue I happened to go to Odaiba last week.
It was just for seeing last scene of life-size Gundam stood there.
And I could see people who wore costume of Mairo characters were driving down the road there.
I wondered is it still OK?
But as Nintendo's opposition was dismissed that seems like still it's OK to drive it.
Once they appeared in the road many people take picture of them and wave hands.
Riders also wave hands to them.
It is a happy thing to see people come visit Japan enjoy unique sightseeing.
But I'm not sure if this MariCar can continue this business or not.
There are comments that says I saw Disney Character of it next.
Disney!! > < That's the most strict company about this kind of thing. Well, what I can say is just wait and see how things go.