Visited Saitama WABI SABI Festival last week!
Literally it's the festival to enjoy Japanese WABI SABI.
Looks like it was held last year, too, so this is 2nd time this year.
It's a free event and famous Japanese singer and actor also joined such as Chitose Hajime and Shinji Takeda.
I could enjoy performance of calligraphy, Bonsai and Takigi Noh as well.
It was a great day in which I could touch the culture of Japan.
Access
Saitama WABI SABI Festival was held in Omiya Park.
Closest station to the venue was Omiya Park Station.
But actually, you can get there on foot from Omiya Station.
It is about 20 minutes.
Head for in the direction of Hikawa Shrine for about 20 minutes and the next to the shrine is Omiya Park.
There were also free shuttle buses at every 30 minutes from 9:30 to 19:30
Closest Station : Omiya Park Station and Omiya Station
Saitama WABI SABI Festival 2018
So this time I went on foot from Omiya station
Headed for in the direction of Hikawa shrine!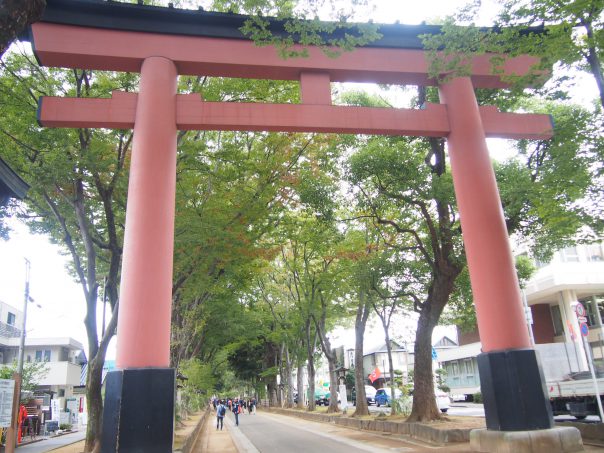 In about 15 minutes, I could get to a place in which food stalls are lined on the pathway to the shrine.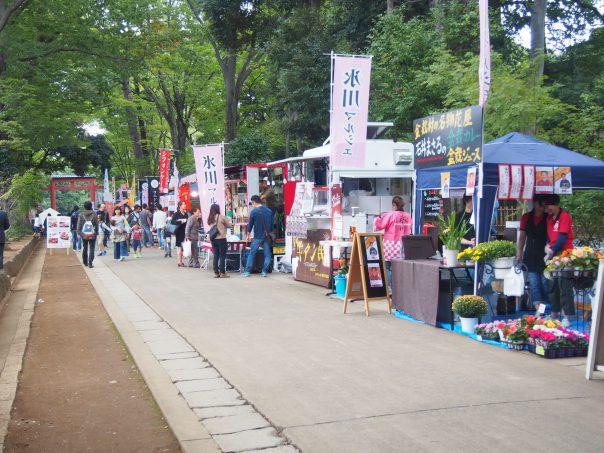 Bonsai Gyoza!!
First time to hear!
Did they blend Bonsai into Gyoza?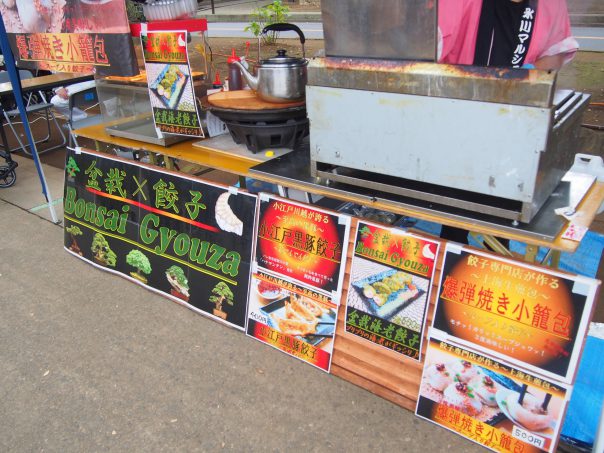 Performance by BUGAKUZA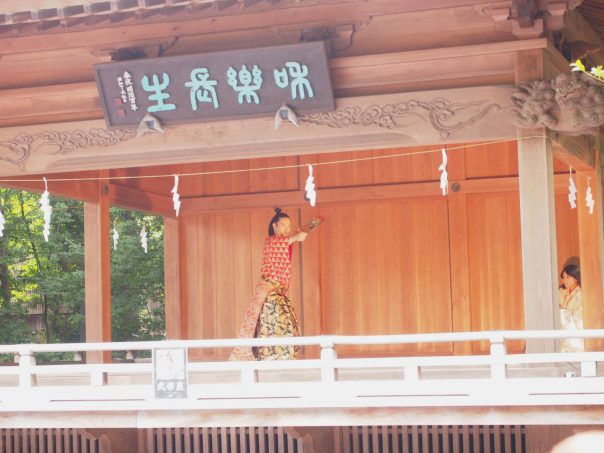 Right after entering the shrine gate, I could see Wa performance on the right side.
Looks like the performance related to Shinto.
Later I checked and found that the performance was made by BUGAKUZA.
BUGAKUZA is a group which perform combination of Japanese martial arts and traditional art.
It was an impressive performance.
Crossing the bridge
Passing through Hikawa Shrine to Omiya Park.
Bonsai had been displayed.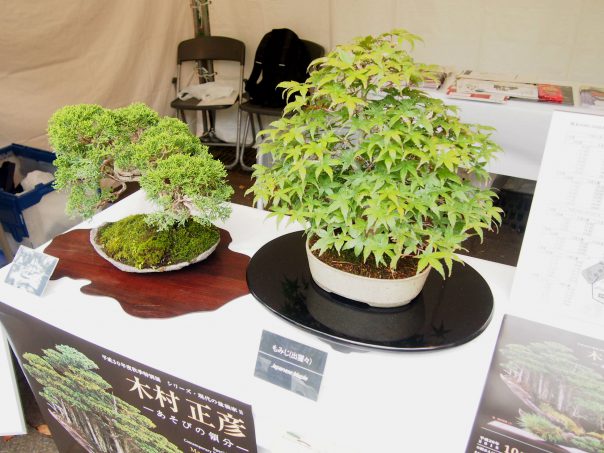 Calligraphy Performance by Chosho Yabe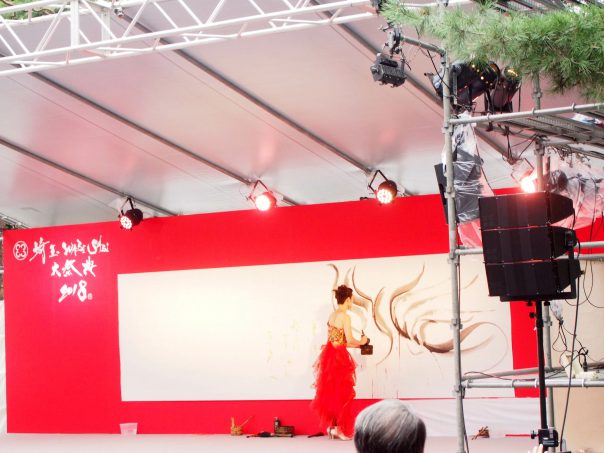 There was a performance on the stage
I found that a lady drawing a picture with a brush.
Do you know the picture she is drawing?
First I could not find what it was but finally found what it was in the middle of the drawing.
Yes, it is "Phoenix"!
It is called "Houou" in Japanese.
The work was made by Japanese Calligrapher Chosho Yabe.
She started learning Calligraphy at 6 and acquired the master degree at age 22.
I think she made the work in about 30 minutes, it was such a great performance!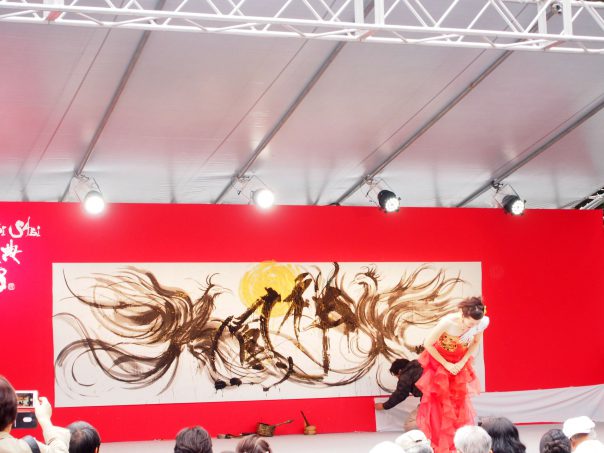 Atmosphere of the festival and food stalls
I hanged around.
Being here in this Omiya park, I feel "Wa".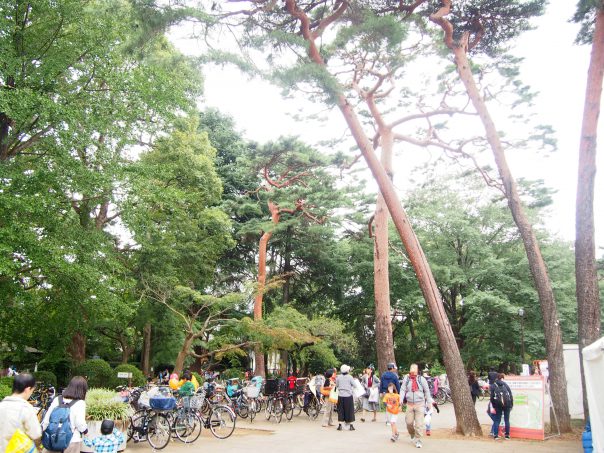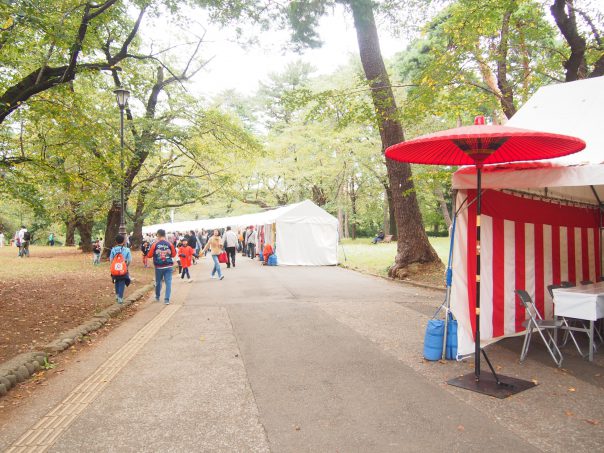 They were making Japanese paper called "Washi".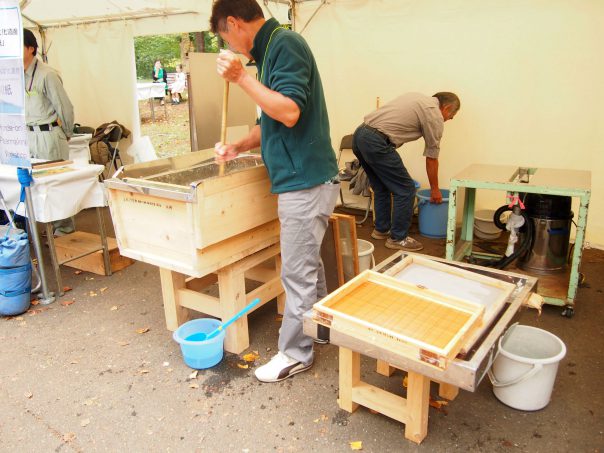 This is "Ai Zome".
Indigo dyeing in English.
The color is also called Japanese blue.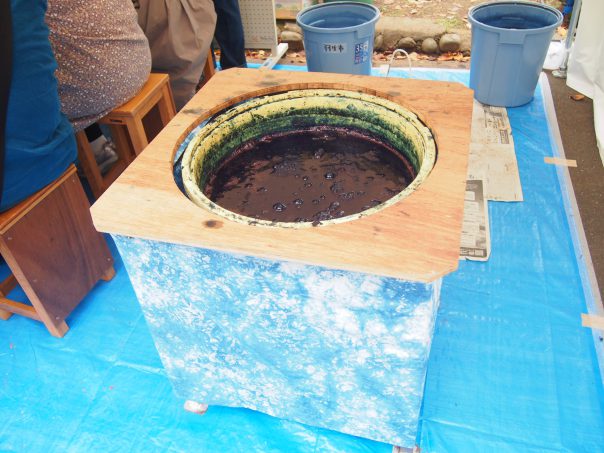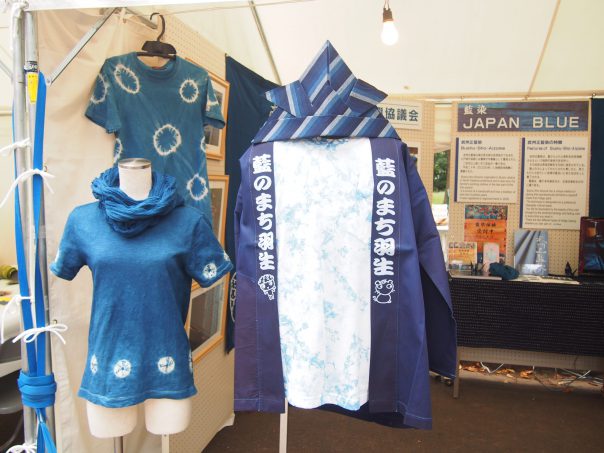 Found Bonsai again!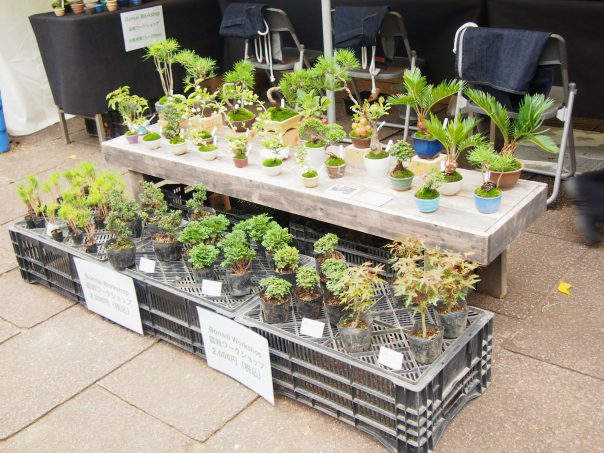 Japanese sword Katana, armor and helmet!
Are they real or replica?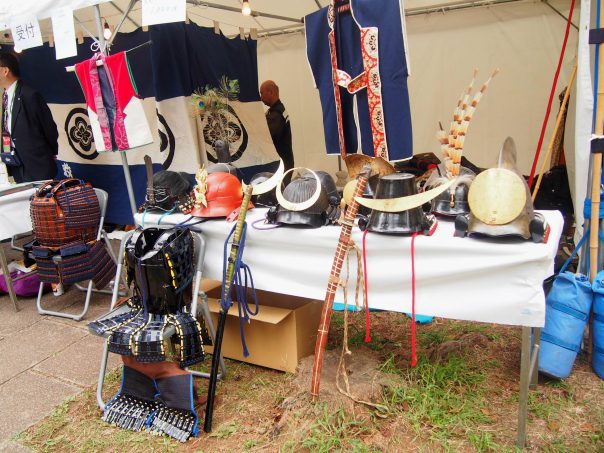 Monja croquette?
I'm curious!
By the way, Monja is a food like Japanese style pancake Okonomiyaki but more liquid or watery food.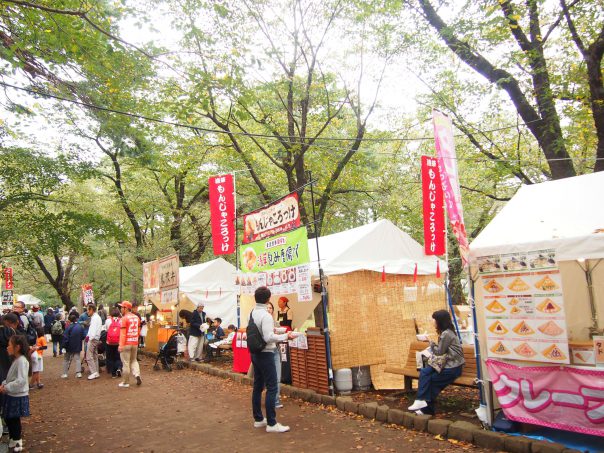 I bought plane flavor for 300 yen (about $2.5)!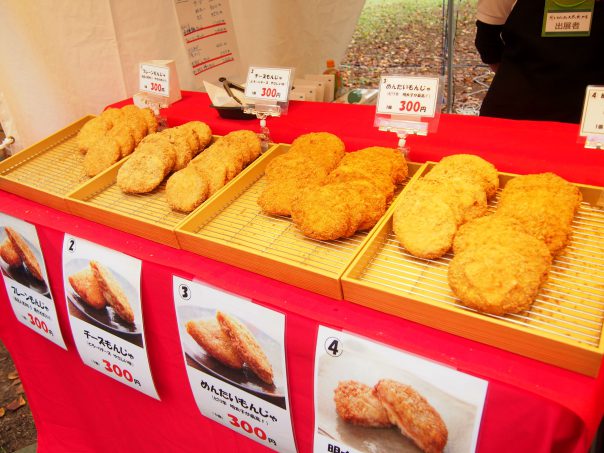 Yes, certainly Monja inside and tasted good!!
WA Bagel?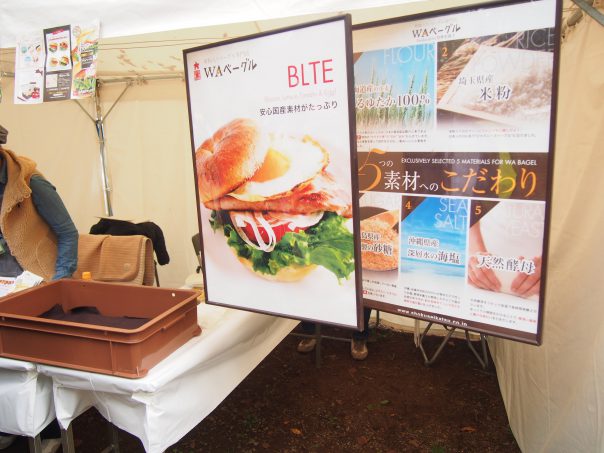 They say this is bagels of natural yeast.
I'm curious again so I bought it!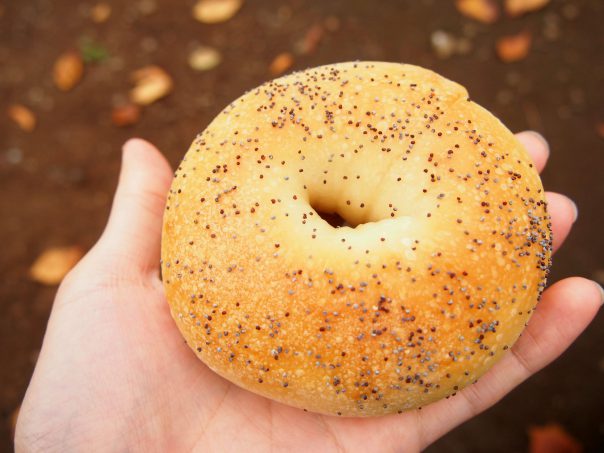 It was chewy and tasted very good!
Mixing with rice powder created the chewy taste.
Japanese Music Live concert by SAITAMATIC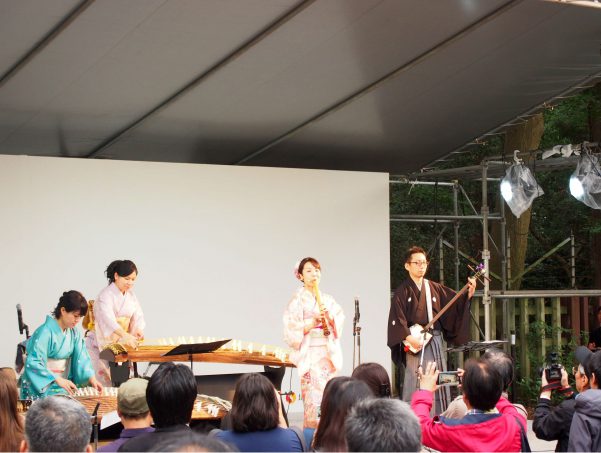 I visited another small stage and could see Japanese Music Live concert!
The musical instruments used by them were Shakuhachi and Shamisen.
Both of them are traditional Japanese musical instruments since old days.
Performance of Okoto was also cool!
They are SAITAMATIC.
SAITAMATIC is a quartet of Japanese musical instruments by performers live in Saitama Prefecture.
Wa music makes me calm down.
I also like music called Gagaku, which is used in Shinto related ceremony or events.
Bonsai Performance by Masashi Hirao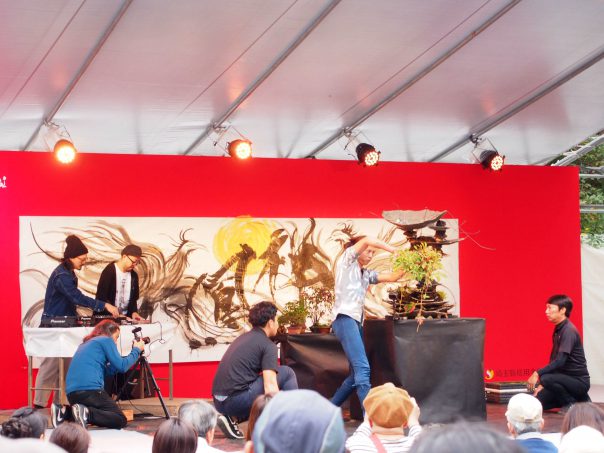 Return to the main stage and found performance of Bonsai.
Oh, with DJ, that's an interesting collaboration!
I feel Bonsai is very popular especially recently.
I myself feel calm when looking at it.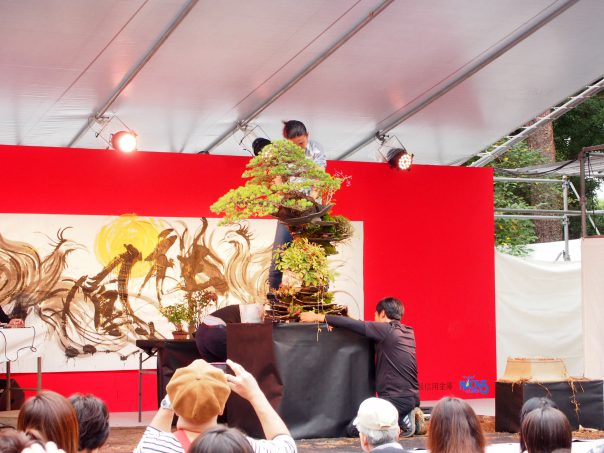 The person who were performing on the stage was Bonsai Master Masahi Hirano.
He does his activity not only in Japan but also in overseas.
He became a disciple by visiting Katomanseien in Saitama city in 2003 and now does his activities as a Bonsai Master in many countries such as Spain, Argentina, Italy, Philippines, etc.
I could enjoy great Bonsai performance.
But I could not see it up close that I got close to the Bonsai later after the performance.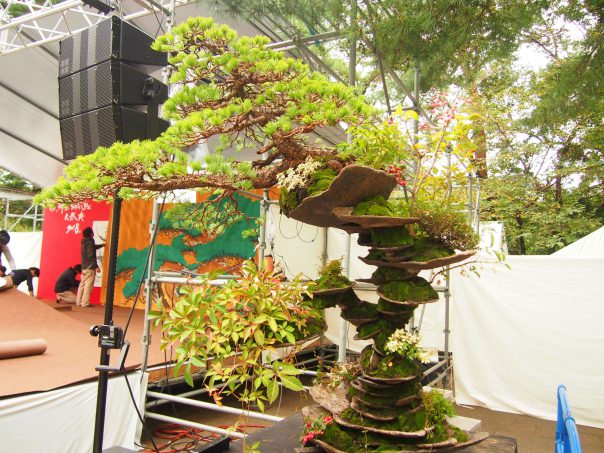 Wow, it's like Japanese garden is created in this Bonsai!!
Flowers in pink color add the taste to it!
I felt Bonsai a bit closer.
Talk by Kawagoe clan Matchlock Gun Corps Preservation Society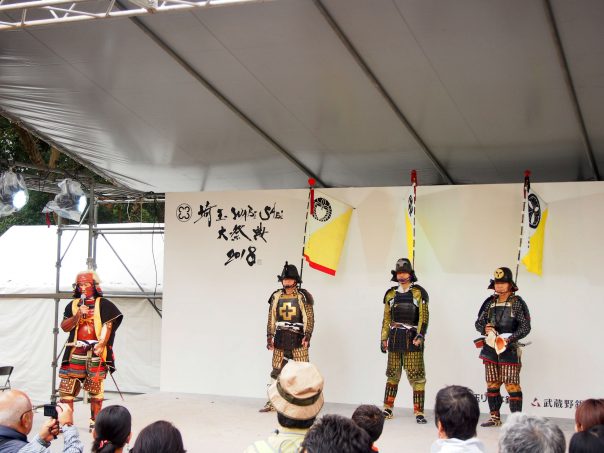 Wow, Bushi!!
I remember the Japanese armor and helmet which were displayed outside.
Maybe they were for this.
They are members of Kawagoe clan Matchlock Gun Corps Preservation Society.
They research history and making technique of Japanese armors and hand down to posterity.
Looks like they usually do demonstration of their matchlock guns on the spot when joining traditional events
But today is not, as here is just an ordinary park, not appropriate place for shooting.
I wanted to see the demonstration but yes that's difficult here.
It was good I could see the armors at least.
Wa Cosplay Show by Chamomile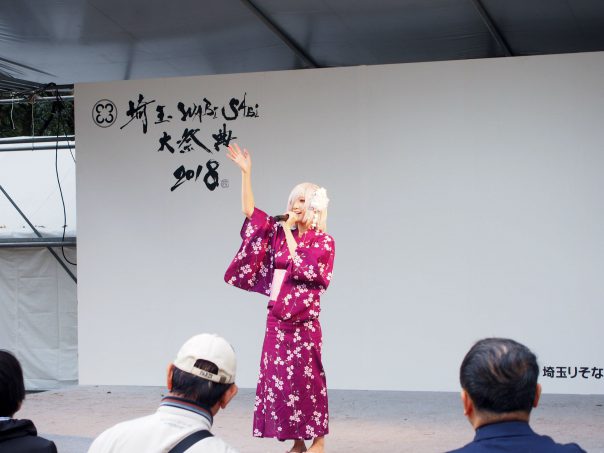 What is Wa Cosplay Show?
I'm interested in so get to the stage and found a girl in Kimono.
I remember she was watching other's performances close to me some while ago.
I see, she was also a performer, wasn't she.
Checking her internet and found that she is Chamomile, famous cosplayer who does cosplay not only in Japan but also in overseas.
She talked about Yokosuka in Kanagawa Prefecture so maybe she is from Yokosuka?
Cosplay is also popular lately and it was a kind of chaos in front of Shibuya station at Halloween season with so many cosplayers including ordinary people who usually do not cosplay.
By the way, what anime character was this cosplay in Kimono?
Live Performance of Hajime Chitose
Hajime Chitose is a famous Japansese singer.
Shooting picture or movie was not allowed so I don't have any pictures but there were many people around the stage.
Hajime Chitose is from Amami island in Japan.
Surprisingly, the elementary school she went had just 4 students in total.
And the class of swimming was held in the river close to the school.
What a great place to grow up!
She made her debut in 2002 and her debut single Wadatsumi no Ki (Tree of Wadatsumi) is famous.
By the way, it is said that Wadatsumi is god of sea who appears in mythology.
I could enjoy many island songs of hers.
It was great I could enjoy her songs for free.
Takigi Noh
Takigi Noh was also not allowed to shoot but it was interesting to see.
Noh is Japanese traditional art since old days and the origin goes back to Heian Period (794 – 1185).
So the history is older than Kabuki.
This Takigi Noh is the Noh held around bonfire.
Interesting point of this Noh is its face looks different depending on the person who watch it.
It looks smiling, crying, getting angry, etc. depends on the people who see it.
It is like Hello Kitty or Miffy, isn't it.
As for me, it was like a bit smiling or gloating face.
But looked no emotion or expression as well.
Actually it was a bit hard to understand the story on the stage.
Still I could understand two samurai Worriers were battling with ghost of Samurai worrier.
It was first time to see Takigi Noh for me but I found the attire and gestures of the performers were interesting.
It was great I could enjoy traditional Japanese art.
Tabi Shonin's Coffee (Coffee of Peddler)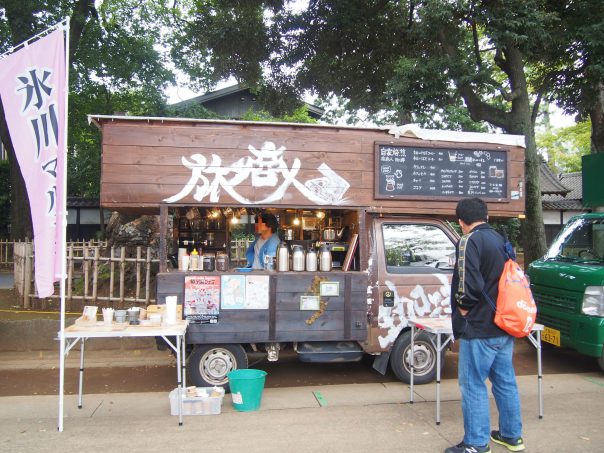 I was in T-shirt so it was a bit cold at evning.
So I went back to the entrance of Hikawa Shrine as I remembered there was a shop of small truck which was selling hot coffee.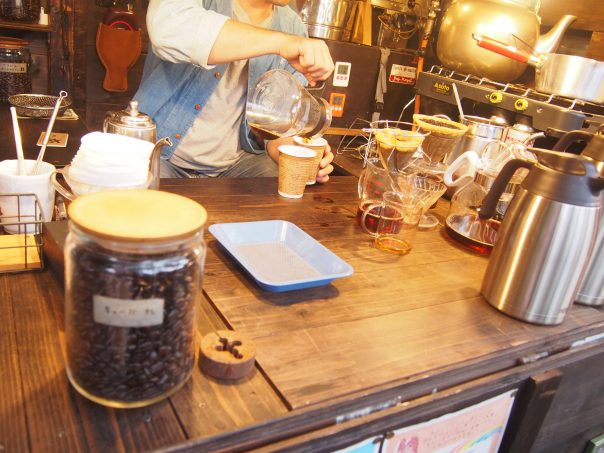 It was such a great design!!
When I was lining up, I was talking to my friend, "Have you ever heard of Tiny House? You can even live like in this kind of small truck".
And the owner of the truck spoke to me "I was actually travelling with this truck and slept on the roof of it".
Really? He was travelling with this mini truck and slept?
Must have been great fun!
This might certainly be Tiny House but of course no toilet or bathroom inside.
I also have a plan to travel all over Japan by my motorcycle but the idea of renovating mini truck and travelling also attracts me!
Coffee was also tasted very good, Gochisousama Deshita!! m(_ _)m
Summary
I also wanted to watch the live concert of Shinji Takeda but it was so cold outside in T-shirt.
I felt the end of summer and went back home.
I recommend this Saitama WABI SABI Festival to those who wan to enjoy Japanese traditional arts in a relaxing atmosphere.
This event was held last year and this year so I think it will be held next year 2019, too.
It's just 30 minutes from Ikebukuro station in Tokyo so come and join if you are interested in!
There are many things to enjoy in Saitama!!