Do you like cat?
If so, I recommend you to visit Gotokuji Temple in Tokyo.
It is, I think, most famous and popular Cat Temple in Tokyo.
You'll be surprised to see so many cat statues there.
I visited this temple to guide some tourists 2 month ago in June.
I'll show how the temple was.
How to get to Gotokkuji Temple?
Gotokuji Temple is located in Setagaya Ward.
Closest station to Gotokuji Temple is Miyanosaka Station.
There are 2 ways to get to Gotokuji Temple by train so I'll show you both.
Shibuya Station (Tokyu Denentoshi Line) → Sangenjaya Station (Tokyu Setagaya Line) → Miyanosaka Station
Shinjuku Station (Keio Line) → Shimotakaido Station (Tokyu Setagaya Line) → Miyanosaka Station
This time I started from Shiubya Station.
And changed the trains at Sangenjaya Station.
It was funny as cat train was coming.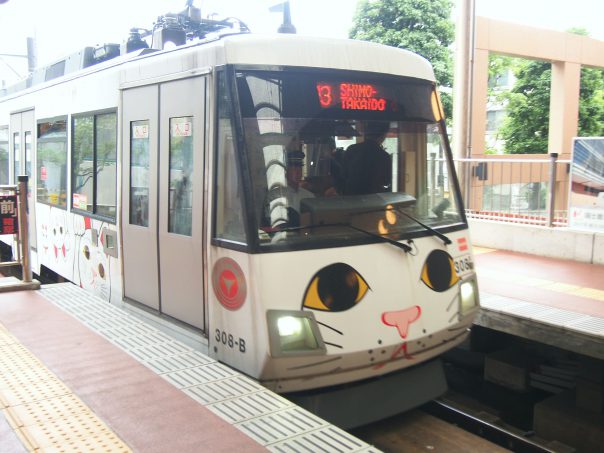 It was about 20 minutes' train ride from Shibuya Station to Miyanosaka Station.
Train ticket is 160 yen and 150 yen so 310 yen (About $3) in total.
From Miyanosaka Station to Gotokuji, it is just 3 minutes on foot.
Yes, it's very close!
Here is the address and Google Map.
Gotokkuji Temple
Now I arrived, Miyanosaka Station.
And found green train in front of the station.
What's this?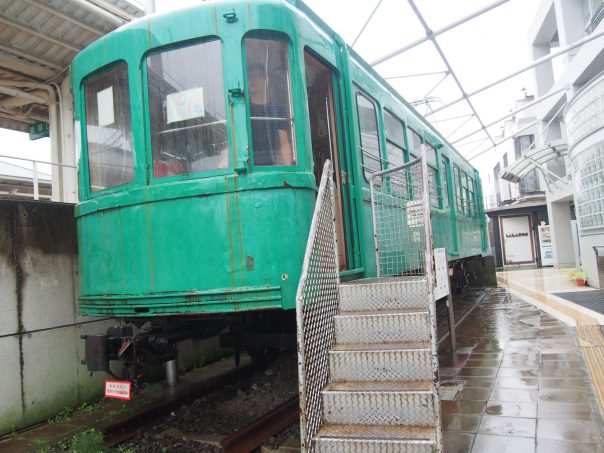 Anyway I could go inside.
Wow, really retro touch!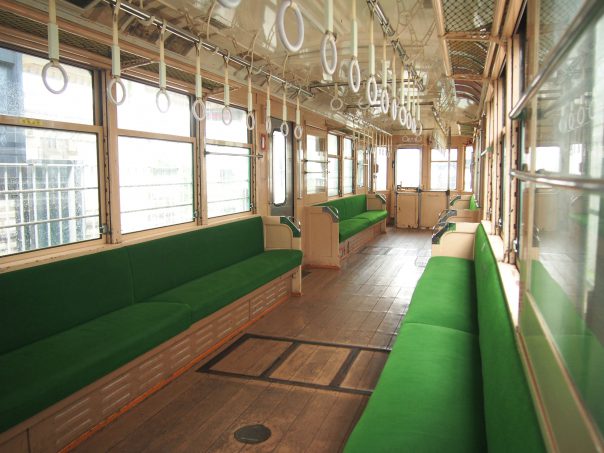 I think this is the first time to see train with wooden floor.
It must be used in the old days.
Came to the gate of Gotokuji Temple.
This is Sanmon Gate.
It was originally built in 1884 but collapsed in the Great Kanto earthquake in 1923.
So this Sanmon Gate is the one erected in Showa Era (1926 – 1989) after the earthquake.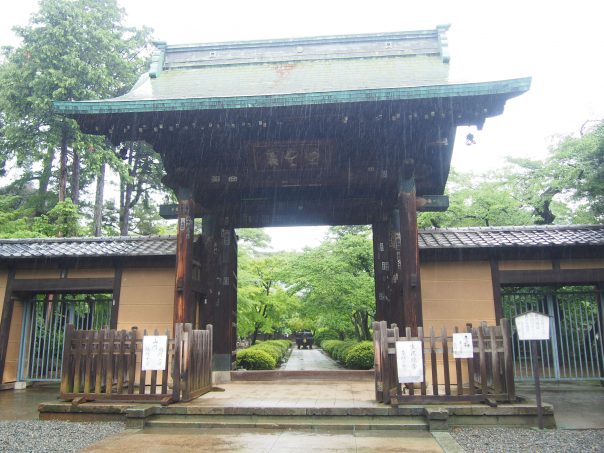 Found Pagoda inside.
It is three-storied pagoda.
You can find Chinese Zodiac on the pagoda.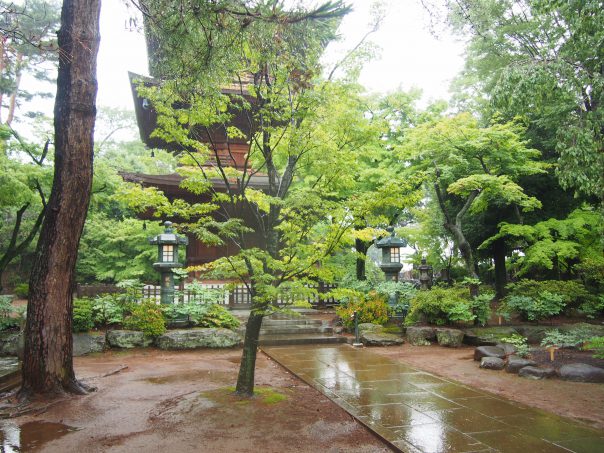 That is, twelve signs you can find.
Twelve sings? you might think.
They are Rat, Ox, Tiger, Rabbit, Dragon, Snake, Horse, Sheep, Monkey, Rooster, Dog, Pig.
Yes, they are 12 animals (please do not touch on Dragon) of Chinese Zodiac.
I know, yes there is no cat.
Somehow cat was not included in Chinese Zodiac.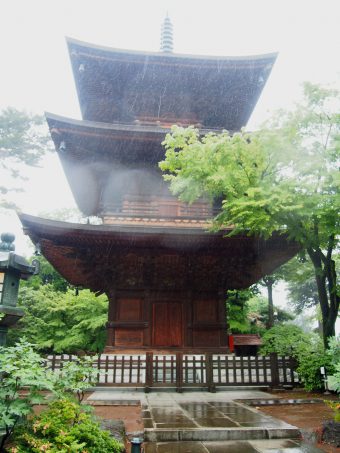 What?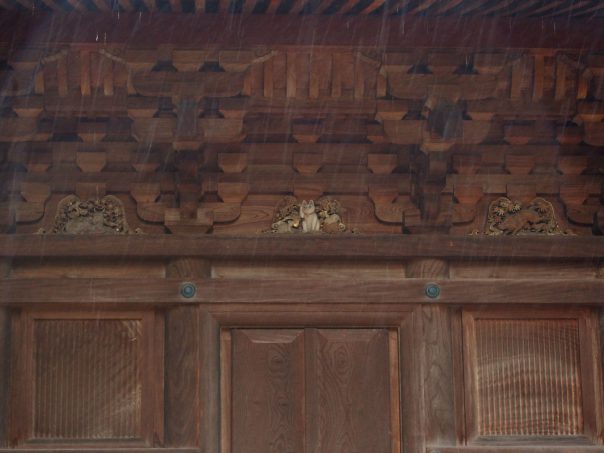 Looks like this is a special pagoda.
You can see 13 animals here.
Oh, this is cool.
You can offer incense sticks here.
This is Ema Tablet.
It is casual scene at Temple.
People write wishes on this votive tablet and hang.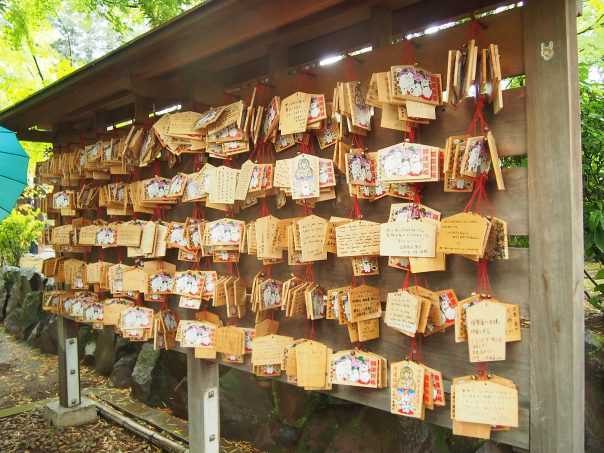 Oh, suddenly well!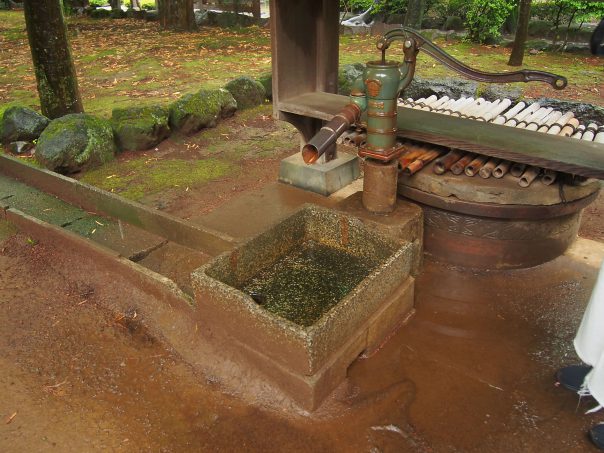 This is really old type and worked actually.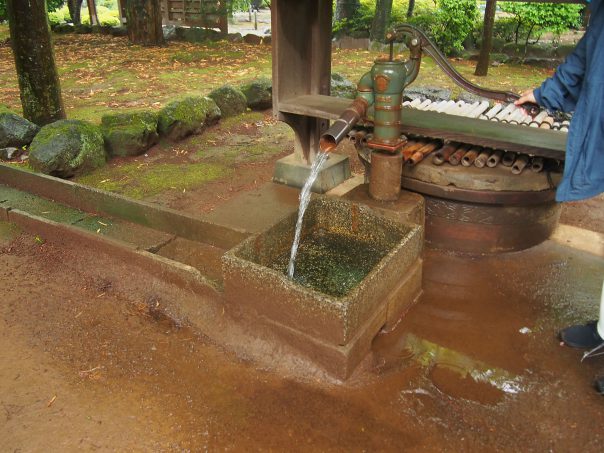 This is the place!!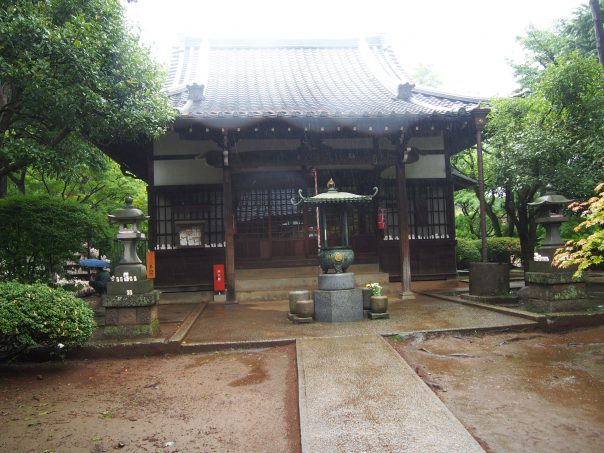 Finally found cats.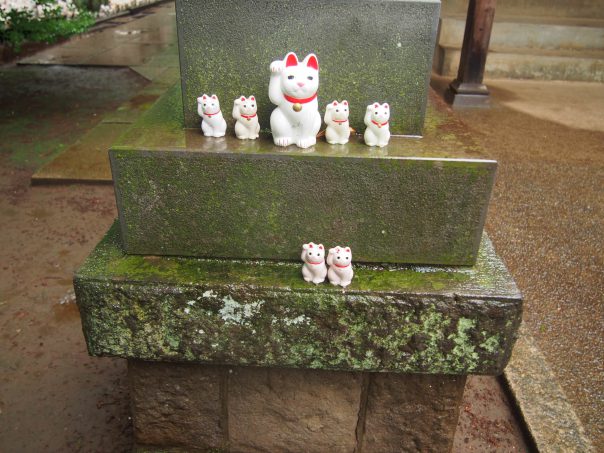 Even inside stone lantern.
Somehow it became a bit scary photo.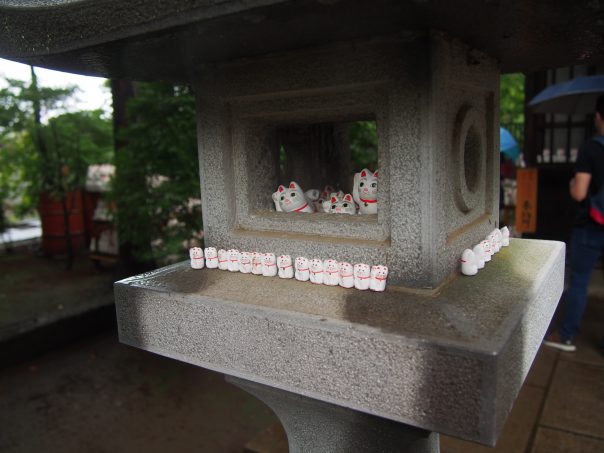 Too many cat statues around the temple!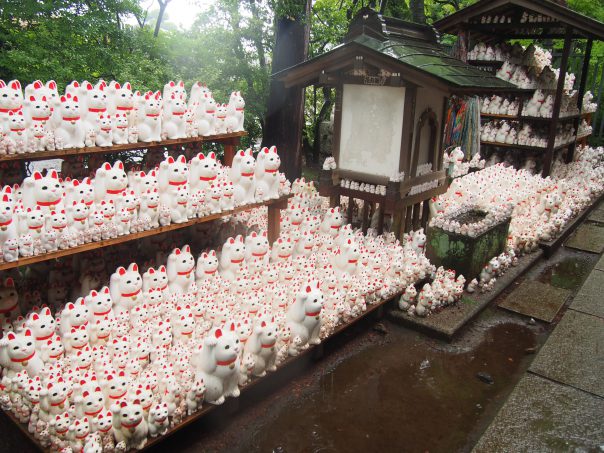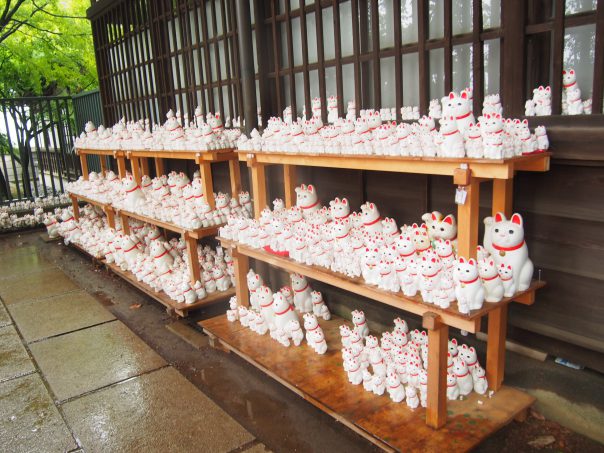 By the way, did you realize that none of them hold Koban.
Koban is an old gold coin used in the old days Samurai still existed.
Usually these beckoning cat hold Koban in front but no Koban for these cats.
The reason is "Cat can give you a chance but not result (Koban), that is, the result all depends on how you work hard".
There was a main temple.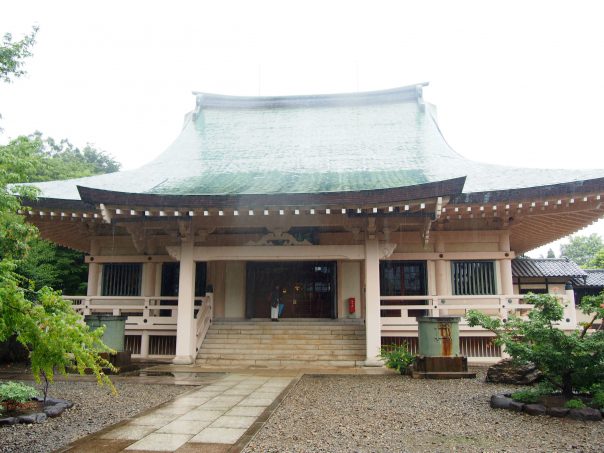 Here you can buy shogun's scarlet seal called Gosyuin and small cat statues.
Cat statues come in various sizes.
Smallest one is 300 yen (About $2.8) and the biggest one is 5000 yen (About $4.5)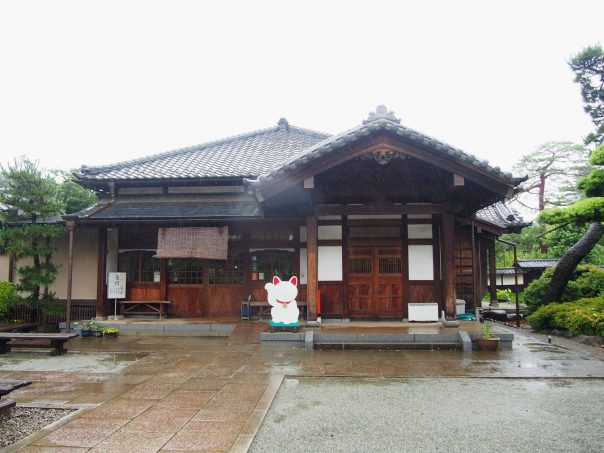 It might be good to keep one of them for a memory and a good luck.
It opens from 8 am to 4:30 pm.
Why Gotokuji Temple is famous for cat?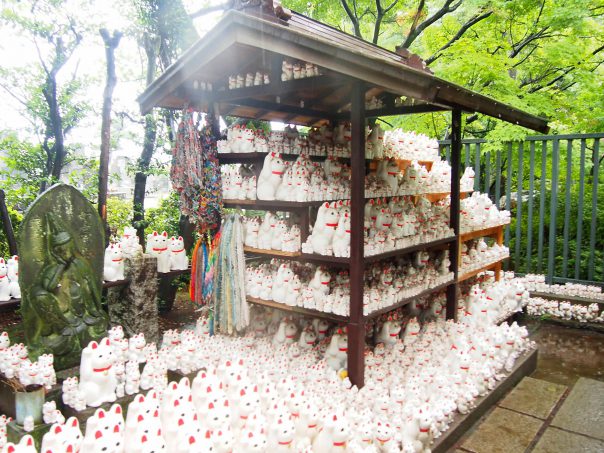 But why Gotokuji Temple became famous for cat?
There is a story like this.
In Edo period, Naosuke Ii, who was a feudal lord called Daimyo, passed in front of Gotokuji Temple after hawk hunting.
He could see a white cat Tama at temple was beckoning toward him.
He entered the gate, had a tea with chief priest of Gotokuji Temple and then weather got worse suddenly.
It became heavy rain and he thought "Thanks to the cat, I could avoid getting wet in this heavy rain, this is a good luck".
As he appreciated it, he made Gotokuji Temple as Ii family's temple.
It is said that the statues of beckoning cat were being made since then.
Gotokuji was not a rich temple but the visit of Naosuke Ii saved life of the temple.
Chief priest made a grave for the cat after it passed away and sent his prayers.
The story spread and Gotokuji Temple became famous as a temple of beckoning cat.
You might see Hikonyan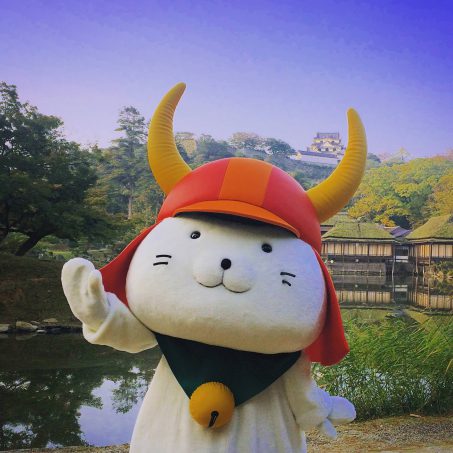 Source : Hikonyan Official (Facebook)
Do you know Hikonyan?
I could see poster of Hikonyan at the temple.
It is a mascot of Hikone city in Shiga Prefecture.
I knew this mascot but I wonder what's the connection.
And found that Naosuke Ii was a feudal lord of Hikone.
And a white cat Tama invited him to this temple.
Using the cat as a motif, Hikonya was created.
That's why!!
Summary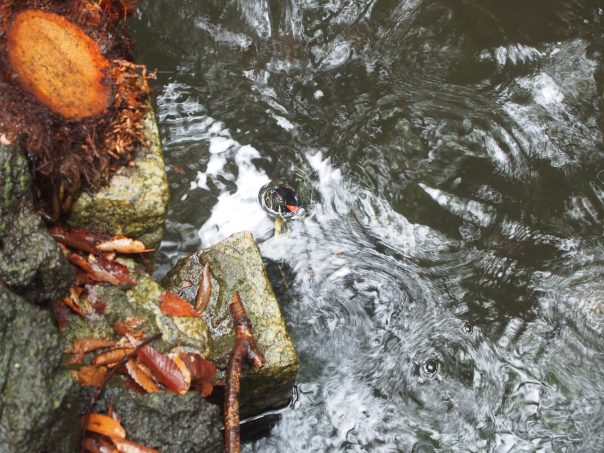 I was a rainy day but I enjoyed visit to this cat shrine.
If you like cat, this is the place for you.
Want real cat?
OK, how about visiting cat island here.
Cat island Aoshima and Tashirojima
Now cat is very popular in Japan.
You can see many cat cafes as well in Tokyo!!
Gotokuji Temple
Address 
2-24-7 Gotokuji Setagaya-ku, Tokyo
Access
Miyanosaka Station (Tokyu Setagaya Line)
Tel
03-3426-1437 (+81-3-3426-1437)
Opening Hours
8:00 – 16:30
Google Map of Gotokuji Temple