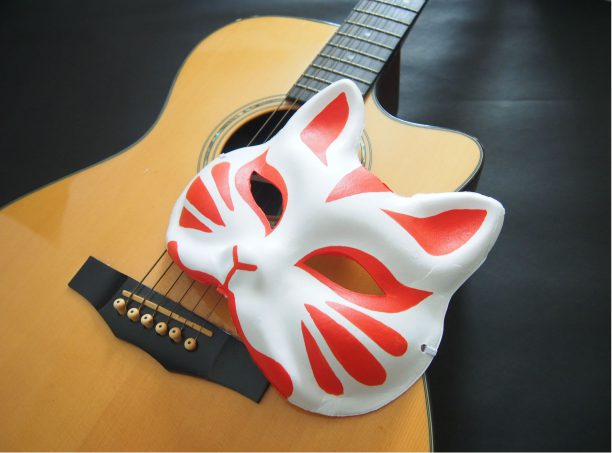 In the old days, maybe over 30 years ago, anime music or singer was just for anime.
That is, just for child, not like the ones mature adults listen to.
Very simple music and lyrics was for child.
I think singers were also not young like in their twenties but over 40 usually in the past.
But situation changed a lot.
The modern music is high quality.
And some singers are popular not only among anime fans but also among ordinary people who love music.
The age of the singers also became much younger.
They are in their teens to thirties.
Japanese anime itself is sophisticated for both animation and the story.
I can say it even from the perspective of an outsider.
To match the quality and deep anime, quality modern music and singers were needed.
There are many cases, Japanese popular bands or singers make music just for anime.
Anime in Japan is such a familiar thing and different position to Japanese people.
I sometimes think this anime or manga is for adults as it is too deep story and there is a case even adults can not understand it without deep thoughts.
Here I introduce modern popular singers of anime.
If you are a fan of Japanese anime, you must know many songs even if you don't know the singers.
Contents
6. Maaya Sakamoto
7. EGOIST
8. Konomi Suzuki
9. Kalafina
10. ClariS
11. Summary
LiSA
LiSA is very famous not only among anime fans but also ordinary music fans.
I think she always ranks in top 3 popular Japanese anime singers on almost any websites.
To me, she looks like new generation of anime singer although she turned 31 in this 2018.
I like her song "Shirushi" very much which was used in "Sword Art Online Ⅱ".
She looked like very shy girl when she was a little and her mother, who worried about her shy character, let her joined in musical class.
There she came to like music.
After graduated high school, she kept singing in a music band but the band broke up.
Then she thought "Now is the last chance" and then went to Tokyo alone to realize her dream of musician.
In 2010, she got a role of anime character's song.
She sang a song of Yui, who sang a song in a band in anime "Angel Beats".
This became a turning point.
Next year 2011, she started her music activity in the name of LiSA.
Actually I did not know her first but I was watching "Sword Art Online" and liked the theme song.
And noticed it was song by LiSA.
"crossing field" and "Catch the Moment", they are theme song of "Sword Art Online" and "Sword Art Online Ordinal"
I think I myself often heard these songs for a certain period of time when I went outside, such as in shop.
Song
crossing field (Sword Art Online), THIS ILLUSION (Fate/stay night [Unlimited Blade Works]), Rising Hope (The Irregular at Magic High School), Rally Go Round (Nisekoi), etc.
Aoi Eir
Like LiSA, Aoi Eir is also very popular and looks like new generation to lead anime music as a singer.
She loved music since she was a child and sang a song in a band when she was in high school.
After graduation of high school, she did a part-time or as a bikini model.
But not giving up a dream of singer and she also posted her music video to Nico Nico Douga, which is famous video-sharing platform in Japan.
Then Fumio Yasuda, who is famous composer and producer of music found her and here her way to a singer was set.
In 2011, Aoi Eir made a debut by singing a ending theme of anime "Fate/Zero".
She also appeared on popular Japanese music program called Music Station 2 times and became very famous.
But she stopped her activity as a singer in 2016 suddenly because of poor health condition.
As it was indefinitely suspend, some people worried her not coming back forever.
But to their great joy, she came back this year 2018.
I remember her song "INNOCENCE" and "IGNITE" as both of them were used as a theme song of "Sword Art Online"
Like LiSA, she also sang a song of Sword Art Online.
I like both songs and I think these songs made Aoi Eir most popular among anime fans.
"Lapis lazuli", which is used in ending theme of "The Heroic Legend of Arslan" is also famous song.
Song
INNOCENCE (Sword Art Online), IGNITE (Sword Art Online 2), Lapis lazuli (The Heroic Legend of Arslan), MEMORIA (Fate/Zero), etc.
Aimer
I like her song and voice very much.
Actually profile of Aimer is a bit mysterious because no information of age, hometown and even face we do not know well.
The girl in the video clip in YouTube is actress in Japan, so not Aimer herself.
She rarely appears on video or TV, so it looks like she makes her way with her voice only.
Certainly her voice, which is a bit husky and deep is attractive.
Her unique voice and beautiful music made her very popular.
She looked like playing guitar and liked Avril Lavigne when she was in junior high school.
But she injured her vocal chord when she was 15 and has still not been cured.
She does not heel her vocal chord intentionally because thanks to the injury she got a unique husky voice.
If you want to know more about Aimer, I also wrote about her in this article.
The Mysterious Restaurant of the Food God and Music of Aimer
Her songs were used in several anime such as "Gundam", "BLEACH", "Fate/stay night", etc.
Each music video of Aimer as well as song is very beautiful!!
Song
Brave Shine (Fate/stay night [Unlimited Blade Works]), Re:pray (BLEACH), RE:I AM (Gundam UC), Akane Sasu (Natsume's Book of Friends), ninelie (Kabaneri of the Iron Fortress), etc.
Nana Mizuki
Queen of Anime, that's nick name of Nana Mizuki.
She is one of the leading figures of anime world.
Nana Mizuki is very famous Seiyu as well as anime singer.
I myself was not know about Seiyu or singer of anime well in the past but still I knew the name of her and face.
She was such a popular singer and seiyu.
Her parents run Karaoke shop and she herself practiced singing everyday since she was a child.
She was a famous girl who always ranked top in Nodojiman (famous Kataoke Contest in Japan) in her hometown.
Then she went to Horikita high school and Yoyogi animation to realize her dream in Tokyo.
In 1997, she made a debut as seiyu in video game.
In 2000, she also made a debut as a singer.
After that, she came to become famous and popular with her activities.
Song
Fiat lux (Tales of Symphonia), Wish (Magical Girl Lyrical Nanoha), WILD EYES (Basilisk), BLUE (Space Battleship Yamato 2199), etc.
Seiyu
Tamao Tamamura (Shaman King ), Hinata Hyuga (Naruto), Fullmetal Alchemist (wrath), Fate Testarossa (Magical Girl Lyrical Nanoha), Sophie balzac Kirisaki (Yakitate!! Japan), Oboro (Basilisk), etc.
May'n
May'n has a long career of musician because she made a debut when she was 14.
She applied for a music audition when she was in junior high.
Actually those who are under 15 years old could not apply for this music audition.
But she wrote her age as 15, yes it was her lie, and actually she told the truth (she was not over 15) in the middle of the audition.
Loos like her great vocals saved her, she remained to last 4 people among forty thousand applicants.
And made a debut in junior high.
I think you definitely listened to the song of Mayn'n if you like "Macross" as she sang a lot of theme songs of Macross.
I was watching "The Ancient Magus' Bride" and the theme song "You" was by May'n.
Her way of singing and vocals reminds me of Nana Mizuki a little bit although she is about 10 years younger than Nana Mizuki.
Both of them are great singers of anime.
Song
Belief (TABOO TATTOO), Diamond Crevasse (Macross Frontier), Chase the world (Accel World), LOGOS at Daylight (AQUARION LOGOS), HOME (Phantom in the Twilight), You (The Ancient Magus' Bride), etc.
Sorry I think this article became very heavy with many videos so I separate the page.
Have a look next page from down below!