I made 2 videos this time.
Upper one is whole atmosphere of this event and the other one is just focused on cosplay show and cosplayers.
Have a look if you have time!
What is Nico Nico Chokaigi
Nico Nico is the state people are smiling.
Smile has no sound but Nico Nico (state of smiling) is applied to as the state of face smiling in Japan.
Cho is slung young people often use, it means super.
Kaigi means meeting or conference.
So Nico Nico Cho Kaigi means "Smiling Super Conference".
Literally this event is a kind of chaos event including almost everything from anime, cosplay, music to Sumo, Kabuki, politics, etc.
But what I can feel from this event is subculture of Japan.
What is Nico Nico Douga
This Nico Nico Chokaigi is made in the idea of creating real spot of Nico Nico Douga.
Nico Nico Douga is a video sharing website in Japan.
It might be imaginable if I say Japanese version YouTube or Reddit.
But the characteristics of Nico Nico Douga is you can type message and comment on the screen for live broadcasting program or anime, anything.
You can see what you typed on the spot.
You can adjust size, color or make motion and emotions for the words you type.
So certainly the words interrupt the things on the screen and you might feel like they are in the way.
But it is also interesting to know what people think about the story or scene on the spot.
For example, when something shocking or interesting happened, the screen filled with comments of viewers.
Report
As usual the venue is Makuhari Messe.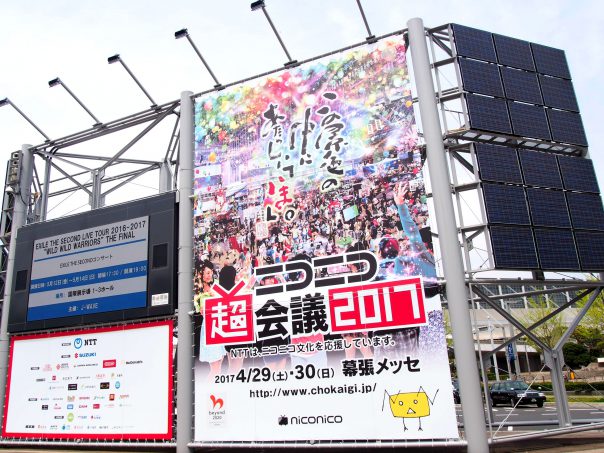 Interesting point was I could see many cosplayers before entering.
I thought they change their cloths in a changing room in the venue.
I wonder if they came to here in their costume from the home or station.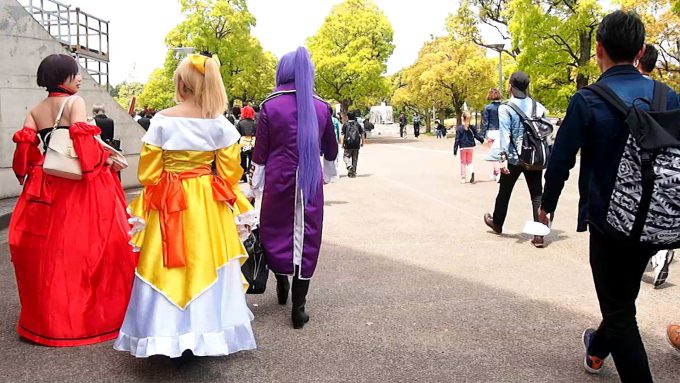 The first object caught my eye is aircraft.
I did not imagine I can see aircraft or JAPAN AIRLINES (JAL) join this event.
This is Fuji, it is the first jet airliner in Japan.
The nose of an airplane is 8 meters and it has been brought from Tokyo International Airport.
It is called "Lady of Sky" and Emperor Showa, Beatles, etc. once used it.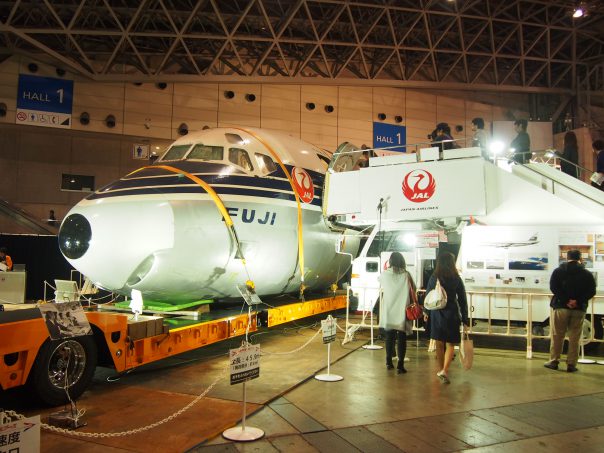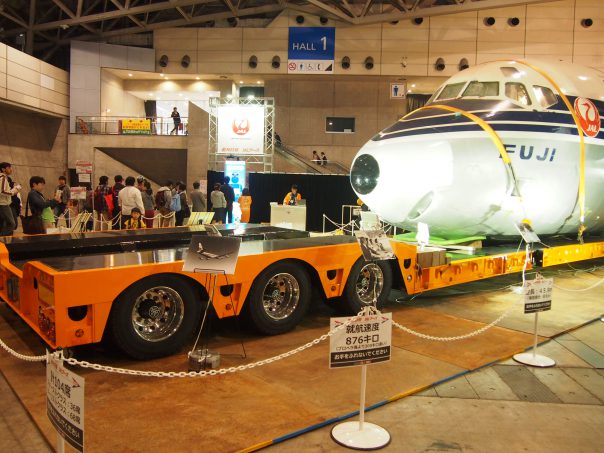 This is Type-89 armored combat vehicle.
That is used in actual rescue scene when Mount Ontake erupted.
It moves at the speed of 70 km/h and holds 10 people inside.
Japanese Self‐Defense Forces also joins this event.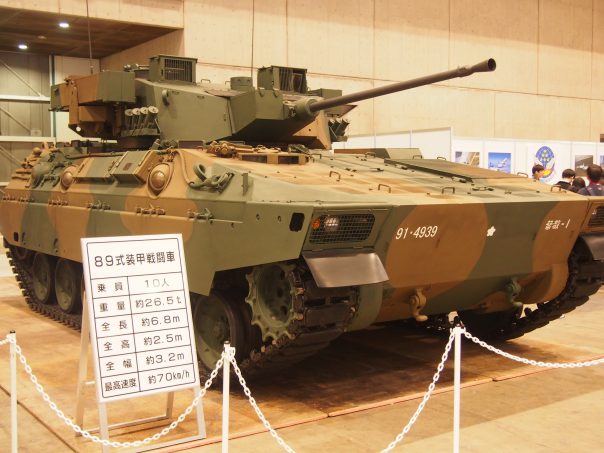 I can not find what it is first.
It looked like missile for the shape to me but was not.
It is a jet engine of battle plane of F-4EJ Kai.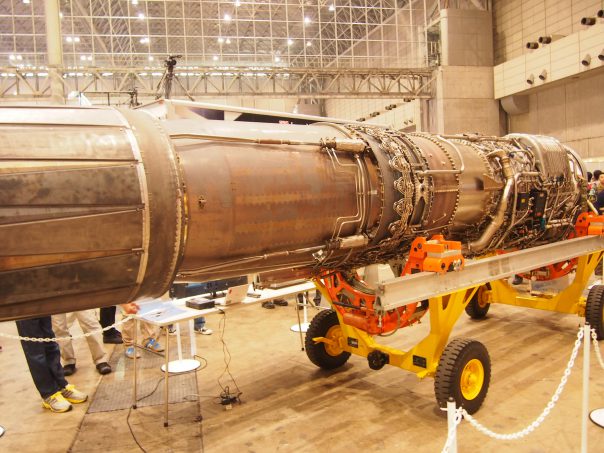 There was a booth of Rakugo.
Rakugo is comic story telling and it is made in sit-down style.
Rakugo storyteller Sanpei Hayashiya joined.
The time I visit there was no talk.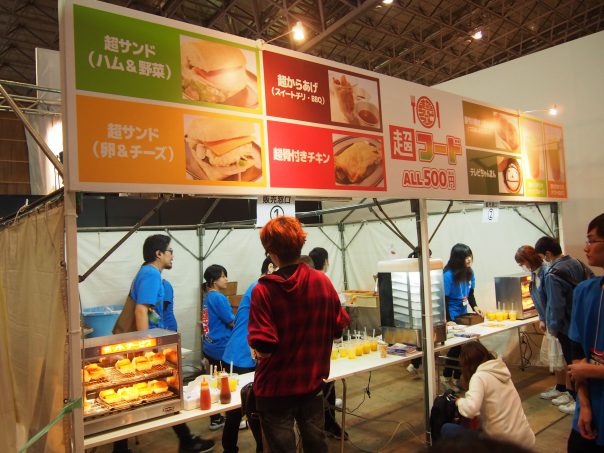 You can get in this racing car.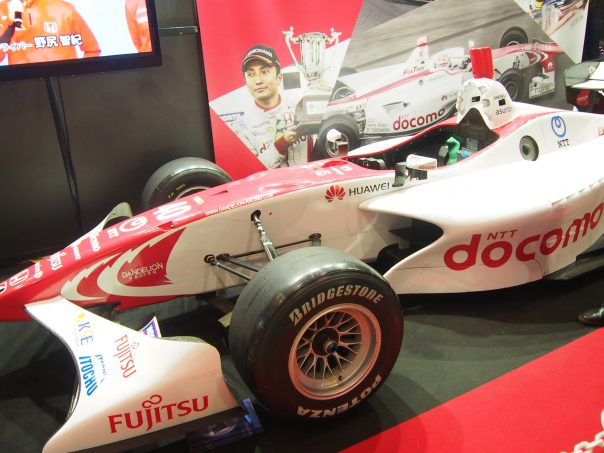 Here is the booth of railroad company.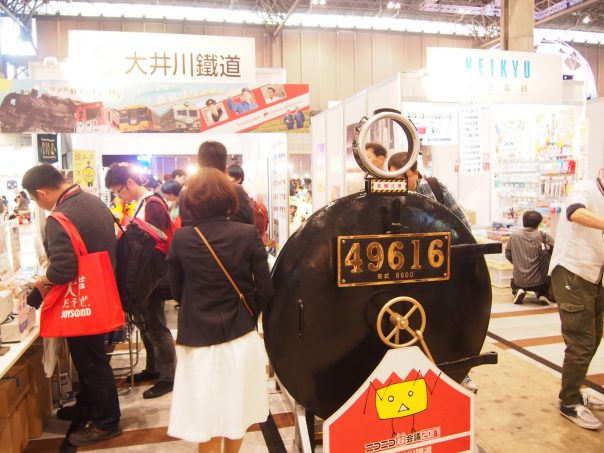 I could see booth of Tokyo Metoro, JR Kyusyu, West Japan Railway Company, etc.
This is Tomoka Ishiyama from Tetsudou Musume.
Her setting is motorgirl of Shiga line.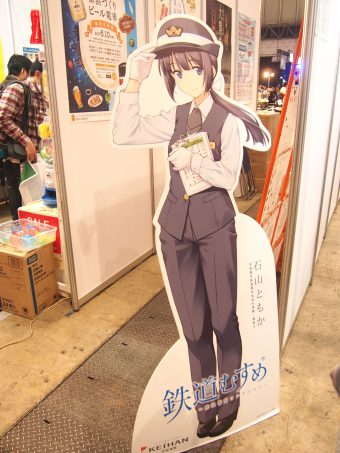 What?
Something passed through!!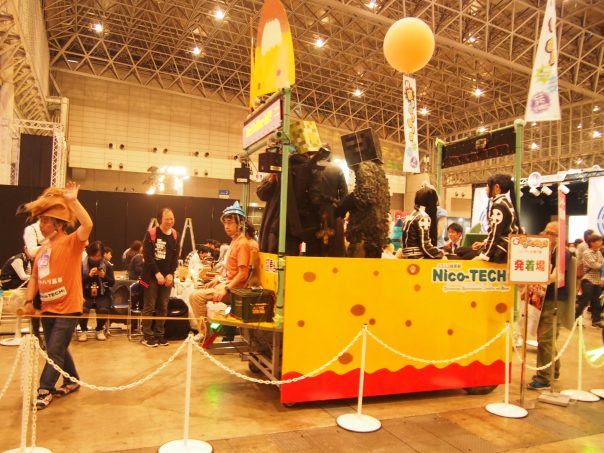 Face Painting!
I didn't try but there was a line of people for this face painting.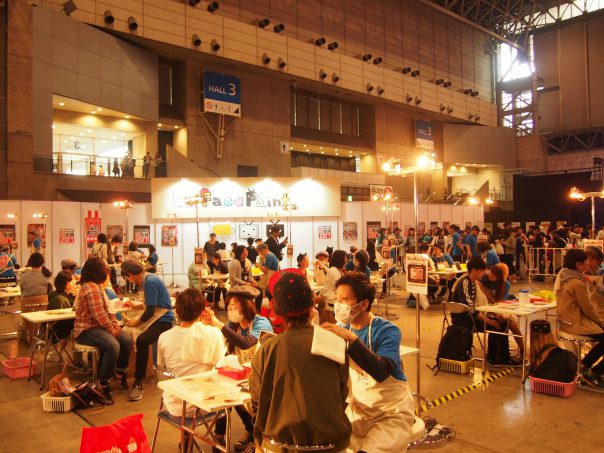 Looks like dance stage.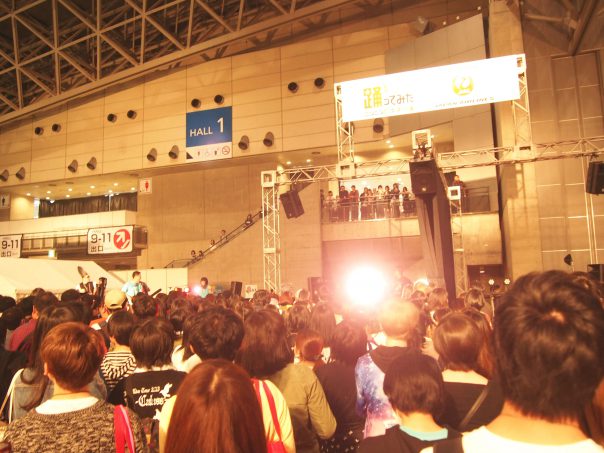 There was a crowd of people.
Famous actor or actress?
I came closer and find Toshio Suzuki.
He is producer of Ghibli Studio.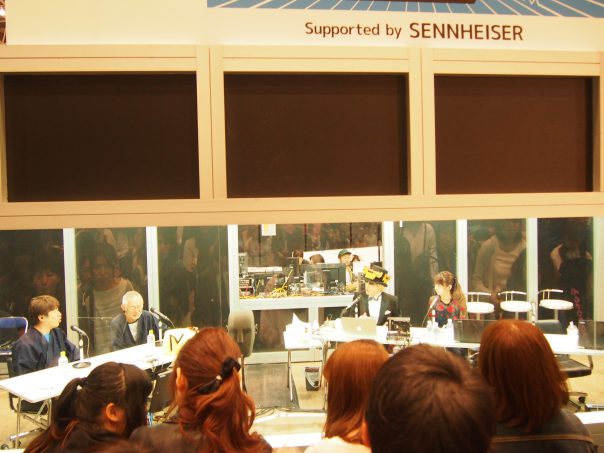 I could see his talking on the screen, too.
People were commenting on the screen.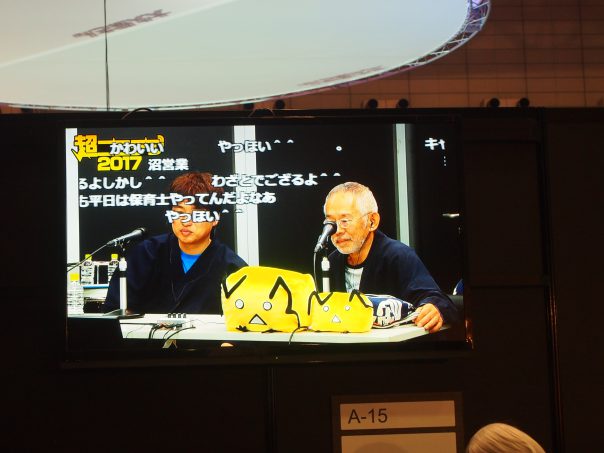 Hayao Miyazaki?
I doubted my eyes.
Then why no one around him and just look at talking of Toshio Suzuki?
I see, he must be cosplayer of Hayao Miyazaki, great cosplay!!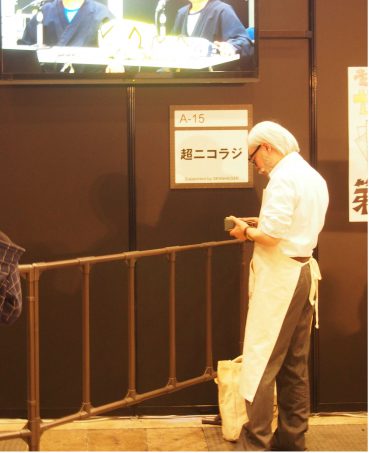 It says N high school cultural festival.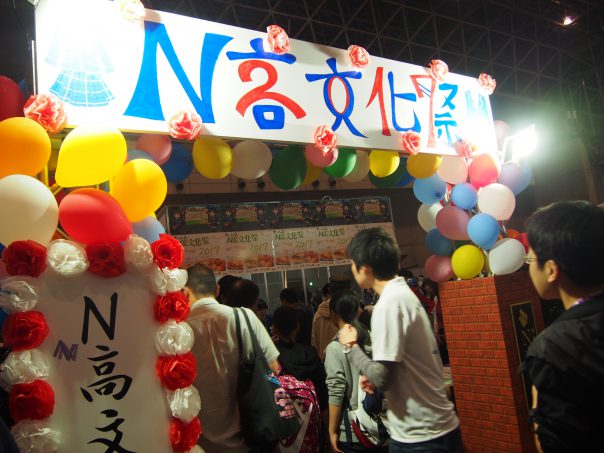 N high school?
I've never heard of it that I thought it is a kind of joke made just for this event using the first letter of N of Nico Nico.
But it was not joking there was real N high school!! > < As you can imagine it is not like a standard high school. You can learn variety of things such as IT, illustration, animation, Seiyuu, game programmer, etc. You can choose net course or commute course. And the school event is held in Nico Nico event like this. It is an official school that you can acquire an official diploma when you graduate. What a great school, I would have gone if there had been this school when I was 15. In this booth, students were selling local cuisine in Okinawa Prefecture.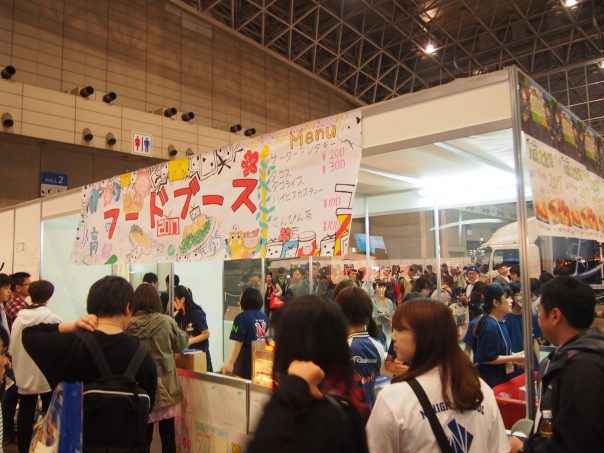 You can try on school uniform of N high school here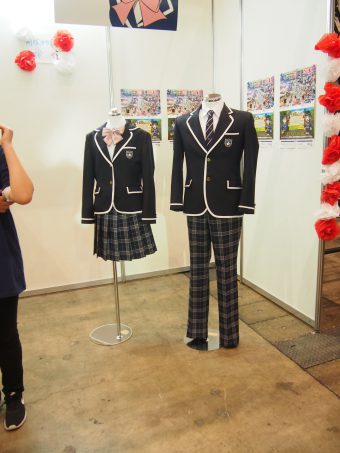 This is another food booth of this event.
It says Cho Food.
Must be something is Cho great for this foods.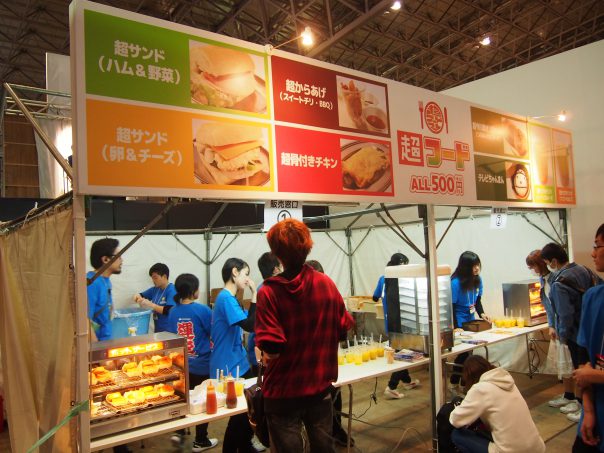 Talk show of Seiyuu.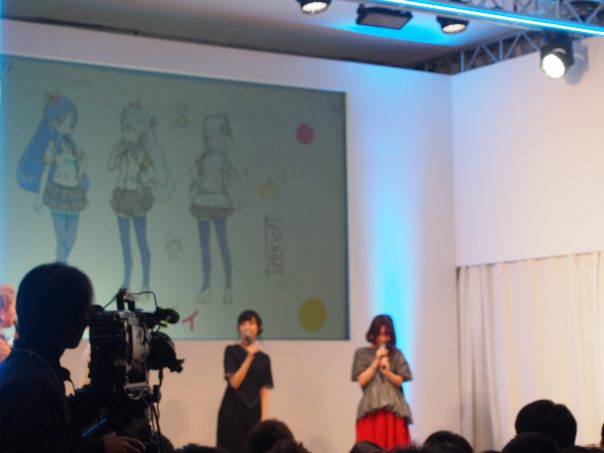 They are Aya Uchida, Ayane Sakura, Maaya Ucida.
Famous characters of anime they played are as follows.
Maaya Uchida for Rikka from Love, Chunibyo & Other Delusions.
Ayane Sakura for Mika Shimotsuki from PSYCHO-PASS.
Aya Uchida for Kotori Minami from Love Live.
Why the picture is out of focus?
It is not because my skill is bad (maybe), but I chose blurred one.
Actually I have not enough knowledge about all the Seiyuu.
But looks like Ayane Sakura do not like being taken picture.
And she said "I do not want to be taken picture that I regard as anti if you take my picture"
Fan must have been surprised as it is usually OK to taking picture for this talk show every year.
Looks like agency did not tell her this thing in advance that she did not know being taken picture.
I knew that she said like that after went home by checking her talk.
I have to say sorry as I've already taken picture rather even video that I deleted video and just used blurred picture.
Isamu Dog.
Is this popular?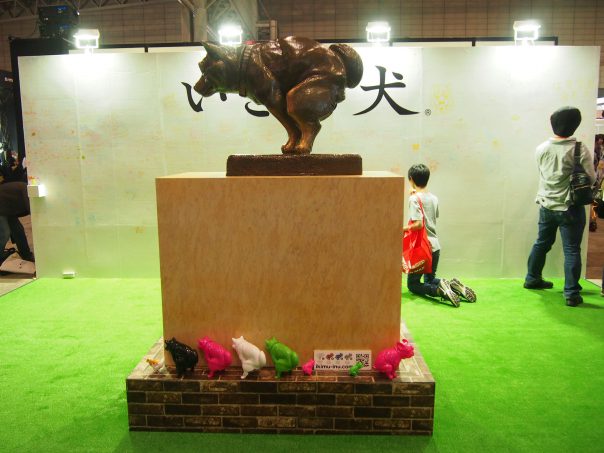 Looked like Karaoke competition taking place.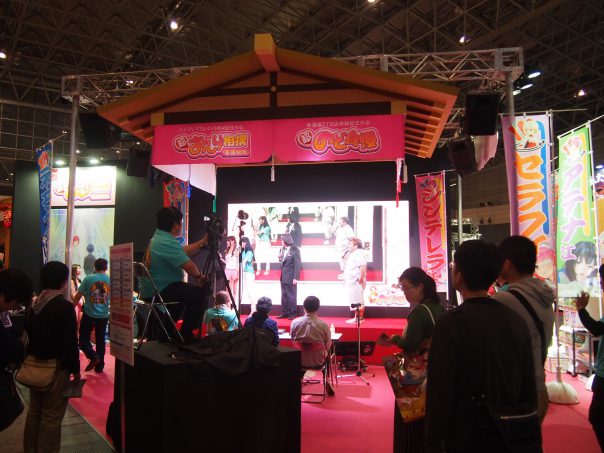 Sumo!!
Surprisingly grand champion Sumo wrestler Hakuho came!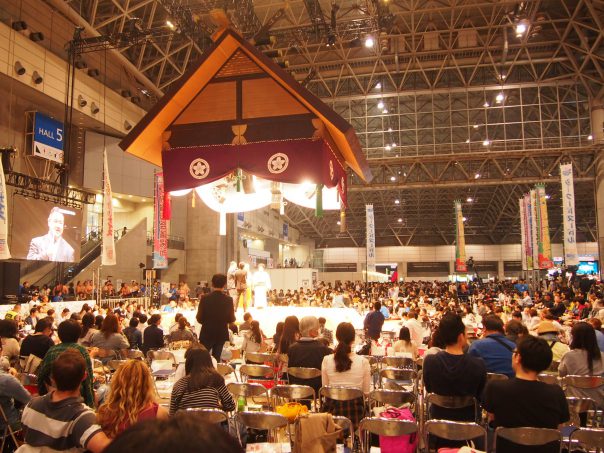 Next surprise was I could see real Sumo wrestling match from the very first of traditional Taiko drums.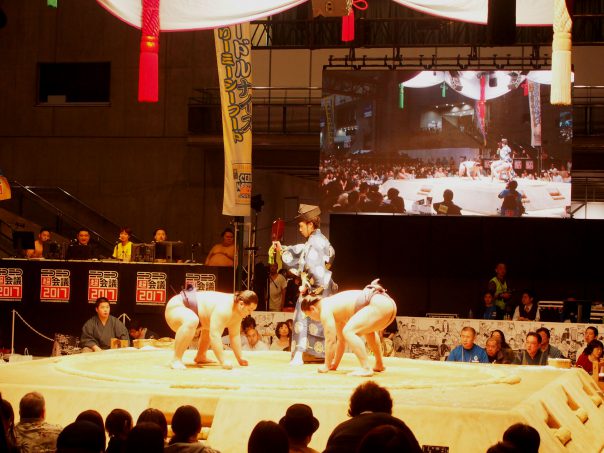 This is a booth of the Liberal Democratic Party.
Liberal Democratic Party is the leading party in Japan.
Incumbents also joined and the debate discussion between incumbents and young people also held.
Looks like you can have a special curry and rice of Liberal Democratic Party that is a bit hot taste.
Why hot?
It says just an ordinary or sweet can not protect Japan.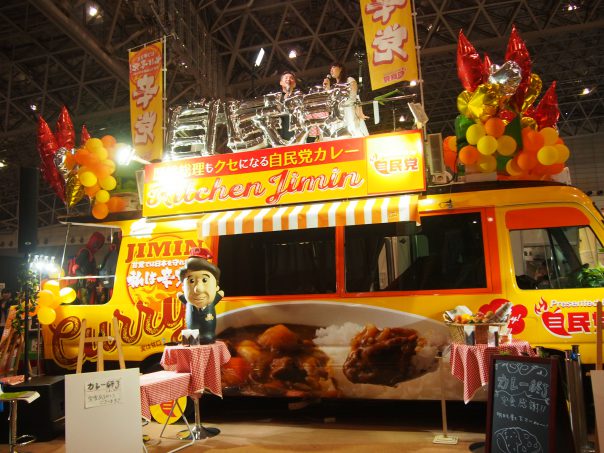 These shops are selling special goods of Nico Nico Chokaigi.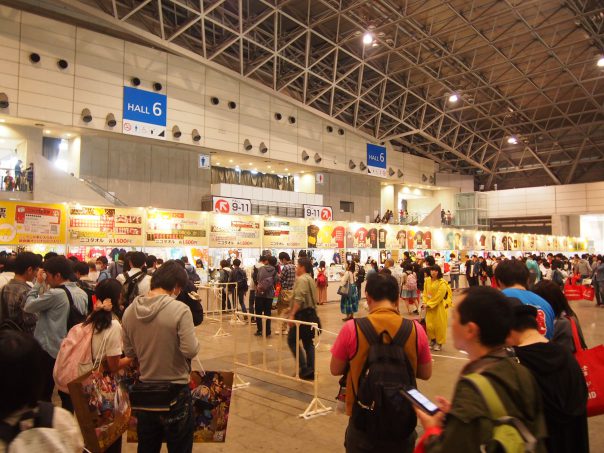 Food court was filled with people.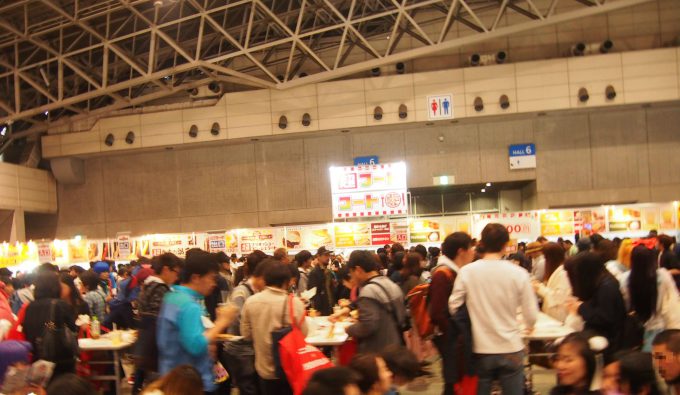 Darts!
If you got score, you can have Shin Ramen for free.
Shin Ramen is very spicy noodle (at least to me) in Korea.
Looks like it is easy to get a score as many people were eating the ramen.
I did not challenge as I knew I can not eat because of the spiciness even if I could get.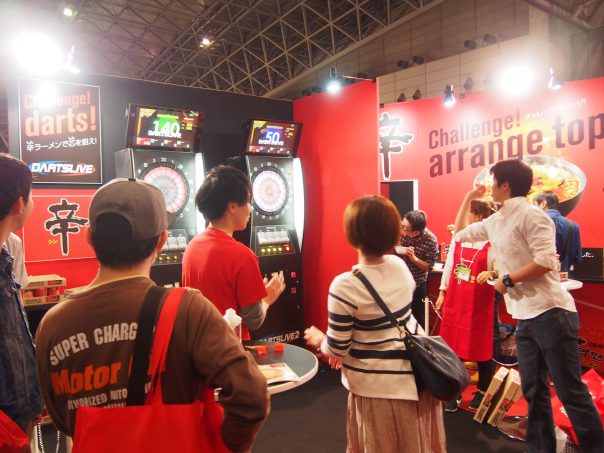 Zoids!
This is Zoids Field of Rebellion.
It is game app.
Shield Liger was battling but was defeated in a flash by appearance of death saurer.
Death Saurer, too strong!!
Looks like you can get quo card if you play here.
I might have tried.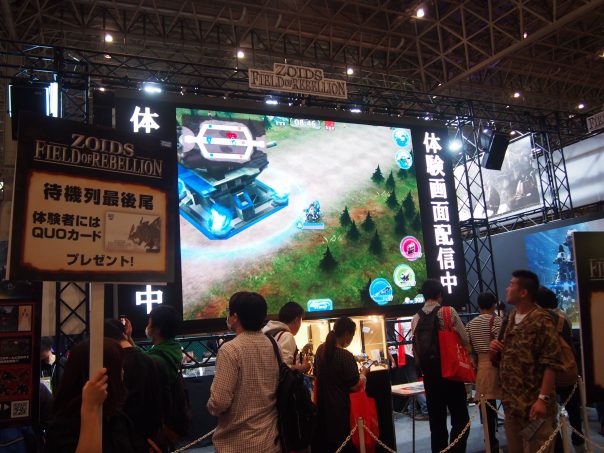 Wow, Attack on Titan!!
Collaboration with Seven-Eleven Bank?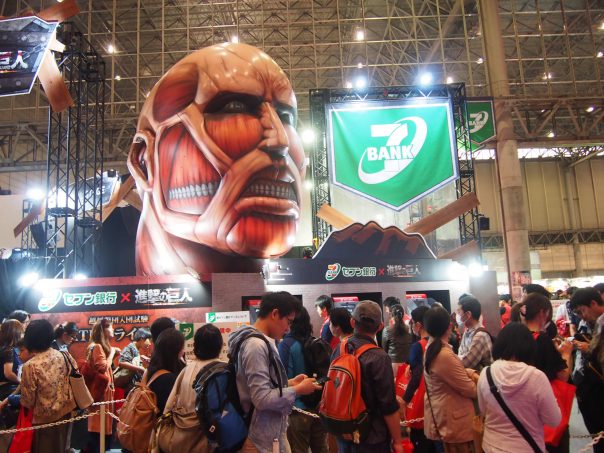 Beautiful!
This is booth of Onmyouji or exorcist.
I remember watching this Onmyouji in AnimeJapan 2017, too.
But this booth is much bigger.
Cosplayers and actor was playing game of Onmyouji.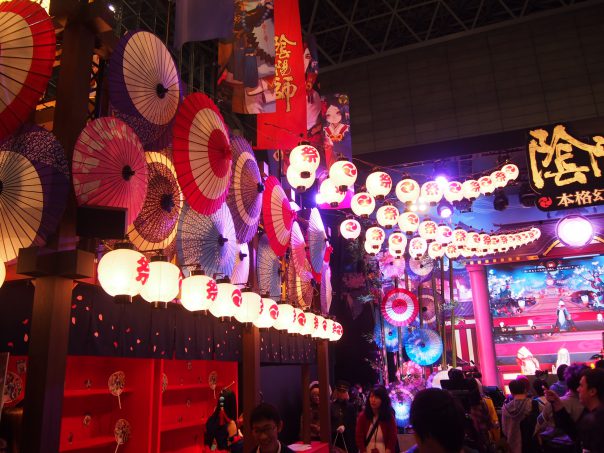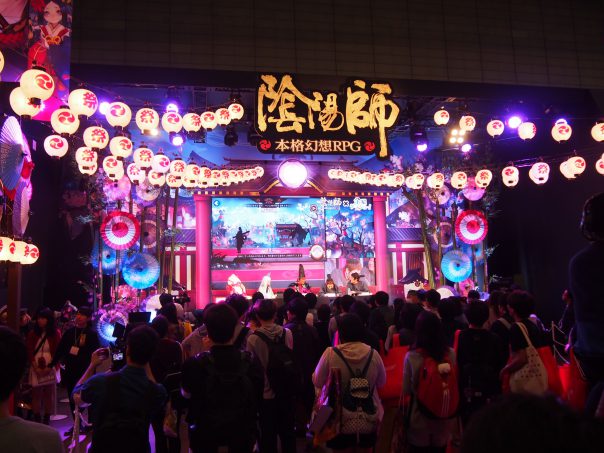 Thanks for your posing!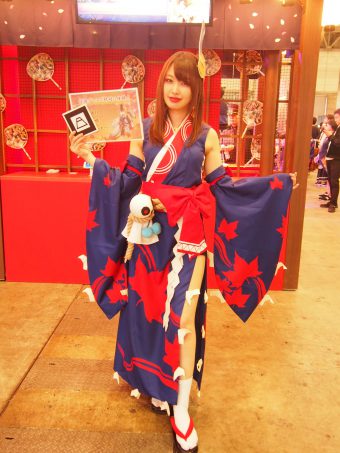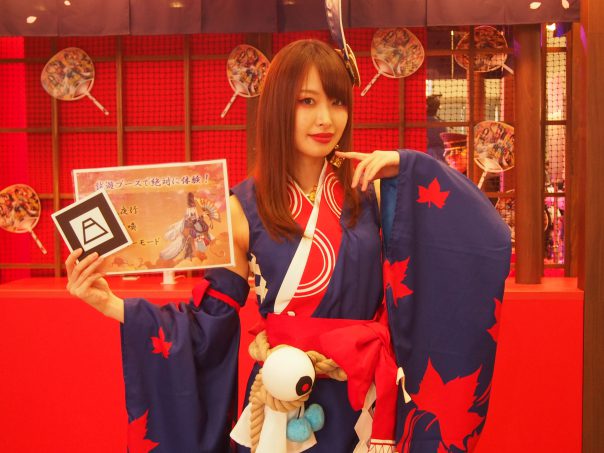 You can buy anime goods!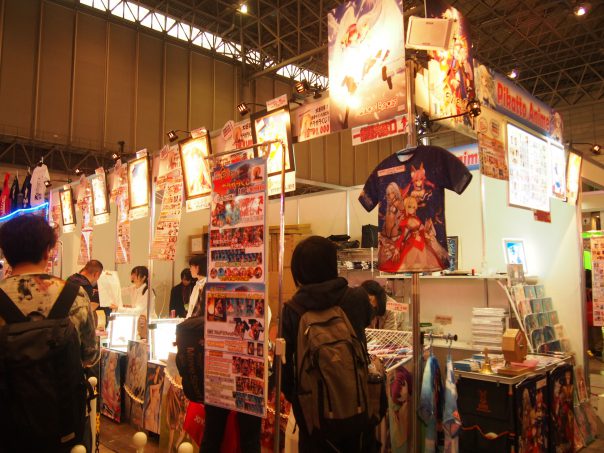 VR of Dragon Ball Z!
You can use Kamehameha by attaching this VR.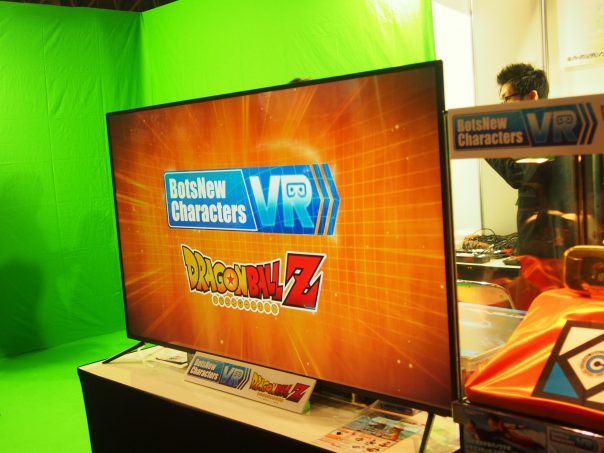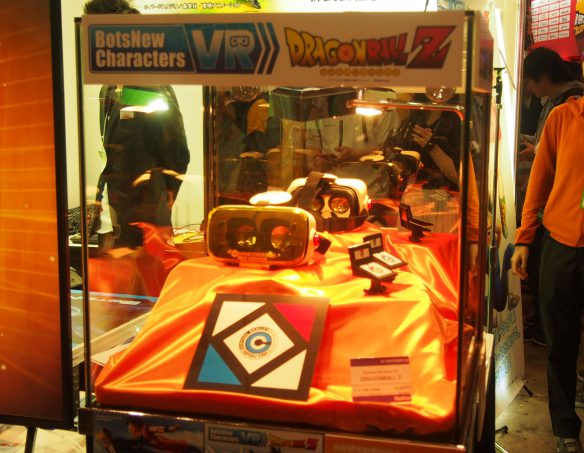 Itasya!
It is London taxi originally.
The paint is GPS linking application Gojo World.
The design is by famous artist Refeia.
Cosplayers are Ahane and Mami Hoshino.
Looks like they are famous cosplayers.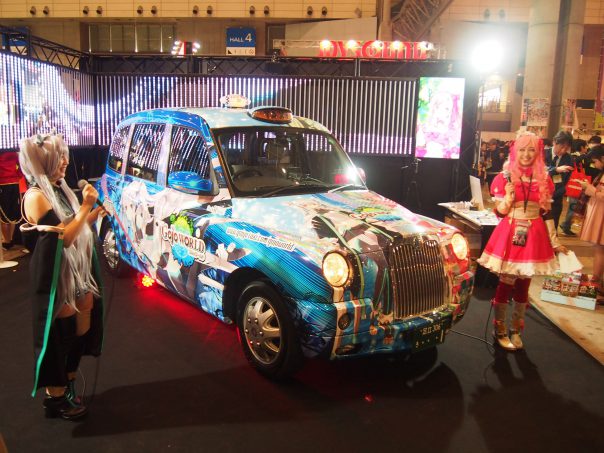 Black company!!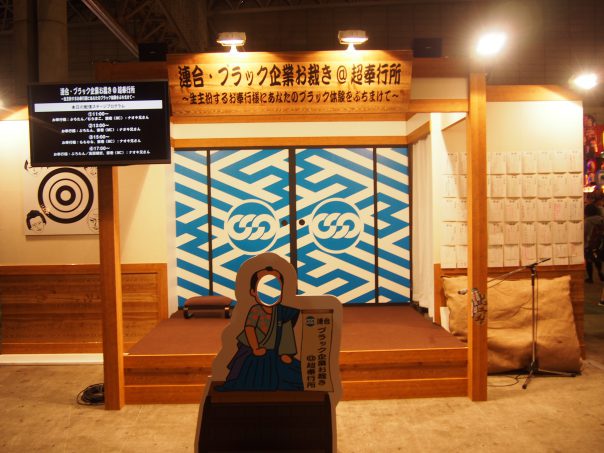 Haha, I did not imagine this.
Do you know black company.
They are company that impose terrible task or terrible things on its employees.
For example, over time work without paying money, almost no holiday, too long working time schedule like from early morning to midnight, power harassment, etc.
Literally those companies are black but certainly there are here in Japan.
Actually it is not laughing matter rather becoming big problem in Japan.
There are many paper note on the wall that are written by visitors.
I could see "Pay me money", "Stop power harassment", "My boss sends me claim by Line even I'm a day off or at midnight", "I can not go back until my boss goes back", "I contribute to my company by buying goods out of my own pocket", etc.
Certainly terrible situation.
There was a event where people can confess the blackness of one's company.
One of the girls was confessing how terrible her company was.
Looks like she did not being paid money for 2 months.
I have to say it is not terrible anymore rather it is a fraud.
I could see viewers' comments on the screen and they were saying she should change the job.
But what I most worried about these girls are if they are OK as this is live coverage.
Anyway I thought this both is great!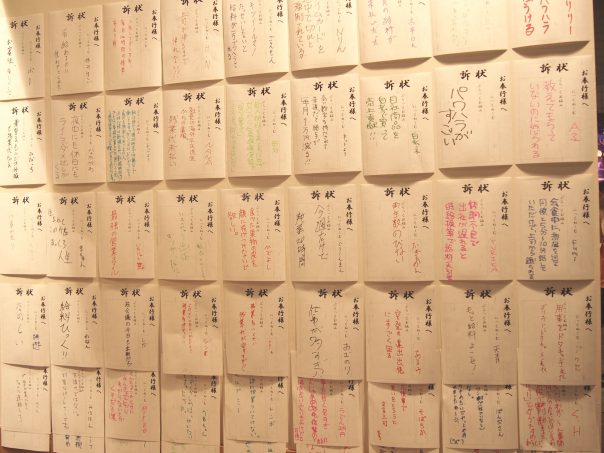 What a cool cosplayers!!
They are main characters of Lineage 2 Revolution.
It is a game for Smart Phone.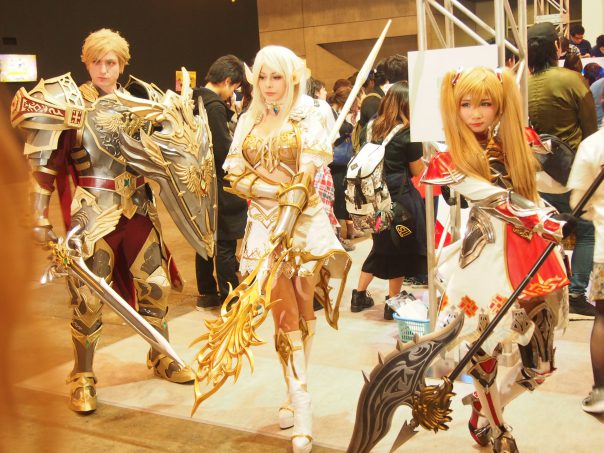 There were many people around them for taking their photo that I can not talk with them directly.
So I eye contacted with him and thankfully he made a pose to me.
Thank you very much!!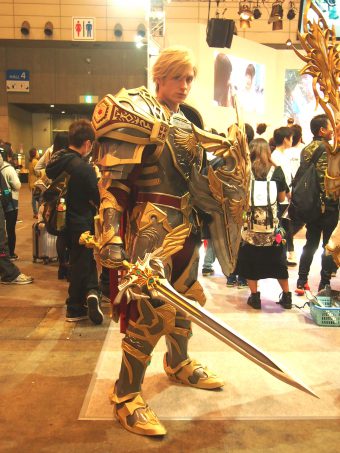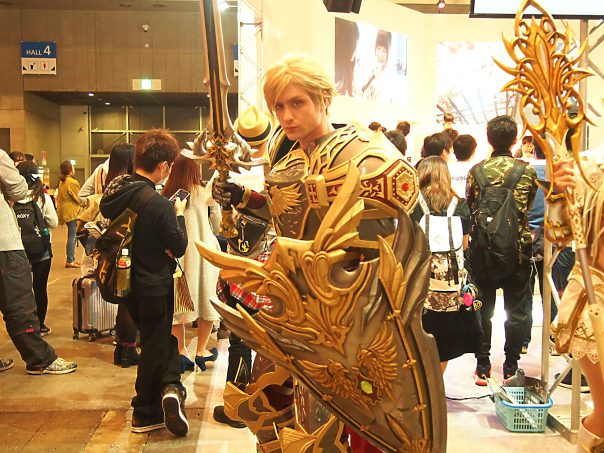 Booth of Biore Kao.
Biore (Kao) is a company that mainly sells facial soap and make-up remover.
It was advertising its new item and the stuff gave me sample of it.
Here you can sniff the armpit of cosplayers that applied Biore's product.
I wonder if there is anyone who raise one's hand voluntarily and say I become the one.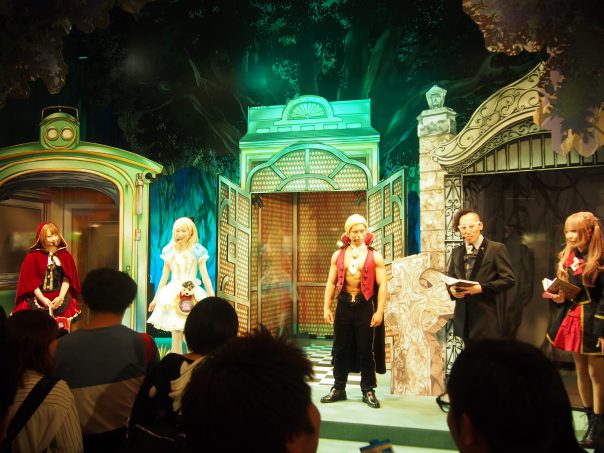 Booth of Seven Nights.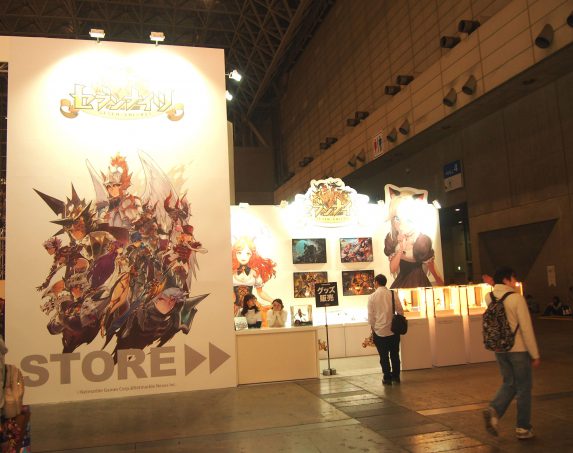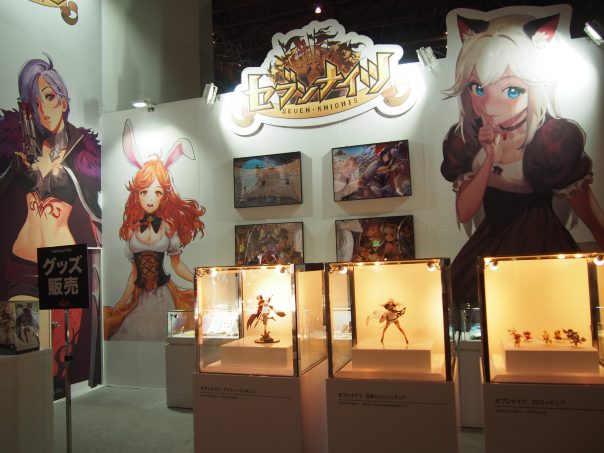 This is also a game app.
I could see some figures.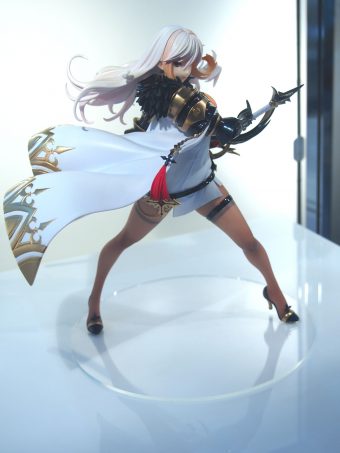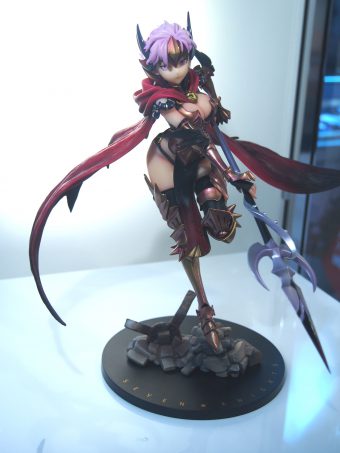 There was no horse but just straw.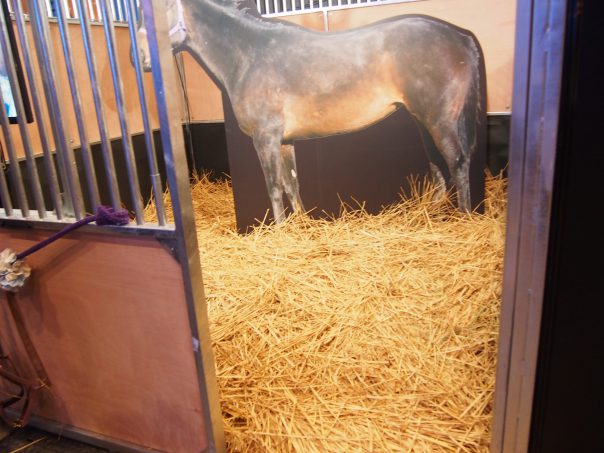 This is the meeting place with men and women.
Looks like they talk in separated room and after talking they choose if they become pair or just friend or nothing.
It must be shocking moment if the one is chosen as nothing.
In this Nico Nico Chokaigi even marriage takes place.
The idea beyond my imagination.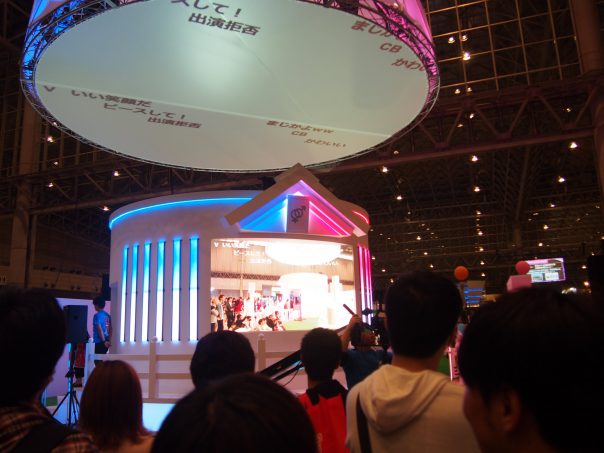 Shogi!
There were professionals on the stage.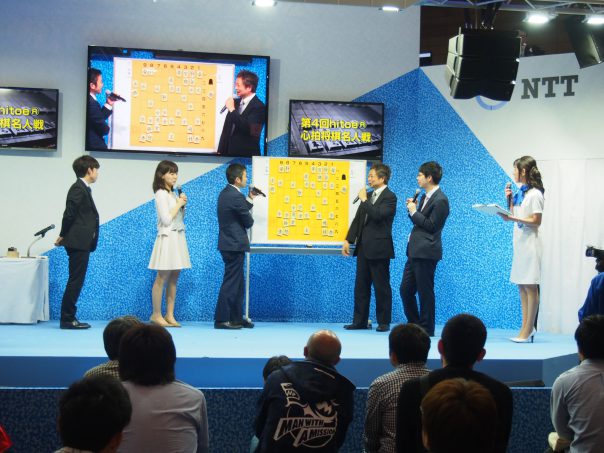 Drone was hovering.
I could see world map on it.
Drone will be used like this as a advertisement that hovers in the air, in much bigger scale.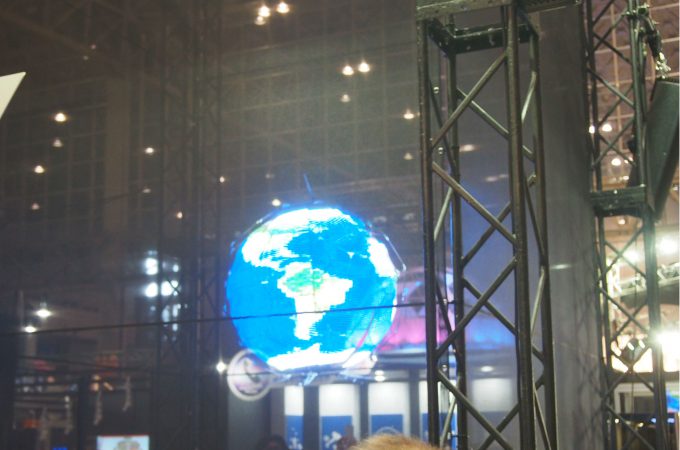 Ghibli!
Toshio Suzuki (Producer of Ghibli Studio) draw it.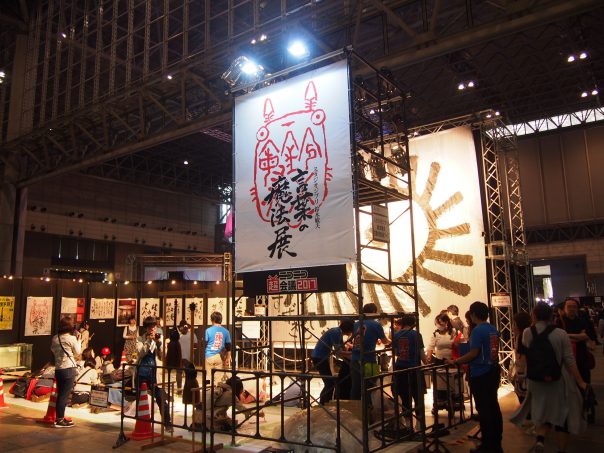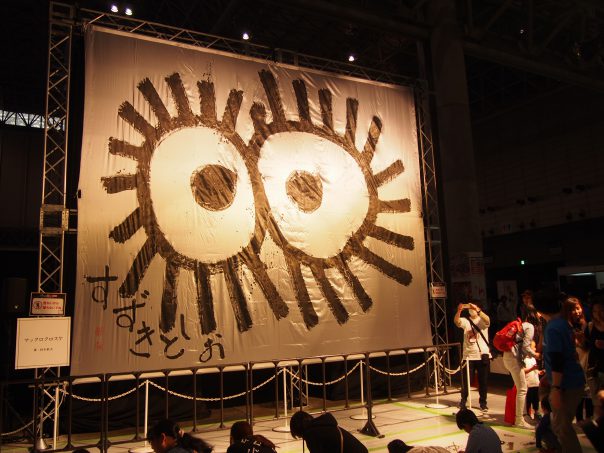 Can you guess what it is.
It is Makurokurosuke that appears in Totoro!
People were drawing pictures of anime characters of Ghibli.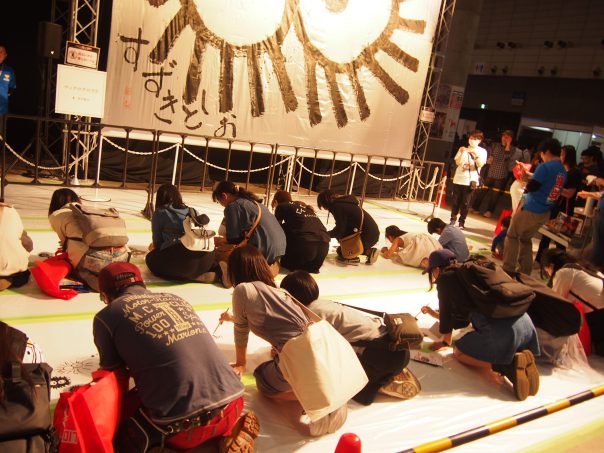 I don't know this character but I took it anyway.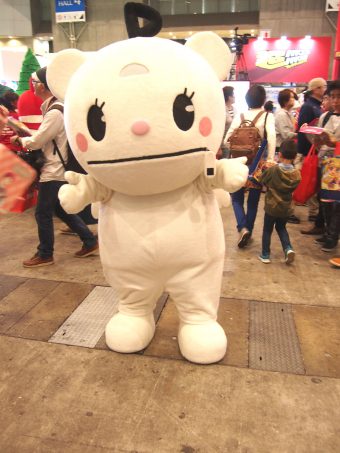 Basket ball!
This is booth of Takara Tomy.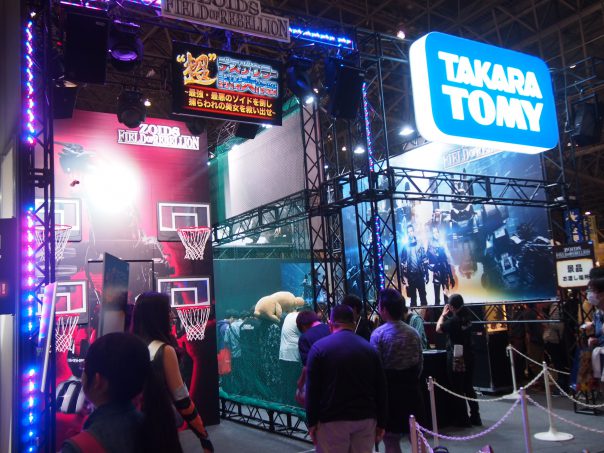 Booth of MannanLife.
The company is famous for Konnyaku jelly.
Konnyaku jelly is jelly of devil's tongue.
What a scary name in English!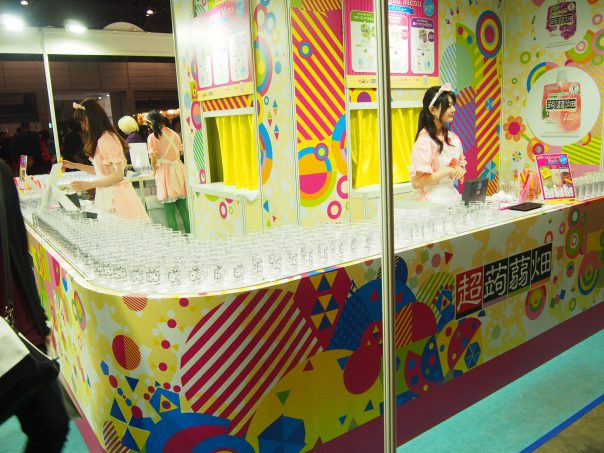 I could see atmosphere of this venue and comments of viewers on the screen.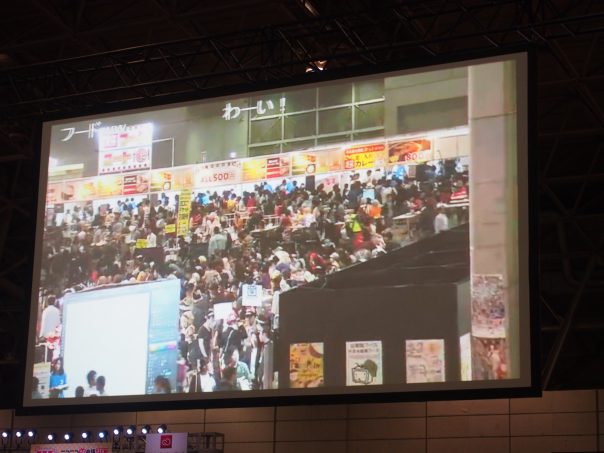 Madoka Magica?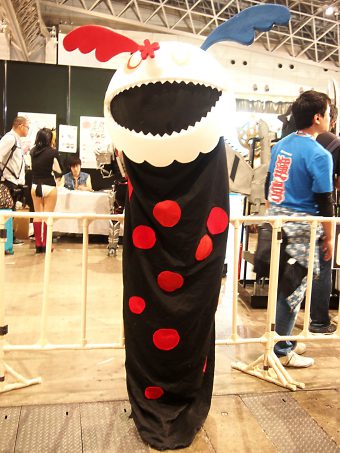 Here you can try weapons cosplayers often carry.
This was my first time to touch these things.
Some weapons were heavy.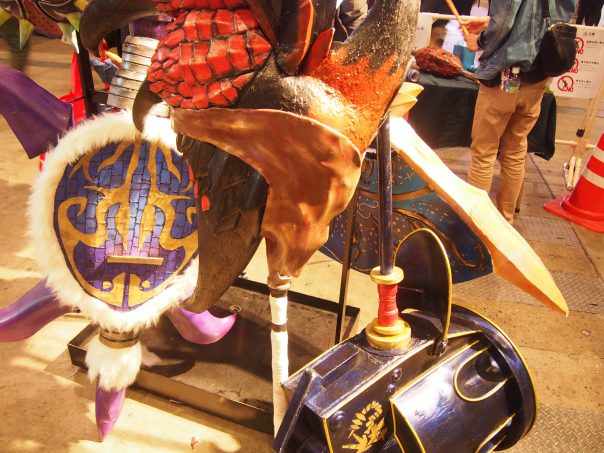 I could find key blade of Kingdom Hearts, too.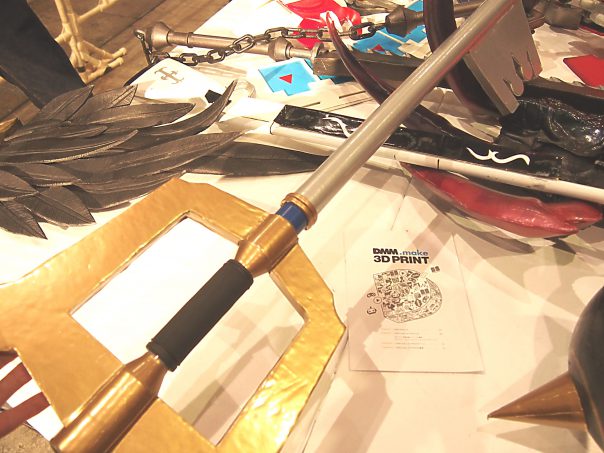 I did not know what is going on actually.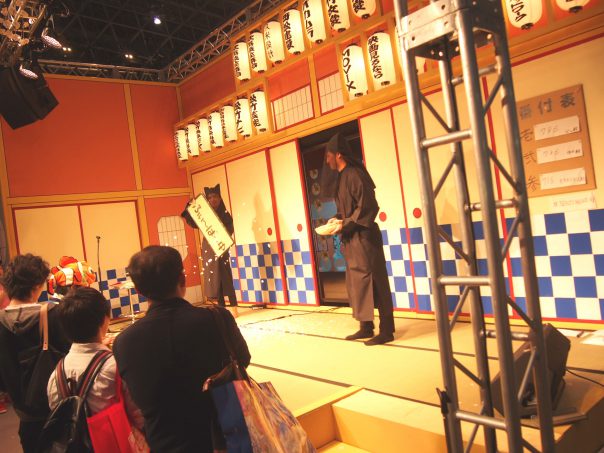 Found Convoy!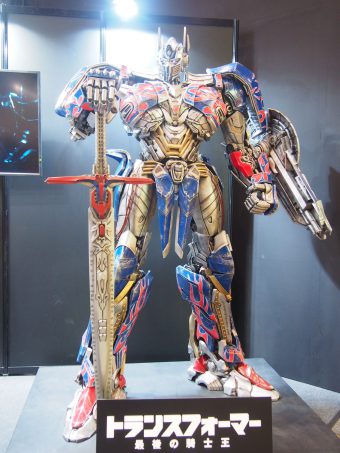 I could get this snack for free!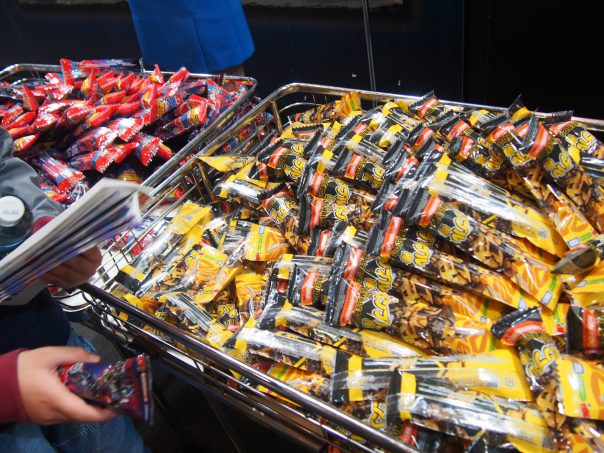 Attack on Titan again!
The game was taking place in which slides are going up gradually.
People have to hold their body up on the slides not to fall.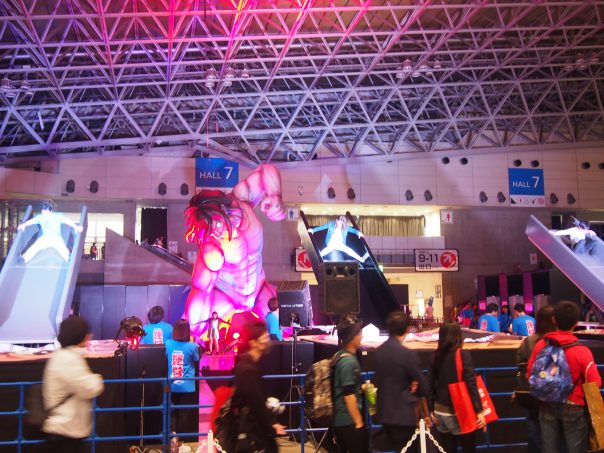 Here is the place for dance and music event.
When I arrived little girl Ririri was DJ'ing and dancing to the music of Vocaloid.
Stardust of Miku Hatsune was good song.
But what I surprised most was the girl was a elementary schoolgirl.
Certainly I thought she looked like child first but her dancing and DJ was very good that I never imagined she really is.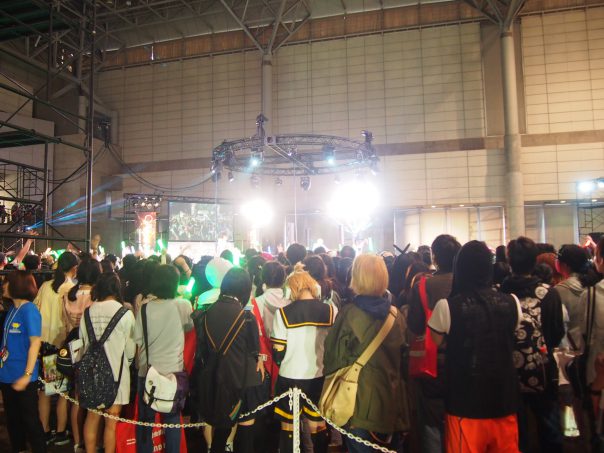 Another booth of music.
Here I could listen to the music of orchestra.
They were playing theme song of drama Nigehaji that became very popular last year in Japan.
I have not watched it but I often heard the song in everywhere outside that I could find it.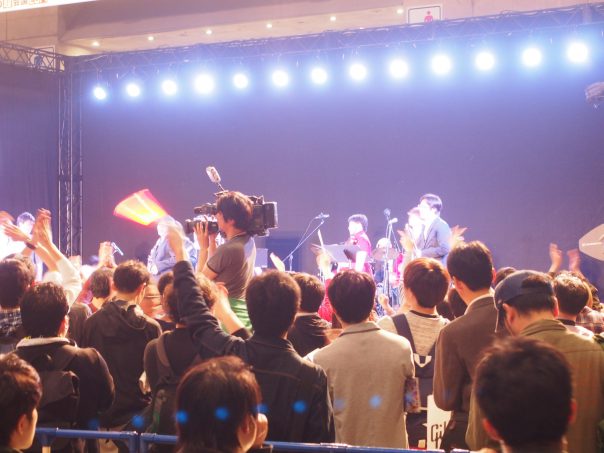 Cosplayer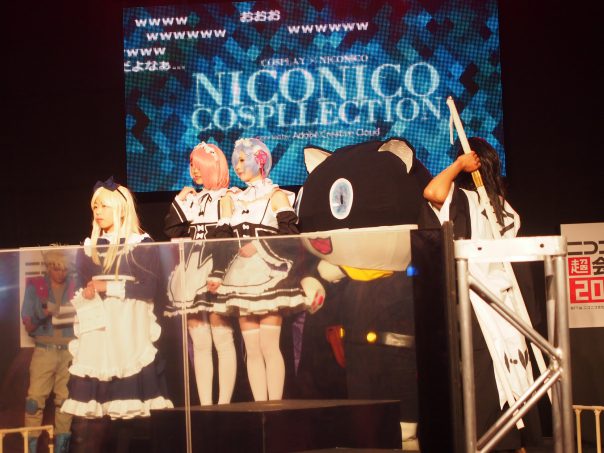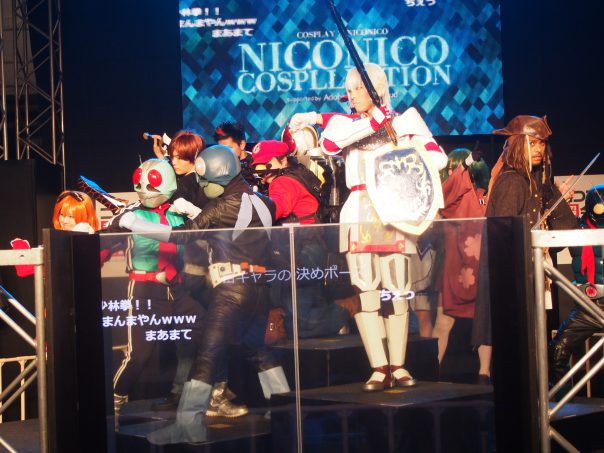 There is the place where cosplayers stand stage.
I could see many copslayers appear on the stage with their posing.
When the cosplayer comes in front of glass screen it reflected visual effects such as fire, star, etc. and viewers comments when all of them come together.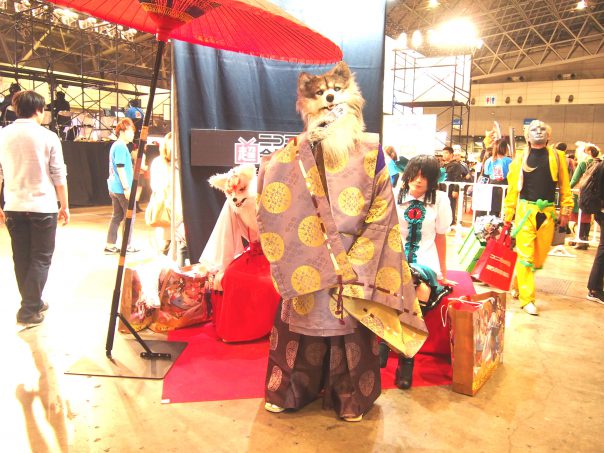 Fox was cute!
It is from Onmyouji.
Outside hall, there is the place cosplayers come together.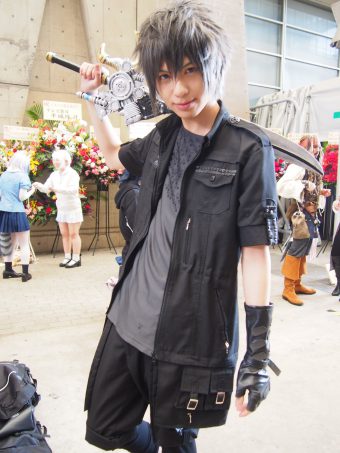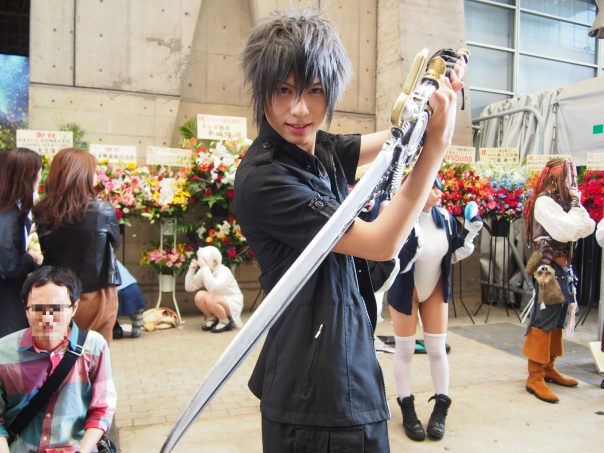 The instant I came here, what attracted me most was him.
Noctis of Final Fantasy!
There are many people that taking picture of him and I also lined up!
Really cool, thanks!!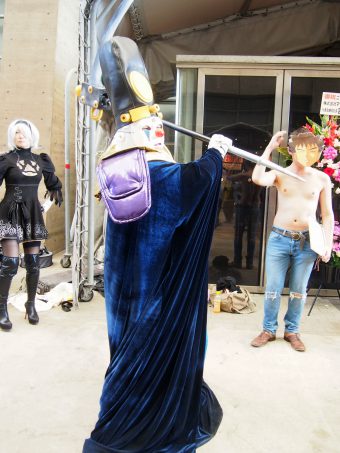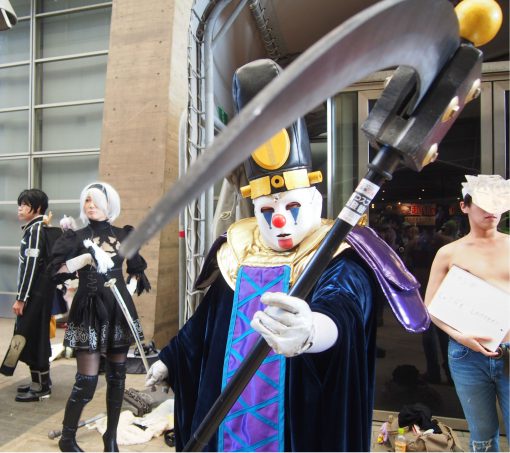 Oh, very cool cosplayer is walking!
I had to stop him to ask picture and video.
Yes, you must know him if you are a fan of Jojo.
He is Death 13 from Jojo's Bizarre Adventure.
He was also appeared on the cosplay stage inside.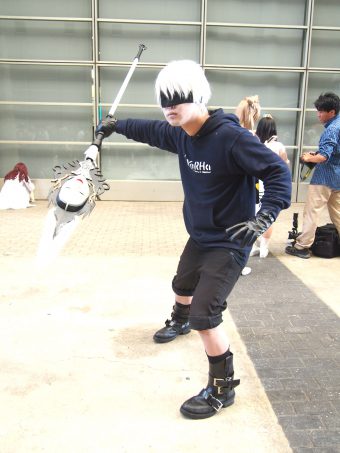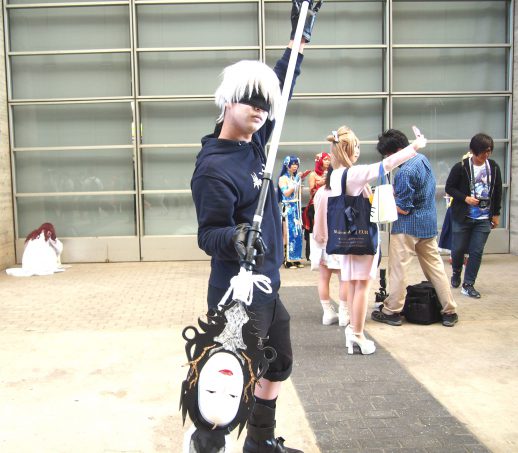 I know I saw this character in somewhere but I can not remember.
I should have asked him!
Anyway thanks for posing and I like this character although I have no knowledge!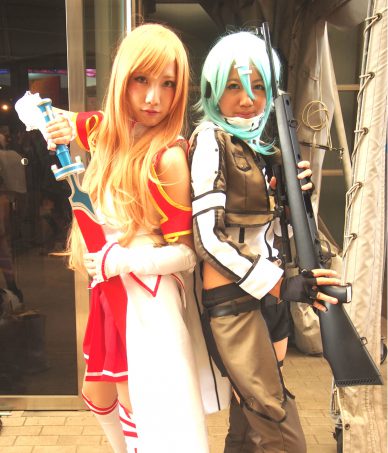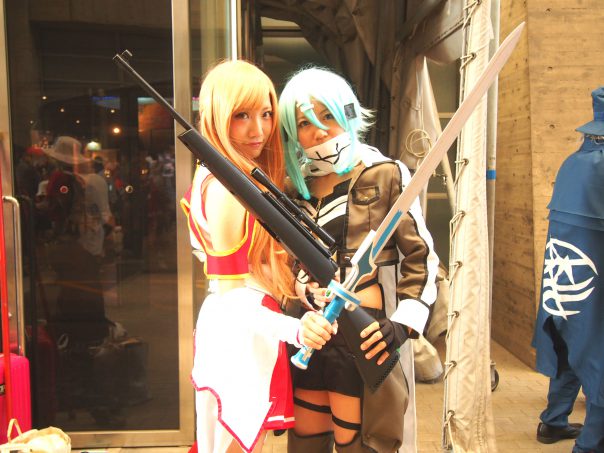 Sword Art Online!
I like this anime!
Sword Art Online The Movie: Ordinal Scale was released this year.
It was good I could take a picture of Asuna and Sinon at the same time.
Thank you very much for posing.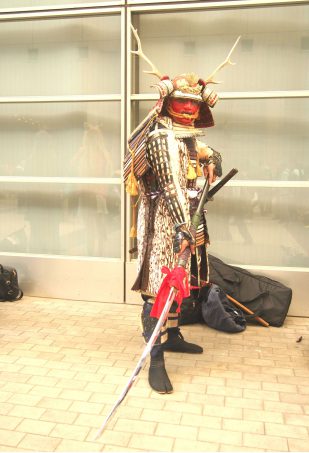 What a cool cosplay!
Did he make it?
Perfect from armor to Naginaga (partisana pole sword)!
Great cosplay!!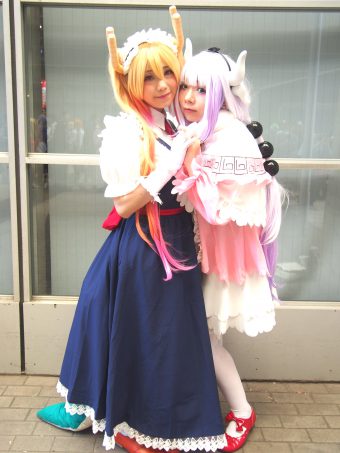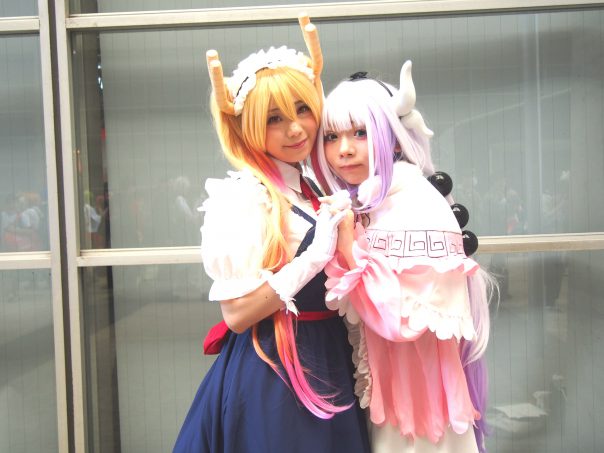 This anime also became popular in 2017.
They are Tohru and Kanna from Miss Kobayashi's Dragon Maid.
They were cute especially when I was taking a video!
Thank you very much for cute posing!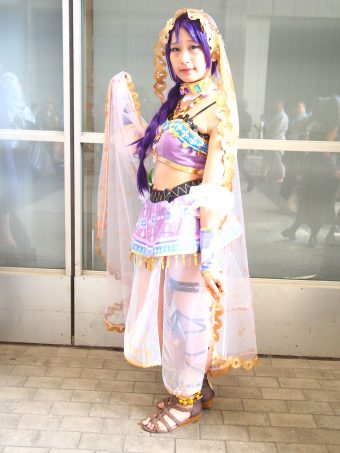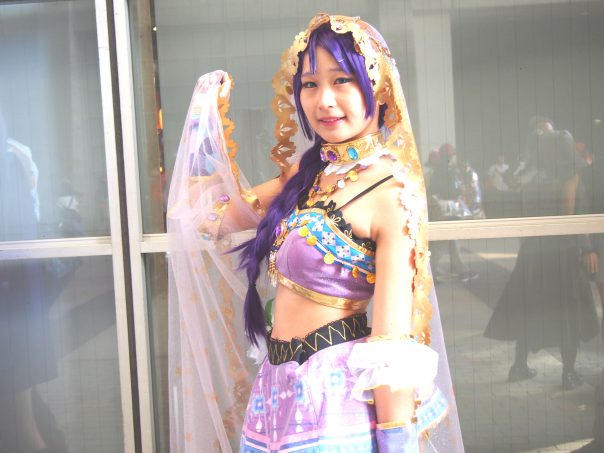 Wow!
Actually I thought she must be character of Arab or fortune teller in anime.
Really beautiful!
After all it was not at all character of Arab.
She is Nozomi Toujo from Love Live.
I have not watched Love Live that I did not imagine this kind of character appears in Love Live.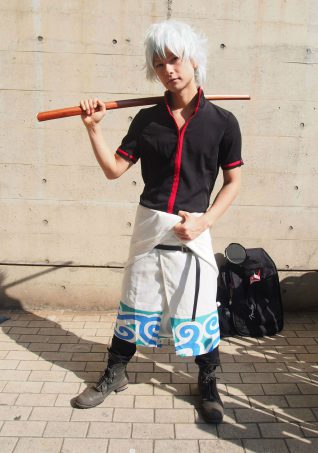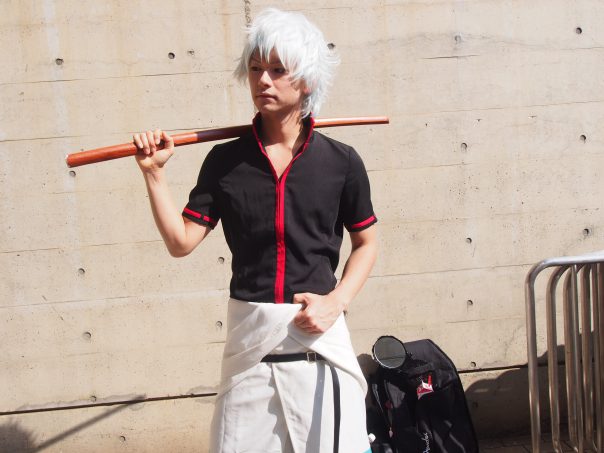 He was also very cool!
No need to explain, isn't it.
Gintama from Gintoki Sakata!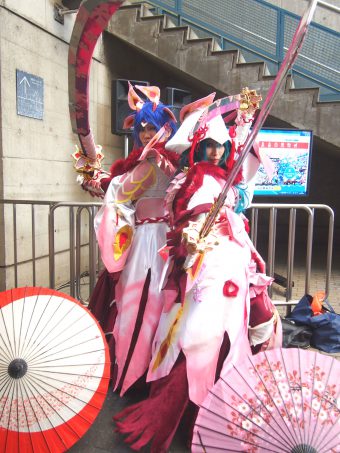 They really caught my eyes!
Really cool!!
They are Tamami Fox from Monster Hunter.
I have to respect their passion to cosplay.
When I asked them of video, they were embarrassing.
I thought it might be not OK that I told them "It is OK not taking video if it bothers you".
And they replied me "Not like that, this is our first video shooting that's why".
They were kind enough to ask me "Is it dangerous for you we make pose using our weapons?"
I told them "Anything is welcome!!"
Thank you very much for cool posing!!
Summary
I once joined another event of Nico Nico before and it was chaos event like this.
I have not seen this kind of event that includes from anime to politics and wedding.
The good point of Nico Nico event is both visitors and viewers can enjoy and share the atmosphere at the same time.
It was good all the stuffs are lined and see all the visitors off waving their hand at the closing time.
What I took for video or photo is part of this event.
There were more music live and talk show.
I missed this time but I wanted to watch music live of Hisashi of Glay, of Marty Friedman and Kabuki collaboration with Miku Hatune.
If you want to watch those live event, I attach link of other's YouTube video that have a look!!
This Nico Nico Chokaigi or other Nico Nico event is really recommended if you like Japanese subculture !!
Nico Nico Chokaigi
Date : 29-30 April 2017
Venue : Makuhari Messe
Address : 2-1 Nakase, Mihama Ward, Chiba
Station : Kaihin Makuhari
Website : http://www.chokaigi.jp/2017/en/
Cho Kabuki of Miku Hatsune and Nakamura Shido
YouTube : https://www.youtube.com/watch?v=mWBsWXTPP6s
P.S. : Miku Hatsune appears at 29:15
Cho Vocalo of Ririri
YouTube : https://www.youtube.com/watch?v=utxtO-Ca0uc
Live of Hisashi From Glay
YouTube : https://www.youtube.com/watch?v=s57UEeFAtgM
P.S. : Recommended from at 12:13 and from at 26:50
Talk Show of Seiyuu (Aya Uchida, Ayane Sakura, Maaya Ucida)
YouTube : https://www.youtube.com/watch?v=J7DNc722HiQ
P.S. : Seiyuu appear from at 0:55