There are some cat islands in Japan.
Literally, many cats live in these islands.
As long as I know the islands are Tashirojima of Miyagi Prefecture, Aoshima of Ehime Perfecture, Ainoshima of Fukuoka Prefecture, Ogijima of Kagawa Prefecture, Okishima of Shiga Prefecture, Sanagijima of Kagawa Prefecture.
I pick up famous and popular cat island among them here.
They are Aoshima and Tashirojima.
Aoshima
Surprisingly the population of Aoshima is only 15 and the number of cat is more than 100.
The number of the cat overwhelming the number of people live in Aoshima.
Ages of people are from about 50 to about 80.
At its peak in 1955, the population was over 800 but it has been decreased after that to 15 as of 2017.
But the using of pictures of cats in Aoshima in blog in 2013 gathered huge attention and many cat lovers have come to visit here every year since then.
As you can imagine the main industry was fishing and even now.
Looks like sardine is often caught here.
There is an elementary school on the hill but it was closed down in 1976.
Every august Aoshima bon festival that is designated as an intangible folk cultural assets is held here.
30 minutes is enough to walk around the village as it is a small village.
If you want to check more picture and video, following website might be useful.
Gigazine
Website (Japanese) : Gigazine
Data
Address : Aoshima, Nagahamacho, Ozu-shi, Ehime
Size of Island : 0.49 square kilometer
Population : 15
Cat Population : Over 100
How to get to Aoshima Cat Island
You need to get to Iyonagahama Station of Ozu-shi in Ehime Prefecture to go to Aoshima.
If you take JR train in Ehime, it takes about 1 and 15 minutes from Matsuyama station bound for Uwajima via Nagahama.
2 minutes' walk from the station takes you to Iyonagahama port and you can get on a ferry for Aoshima there.
Time table and fee is as follows.
Start from Nagahama Port : 8 and 14:30 (It takes about 35 minutes to Aoshima)
Start from Aoshima Port : 8:45 and 16:15 (It takes about 35 minutes to Nagahama Port)
Fare : 680 yen (1360 yen for round trip) for adult (12 or older), 340 yen (680 yen for round trip) for child (between 6 and 11)
Luggage (except for hand baggage) : 120 yen (10 kg or under), 250 yen (Over 10 kg and under 20 kg), 390 yen (over 20 kg and under 30 kg)
Cage for pet (If you take your pet) : 250 yen (One way)
Take notice that there might be a case of cancellation if typhoon approaches, especially between autumn and winter.
And if the number of people reaches the limit, there is a case you can not get on a ferry.
The ferry holds 34 people at a maximum.
I think there is a possibility of reaching limit especially Saturday, Sunday, Japanese holiday such as Golden week, etc.
All the information above are as of 2017 that I recommend you to check the time table and website before visit here.
Feeding Cat Rule
Official website of Ozu city says "We kindly ask you to refrain from feeding cats for the cat's health and environment of island".
But there is a feeding place that is allowed to feed.
Looks like feeding around port and pier is not allowed as it affects lives of people in the island.
You can see the Japanese character with the arrow that says "Neko Esaba", that is, "Feeding spot for cat" in blue paint at the edge of the path on port.
Just walk toward the direction of the arrow shows and you can find the spot to feed for cat.
Still too much feeding seems do them harm that I think it might be good to decide whether or not to feed depends on the situation on the spot.
Preparation
There is no shop, vending machine, accommodation to stay in Aoshima.
That you need to bring and prepare everything you need in advance.
Drink, food, etc.
Looks like you can use mobile here although the reception of signal depends on the type of your phone.
For bathroom, there is a rest room and bathroom is inside the rest room.
There is a donation box in the rest room and the money is used for food of cat.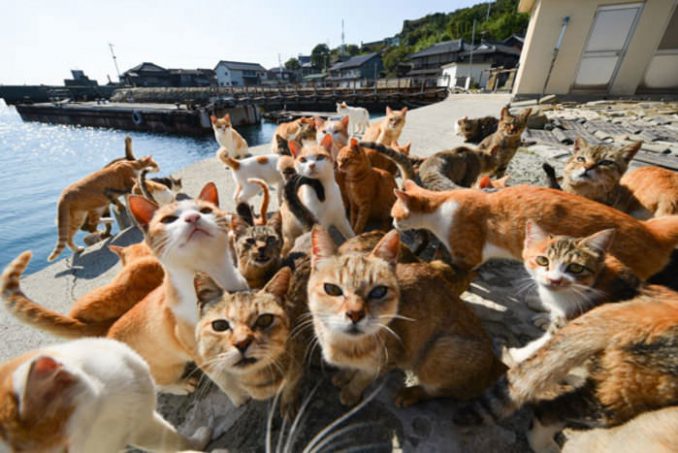 Source : dot
Tashirojima
Like Aoshima, the number of cats is overwhelming people here in Tashirojima.
The population of Tashirojima is 80 and the number of the cat is over 100.
Average age of people is about 70.
In around 1950, there are about 1000 people lived here but the number has decreased to 80 now.
Main industry is fishing and tourism.
Cultivation of oysters was devastated by The Great East Japan Earthquake in 2011.
Houses and fishing ground were also devastated at the time but now recovery is progressing.
As a new special local product, cultivation of olive started in around 2010.
There was an elementary school but it is closed down in 1989.
Tashiro island has two villages.
One is Nitoda and the other is Odomari.
Both villages have port and ferry from Ishinomaki calls at them.
But the center of island is Nitoda and most cats also come together in Nitoda.
Looks like Odomari is a small village with a dozen or two houses.
Tashirojima is introduced on TV in 2006 as an island in which many cats live and that made the island famous gradually.
In 2008, 3000 people came visit the island and 12000 people in 2010.
Cat became a big magnet!
This Tashirojima is also said to have been the set of popular Japanese puppet show "Hyokkori Hyotanjima".
I remember I was watching it on TV when I was absent from elementary school.
If you want to check more picture, following website might be useful.
Atamisou
Website (Japanese) : http://atamisou.com/model.php
Data
Address : Ishinomaki-shi, Miyagi
Size of Island : 3.14 square kilometer
Population : 80
Cat Population : Over 100
Cat Shrine and Nekogami-sama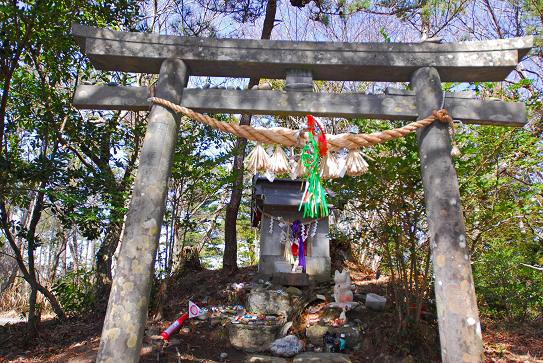 Source : Goo Blog (Oyaji no Kimagure Sanpo)
There is a shrine dedicated to cat in the center of island.
There Nekogami-sama or Miyori Daimyoujin is enshrined.
But why this cat shrine was found?
There is a story, I quote it from Wikipedia.
In the past, the islanders raised silkworms for silk, and cats were kept in order to keep the mouse population down (because mice are a natural predator of silkworms). Fixed-net fishing was popular on the island after the Edo Period and fishermen from other areas would come and stay on the island overnight. The cats would go to the inns where the fishermen were staying and beg for scraps. Over time, the fishermen developed a fondness for the cats and would observe the cats closely, interpreting their actions as predictions of the weather and fish patterns. One day, when the fishermen were collecting rocks to use with the fixed-nets, a stray rock fell and killed one of the cats. The fishermen, feeling sorry for the loss of the cat, buried it and enshrined it at this location on the island.

Source : Wikipedia
After this shrine made, fishermen had a big haul of fish and no more accident at sea.
That led the cat which was dead to become Nekogami-sama and all the cats in the island has treasured since then.
This Cat Shrine shows the history of the island and the reason cats are treasured here.
Cats have been breeding naturally here and taking dogs in the islands are basically prohibited as dog is natural predator of cat.
Here you can also see stones on which cat faces are drawn for offering.
Hotel and Ryokan
There are places you can stay here.
I picked up some of them that have website here.
Marine Life
Address : 38 Nitoda, Tashirohama, Ishinomaki-shi, Miyagi
Tel : +81-225-21-4122 (0225-21-4122)
Website (Japanese) : http://www.marinew.com/
Hamaya
Address : 53 Odomari, Tashirohama, Ishinomaki-shi, Miyagi
Tel : +81-225-98-2620 (0225-98-2620)
Website (Japanese) : https://hamamaru.jimdo.com/
How to get to Tashirojima Cat Island
You need to get to Ishinomaki station of Ishinomaki-shi in Miyagi Prefecture to go to Tashirojima.
If you start from Sendai station, it takes 1 hour and 20 minutes to Ishinomaki station by JR Sendai line.
After getting to Ishinomaki station you need to take bus or taxi to Ishinomaki port.
It is about 20 minutes' ride from the station to the port by bus and you need to get off the bus at the Ajishima Line Mae stop.
If you use taxi it takes about 10 minutes.
You can get on a ferry for Tashirojima here.
Time table and fee is as follows.
Start from Ishinomaki Port : 9, 12 and 15:30 (It takes about 50 minutes to Tashirojima)
Start from Nitoda Port in Tashirojima : 7:40 and 14:12 (It takes about 50 minutes to Ishinomaki Port)
Fare : 1230 yen (One way trip) for adult, 615 yen (One way trip) for child (Elementary School Student)
All the information above are as of 2017 that I recommend you to check the time table and website before you visit here.
Feeding Cat Rule
Feeding cat is not allowed here as long as I checked as cats are fed by local people.
Preparation
Looks like there is a vending machine for drink but I could not find information about shop.
There might be some kind of shop but I'm not sure that it might be better to bring light snack or food just in case if you need.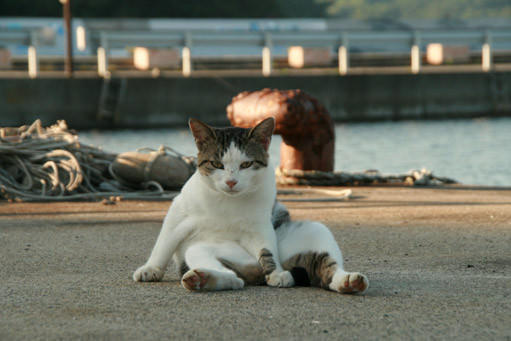 Source : Hatena Fotolife