Already at the end of 2018?
Time really flies as everyone feels so.
What everyone gets, on New Year, is yes, Frukubukuro, that is Lucky Bag.
You might surprise but here in Japan many people line up from very early morning like 2 or 3 hours before the opening of the store.
There are even people who line up from mid night for very popular Lucky Bag.
Impossible to me!!! Σ(゚Д゚)
But it must be worth buying.
Here are the most popular Fukubukuro in Japan.
I have not bought any Fukubukuro last year, but, yes, I challenged some of them this year.
Actually one of them was today and it was so popular one and I'm sure you also know it.
I'll show you how the result was!
1.Yodobashi Camera
Yodobashi Camera is very big electronics store.
I can say Bic Camera and this Yodobashi Camera are the biggest electronics store in Japan.
And they are chain stores so you can see many in Tokyo such as Akihabara, Shinjuku, Shibuya, Ikebukuro, etc.
I can say this is super popular Fukubukuro among very popular Fukubukuro in Japan.
So many people start to lining up from midnight on 31 December.
You know, I think Yodobashi Camera open at 9 or 10 am so they start to lining up 9 or 10 hours before the opening!
Too surprising!!Σ(゚Д゚)
But yes I understand as they put really great electronic goods in their Fukubukuro.
So I thought I'm gonna try this time but looks like you need to oreder in advance.
And it was already finished. (T T)
It was between 29 November and 6 December.
Actually even if you book, there is no guarantee of getting the Fukubukuro.
Because even pre-order is lottery.
Do you want to know the chance of winning?
Most popular one is 522 times!!
Even if I could have pre-ordered, there had been few chance of winning the lottery.
By the way, lowest one is 4 or 6 times but contents is not so great like that of 522 times.
Even lowest one, you can not get it if you do not have a luck.
I'm really curious about the contents.
They prepared 46 types of Fukubukuro.
And here are some of the items.
Contents of Fukubukuro of Yodobashi Camera in 2019
Instant camera, SLR digital camera, Mirrorless interchangeable-lens digital camera, Full HD video camera, GoPro, Kitchen appliances, Stick type cleaner, Robot cleaner, Blu-ray recorder, Portable TV, Bluetooth earphones, Bluetooth Speaker, High-resolution audio player, Surface Pro core i5, Laptop PC, SIM Free smartphone, Playstation 4, Nintendo Switch, Toy for girl, Tomica & Pla-rail,etc.
Instagram of Purchaser in 2018
2.Apple
Yes, I know there is no explanation for Fukubukuro of Apple.
No wonder there is a big rush in front of the store.
But the last Fukubukuro they sold was 2015.
Since then, they have not been selling Fukubukuro including last year.
So for 3 years, we don't see Fukubukuro of Apple.
The reason they don't stop selling?
Well, I'm not sure but maybe they wanted to avoid chaos.
Because there were even people who started lining up 1 week before the opening of the store.
1 week before?
Not 1 day before like Yodobashi Camera?
Beyond my imagination!!!!
This is my guess but I think they wanted to avoid trouble and chasm so stopped selling their Fukubukuro since 2015
I'm not sure they start selling again but here are the contents of last Fukubukuro (2015) of Apple.
Contents of Fukubukuro of Apple in 2015
iPad Touch, iPad mini 3, iPad Air 2, MacBook Air, iPad Air, Apple TV, Mophie powerStation (Battery), UE BooM (Wireless Speaker), etc.
3.Square Enix
No need to explain like Apple I think.
Everyone knows Final Fantasy.
Yes, that's Square Enix.
It's also really popular Fukubukuro of course.
They start accepting pre-order in the middle of December.
And too my surprise, within 2 minutes right after accepting pre-order online, they are all sold out.
So it's really hard to get it without you prepare yourself in front of PC right on the time.
Even if you prepare right on time, it takes long time to get to your cart because of so many access that it is very hard to get Fukubukuro of Square Enix.
Actually that was yesterday 1 pm and I prepared.
They prepared 3 types of Fukubukuro.
OK, I prepare in front of PC and time finally came.
It was just 1 pm and I accessed but their website says they still do not accept order.
That's strange, but I kept accessing to the website and 1:02 they finally started to accept order.
I instantly clicked one of the Fukubukuro and put it into the cart and next I checked other 2 Fukubukuro.
When I clicked them, yes as I imagined they were already sold out.
It was 1:04 so their Fukubukuro all sold out within 2 minutes.
I thought I bought 5 thousand yen (About $45) Fukubukuro of Dragon Quest but I noticed what I bought was 10 thousand yen (About $90) Fukubukuro of Final Fantasy and Kingdom Hearts.
Oh, that's a really nice surprise!!
I thought this Fukubukuro is the hardest one to get among them.
I must have been supper lucky.
And this was the first time in my whole life to buy Fukubukuro.
What's inside?
Check YouTube video I attached on the top of this article.
Here is the link.
YouTube : Final Fantasy Lucky Bag Fukubukuro 2019 Opening!!
Following are the contents.
Contents of Fukubukuro of Square Enix in 2019
10 thousand yen Fukubukuro (Goods of Final Fantasy and Kingdom Hearts), 10 thousand yen Figure Fukubukuro (Figures of BRING ARTS & ANDER ARTS), 5 thousand yen Fukubukuro (Goods of Dragon Quest)
Twitter of Purchaser in 2017
キラーマシン欲しかったやつや✨#ドラクエ福袋 #スクエニ福袋 pic.twitter.com/lAaLSAwi8v

— ヤンシュ・D (@mohimohi_deshi) 2017年1月1日
4.Pokemon Center
Pokemon is popular worldwide, isn't it.
And there are places called Pokemon Center which sell wide range of Pokemon goods here in Japan.
I sometimes go visit Pokemon Center in Ikebukuro in Tokyo and see many people from overseas as well as Japanese on holiday.
Of course, its Fukubukuro is also very popular.
I often see people opening the Fukubukuro of Pokemon in YouTube almost every year.
Actually so much contents inside so it is really Lucky Bag!
But no online pre-order system they apply.
So you need to line up on New Year.
But looks like not from midnight or 5 hours earlier.
As there are people who could get the Fukubukuro by visiting 2 hours earlier of the opening of the shop.
Last Year 2 types of Fukubukuro were sold.
One is Pika Pika Fukubukuro and the other one is Apparel Fukubukuro.
Both of them are 4000 yen (About $35).
There are people who say they could get items which is equivalent to about $200 to $270.
Just about $35 and get items worthy of $200 to $270-worth ?
What a great Fukubukuro!!
If you like ordinary plush doll, towel, key chain, etc. Pika Pika Fukubukuro is recommended.
But if you are more interested in clothes such as Shirt, cap, etc. Apparel Fukubukuro is recommended.
Either way, you are really paid off !!
Contents of Fukubukuro of Pokemon Center in 2019
Plush Doll, Key Chain, Towel, Tote Bag, Shirt, Cap, etc.
Twitter of Purchaser in 2018
2018年ポケモン福袋、開封! ⸜(* ॑ ॑* )⸝
4000円でこのボリュームでした✨ pic.twitter.com/yV0p119uUW

— m e g u 。 (@gVGHJUB0Tfy1cy8) 2018年1月1日
5.Starbucks Coffee
Very popular shop worldwide again!
I think Fukubukuro of Starbucks Coffee is the most popular among those of coffee shops in Japan.
Like Yodobashi Camera, Fukubukuro of Starbucks Coffee is also lottery.
Until 2017, they had been selling their Fukubukuro in front of the store but as you could imagine it created long line of people so they changed the way of selling to lottery I think.
This year, they started accepting pre-order lottery from 26 November and it finished on 6 December.
Fukubukuro of Starbucks Coffee is also famous for its very low chance of winning.
Yes, I've already challenged.
And well I noticed I have not checked the result of lottery.
I know that's hard to win but anyway I'm gonna check it right now.
The result is
I couldn't win. (T T)
That's OK as I could imagine it.
I'm gonna challenge next year, too.
Their Fukubukuro is about $55 (6000 yen).
Just 1 type and it's same every year.
For Fukubukuro of 2019, they published the rough contents.
Here are the items inside.
I'm sure they also put original mug cup or tumbler inside.
Contents of Fukubukuro of Starbucks in 2019
Tote bag of original design. coffee beans, free ticket for coffee, limited items of Starbucks, etc.
Twitter of Purchaser in 2018
スタバの福袋、中身見てガッカリ。
去年の酉年デザインのボトル‼️
売れ残り商品でも全然いいけど、新年の福袋なんだから昨年の干支の商品は入れないで欲しい。
なんだか昨年の福袋の売れ残り買わされたみたい。
もうちょっと考えて欲しい😩#スタバ福袋センスないよ#スターバックス#スタバ福袋2018 pic.twitter.com/ZFOGYxCsFj

— goodcoffeelover (@goodcoffeelover) 2018年1月2日
6.Tully's Coffee
Fukubukuro of Tully's Coffee is also very popular every year.
Tully's Coffee is the company found in Seattle in US, isn't it.
It is also popular coffee shop like Starbucks here in Japan.
What I like about Fukubukuro of Tully's Coffee is it is cute.
Not only coffee beans, free drink ticket, tote bag, etc. they also include cute plush doll.
We have twelve signs (animals) of the Chinese Zodiac every year, that is, every year we have a kind of symbolic animal.
This year 2018 is dog (next year 2019 is wild pig) so they included original plush doll of teddy bear in cute dog mascot costume for 2 types of Fukubukuro.
They prepare 3 types of Fukubukuro every year, which is about $26(3000 yen), about $45(5000 yen), about $88(10000 yen).
They stared accepting pre-order on 3 December and I think even now you can pre-oreder.
One problem is that you can not order online that you need to visit the store.
So I went to the store in the vicinity a few weeks ago.
But as long as you pre-order at the shop, high chance of getting Fukubukuro here.
This is the great point of Tully's Coffee.
So I'm gonna visit Tully's between 1st and 3rd in 2019.
I just hope there is no long line.
Contents of Fukubukuro of Tully's Coffee in 2019
Coffee beans, Coffee candy, Mini Teddy Doll (in Wild Pig Mascot Costume), Mug Cup, etc.
Fukubukuro from official site of Tully's Coffee in 2019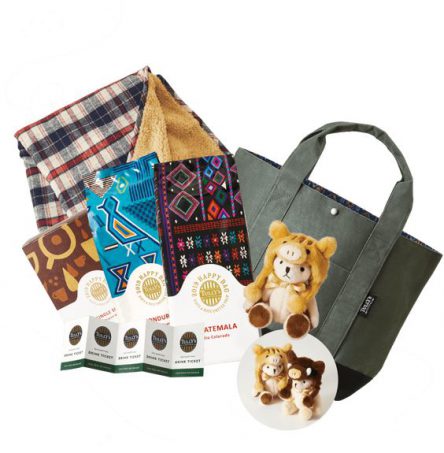 Source : Tully's Coffee
7.KALDI COFFEE Farm
I can say Starbucks, Tully's Coffee and this KALDI COFFEE Farm are the most popular Fukubukuro among those of coffee shops in Japan.
This is the coffee shop of Japanese company, whose headquarters located in Tokyo.
It mainly deals in imported foods and drinks but also sells selected foods made in Japan.
I myself also sometimes visit this coffee shop and buy coffee or foods.
This year they sell 4 types Fukubukuro.
They are Food (About $30), Moheji (About $1.8), Coffee (4 types from about $1.8 to $50) and Wine Fukubukuro (3 types from about $25 to $53).
Most popular Fukubukuro is Food and Moheji.
So they are lottery.
I was going to register but looks like acceptance is already finished this year.
You can buy only Fukubukuro of Coffee and Wine on New Year at the shop without lottery although there might be line of people.
Contents of Fukubukuro of KALDI COFFEE Farm in 2019
Coffee beans, Drip coffee, Wine, Snack, Candy, Imported Foods, Tote Bag, etc.
Fukubukuro from official site of KALDI COFFEE Farm in 2019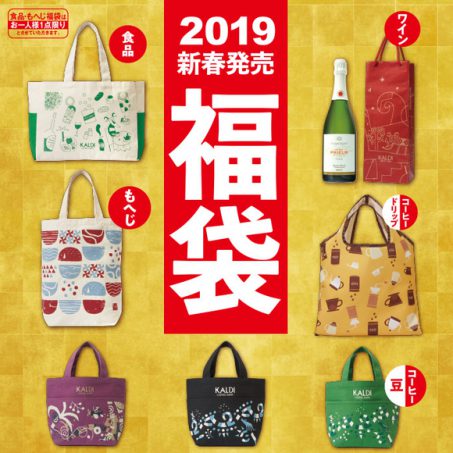 Source : KALDI COFFEE Farm
8.Mujirushi Ryohin
I think you might know Mujirushi Ryohin already.
As I traveled around the world I sometimes saw shop of Mujirushi Ryohin.
Actually they have about 300 shops outside Japan as well as about 450 shops inside Japan.
It is a Japanese retail company and sell wide variety of goods.
Clothes, cosmetics, utensil, general goods, food, drink, etc.
They are quality items but not so expensive that popular among people.
I sometimes visit the shop and buy clothes or food & drink.
Good point of this store is they also focus on eco-friendly ways as well.
Of course, Fukubukuro of Mujirushi Ryohin is also popular every year.
Looks like it is also lottery.
They started to accept pre-order on 6 December and finished it on 12 December.
Following 6 types Fukubukuro they sell this year.
Lady (S/M/L), Man (S/M/L), Man (S/M/L with Outer), Fabrics, stationery, Health & Beauty
Price of each Fukubukuro is between 2000 yen (About $18) and 5000 yen (About $45).
Contents of Fukubukuro of Mujirushi Ryohin in 2019
Knit, shirt, Cut and sew, Inner, Cushion, Futon, Towel, Note, Pencil, Cosmetics, Shampoo, etc.
Twitter of Purchaser in 2017
初めての、無印良品の夏福袋、当選✨
3,000円で13,509円分入ってた😍
わーい🎀 #無印良品 #夏福袋 #무인양품 pic.twitter.com/kRRatYfQpH

— ここりの→ここ💕 (@kokorino96su) 2018年8月23日
9.VILLAGE VANGUARD
VILLAGE VANGUARD is very interesting shop.
I really recommend you to visit the store if you like subculture and strange items.
I think this VILLAGE VANGUARD is especially popular among teenagers and twenties.
Since I was in university, and even now, I keep visiting the store when I have time.
They were originally book shop although the books they prepared were also not an ordinary ones.
But now I can not see what shop this is as they sell wide range of goods and all the goods are not ordinary goods but unique, strange and sometimes Kawaii.
Rougly 8 types of Fukubukuro they prepared for 2019.
Price is from 2000 yen (About $18) to 26978 yen (About $240)
Cheki (Camera), Neko (Cat-themed items), Pan (Bread-themed items), Apparel (Clothes), Nuigurumi (Plush Doll), Interior, Wa Cosmetics, Adult
There are also online limited Fukubukuro.
They are 4 types and it includes Nintendo Switch, Playstation classic, Speaker of BOSE, Pair Ticket for Tokyo Disney Land, etc.
Each Fukubukuro is just 3500 yen (About $30).
Wow, such a great contents and really reasonable price.
But of course, it's not like each Fukubukuro has such items so if you are lucky enought you might be able to get game console, ticket for Disney Land, etc.
Contents of Fukubukuro of VILLAGE VANGUARD?
Sorry please allow me to be lazy as they are so wide range that check official website of VILLAGE VANGUARD out.
Well, I might buy their Fukubukuro as well this year.
Fukubukuro from official site of VILLAGE VANGUARD in 2018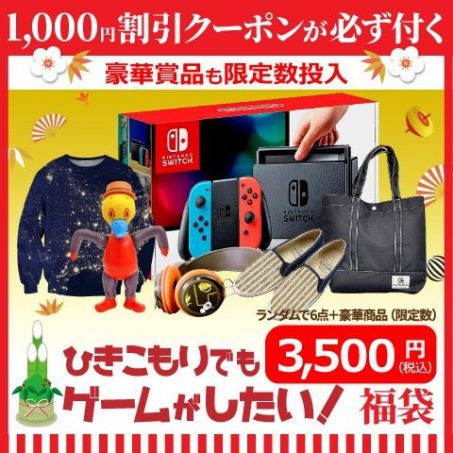 Source : VILLAGE VANGUARD
Summary
I finally bought very first Fukubukuro in my life.
I'm so excited!!
I'm wondering if it is only Japanese who so into buying Fukubukuro every year.
Anyway New Year is the biggest event in Japan and it's no less than 2 weeks.
Wow, next year is 2019 and Olympic in 2020 soon comes.
How was your 2018?
Some people might say great and the others are so so or terrible.
Anyway time is equal for everyone.
And even this 2018, it's going on and there are still things you can do.
Oh, you don't have?
OK, then go get Fukubukuro!!
Thank you very much for reading my blog to the end.
And thank you so much for those who keep visiting my blog.
I wish you a Happy New Year!!
PS. I also sell Fukubukuro and Secret Box in my website JLINK here.