Already at the end of 2021?
Every year time really flies as everyone feels so.
What everyone gets, on the New Year, is yes, Fukubukuro, that is, Lucky Bag.
You might surprise but here in Japan many people line up from very early morning like 2 or 3 hours before the opening of the store.
There are even people who line up from mid night for very popular Lucky Bag.
Impossible to me!!! Σ(゚Д゚)
But it must be worth buying.
I myself bought Fukubukuro for the first time in my life in 2019 and yes, it was really worth it.
What I bought was Fukubukuro of Final Fantasy.
This year, I didn't buy any but I could win Fukubukuro of Pocket Monsters last year.
In this article, I'll tell you the details of the most popular Japanese Fukubukuro in 2022.
1.Yodobashi Camera
さっき届いた。ミラーレス一眼小型スタイリッシュモデルの夢。
中身は、OLYMPUSのE-M10 Mark2と望遠レンズとパンケーキレンズ。本体は古いけど、そんなカメラに執着してないし、私的には満足。#ヨドバシ福袋 pic.twitter.com/uEnyUmI4qb

— pudding (@pudding_jijii) December 29, 2020
Twitter of Purchaser in 2021
Yodobashi Camera is very big electronics store.
I can say Bic Camera and this Yodobashi Camera are the biggest electronics store in Japan.
And they are chain stores, so you can see many in Tokyo such as Akihabara, Shinjuku, Shibuya, Ikebukuro, etc.
I can say this is the super popular Fukubukuro among very popular Fukubukuro in Japan.
Before COVID-19, so many people would line up from midnight on 31 December.
You know, I think Yodobashi Camera open at 9 or 10 am, so they started lining up 9 or 10 hours before the opening!
Too surprising!!Σ(゚Д゚)
But yes I understand as they put really great electronic goods in their Fukubukuro.
So now I checked the website of Yodobashi Camera.
It applies the pre-order system and the period was between 29th November and 5th December.
Today is 2th December and now I remembered I did pre-order on this day last year.
And I lost although I could imagine it. (T _T)
Actually this is lottery system, so even if you pre-order, I have to say there is few chance of winning the lottery depends on the Fukubukuro you choose as most popular one is 792 times!!
It was Fukubukuro of high-quality DSLR mirrorless camera (Kit lens).
And the price was about $705.
Very expensive camera, at least over $1000, included inside.
Anyway 792 times is really few chance, I have to say.
Most expensive one was Fukukubukuro of iPhone (Unlocked)
It was about $865.
I think the inside is iPhone 11 Pro or Pro Max.
It is reasonable price as if you buy it at store or online, that would be at least $1040.
So you can get, at least about $175 discount if you are lucky enough to win the lottery.
Lowest one was 3 and 5 times but contents is not so great like that of 764 times.
Even lowest one, you can not get it if you do not have a luck.
For the variety, there were over 50 types of Fukubukuro prepared in total!
So many!!
Last year, I did pre-order Surface Pro, Surface Laptop and Gopro and lost as expected.
I'm thinking about challenge once more or not.
Looks like they release the result of the lottery on 7th December on the website.
Here are some of the items of Fukubukuro.
Contents of Fukubukuro of Yodobashi Camera in 2022
Instant camera, SLR digital camera, Mirrorless interchangeable-lens digital camera, Full HD video camera, GoPro, Kitchen appliances, Stick type cleaner, Robot cleaner, Blu-ray recorder, Portable TV, Bluetooth earphones, Bluetooth Speaker, High-resolution audio player, Surface Pro core i5, Laptop PC, SIM Free smartphone, Apple Watch, Smart Watch, iPad, Nintendo Switch, Toy for girl, Tomica and Pla-rail, etc.
2.Apple
Yes, I know there is no explanation for Fukubukuro of Apple.
No wonder there is a big rush in front of the store.
But the last Fukubukuro they sold was 2015.
Since then, they have not been selling Fukubukuro including last year.
So for 5 years, we don't see Fukubukuro of Apple.
The reason they don't stop selling?
Well, I'm not sure but maybe they wanted to avoid chaos.
Because there were even people who started lining up 1 week before the opening of the store.
1 week before?
Not 1 day before like Yodobashi Camera?
Beyond my imagination!!!!
This is my guess but I think they wanted to avoid trouble and chasm, so stopped selling their Fukubukuro since 2015
I'm not sure they start selling again but here are the contents of last Fukubukuro (2015) of Apple.
Looks like they update the information if they sell this year online.
Contents of Fukubukuro of Apple in 2015
iPad Touch, iPad mini 3, iPad Air 2, MacBook Air, iPad Air, Apple TV, Mophie powerStation (Battery), UE BooM (Wireless Speaker), etc.
3.Square Enix
スクエニ福袋(FF福宝箱)着弾❗
ケットシーとすやすやチョコボは買おうと思ってたから嬉しい😭
個人的には大当たりでした☺️✨ pic.twitter.com/fh3vYPluVV

— tomo【Return 2 Nature】 (@noise347) January 2, 2021
Twitter of Purchaser in 2021
No need to explain like Apple I think.
Everyone knows Final Fantasy.
Yes, that's Square Enix.
It's also really popular Fukubukuro of course.
They started accepting lottery between on 22th November and 29th November.
For 2019, within 2 minutes right after accepting pre-order online, all the Fukubukuro were sold out.
I was so surprised!!
So it's really hard to get it without you prepare yourself in front of PC right on the time.
Even if you prepare right on time, it takes long time to get to your cart because of so many access, so it is very hard to get Fukubukuro of Square Enix.
The next year, they stopped the way of first come, first served system and you can pre-order anytime for a certain period in November, still, the chances of wining is very low, I have to say.
I managed to get Fukubukuro of Final Fantasy only one time in 2019.
I was just super lucky as they all sold out in a couple of minutes right after they started accepting pre-order.
For the contents, I also took YouTube video and here is the link.
YouTube : Final Fantasy Lucky Bag Fukubukuro 2019 Opening!!
This year, they prepared 4 types of Fukubukuro.
As you know, Final Fantasy is the most popular and the hardest one to get among them.
Last year, I applied for the lottery again.
I applied for Dragon Quest instead of Final Fantasy for a change.
I couldn't win as you imagined.
Dragon Quest is also popular here in Japan.
Followings are the 4 Fukubukuro prepared this year.
Contents of Fukubukuro of Square Enix in 2022
Final Fantasy, Final Fantasy XIV, Dragon Quest, Kingdom Hearts
4.Pokemon Center
Contents of Fukubukuro of Pokemon I got in 2021
Pokemon is popular worldwide, isn't it.
And there are places called Pokemon Center which sell wide range of Pokemon goods here in Japan.
I sometimes go visit Pokemon Center in Ikebukuro in Tokyo and see many people from overseas as well as Japanese on holiday.
Of course, its Fukubukuro is also very popular.
I often see people opening the Fukubukuro of Pokemon in YouTube almost every year.
Actually so much contents inside so it is really Lucky Bag!
Until 2018, they did not sell online, so you needed to line up on the New Year..
But it looks like not from midnight or 5 hours earlier.
As there were people who could get the Fukubukuro by visiting 2 hours earlier of the opening of the shop.
Anyway, since 2019, they start accepting pre-order.
So you do not need to be discouraged for not getting the Fukubukuro after hours of line-up anymore.
You'll know if you can get it or not in advance.
What they sell this year is Pika Pika Bag 2022.
They started accepting the pre-order on 6th December and the price was about $39 (4,400 yen).
It was Pokemon Center Online limited Fukubukuro.
There were people who said they could get items which is equivalent to about $200 to $270.
Just about $35 (Last year's price) and get items worthy of $200 to $270-worth ?
What a great Fukubukuro!!
And, yes, I won last year as you could see on the top YouTube video here!!
I was just very lucky!!
Following is the contents of Fukubukuro they sell this year.
Contents of Fukubukuro of Pokemon Center in 2022(Maybe)
Plush Doll, Key Chain, Towel, Tote Bag, Shirt, Cap, etc.
5.Starbucks Coffee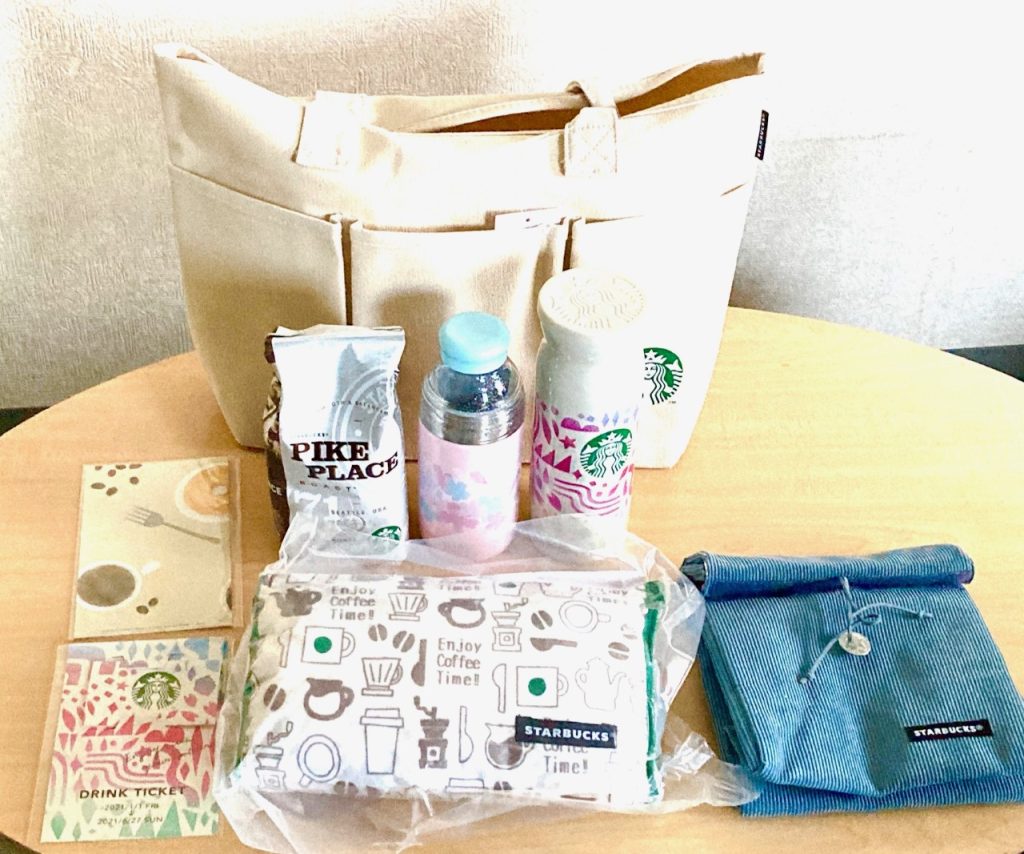 Contents of Fukubukuro of Starbucks I got in 2021
Very popular shop worldwide again!
I think Fukubukuro of Starbucks Coffee is the most popular among those of coffee shops in Japan.
Like Yodobashi Camera, Fukubukuro of Starbucks Coffee is also lottery.
Until 2017, they had been selling their Fukubukuro in front of the store but as you could imagine it created long line of people so they changed the way of selling to lottery I think.
Since last year, they started accepting pre-order lottery.
For this year, the period of pre-order lottery was between 8th November and 19th November, so already finished.
Fukubukuro of Starbucks Coffee is also famous for its very low chance of winning.
I challenged 3 times and finally I could win last year!!
I was very lucky last year for Fukubukuro.
Their Fukubukuro is about $66 (7500 yen) including tax and delivery cost in case of online order.
Same price as the last year.
Just 1 type and it's also the same every year.
For Fukubukuro of 2022, the contents will be as follows considering the contents I got last year.
They also publicly announced that tote bag, limited design stainless tumbler, coffee of Strabucks and drink tickets are included.
Contents of Fukubukuro of Starbucks in 2022
Tote bag of original design, limited design stainless tumbler, coffee beans, free ticket for coffee, limited items of Starbucks, etc.
6.Tully's Coffee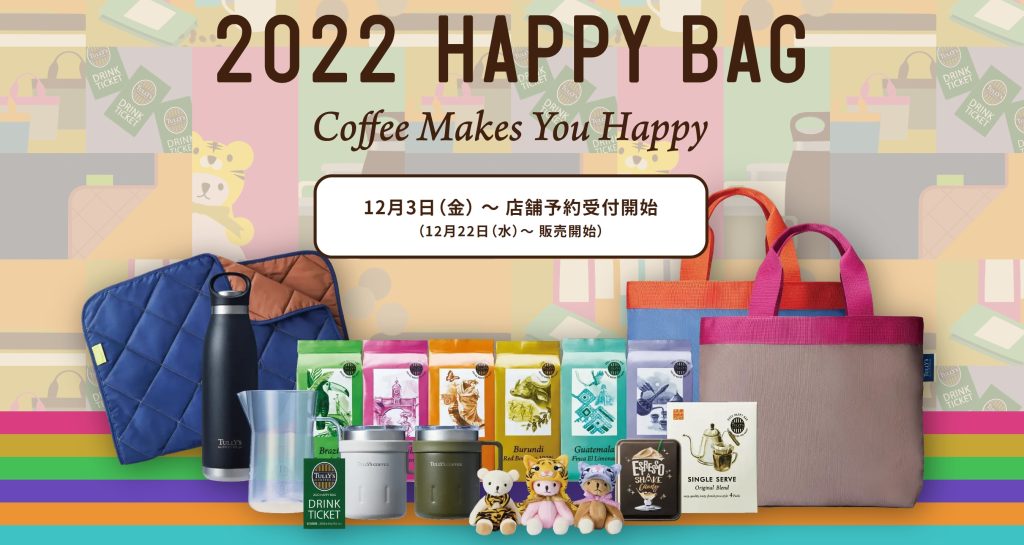 Source : Tully's Coffee
Fukubukuro 2022 from official site of Tully's Coffee
Fukubukuro of Tully's Coffee is also very popular every year.
Tully's Coffee is the company found in Seattle in US, isn't it.
It is also popular coffee shop like Starbucks here in Japan.
What I like about Fukubukuro of Tully's Coffee is it is cute.
Not only coffee beans, free drink ticket, tote bag, etc. they also include cute plush doll.
We have twelve signs (animals) of the Chinese Zodiac every year, that is, every year we have a kind of symbolic animal.
This year 2021 is ox (next year 2022 is Tiger), so they included original plush doll of teddy bear in cute mascot costume of Tiger for its Fukubukuro.
They prepare 3 types of Fukubukuro every year in total, which is about $35(4000 yen), about $58(6600 yen), about $88(10000 yen).
They stared accepting pre-order on 3 December at the real shop.
And it starts accepting pre-order online on 22 December.
That's great because they didn't have online system to order Fukubukuro before.
Other great point of Fukubukuro of Tully's Coffee is there is a high chance of wining its Fukubukuro if you pre-order.
I myself won the Fukubukuro last year!
If you live in Japan, don't miss their Fukubukuro as that's a rare opportunity to win popular Fukubukuro with high chance!!
Contents of Fukubukuro of Tully's Coffee in 2022
Coffee beans, Coffee candy, Mini Teddy Doll (in Tiger Costume), Mug Cup, free ticket for coffee, etc.
7.KALDI COFFEE Farm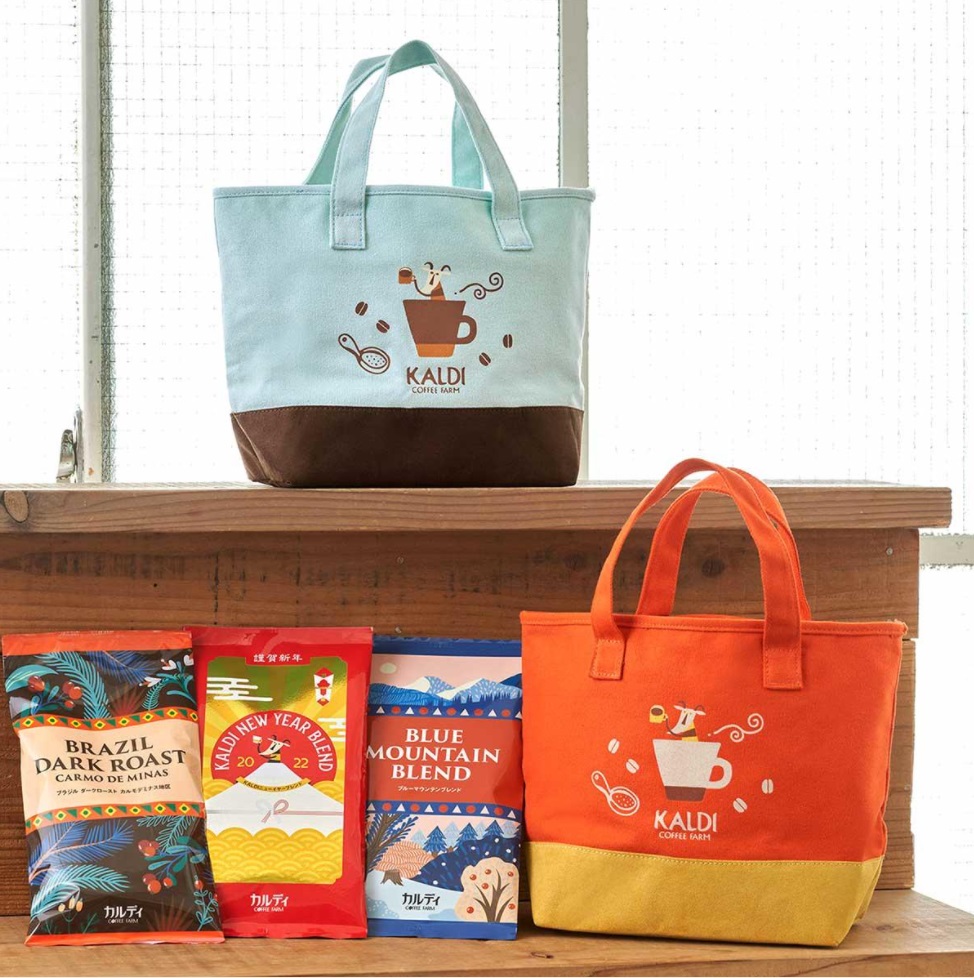 Source : KALDI COFFEE Farm
Fukubukuro 2022 from official site of KALDI COFFEE Farm
I can say Starbucks, Tully's Coffee and this KALDI COFFEE Farm are the most popular Fukubukuro among those of coffee shops in Japan.
This is the coffee shop of Japanese company, whose headquarters located in Tokyo.
It mainly deals in imported foods and drinks but also sells selected foods made in Japan.
I myself also sometimes visit this coffee shop and buy coffee beans and foods.
This year they sell 10 types Fukubukuro.
They are Food (about $32), Coffee Popular Set (About $18), Coffee Luxury Set (About $44), Popular Drip Coffee Set (About $26) and Premium Coffee Fukubukuro (About $62).
Most popular Fukubukuro is Food.
So they are lottery.
The period to apply differs depends on the Fukubukuro.
For Fukubukuro of Food, the period is between 24th November and 7th December.
For online, it was between 1th November and 7th November.
For 3 types of Coffee Fukubukuro, they sell both at the shop and online on 1st January in 2022.
For Premium Coffee Fukubukuro, the period was was between 1th November and 7th November.
If you like coffee of popular Japanese Coffee chain shop like Tully's Coffee, I recommend you to challenge!!
Contents of Fukubukuro of KALDI COFFEE Farm in 2022
Coffee beans, Drip coffee, Snack, Candy, Imported Foods, Tote Bag, etc.
8.mr Donut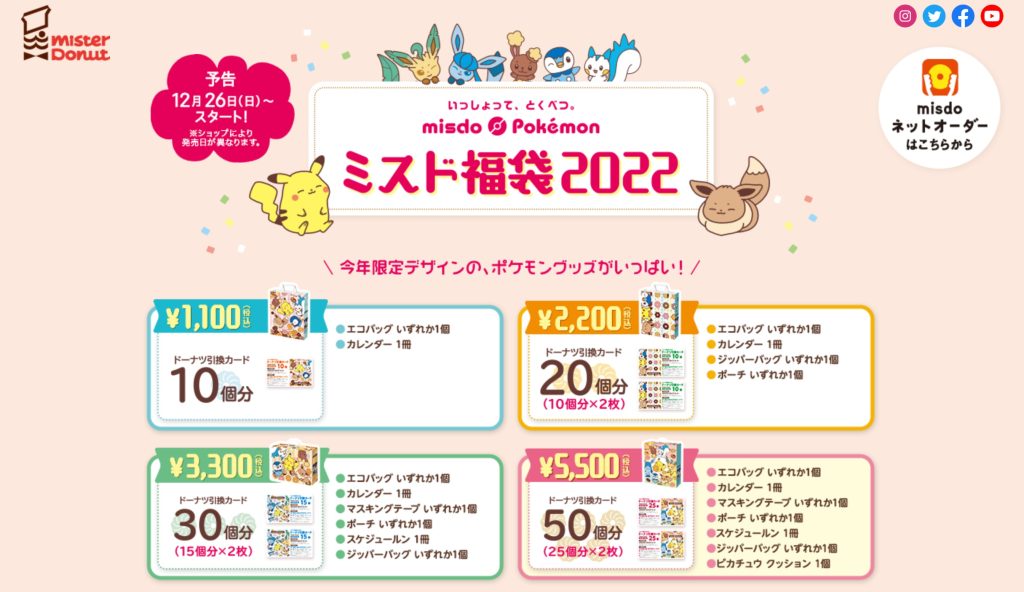 Source : mr Dunut
Fukubukuro 2022 from official site of mr Dunut
No need to explain Fukubukuro of mr Donut is very popular.
Every year, they always collaborates with Pocket Monster!!
I myself buy their Fukubukuro almost every year although that's not for myself but for children of my friends, haha.
There are 4 types of Fukubukuro this year.
Each price is $49(5500 yen), $29(3300 yen), $19(2200 yen) and $10(1100 yen).
The contents inside are eco bag, calendar, pouch, cushion, etc.
Of course, all of the goods are collaborated with Pocket Monster, so very cute!!
Great point of Fukubukuro of mr Donut is they also include special coupon for the donuts!!
You can exchange it for between 10 and 25 donuts if you buy any of the Fukubukuro.
Very reasonable Fukubukuro!!
You can't miss it if you a fan of Pokemon!!
They start selling their Fukubukuro on 26th December at the stores.
This is limited number, still I can say you have a high chance of getting if you visit their store on 26th or 27th from my experience.
Contents of Fukubukuro of mr Donut in 2022
Eco bag, Calendar, Pouch, Masking Tape, Cushion, Special Coupon for Donuts, etc.
9.Mujirushi Ryohin
#無印福缶
初めて買いました! pic.twitter.com/81e3Qaq1vv

— カスミン (@IcDq8UDG2ruhaag) January 4, 2021
Twitter of Purchaser in 2021
I think you might know Mujirushi Ryohin already.
When I traveled around the world, I sometimes saw shop of Mujirushi Ryohin.
Actually, they have about 300 shops outside Japan as well as about 450 shops inside Japan.
It is a Japanese retail company and sell wide variety of goods.
Clothes, cosmetics, utensil, general goods, food, drink, etc.
They are quality items but not so expensive that popular among people.
I sometimes visit the shop and buy clothes or food & drink.
Good point of this store is they also focus on eco-friendly ways as well.
Of course, Fukubukuro of Mujirushi Ryohin is also popular every year.
They were selling wide variety of their Fukubukuro by lottery but stopped ordinary Fukubukuro in 2020.
Instead, they started selling Fukukan this 2021.
It is canned type of Fukubukuro.
They put handmade lucky charms in the can.
Between 18 November and 28 November they sold Fukukan by lottery.
The price was about $18.
Looks like this Fukukan also became very popular.
I also wanted to challenge but already finished.
Maybe, I gonna try next year
Contents of Fukubukuro of Mujirushi Ryohin in 2022
Lucky charms
10.VILLAGE VANGUARD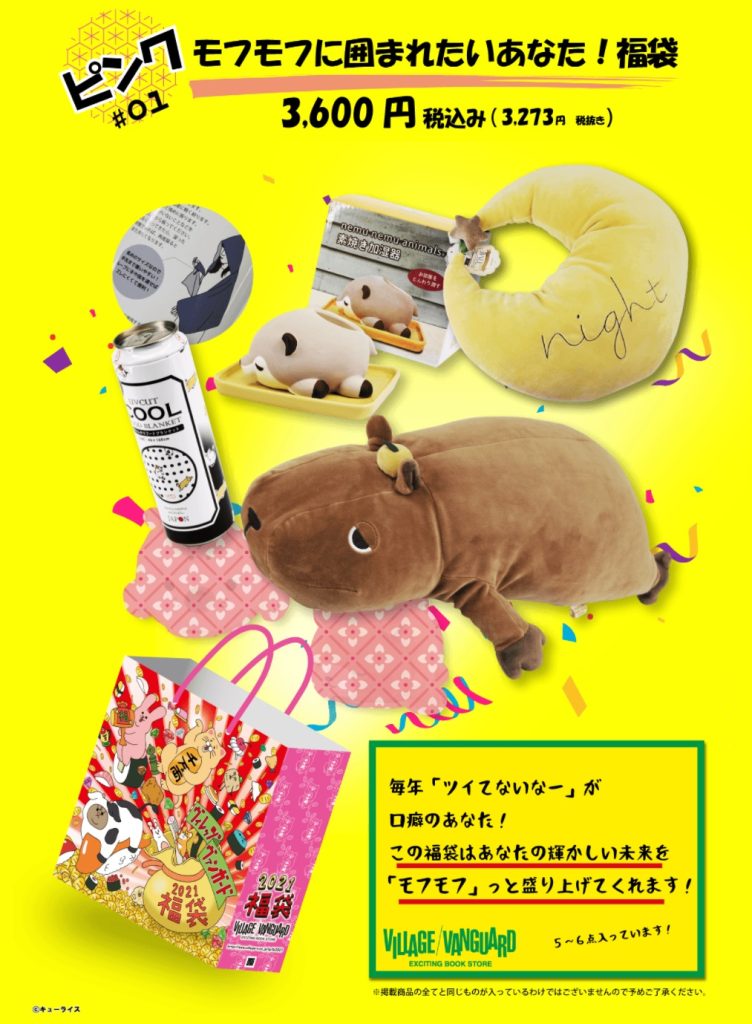 Source : VILLAGE VANGUARD
Fukubukuro 2022 from official site of VILLAGE VANGUARD
VILLAGE VANGUARD is very interesting shop.
I really recommend you to visit the store if you like subculture and strange items.
I think this VILLAGE VANGUARD is especially popular among teenagers and twenties.
Since I was in university, and even now, I keep visiting the store when I have time.
They were originally book shop although the books they prepared were also not an ordinary ones.
But now I can not see what shop this is as they sell wide range of goods and all the goods are not ordinary goods but unique, strange and sometimes Kawaii.
6 types of Fukubukuro they prepared for 2022.
Price is from 3600 yen (About $32).
The period or pre-order is between 11th December and 28th December.
Contents of Fukubukuro of VILLAGE VANGUARD?
Cute or strange things, so check following official website of VILLAGE VANGUARD out.
Summary of Japanse Fukubukuro 2022
I could win Fukubukuro of Final Fantasy in 2019 and Starbucks Coffee and Pocket Monster last year.
But could not win Fukubukuro of Yodobashi Camera and Square Enix last year.
Still, I was very lucky as all the Fukubukuro I challenged were hard to win.
Fukubukuro is very popular and people would line up in the early morning or even from the day before for very popular Fukuburo.
I'm wondering if it is only Japanese who are so into buying Fukubukuro every year.
Anyway New Year is the biggest event in Japan and it's no less than a month.
Wow, next year is 2022!
Time flies as always!
How was your 2021?
Some people might say great and the others are so so or just terrible.
Anyway time is equal for everyone.
And even this 2021, it's going on and there are still things you can do.
Oh, you don't have?
OK, then go get Fukubukuro!!