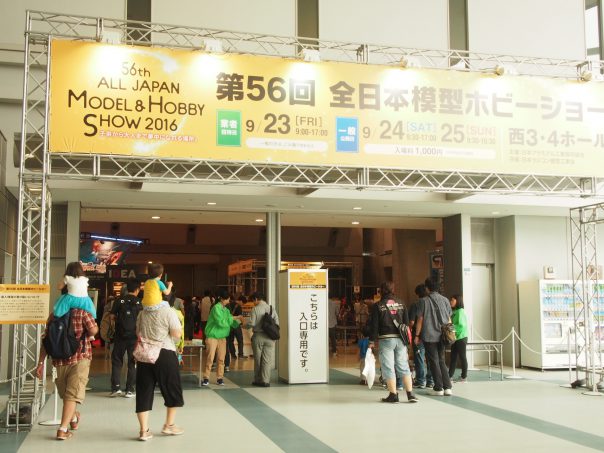 What is All Japan Model & Hobby Show
As the title shows it is an event of plastic model and toy.
You can see many children in this event.
But don't underestimate the show as it is the actually also for the adults at the same time.
You can see latest Drone, 3D printer, etc and can even experience them.
It is not like the biggest anime and figure-centered event such as Wonder Festival in Japan.
But it is still big event and the items it handles are wider than that of Wonder Festival.
It handles wide range of air soft, Model railroad, Mini 4WD, etc as well as Drone, 3D printer that you can't see much in Wonder Festival.
Top of it, there are some famous toy companies from abroad and they were selling plastic model at a discount price.
If you are the one who can enjoy anime event such as Wonder Festival or nerd of Drone, Mini 4WD, Gundam, etc, I guarantee you can enjoy this event.
You may know Bandai, Tomytec, Kotobukiya, Tamiya, Kato, etc and they are some of the companies you can see in this event.
Actually I didn't expect that much for this event but it betrayed my expectation in a good meaning.
I'll show you how the event was in this article.
Plastic models of Gundam, Macross Delta, etc
Gundam always has great presence at any places.
New series of Gundam is GUNDAM IRON-BLOODED ORPHANS from Bandai.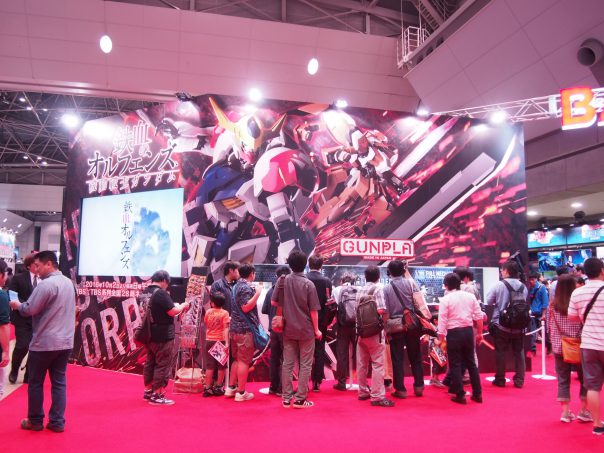 This is the famous scene of original Gundam.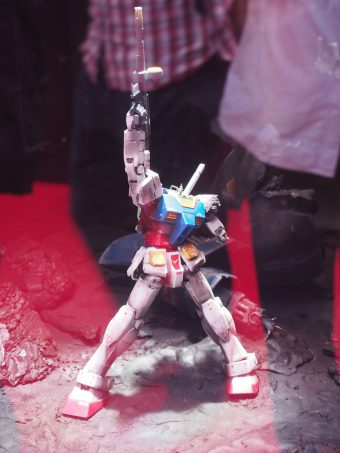 Mini figures of Gundam Barbatos DX.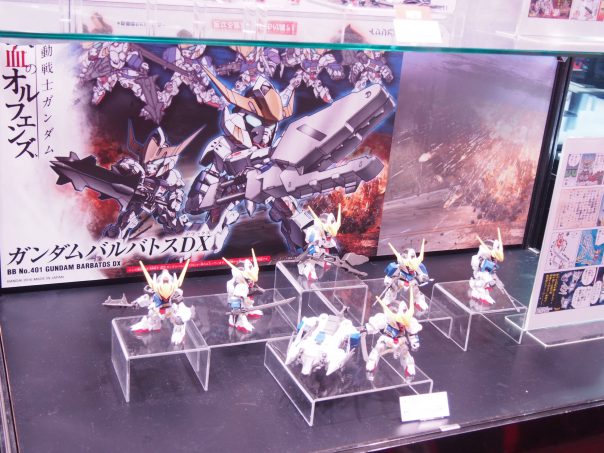 Gundam Sentinel!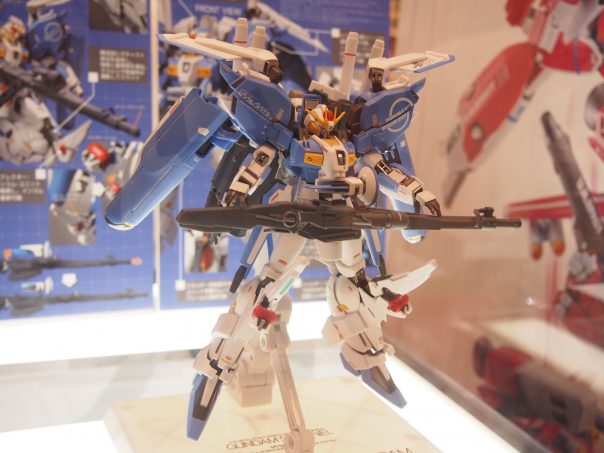 This plastic models is Macross Delta.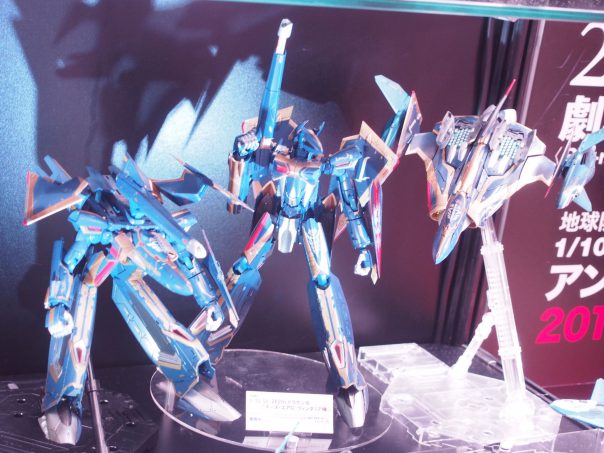 Youkai watch is very popular among children.
Youkai means Japanese style ghost though these youkai are cute.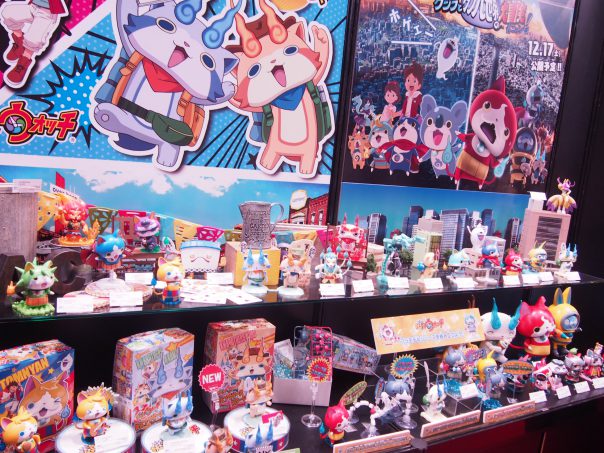 Model Railroad of Kato
Model railroad!
I think this is from Kato.
Even diorama was great.
Train was running above river.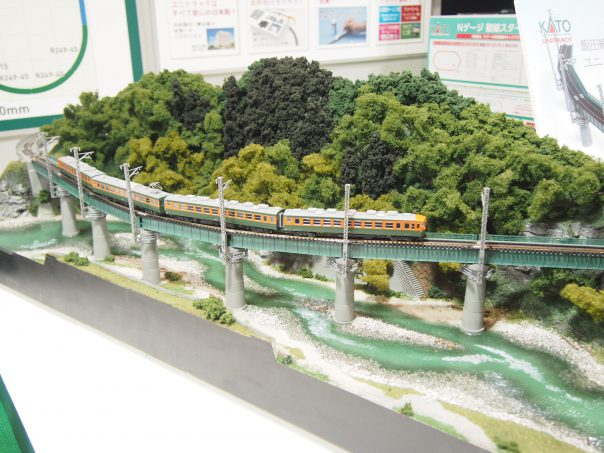 Kawaii Ghibli Miniature figures of Sankei
Good meeting with Ghibli works.
Surprisingly these works were all made of paper.
These paper works are from Sankei.
It is small and you can make up.
Totoro is with his child? or friend?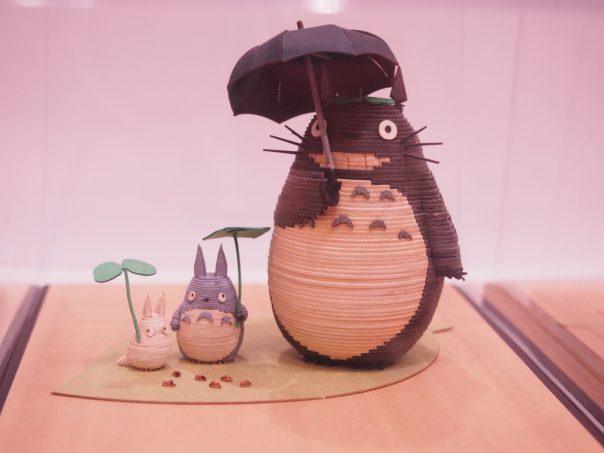 Here came the Neko Cat Bus for Totoro.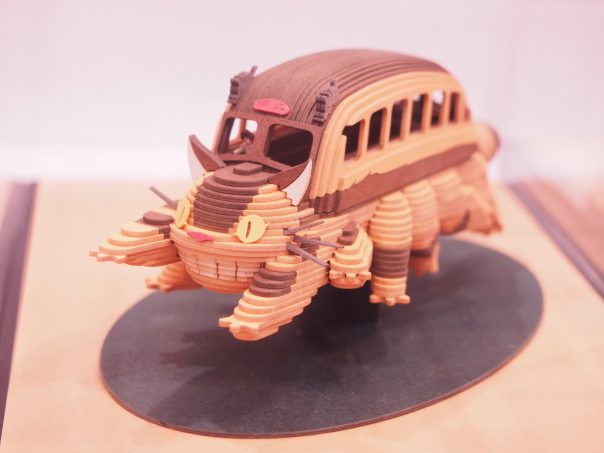 Jiji from Kiki's Delivery Service.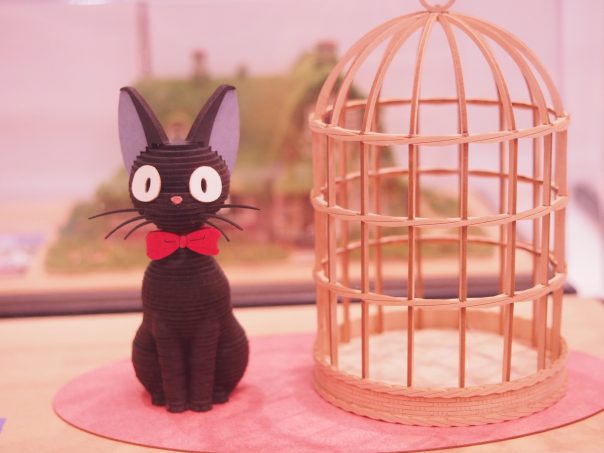 Spirited Away!
This was not small.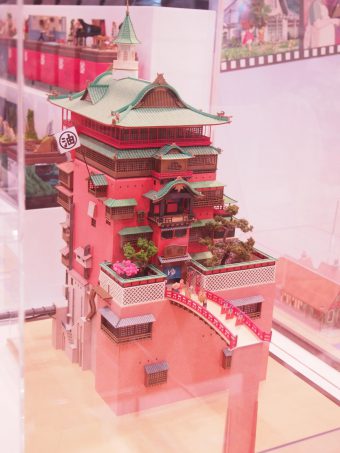 3D Printer can make Sushi and Gundam
I'm surprised at the work of 3D Printer.
Here I could see the making process on the spot.
Two types of 3D printer were making something (Sorry I didn't know it).
It was spreading liquid inside.
It was working under the design installed into the machine in advance.
I wonder how long it takes to complete the work.
It is still not exactly like high quality figure that is sold by Bandai, Kotobukiya, etc but still I can say quality work as you can see from following pictures.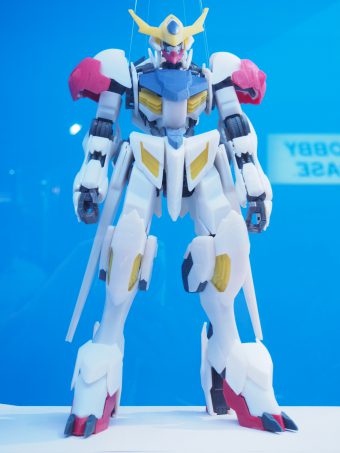 Yes, certainly this is Gundam Barbatos.
I could also see rough specification of making process for this Gundam.
CG tool and 3D CAD are used for making this Gundam.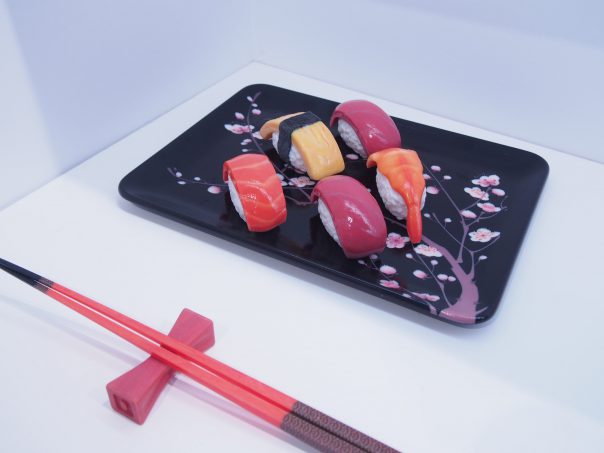 Sushi!
Surprisingly, even chopsticks are made by 3D printer,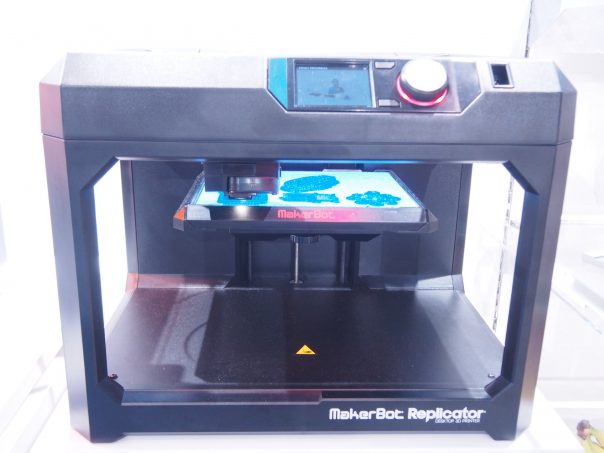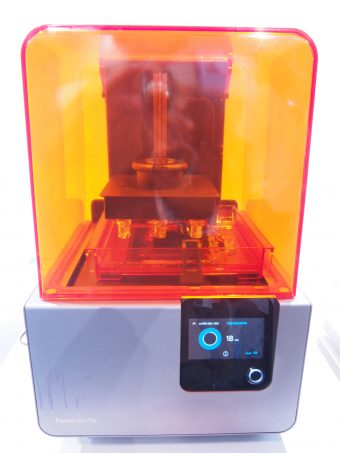 These are the 3D printers that were working there.
Battleship Mikasa (IJN) of Beaver
I could find battleship Mikasa on display.
This booth was beaver corporation.
It was a big replica but still 1/200 model.
Real battleship Mikasa was built for the Imperial Japanese Navy between 1890 and 1900.
Sopwith Camel F.1 of Wingnut Wings was also on display.
They were selling many plastic models at discount price.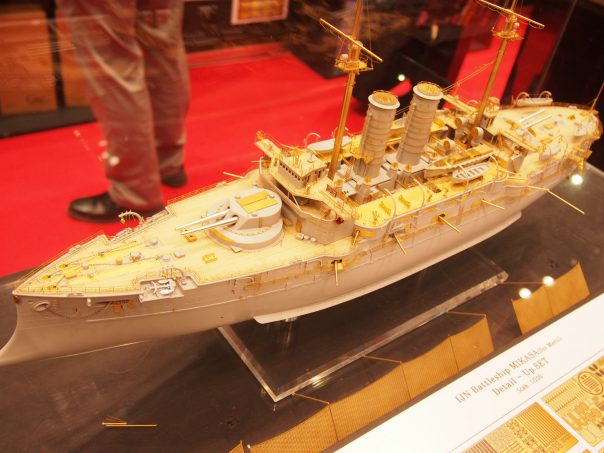 Kawaii but realistic Bonsai Plastic Model of PLATZ
It looked really like real Bonsai but was, of course, plastic model.
Made to the details, great work!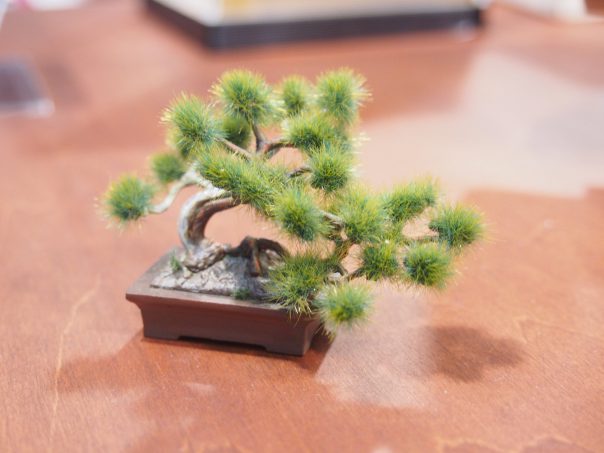 To make it real, special technique is applied to the leaves.
I like this mini 1/12 size Bonsai.
Bonsai is hard to take care of as you know it lives.
But no worries for this Bonsai Plastic model.
This is a plastic model but very simple process so you can make it less than 5 minutes.
To change the subject, 2017 is the year "The World Bonsai Convention" is held in Saitama Prefecture.
Saitama is the place I live and 30 minutes by train from Tokyo (But if you go father local area it takes more as Saitama is big).
If you have a chance come visit Saitama as there are many things to enjoy including "Bonsai museum"!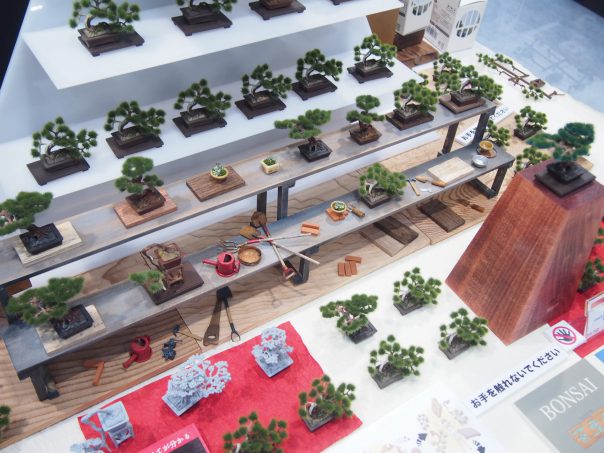 Golden Gai in Shijuku Plastic Model of PLATZ
I didn't expect to see miniature model of Golden Gai in Shinjuku.
Golden Gui is now famous tourist spot in Shinjuku.
I went to there several times even though I don't drink alcohol much.
You can enjoy talk at the bar counter with staff or owner of the small bar.
If you like drink Golden Gai is recommended spot to visit!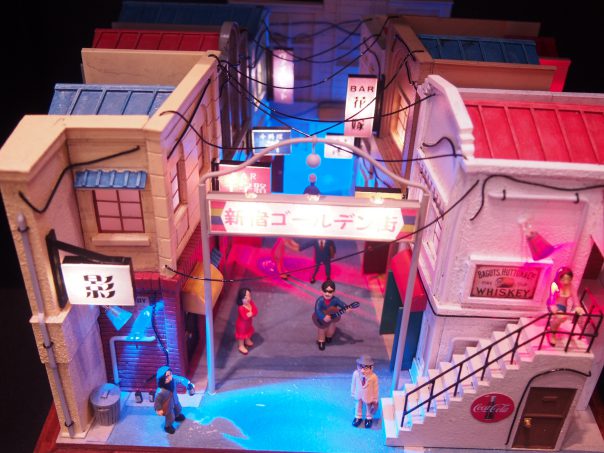 Air Soft of Tokyo Marui
Here is the booth of Tokyo Marui.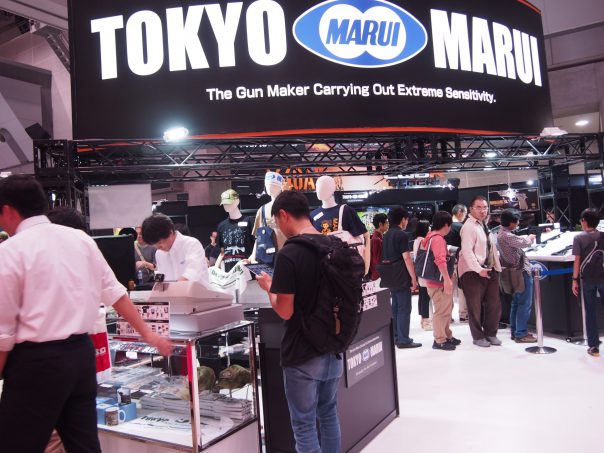 There is nobody who doesn't know Tokyo Marui in the world if the one is not the fan of an air soft.
It is very famous company for quality air soft.
Yes, but I have to admit that I didn't know it at all, I just checked it as I had no knowledge about air soft.
But the booth of Tokyo Marui was big and many people there who were checking the air soft.
I didn't know air soft is this popular.
Is is because of the boom of survival game over the decade?
Anyway one thing I can tell with confidence about for the visit of the booth of Tokyo Marui is I knew Biohazard or Residen evil.
I knew only this Residen evil as I played it when I was a student only once (I stopped playing it since then as it was too scary game to me)
This is Biohazard or Residen evil 20th anniversary limited model Samurai edge special color version.
It is scheduled to come on sale on November 2016 at the price of 26800 yen or about $268 (Tax is not included).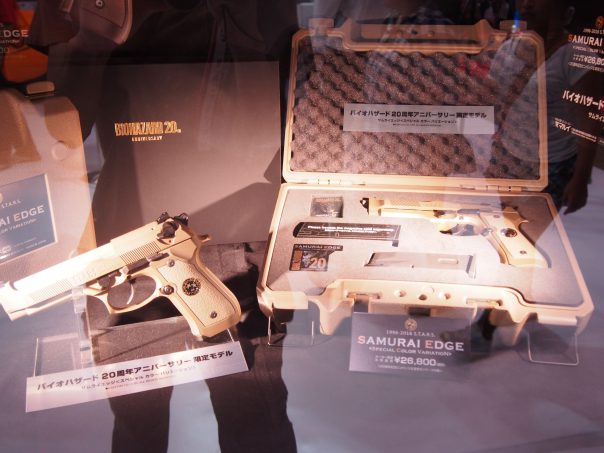 This air soft is M40A5.
Looks like real one.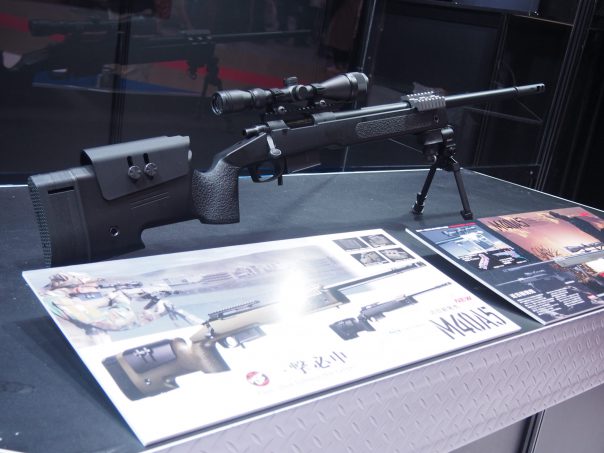 Unfortunately there was no announcement of new items.
I could also see the place in which you can try air soft.
As long as I could see the shooting range was about 10 meters.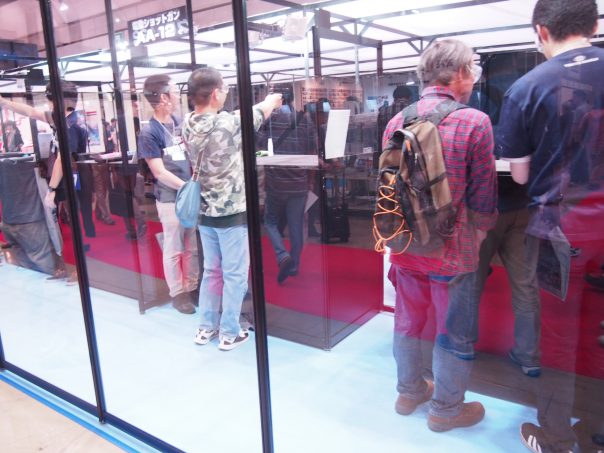 Drone of Kyosho
There were several spots Kyosho was flying its Drone in the air.
Its featured product was Drone Racer.
Race of Racing Drone took place in the demo space.
It could move quick in a good balance.
There was also a Drone that was controlled by touch panel type remote controller.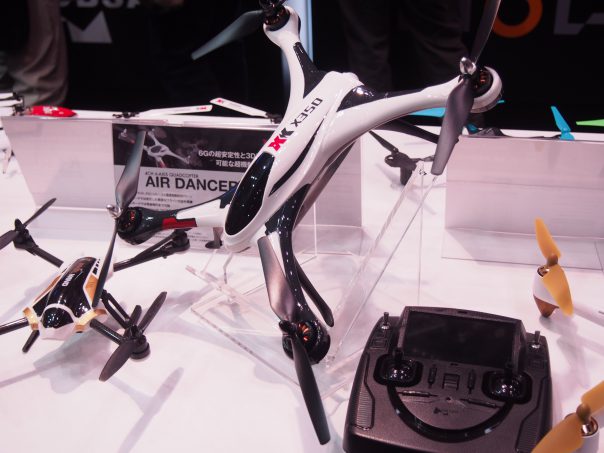 I came to want it thanks to their demonstration.
Drone will surely take important role in our future society not only for as toy but for as a means of delivery and as a rescue when natural disaster occurred.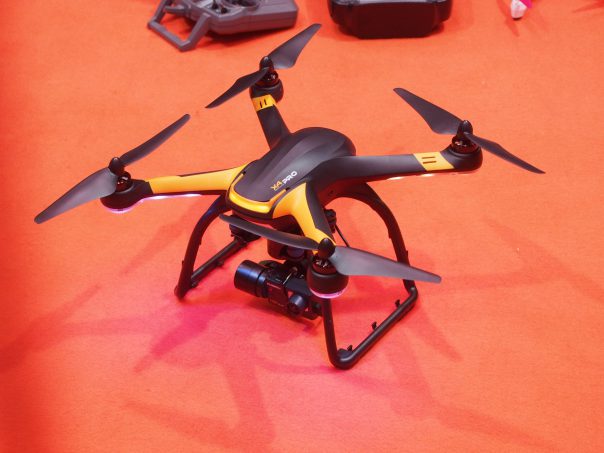 Unmanned Helicopter Earth One of JR PROPO
Next to Drone is unmanned Helicopter?
Looks like it can carry even human.
This unmanned Helicopter Earth One was made by Japan Remote Control Co., Ltd. or JR PROPO.
As you can find, it is big with 1700 mm long, 425 mm in width, 820 mm in height.
Its maximum carrying capacity is 10 kg that unfortunately it can't carry human.
The difference between Drone and this Earth One is source of energy they consume.
Earth One moves by a gasoline engine of 50 cc engine displacement while Drone moves by battery.
It enables Earth One to fly over 50 minutes by one feeding.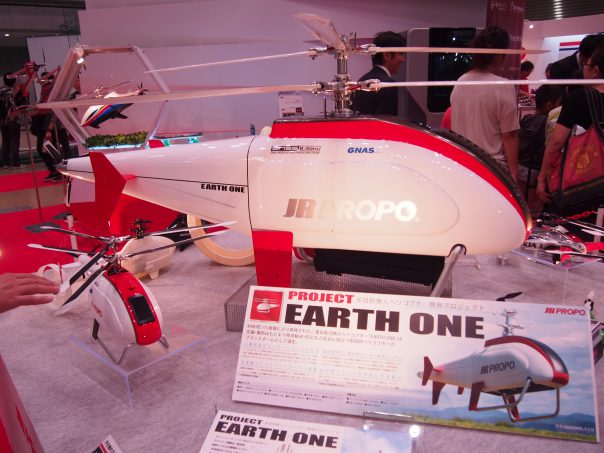 There was also a place where you can experience it by virtual demo play using remote controller or VR.
It is schedule to release at the price of about $200 in this year 2016.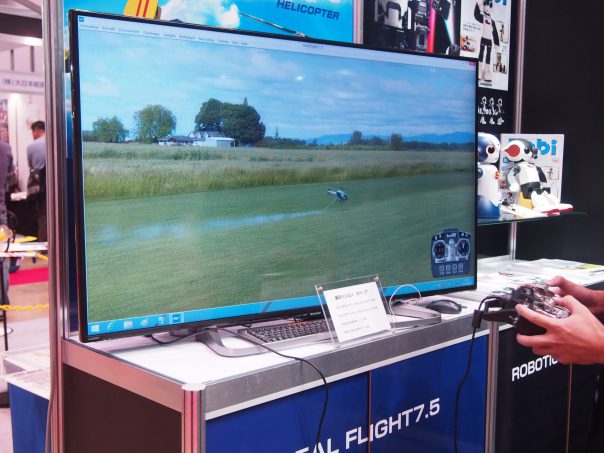 Radio‐controlled model car
There was a demo place for a radio‐controlled model car.
People were gathering and stuffs were introducing the new model.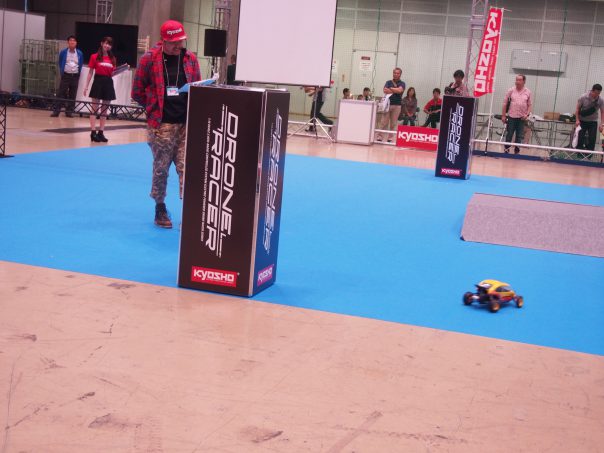 Real Honda Dream CB400 Four II and NSX
I didn't imagine I can see real motorcycle of Honda in this event.
It looks like comfortable riding on the street in town.
The yellow color and its old style looks cool to me.
This Honda Dream CB400 Four II was released in 1976.
Its semi-up handle was deviated from the concept when you think about that of original Honda Dream CB400 Four I.
But market chose this ordinary riding style model and got popular over taking Honda Dream CB400 Four I in those days.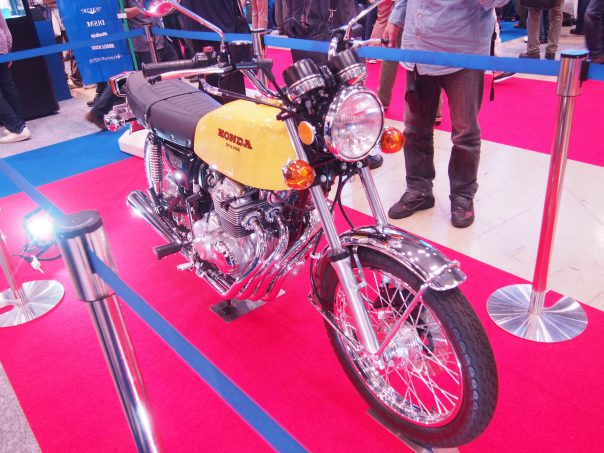 NSX was also really cool with beautiful blue color.
This is new NSX of Honda and the small version next to it is NSX TT-02 chassis of 1/10 electric car series from Tamiya.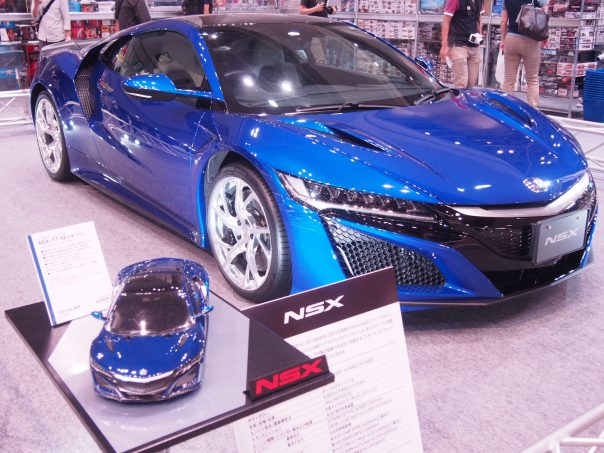 Decoration Sweets of Tamiya
I thought this tower of cookies are real one.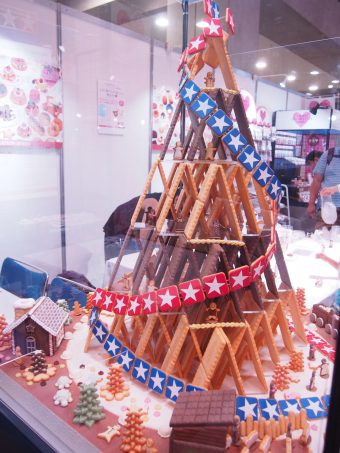 But it was actually not.
Now Decoration Sweets is becoming popular for girls.
It is all about decorating sweets from clay.
Little girls were enjoying making Decoration Sweets with their mothers.
This was the item from Tamiya.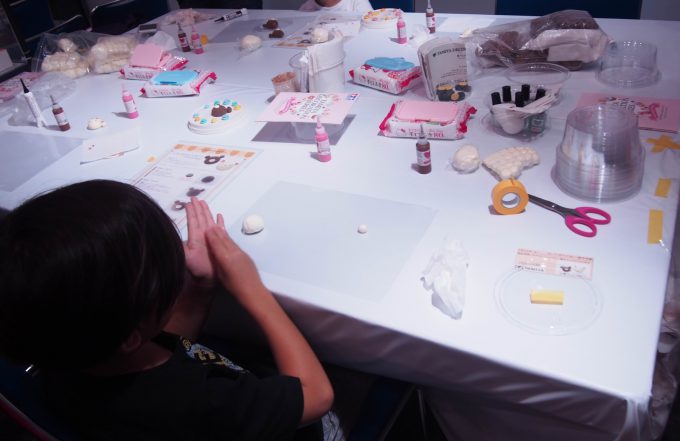 Mini Yonku or Mini 4WD of Tamiya
I didn't imagine I could see original Mini Yonku or Mini 4WD.
I'm the generation of original Mini 4WD, I mean late 1980s.
I was also into it thanks to popular anime Dash Yonkuro when I was little.
The anime sparked first boom of Mini 4WD.
I often begged my mother to buy Mini 4WD and custom parts, haha.
It was not cheap at all for kid but most of all the boys were begging like me to their parents and were really into it.
We customized and competed its speed at the Mini 4WD shop.
Yes, I tried but sadly my Mini 4WD was surprisingly slow speed in spite of all the money spent for customization. T T
Anyway it is a happy thing children are still enjoying Mini 4WD.
It is the third boom of Mini 4DW now.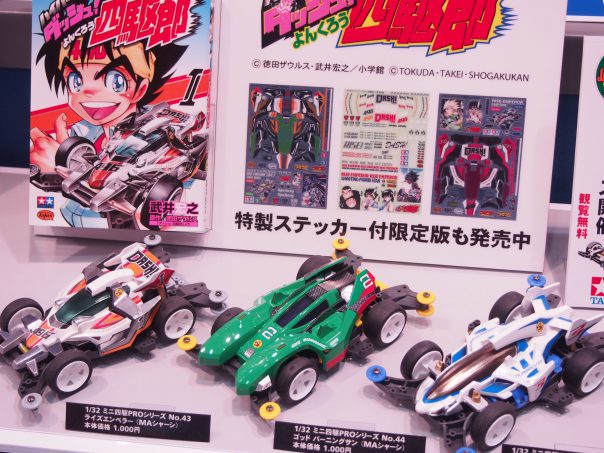 Children were into it.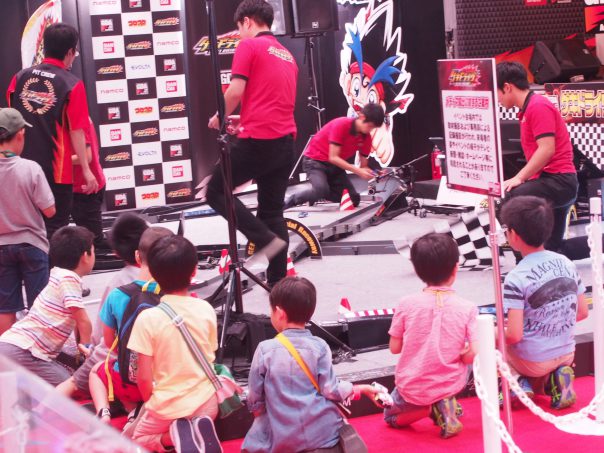 ZA Mugen Liger and Gojulas the Ogre of Zoids by Kotobukiya
Zoids were also my favorite.
I was into it when I was around 10, so it is around 1990.
Especially Shield Liger and Gojulas were my favorites.
These are now after the second boom by Zoid Genesis in 2010.
Zoids are still popular among fans.
Here you can see ZA Mugen Liger and Gojulas the Ogre.
I was playing with ZA Mugen Liger by opening and closing its mouth for a while.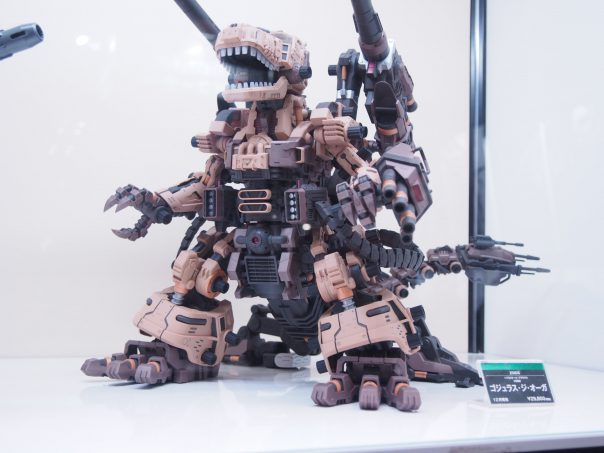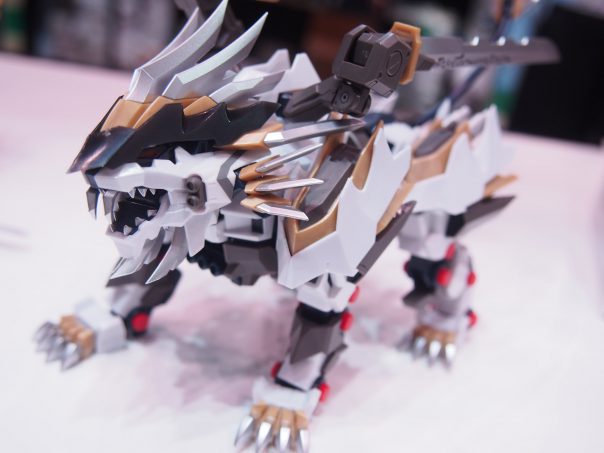 Figures
You can see these kinds of figures, too which you can see in Wonder Festival.
Girls and Panzer!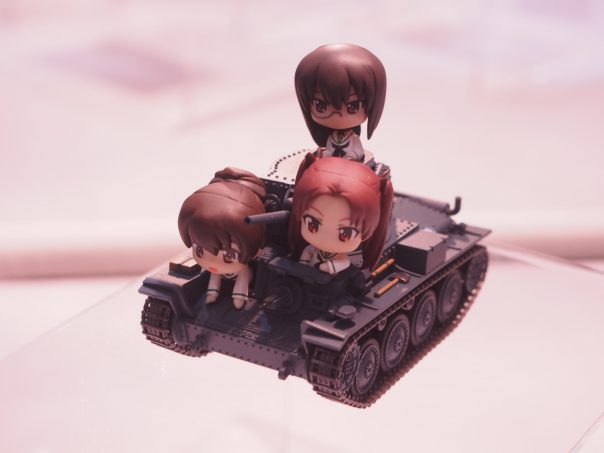 This was cool figure of Crows!

Maya Kaini from Kantai Collection!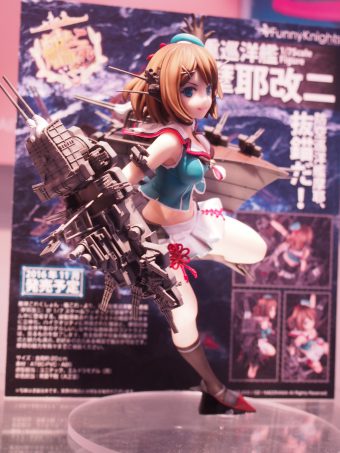 Akagi from Kantai Collection!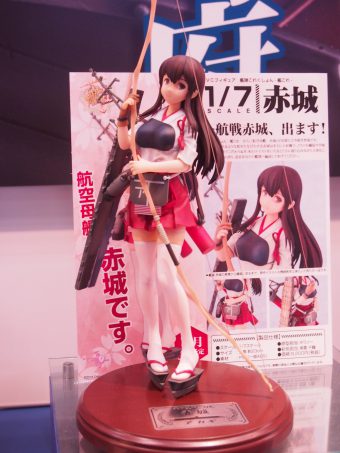 Laputa!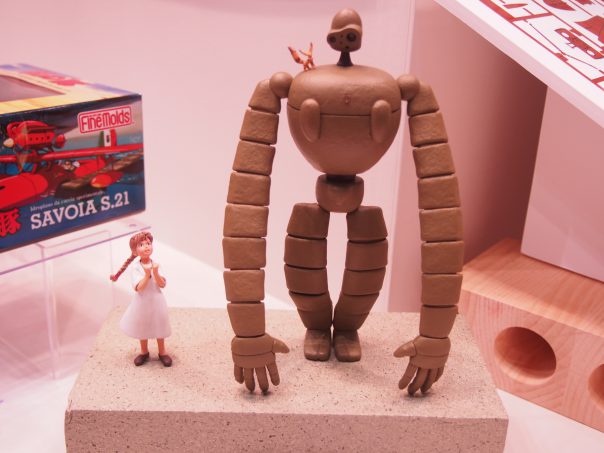 This is the moment Begeta first arrived on the earth.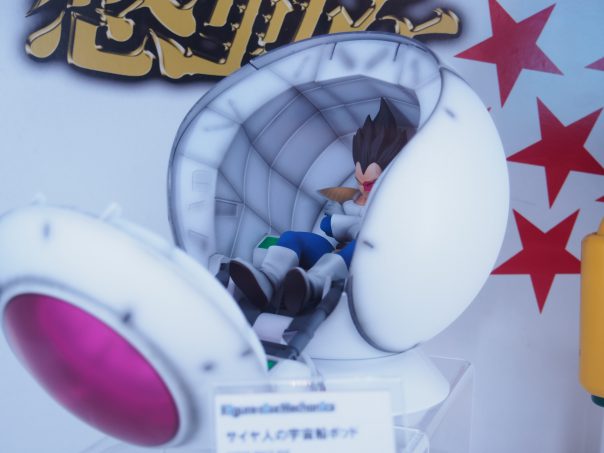 Found Dragon Ball!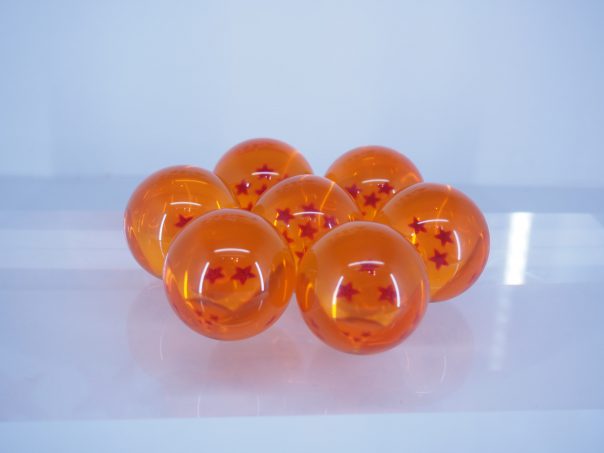 Eternal Hero Masked Rider!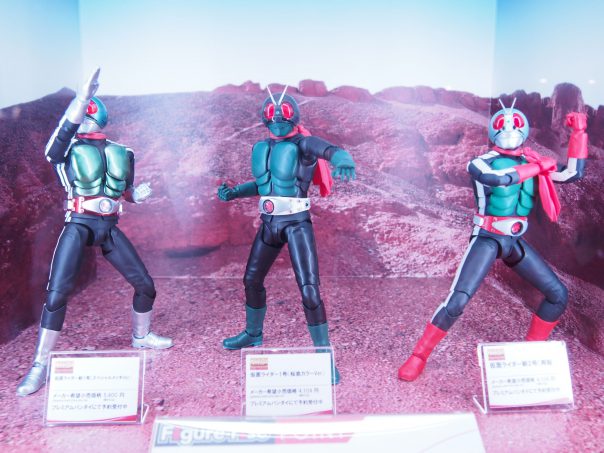 Flea Market
If you are a big fan of plastic model and want it at good price, this is the must-spot to visit.
Here you can buy plastic model from smaller parts such as Gundam, Model Railroad. etc.
But no space for me! Σ(゚Д゚)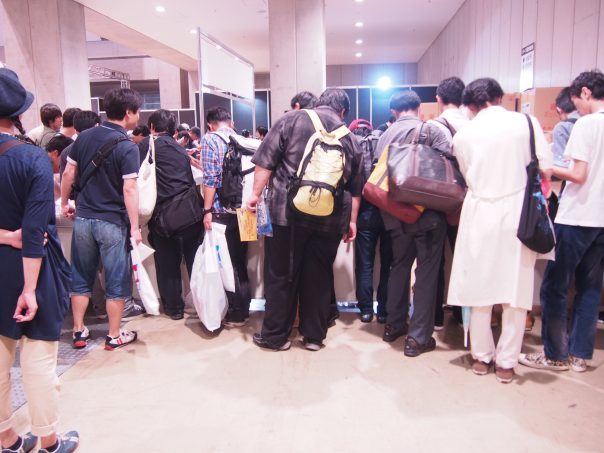 I could managed to join although I didn't buy it as I had no knowledge.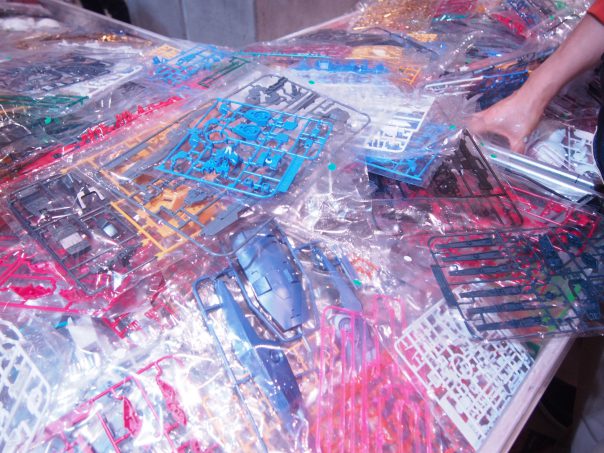 Great Diorama of Satoshi Araki
I was amazed at the quality of these dioramas.
It is an incredible work and looks almost real.
To the really small details, it had been paid attention.
Reminds us good old days.
Vendor are selling baked sweet potatoes and children behind are look like begging their mother to buy it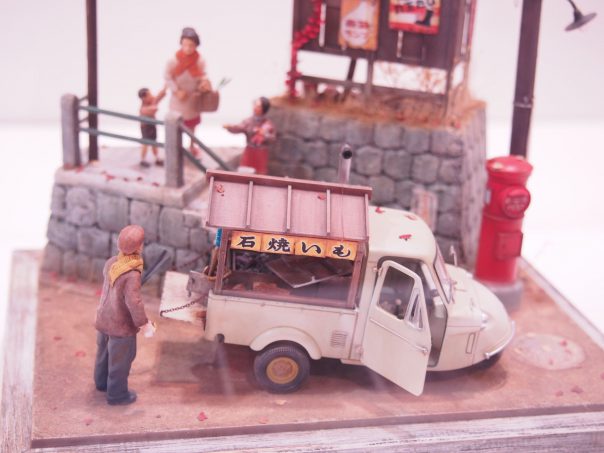 Elderly lady are working at a wharf.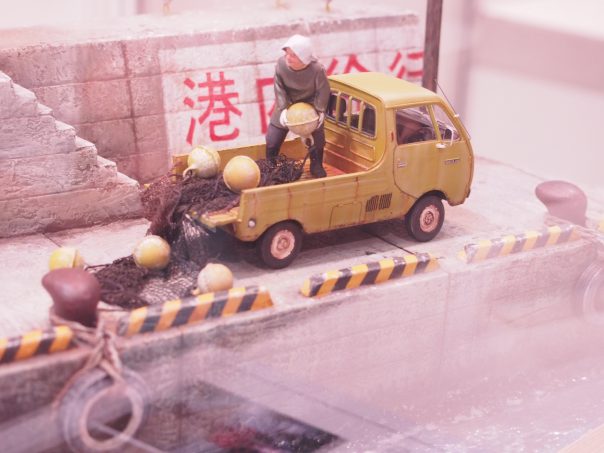 I can see even very small litters are made to the details.
This is cool!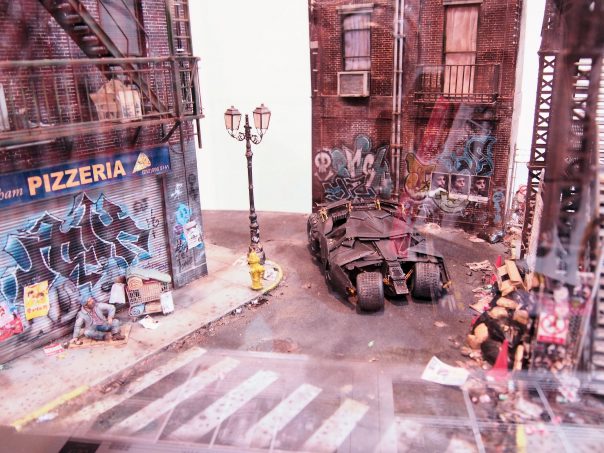 Looks really real abandoned car.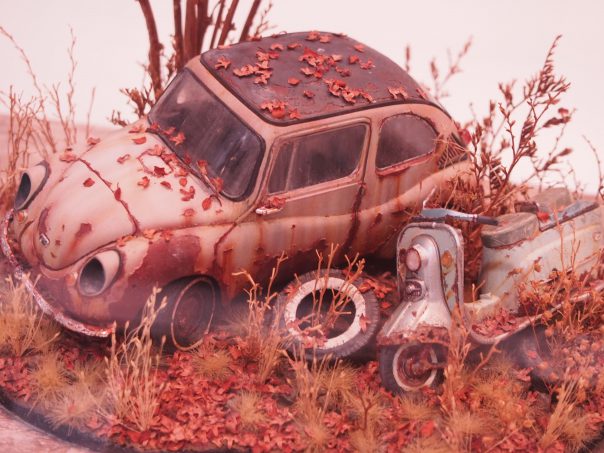 I like this combination of Robot and old private firm behind it.
I can see Japanese Kobayashi Mekatoro Firm.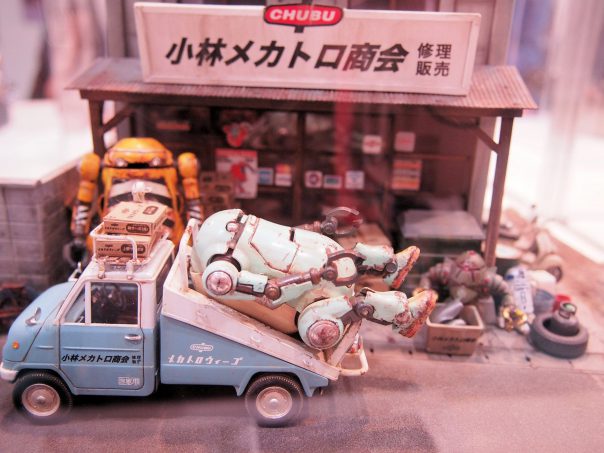 Wow, Gundam!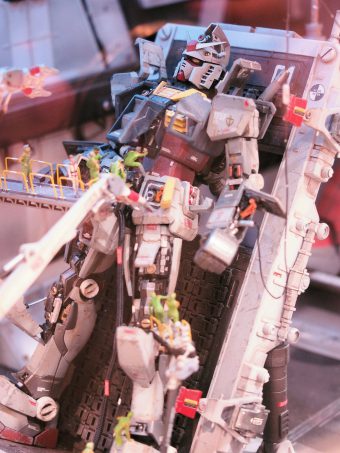 These are all made by diorama artist Satoshi Araki.
He was joined plastic model field by impressing with Godzilla when he was in kindergarten.
And he had started making diorama when he was an elementary school student.
There was Satoshi Araki the person himself at the end of exit of this display room.
Summary
As you see, you can enjoy many things here.
The point is you can touch and experience the things here.
This is the event in which from child to adult can enjoy.
There were some cosplayers, too although I didn't take picture this time.
This event takes place every year that come visit if you took interest next year.