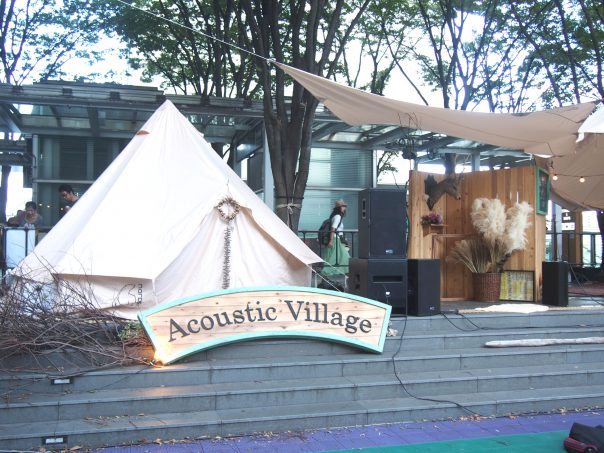 I was looking forward to this music festival since last year!
Why?
Because I can enjoy music of popular musicians for free.
It is also good I can buy organic products and foods!
Acoustic Village
Acoustic Village is an event in which you can enjoy nature, organic items, foods, outdoor and music!
For music, you can enjoy music of popular Japanese bands or singers for free.
It is not held in Tokyo but in Saitama City in Saitama Prefecture.
I visited this music festival last year.
If you are interested in Acoustic Village last year, here is the link!
Free Music Live Acoustic Village in Saitama
Singers and Bands
Here are the singers and bands performed in Acoustic Village this year.
Dave Crowe, MONDO GROSSO feat. bird, Keiichi Sokabe, Suzken, Aoya Asuka, Caravan, Ryu Matsuyama, Michael Kaneko, Riko Marumoto, Croissant Circus
Report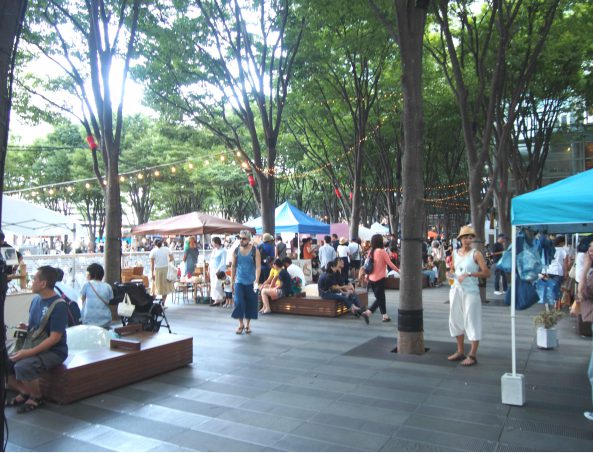 This event was held in front of Saitamashintoshin Station, yes, 10 minutes' walk from my apartment!
First I could see was a shop of Ai Zome, that is, Indigo dye.
It is also famous as Japanese blue.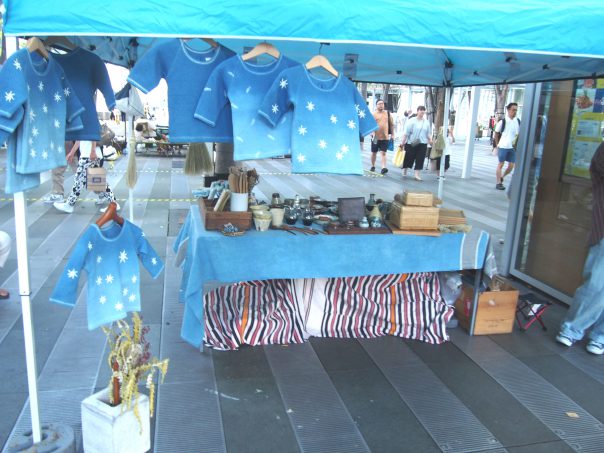 Plants of Polygonaceae are used for the color.
I like this blue color
Coffee!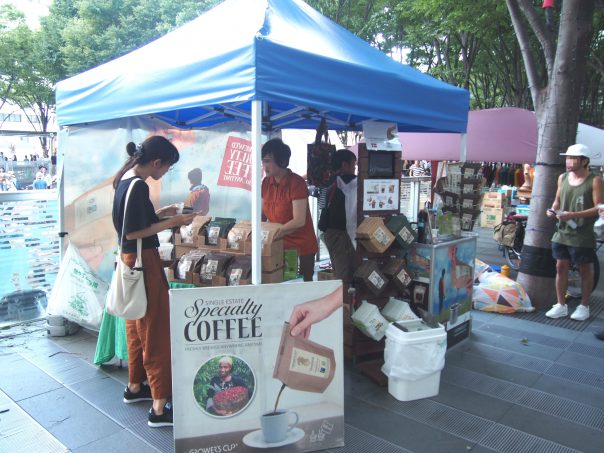 Organic products.
Looks like socks.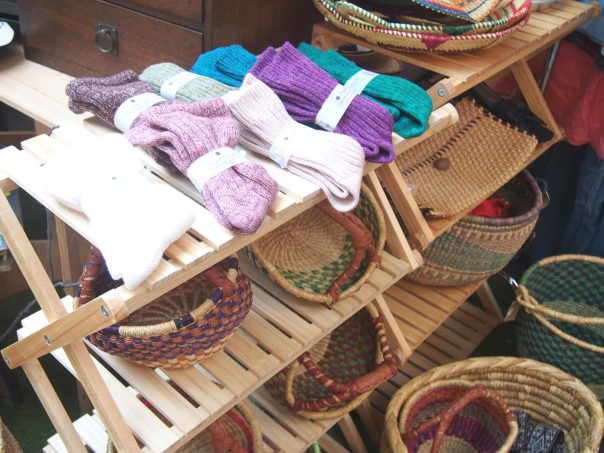 Workshop had been holding inside tent.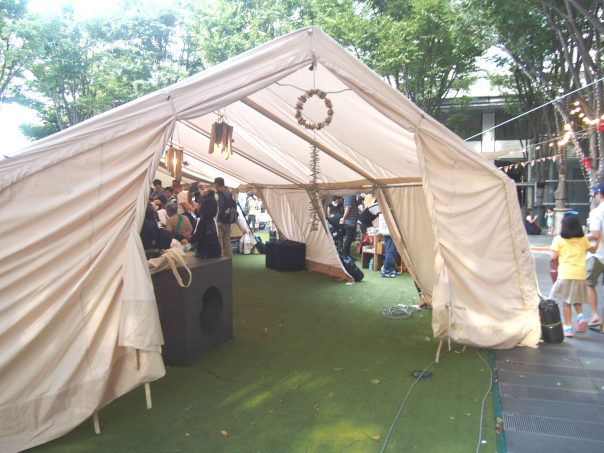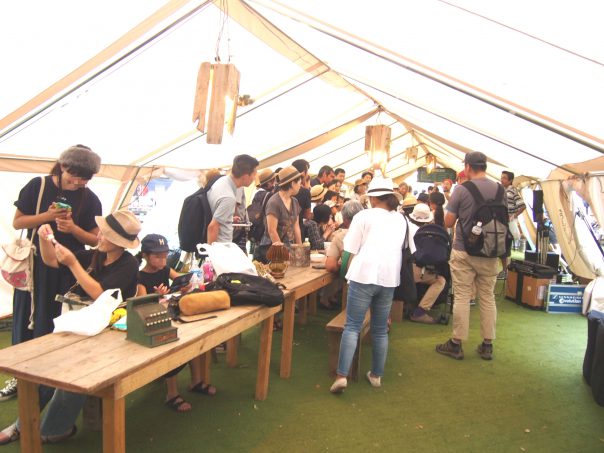 Organic Taco Rice!
I saw this shop at some organic-related events in Tokyo.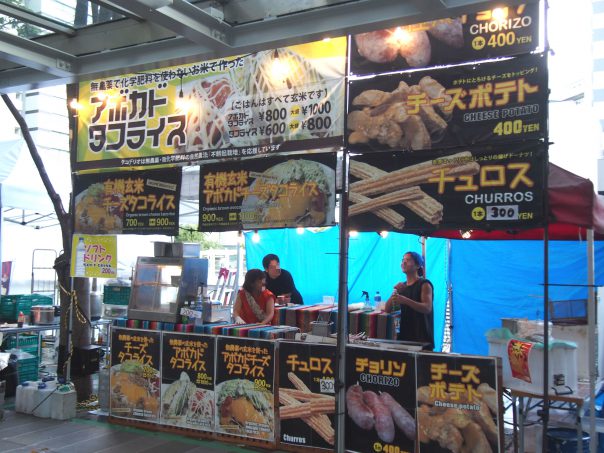 Garbage are separated into burnable, unburnable and plastic bottles in Japan.
I think it is a good custom but sometimes I becomes like this garbage is burnable or not?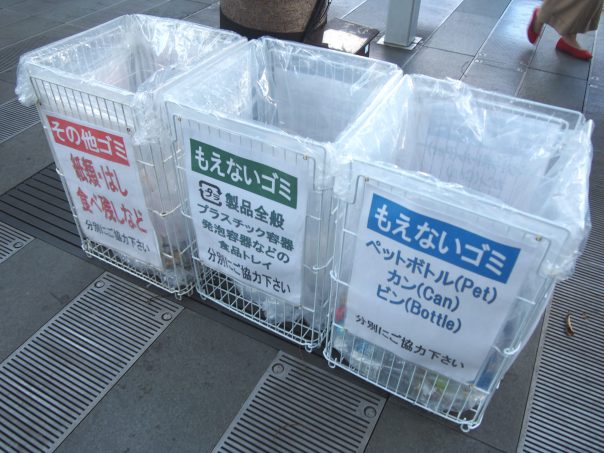 Chikyu Sukui?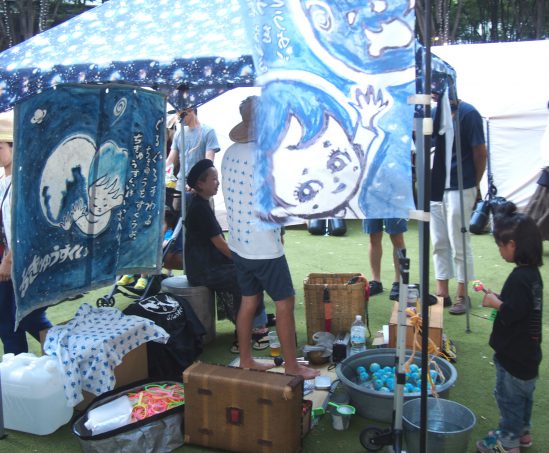 That means earth fishing in Japanese.
I see, certainly Chikyu Sukui.
Certainly you can fish for this earth!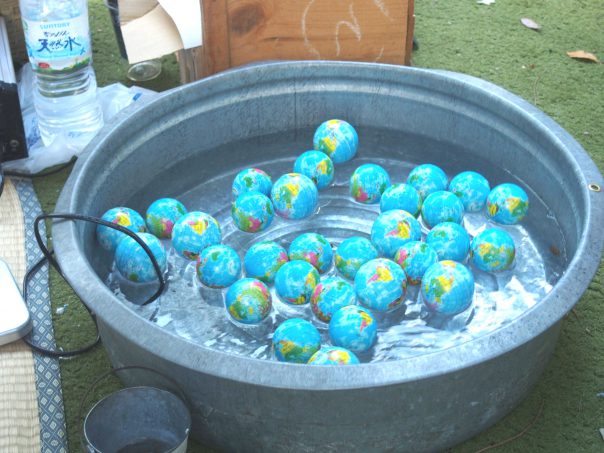 Caps!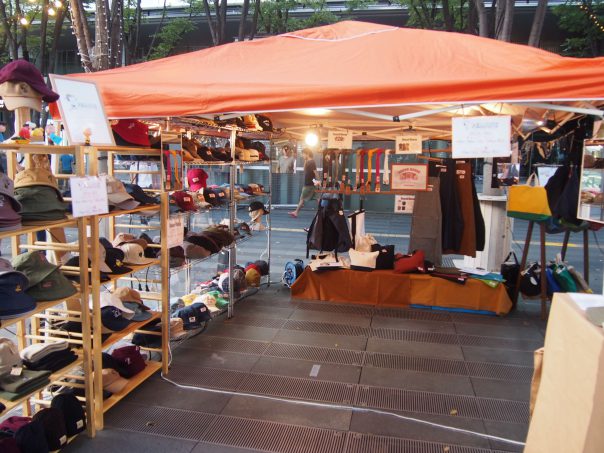 There are tables around the trees, so you can enjoy food here!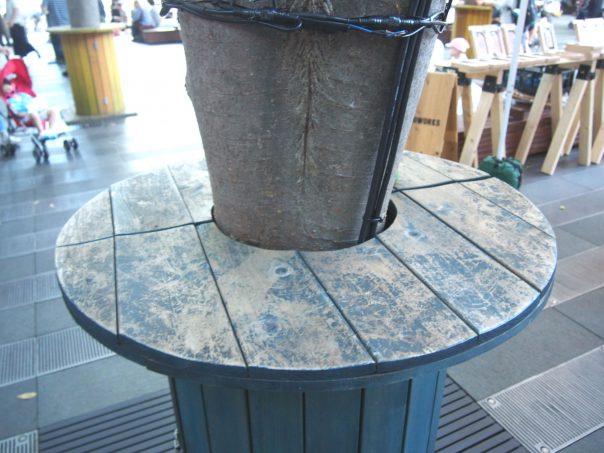 Statues of Tanuki!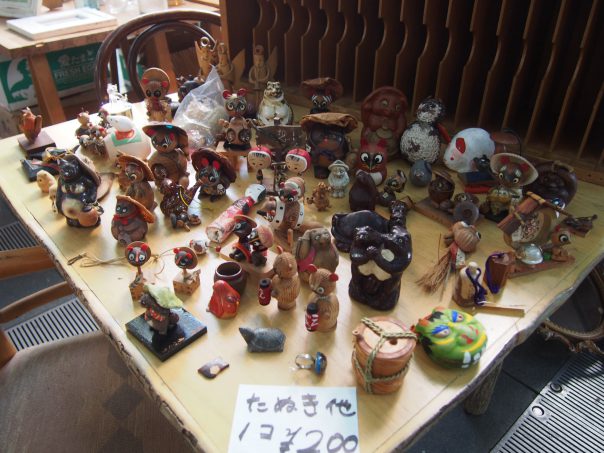 I didn't find what it is.
Book cover or something?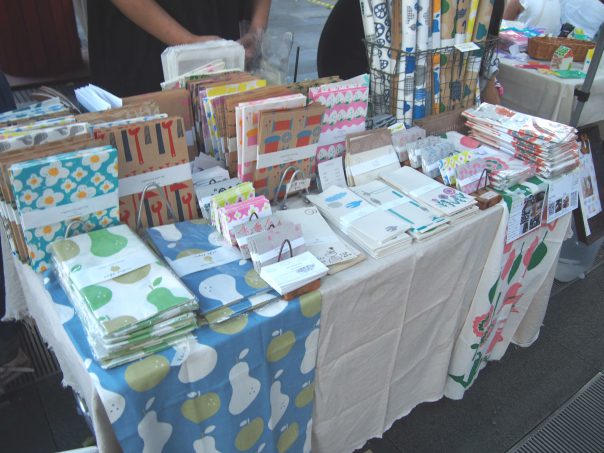 This is Amezaiku.
It is the Japanese craft of lollipop-making.
I did not imagine Amezaiku here.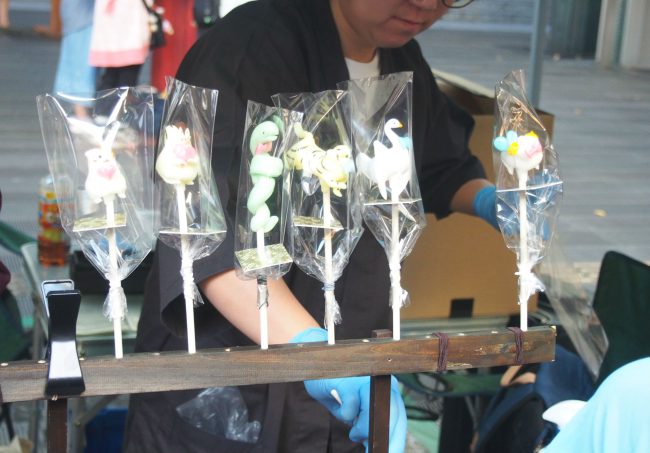 Here is the place live concert is held.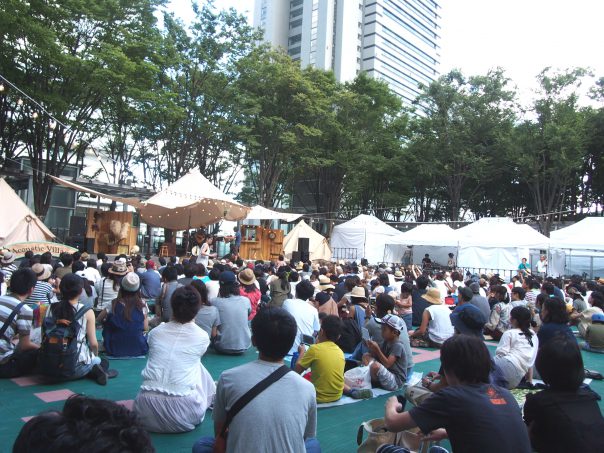 Caravan
I made it just before appearing of one of my favorite singers Caravan.
I remember I had been listening to his song when I was backpacking overseas 10 years ago.
Do you know singer Yuki who sang a theme song of Samurai X (Rurouni Kenshin)?
He offered his song "Humming Bird" for her and collaborated with her.
This is the link of YouTube of Humming Bird (Caravan & Yuki Ver.)
And yes, this Humming Bird is the only song I can copy by acoustic guitar but can not play well like Caravan, of course.
It is great I can see his performance for free as I usually need to pay for his concert ticket.
He played Humming Bird, Wagon and some new songs!!
If you like travel, I think you also like his music!
Good weather after typhoon.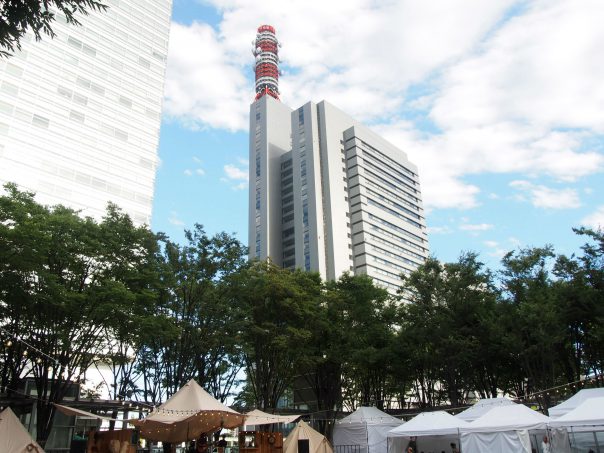 Concert finished in 30 minutes.
But there was an encore.
Even at free music concert?
If this is a usual live music, yes, the artist comes back but this is just a free live music so I was not sure if it's possible.
Few minutes later during encore, he came back!
This is great!
And he played one more song!
Thank you very much!!
Dave Crowe
Soon after music of Caravan finished, I could see Dave Crowe.
He is said to be the top human beat boxer in the world with more than 42 million views for the performance at street in London.
Actually I didn't know him, but his performance was certainly cool!!
He could also speak "Konichiwa" and "Ohayo" in Japanese.
Another Venue
After human beat box of Dave Crowe, I moved to the other side of the station to the shopping mall.
And in front of the shopping mall, I could see other concert although I didn't know the artist.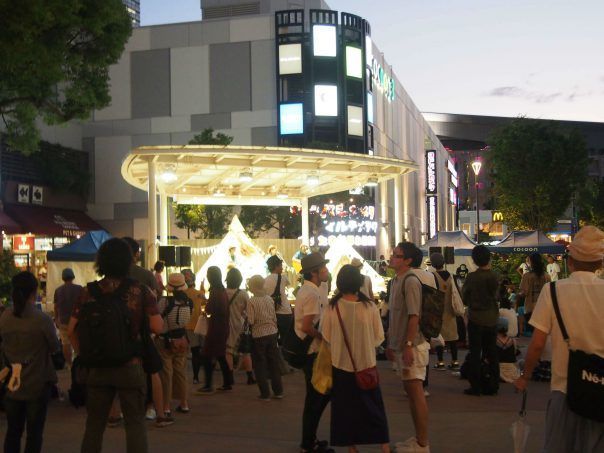 Concert stage after the live music.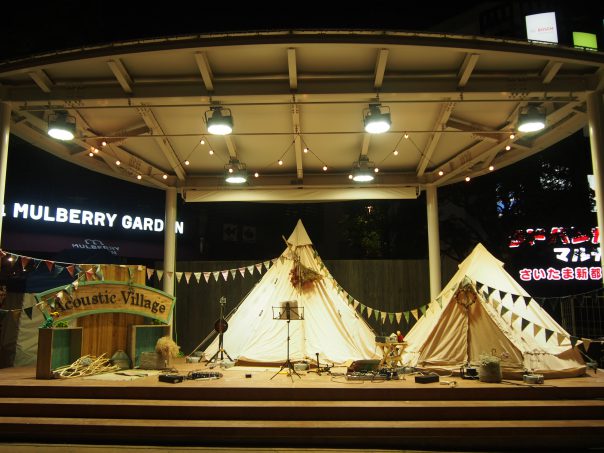 I like this beer stand!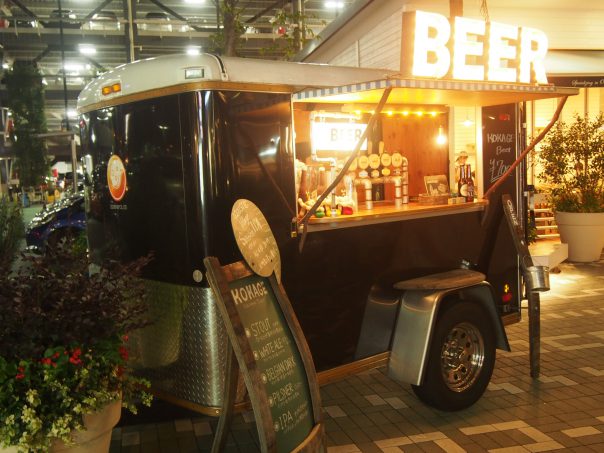 I came back to the main stage again.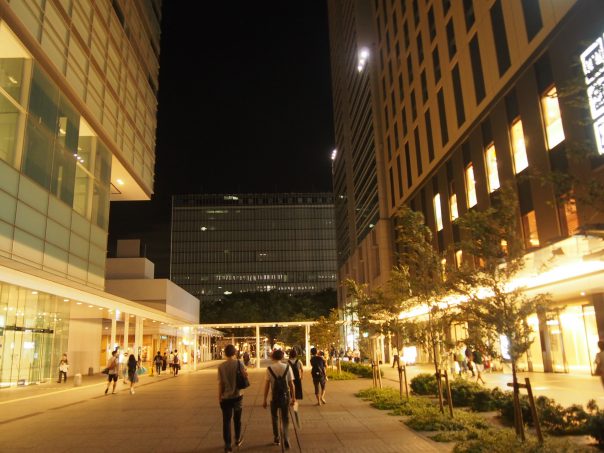 MONDO GROSSO feat. bird
Oh, a lot of people!!
I see next is the last one, so maybe popular artists come?
And the bands appeared on the stage was MONDO GROSSO feat. bird.
Yes, I did not know them.
But anyway they looks like famous.
Still during the performance, singer introduced herself as bird.
Bird?
Now I remember the name bird!
She became famous, I think when I was a university school student, so more than 15 years ago.
Since her debut from Sony Music Associated Records in 1999, it becomes 18 years this year.
Long career!
This is a special band of Shinichi Osawa of MONDO GROSSO and bird.
It was a good music!
There was a long encore after the music!
But they did not come back.
Still it was good I could enjoy their music!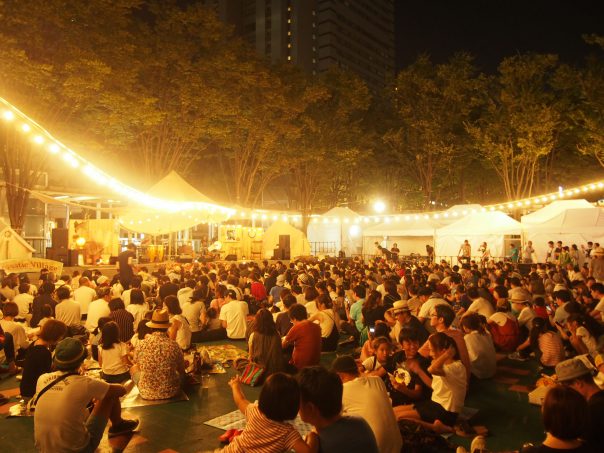 Child was relaxing in a hammock near the stage!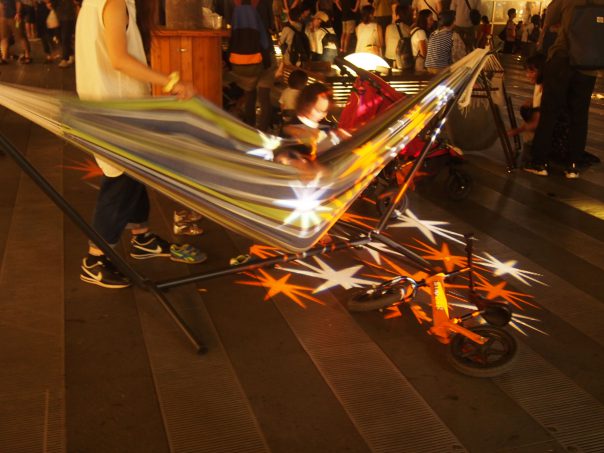 Summary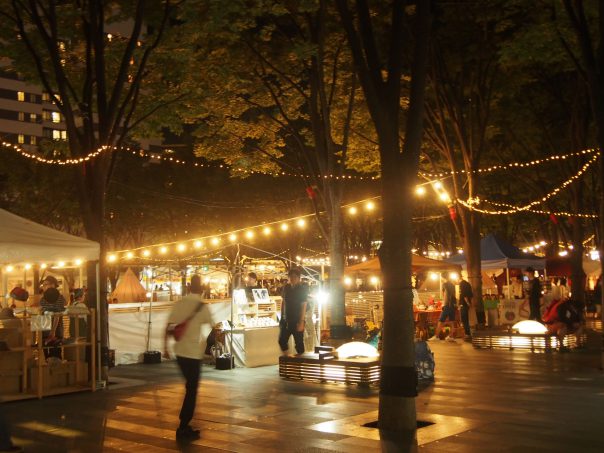 This is not a big festival although what I could watch and pick up this time was a part of the bands and singers.
Still you can come visit here in Saitama City in 20 minutes from Tokyo.
And this Acoustic Live will be held next year, too.
After most of the big music festivals finished, still you can enjoy live music with relaxing atmosphere here in Saiatama City!
Acoustic Village 2017
When : 16-18 September 2017
Where : 10 Shintoshin, Chuo-Ward, Saitama-city, Saitama
Venue : Keyaki Square & Cocoon City (Shopping Mall)
Website : http://acoustic-village.com/