Yanaka of Yanesen
Yanaka, Nezu, Nippori are called Yanesen collectively.
Now these areas have been becoming popular these days and you can see many tourists on holiday.
These areas are not that popular or famous like Asakusa, Ueno, etc. for tourists in the past.
But as long as I found it, it had begun to gather attention since around 1990 little by little.
Still not so many tourists like now in those days.
So what attracts many people to this place now?
I think it's because of old town touch Yanesen has.
It survived the war and suffered almost no damage that they still keep old town atmosphere like old Edo period.
You can see also old temples, shrines and graves in this place.
Small unique shops and galleries come together here are also making this Yanese more attractive and interesting place.
Asakusa is very famous for old town but this Yanesen has another unique touch of old town and that came to get attention especially in around 2000.
Yuuyake Dandan and Yanaka Ginza
Most people start their walk from Nippori station.
If you take a walk along the street to the left after leaving the station by the west exit you will soon get to famous Yuyake Dandan.
Just before Yuuyake Dandan I found unique shop on the left.
This is Yanaka Matsunoya.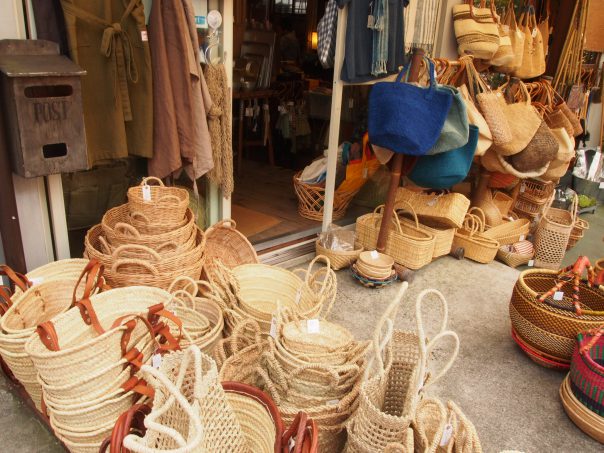 It sells daily Japanese items made of natural materials, not mass-produced by machine.
So if you are interested in Japanese daily items made of natural materials this place is worth visiting.
Yanaka Matsunoya
Address:3-14-14 Nishinippori, Arawaka-ku, Tokyo
As Yuyake means Sunset in Japanese this place is famous for its beautiful view of sunset from the top of the step to its shopping street Yanaka Ginza.
This place was also used in TV Drama and many famous people also came that you might see signs of them inside shops along the shopping street.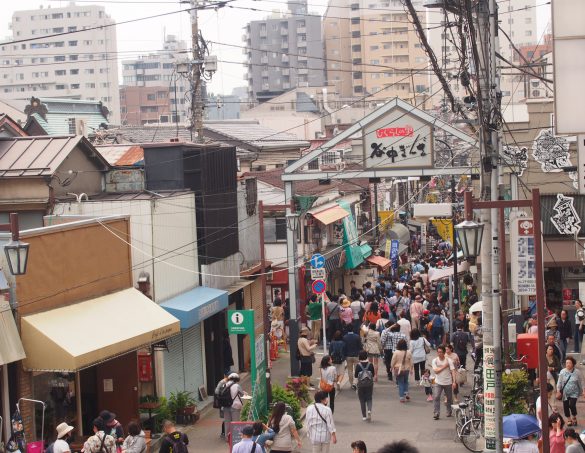 The day I visited was holiday that many people were there.
There are many shops on both sides of this Yanaka Ginza street such as delicatessen, fish, vegetable, supermarket, variety shop, etc.
If it is first time to visit here you can enjoy many unique shops.
I found panda (not real)!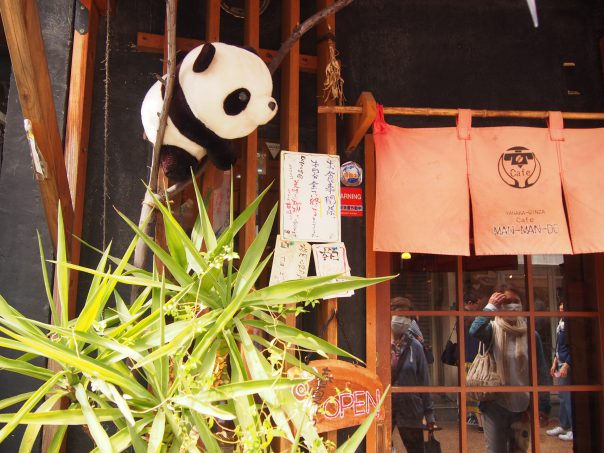 When I came this Yanaka Ginza last time, I went to delicatessen shop Ichifuji and bought a fried croquette.
This shop is very famous for its cheap but tasty delicatessens such as croquette, grilled chiken skeweres, etc.
But I found today was not weekday that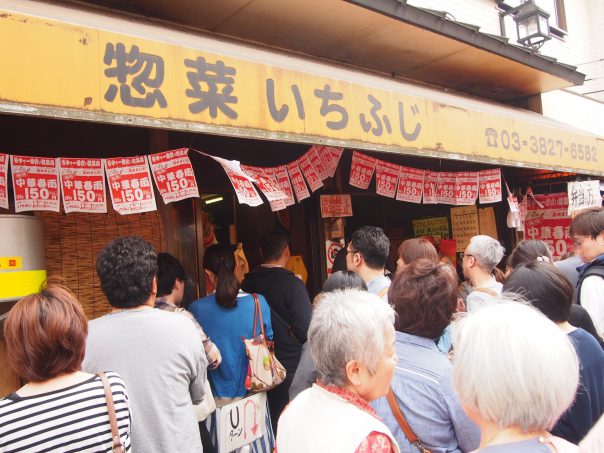 I gave up a croquette and went ahead.
Soon I found supermarket on the left and got bean-jam pancake Dorayaki instead.
Dorayaki is Doraemon's favorite!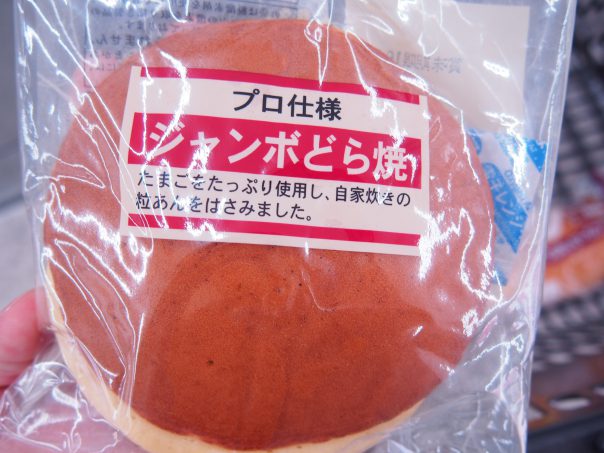 You can find cat on the roof of the shop on your right at the end of this street.
You can see the cat anytime as it is a display.
Yanaka is also famous for cats so you will see cats on the street sometimes.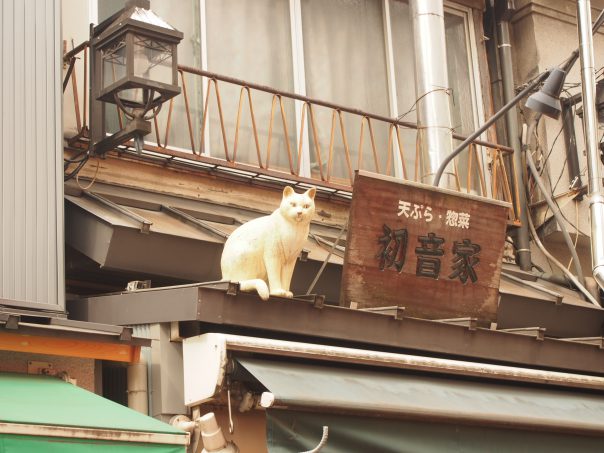 Japanese sweet shop and Hand puppet
If you want to keep enjoying this Yanaka and Nezu, turn left there.
You can find manju shop.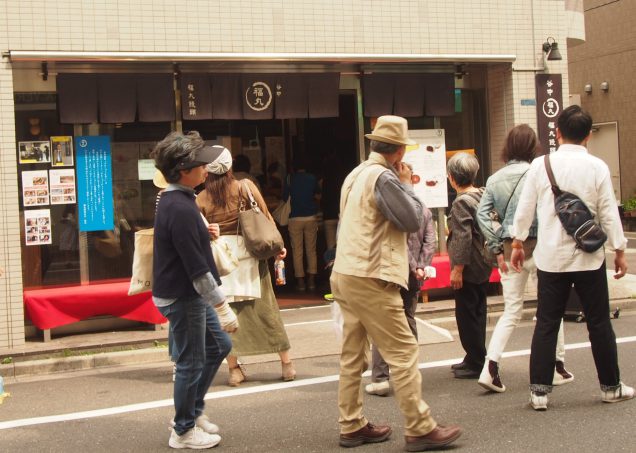 Manju is a bun stuffed with azuki-bean paste.
If you try Japanese sweets I recommend here as it is tasty and here is very cheap.
About 1$ for 10 pieces.
Although each piece is smaller than ordinary manju but still I can say it is good price.
I could find sweet shop on the right.
This looks really old type.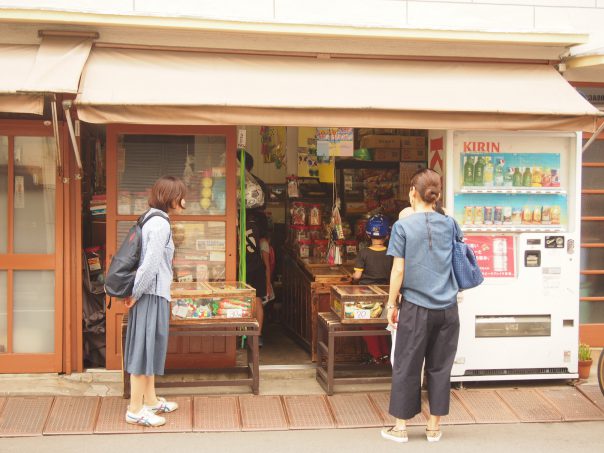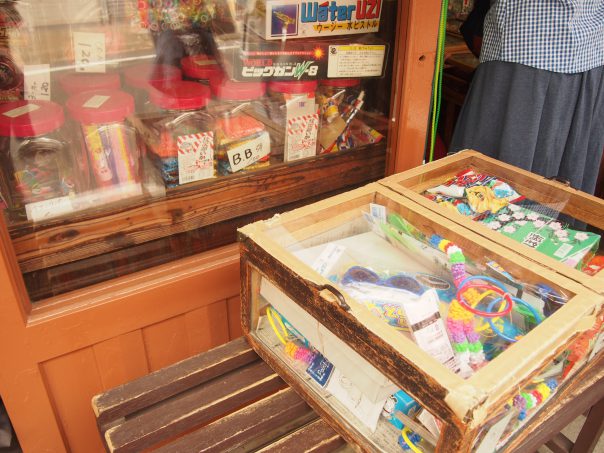 It might be a little difficult to notice but if you keep going the street you can find sign of hand puppets show Shokichi on the left.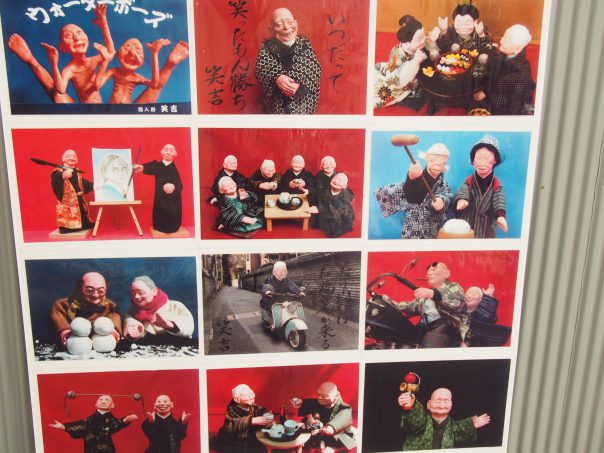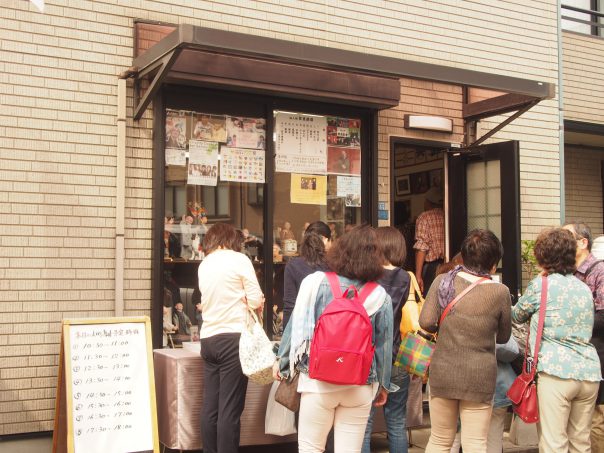 This place you can enjoy original hand puppets show when 3 or more visitors gathered.
It is just 500 yen for 30 minutes' show for adult.
The puppets looked realistic!
For the details check the website.
Shokichi
Address:3-2-6 Yanaka, Taito-ku, Tokyo
There was a small Japanese arts and crafts shop Kanakana nearby.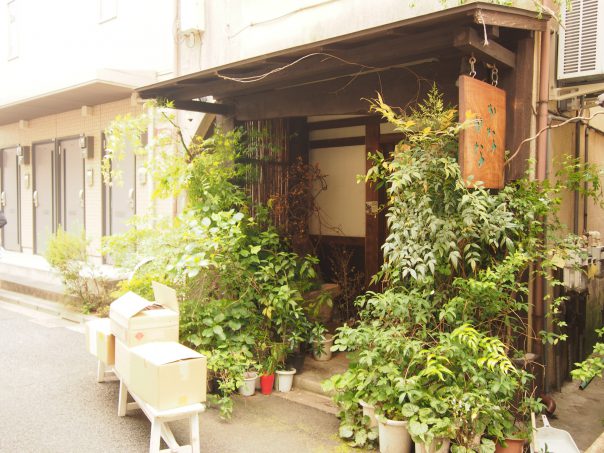 I could also find some eco-friendly items inside.
I like the atmosphere it has.
Kanakana
Address:3-2-9 Yanaka, Taito-ku, Tokyo
Kemenoko Tawashi in the snake street
Keep going, go through snake street (It is said that here was once river called aizome that's why the street is winging and named snake street) and found Kamenoko Tawashi shop.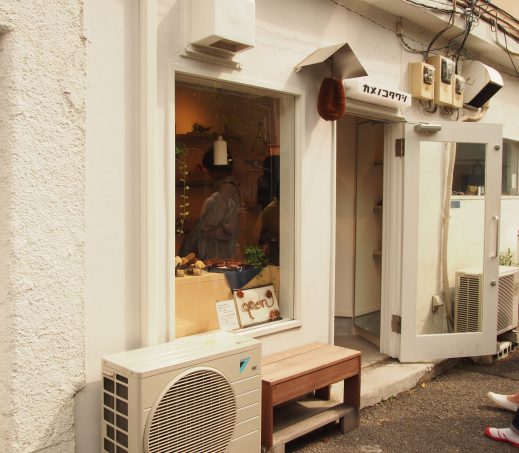 This is the first scourer shop in the world.
Its history is since 1907.
That's surprising that over 100 years Kamenoko Tawashi keep selling Tawashi!
This shop looked modern design like cafe both inside and outside.
And its Tawashi's variety is wide from ordinary one to modern design one.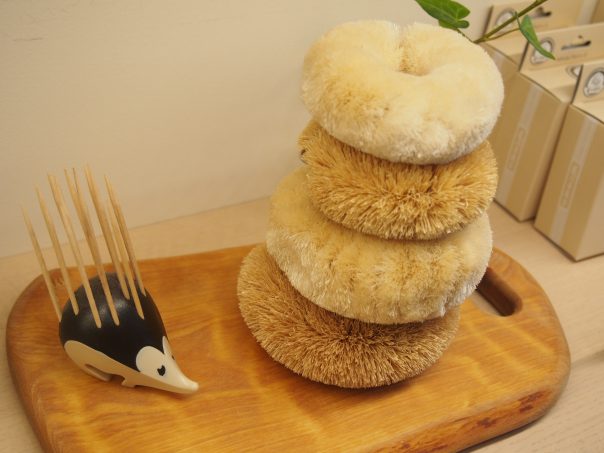 This is certainly unique traditional shop.
Kamenoko Tawashi
Address : 2-5-14 C, Yanaka, Taito-ku, Tokyo
Nennekoya
I turned right and went to the Nezu shirine after Kamenoko Tawashi Shop but I wrote the details of Nezu in other article here Strolled around Nezu and Nezu Shrine in Tokyo.
After Nezu Shrine I came back to Yanaka and got to Miurazaka Street.
Here is quite and calm with nature compared to around Yanaka Ginza street.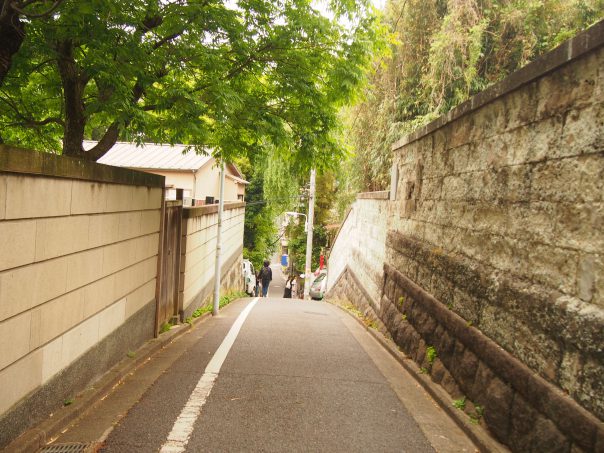 If you go down the street (This street is down hill) you can find Nennekoya on the right.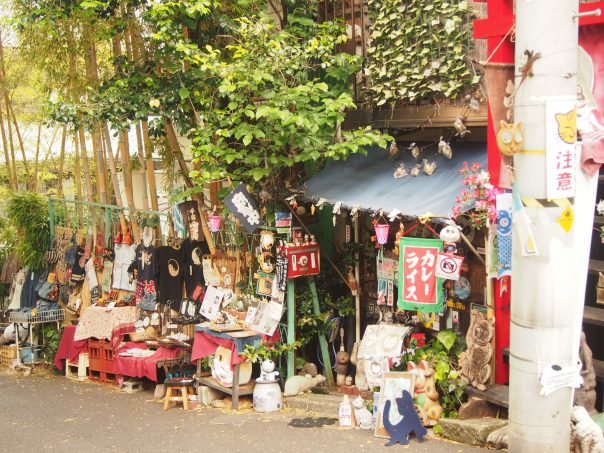 If you are a cat lover this shop must makes you high.
This is the cafe of old Japanese style house where you can enjoy cat themed food and drink with cats.
Sign of the utility pole in the photo says watch out cat!
Nennekoya
Address : 2-1-4, Yanaka, Taito-ku, Tokyo
Himalayan cedar
I returned the road there and got to Himalayan cedar.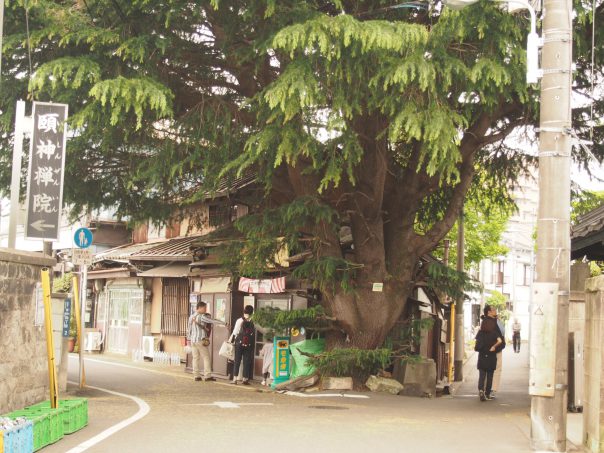 This place is also famous tourist spot.
It is said that uncle of the owner of the bakery shop under the tree grew the tree from a pod before war.
This tree is over 90 years old now.
This place escaped the war and the tree must see so many things and people until now since then.
I hope this tree keeps rooting here and watching over the people forever.
Atelier of Mr. Allan West
Next to this shop under the tree was atelier of artist Mr. Allan West.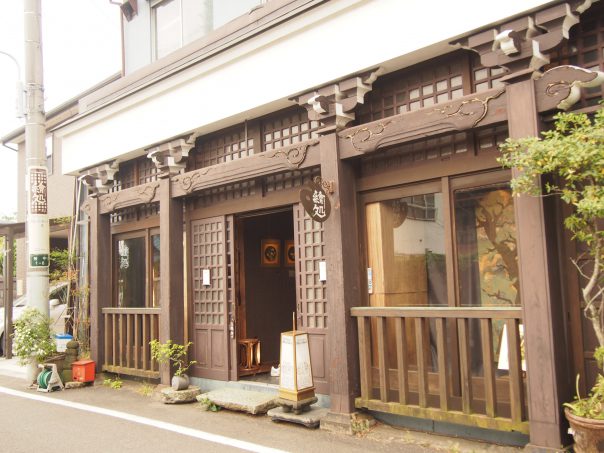 He is a Japanese-style painter born in United States.
You can go inside his atelier for free.
Here is Japanese style so you need to take your shoes off.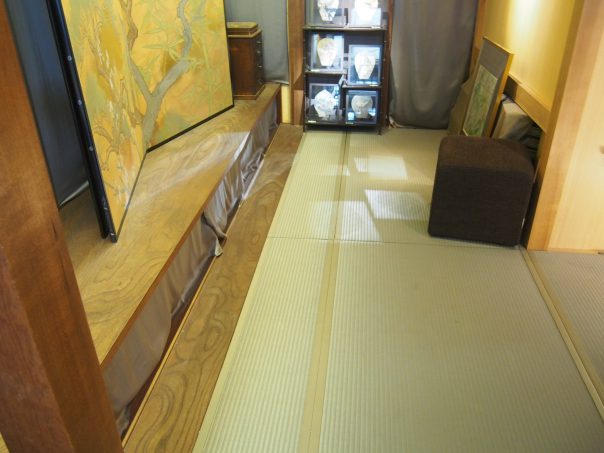 Luckily the day I visited there was Allan West himself.
I had a small talk with him and he told me he graduated from Tokyo University of the Arts and learned Japanese-style paint there.
He was very friendly person and could speak fluent Japanese.
He is not always here but if you are lucky you can meet him and ask his beautiful works.
Check his website for the details of this atelier and his works.
Allan West
Address : 1-6-17, Yanaka, Taito-ku, Tokyo
Kabaya coffee and Yanaka bossa
I kept walking and got to retro coffee shop.
This Kabaya coffee shop, one of the symbols of Yanaka, was built in 1916.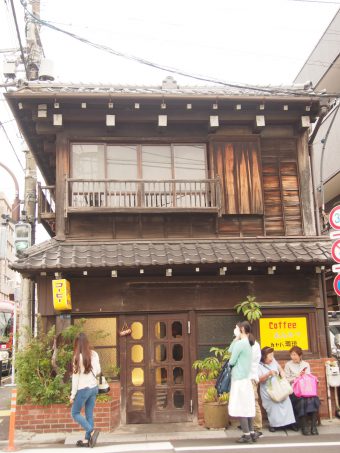 Along the same street is Yanaka Bossa which was also built more than 100 years ago and renovated after that.
Both coffee shops are popular and there are lines of people when I visited but it must be worth visiting if you want to enjoy old traditional touch with a coffee.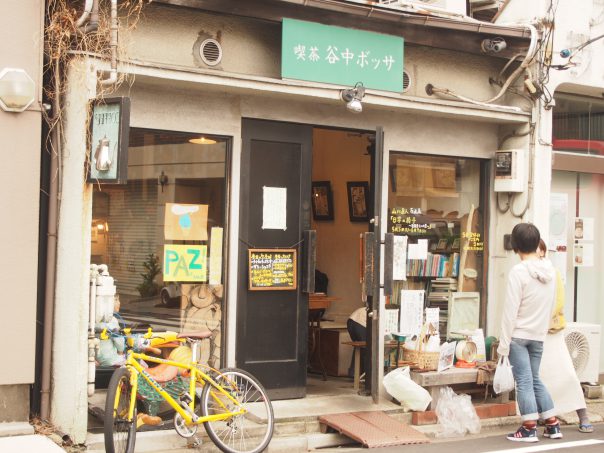 Sky the bath house
I didn't visit but there is this gallery Sky the bath house near Kabaya coffee and Yanaka bossa.
It looks like sentou but it is a gallery that is renovated the old sentou which had history of over 200 years.
You can enjoy various arts from home and abroad inside.
It has no scheduled holidays that check its website for the details if you visit there.
Sky the bath house
Address : Kashiwayu-Ato, 6-1-23 Yanaka, Taito-ku, Tokyo
Ueno Sakuragi Atari
It was a good encounter with Ueno Sakuragi Atari.
I did't know what is here for but I was drawn to this place.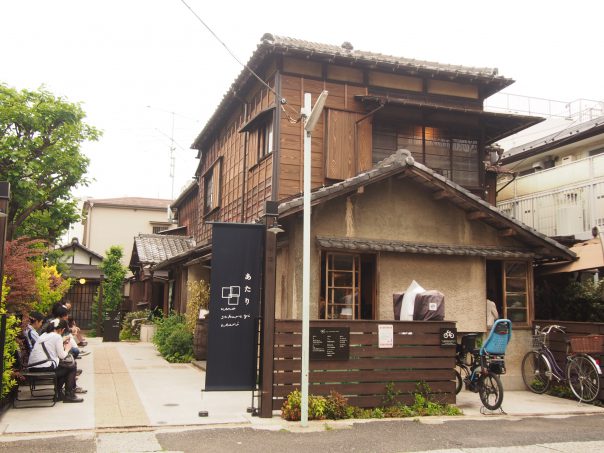 What I like most about this Ueno Sakuragi Atari is its concept.
Ueno Skuragi, a neighborhood where the history and culture of old Edo-era Tokyo live on, a place to experience the merits of an older way of life.
Here, three old houses dating back to 1938 have been given a new life, housing stores, workshops, and residences connected by shared walkways and tatami rooms.
This is Ueno Sakuragi Atari.
It is a space for locals and visitors young and old to discover and enjoy a different pace of life.
T name, Atari — a fluid word that can mean a neighborhood or surroundings — expresses the possibilities to expand and grow.
Tucked down a quiet alley, it exudes a feeling and sense of time unique to Ueno Skuragi,

Source : Ueno Sakuragi Atari

Ueno Sakuragi Atari
This place was remade by tukakoshi corp, NPO Taitou history and city study group and local citizens to remain 3 old Japanese style houses that was built in 1938.
I thought this is very good concept.
To preserve old houses not only by NPO and company but with everyone and make it attractive place where everyone can join, plan and offer.
I think connection and share is very important in this modern world.
I didn't drink or buy things at that time but just hanging out inside was very interesting.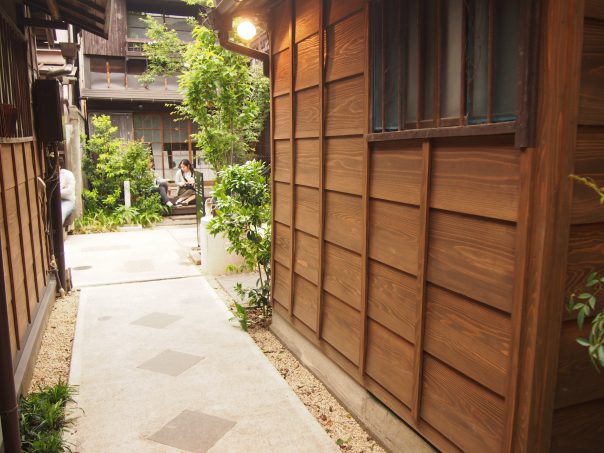 I could go inside.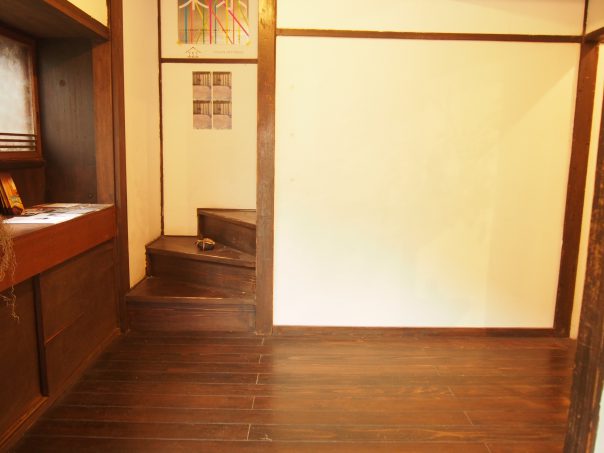 Found well!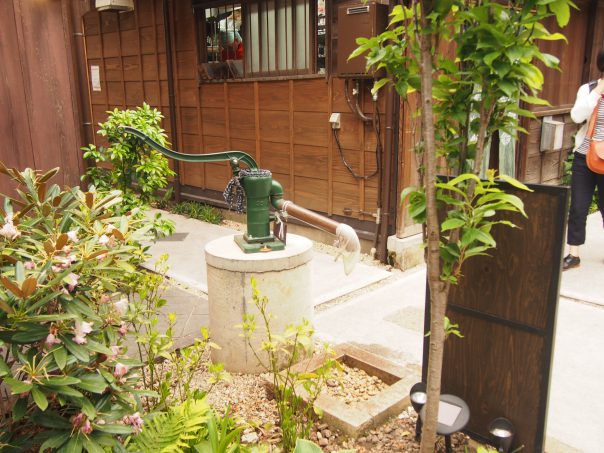 Next time I want to try beer of natural yeast.
Ueno Sakuragi Atari
Address : 2-15-6 Ueno Skuragi, Taito-ku, Tokyo
Yanaka Cemetery
And lastly on the way back to Nippori station is Yanaka Cemetery.
This is a huge cemetery, at about 10 hectares, with more than 7000 graves.
Symbolic figures of Japan such as last general Yoshinobu Tokugawa, Eiichi Shibusawa who is called father of Japanese capitalism, Prime minister Ichiro Hatoyama, etc. are at rest.
Main street is famous for beautiful Sakura in Spring.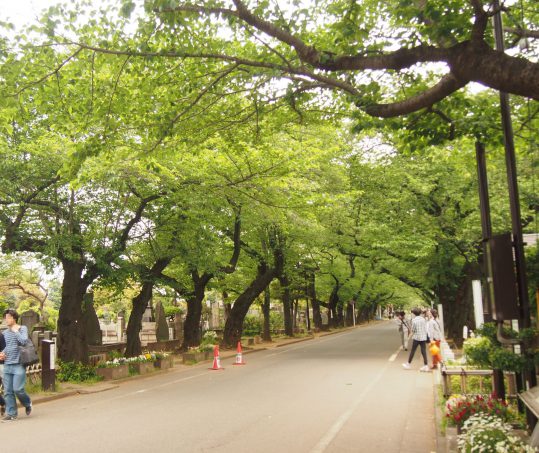 Summary
Yanaka is one of my favorite spots for taking a walk.
I can feel the connection of local people and each shops when I visit here.
If you want to enjoy lively town, Saturday or Sunday is good but if you want to enjoy more calm atmosphere, weekday is better.
There are still many unique shops or places that I couldn't introduce in this page.
If you are interested in Japanese religion there are also many temples and shrines that I couldn't pick up here.
Here in Yanaka you can see various aspects of Japan.
PS. if you come to Tokyo and need help, I'll be a guide for free, so feel free to contact me from Inquiry