From Yanaka to Nezu no Taiyaki and Nezu shrine
You can go to Nezu shrine from Yanaka as it is close.
So I visited Nezu while taking a walk in Yanaka.
Here is the article of it if you are also interested in Yanaka.
Strolled around Yanaka in Tokyo
There is a famous taiyaki shop Nezu no Taiyaki nearby Nezu shrine.
Taiyaki is a fish‐shaped pancake filled with bean jam.
It is a famous Japanese sweets since old days.
Nezu no Taiyaki opened its business in 1957 and always a line of people in front of the shop.
I was going to line up though I don't like line even if it is 5 minutes.
Luckily there was no line and I thought I'm very lucky today.
When I got to the front I understood the reason of no line.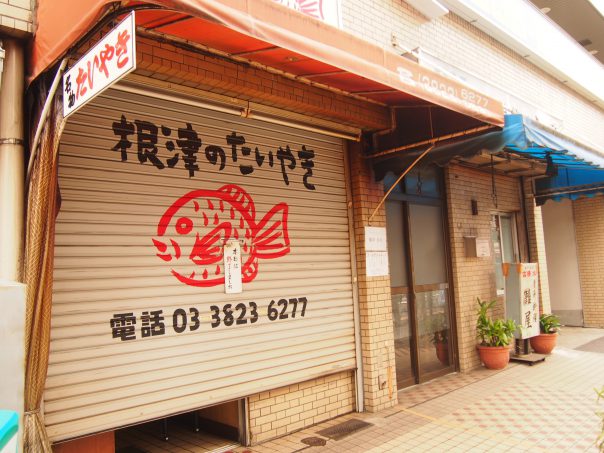 Check the business hours and the day before your visit.
Nezu no Taiyaki
Address:1-23-9-104 Nezu, Bunkyo-ku, Tokyo
There are some sweet shops alongside the street to the main entrance to Nezu shrine.
Nezu Shrine
Legend has it that this Nezu shrine was first enshrined by Yamatotakerunomikoto (Japanese legendary prince) about 1900 years ago.
The main enshrined deities are Susanoo no Mikoto, Oyamakui no Mikoto, Hondawake no Mikoto (Japanese legendary deities).
It was first erected in Sendai in Miyagi prefecture and relocated to here in Nezu by the 5th Shogun Tsunayoshi Tokugawa to commemorate the adoption of his successor Ienobu (The 6th Shogun of Tokugaw).
Tsunayoshi Tokugawa established the present 7 buildings in 1706.
The 7 buildings including majestic main building in Gongen-style, Kara gate, Roumon gate are designated as Important Cultural Properties of Japan.
Roumon gate of Nezu Shrine is the last Rouman gate in Tokyo that keeps its style since Edo era.
This Nezu shrine is also a famous spot for beautiful azalea.
The day I visited was azalea festival and ladies in Kimono were welcoming visitors at the gate.
Nezu Shrine Annual Grand Festival held in September is also famous for one of the three most renowned Edo festivals.
You can enjoy traditional ceremony and art performances of traditional dancing such as Urayasu no mai and sanza no mai in this festival.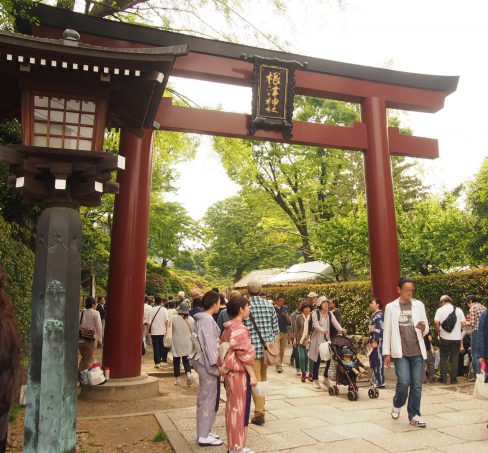 Inside and main building of Nezu Shrine
There was a pond inside.
I could find some carps and turtles there.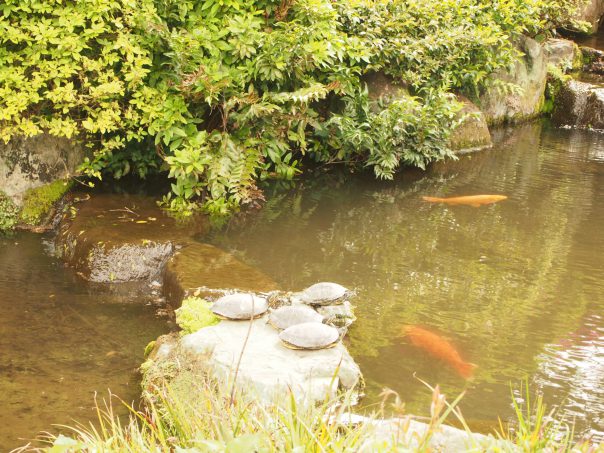 Performance of dancing was going on although I didn't know what it was.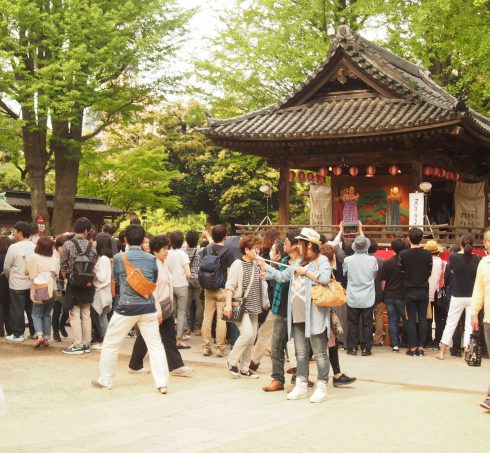 This is for cleaning hands and rinsing mouth before your praying in shrine.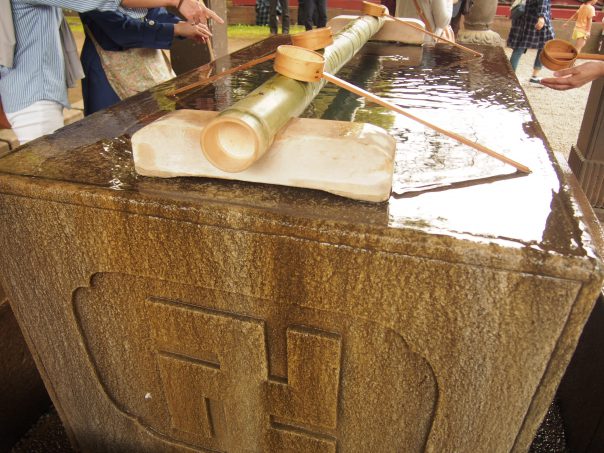 There was a line of people for praying.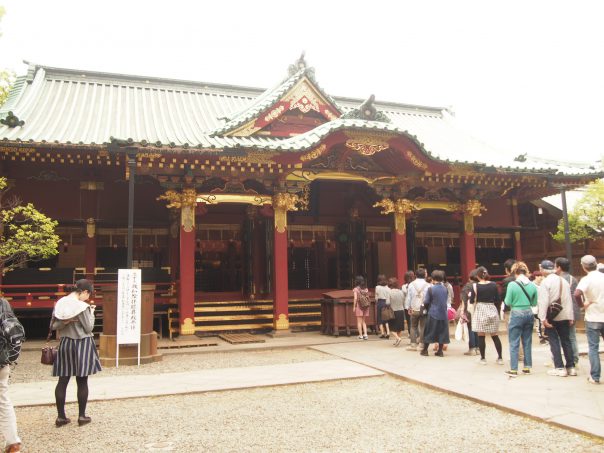 You can also see a Japanese nutmeg tree here.
It is said to have been it realizes your dream by the power of white snake (messenger of deity) that live in this tree if you make a wish.
There are many votive picture tablet and written oracle papers around the tree.
Otome Inari Shrine and Senbon Torii (1000 Shrine Gates)
Next to the main building was Otome Inari.
It reminds me of Fushimi Inari Shrine in Kyoto.
It is said that these shrine gates were donated by the people whose wishes were realized after worshiping Nezu Shrine as a token of gratitude.
So each Torii shrine gates has wishes of those people that it is said to have been all the evil spirits are driven out when you go through under this gates from North to South.
Just go through under these Torii gives you a good luck.
In the middle of this 1000 Shrine Gates you can see Otome Inari Shrine.
Otome means a maiden or a virgin in Japanese.
Ukanomitama no Mikoto or Oinari sama (Godess of harvest, business success, cultivation of live, etc) is enshrined.
This place is famous of giving good luck for love as it enshrines Ukanomitama no Mikoto (Oinari sama) as a symbol of female that cultivates life.
Famous place as a matchmaking or a power spot.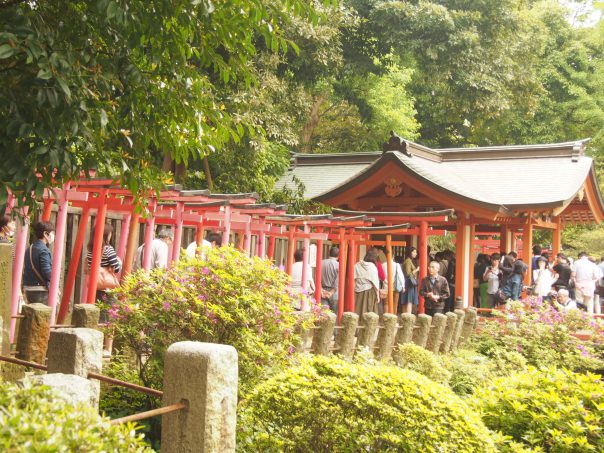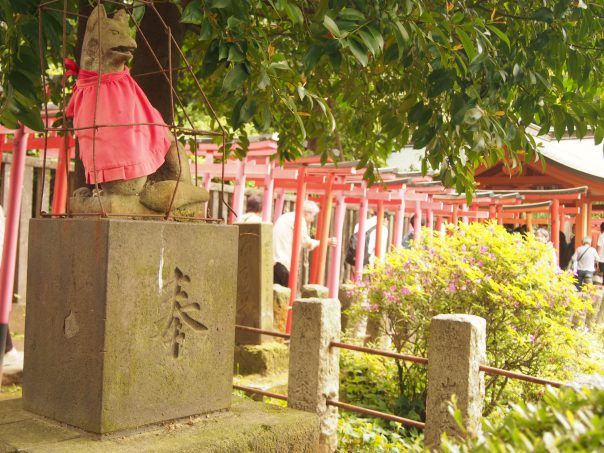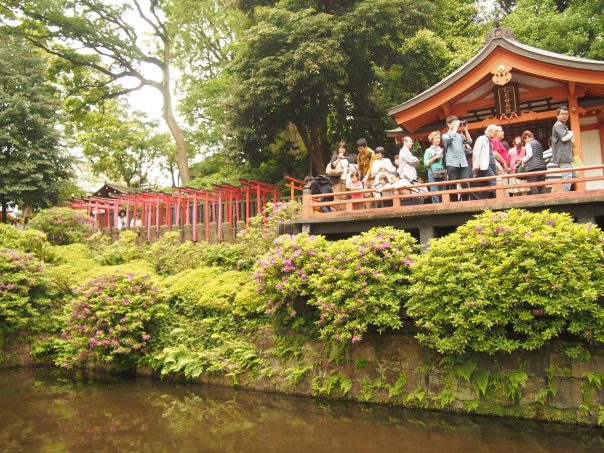 TsuTsuji Matsuri (Azalea Festival)
The day I visited was the day of Azalea Festival.
This place is also famous for its beautiful azalea (Tsutsuji in Japanese).
It usually holds this festival around mid-April to early May with around 100 types of 3000 azaleas.
I came here at the end of the season of azalea but still I could see some azaleas in bloom.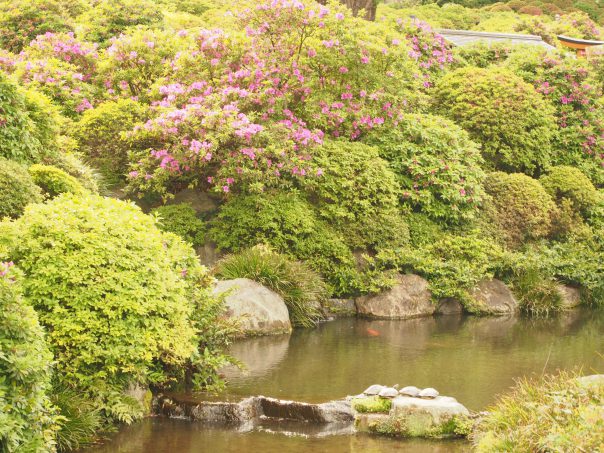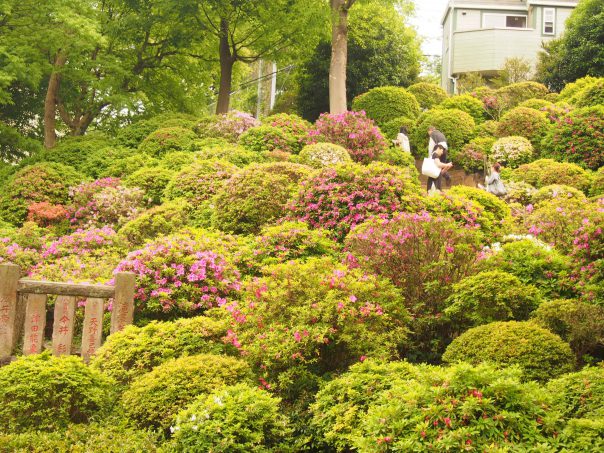 You can enjoy food stalls.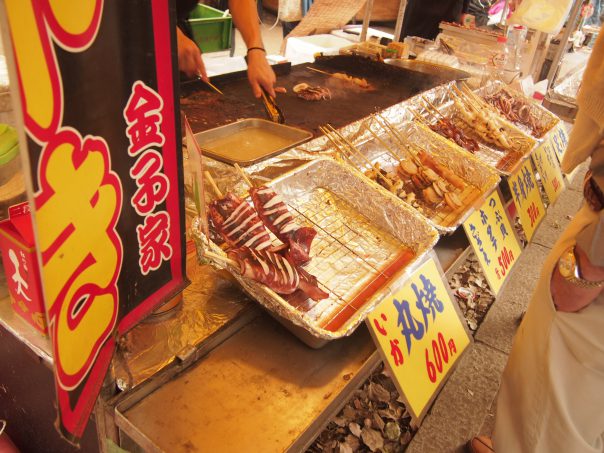 This is a carnival shooting gallery.
You can get a toy or a prize if you have good shooting skill.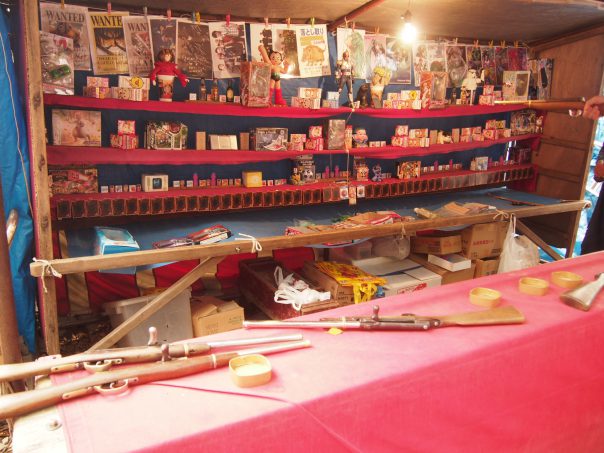 Bananas covered in Chocolate!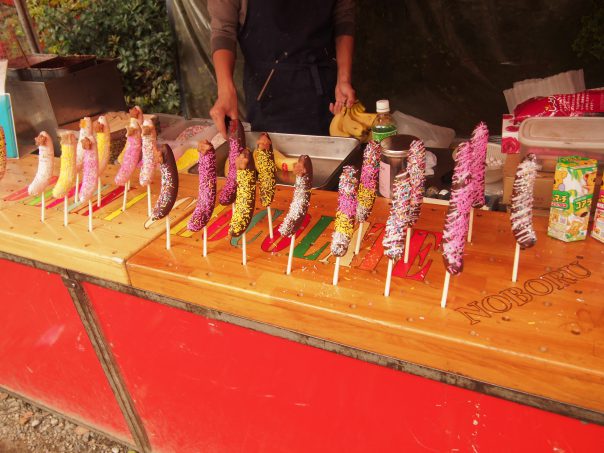 Candy apple!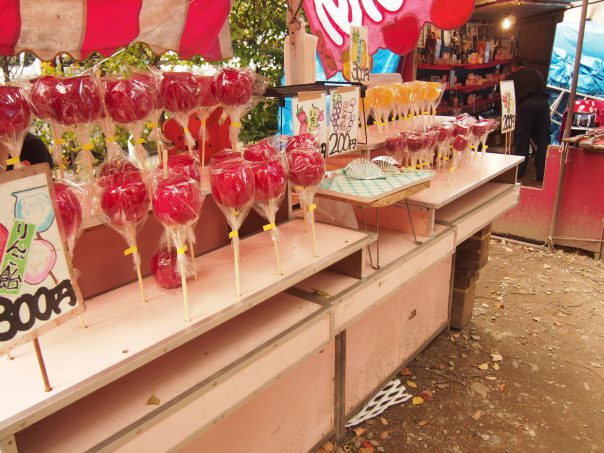 Indispensable food in Japanese festival Takoyaki Octopus fritters!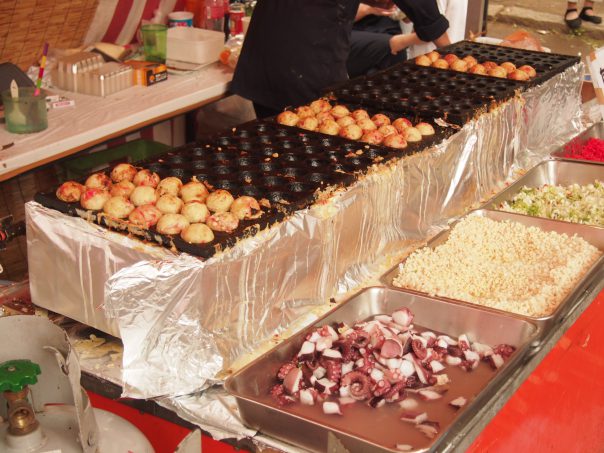 Summary
This was my first visit to Nezu shrine.
There were many people there as it was holding Azalea Festival.
If you enjoy lively atmosphere of Japanese festival and its traditional performances I recommend you to visit during this Tsutsuji Festival or Nezu Shrine Annual Grand Festival.
But if you want to enjoy the quiet atmosphere shrine holds I recommend you to visit on weekday excepting for this Tsutsuji and Nezu Shrine Annual Grand Festival.
Yanaka is also within walking distance so why don't you visit this old traditional town, too?
PS. if you come to Tokyo and need help, I'll be a guide for free, so feel free to contact me from Inquiry