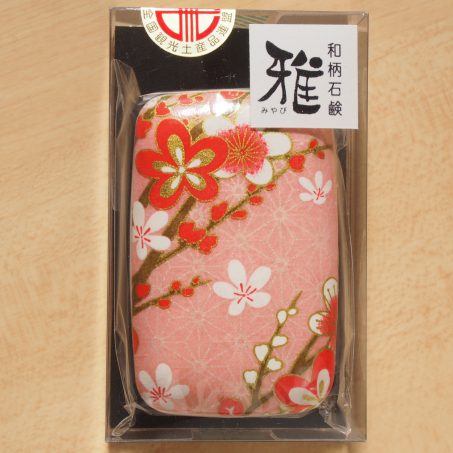 What's wondrous
What's the wondrous of this soap?
It certainly looks beautiful for Japanese pattern or beautiful wa design but then what else?
Yes, surprising point of this soap is the design printed on the soap doesn't disappear until the end.
So the pattern keeps remaining and you can enjoy the color anytime.
Secret of wondrous pattern
But why this pattern doesn't disappear?
It's because of Japanese paper Washi.
Washi paper that is specially-processed is attached to the one side.
That makes possible to keep remaining the pattern on the soap.
Handmade technique
This soap is made one by one by craftsman in Shizuoka Prefecture.
It's not mass-production soap which you can get in ordinary store.
Applied is decoupage technique.
It is carving or cutting up technique.
Re-painting the crafts after attaching cut paper and napkin, etc to the surface of it.
They say it is first started by an Italian craftsman who referred to the Urushi products in Japan.
Material
It uses oil that is extracted from a palm tree.
So you can feel gently wash-out feeling after washing your hands.
Rarity value
Actually this soap is not cheap like you can buy at ordinary store.
Main reason is handmade in Japan by craftsman.
For myself I also have this one but I usually use ordinary additive-free soap as it is cheaper (Still additive-free soap is also expensive).
But it worth it if I consider the time and effort put into this soap by craftsman.
And handmade makes it the only one soap in the world as I can't get exact same design.
My private request
I like this unique Japanese handmade soap and idea of keep remaining the pattern using Washi.
But its main use is only for hands not for body.
If I could use this soap even to my body that's more useful.
I think there is certain reason only for hand's usage.
It might be hard thing to widen its usage even to body.
But I'd happy to buy it if this soap was renewed even for body wash.