If you want to enjoy real sake and sake brewery.
I highly recommend this festival of Terada Honke.
Only in this festival, you can see inside sake brewery of Terada Honke.
To tell you the truth, I can not drink alcoholic drink because I don't like the taste of alcohol.
So I keep drinking juice instead of beer or sake when I enjoy time at Izakaya (Japanese style bar).
Yes, I'm like a child, haha.
But I can drink only sake of Terada Honke.
Rather I feel like it's tasty.
I myself was surprised.
But I found the reason later.
Their sake was real one, not sake of mass production with chemicals.
In this article, I'll introduce Terada Honke and about this sake festival.
Contents
4. Visiting Terada Honke Sake Brewery
   4.1. Araiba
   4.2. Muro
   4.3. Shubo Muro
   4.4. Moromi Making
   4.5. Sake Tasting
5. Outside Again
6. Summary
Terada Honke and Sake
Terada Honke is sake brewery in Chiba Prefecture.
If you buy ordinary sake at supermarket, what you can get is mostly sake with chemicals (especially cheap ones) and they are mass production.
So I feel bad taste of alcohol and I can not drink most of them.
But here what Terada Honke make is authentic sake I can say.
Because they use only organically grown rice and do not add any chemicals to the sake they make.
That kind of sake is actually very rare here in Japan.
Not only that, they also focus on manual work and make best use of natural microbes.
Manual works were standard in the old days such as Edo period (1603 to 1868) but removed by the appearance of machine over time.
Certainly machine made possible to produce sake in large volume efficiently.
Terada Honke also shifted the way like other sake companies over time and started mass production.
Even chemicals they used like other sake companies (adding chemicals became standard for most of the sake companies and even now).
Profit was very important.
But they changed the way completely, the head at the time realized most important thing is not profit but make others happy with authentic sake.
They stopped using chemicals and changed the rice for sake to organically grown rice only.
Even machine works they removed as much as possible from the process and started to use hands of human.
They also started making use of help of natural molt and microbe for their sake instead of using or buying artificial things.
Certainly all of them costed them a lot but they tried hard to make authentic sake.
And their sake was allowed, the word spread over time.
Now the sake of Terada Honke is known to those in the know
Access
If you want to enjoy festival of Terada Honke, you need to get to Shimosa-Kozaki station.
Shimousa Koouzaki is the closest station to Terada Honke.
From Tokyo, you need to get to JR Nippori station first.
From Nippori station, it takes 1 hour and 41 minutes to Shimosa-Kozaki station by train (you need to change trains 2 times).
It costs you 1100 yen (About $10.5).
Following is the details of the access to Shimosa-Kozaki station from Tokyo.
1. Nippori Station (Keisei Main Line Limited Express)
2. Keisei Narita Station (3 minutes' walk to Narita Station)
3. Narita Station (JR Narita Line)
4. Shimosa-Kozaki Station (about 20 minutes from Shimosa-Kozaki station)
5. Terada Honke
Okura Festa
I could see free shuttle bus in front of the station when I arrived.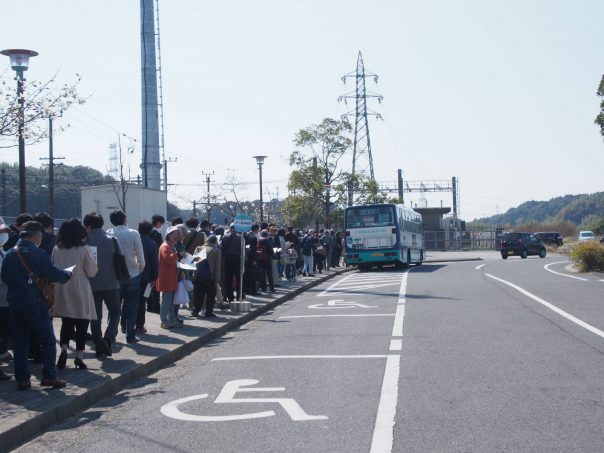 There were also people who go to Terada Honke on foot.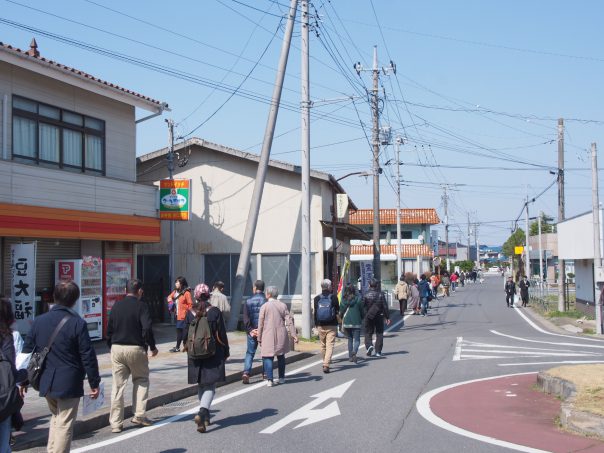 There was a staff of Terada Honke handing out flyer of the festival.
I asked him the distance and he told me it is about 20 minutes on foot.
It is not that far so I decided to go on foot.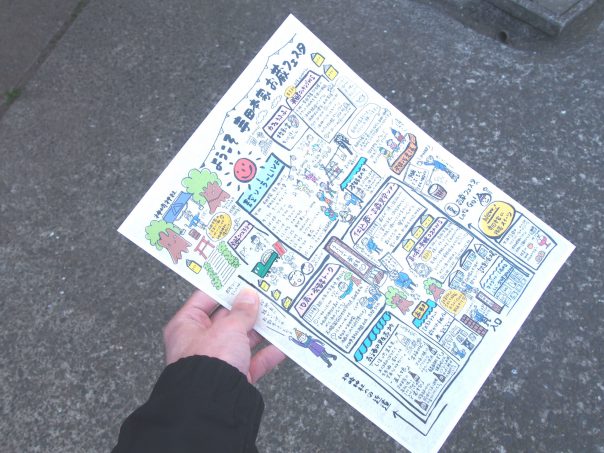 I found cool shop on the left.
What shop is this?
There was a board that says ALUMONDE.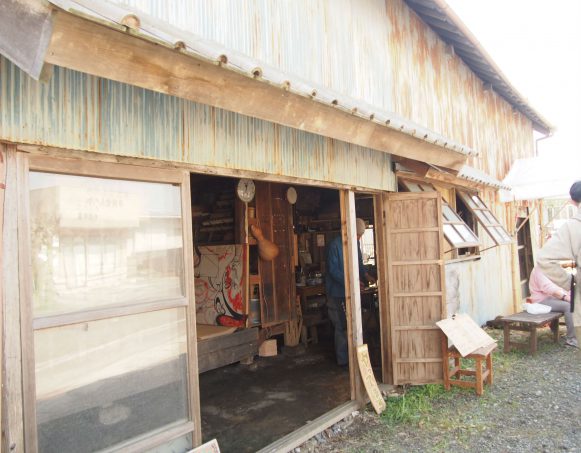 Later I checked this place and found that the place was made by NPO called Tojiba.
They try things and hold event related mostly to agriculture.
This was once a warehouse and they renovated it into community space.
I wanted to drop off but the festival was scheduled to over in about 2 hours so I did not this time.
Walked about 15 minutes and yes now I can feel the atmosphere of festival.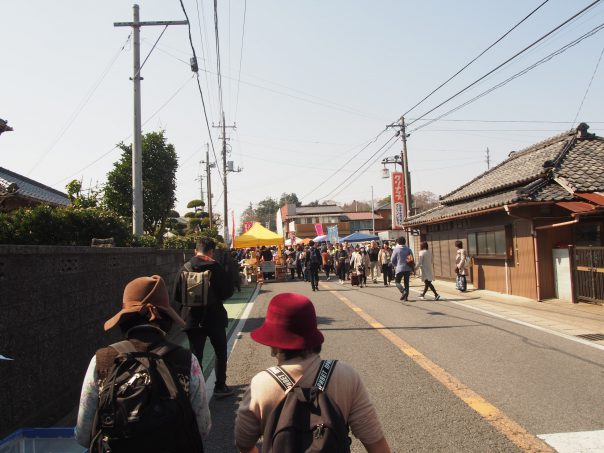 Food stall of Karaage (Deep-fried chicken).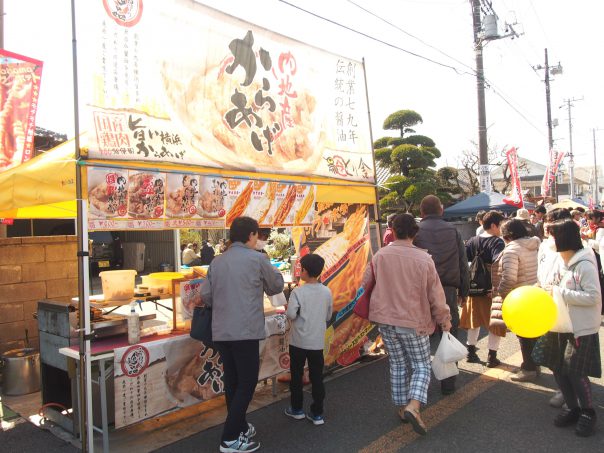 They were selling fresh Mochi (rice cake).
There was a line of people in front of this shop.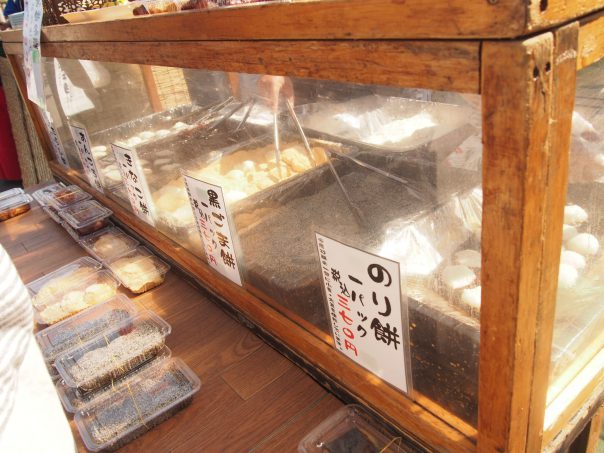 Looks like they were using this Usu (mortar) for pounding mochi.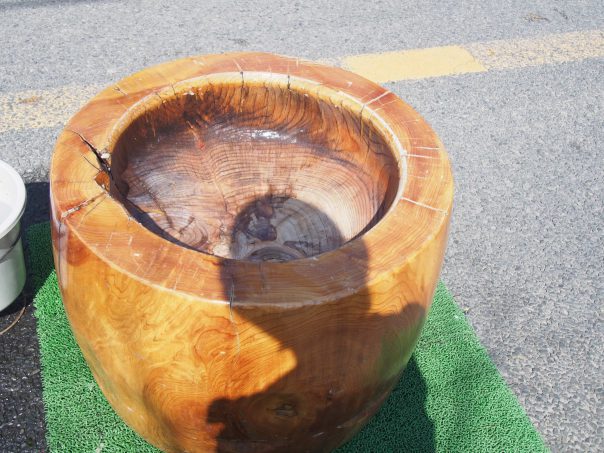 Cutting board of ginkgo tree!
That's rare and they were very big!!
They looked like four times as large as standard ones.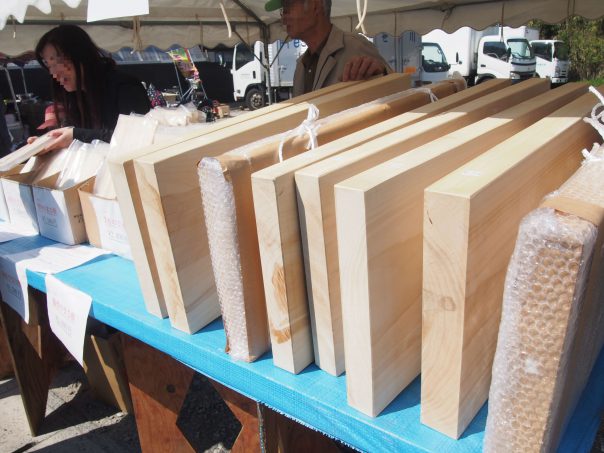 Horns of deer and survival knives.
They are also rare.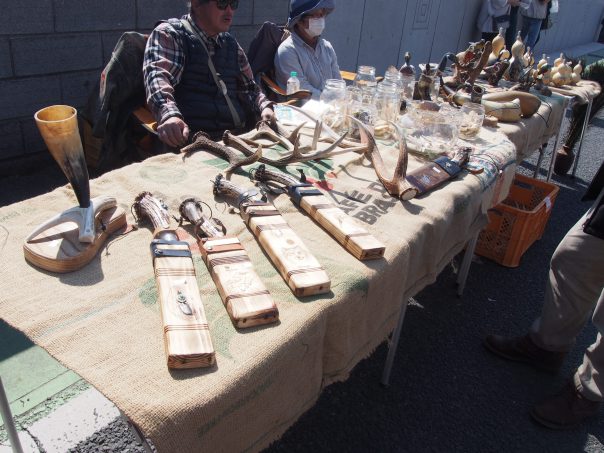 Miso of sun-dried salt and sprouted brown rice.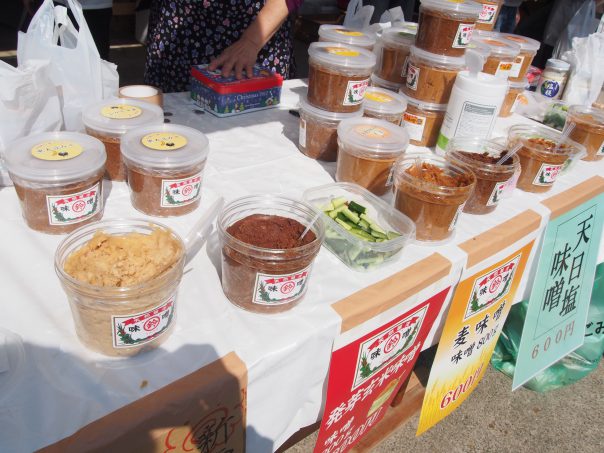 This is sake brewery of Nabedana corp.
You can buy or taste sake here as well.
Last time when I joined this festival, I tasted sake here.
I'm gonna visit here after Terada Honke.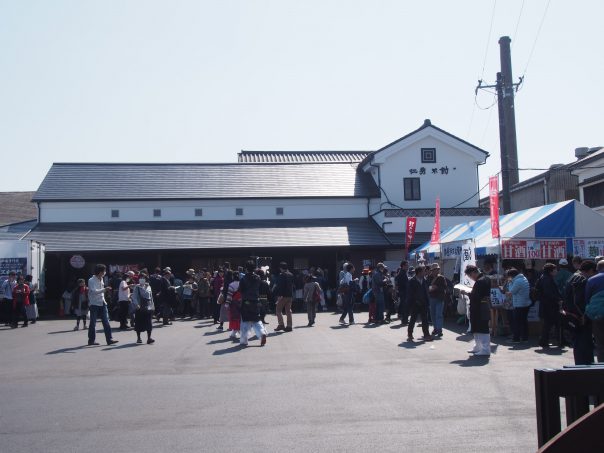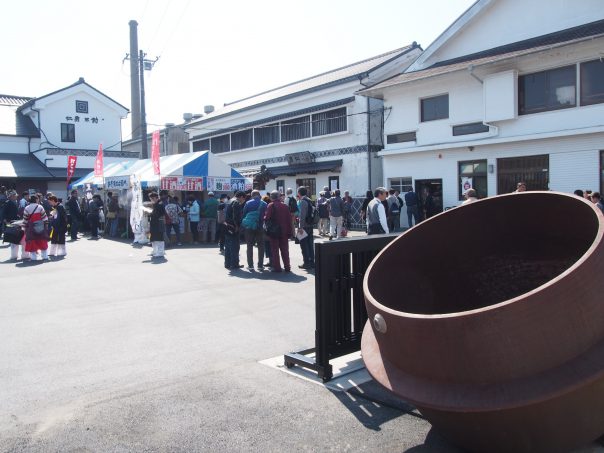 Japanese sweets look good!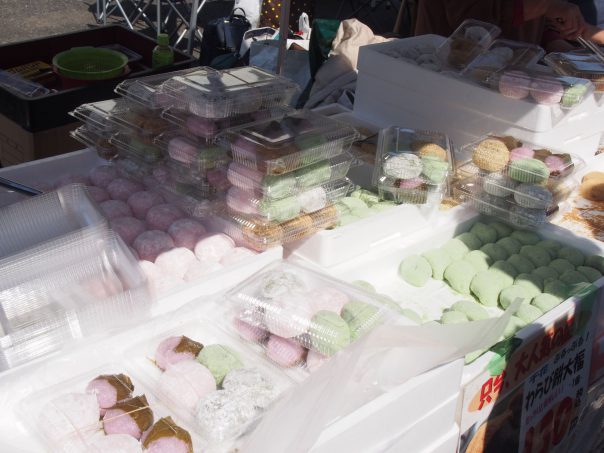 I bought Warabi Mochi Daifuku as it looked like popular sweets here.
Warabi Mochi is a Japanese sweets made from bracken starch.
Daifuku is a soft round rice cake stuffed with sweet bean jam.
But this combination of Warabi Mochi and Daifuku was first time to hear.
It tasted very good!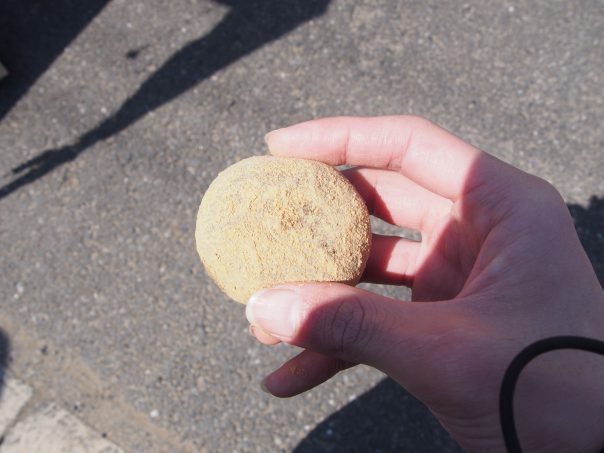 Tama Konnyaku, that is Konnyaku Shaped Ball!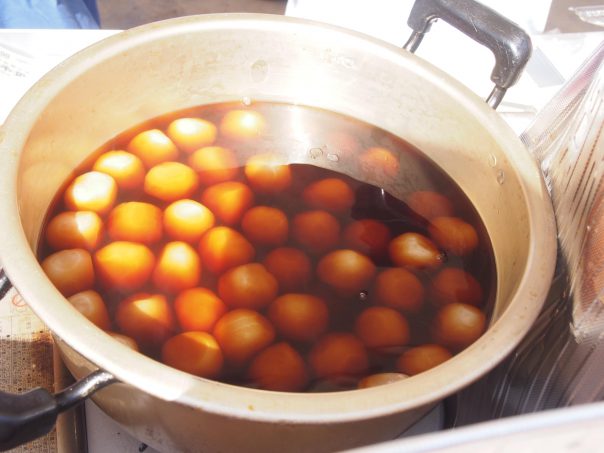 Konnyaku is made from konnyaku yam routs.
It costed me 100 yen ($0.9)
This one was a bit hot taste (usually it is not hot taste) but was very good!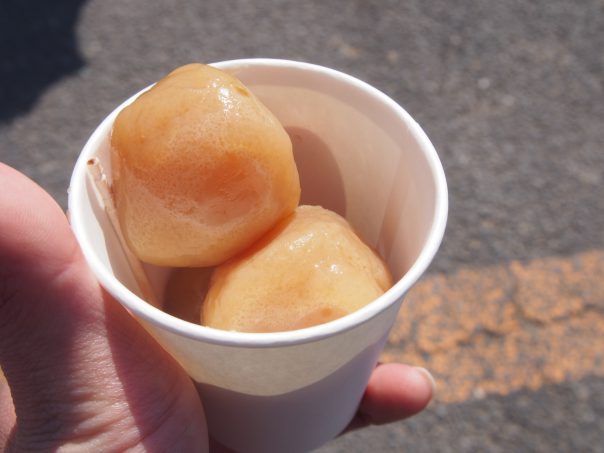 Found Brown Rice Malt Miso!
This is also very rare Miso.
I wanted to buy it if I had not Miso in stock.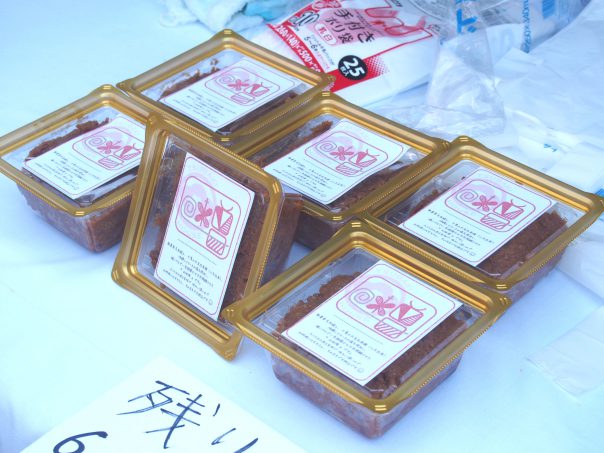 Who are you?
I'm afraid but I don't know this character.
Something related to Sake?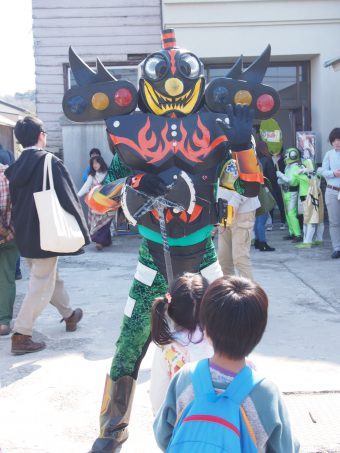 Anyway children were attracted, so did I, haha.
Sake cups and baskets.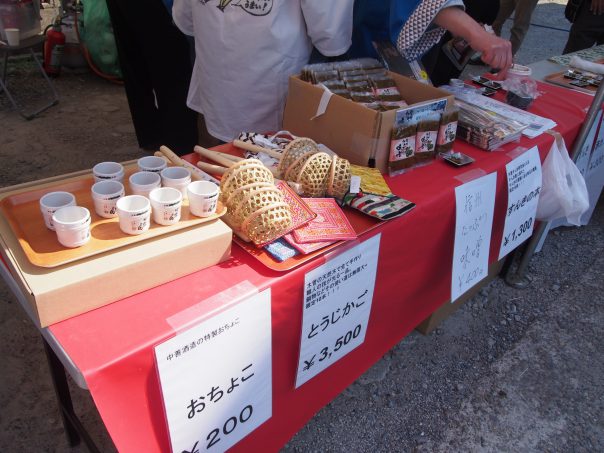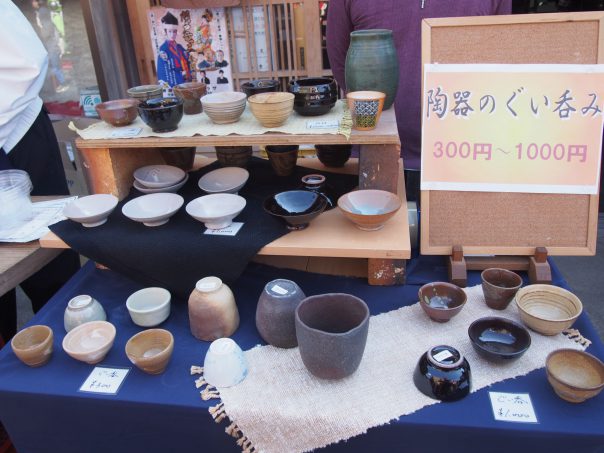 You can enjoy Sangria here.
It might go well with cheese.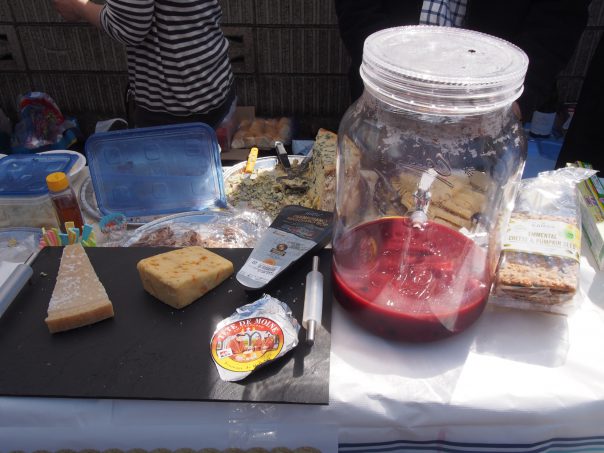 Baked Sweet Potatos!!
Oh, this is Annou Imo, that's a quality one!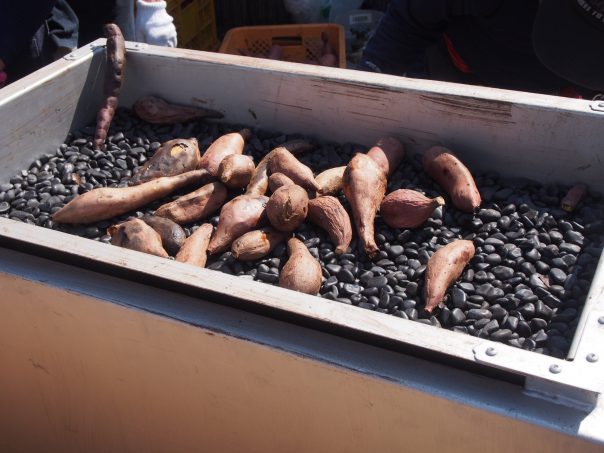 Manual works!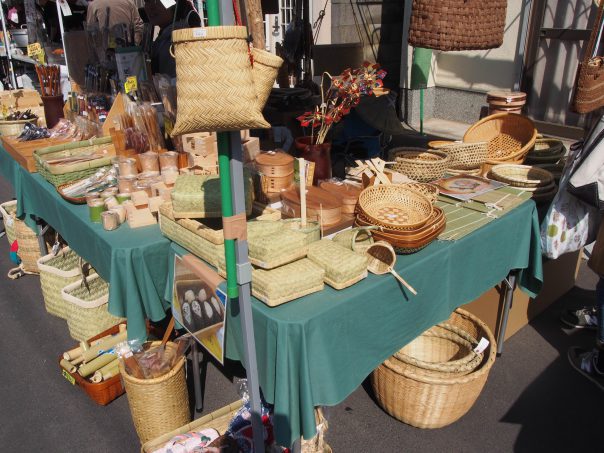 Ancient lotus roots?
Oh, yes we also eat roots of some vegetables including this lotus roots in Japan.
Must be rare food culture.
But first time to hear Ancient Lotus Roots.
Loos like it was featured on TV program as well.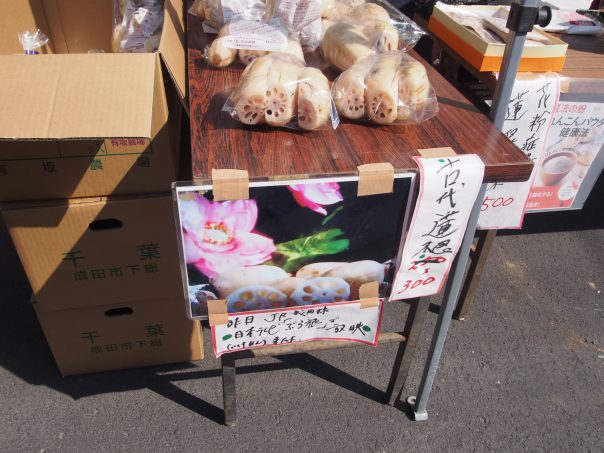 Curry bread.
I recommend you this curry bread if you come visit Japan.
It tastes very good!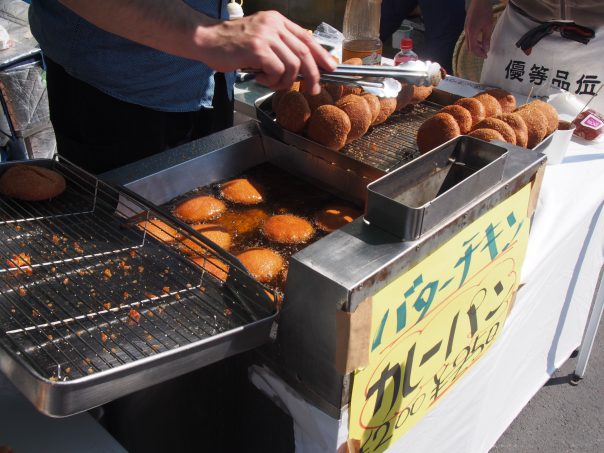 Hamburg stake but made all from black soybeans.
I wanted to try but skipped this time as there was little time left.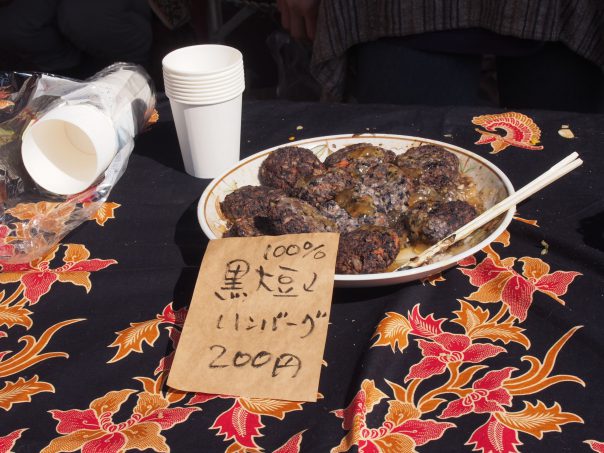 Ai bags and clothes!
Indigo blue is beautiful, isn't it.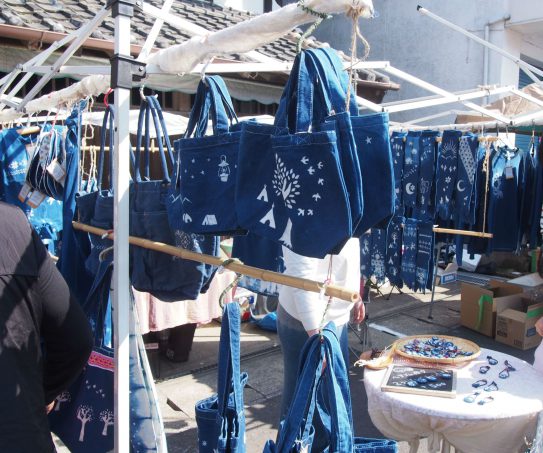 Pickled vegetables and malt jam!
Malt jam?
Never heard of!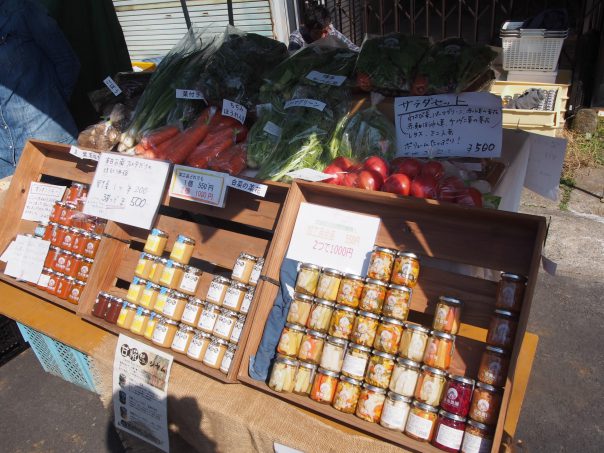 I split the page into 2.
Next page I go inside Sake Brewery of Terada Honke.
Have a look next page from down below, too!