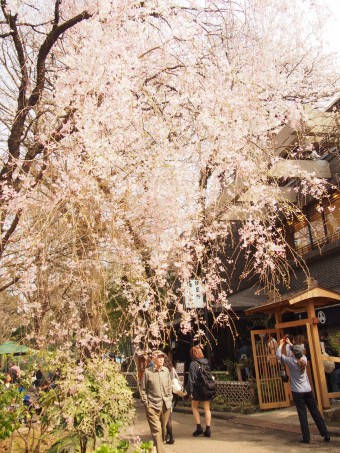 Cherry blossom or Sakura season came.
Now is just the season as first cherry blossom bloomed on 21th March in Tokyo in 2017.
But to predict the exact date of its blooming is sometimes difficult.
Still I think it is very important thing to predict the date if you come visit Japan in Sakura season.
When do cherry blossoms bloom in Tokyo?
I can say safest plan is to come visit Tokyo between 25th March and 5th April.
Because it usually comes to bloom in later March and ends before the middle of March.
But please take the date just as reference as sometimes it blooms earlier than usual and ends earlier and vice versa.
It also being effected by the weather.
If it rained a lot or strong wind blew during its bloom, the petals would fall even in the season.
But except for that kind of effects by nature, I think between later March and early April is best date to visit.
I summarize past 5 years data of cherry blossom's flowering date and full bloom date here.
I took following data from Japan Meteorological Agency.
2012
Flowering Date : 3/31
Full bloom Date : 4/6
2013
Flowering Date : 3/16
Full bloom Date : 3/22
2014
Flowering Date : 3/25
Full bloom Date : 3/30
2015
Flowering Date : 3/23
Full bloom Date : 3/29
2016
Flowering Date : 3/21
Full bloom Date : 3/31
What to Wear?
The temperature of early April is between 10 to 15 degrees.
It might still be a bit cold if you wear T-shirt and shorts but you don't need heavy Jacket in winter.
As for me, I wear long sleeve and light Jacket or hoodie in this season.
If you feel cold you put on something to wear such as light Jacket or hoodie, etc and you just slip off it if you feel hot.
The temperature keep getting higher towards Summer.
Cherry blossom forecast in Tokyo in 2017
As it bloomed on 21th March, I think it will full bloom in 1 week from the date, that is, around March 28th it will be in full bloom in Tokyo in 2017.
It will be in full bloom for about 5 days and after that comes to fall in 1 week.
So I think from around March 28th to 1st April is best time for viewing cherry blossom this year.
Most of the petals will be fallen before around 7th April.
But actually the time petals start falling in the breeze is really beautiful like the time in full bloom.
Summary
I'm going to visit some main Sakura spots in Tokyo.
I'd like to visit day and night as it shows different face by the time.
I plan to take a video, too if possible.
Look forward to it!