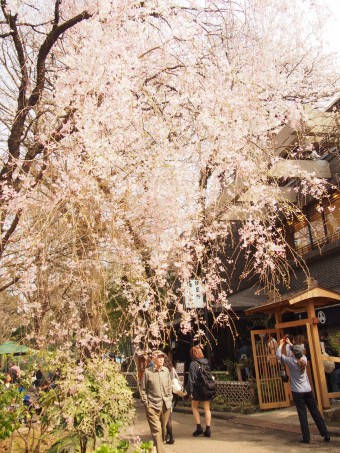 Hirostory
In Nara period (710~794) plum was popular than cherry blossom in Japan so there were more poems related to plum than cherry blossom. But in Heian period (794-1192) poem related to sakura came to popular and it outnumbered the poem of plum in the end.
In 1912 3000 seedlings of sakura was sent to Washington, DC.  as a symbol of the friendly relations between Japan and the United States. This was all done by great effort of National Geograpic director Eliza Ruhamah Scidmore that visited Japan in 1884 and impressed by seeing Sakura in Mukoujima.
Ohanami and alcohol
You can enjoy sakura with alcohol drink from day to night.
Some country prohibit to drink alcohol outside especially at public spaces but there is no such kind of prohibition in Japan. Some people might think why this kind of thing is OK in Japan?
My guess is most Japanese usually don't drink alcohol outside even if there is no prohibition in law.
If Japanese drink alcohol we do drink at izakaya (Japanese style bar) or at home as we separate the place to drink like Japanese custom of taking off shoes inside house.
Of course few people might drink outside but that's rare and not common scene in Japan.
But only sakura time is special occasion so everyone can drink outside without caring about that kind of thing.
Sympathy and spirit for sakura
Why sakura is so beautiful? Of course the scene of sakura in full broom itself is really beautiful.
But the thing it makes more rare and unique is a short period of life for sakura in full broom.
It usually broom at the end of March to the beginning of April for just about 2 weeks.
Only this short period we can enjoy sakura viewing.
So in the middle of April we see petal of sakura fluttering to the ground in the breeze.
We might feel sympathy for them seeing transient and fragile life of human being in them.
Recommended place for viewing sakura in Tokyo
There are many cherry viewing spots for sakura in Tokyo.
Ueno park, Yoyogi park and along Meguro river, etc are very famous sakura spots and every year so many people come visit those places.
But I also recommend you other beautiful sakura places.
Chidorigafuchi (Around Imperial Court)
Here you can enjoy riverside sakura with Tokyo tower. Especially night time is very beautiful as Sakura and Tokyo tower are illuminated with light so you can see beautiful scenery. But illuminated with light time at night and its period are limited  so please check the time and period before your visit.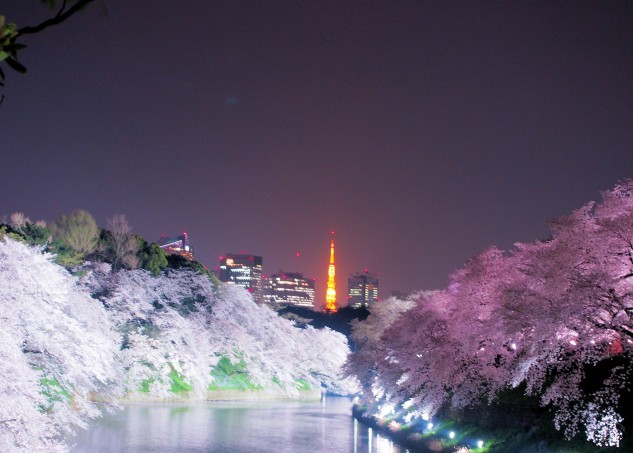 Rikugi en
If you want to see another type of sakura this is the place for you. Here you can enjoy Shidare zakura (Weeping cherry tree). It makes another touching atmosphere different from ordinary sakura. Especially at night time it is as if you were in fairy-tale like world. But of course there are many people at sakura time there and you have to line up a long queue to enter sometimes. Still it is worth visiting place I can say.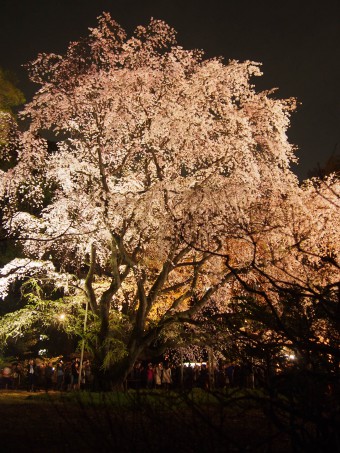 Concern
Sakura viewing party is great moment but there are some problems, too.
After sakura viewing party there are lots of garbage left sometimes. I actually saw even ground sheet had been thrown as garbage. Another case is cutting a twig of sakura tree just for picture or take it back home although I've not seen it myself.
Sakura gives us beautiful moment so we also want to enjoy it with beautiful mind, don't we.
How to make sakura viewing party
I tell you how to hold sakura viewing party from my experience.
I often held sakura viewing party in Yoyogi park. Most important thing is getting place for everyone.
If you visit the place on the day with grounds sheet like after 10 am all the best spots such as under the sakura trees are not left as some others already get the space.
Some people even get the place the day before and sleep overnight there.
I usually get there around 9 am with friends and wait until all the friends come together at noon.
My style was potluck style by asking for bring own food and drink but I also prepared some light snack, juice and alcohol for everyone.
I also asked for bring chopsticks and mug cup as I don't like garbage after this kind of event.
And just enjoy sakura, talking, eating and drinking with friends or family, that's it!