First Sakura or cherry blossom unfolded its bud and came into blossom on 21 March in Tokyo this year 2017.
It became full bloom on around 5 April.
I visited most popular Saura viewing spots and Sakura festivals in Tokyo between 2 April and 5 April.
It was still not like in full bloom but was very beautiful.
I'll introduce each spots with pictures I took.
Asakusa and Sumida River
Sumida River in Asakusa is a famous cherry blossom spot.
You can see cherry blossoms along the Sumida River.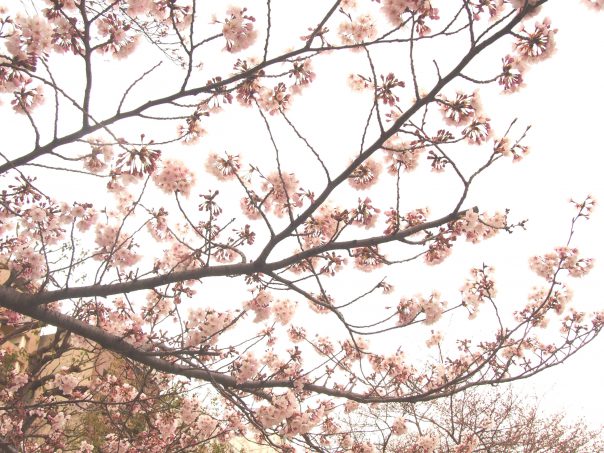 Weeping cherry is beautiful.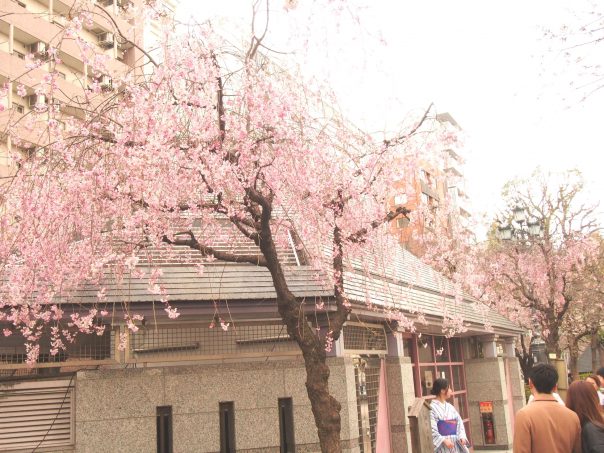 If you are tired, you can take a rest here in Tully's Coffee.
Although the cafe was full of people inside in this season.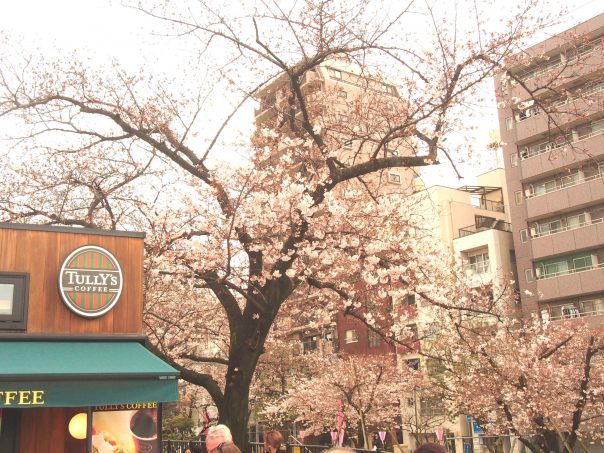 Here is next to Senso-ji Temple.
It is about a 5 minutes' walk from Sumida River.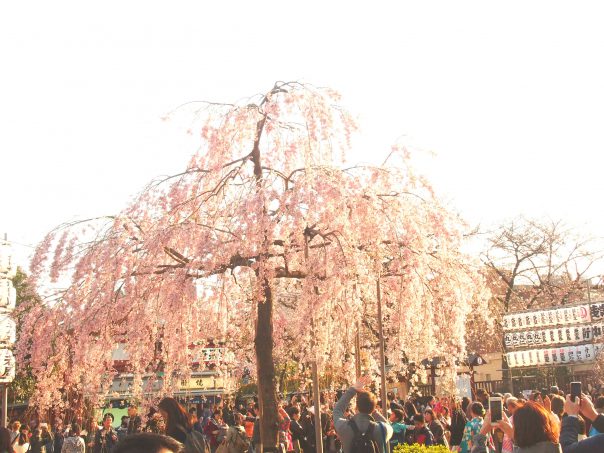 It was not that crowded in Senso-ji Temple as today was weekday.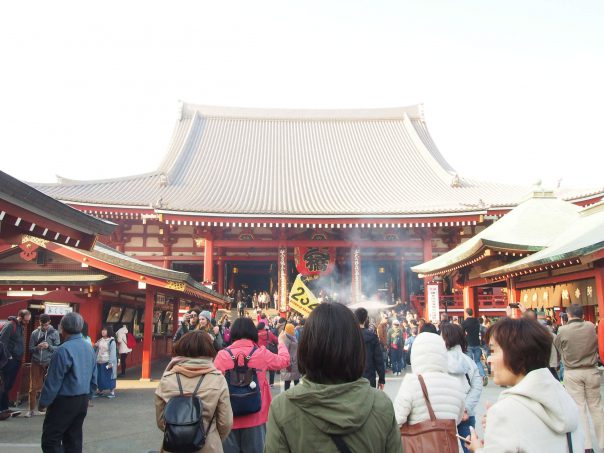 Here you can see Sky Tree, too!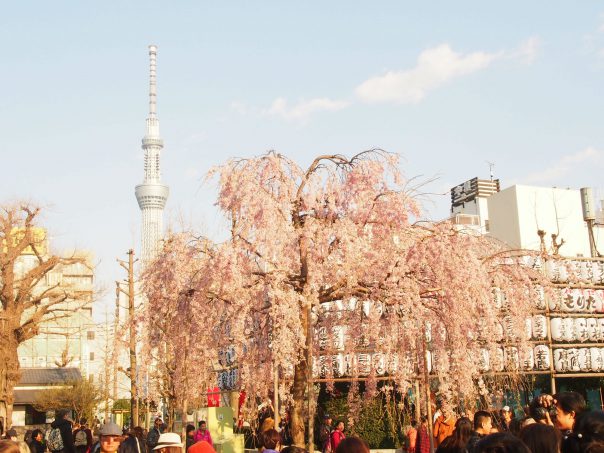 I bought Deep-fried manju.
Manju is a traditional Japanese sweet.
It is a bun stuffed with adzuki-bean paste.
I bought Matcha (Green Tea) flavor.
Tastes good, it is recommended sweet here!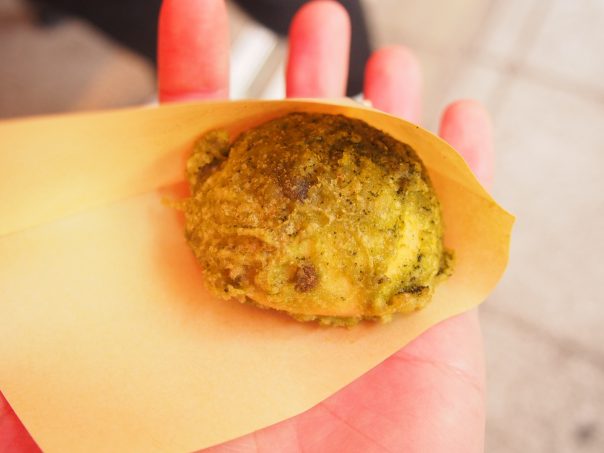 Sumida River (Sumida Park)
Address : 1-2-5 Mukoujima, Sumida, Tokyo
Station : Asakusa
Period of Festival : March 19 – April 8 (2017)
Website : http://visit-sumida.jp/english/
Ueno Park
Ueno Park is one of the most popular spots for cherry blossom.
About 800 cherry trees welcome you there.
I heard the popularity of cherry blossom in Ueno Park for tourists from overseas has been increasing year by year.
And it was true as there were many people from overseas as well as Japanese people.
But I thought why.
And I understood the reason as here in Ueno Park, what you can enjoy is not only Sakura but other things, too.
There are Hanazono Inari Shrine, Toshogu Shrine, Kannei-ji Temple, Five-Story Pagoda, pond, etc.
There are also traditional Japanese food stalls that sell Yakisoba (Japanese Fried Noodle), Okonomiyaki (Japanese Style Pancake), Takoyaki (Octopus Balls), etc in this season.
You can enjoy not only Cherry blossom but also Japanese culture here.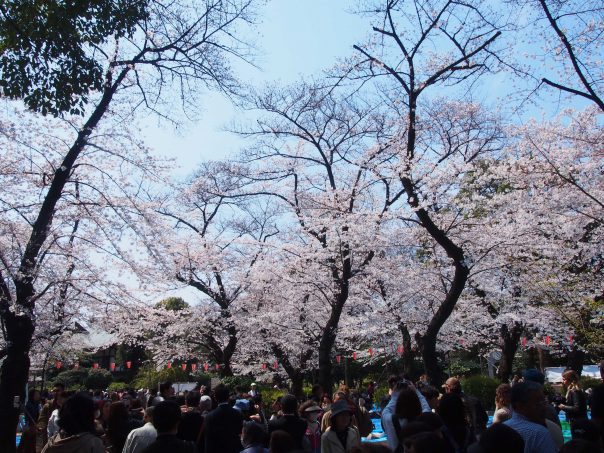 What you mainly see for cherry tree in Japan is Somei Yoshino.
That's the most famous and standard type of cherry tree with a pale pinkish color.
But this cherry blossom is not a pale pink but dark pink.
Looks like another type!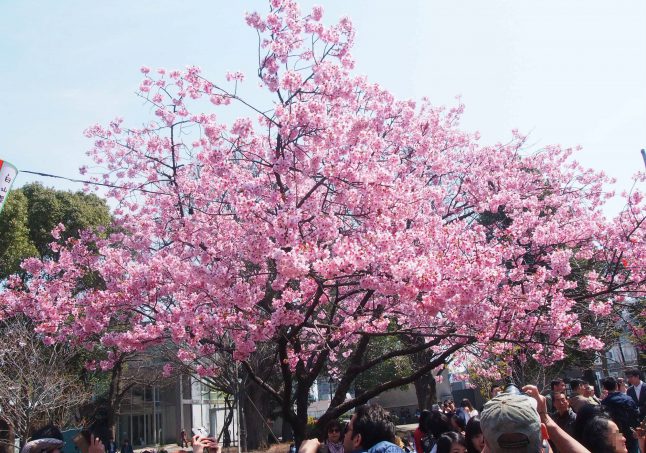 Weeping cherry tree in front of temple.
This was still in bud or just started to bloom but very beautiful.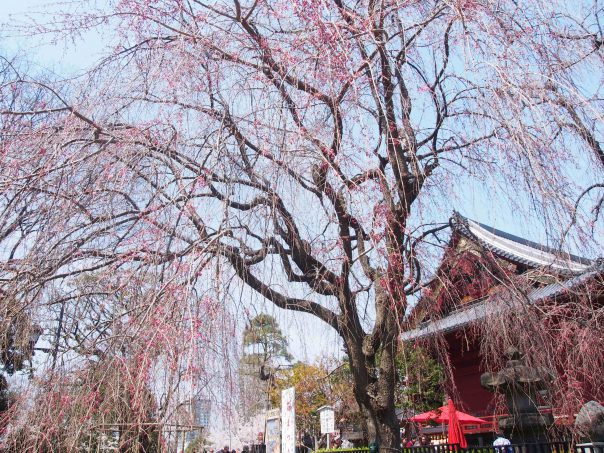 Good weather!!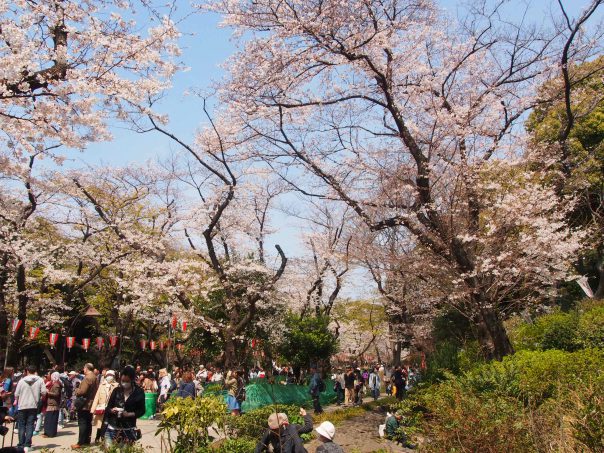 This is another temple.
Pine tree, Sakura tree in front of temple.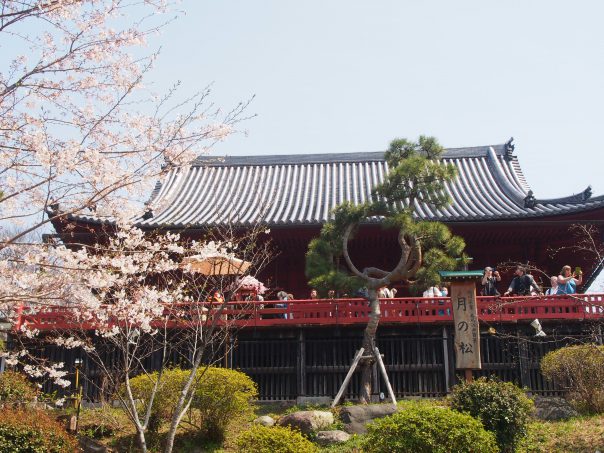 This is Torii Shrine Gate of Hanazono Inari Shrine.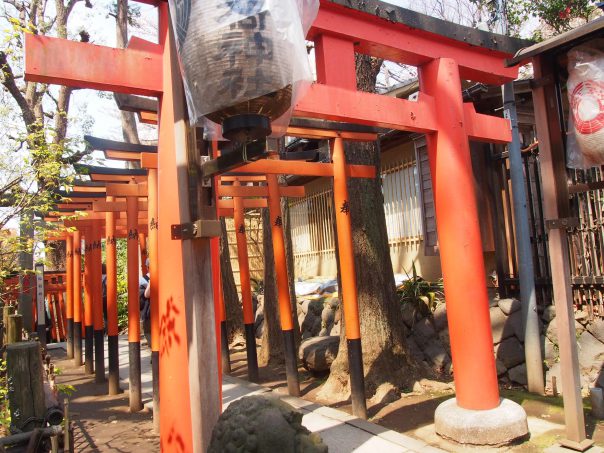 After walking past under these shrine gates, you can see lines of Japanese food stalls along the path.
Many people were enjoying alcoholic drink and food on the table in front of food stalls.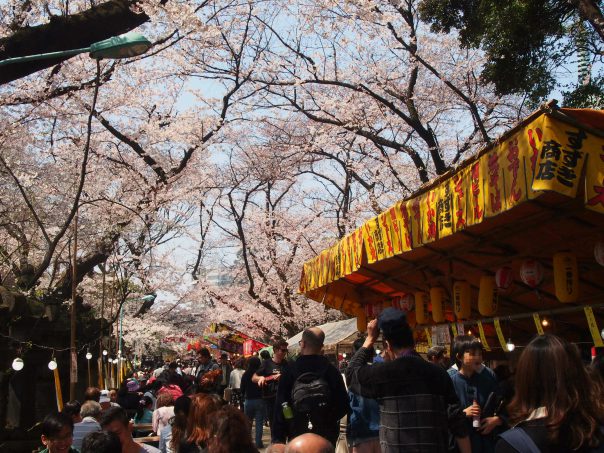 If you look up, you can see Five-Story Pagoda in Kanei-ji Temple.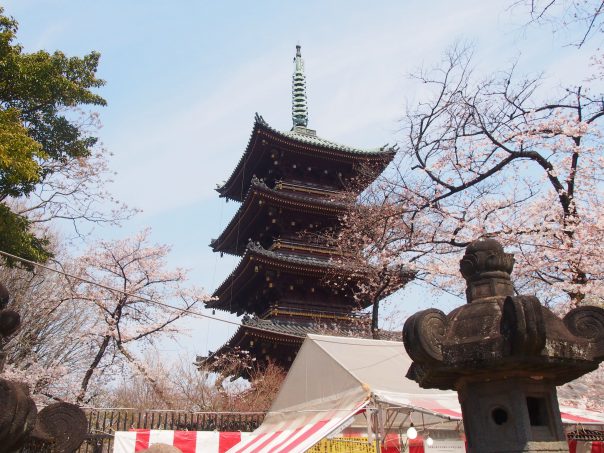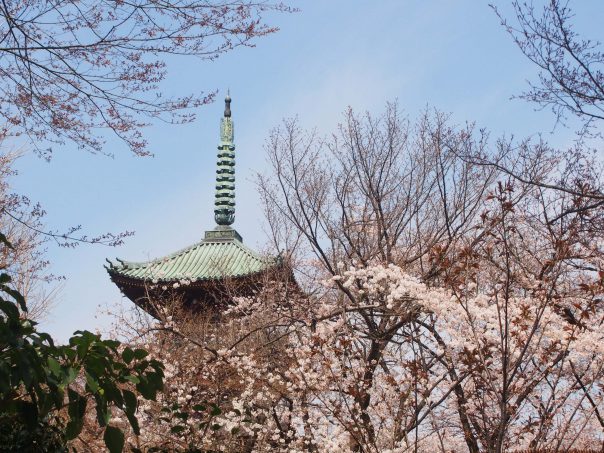 There are restaurants where you can enjoy Japanese cuisine.
But actually it is expensive still you can enjoy great dish here.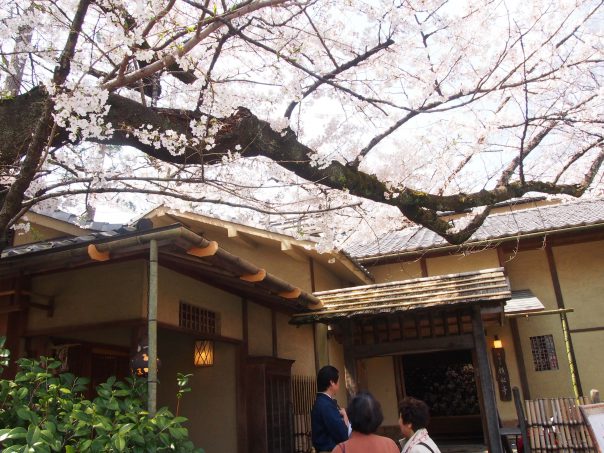 Weeping cherry tree in front of restaurant is beautiful.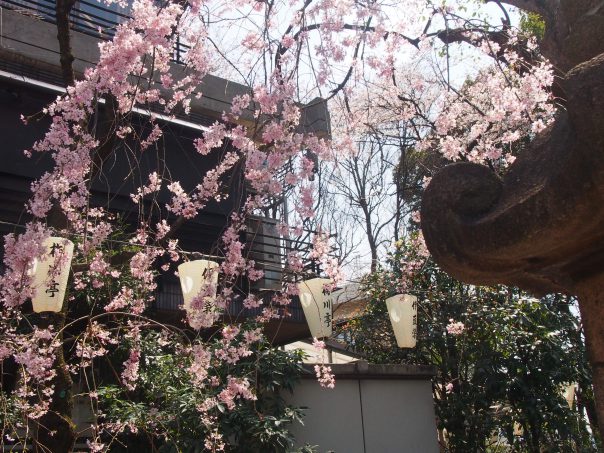 I recommend you to hang around inside park as well as just sitting or standing on a certain spot as there are a lot of things to see.
Ueno Park
Address : 5-20 Uenokouen, Taito, Tokyo
Station : Ueno
Period of Festival : March 18 – April 9 (2017)
Website (Japanese) : http://www.ueno.or.jp/
Shinjuku Gyoen National Garden
This is one of my favorite parks and I like it very much as it entertains me in various colors in each seasons.
Especially it is beautiful in Autumn and Spring with its flowers and leaves.
But I was surprised at the long line of people for buying ticket.
This is National Garden that you have to pay about 2 dollars.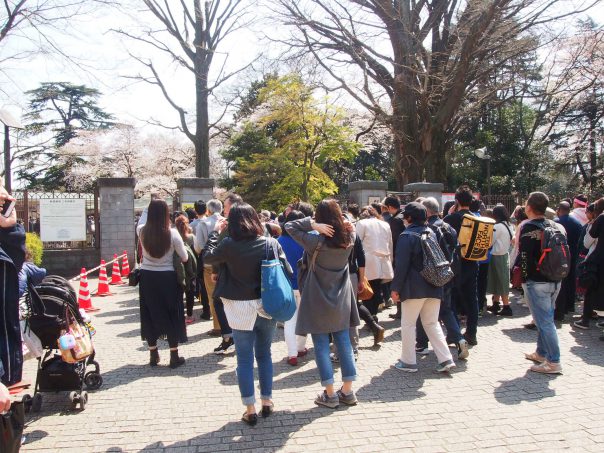 Anyway once you go inside, it is really big park that you can relax.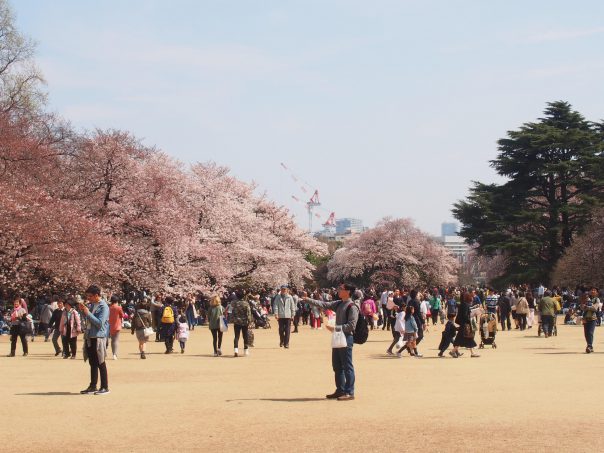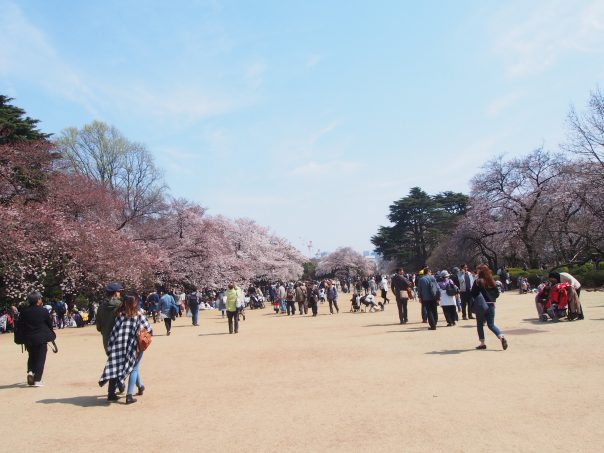 There are ponds inside.
Beautiful scenery with cherry blossoms.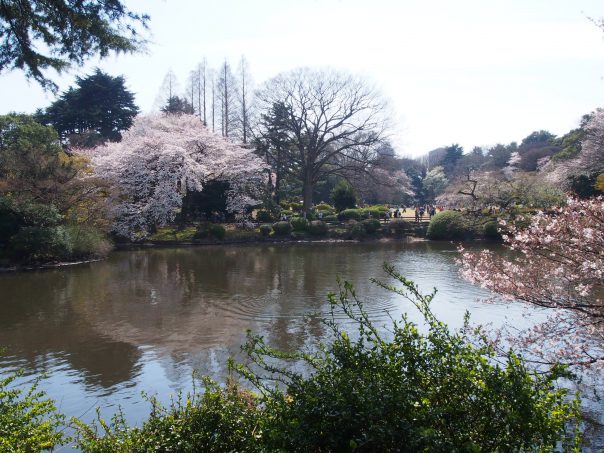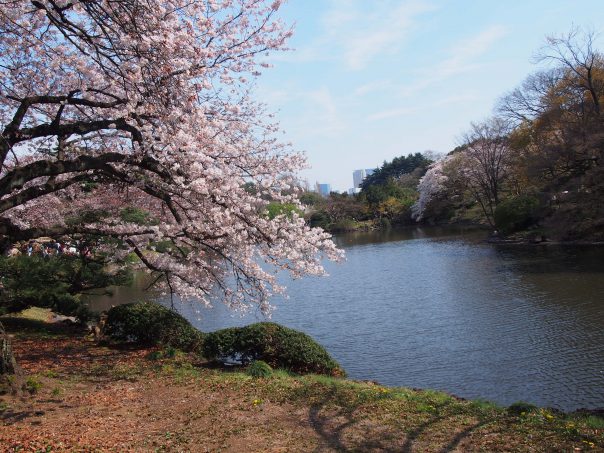 Green is also beautiful!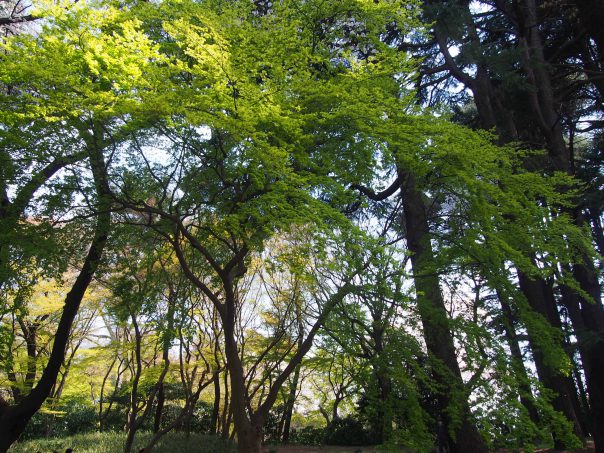 Another pond!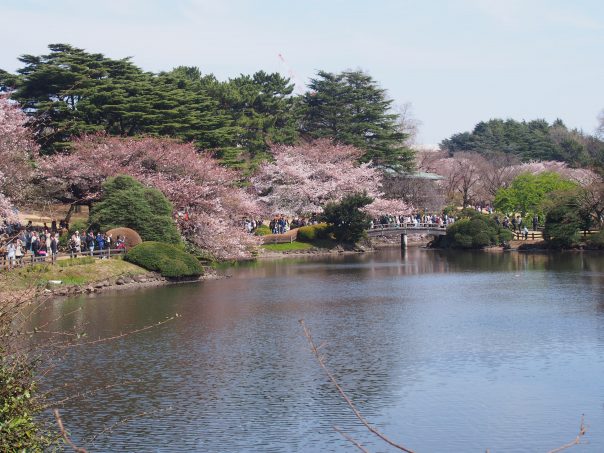 Do you know anime movie "The Garden of Words"?
It is an anime movie of Makoto Shinkai who made a big hit anime movie "Your Name" in 2016.
And the set of "The Garden of Words" is this park Shinjuku Gyoen.
You understand this pond if you watched it as it often appears in the movie as a main scene.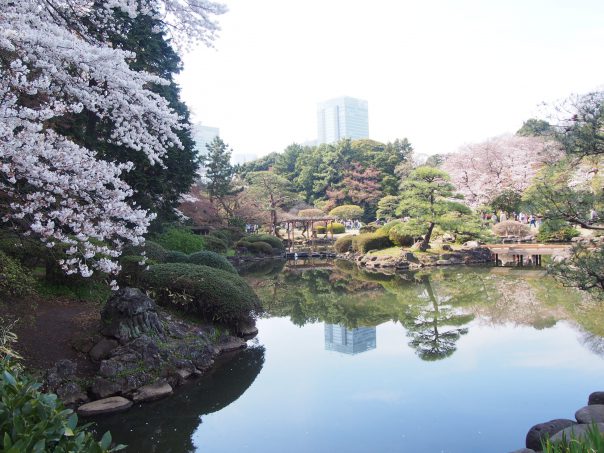 There are restaurants, shop, etc that you can have lunch if you are hungry or want to take a rest.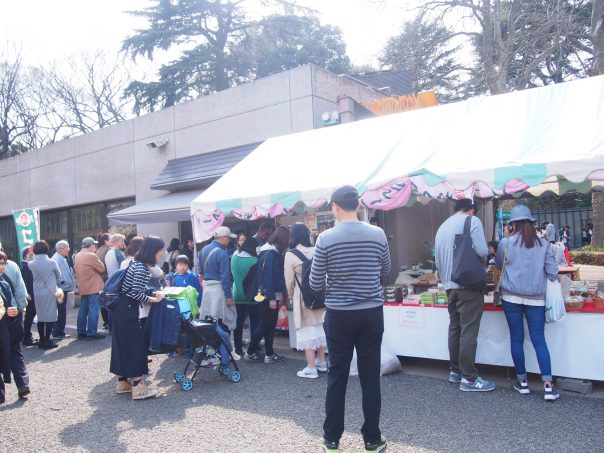 It is really big park and many people were relaxing on the ground.
I also recommend you to come here in Autumn as it is beautiful with different face.
Shinjuku Gyoen
Address : 11 Naitomachi, Shinjuku, Tokyo
Station : Shinjuku, Shinjuku Sancyoume
Period of Festival : No festival held but you can enjoy cherry blossom in Sakura season here
Website (Japanese) : http://fng.or.jp/shinjuku/
Yoyogi Park
Yoyogi Park is close to Harajuku station.
It is about a 5 minutes' walk from the station.
It is a big park like Shinjuku Gyoen and you can go inside for free.
I myself often held cherry blossom viewing party here in the past.
I especially saw many young people here.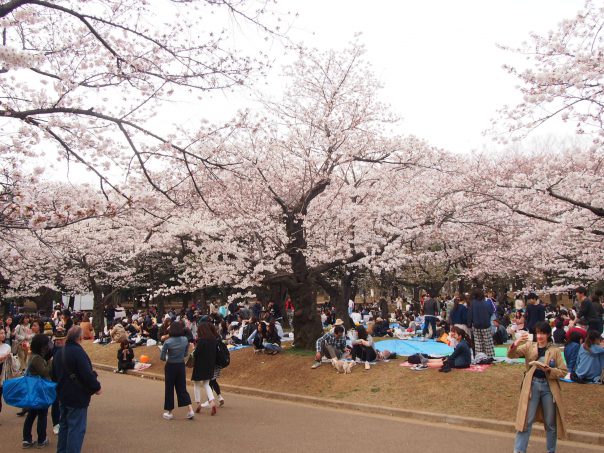 This is a big park that if you want to enjoy in a quiet situation I recommend you to go further like this place.
If you come to the central, there is a big space.
People were enjoying sports such as throwing a Frisbee.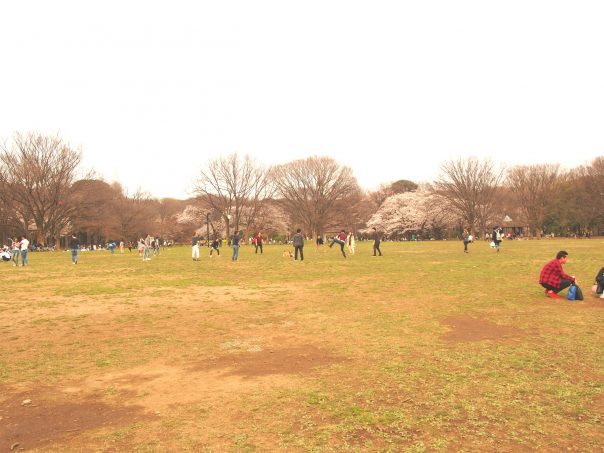 Canola flower is also in season.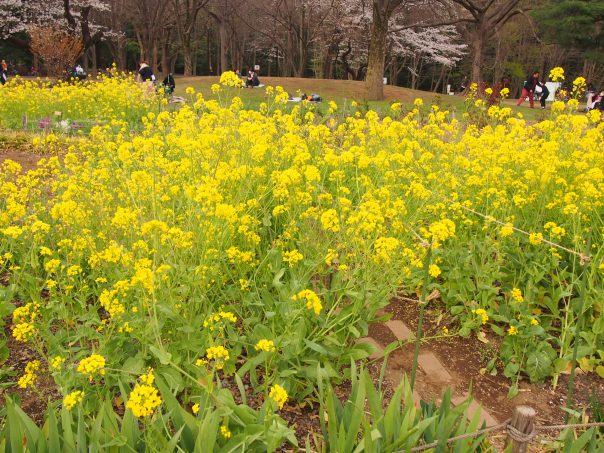 There is a fountain in pond, too.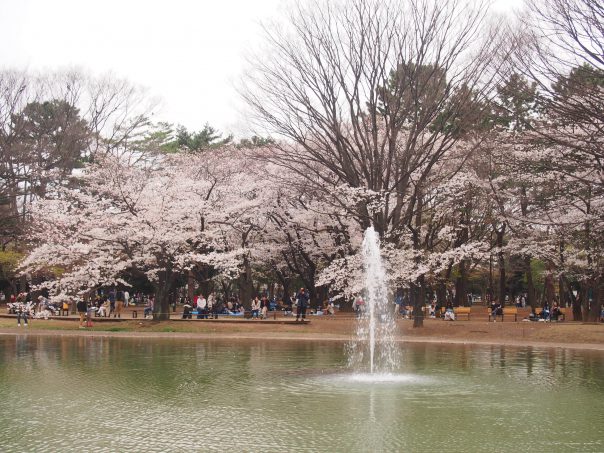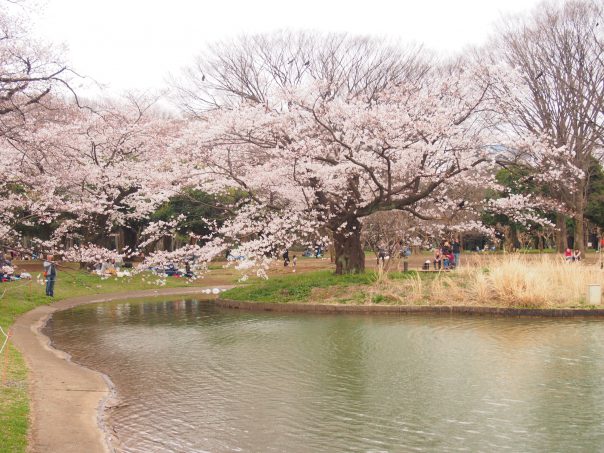 How about visiting the Meiji Shrine with Sakura as it is inside Yoyogi Park.
Takeshita Street near Harajuku station is also recommended if you want to know the subculture.
Yoyogi Park
Address : 2-1 Yoyogikamizonocho, Shibuya, Tokyo
Station : Harajuku, Meijijingu-Mae
Period of Festival : No Sakura festival held but you can enjoy cherry blossom in Sakura season here
Website (Japanese) : https://www.tokyo-park.or.jp/park/format/index039.html
Chidorigafuchi
This is really recommended spot if you watch cherry blossom in Tokyo and I was attracted to the beauty of it when I first visited here for Sakura last year.
You can walk around the Imperial Palace moats and enjoy beautiful cherry blossoms.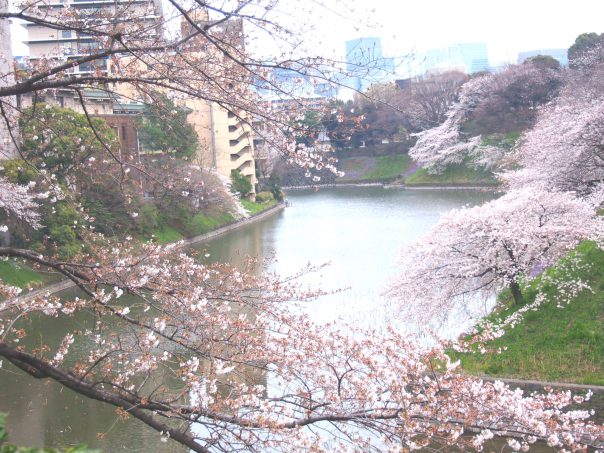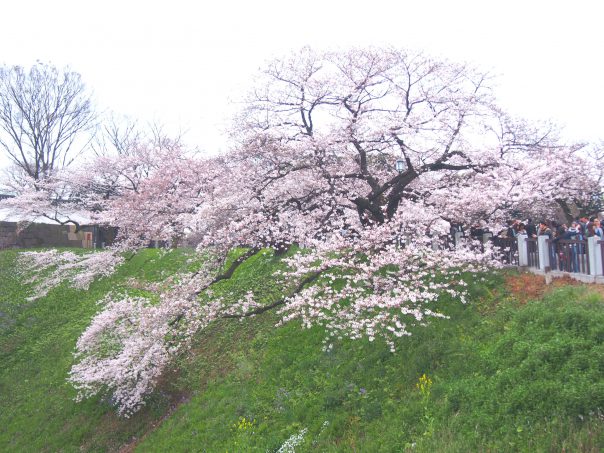 Entrance Gate.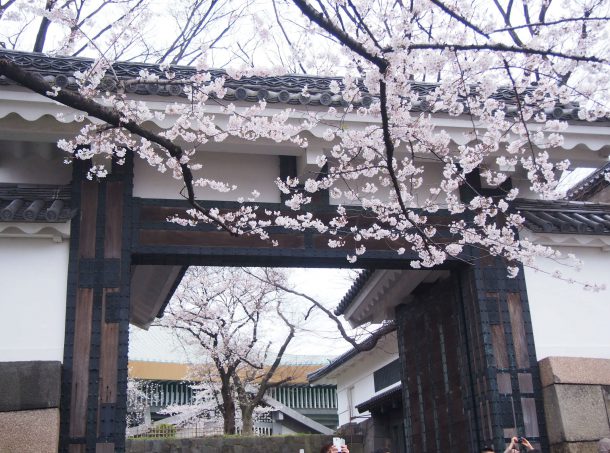 You can go boating on the river.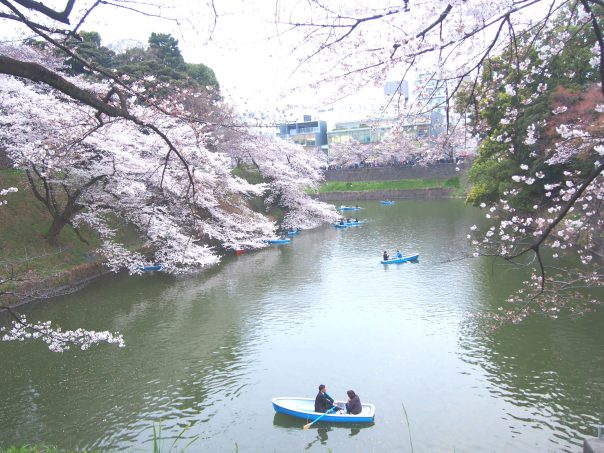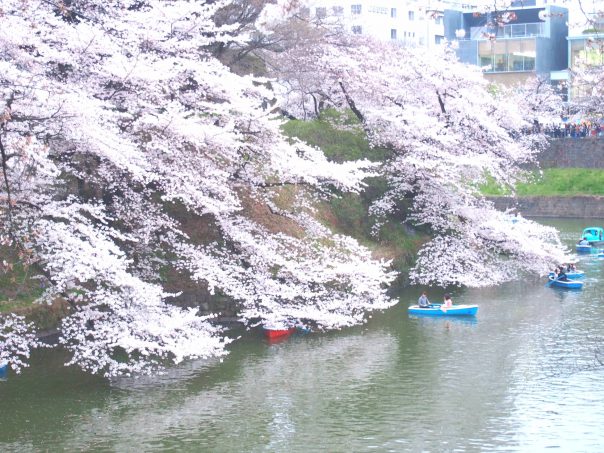 There was a temporary shop along the street that sell Sakura food and goods.
I wanted to try Sakura Dorayaki.
Dorayaki is the favorite of Doraemon.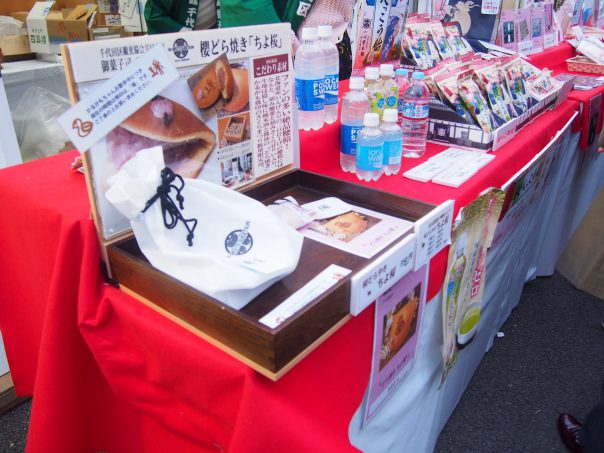 Surprising!
Touken Ranbu!
Looks like you can get original pin of Touken Ranbu if you could get more than 3 stamps at some shrines around here such as Yasukuni Shrine, Hie Shrine, Kanda Shrine, etc.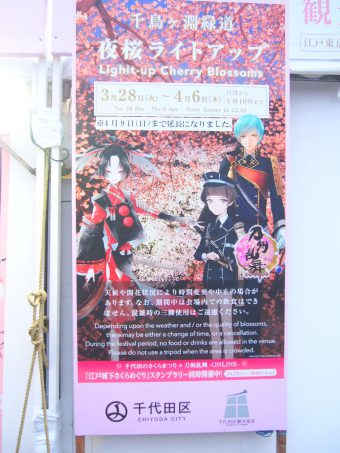 I visited Yasukuni Shrine after here and came back again to see the night view.
This is most crowded but recommended spot if you come here.
You can see beautiful cherry blossoms at both sides of the river with Tokyo Tower in the background.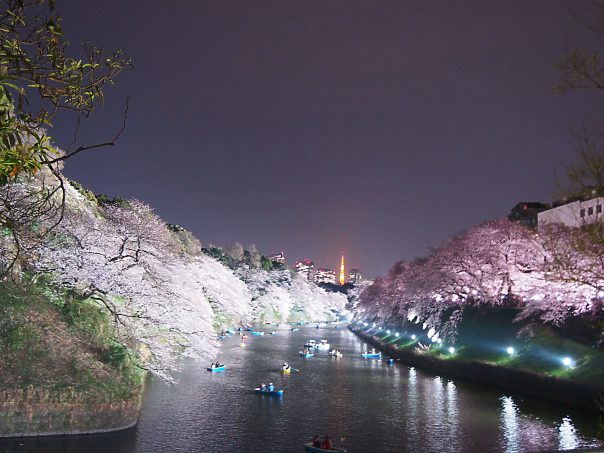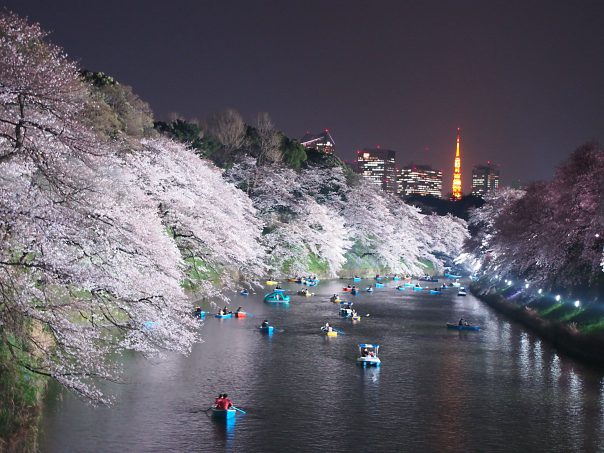 If you go straight along the street you can see the cherry‐tree‐lined path on your left.
This place is also very crowded but you can enjoy fantastic view of Sakura when you look up.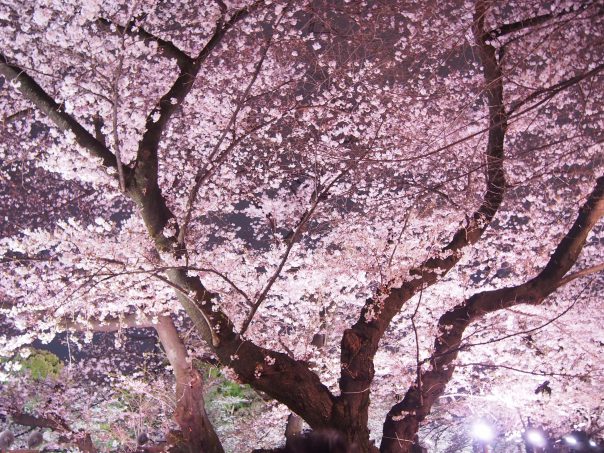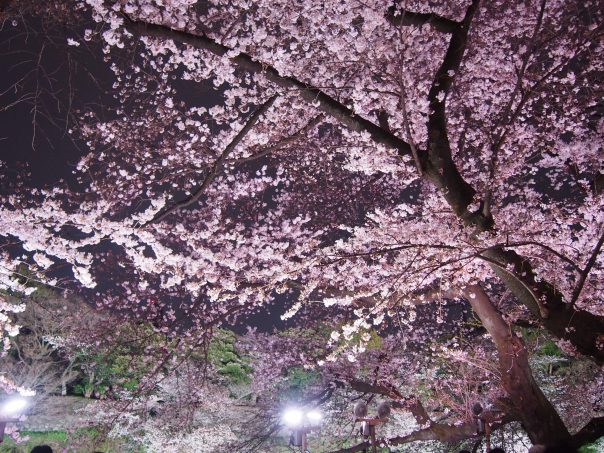 Chidorigafuchi
Address : Kudanminami, Chiyoda-ku, Tokyo
Station : Kudanshita, Hanzomon
Period of Festival : March 28 – April 9 (2017)
Website (Japanese) : http://www.kanko-chiyoda.jp/tabid/1116/default.aspx
Yasukuni Shrine
Here you can enjoy 500 of cherry blossom trees.
Every hear traditional clasical stage art Noh is held in this season.
The dance Yozakura Noh is worth watching but you need to buy the ticket in advance.
Hounou Zumo or dedicatory wrestling matches is also held by 200 Sumo wrestlers in total in around middle of April.
You can watch it for free.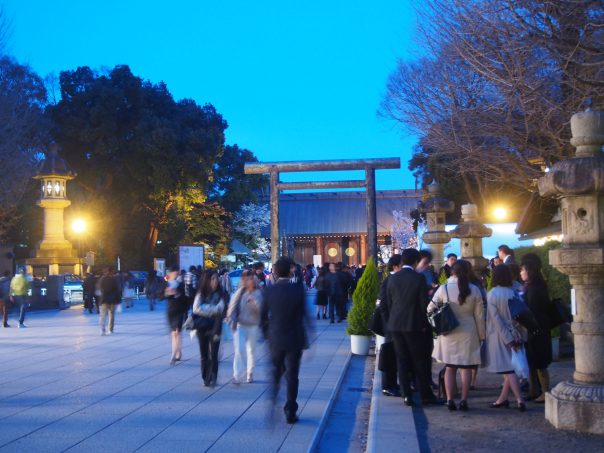 There is a place to enjoy food at good price.
Here Yasukuni Shrine, many businessman come together and enjoy alcoholic drinks with cherry blossoms.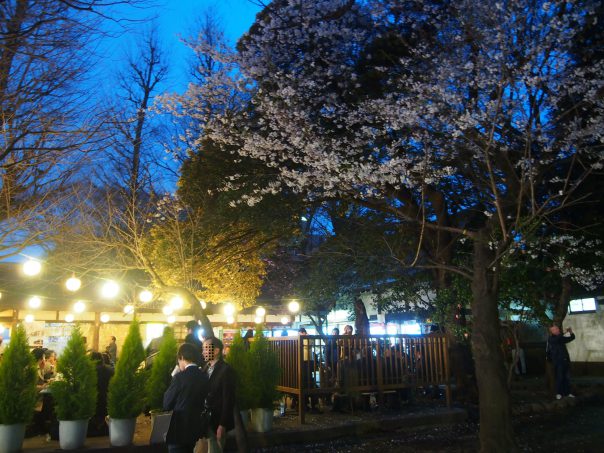 There were Japanese lanterns that say Sakura festival at the entrance.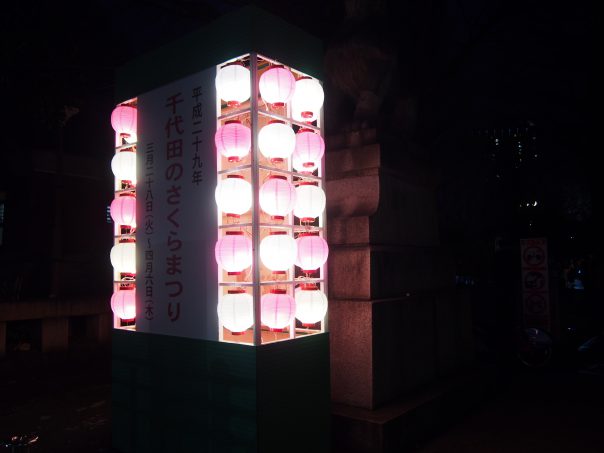 Yasukuni Shrine
Address : 3 Chome-1-1 Kudankita, Chiyoda, Tokyo
Station : Kudanshita, Ichigaya, Iidabashi
Period of Festival : March 28 – April 9 (2017)
Website (Japanese) : http://www.yasukuni.or.jp/news_detail.php?article_id=0099
Meguro River
Meguro River has 800 cherry blossom trees along the river.
The trees stretch about 8 km and the scene is like a tunnel of cherry blossoms when they are in full bloom.
Japanese lanterns are also beautiful, aren't they.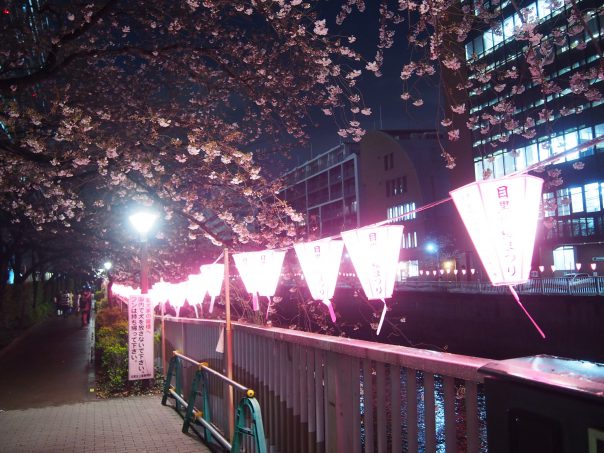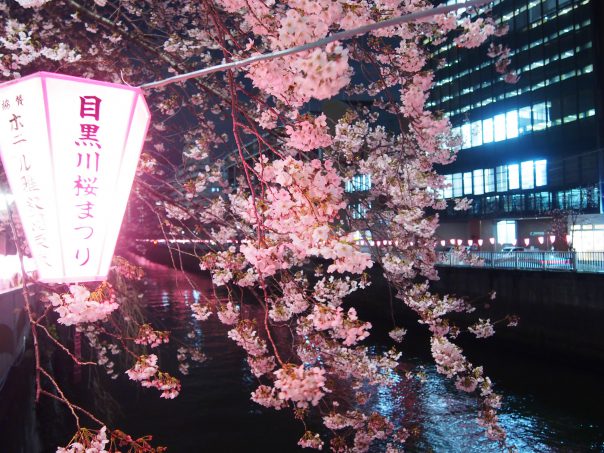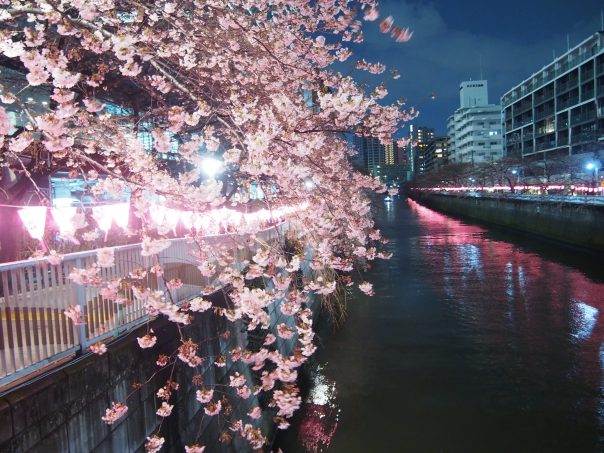 What I took was just a part as they were still not in full bloom when I visited.
Still I could enjoy the atmosphere.
Meguro River
Address : 3 Kamimeguro, Meguro-ku, Tokyo
Station : Ikejiriohashi, Nakameguro, Meguro
Period of Festival : April 1 – April 2 (2017)
Website (Japanese) : https://meguro-kanko.or.jp/
Rikugien
This Rikugien is famous for its weeping cherry tree.
The size of it is really big.
The height is 17 meters and the width is 13 meters.
It's so beautiful when it is illuminated at night.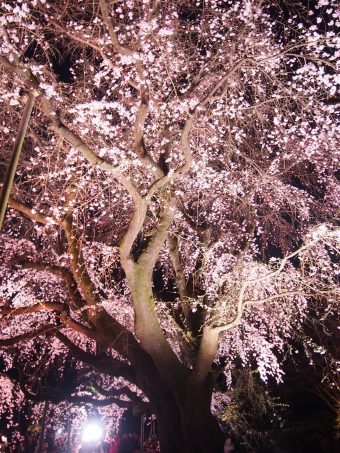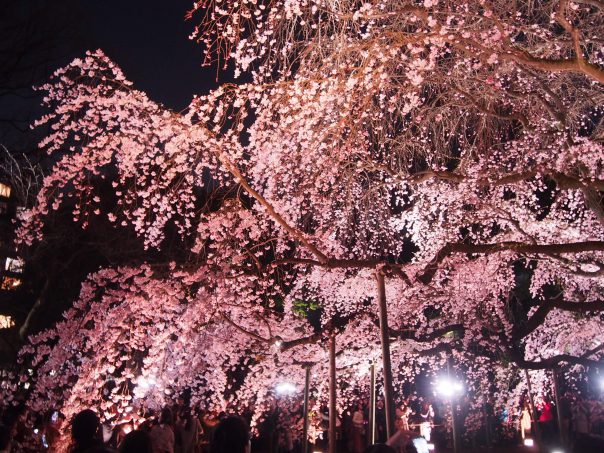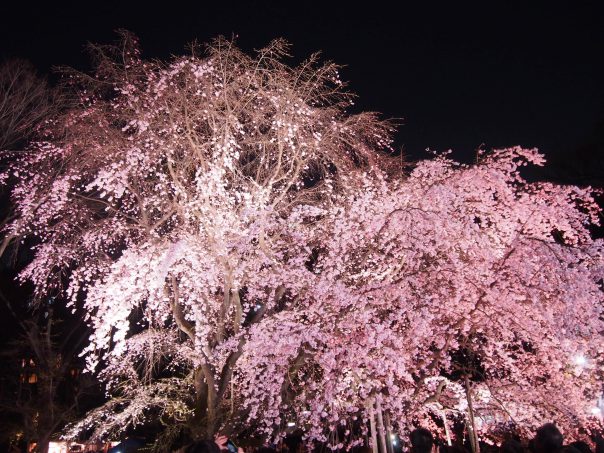 Japanese garden at night is also great view.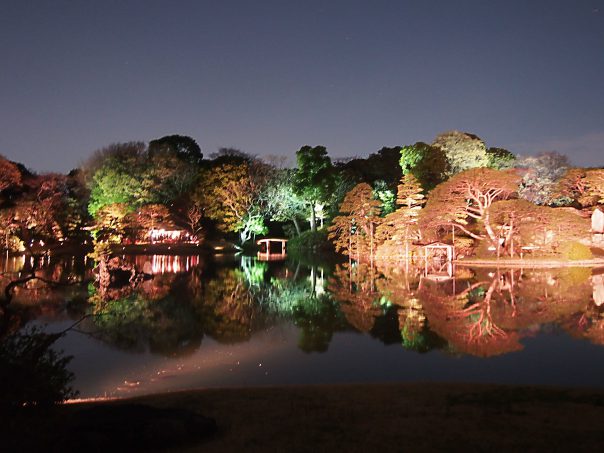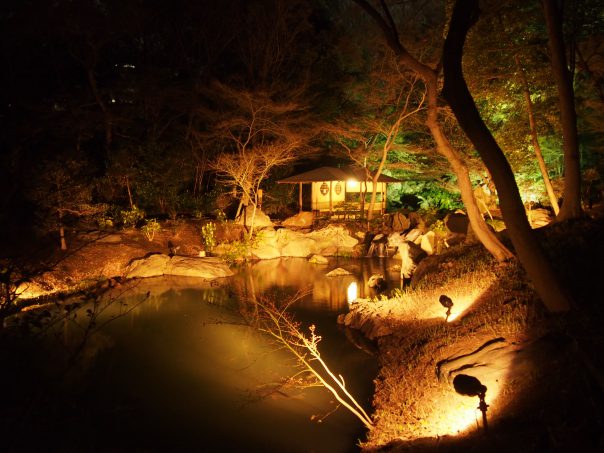 There is another weeping cherry tree if you go father.
This cherry tree is also very beautiful.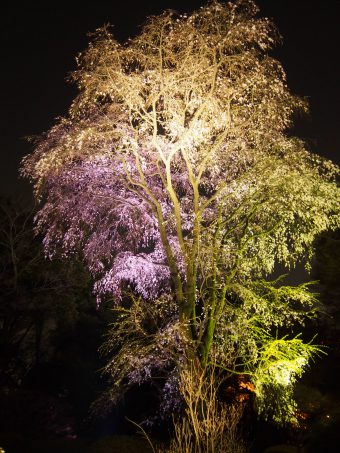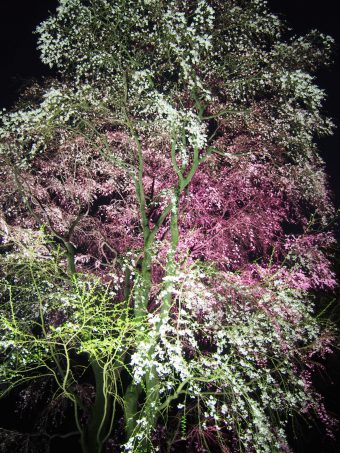 There is a small shop where you can buy goods or have food.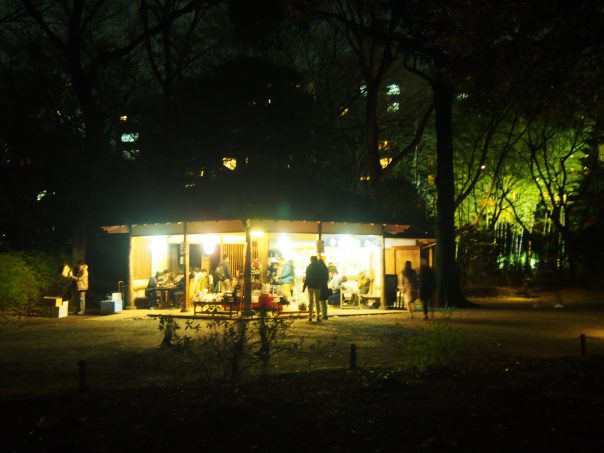 If you like weeping cherry tree, this is must-spot to visit and I myself really like this weeping cherry tree!
Rikugien
Address : 6 Chome-16-3 Honkomagome, Bunkyo, Tokyo
Station : Komagome
Period of Festival :No festival held but illumination period of Sakura at night is between 16 March and 6 April in 2017
Website : http://teien.tokyo-park.or.jp/en/rikugien/index.html
Summary
Actually I think the time I visited was just before full bloom.
Still I could feel beauty just before in full bloom or after in full bloom as well as in condition of full bloom.
I might say it is a beauty of imperfection before it becomes in full bloom and a beauty of transience when it finishes its short period of full bloom.
Although I always concentrated on talk, drink and food when I came together with friends, haha.
Enjoying Sakura itself as much as you can might be a privilege when one is solo!