What's HandMade In Japan Fes?
Literally this is all about festival of handmade goods made in Japan.
More than 5000 Japanese creators come together and display their masterpieces for this festival.
You can also enjoy music (about 15 band and singers in 2016), works shop and food (some food stalls) in this festival.
As there is a big festival for music, we can also have a big festival for handmade goods that we can feel creativity throughout our whole bodies.
Like musicians, creators can make a stage that they express their abilities and works, too.
To make something entirely new, To make what creators really feel great.
That's the start of HandMade In Japan Fes.
Japanese spirits are alive in their works with its originality, uniqueness and delicacy.
Report of HandMade In Japan Fes 2016
This festival was held on 23th to 24th July 2016 in Tokyo.
This was first time for me to visit this festival.
There were so many shops displayed artist's works inside the building.
I didn't know from where to start so anyway I decided to walk around randomly.
And I encountered with these products.
Somewhere down the line I came to have a weakness for this kind of cute kawaii thing somehow.
How did artist make this works?
Anyway I asked if it is OK I take a picture.
He posed for a moment but told me yes.
So I took some pictures and then I noticed sing of no picture.
Gosh!!
Now I understood why he made a pose.
I thought most of works are OK for taking picture as everybody was taking picture.
Anyway it was my careless miss even so I didn't notice that I apologized him but he said "No worries that's OK!".
Thanks a lot!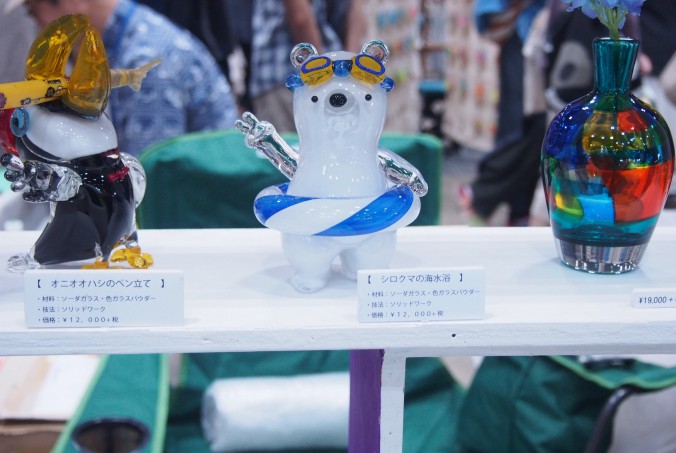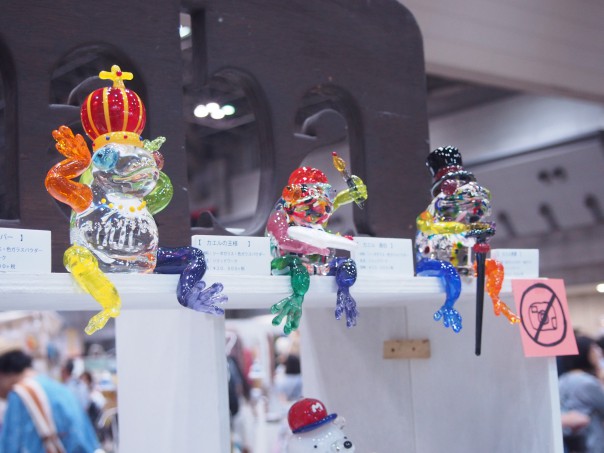 Next thing what I found was beautiful glasses.
I found this is sandblast glass.
I imagined artist must be in his sixties or more.
But artist was young I think he is late twenties or early thirties.
He told me about sandblast and half of these works displayed here are sandblast.
Sandblast is a technique that blasts sand (abrasive) onto the surface of a frosted glass and etching it.
It makes really beautiful glass like pictures down below.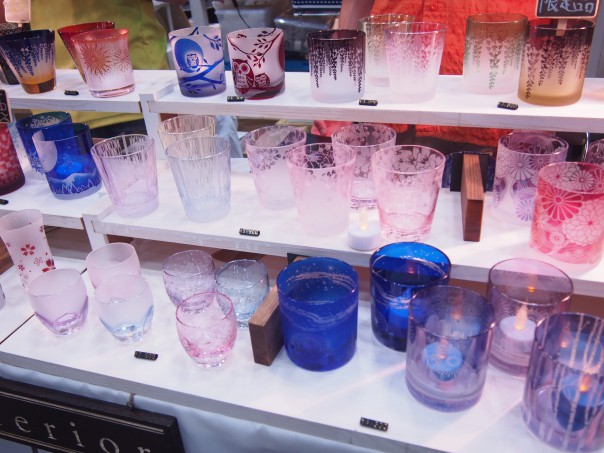 Next meeting was very cute dwarfs!
Each pieces has its short unique and witty story.
Artist told me he made these dwarfs by bronze.
"Feel free to touch and hold" he told me.
Actually first I didn't touch as I thought it is very fragile and I might break it even if it is light touch.
But he said "Everybody thinks so but it is made of bronze so it is tough and touching my works by people is my great pleasure as an artist".
Yes, it was light but had a weight bronze has.
I said to him your story for each works is great.
He replied me "Actually I came up story after made for some works so not before".
I thought all of them were made under the themes but it was opposite for some works and that's unique I thought!
He was very kind man and told me a lot even busy time.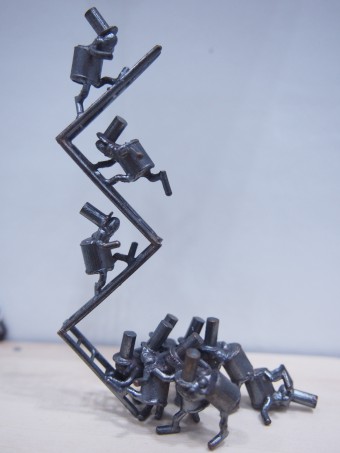 I was impressed by so beautiful pictures.
I just asked him if I can take a picture.
But I think his works are acrylic painting.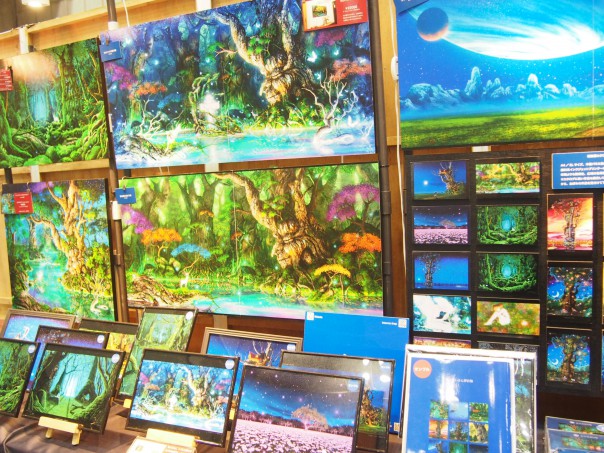 Another artist's works.
I like these small robots.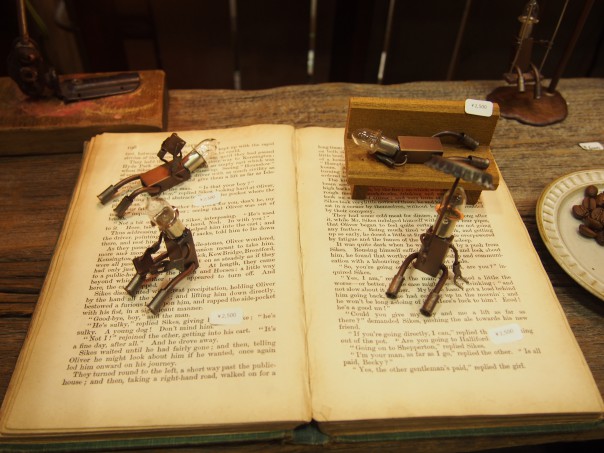 I found another cute work!
She told me she make all of this by hand, even a small tin bucket.
She use mill ends and clay for her work.
Hamster is so cute!
I found beautiful small Bonsai next.
I was told this is real Bonsai but it doesn't grow bigger so I can enjoy it as an interior inside house.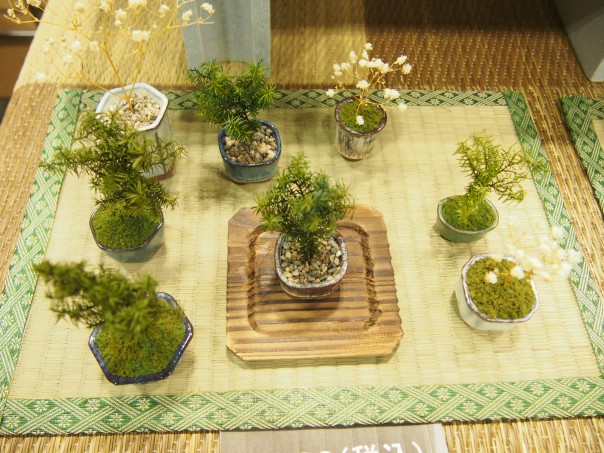 All these cats are made of cardboard.
There are several other animals,too.
You need to make up by yourself.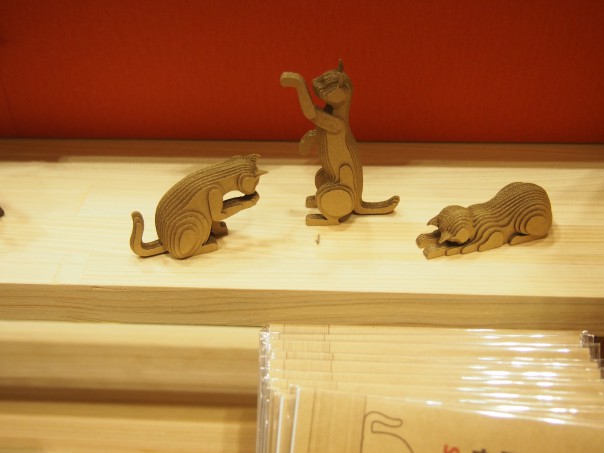 Can you believe that this is not real lunchbox?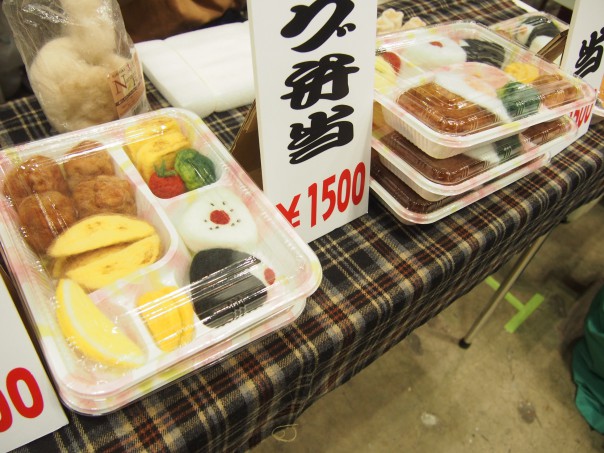 Sorry this is not art but sake.
Japanese sake company joined and they were offering sake for free.
Unluckily I get drunk very easily so I didn't take it.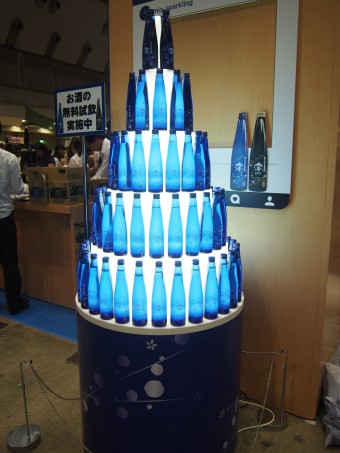 I walked several hours without rest and I was tired so I  went outside.
There were several food stalls around building so if you are hungry just go outside and pick your favorite!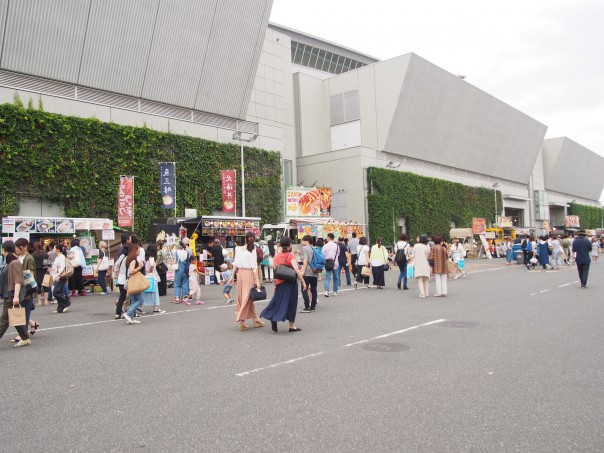 Went back inside and found another sandblast artist's works.
How does he make these great sandblast glasses?
Cat on the face is beautiful.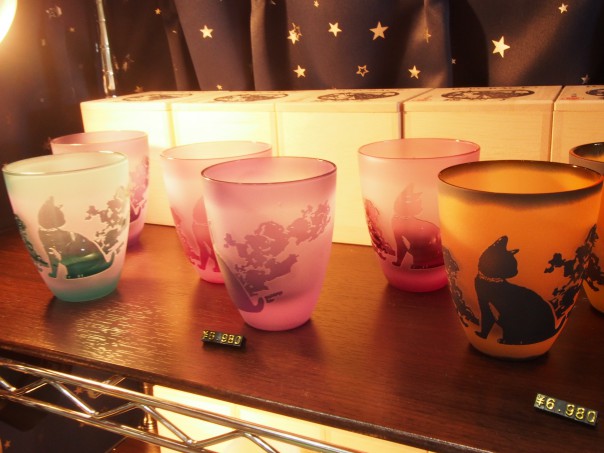 Handmade fes includes handmade foods.
These are nuts, jam. etc.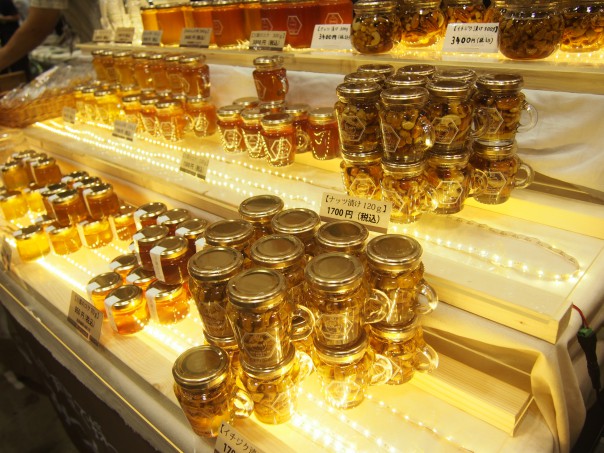 Handmade muffins looks good!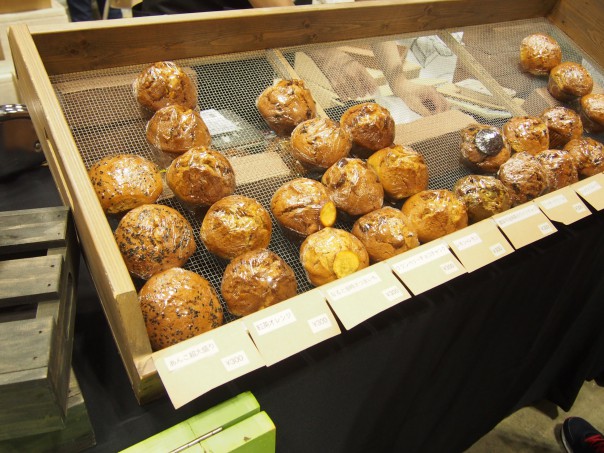 Atmosphere of Hahdmade In Japan Fes 2016.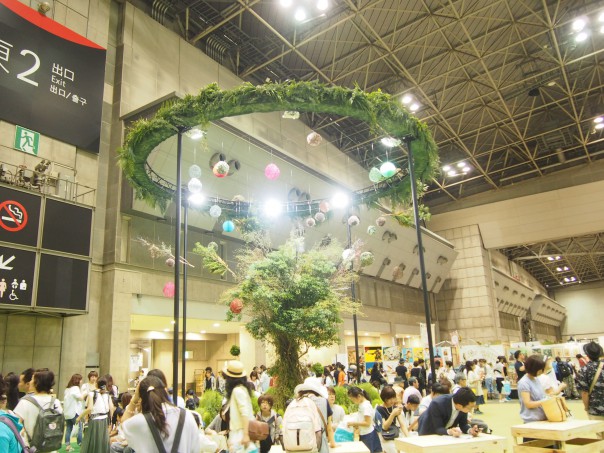 Summary
Yes this is all about HandMade In Japan Fes 2016 I experienced.
Actually there were more more great works I wanted to upload.
As you know more than 5000 Japanese creators for this festival.
What I showed is only a part of them.
I myself couldn't have enough time to walk around and see all the works even though I visited from the morning time.
But yes next is your turn to come visit this festival by yourself.
I'm sure you have a great time.
Great point of this festival is you can talk creators themselves directory.
They are selling goods but never force you to buy products.
Actually I didn't buy anything although there were many things I wanted to buy.
As creators and we guests also know this is the place for communication and just enjoy, feel, sense and find.
Hope you can find something special!