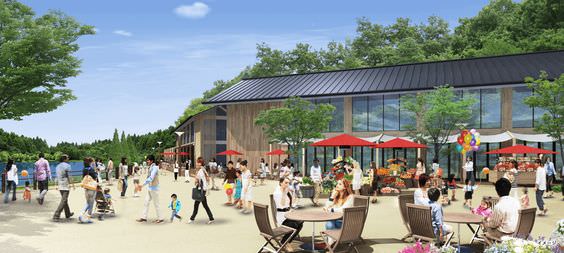 Source : Mesta
Actually there is already Moomin Valley in Saitama.
It is located in Hanno city in Saitama Prefecture.
I've never been to this Moomin Valley but there is unique houses and buildings of Moomin.
It is certainly like a world of Moomin with fairy-tale-like houses.
But this Moomin Themed Park that opens next year is real themed park and much bigger scale.
So it is not a small park but themed park including restaurants, attraction, museum, accommodation facilities etc. where not only child but adult can enjoy the world of Moomin all day.
It is the first Moomin themed park other than original park in Finland.
Metsa Village (Public Zone)
Mesta village is the place where you can experience life in Northern Europe.
Attraction or activity that make use of nature you can enjoy.
It is free and looks like lodging facilities with sauna that originated Finland, glamping facilities are made there.
Glamping is in fashion, especially in recent years in Japan.
It is a new word and combination of Glamorous and Camping makes glamping.
Certainly there are much nature and lake that enable people to enjoy special camping.
This Metsa Village is scheduled to open in autumn in 2018.
Moomin Valley Park (Moomin Zone)
Here you can enjoy Moomin house and attractions of Moomin.
They are made by referring to facilities of Moomin in Finland.
You can also enjoy Northern cuisines in the restaurant opens here.
At the gift shop, you can buy original Moomin goods.
Looks like people can also enjoy tour boat in the lake.
The logo of Mooming Valley Park is made by Kobro Agency in Finland.
Kobro Agency is creative agency in which James Zambra who is a son of Tove Marika Jansson's niece Sophia Jansson belongs.
This Moomin Valley Park is scheduled to open in spring in 2019。
Concept of Metsa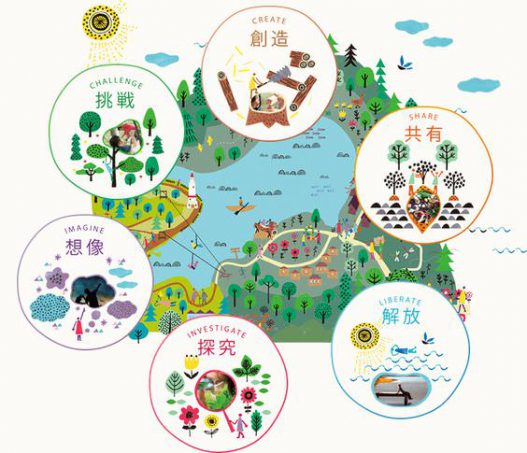 Source : Mesta
Mesta means forest in Finnish.
Create, challenge, image, investigate, liberate, share, these are the concept of Mesta Village.
President of FinTech Global Tamai who engaged in this project tells he wants this Metsa as like a kind of park where many people come together rather than an amusement park.
So it will not be just a busy amusement park but more relaxing place.
From the concept, I feel this park is not the place just for an momentary fun but to experience an learn things while enjoying nature at the same time.
And I also feel the thought of regional activation.
All the things come together only in Tokyo and Tokyo is certainly great place but if you look at the other areas there are many good spots where you can experience beautiful nature.
This Hanno city is one of them where you can enjoy nature and it is close Tokyo.
At the shop in Mesta, you can also buy local specialties in Hanno city.
How much for the ticket
For now, the price of ticket is not announced.
For Metsa Village (Public Zone), it is free so anyone can enter without paying money.
That is great.
For Moomin Valley Park (Moomin Zone), you need to pay.
How much will it be?
Ticket price of Tokyo Disney Land is 7400 yen (about $70) for one-day passport as of 2017.
But I think the ticket price of Mesta will be less as it has no attraction like that of Tokyo Disney Land and it is not located in Tokyo (although Tokyo Disney Land is not in Tokyo technically speaking).
The size of land is also less than half of Tokyo Disney Land.
And most importantly, the idea of this park is not just for making profit but focusing on relaxing place in which anyone can freely come visit and enjoy the world of Moomin.
So I think it will be around $20 or so.
I wonder if it was a bit cheap price.
But this is just a rough guess of the general public so I'm sorry if it is not correct.
Information
Here is the details of Mesta
Mesta
Address : Miyazwa, Hanno-shi, Saitama
Google Map: https://goo.gl/maps/YZRHrKwwFX32
Station : Hanno Station (Seibu Ikebukuro Line)
Opening : spring in 2019 for Moomin Valley Park, autumn in 2018 for Metsa Village
Ticket Price : Not announced yet as of 2017 (Metsa Village or Public Zone is free)
Website (Japanese) : https://www.metsa.co.jp/
Summary
To tell you the truth, I have not a bright image on Miyazawa lake where this Mesta is made.
My experience might affected me as I was basically weak when I was a little and I saw this lake going back to my home from hospital in my parent's car at evening or night.
It was bleak and dreary scene to me.
But it was 30 years ago since then Moomin park was made and people come visit this place.
It must have changed a lot and next year this Mesta finally opens.
Speaking of Moomin, what is your favorite character?
I like Snufkin and I guess many of you also like him.
Other than Snufkin, I also like Hattifatterner or Hattivatti.
Yes, that white creature that can not speak or listen to.
Somehow I like it.
I like the characters of Moomin and the message it sometimes casts us.
Please come visit Mesta in Saitama if you have a time and plan to come visit Japan after 2018.
It is just an hour from Tokyo by train!!