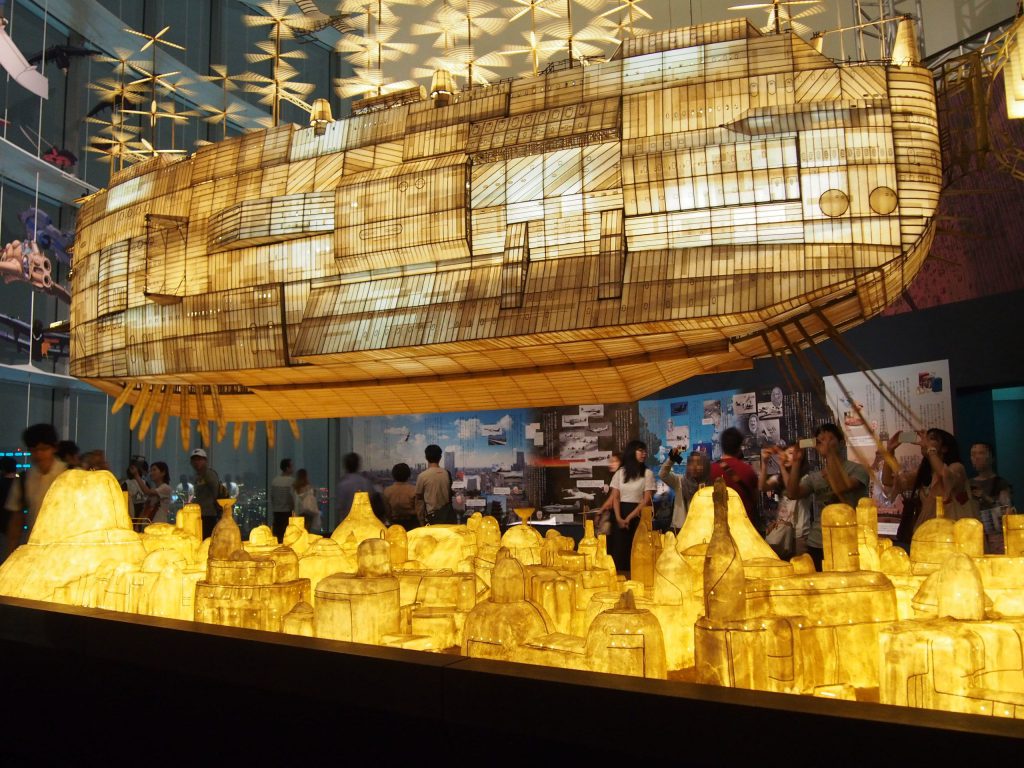 Ghibli Exhibition
In this Ghibli Exhibition we can enjoy 30 years of history of Studio Ghibli since its foundation in 1985.
That means first work of "Nausicaa of the Valley of the Wind" to new movie "The Red Turtle" (Release Date is 17th September 2017 ).
You can understand how the films of Ghibli were made and released through a lot of posters, leaflets, references, documents, etc in this exhibition.
This was held at Roppongi Hills Tower in Tokyo.
I came here last Summer in 2015 for Gundam Exhibition.
And this Ghibli exhibition was held at the exact same place.
The floor is 52th but before going up there was a sign that says "Waiting time is 40 minutes"
I'm not good at lining a long queue so I decided to come back again after relaxing at cafe nearby.
When I came back, waiting line was about 20 minutes so I l went up to 52th floor and lined up.
Depends on the time and date there is a long queue so I recommend you to come visit weekday.
New Film The Red Turtle
New film "The Red Turtle" is released on 17th September 2017.
So there was introduction of this new film with some original pictures.
This is not all Ghibli's film but co-produced film with a Dutch animator Michael Dudok de Wit.
He directs the film.
Pictures are not like that of Ghibli's if you imagine it as this is not drawn by Hayao Miyazaki.
But it is beautiful touch and its theme is life itself.
Red turtle, this man who washed ashore in the island and girl are key characters of this film.
I don't tell the details here so watch it after September 2016 if you are interested in.
Picture Panels
First you will be welcomed Totoro at the bar counter.
I'm sorry I couldn't take a picture for some things in this exhibition as it was prohibited so I show you only the things that is allowed for taking a picture.
There were picture panels on the wall.
The looks like from Laputa or Nausicaa.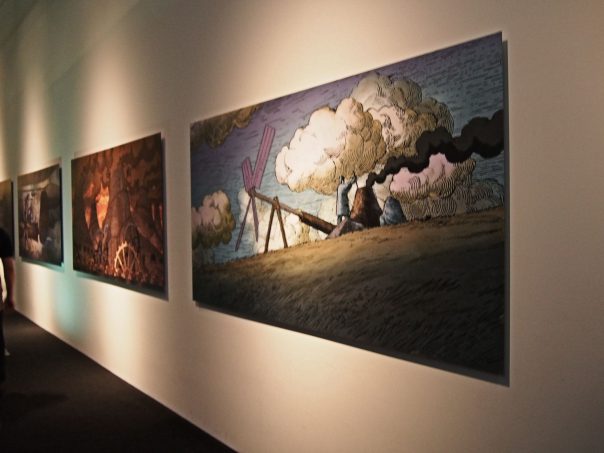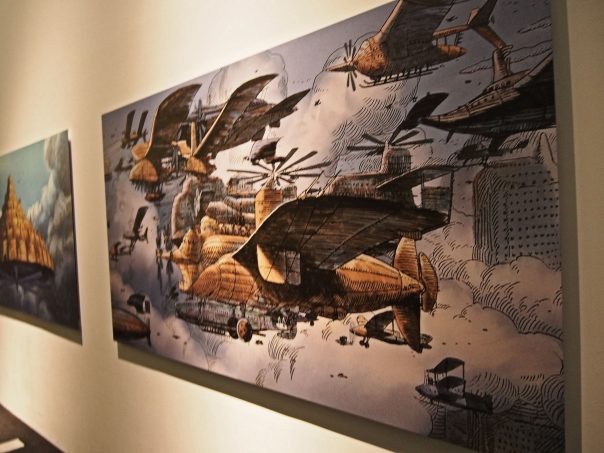 Many posters on the walls from such as Nausicaa, Totoro, Laputa, Spirited away, Kiki's Delivery, Howl's moving castle, Princess mononoke, etc.
Actually what I watched is only before Howl's moving castle.
I like films of Ghibli and watched almost all films before Howl's moving castle but somehow I stopped there.
There are posters of Ponyo, The Secret World of Arrietty, etc, too.
I never imagined there was this much exchanges and works for making just a simple catch phrase.
These strange creatures still exist in Japan. Probably. from My Neighbor Totoro.
It's been hard at times, but I'm alright. from Kiki's Delivery Service.
This—this is what Cool is. from Porco Rosso.
Live. from Princess Mononoke.
For making these simple catch phrases there were so many exchanges between famous copy writer Shigesato Itoi and Producer Toshio Suzuki.
Shigesato Itoi suggetsts like how's these words? but Toshio Suzuki says well, they are good words but still something missing could you try again?
This kind of exchange and rewrite is repeated again and again just for one word and phrase.
I thought some of them were very good catch phrases but they were not adapted in the end.
It is because of just a difference of one letter or difference of present tense and past tense, etc.
But now I understand it.
Just one word such as "Live." of Princess Mononoke tells all the thing of the film.
Font is also same.
There are many suggestion about each fonts for each catch phrases.
And after many times of discussion it is decided.
I didn't imagine this much work just for a short simple catch phrase.
But I also understand the importance of catch phrase as it has to tell the film itself in limited space and words.
Desk of Producer Toshio Suzuki
There was a replication of the desk of Toshio Suzuki who is producer of Studio Ghibli and a long-time colleague of a former Ghibli's film director Hayao Miyazaki.
There were books, paper, telephone, etc on the desk.
I could experience the atmosphere of animation work a little bit.
Neko Bus of Totoro
There is a big Neko Bus which appeared in the film "My neighbor Totoro".
It is big enough to get inside for several people and taking picture.
But there was a line so I didn't line up and take pictures, sorry.
Still many adults and children were enjoying there.
I didn't try but I recommend you to get inside and take a picture as it must be nice memory of Ghibli exhibition.
Flying Boat of Laputa and Möwe of Nausicaa
I sense something beyond that gate.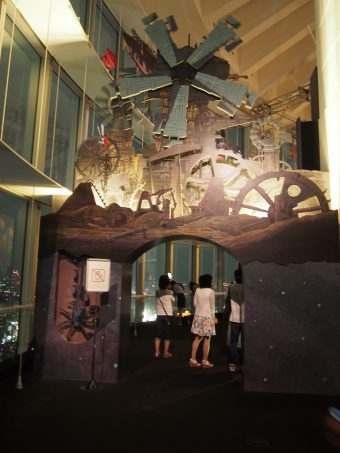 There it is!!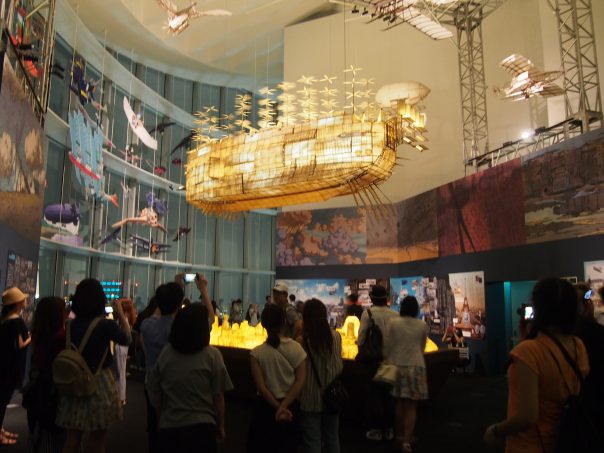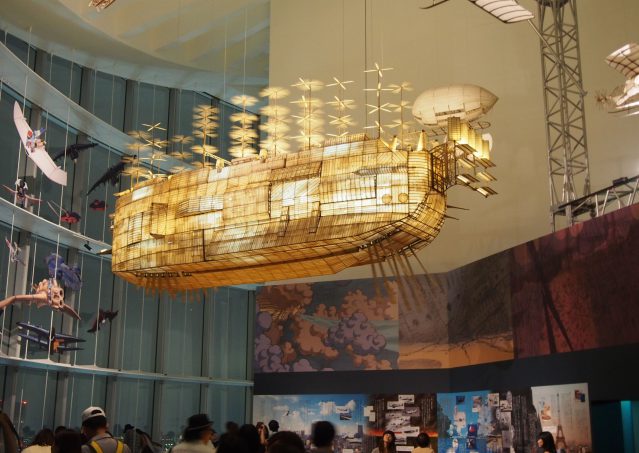 This was a big flying boat that we could see in the film of Laputa (but of course not real size)
I could see Nausicaa on Möwe and Gunship upper left of the Flying Boat.
Surprisingly is was moving up and down slowly up in the air with oars propellers rotated.
Close‐up picture.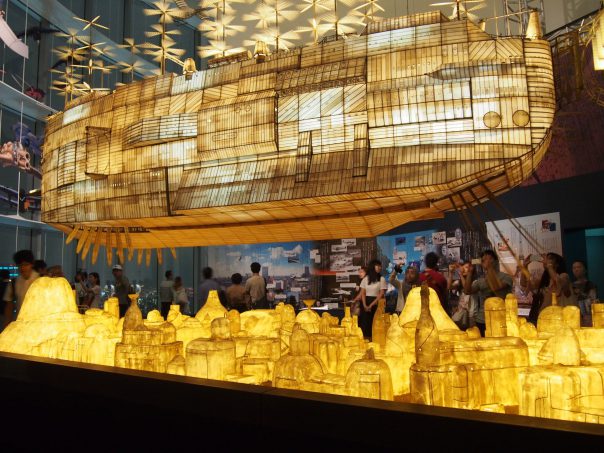 The time I came to this place was already night so the ship and the city below were lit up.
They were beautiful!
This floor is 250m above sea level so it is like high sky that connects us to the scene of Laputa with the flying boat and Nausicaa who flies on Möwe in the high sky.
This is special collaboration work of Ghibli and Tokyo city view city to express the image.
Just look back you can see beautiful night view of Tokyo.
(Out of focus T_T sorry for my bad photo skill)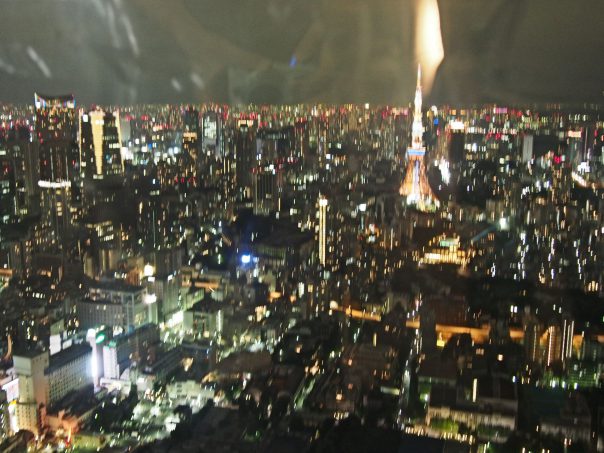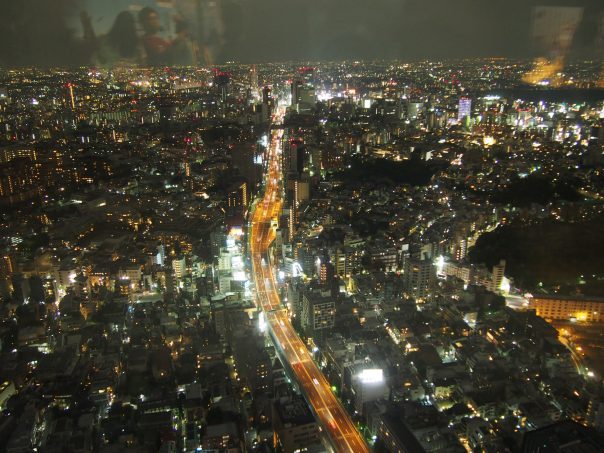 Gift Shop
After exit you can down the escalator and get to the gift shop.
Here you can buy limited Ghibli goods with ordinary Ghibli goods.
There were limited T-shirt, wallet, bag, plush doll, etc and oh, I found cool thing!!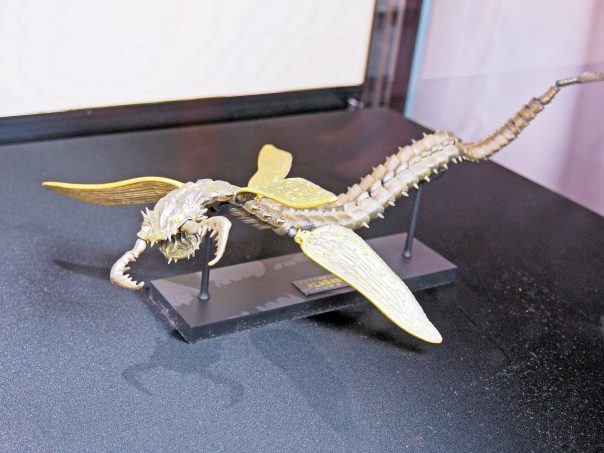 Hebikera from Nausicaa!!
Hebikera is a big flying bug appeared in the Nausicaa.
Don't you think it's cool?
I know it maybe only me but I didn't imagine hebikera is made beyond other main character such as Ohmu.
I also have to say why Hebikera while there are many famous characters but I like the idea.
And this is made by Kaiyodo that is famous company for making high quality figure.
Yes, I understand, certainly this is realistic and made to the details.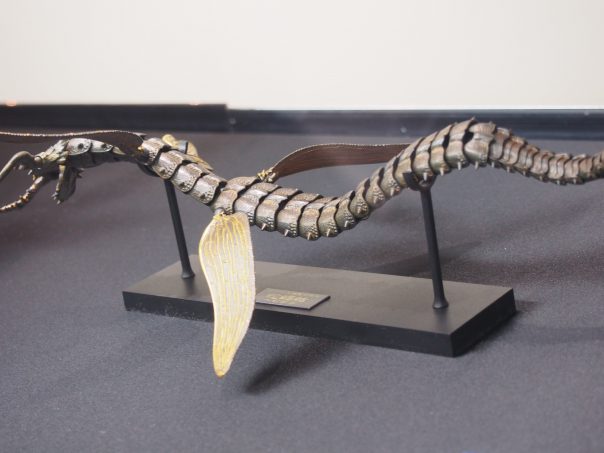 It was more that $120 but I thought it is worth it so I bought it!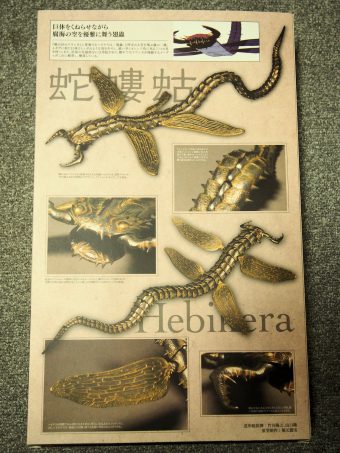 If you buy goods here more than $50 you can get original bag for free!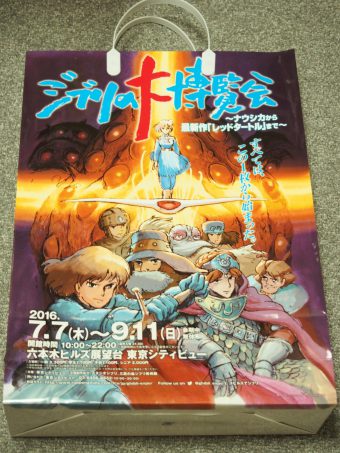 Cafe
There is Museum Cafe & Restaurant THE SUN & THE MOON next to this exhibition.
It is permanent cafe and has original menu for this Ghibli exhibition only this period until the exhibition finishes.
I didn't go there but you can enjoy pitch black burger (image is Makuro Kurosuke from Totoro as makkuro means pitch black), Fried egg and toast from Laputa as you imagine the toast pazu ate with Sheeta in the cave.
Actually I made this toast several times when I was little as it was simple but looked so good!
Summary
I enjoyed a lot this Ghibli exhibition.
When I was a child I often watched a Ghibli films.
Even same film I watched again and again.
It reminds me something important which I might forgot in this busy society.
They tell us something important strongly and gently.
There is Ghibli museum in other part of Tokyo but Ghibli Exhibition is only now.
Come visit if you have a chance and touch the world!!