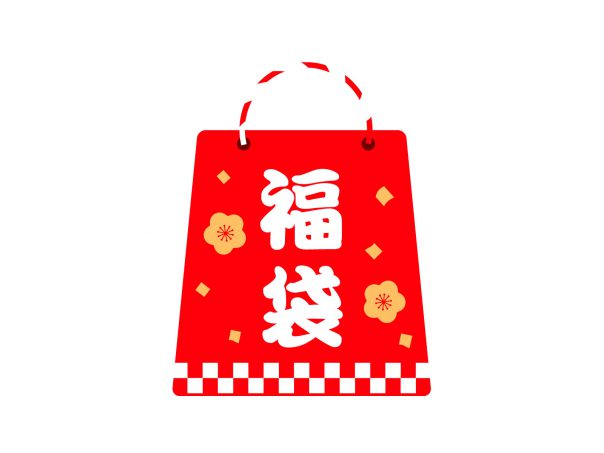 Already at the end of the year!!
As always, time flies!!
And right after the end of the year, that is, in the very early morning or even before morning some cases, people start to lining up in front of shops.
What for?
Yes, for one of the Japanese features in winter called Fukubukuro!
That's lucky bag!!
Nobody knows what's inside but which attracts people even more.
This time I picked up most popular Fukubukuro in 2018.
If you visit Japan in this season, Fukubukuro is one of the must-buy items in Japan.
Let's check it out!!
1.Yodobashi Camera
Yodobashi Camera is a major Japanese electronics store.
It is a chain shop so you can find it everywhere such as Shinjuku, Shibuya, Ikebukuro, Akihabara, etc.
And this is the most popular Fukubukuro in Japan I think.
Actually if you want to get Fukubukuro of Yodobashi camera in line, you have to wait so long time.
Because people start to lining up, to my surprise, even before 1st January, that is, from late night of 31 December people start to lining up!! > <
You might think they keep standing until next morning of the opening time?
People prepare sleeping bag and mat to spread on the ground.
Surprising!!
I wonder some people might come to prepare even tent in the course of time.
Anyway Fukubukuro of Yodobashi Camera is so popular that most recommended way is to reserve online.
Unfortunately this year's reservation of lucky bag has already ended on between 1 and 8 of December.
Contents of Fukubukuro in 2018
Single lens reflex camera, GoPro, Blu-ray recorder, Bluetooth earphones, Surface Pro, Playstation 4, Nintendo 2DSLL, etc.
Instagram of Purchaser in 2017
2017年ヨドバシカメラ福袋秋葉原店
コンパクトデジカメの夢(キャノン)2万円
・カメラ27800円
・SDカード2980円
・カメラレンズクリーナー929円
・ボ撮ルンです800円
・カメラケース2052円Instagram of Purchaser in 2017
href="https://twitter.com/hashtag/%E3%83%A8%E3%83%89%E3%83%90%E3%82%B7%E3%82%AB%E3%83%A1%E3%83%A9%E7%A6%8F%E8%A2%8B?src=hash&ref_src=twsrc%5Etfw">#ヨドバシカメラ福袋 pic.twitter.com/q3PDRzeD1s

— Argo & Sinon (@fairy_sao) January 1, 2017

Source : Argo & Sinon(Twitter)
No wonder people lining up for a long time!!
2.Apple
I think there is no need I explain popularity of Fukubukuro for Apple.
Yes, I myself want it!!
Actually last time Apple sold its Fukubukuro was 2 years ago of 2015 and since then they haven't sold Fukubukuro.
Looks like the reason is too many people line up in front of the shop so it disturbs lives of people in neighborhood.
And other reason is some people get sick because of the long waiting time in the cold winter so they don't want it
For 2018, so far no information of Fukubukuro that I also don't know whether or not they sell, either.
For the contents of 2015, there were 3 types Fukubukuro for about $350 (38800 yen).
Big win lucky bag seems to have been goods equivalent to about $890 (100000 yen).
Contents of Fukubukuro in 2015
MacBook Air, iPad Air, iPad Mini, iPad touch, Apple TV, UE BooM (Wireless Speaker), etc.
3.Starbucks Coffee
This is also very popular so I think I don't need to explain it.
Starbucks is also popular in Japan and its Fukubukuro is very popular every year.
Until 2017, its Fukubukuro was sold at shops but this time for next 2018, they sold it online.
The period was between 30 November and 13 December.
Yes, already finished but there still might be a chance to get.
Because if the winners of Fukubukuro don't appear on the first date of the selling, they might sell the Fukubukuro first come, first served basis.
The type of Fukubukuro was only one in 2017.
And it was about $55 (6000 yen).
Contents of Fukubukuro in 2017
Coffee beans, tumbler, mug cup, drink ticket, Origami, etc.
Instagram of Purchaser in 2017

Source : Toshi.56(Instagram)
4.Tully's Coffee
Fukubukuro of Tully's Coffee is also popular like Starbucks Coffee.
Tully's Coffee is a global chain coffee shop originated in Seattle, isn't it.
Fukubukuro of Tully's Coffee has a 3 types, which is about $26(3000 yen), about $45(5000 yen), about $88(100000 yen).
Its tote bag is made collaborated with fashion brand ONWARD.
And it comes with a cute teddy doll for the Fukubukuro of $26(3000 yen)!!
For this teddy, I might line up, haha.
Good point is it still accepts reservation in official website.
Contents of Fukubukuro in 2018
Coffee beans, Coffee candy, Mini Teddy Doll, Mug Cup, etc.
Fukubukuro from official site of Tully's Coffee in 2018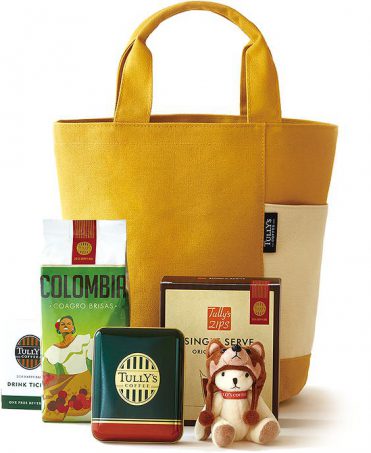 Source : Tully's Coffee
5.KALDI COFFEE Farm
Oh, coffee shop again!
Looks like Fukubukuro of coffee shop is popular.
But only this KALDI COFFEE Farm is the company located in Japan.
Its head office is in Tokyo.
It handles a variety of imported foods, drink, sweets, etc.
I also like this KALDI COFFEE Farm as I can buy many rare foods or drink from abroad.
The staffs always give samples at the shop so customers visit KALDI COFFEE Farm can enjoy its tasty coffee.
There are 8 types of Fukubukuro and the price is between about $18(2000 yen) and about $45(5000 yen).
Most popular Fukubukuro among them are Foods Fukubukuro and Moheji Fukubukuro.
But you have to book in advance if you want them and the period was between 1st and 11th December.
Only Fukubukuro of Foods and Moheji has already finished accepting but you can still buy other Fukubukuro on 1st January at the shop if you line up.
If you like coffee or wine, I recommend you this KALDI COFFEE
Contents of Fukubukuro in 2018
Coffee beans, Drip coffee, Wine, Snack, Candy, etc.
Fukubukuro from official site of KALDI COFFEE Farm in 2018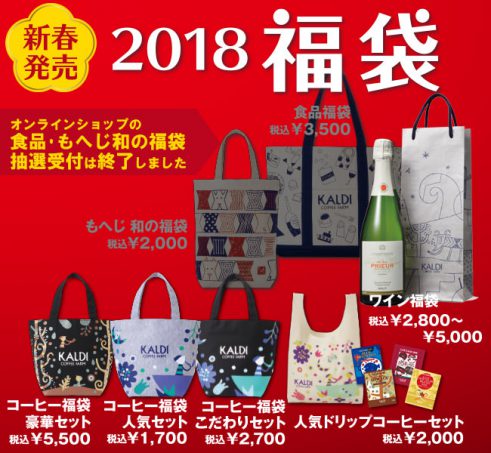 Source : KALDI COFFEE Farm
6.Mujirushi Ryohin
Mujirushi is a Japanese retail company and has its shops worldwide.
It handles a variety of goods such as stationery, foods, cosmetics, clothes, etc.
Muji means "no-brand" so all the items are very simple and have unnecessary design or mark.
But all quality items.
I like this brand very much as all the goods are very simple but quality and easy to use.
I myself sometimes buy goods here.
Good point of Mujirushi is they also focus on Eco-friendly way so not all but some goods are organic.
This is also one of the popular shops in Japan so its Fukubukuro is also popular.
But Mujirushi don't sell Fukubukuro in front of the shop next year 2018.
You can reserve only on the internet.
It was between 8 to 14 of December so sadly already ended.
Contents of Fukubukuro in 2018
Knit, shirt, Cut and sew, Cushion, Futon, Note, Pencil, Shampoo, etc.
Instagram of Purchaser in 2017

Source : yu.524.99(Instagram)
7.VILLAGE VANGUARD
I really like this VILLAGE VANGUARD.
I think many young people also like this shop.
It handles mainly books but has also a wide variety of unique goods from figures, to foods and drinks.
Inside of the shop is a kind of chaos and that attracts people even more.
And the books and items you can see here are not the ones you can find in ordinary shops but unique and have a sense of humor, too.
So its Fukubukuro is, yes, you can not imagine what's inside at all.
Actually I could give this VILLAGE VANGUARD top 1 in this ranking but, yes, I felt only those who can understand sense of humor could accept Fukubukuro of VILLAGE VANGUARD so maybe it is minority that I added it at the end.
The contents?
Yes, every year very different so I can't imagine.
You might get very useful item and vice versa.
Fukubukuro from official site of VILLAGE VANGUARD in 2018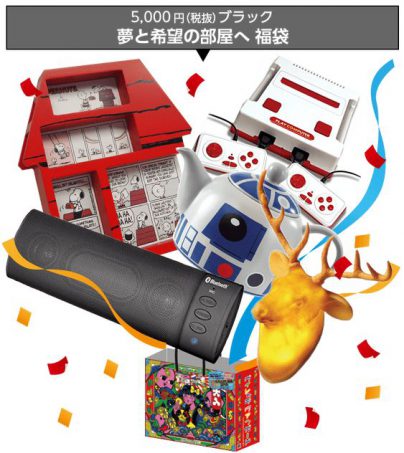 Source : VILLAGE VANGUARD
Summary
Well, actually, in 10 minutes' walk, I can visit most of the shops as there is a shopping mall which holds those shops inside in the vicinity.
But problem is I'm not good at lining up.
From midnight to 9 or 10 am? impossible!!
But it might be funny and become a good memory to line up in a way.
This long line is also one of the features of Japan.
By the way, 2017 finally ends.
Thank you very much for reading my blog this 2017.
Hope you all enjoy the rest of 2017 and have a Happy New 2018!!
PS. If you are interested in latest Fukubukuro in 2019, I made a new article here.
Fukubukuro Lucky Bag 2019 in Japan