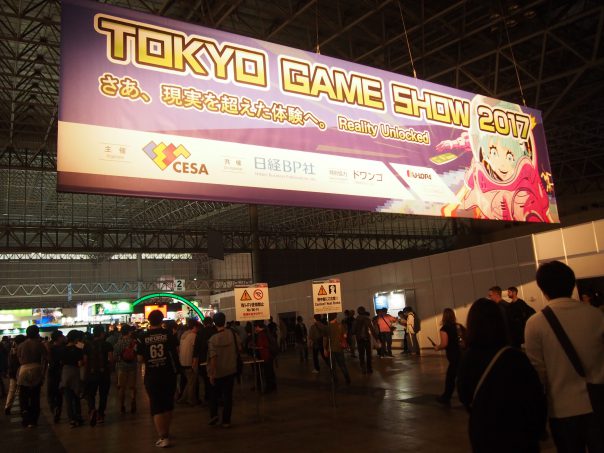 Tokyo Game Show 2017 was held on 23-24 September.
I visited this event for the first time and surprised to see the scale.
I introduce some highlights from new video games, VR, to Android of Tokyo Game Show.
Sorry, "Contents" and this article became very long, so it might also be good just to click the title in the Contents to jump the place if there is something attracts you.
Video Game and VR made by Students
Not only big companies but vocational school, university, college, etc. related to video game had been showing their video games.
And I tried one of them.
I touched controller and the instant old days' memories flashed back!
Yes, this touch was the controller of video game.
I noticed I have almost never touched controller for about 15 years.
It was action game and reminds me of Super Mario.
I like this kind of simple game but was dead in about 1 minute!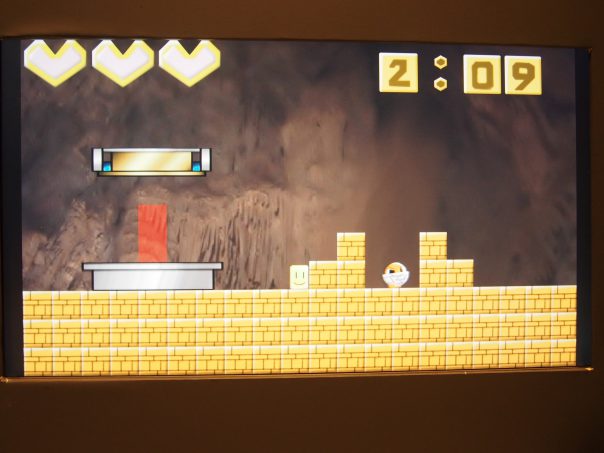 This game is VR game by Nihon Kogakuin College.
You need to wear VR goggle.
Looks like game of quoits.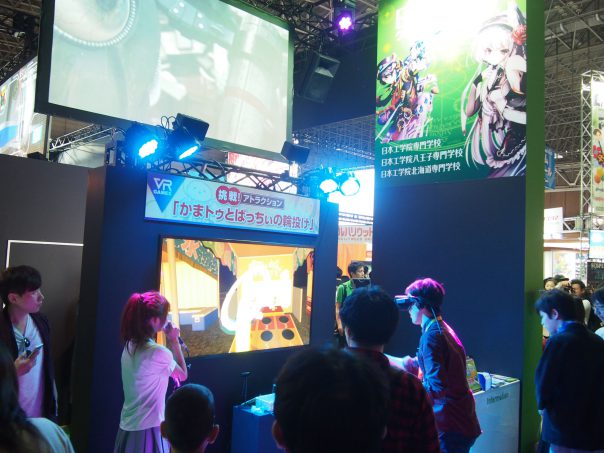 This is the booth of Tokyo Communication Art School.
This is VR rhythm game called RHYTHM TAKT VR.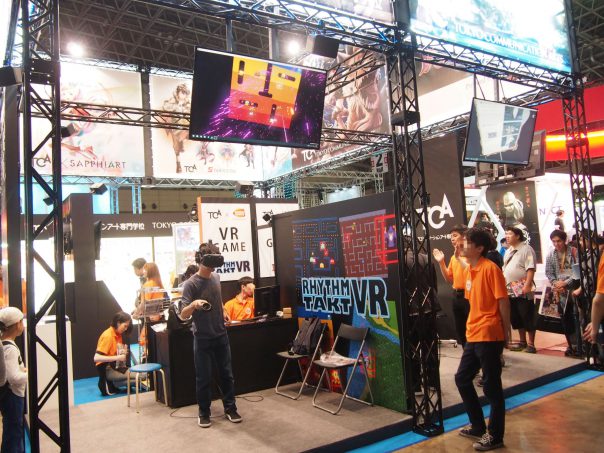 Rule is to hit the enemies to the music.
I could see characters of Pac-Man!
I also like triad music used in the game.
Oh, Yokai Docyuki!!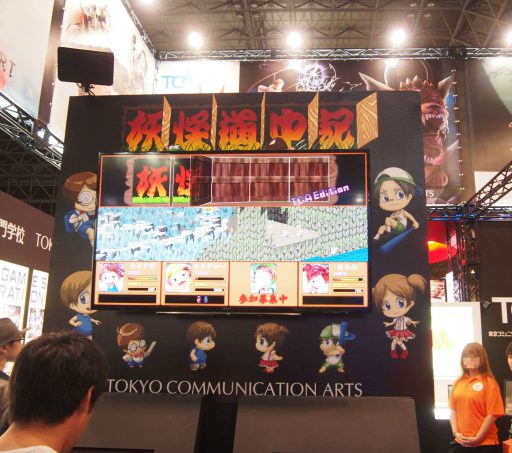 I love this game and I often played it when I was little.
This is also by Tokyo Communication Art School and original one was made in 1987 by NAMCO.
Bring back memories!
At another booth, I could try game of cat.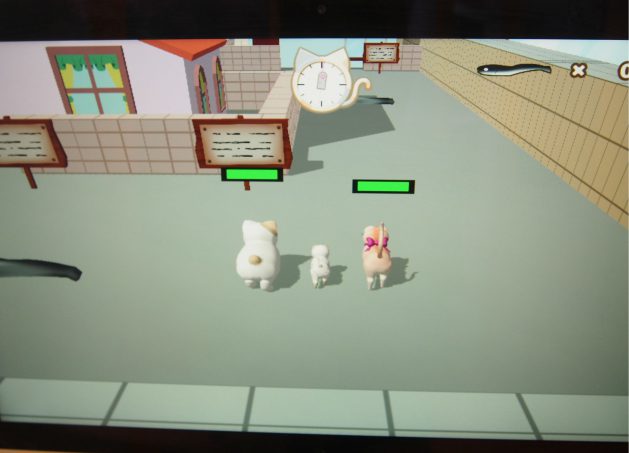 I did not know the rule but looks like dog is enemy.
And was died again by dog's attack within 1 minute. T T
I could change the angle to cat's side in the game.
Toilet?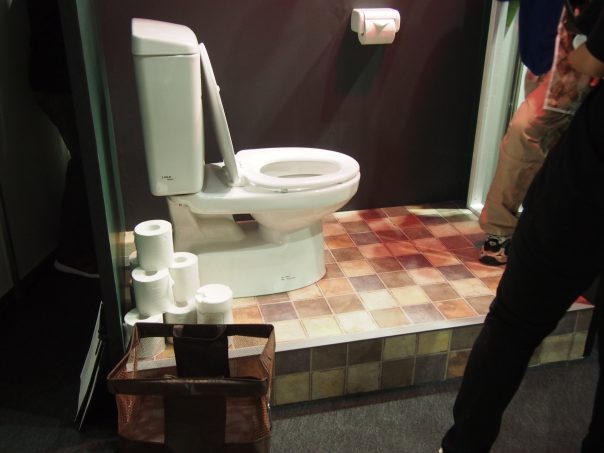 This is VR game named Panic on the Toilet made by the students of Vantan Game Academy.
It is a vocational school for game, manga, anime, seiyu.
Looks like horror game.
I think this the last place people want to die.
What is this?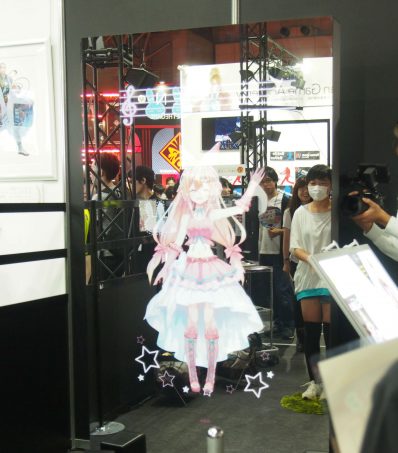 This game is called Mirapon and also by the student of Vantan Game Academy.
AR technique has been adopted.
You need to dance in front of anime character reflected on the screen.
You need to do exact same dance with the character and if it is correct you can make score.
Girl on the screen was reacting if people touch the screen or her face.
This is Information Tsukumotan by the students of Japan Electronics College.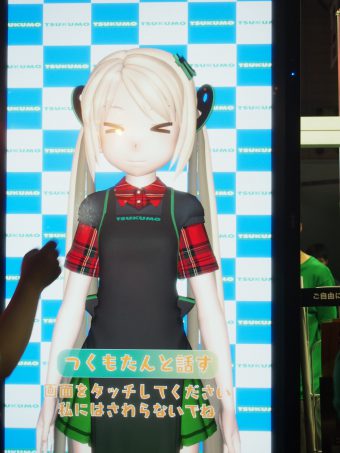 I forgot where I played this game.
Anyway it was game of making burger.
Lettuce, tomato, etc, were falling from the top.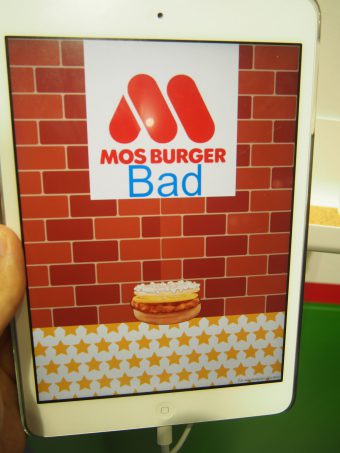 Love Romance Game by Voltage
There are many girls around this booth.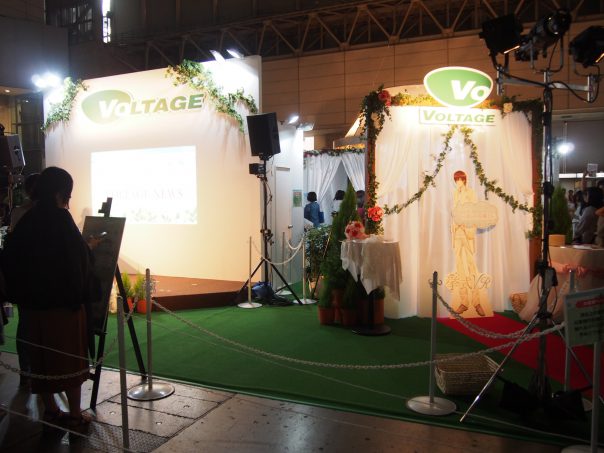 What's this?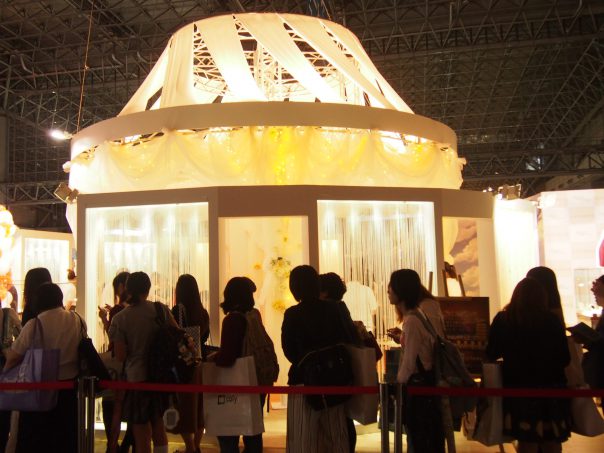 Looks like you can enjoy love romance with Ikemen (good-looking boys).
This the booth of Voltage.
Voltage is famous company for love romance app of Ikemen.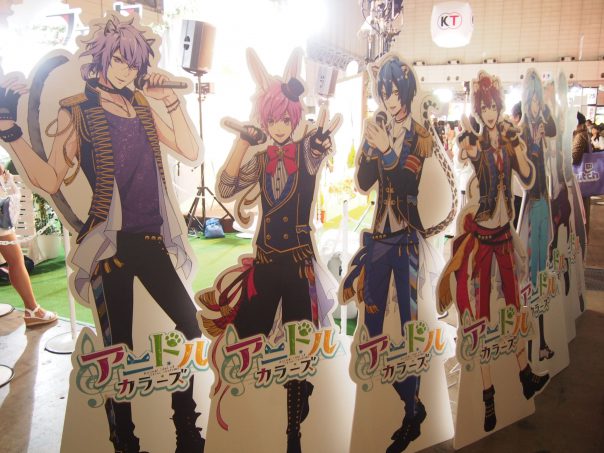 There are booth of Wedding VR, love romance experience, live painting by popular illustrator and realization of girl's dream.
Wedding VR?
Oh, this must be the place!
Surprising!!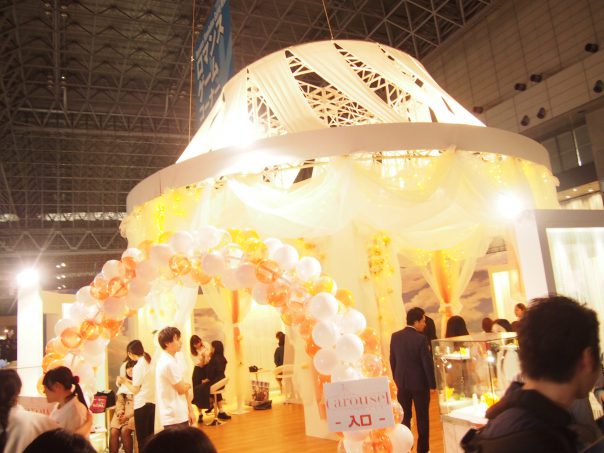 Fire Emblem Muso by KOEI TECMO GAMES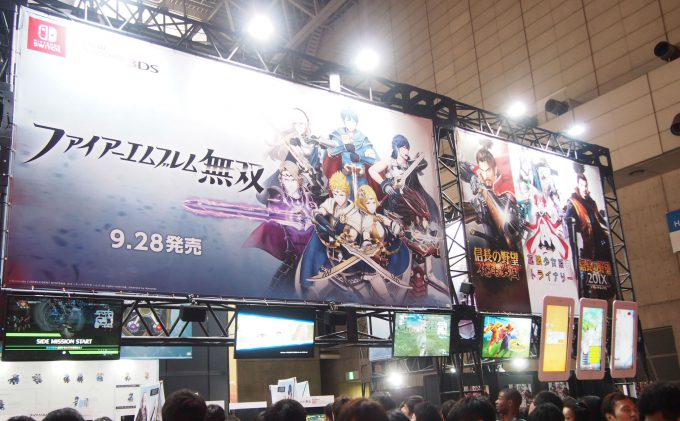 This is the booth of KOEI TECMO GAMES.
This Fire Emblem Muso is released for Nintendo 3DS and Stich on 28 September.
I like this touch of old days characters.
Shin Sangoku Muso 8 is also released in 2018.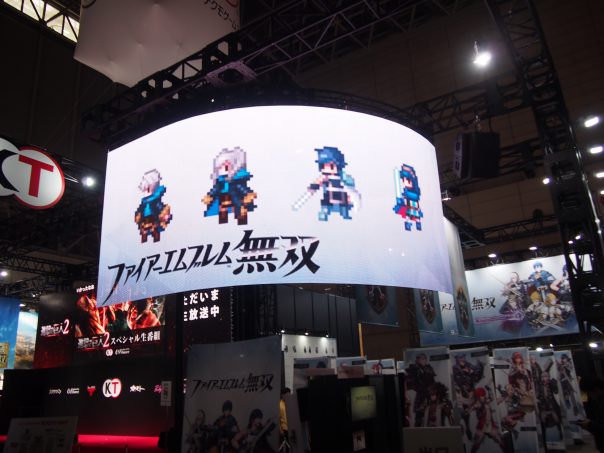 Found Picachu close to the booth!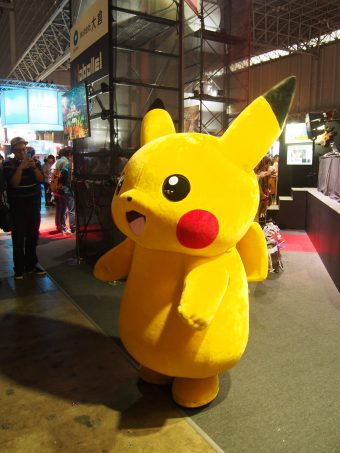 PLAYERUNKNOWN'S BATTLEGROUNDS by DMM GAMES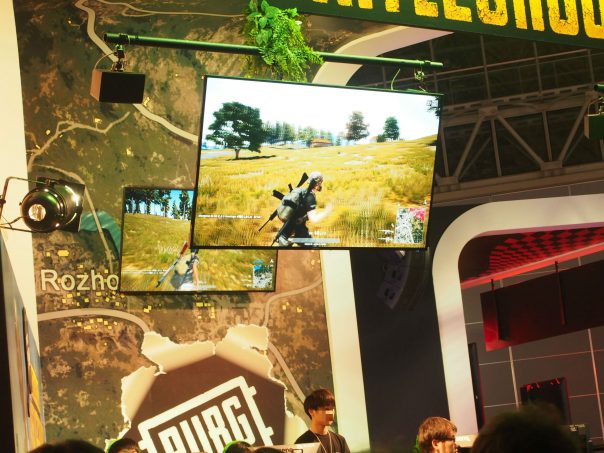 This is survival game in which 100 players can play at the same time.
There was a live streaming in which DeToNator team protect special guest Yuka Kuramochi (Japanese actress) from the other players to the end.
You can get original T-shirt if you survive until being in the last 5 people.
Just joining the game, you can also get free energy drink.
Onmyoji by DMM GAMES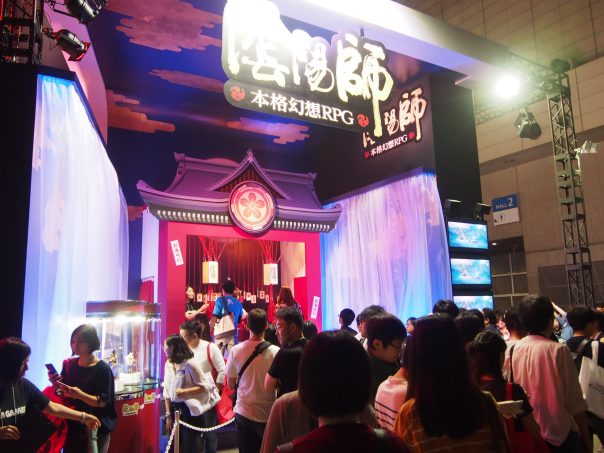 This Onmyoji is also by DMM GAMES.
First 500 arrivals can draw a lottery at the booth and get trading cards with limited serial code.
I could take a picture of cosplayer of Onmyoji.
Thanks for posing!
This is Otengu.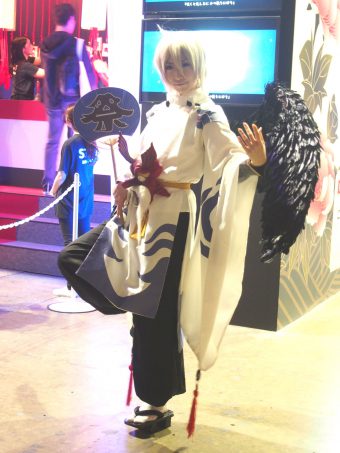 This is Kijomomiji.
Sorry completely out of focus!
Game of Palystation and Android of Detroit Become Human by Sony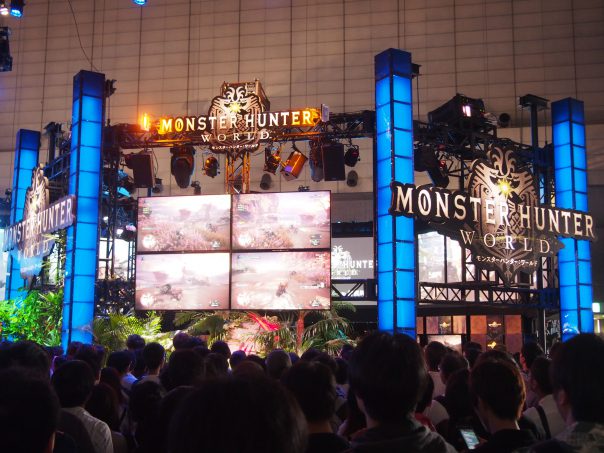 Oh, great booth!
I could see people playing Monster Hunter World on 4 screens.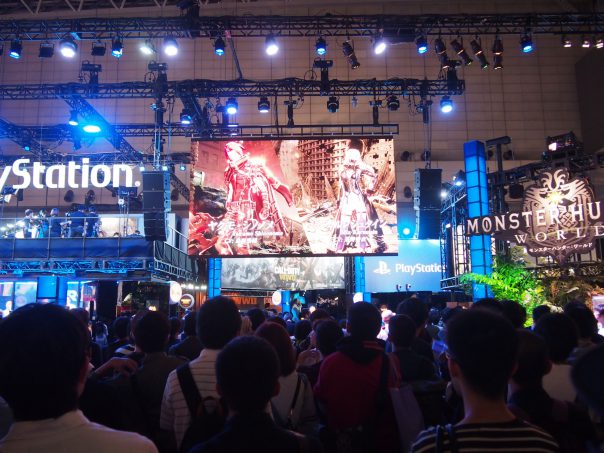 This is CODE VEIN.
New character Io and Louis has announced.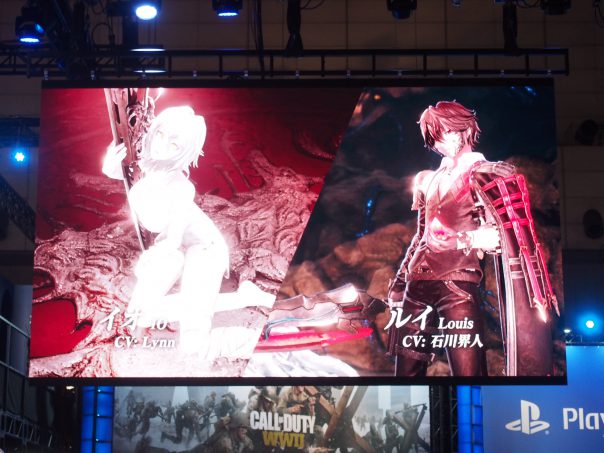 I went further and found Andoroid.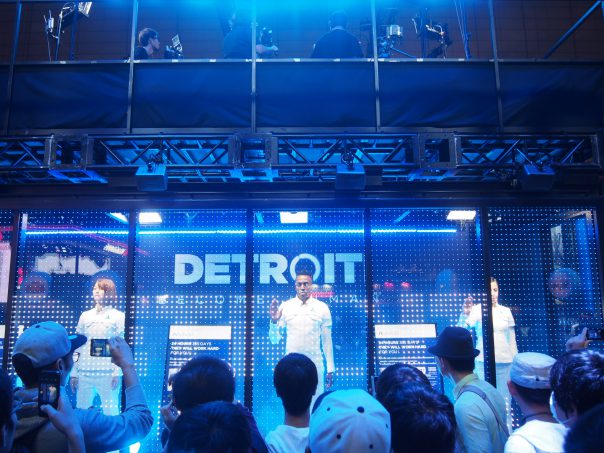 Too realistic!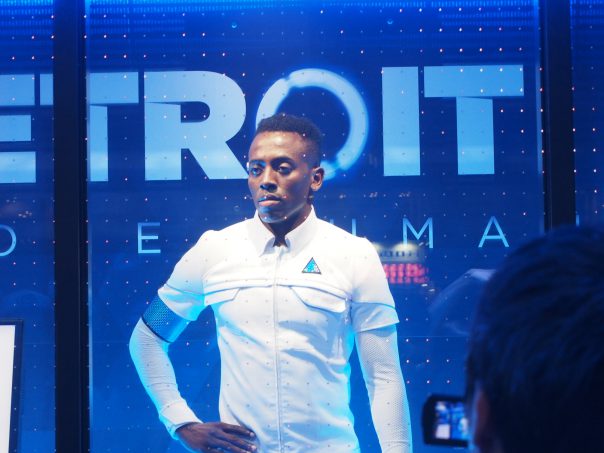 I had to doubt my eyes.
Their face, expression, skin, etc. were so real!
They could move and wave hands like that of human.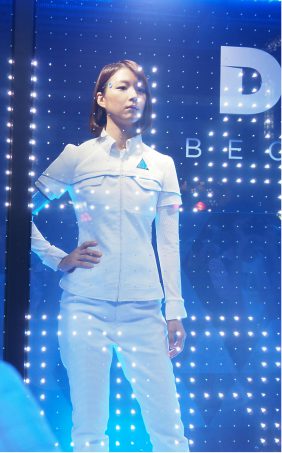 The truth is,
They were real humans!!
When I came back home, I checked the information on this Android and found that they were pantomimers!
I had to surprise again!
Their subtle motion was really that of robot!
Din't I say their movements were that of human?
I have to doubt myself now, haha.
Anyway that was great performance, I was deceived completely. > < This is an advertisement of new game Detroit Become Human. It is an adventure game of PS4
Captain Tsubasa by CLabGames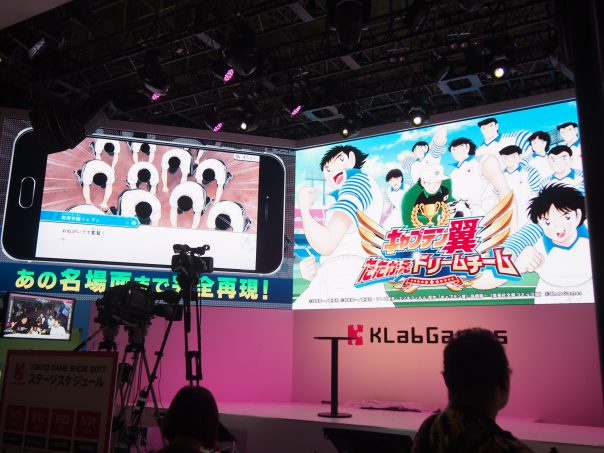 Captain Tsubasa!
This is VR game by CLabGames.
Looks like you can experience power of special shoot by becoming goal keeper.
I don't want to receive tiger shot of Kojiro Hyuga.
Dragon Blade and Cosplayer by Regina Entertainment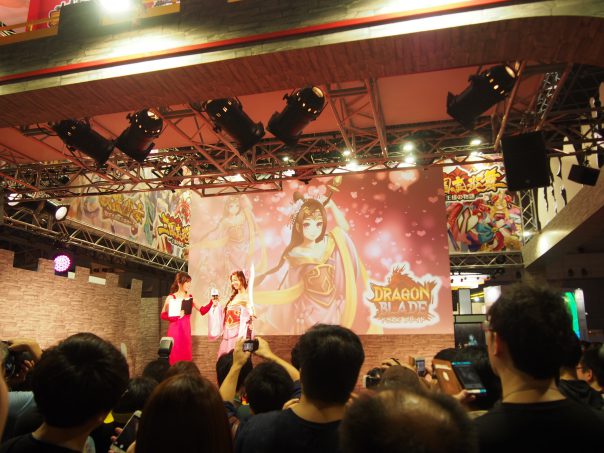 This game has already been released by Regina Entertainment.
It is an RPG game for Smart Phone.
Cosplayers of the game appeared on the stage.
Monster Hunter World by CAPCOM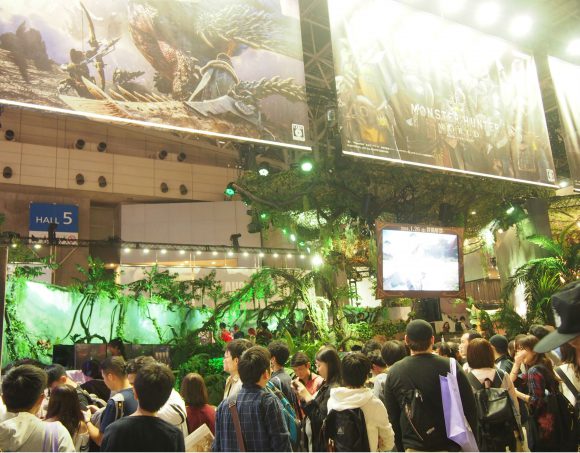 Oh, many people!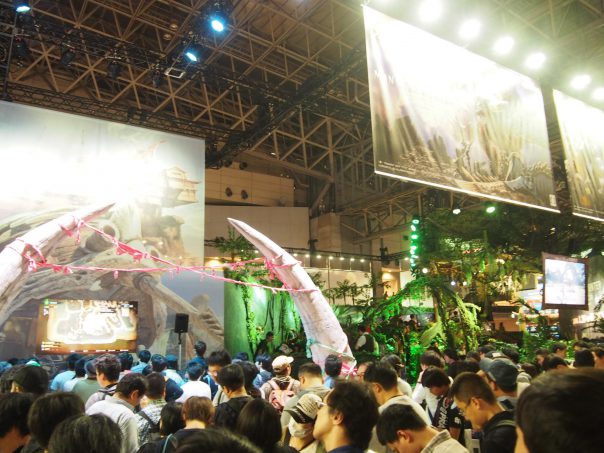 This is Monster Hunter World by CAPCOM.
I could see this game at the booth of Sony some while ago.
Monster Hunter World is released on 26 January 2018.
Miracle Nikki and Cosplayer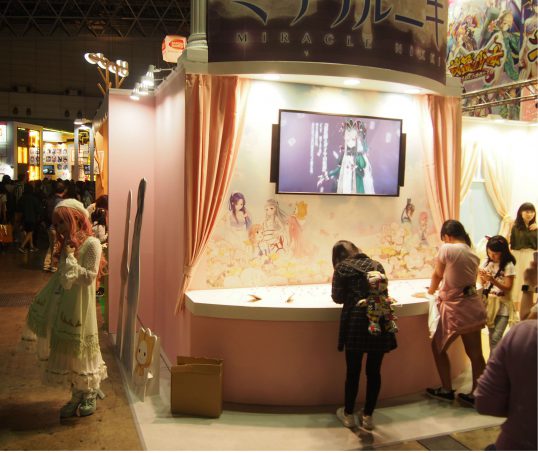 This booth stood out for its cute decoration!
What is this place?
Looks like popular among girls.
Found that this is RPG dressing game.
Played by iOS or Android.
You can enjoy the game for free but you need to pay if you get items.
This is the room of Niki who is the main character of this game.
Looks like the voice actor of Niki is Kana Hanazawa.
Oh, very popular Seiyu!!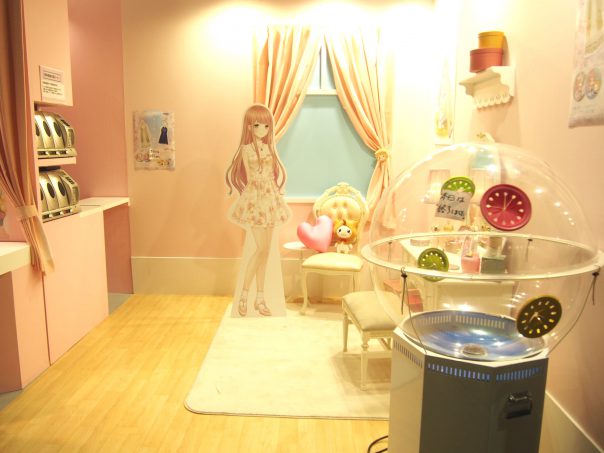 Cosplayer of Niki.
I'm curious about the doll in her hand!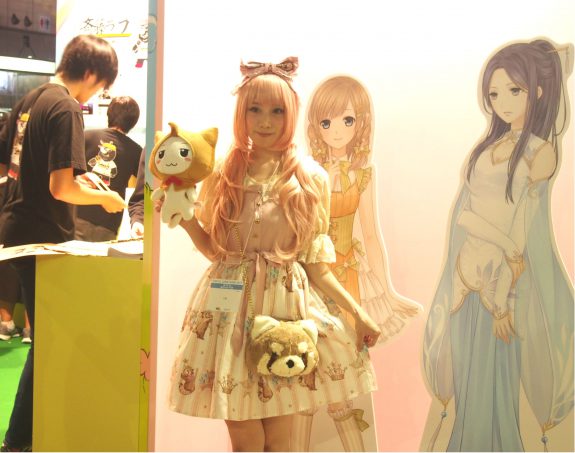 SKYOVER by Exys and 26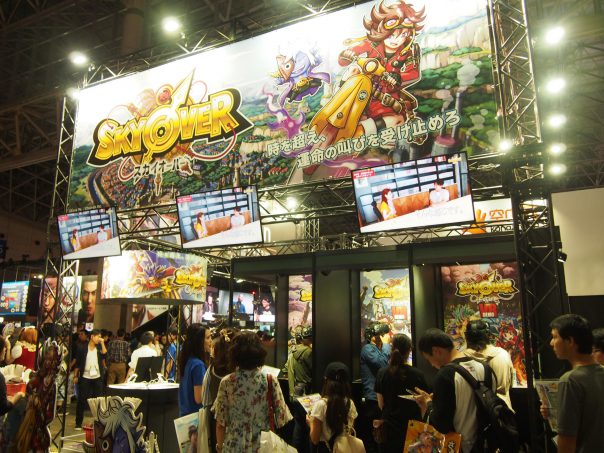 Looks like picture is drawn by Akira Toriyama of Dragonball or Dragon Quest.
People were wearing VR.
Interesting and I also played!
This is the booth.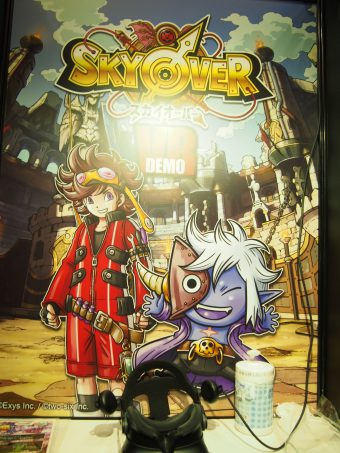 And I set VR!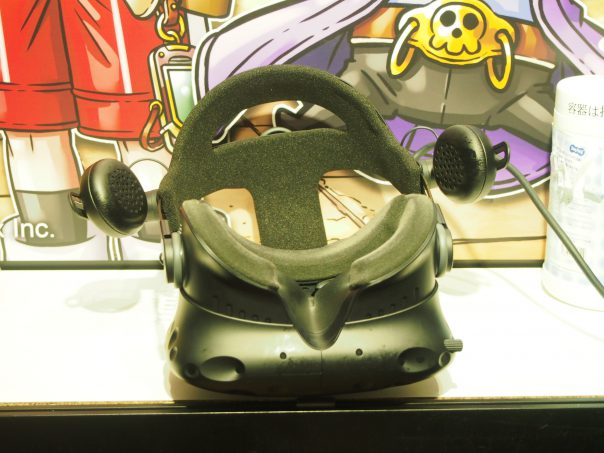 Sorry I could not take a picture but I could enjoy 360-degree panoramic views.
Party members were walking in the desert and were attacked by big dragon on the way.
Members and dragon moved during the battle and I also need to look back to catch them.
Now I understood the reason people wearing VR kept looking back instead of looking ahead.
It was great experience!
This SKYOVER is RPG game app for Smart Phone by Exys and 26.
I could get wet tissue after the game.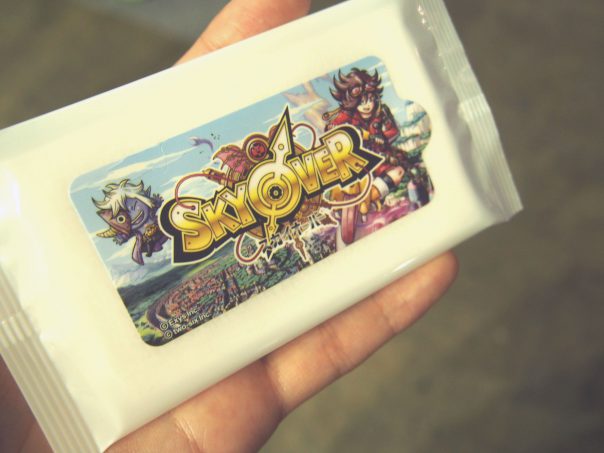 13 SENTINELS: AEGIS RIMATLUS by ATLAS and Cosplayer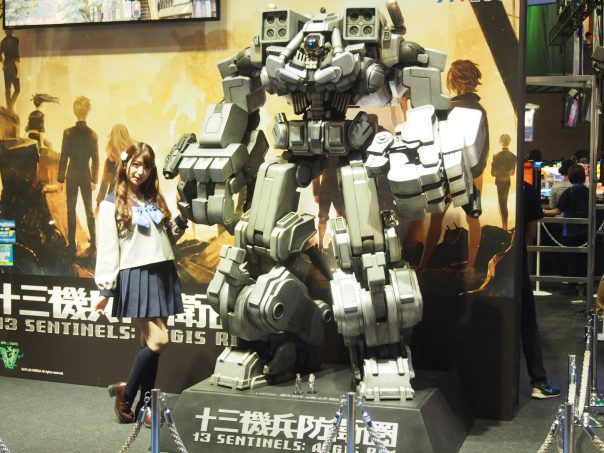 Robot and Cosplayer of 13 SENTINELS: AEGIS RIMATLUS!
Looks like 13 boys and girls battle using the robot.
This game is released by ATLAS in 2018 and you can play it on PS4 and PSVITA.
Final Fantasy 15, Dragon Quest X, Itadaki Street and Cosplayer by Square Enix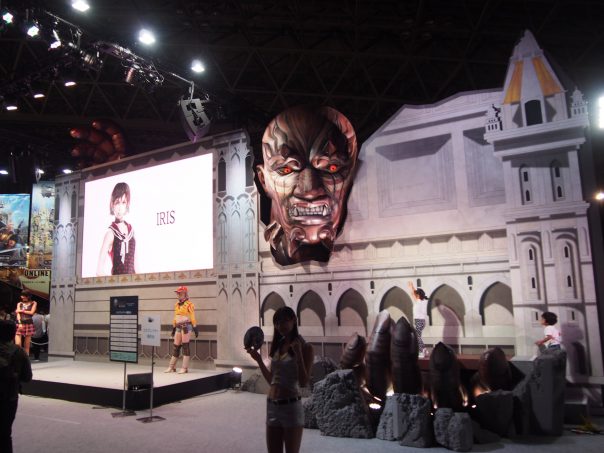 Found Moogle!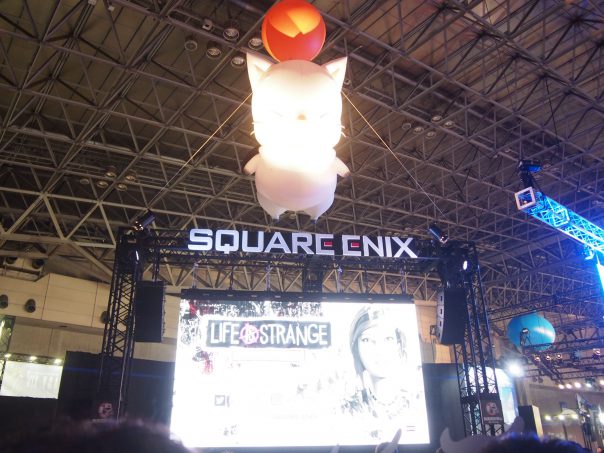 Yes, Final Fantasy!
This is the booth of Square Enix.
Final Fantasy 15 and Cosplaer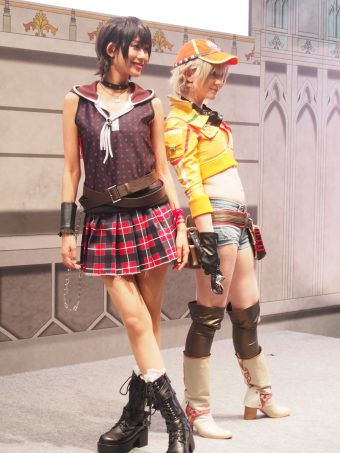 I could see cosplayer on the stage.
They are Cidney and Iris.
Great cosplay!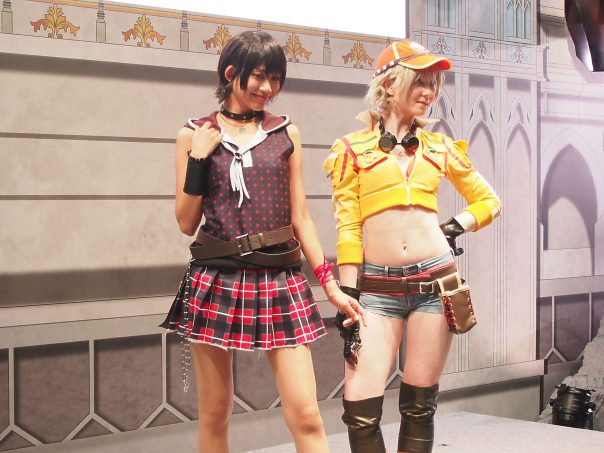 Dragon Quest X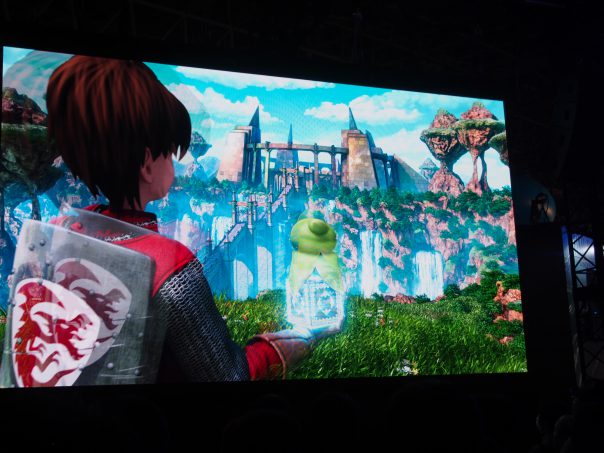 On the screen, I could see PV of Dragon Quest X.
Really beautiful!
Dragon Quest was the very first RPG game I played when I was kid.
You can enjoy it on PS4, Wii U, Windows, Nintendo Switch.
Itadaki Street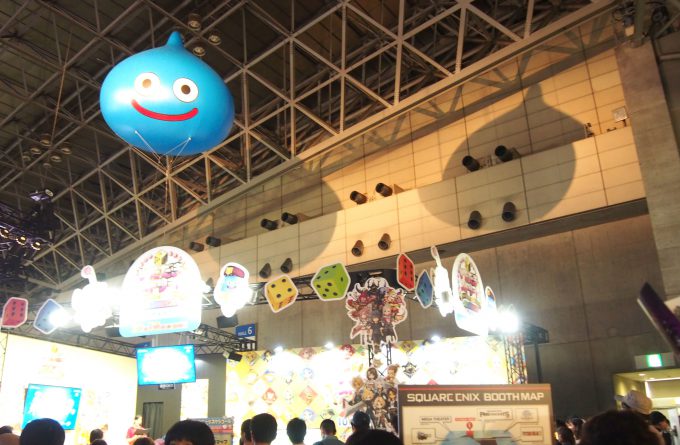 Found Slime!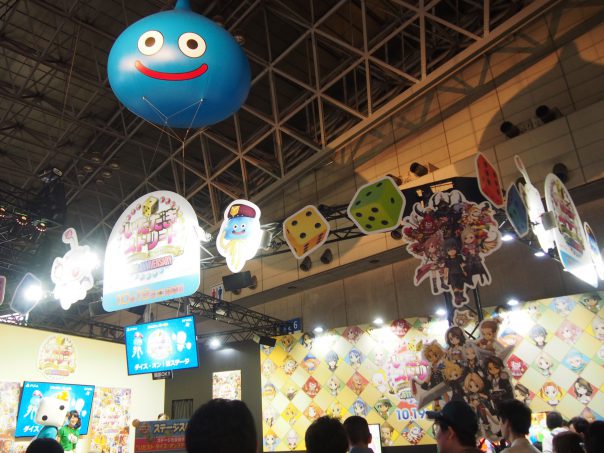 But not Dragon Quest.
It is Itadaki Street!
I think Itadaki Street is not that famous like Dragon Quest or Final Fantasy but it is great game!
It is a kind of monopoly game and I was really into original Itadaki Street maybe about 20 years ago.
This is 30 anniversary since the first release of Dragon Quest and Final Fantasy and they became Itadaki Street this time!
Don't miss to check the voice as many popular Seiyu play the characters in the game.
GRAN TURISMO SPORT by SONY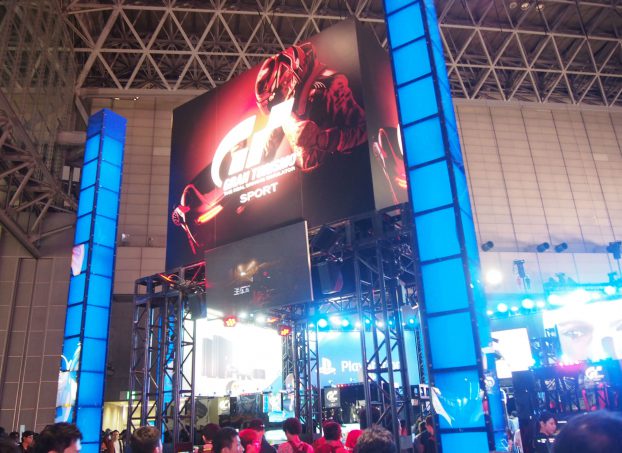 This GRAN TURISMO is very popular racing game.
9 of driver seats with a handle and screen had been set there.
You could enjoy this GRAN TURISMO SPORT in the seat.
Looks like there was also a special seat for VR mode.
It is released on PS4 on 19 October 2017.
Wining Eleven 2018 by KONAMI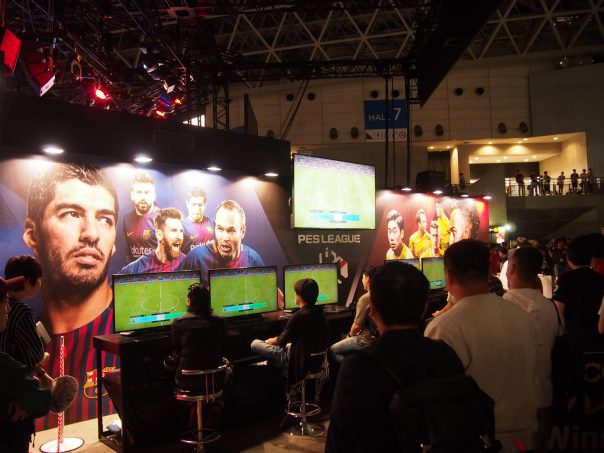 People were enjoying Wining Eleven.
It is also very popular soccer game, isn't it.
Wining Eleven 2018 has released on 14 September.
You can enjoy it on PS4.
EARTH DEFENSE FORCES 5 by D3 Publisher and Cosplayer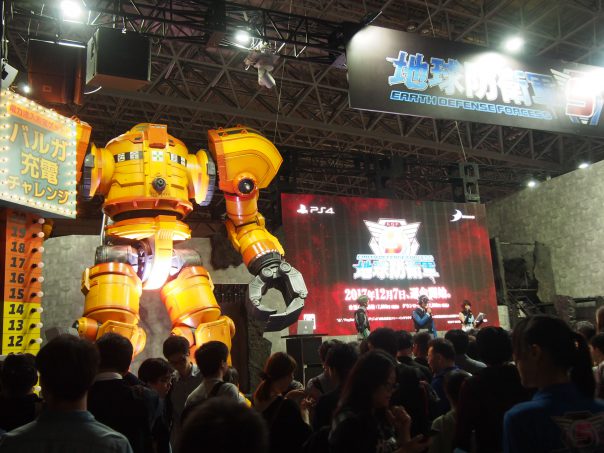 Big robot!
This robot is Gigantic Unloader Barga (Hope the spelling is correct).
There was a aero-bike near the foot of the robot and you can ride on it.
Looks like it is a game and you need to pedal a bicycle to get the robot's upper body to move.
This is 3D shooting game and to be released on PS4 in this year 2017.
There was a cosplayer of this game.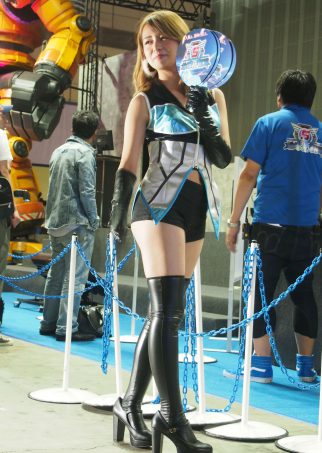 TWENTY THREE SEVEN by FUJISHOJI and Cospayers
There are coplayers at the front of this booth.
They are coplayers of TWENTY THREE SEVEN.
Thanks for making pose!!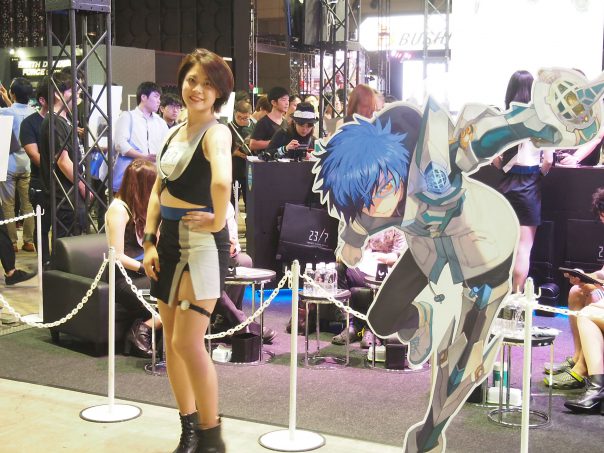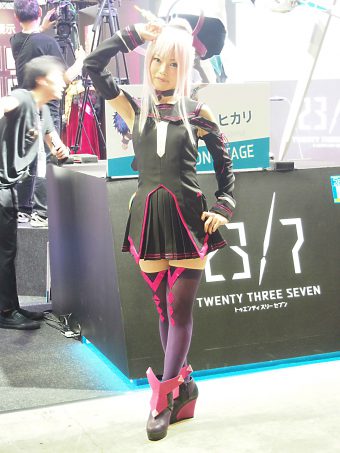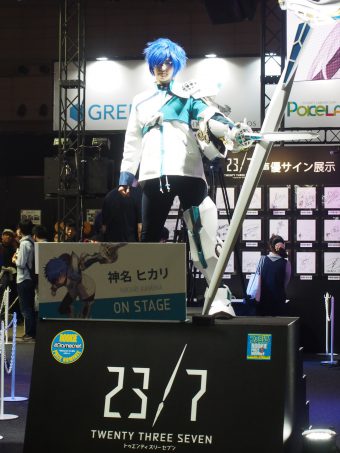 This is RPG game by FUJISHOJI
You can enjoy this game on iOS and Android.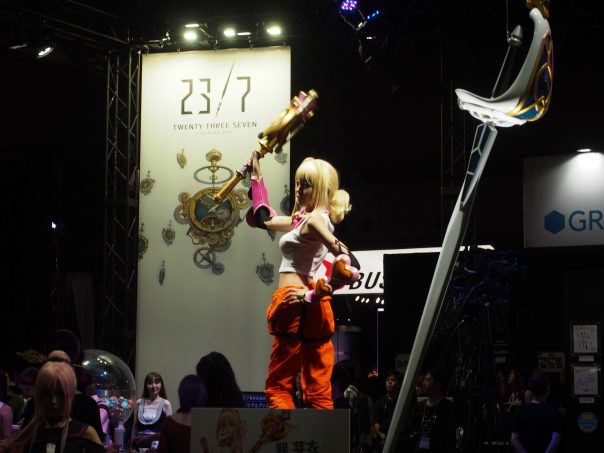 Monster (Energy Drink)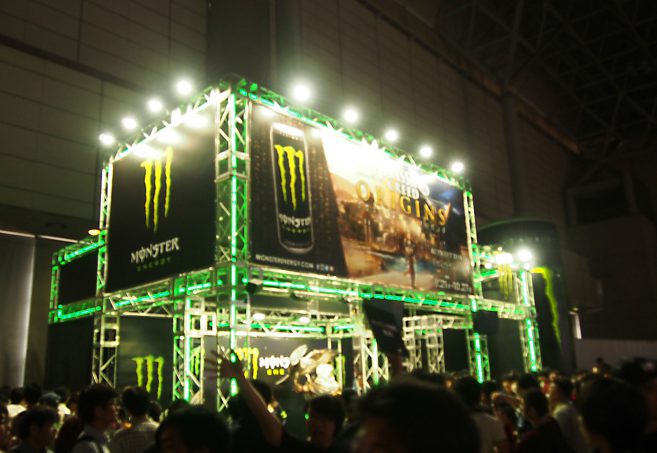 Oh, booth of Monster.
To my surprise, they were handing out the energy drink Monster to all the people for free.
I think I have to pay about $1.8 if I buy it in Japan.
I didn't drink anything today after went outside home that I was so thirsty.
There was a line of people but I joined it and got it.
This Monster was zero-calorie.
Gaming Chair by EXRACER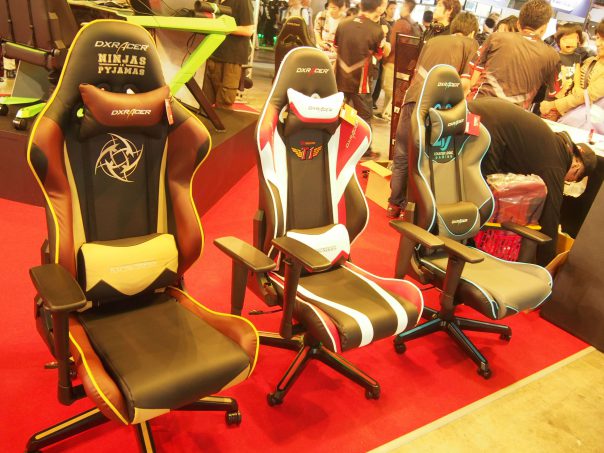 I could sit in the chair.
Oh, this is comfortable but I did not notice this was a chair for game then.
Yes, certainly there is a occupation called pro-gamer now so they must use this kind of chair.
Using it just as a reclining sofa, it is comfortable!
LET IT DIE by GungHo Online Entertainment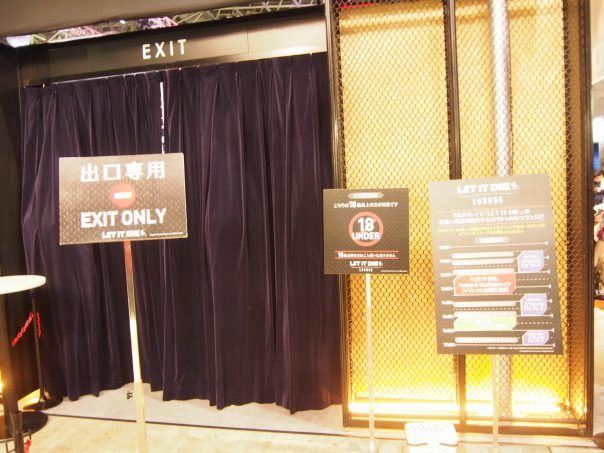 Looks scary!
18 under can not enter.
I'm well above 18 but too coward at the same time so didn't go inside, haha.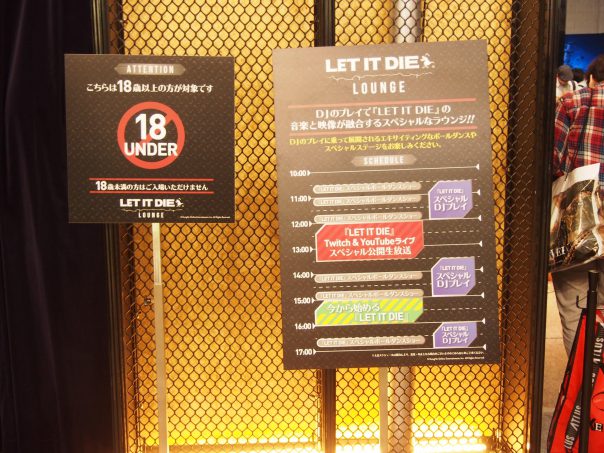 This looks like survival action game.
You can play it on PS4.
It must be scary game!
LOVE PLUS by KONAMI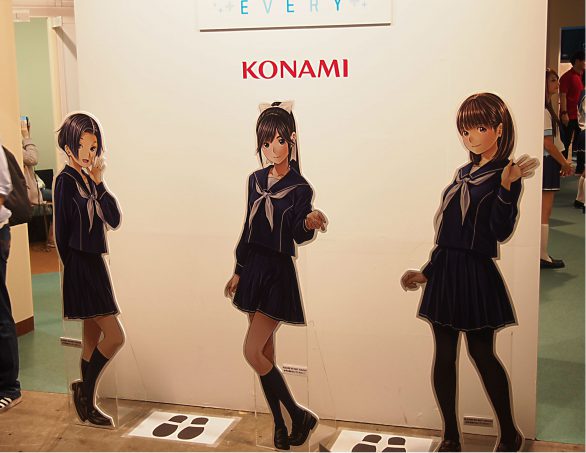 I could see school girls inside.
They guided each person to the small room.
What's happening here?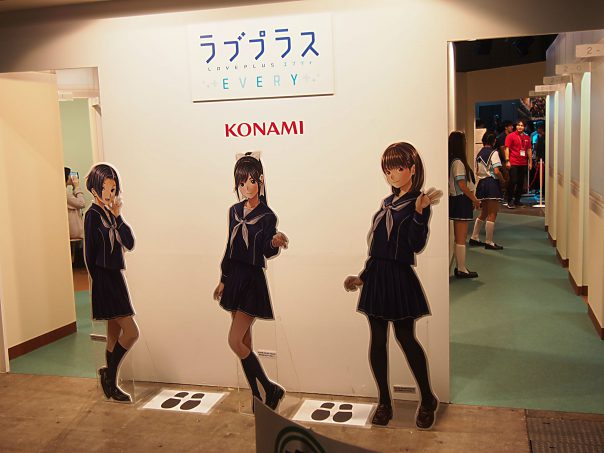 Later, after checking the information I could see here is the place you can enjoy VR of LOVE PLUS escorted by the girls.
There are classes, or partitions from A to L and VR Goggle set on the desk.
Desk is that of the one we used in class.
I see, so you can enjoy atmosphere of school days while playing the game putting aside the story of whether or not there was a girl besides you at the time.
This app is to release this winter of 2017 on smartphone app.
Looks like you had to wait in line about 2 hours!!
Total War: ARENA by Wargaming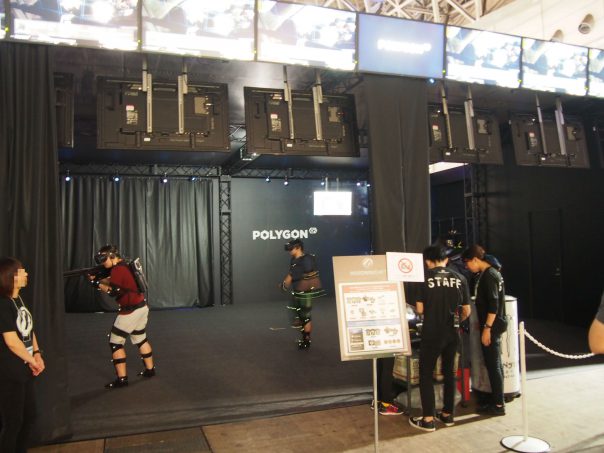 This is the booth of Wargaming.
Their game World of Tanks, which is battle game of Tank, has one hundred million members!!
This set is made based on the image of "Total War: ARENA"
Total War: ARENA is also battling game online.
You need to cooperate with other people to pass the game.
Looked like each movements of player's body are reflected in the world of VR through the gadgets attached to the body.
I wanted to try but the acceptance to join had already been finished sadly.
Cradle Chronicle by KONGZHONG JP and Cosplayer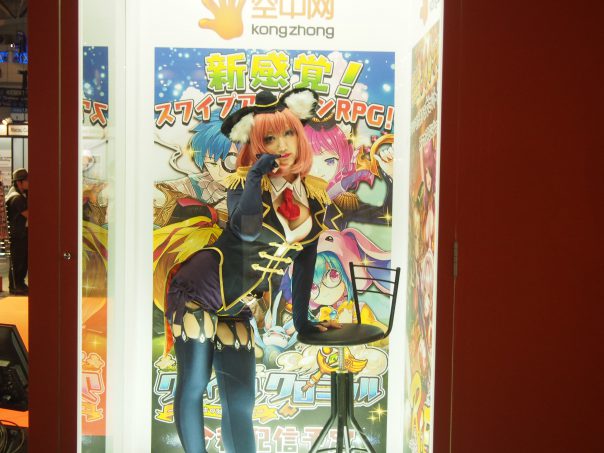 Cosplayer of Cradle Chronicle.
Thanks for posing!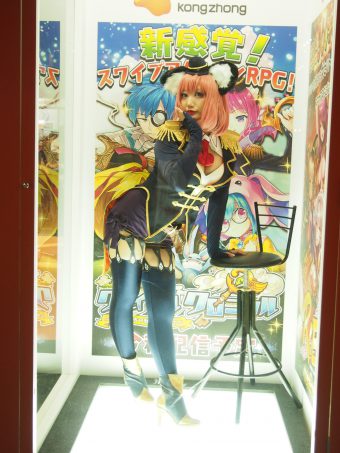 This is scroll action RPG game.
It is released on October.
Main company is KONGZHONG in China and this is delivered by its Japanese subsidiary
Food Court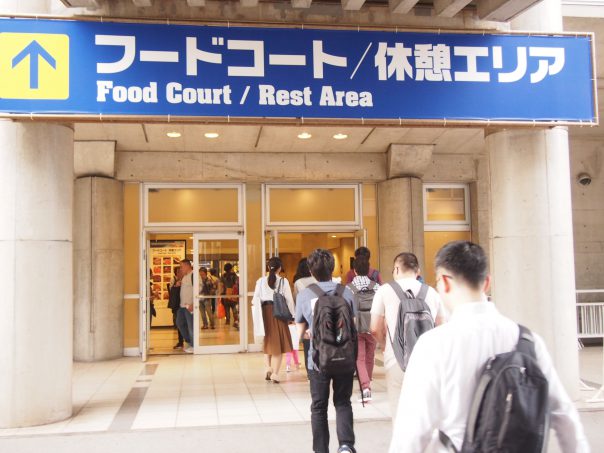 I moved to the another hall.
And found food stalls!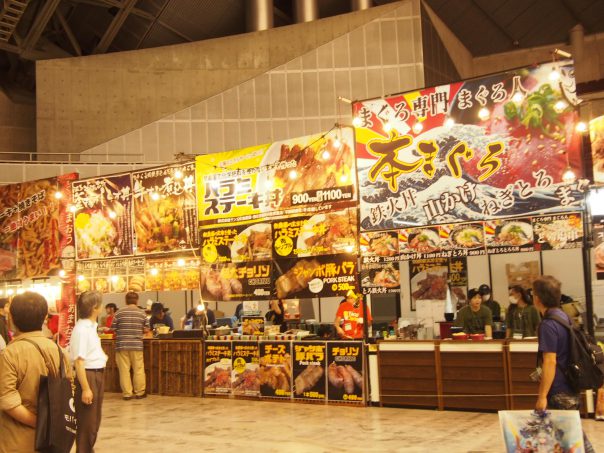 If you are tired and hungry during the event, come visit here.
There are many seats to sit and enjoy food on the 2nd floor.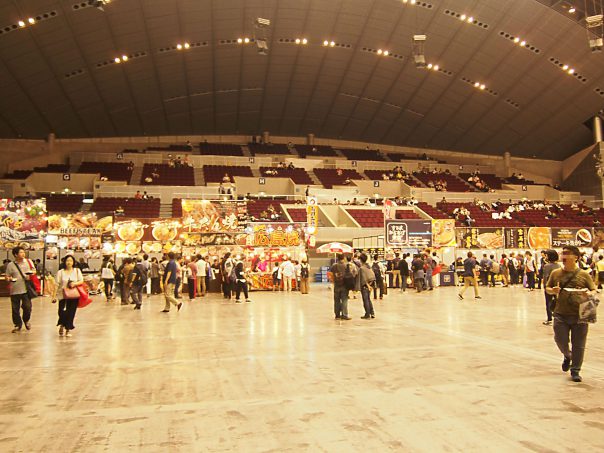 Cosplayers of some Video Games
Just before closing time, many cosplayers and companions come together and many people started to taking pictures so I joined them, haha.
I just took the pictures of cosplayers who had been around me at the time.
I could not understand most of the game or character but anyway thanks for posing!!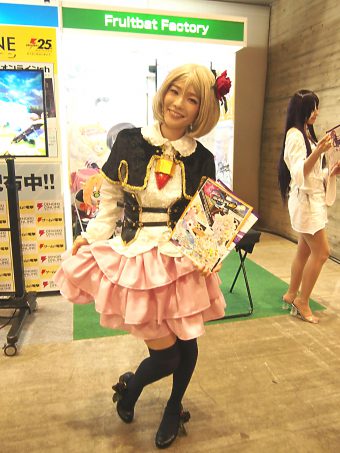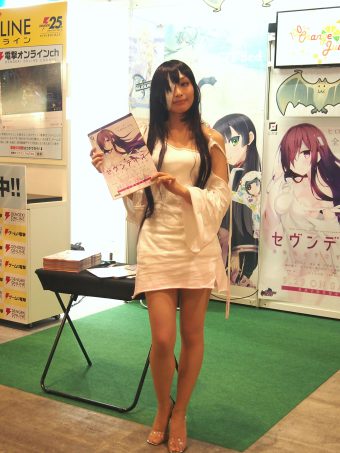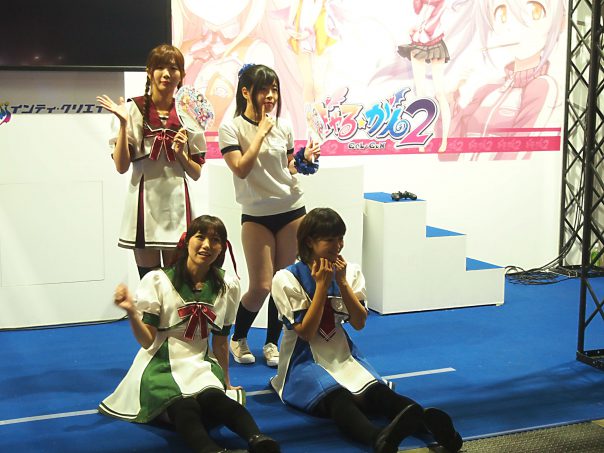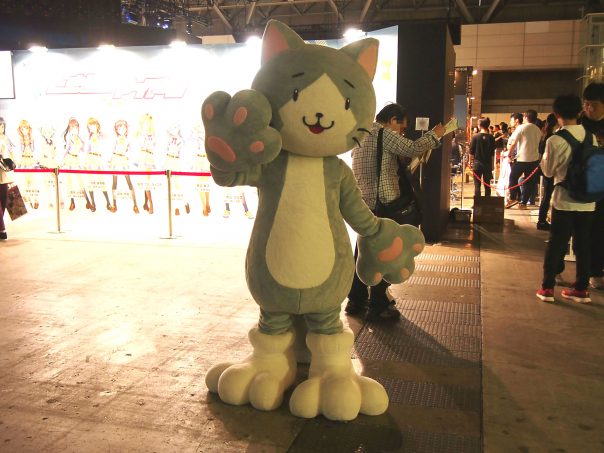 Summary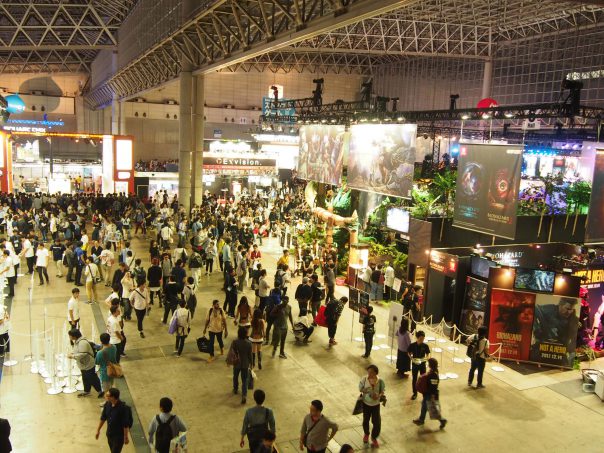 There were too many things to see.
What I tried is just a part as most of the popular VR games had a long waiting line.
You can also enjoy talk of producer, creator, seiyu, etc.
And if you try games or even if you did not try, you can get many things for free here.
Just prepare for long line!!
Actually my last game was original PlayStation and I think Final Fantasy 8 was the last game.
The progress of image, sound and technique since then is really surprising.
I felt like I was born in really exciting age.
I'm going to buy VR goggle one of these days!!
Tokyo Game Show 2017
When : 23-24 September 2017 (Public), 21-22 September 2017 (Business)
Where : 2-1, Nakase, Mihama-ku, Chiba-city, Chiba 261-8550
Venue : Makuhari Messe
Ticket Price : 1000 yen (About $9.5)(ADV), 1200 yen (About $11)(DOOR)
Website : http://expo.nikkeibp.co.jp/tgs/2017/