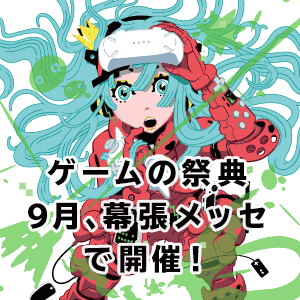 Firstly I missed the chance to visit Tokyo Game Show T T
Literally I missed the chance to come visit Tokyo Game Show.
I knew this is the biggest game event in Japan but I completely forgot the date it is held.
And the date I noticed was the very date it had been taking place, it was too late.
Anyway after I totally regret having forgotten the date, I checked how the actual show was.
It only to increase my regret, it sounds like so much fun than I imagined.
This time I missed that I summarize how the show was.
I'm sorry for this article without much pictures as I couldn't go to there on the spot.
What is Tokyo Game Show
It is the biggest show of game in Japan.
Here you can enjoy all the computer-related entertainment.
Not only games but also you can enjoy the new gadget, cosplay, anime item, talk, show, etc.
So even those who doesn't take that interested in game can enjoy it.
The best part of it is you can play and enjoy the latest gadget and games on the spot with hottest information by producer, director, seiyuu vocal actor, etc.
It was first held in 1996 and has been held until now.
Tokyo Game show 2016
It is 20th anniversary of Tokyo Game Show that first held in 1996.
Surprisingly 163107 people visited the show for 3 days.
First two days are only for business people and last 2 days are opened to the public.
Theme of 2016 is "Entertainment changes. The future changes."
As long as I read and see the pictures there was so many people and you have to wait sometimes 1 hour to play the game or experience the latest gadget.
Oh, it is as if like the long queue of Tokyo Disney Land.
Top of it, it applies a numbered ticket so you might can't even play the game if you are late as it is sold out especially for popular games.
But everybody says it was so exciting.
And one of the highlights of this Tokyo Game Show is VR or Virtual Reality without a doubt.
That's the thing I wanted to try.
Since I watched anime Sword Art Online I was attracted to it.
There were also other main introduction of the games such as Final Fantasy XIV, Street Fighter V, Winning Eleven 2017, Isu-don (Otome Apps), etc.
I introduce some of them here.
VR Virtual Reality
I think most famous one is PlayStation VR by Sony Interactive Entertainment (SIE).
It is a headset and if you wear it what the scene spread ahead of you is the 360° vision of incredible CG world.
Flat panel display and motion censor in the headset replace the visual information.
As for replacement of auditory information, 3D audio technique is applied that you can listen to 3D sound.
There is also a function which detects user's brain motion that enable users to play game by just nodding or focusing without using hands.
All of them make you feel as if you were in the real world.
This PlayStation VR is sold out right away every time it released.
Another VR Unlimited Hand is also interesting.
It is a special controller for VR.
You can connect the motion of your hands and fingers to the those of character's in the game when you apply it around your arm.
Actually there has been the idea of Virtual Reality since 1960s but at that time there was no tech to realize it.
Now the science and technology came up with it finally.
This VR is not only for game things but also is expected to used in our lives and medical field in the near future.
The day might soon come this VR is just a usual thing in our society.
Final Fantasy XIV
There is a booth for Final Fantasy.
You can play Final Fantasy XIV here and even if you are beginner of this game, stuff of Square Enix tells you how to play.
I've never tried Final Fantasy XIV but watched video several times and felt like it is rather a movie than a video game.
But as you know it it seemed like there was so long line to play it, at least more than 1 hour you had to wait.
Talk event of Final Fantasy XIV's Producer & Director Naoki Yoshida is also held at the stage.

Street Fighter V
There was a tournament of Street Fighter.
People that participated in the tournament and won to the last battled with 5 professional gamers that belonged to Evil Geniuses.
There was a talk stage of assistant director Tomoaki Ayano and Syuuhei Matsumoto.
New character Urien's additional information was also announced.

Otome Romance Mobile Phone App Isu-don, Tenka Touitsu Koi no Ran Love Ballad and Liar!~Uncover the Truth
You can enjoy the world of "Kissed by the Baddest Bidder" for this Isu-don
It is a popular Otome Romance Mobile Phone App released by VOLTAGE.
The stages of "Tenka Touitsu Koi no Ran Love Ballad" and "Liar!~Uncover the Truth~" seemed to have been popular with Seiyu Voice actor Seiichi Morita, Takashi Kondo, Toshiki Masuda invited.
There seemed to have been a long queue for the experience of Kabe-don by Ikemen (good-looking guy)
Kabe-don is a situation that boy put a hand on the wall that behind a girl with bang-sound.
That action seems to make a kind of heartthrob for the girl.
For this experience, more than 1 hour of waiting at some point.
VOLTAGE is the company that made these Otome Romance game app for mobile phone and it certainly captured girl's heart.
Actor Takayuki Yamada visited
Takayuki Yamada is famous Japanese actor.
He was invited to the show as he loves video game.
Actually he privately went to this show without telling media or other people last year.
He was a diehard game fan and I could sometimes see he was advertising new game in TV commercial.
He would have visited the show privately this year, too even if he had not been invited.
It is a good thing even actor comes visit from pure emotion.
If you like comedy and know Dragon Quest (Japanese super famous video game) his work is really hilarious.
He can certainly play any role from cool character to humorous character.
I like this The Hero Yoshihiko series very much that I end up watching all the series.
Summary
It looked like so exciting show.
You can experience not only games but other subculture things to latest gadgets.
But please ready for the long line before entering and before playing game.
I think just watching others playing the game or just hanging out inside is enough fun even if you don't line up.
I'm sure not to miss next 2017th Tokyo Game Show!
PS. Yes, I visited Tokyo Game Show in 2017, here is the article of it!
Tokyo Game Show 2017 Report of VR, Android and Cosplayer