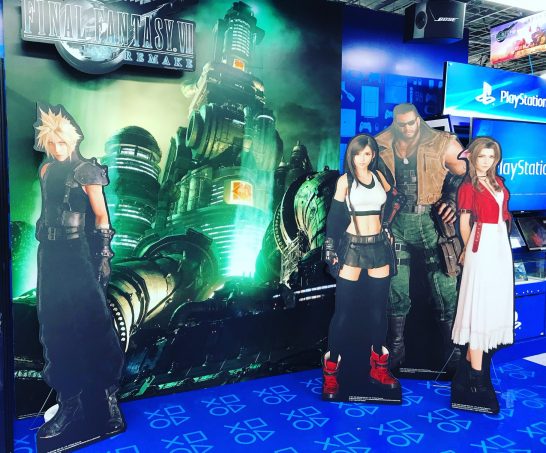 Final Fantasy 7 Remake was released this April, wasn't it.
I remember days in high school when I played the original FF7 although the image was more simple at the time.
In this FF7 Remake, the theme song is used and it is not a song by a female.
The song is sung by a male and it is the first time the song used in FF series is sung by a male.
Here I'll introduce the singer, song and lyrics.
And you can listen to the song and interview (Japanese) from the following YouTube video of Square Enix.
Who sing a theme song of Final Fantasy 7 Remake?
The theme song of Final Fantasy Remake is sung by Yosh.
He is Japanese and if you watched Japanese anime Banana Fish, I think you already know him.
As the ending song Red is sung by Survive Said The Prophet.
And the vocal of this Survive Said The Prophet is Yosh.
Here is YouTube video of RED.
Survive Said The Prophet – RED | Official Lyric Video
His English is very good, almost native English.
I was wondering if he grew up in countries like US or UK or one of his parents was Japanese.
But neither theory was correct.
He grew up in Tokyo in Japan.
But the big difference was he had gone to an international school.
After graduated from school, he went to FULL SAIL University in US.
That's why he could speak or sing a song of English very naturally.
English and Japanese Lyrics of FF7 Remake Theme Song Hollow
Hollow is the theme song of Final Fantasy 7 Remake.
Here I quote lyrics of Hollow from an official YouTube page of Square Enix.
This is the making process.
I quote both English and Japanese.
After the quote, I explain some Japanese I pick up for each part.
I would be lost
Drifting along
Floating up high
Time after time
And there you'd be
Shining brightly
Your smiling face
To guide my way
漂い
流れて
迷った
時でも
あなたの
輝く
笑顔が
導く

Bloody and bruised
Brought to my knees
When beaten down
When broken up
You would appear,
Reach out to me,
Heal every wound,
And make me whole
傷つき
倒れて
打ちひしがれても
打ちひしがれても
あなたに
触れたら
すべては
癒され

Was it all a dream?
Will I never know?
Foolish and blind
To everything
浮かれてた?
そうかもな
何も
知らずに

Had I realized,
Had I thought it through,
Would you be here
in my embrace?
気づくのが
早ければ
抱きしめられたかい?

Shine bright once more
Guide me to you
Smile bright once more
This time
I will never let you go
もう一度輝け
一度でいい見つけるから
もう一度笑って
今度は
離しはしない
漂い
流れて
迷った
時でも
あなたの
輝く
笑顔が
導く
漂(ただよ)い comes from a verb "漂(ただよ)う".
It means "drift".
流(なが)れて comse from a verb "流(なが)れる".
It means "flow".
迷(まよ)った comes from a verb "迷う" which means "get lost".
You can use this word when you get lost both on the street in real and on the path in your life.
I like the word "導(みちび)く".
This means "lead" or "guide".
傷つき
倒れて
打ちひしがれても
打ちひしがれても
あなたに
触れたら
すべては
癒され
打(う)ちひしがれる means "beaten" or "broken".
You can use this phrase when you mentally suffered from something a lot.
In this part "がれても" is used.
This came from "~しても" and means "even if".
So the sentence 打ちひしがれても means "even if I was broken".
触(ふ)れる means "touch".
Here the sentence "触れたら" means "if I touch".
You can use this "~したら" as a meaning of "if" in many cases.
癒(いや)され comes from a verb "癒(いや)す".
It means "Heal".
In this case, it is a passive form of "~される", so it becomes "癒され".
You can find that "You are healed by touching your special even if you are broken or beaten".
浮かれてた?
そうかもな
何も
知らずに
浮(う)かれてた means "being carried away" or "get excited".
Here, そうかもな means "maybe that's true".
そう is "so".
Both Japanese and English are the same meaning and same pronunciation for this so.
And かもしれない, which means "maybe" is used.
Talking to yourself like "Am I carried away, well, maybe so".
気づくのが
早ければ
抱きしめられたかい?
気(き)づく means "notice".
早(はや)い means "fast" or "early".
Here 早ければ here means "if it is early".
抱(だ)きしめる means "hug", "embrace".
This section says "Could I hug you closely if I noticed it earlier".
This lyric represents a wish of Cloud towords Aerith.
もう一度輝け
一度でいい見つけるから
もう一度笑って
今度は
離しはしない
一度 means "one time".
もう一度(いちど) means "once again (more)".
一度でいい means "only (just) one time" and that represents a strong wish.
離(はな)しはしない is consists of "離す" and "しない".
離す means "let something go" and しない means "do not (don't)".
Why Yosh was chosen as a singer of FF7 Remake
The composer or director of Hollow, which is a theme song of FF7 Remake, is Nobuo Uematsu.
Actually, all the songs of FF series are made by him and he is highly regarded as a music composer and director in the world.
He said he had an image of "wilderness and rain" from the first.
If you have ever played Final Fantasy, you might have an image of beautiful music and song sung by a female.
The songs touch our hearts but he felt to make us move using beautiful music is not proper this time when considering the image and mind of Cloud.
What he needed for the music was hollow, fragility and instability.
He needed a singer who can convey those things.
And the singer has to sing a song in English naturally.
Nobuo Uematsu also had an opinion of the song needs to have an analog touch, not only a modern melody and touch.
Like an acoustic guitar, the singer also had to be the one who can convey the analog part at the same time.
Many talented and renowned candidates they had and narrowed down to one person.
That was Yosh.
He was chosen based on the unanimous recommendation of staff involved in music including Nobuo Uematsu.
Summary
When I was a child, we were separated by 2 games when it comes to RPG.
Dragon Quest or Final Fantasy.
In those days, they were from the original Family Computer.
I was into Dragon Quest and those who enjoyed and talked about Final Fantasy made me have an impression of modern kids at the time, haha.
Actually, now I don't have PlayStaion anymore, so I haven't played FF7 Remake yet.
Playing video game becomes addictive and I also lost interest, so I disposed of it long time ago.
But now I want it just for playing this FF7 Remake.
The images of it is like watching a movie, so beautiful!
And I like the theme song sang by Yosh.
Should I buy PlayStation 4?
Or should I wait for the release of PlayStation 5?