I visited Odaiba to watch Gundam recently and hanged out there at the same time.
So I introduce Odaiba here.
Simple Introduction of Odaiba
If I introduce Odaiba simply, it is recommended place to those who like shopping, anime, game, Gundam, Lego, sea and beautiful view especially night.
You can enjoy all of them here.
It is not like historical place like Asakusa rather modern place.
Most of the people were family and couples that you might imagine the atmosphere.
But you can enjoy Odaiba even alone as I could enjoy, haha.
Tokyo Teleport Station
There are 3 stations you can use to go to Odaiba.
Odaiba-kaihinkoen, Daiba, Tokyo Teleport station are the closest stations.
This time I used Tokyo Teleport station.
In front of Tokyo Teleport station is like this.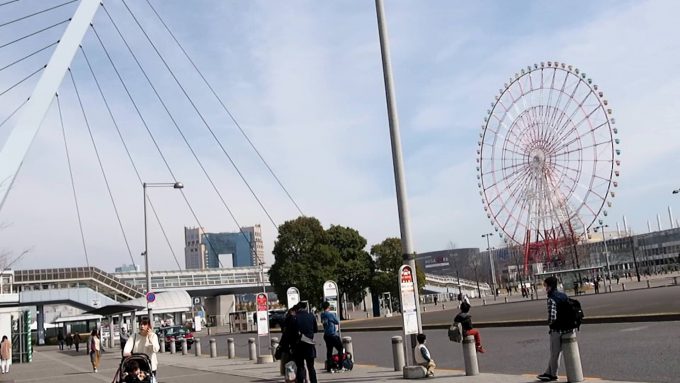 You can sea Ferris wheel.
It is beautiful with changing color at night.
Diver City Tokyo
You might think which way you should go in front of the station.
It depends on the place or attraction you want to go.
In my case I wanted to see life-size Gundam that I turned left to go to Diver City Tokyo.
Keep going and got to the street in front of Diver City Tokyo.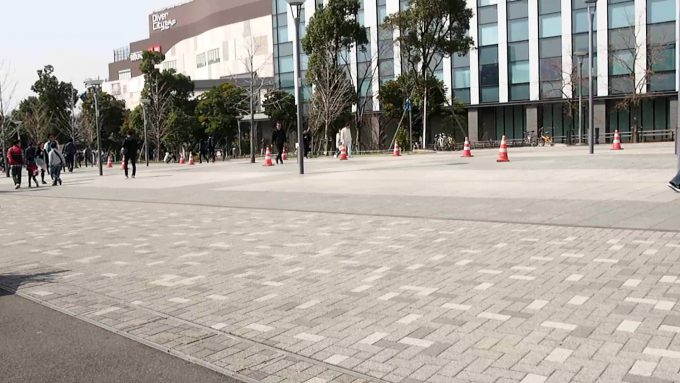 Looked back and I could see Ferris wheel.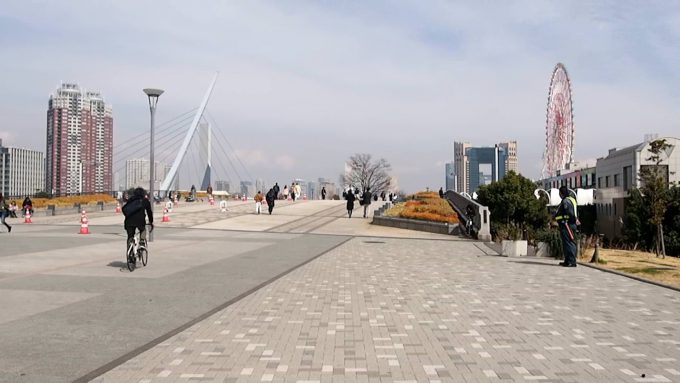 Found Gundam.
It is 59-feet tall.
It took 5 or 10 minutes to come here.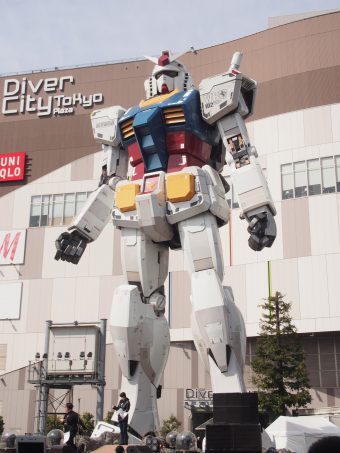 Back side is also cool!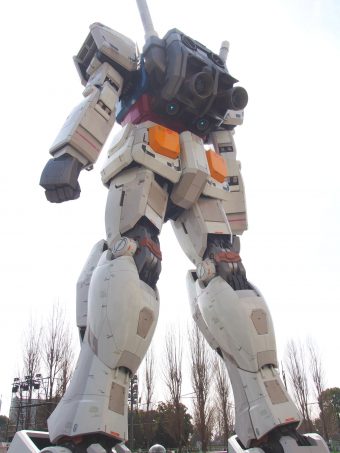 There was a Gundam cafe, too.
I was going to buy limited goods here but gave up as there was a long line of people.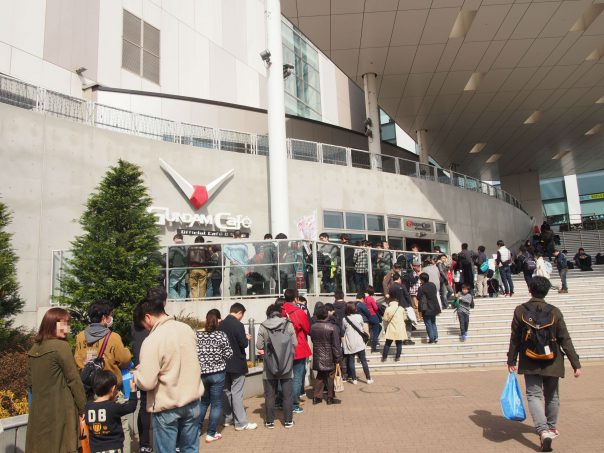 Gundam Front Tokyo
So I decided to go inside Diver City Tokyo to go to Gundam Front Tokyo.
First floor was food court and you can enjoy a variety of foods here.
Gundam Front Tokyo is 7th floor.
You have to pay 1200 yen (about $10 for adult) to enter this Gundam Front Tokyo.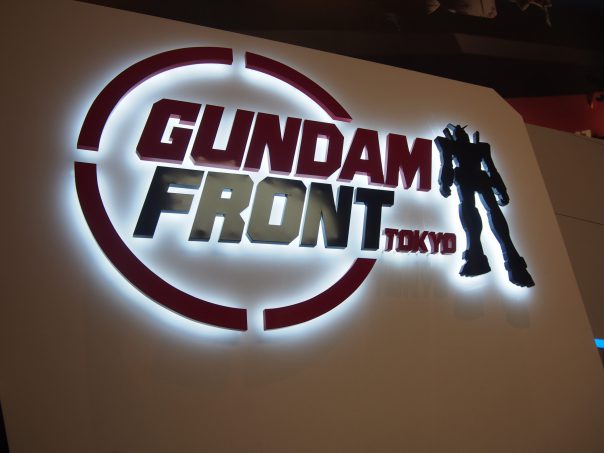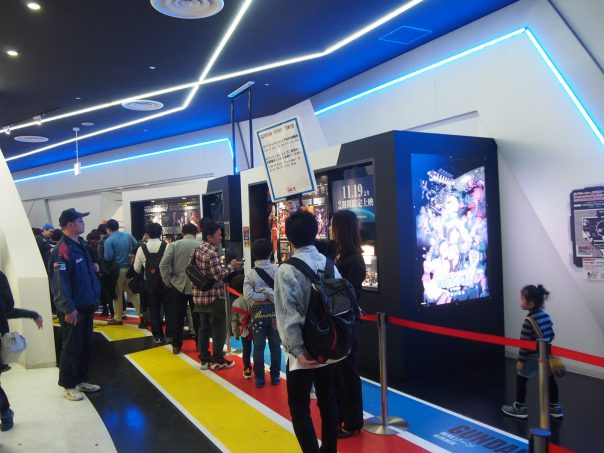 But you can enjoy this GUNPLA TOKYO just before entrance for free.
There are more than 1000 Gundam that has been sold since 1980 here.
I just checked this GUNPLA TOKYO this time.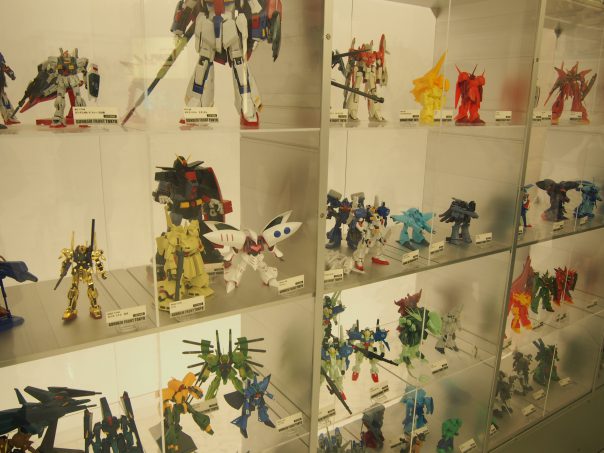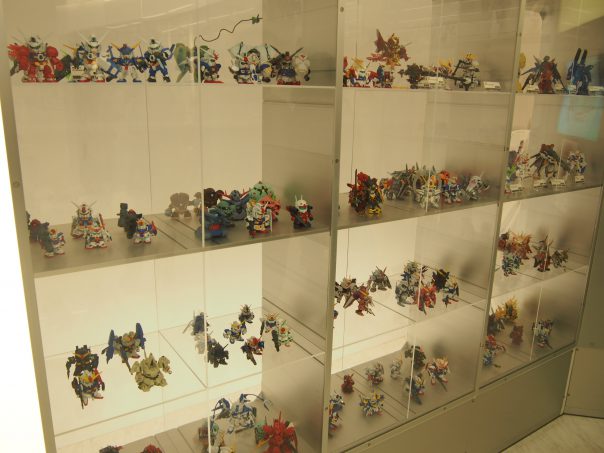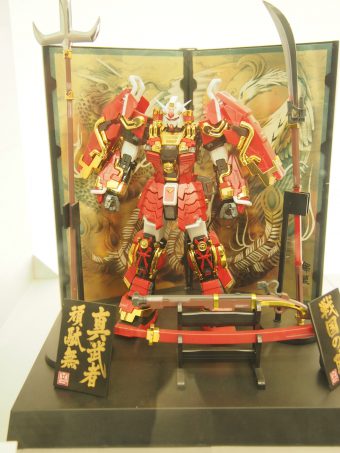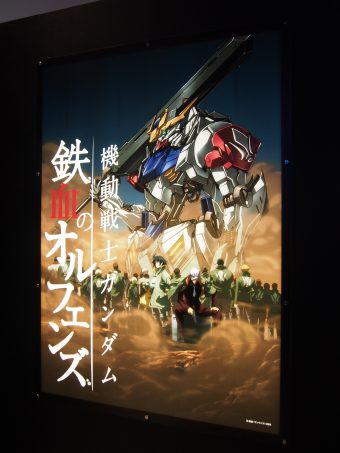 Gundam Front Tokyo
Address : Diver City Tokyo Plaza 7F, 1-1-10 Aomi, Koto-ku, Tokyo 135-0064
Website : http://gundamfront-tokyo.com/jp/
Venus Fort
I went outside building and went to Venus Fort as it was close.
Venus fort is a shopping mall which has been built under the image of Medieval Europe that inside is like this.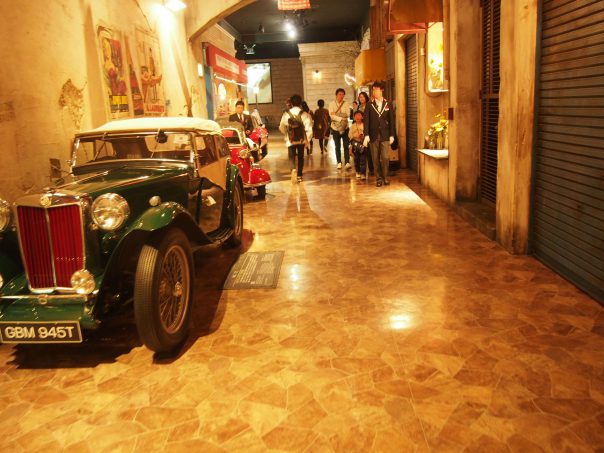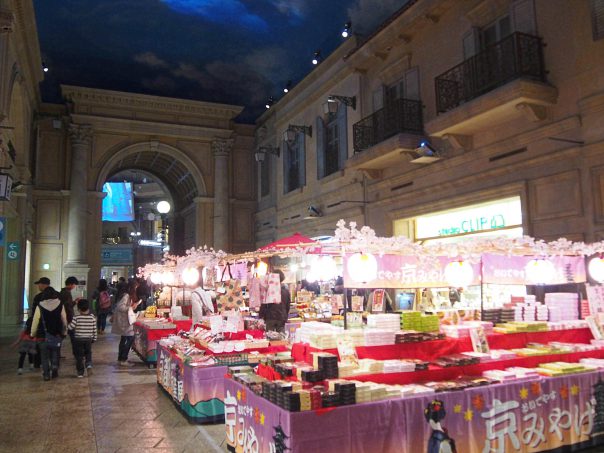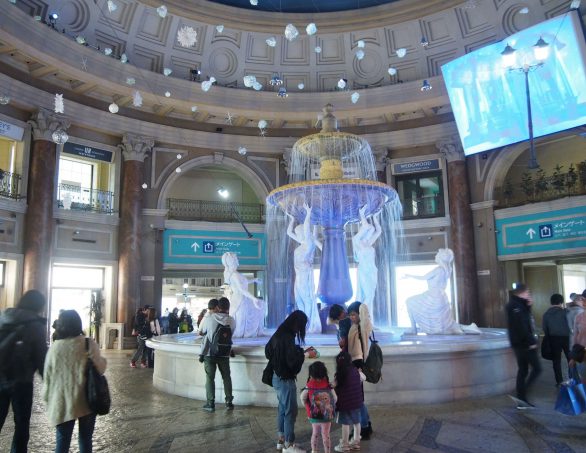 If you like shopping, you can enjoy here.
Venus Fort
Address :1-1-15 Aomi, Koto-ku, Tokyo 135-0064
Website : http://www.venusfort.co.jp/multi/index_e.html
Rainbow Bridge
I went outside.
I notice Odaiba is located in front of Tokyo Bay.
I can also see Rainbow Bridge.
This Rainbow Bridge connects Minato ward here and Koto ward in Tokyo.
It was found in 1993 and its total length is 1.7 km.
I didn't know that even human can walk there and it is free.
It might be fun to walk over the bridge.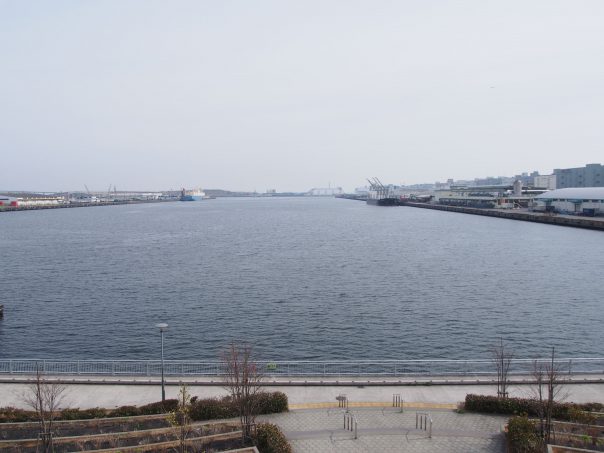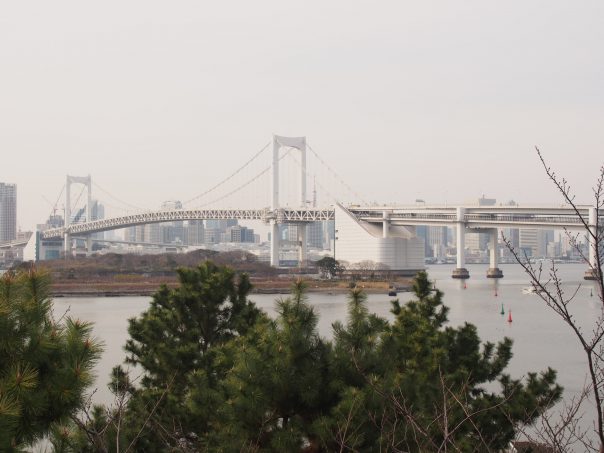 Fuji TV
Went around to another side and looked up to find Fuji Television.
The silver ball Hachitama is an iconic landmark Fuji TV.
I decide to go down to the sea.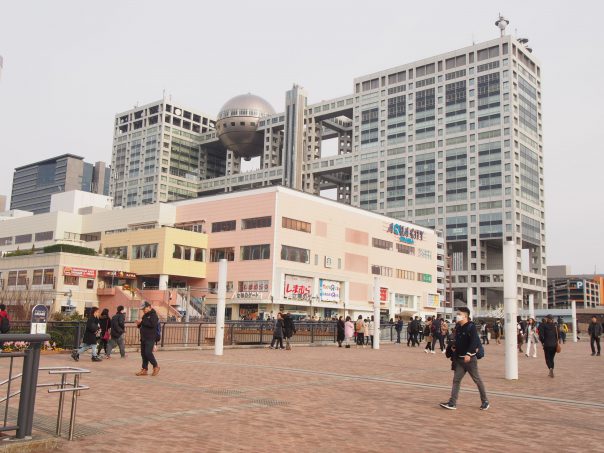 The Statue of Liberty
Found The statue of Liberty!
I remembered there was another big statue here in Odaiba other than Gundam.
Actually it is one of the mysteries to me for the existence of this statue here.
Looks like there was real statue that has been brought from France in 1998 to 1999 in commemoration of "The French Year in Japan".
And it got a favorable notice that replica of The Statue of Liberty made and since 2000 it has been standing there.
Its height is 17.4 meters (includes pedestal) that a bit smaller than 18 meters of life-size Gundam.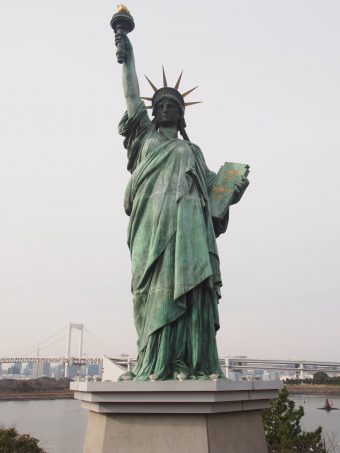 Tokyo Cruise
Literally you can go to sea.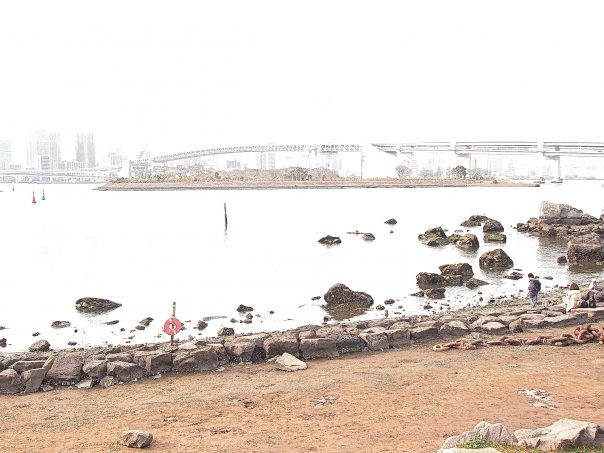 You can interact with wild ducks and gulls.
But be careful for foods as gulls are many and they might aim at your foods.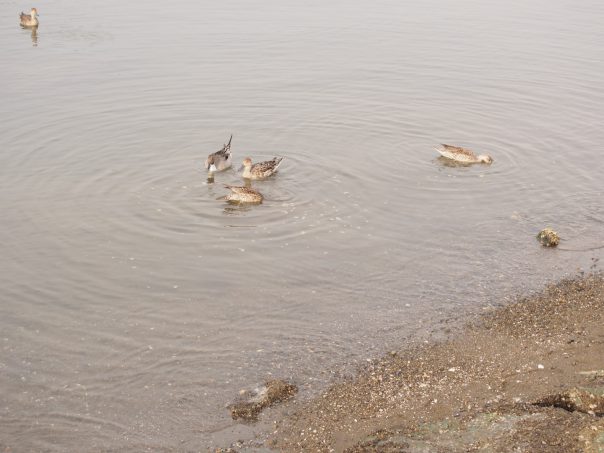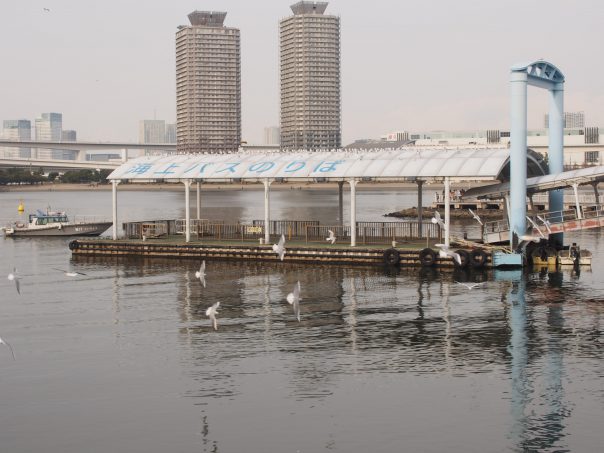 Here is the place you can take a ship.
Did you know that you can go to Asakusa from here by ship.
It takes about 40 minutes and 1560 yen (about $13.5 foa adult) to Asakusa.
The ship also goes to Toyosu, Tokyo Big Site, Hinode Sanbashi, etc.
Tokyo Cruise manages the ship that check following website for further details.
Tokyo Cruise
Address :1-4-1 Daiba, Koto-ku, Tokyo 135-0064
Website : http://www.suijobus.co.jp/en/
Aqua City Odaiba and Aaua City Odaiba Shrine
I went back to a shopping mall in front of the sea.
It is Aqua City Odaiba.
This is a large shopping mall with about 80 shops inside.
Most shops are cloth shop, restaurant and cafe.
It must feel good to enjoy cuisine at terrace on sunny day here.
There is Tokyo Ramen Kokugikan Mai that if you love Ramen, it's worth visiting.
You can enjoy Ramen of Ganjya Next Level, Kimuzukashiya, Setagaya, Nidaime Hakata Daruma, Sapporo Misono as of 2017.
To my surprise I could find Shinto Shrine outside on 7th floor.
I've never seen shrine that stands upon building.
The name of this shrine is Aaua City Odaiba Shrine.
That's just that!!
This is a branch Shrine of Shiba-daijingu Shrine.
It faces northwest and it is the direction of Shiba-daijingu Shrine stands.
Here you can enjoy Rainbow Bridge and Tokyo Tower, too.
If you are tired for walking, it might become refresh to came here.
The reason shrine stands here?
That's a second mystery in Odaiba to me, too.
Aqua City Odaiba
Address :1-7-1 Daiba, Koto-ku, Tokyo 135-0091
Website : http://www.aquacity.jp/transer/english.html
Decks Tokyo Beach
Daiba Iccyoume Shoutengai
Do you like sub culture and old touch?
Then I recommend you this place Decks Tokyo Beach.
Especially my favorite is Daiba Iccyoume Shoutengai.
You can enjoy "The Japanese old town of the 1960s" here.

Oh, this type of game became popular before I was born.

I'm original family computer generation and this kind of game certainly got popular in old days such as 1970s.
People in those days must have been enjoying Pac-Man, Space Invaders, etc.
I wonder why feel nostalgia?
Oh, but I remember I did this kind of game when I was kid.

As long as I remember I could play this game just at 10 yen, that is 10 cents.
And, yes, it is 10 yen that I played.
For the first time in more than 25 years.
And lost in 10 seconds. T T
It is a game just keep moving the 10 yen to the end by adjusting the strength of hit by levers at sides.
But if you adjust the strength of hit wrongly, the 10 yen drawn into the hole that has set to catch it.
There were other types games in the old days.

Do you like candies?

Shooting game was a kind of must-thing in Japanese festival in the old days.

Big surprise!
Vending machine of canned Oden (Japanese Stew) and Ramen!
I thought this kind of unique vending machine is only in Akihabara.

Found Stature of Takoyaki or octopus balls.

There was a food court in front of this Takoyaki statue that you can enjoy Takoyaki here.

Lego Land Discovery Center
On the 3rd floor, there is an amusement facility for Lego fans.
Lego Land Discovery Center is the place where you can enjoy Lego as much as you want.
A variety of attractions of Lego such as 4D cinema, racing, cafe, shop, etc wait you here.
There are many families with children.

Madame Tussauds Tokyo
I went down to 3rd floor.
There were life-size statue of Marilyn Monroe, Lady Gaga, etc.
Here Madame Tussauds Tokyo, you can enjoy life-size wax figures of famous people in Japan and in overseas.
It was so realistic although I didn't go inside.

Tokyo Joy Police
Tokyo Joy Police is one of the biggest indoor amusement parks.
This is also one of the main spots in Odaiba.
It is consists of 3 floors and you can enjoy various attractions from 3D and VR attractions to go-kart and roller coaster, etc.
You can enjoy whole day here.
If it is rain outside, why don't you cont it in your list?
Decks Tokyo Beach
Address :1-6-1 Daiba, Koto-ku, Tokyo 135-0091
Website : https://www.odaiba-decks.com/en/
Fuji TV Building
I went out shopping mall and came to Fuji TV Building.
This is also one of the must-visit spots if you come visit Odaiba.
If you are anime fan, you can enjoy this spot.
There is a long escalator to get to the building.
I just visited 1st floor as it was already evening and wanted to go see Gudam again.
The night show of Gundam was 19:30 and I had been in Odaiba just for this show.
The iconic silver ball is on the 24th floor and you can enjoy panoramic view there in the day time.
Inside 1st floor I could see Chibi Maruko-chan, Sazae-san, etc.
Come to think of it, these animes were on Fuji TV.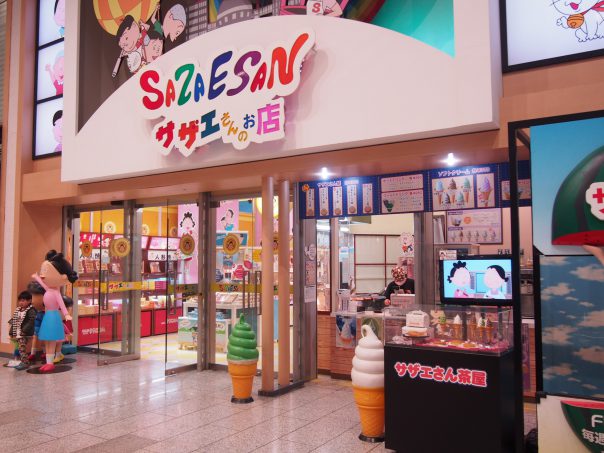 I wanted to visit Chibi Maruko Chan Cafe if I had time.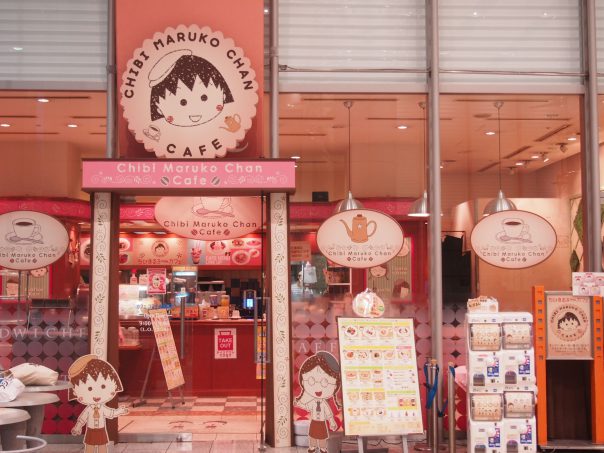 There are shops that sells goods of Dragon Ball and One piece.
Each room was separated.
It is not that big space but you can buy limited goods only here in Odaiba.
I was attracted by limited Mug cup of Dragon Ball as it was Kutani-ware.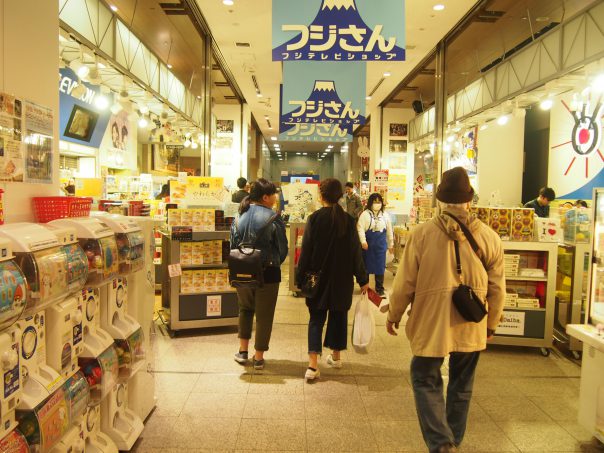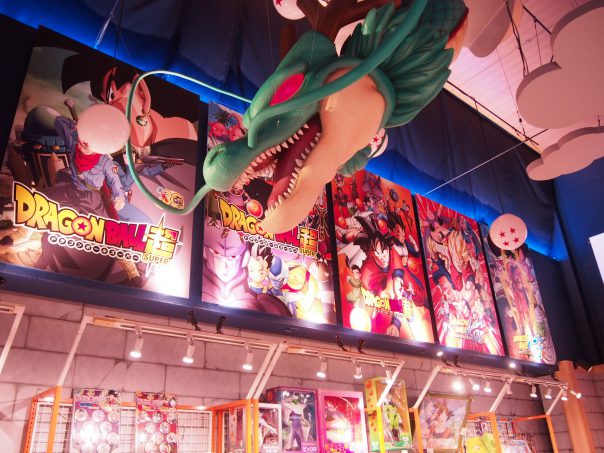 Fuji TV Building
Address :2-4-8 Daiba, Koto-ku, Tokyo 137-8088
Website : http://www.fujitv.co.jp/en/visit_fujitv.html
I went outside.
Oh, it is night already and one piece at the entrance.
It became a kind of horror touch picture somehow, haha.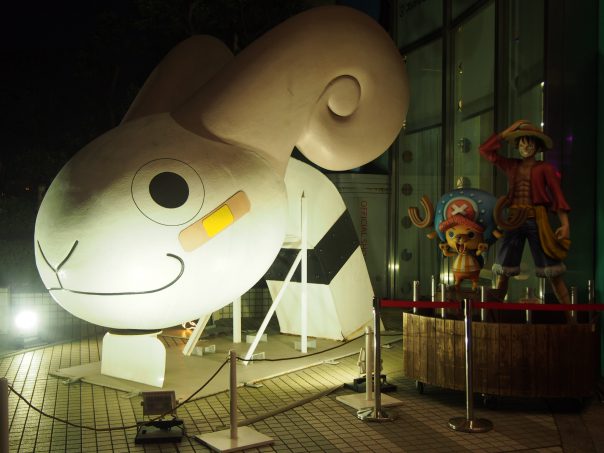 Went around the building to see Ferris wheel.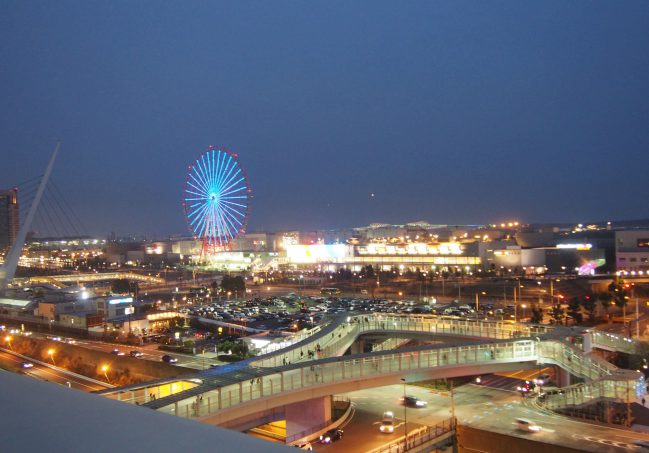 Went down escalator.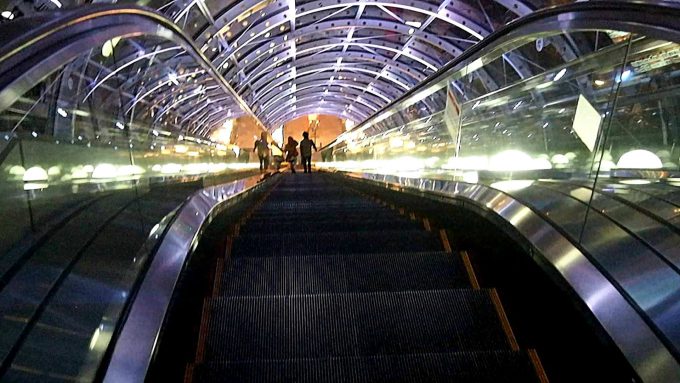 And came back to the same spot in front of Decks Tokyo Beach.
Fuji TV Building that I've been to just now looks beautiful at night.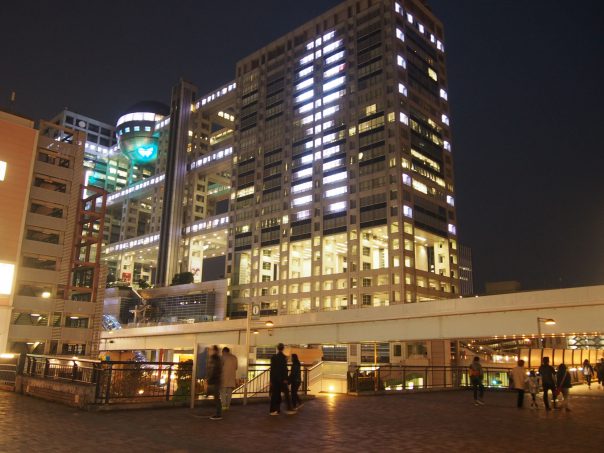 Last look of Tokyo Bay.
I could see Rainbow, Tokyo Tower and The Statue of Liberty.
It was beautiful night view.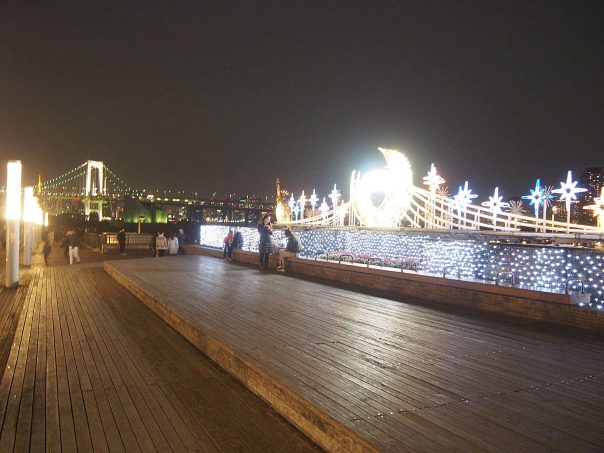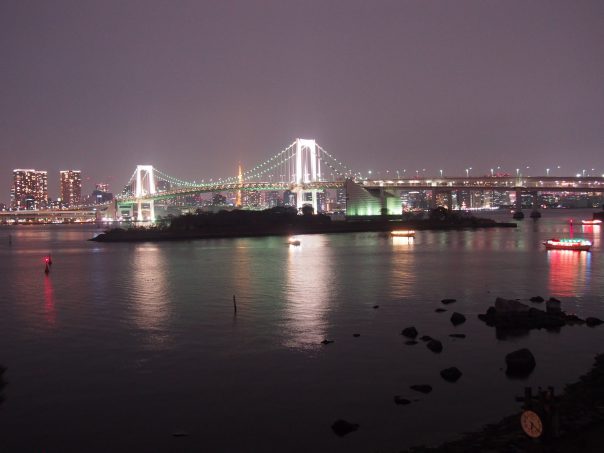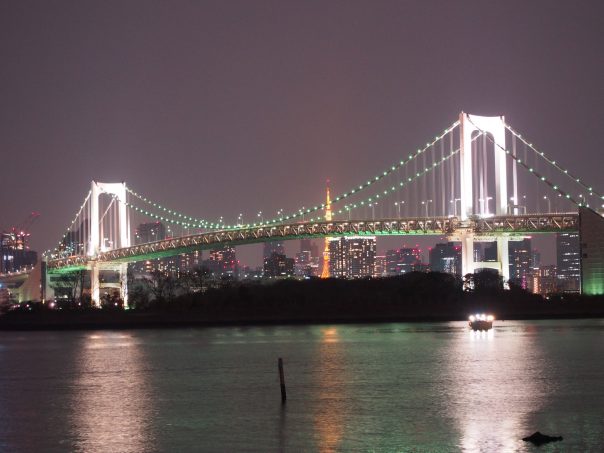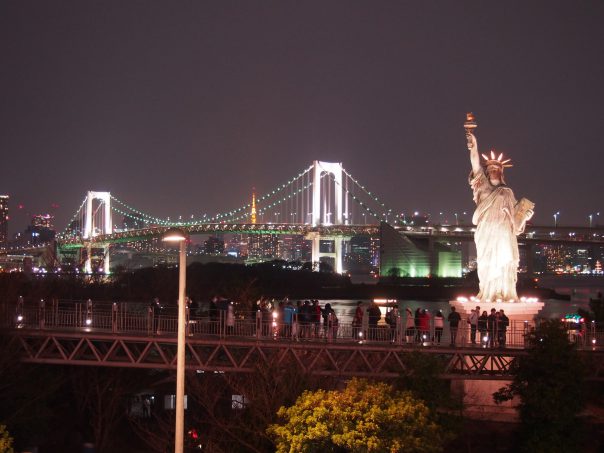 I came back to Gundam.
I enjoyed night show of Gundam and went back home.
Night view of Odaiba was really beautiful.