What's Vege Food Festa
It's all about festival of vegan food and vegetarian food.
This Vege Food Festa is held every October by NPO vegculture network.
It is not that big event but you can enjoy vegan and vegetarian foods and goods that are sometimes hard to find in Japan.
Vege Food Festa
When : 29 and 30 October 2016
Where : 2-B Jinnan, Shibuya-ku, Tokyo
Website : http://tokyo-vegefest.com/
Report of Vege Food Festa 2016
Actually I'm not vegan or vegetarian.
If I can say I'm semi-vegan or semi-vegetarian as I eat anything only when I'm with my friends or traveling abroad.
Anyway this kind of vegan or vegetarian food is not popular in Japan like overseas'.
So it's worth visiting to me.
Yoyogi Koen or Yoyogi Park is the place this Vege Food Festa is held every year.
It is about 10 minutes walk from Harajuku staion in Tokyo.
For first visitors, it might be a bit hard to find the place as it is not center of Yoyogi Koen.
You can find it if you found NHK hall or an avenue lined with trees inside the park.
What I first found was a stage.
Someone was singing there.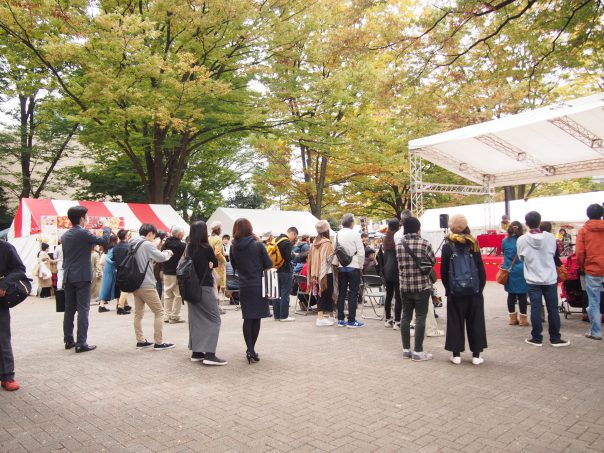 I kept walking along the avenue.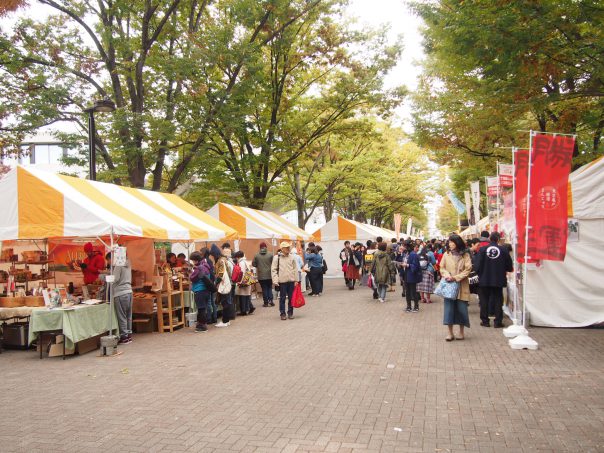 Oh, many food stalls.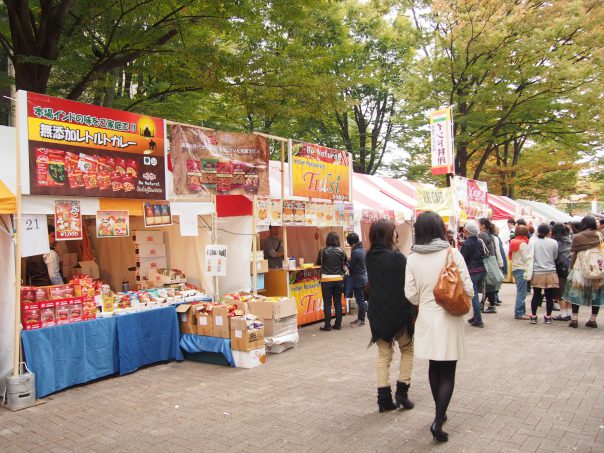 I think I've never tasted Vege ice cream.
This is made of soy milk.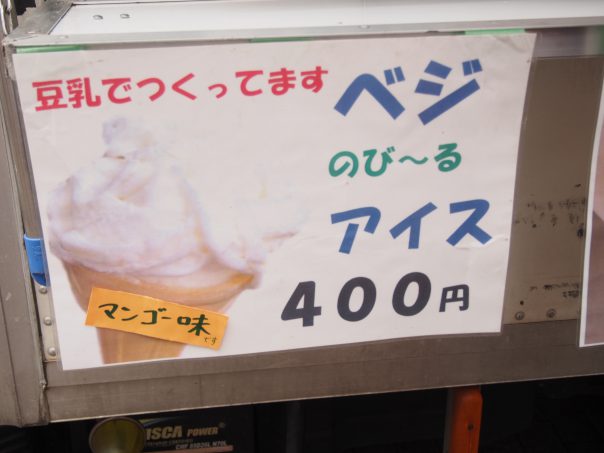 Many potteries.
All of them are made without chemicals.
You can buy $3 to $5 dollars for each potteries there.
I think it's reasonable price.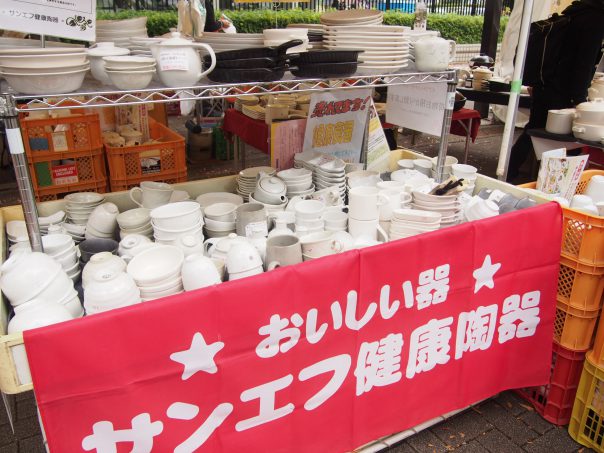 Vegan foods.
I tried vegetarian ramen noodle.
It is about $1.5 dollars and taste is very good.
This is a booth of Green Vegetarian.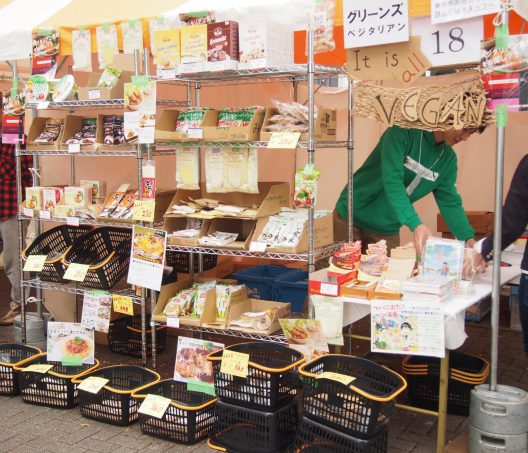 It looks comfortable to wear it and cool design.
This is made of hemp.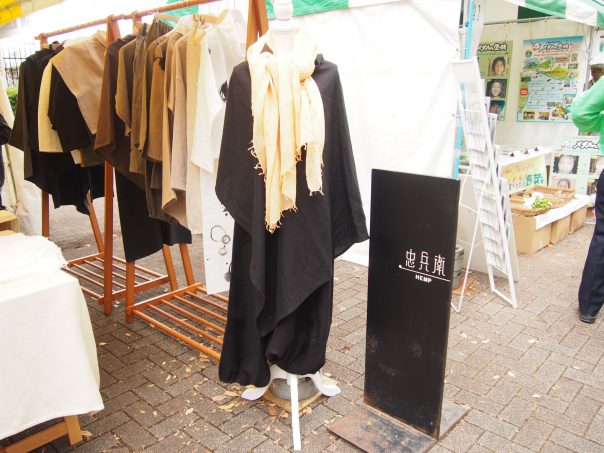 Soy meat.
You can use it as an alternative of meat.
I once cooked food using it and I can't tell the difference of taste between meat and this soy meat.
You don't notice that it is made of soy beans if you are not told so.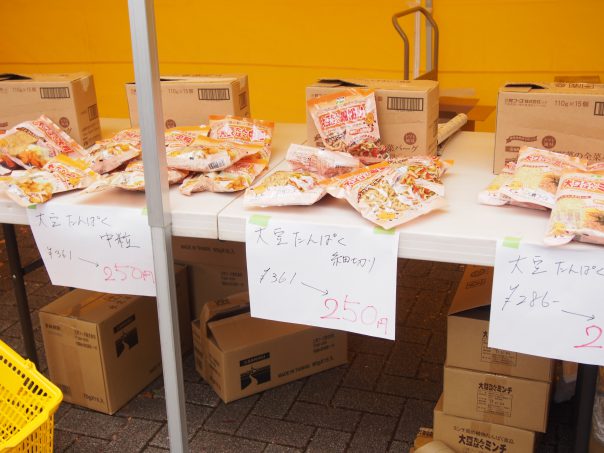 Cute cup cakes.
They are not including, egg, milk, chemicals, etc.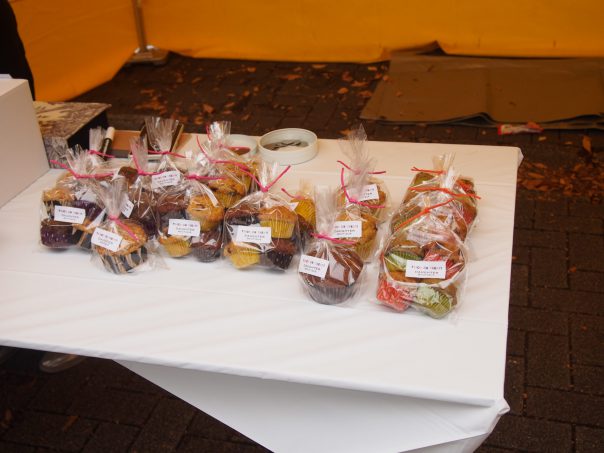 Organically grown vegetables.
I wanted to buy it but I also knew that it is heavy to carry them back home that I gave up.
Organic vegetables in Japan is a bit expensive but here you can buy them at cheaper price.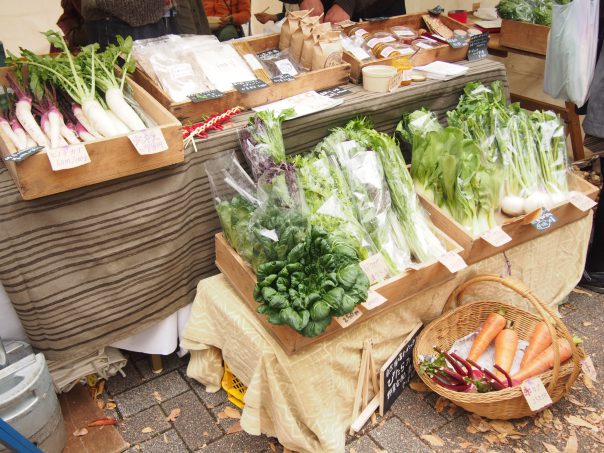 This is organic rice.
You can see Japanese character on the front package and it is Wadachi, the name of this rice.
It says it is used at a famous Sushi Bar named Sushi B in Milan in Italy.
This rice is made in Niigata Prefecture and Niigata is famous for its quality rice.
It must be very good taste.
Wadachi
Website : http://www.wadachibio.co.jp/english/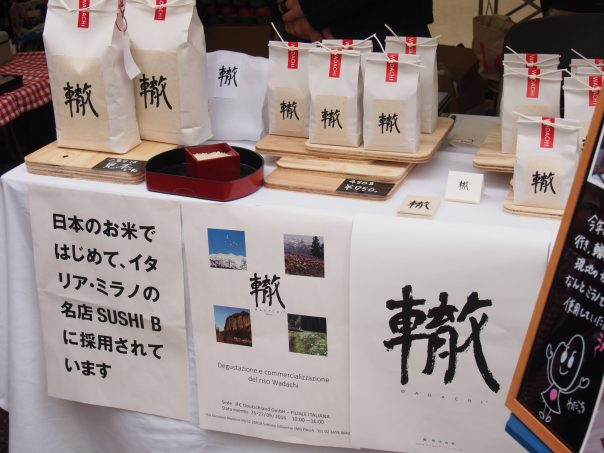 Organic apples.
It is very difficult to make organic apples in Japan.
So it is very hard to get an apple that is organically grown in Japan.
I should have bought it.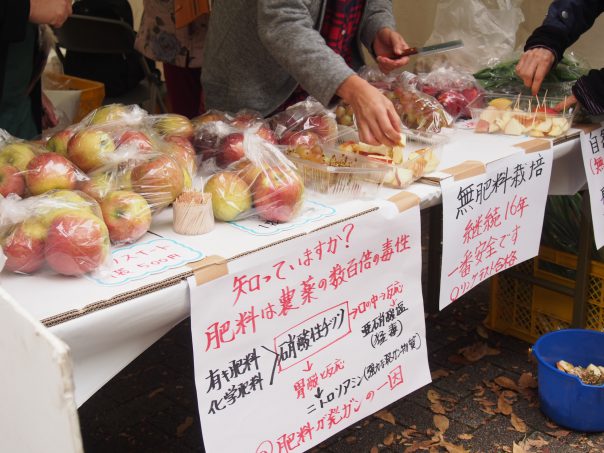 Here you can buy books related with vegetable, organic, yoga, slow food, etc.
You can find rare books that ordinary book stores don't handle.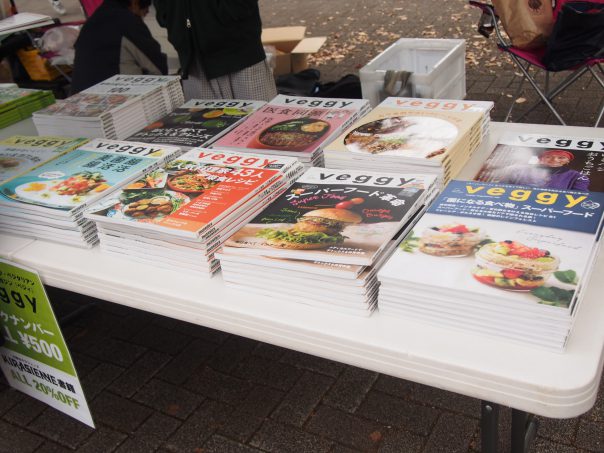 Minivan of Veggie Burger.
Looks good.
I want this kind of veggie burger more in Japan.
Samurai Ramen?
I'm curious about this http://samurai-ramen.jp/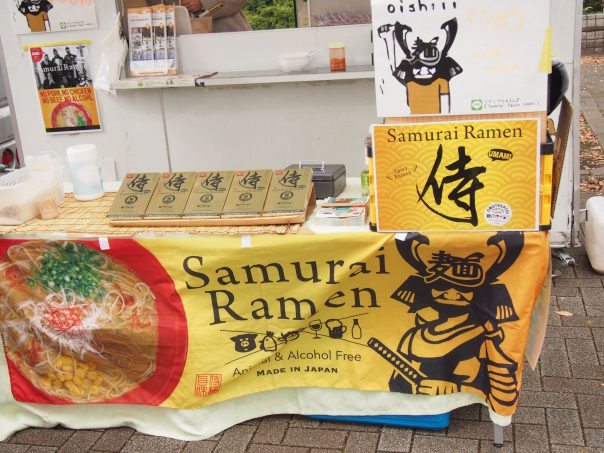 Coffee!
It is a fair trade coffee.
What attracts me most was brown rice Amazake they sell.
Amazeke is sweet fermented rice drink.
It makes my body warm in a cold day.
I've never tried this unique brown rice Amazake.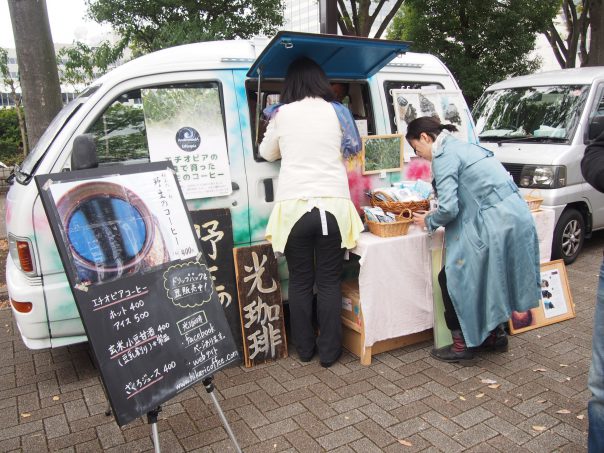 Found Alishan Cafe.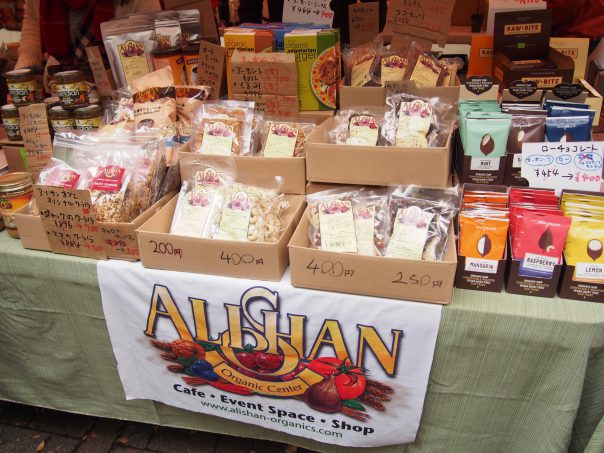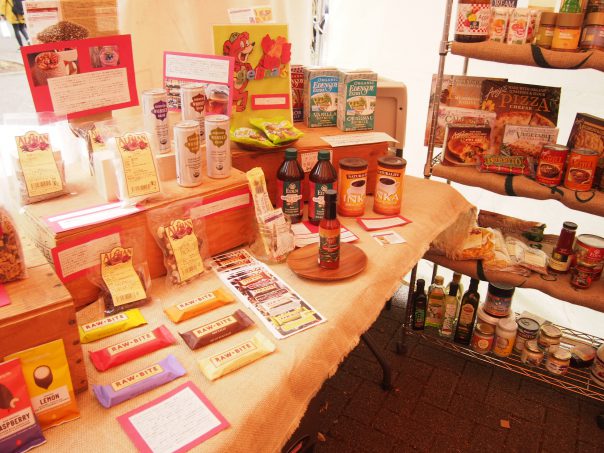 This is the place I used to work long before as a part-time.
I wrote its article here Red spider lily at Kinchakuda and Vegetalian cafe Alishan in Saitama.
I met and talked with my coworker and owner.
They are all fine as usual and doing well.
I bought my favorite Mung Bean Chips.
This is crisply and you can enjoy the taste of real bean.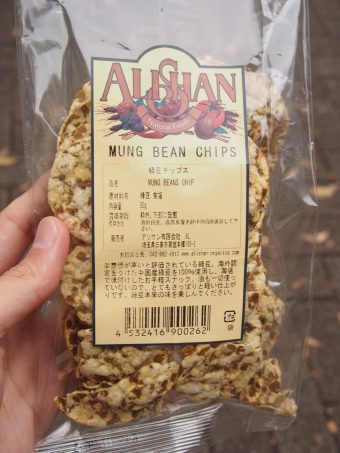 Natural Cookie.
It is made of organic wheat, canola oil, maple syrup, walnut, etc.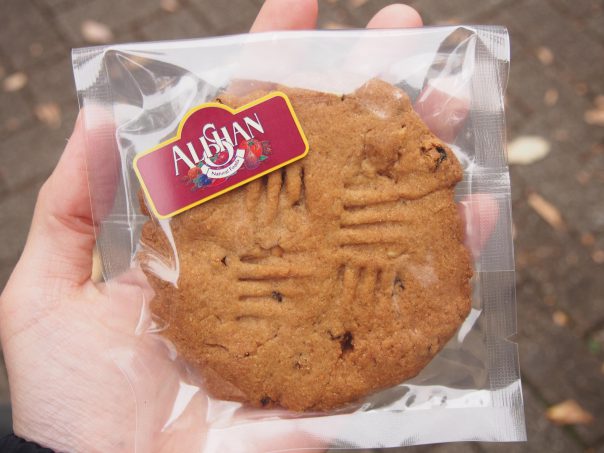 Muffin and cake.
I forgot to check the materials but both were taste good.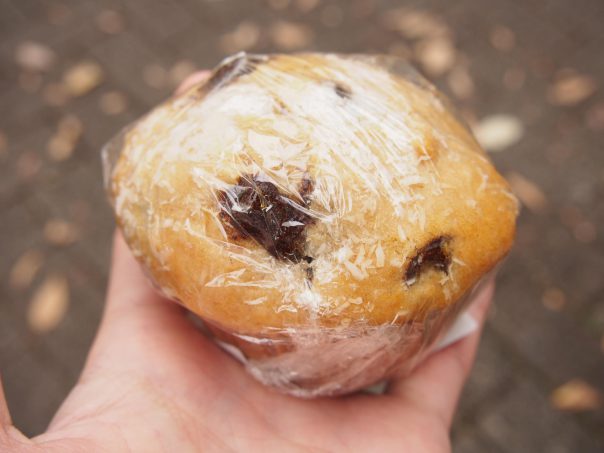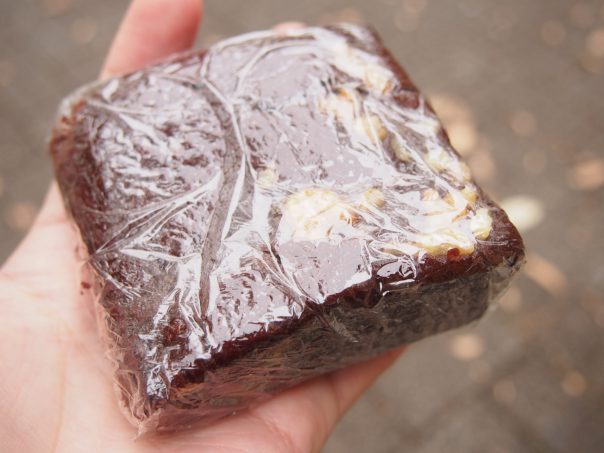 I was so hungry and decided to have a curry and rice of this Sri Lanka.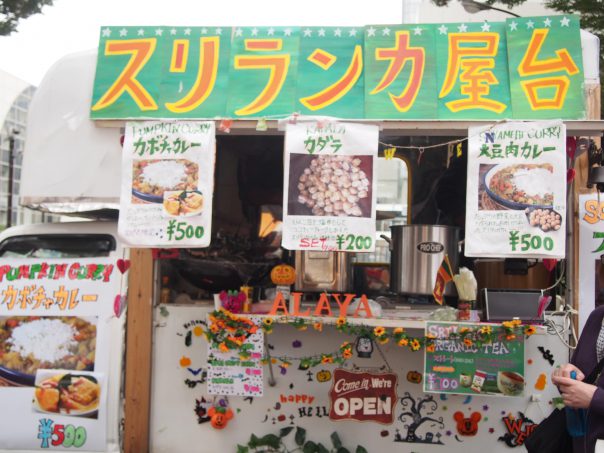 There were two types, one is pumpkin and the other is soy meat.
And made it half and half that I could enjoy both.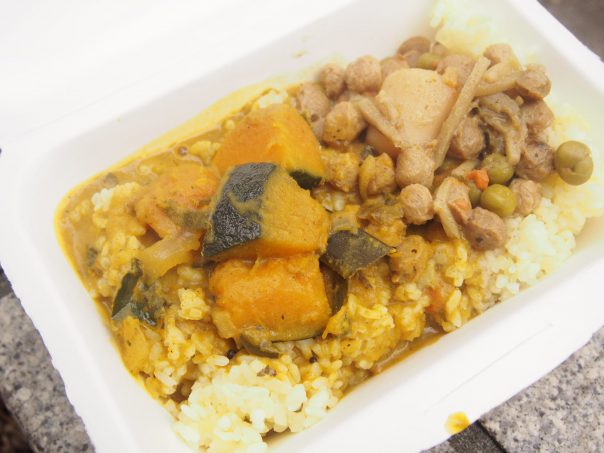 I think I came up to almost the end of this avenue.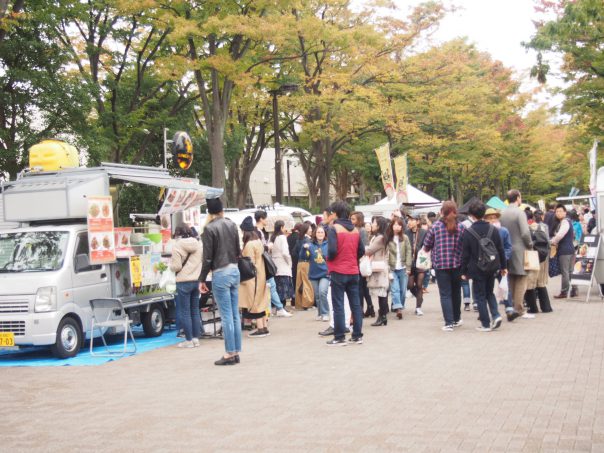 I joined meetup event with my foods after this and enjoyed the gathering with my tasty foods.
Summary
I think not only vegan or vegetarian but everyone can enjoy this event.
Taste of food is very good and you can get some items at good price than usual.
It is comfortable season to hang out outside in late October in Japan.
As it is not that big event that about 1 hour is enough to enjoy it.
Why don't you drop by Yoyogi Park for Vege Food Festa.