Have you ever heard of Henn na Hotel in Japan.
Henn na means strange in Japanese that Henn na Hotel means strange Hotel.
Interesting naming but what point is strange about this hotel?
That's this hotel's stuffs are not humans but Robots.
When I heard of it first, I thought is it true?
I've never heard of a hotel controlled by Robots all over the world.
But it was true and it became the world-first hotel staffed by Robot.
And now it opens second Henn na Hotel this March.
Let's check it out what's Henn na Hotel is.
Reception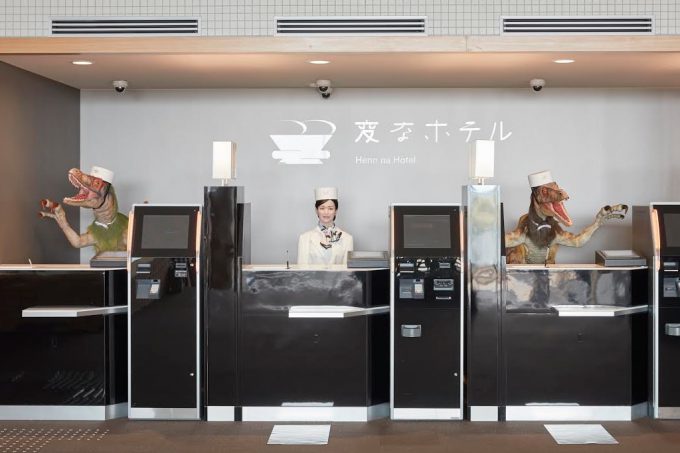 Source : Henn na Hotel
There are 2 types of robots at the reception.
They are humanoid robot and dinosaur ! >_< The dinosaur looks Tyrannosaurus. Yumeko-san is humanoid robot and Mirai-kun is dino robot. Mirai-kun looks like trilingual as it can speak Japanese, English and Chinese. And there is also concierge robot at the front desk. You can ask anything such as what is the best spot to visit or do you recommend good souvenir, etc and it replies to your question. Here at the reception what you do is to talk like that of an ordinary hotel. There are also face recognition systems at the front desk that you can check in by being recognized your face here. It is good as you don't need to worry about your room key anymore that can be lost if you carry.
Checkroom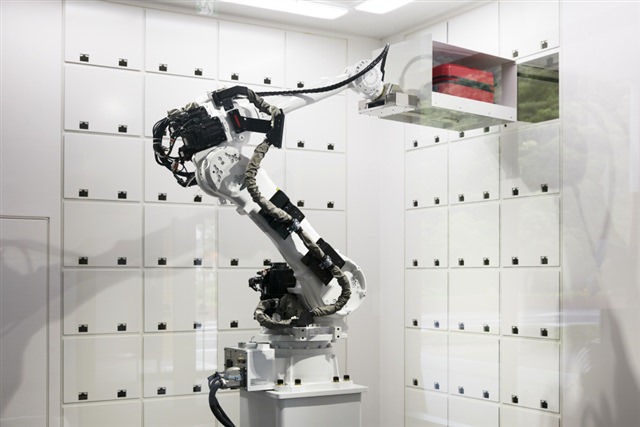 Source : Kakaku.com
There is a place where you can deposit your luggage near the reception.
Here, it is not the human to take your luggage but robot.
It is armed-robot.
What you need to do here is to register your name and PIN code.
Then you put your luggage in the place where it should be put.
And armed-robot pick your luggage up and put it into the designated locker.
You can use this checkroom 24 hours by 500 yen (About $4.5).
Little pleasure is the armed-robot waves its hand to express bye.
I like this little trick.
Porter
You don't need to carry your luggage by yourself as a porter carry it.
Of course this is also not human but robot.
What you do is put your luggage on this robot and input room number.
Then the porter robot leads you to the room.
Good point of this porter robot is it has censor to sense human body that it leads slowly or stops if you don't follow it.
That's a human friendly robot.
It shows you latest information of this hotel with mucis on its screen.
After leading you to your room, it returns to the place where it had been automatically.
Room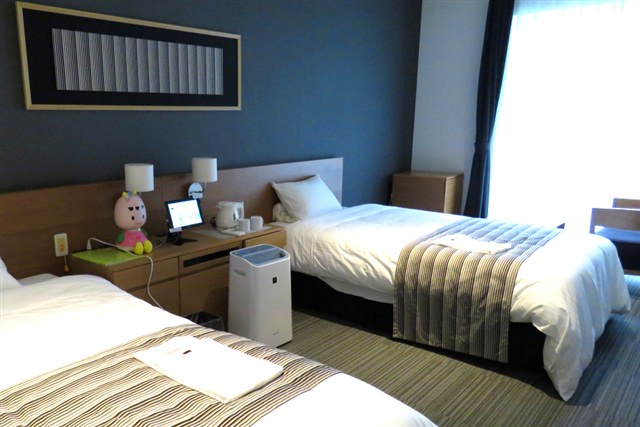 Source : Kakaku.com
You can enter the room by face recognition system.
Inside the room you can find Cyuri-chan.
It is flower-like robot.
I think it is named by a flower Tulip.
If you ask it to turn the light up, it reply and turns the light up.
It also tells you weather forecast.
It can sing a song, too.
Cyuri-chan helps your stay.
Restaurant Aura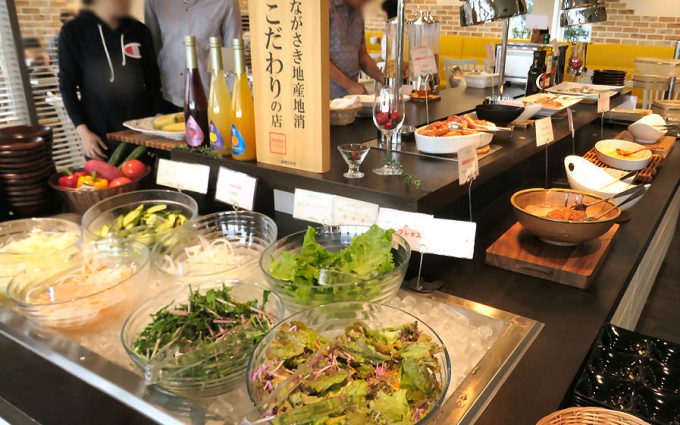 Source : Kakaku.com
Cooking Robot
This is the place I was most impressed with.
I thought it must be very simple food like just heat or put even if robot appears but it was not.
Robots were literally making dinner by its hands.
Humanoid robot kitchen chef Andrew makes Japanese style pancake Okonomiyaki.
Okonomiyaki is a special Japanese pancake in which you can put vegetables, seafood, meat, etc depends on your choice.
Surprisingly the robot was mixing the ingredients and turned the pancake over on the iron plate using spatula by its hands
For another humanoid robot bartender Daniel, it makes cocktails by its hand.
It manipulates each server for alcoholic drink and juice for making cocktail.
Yasukawa-kun is also a humanoid robot that makes soft serve ice cream.
It pushes the lever down by the hand and makes an ice cream.
The shape of ice is perfect.
I never imagined these robots can do this kind of delicate works.
They also tell you story of their carrier while cooking.
Other robot cookers fry fried rice, deep-fry doughnuts in oil, etc.
But all the steps are not made only by these robots that human stuff support some works at some processes.
Healthy Food
Concept of this restaurant Aura is healthy food.
You can enjoy Japanese and western style cuisine with a lot of vegetables here.
What you can see on the wall is the vegetables that has picked up on the day you eat.
These vegetables are locally grown vegetables in Nagasaki Prefecture without chemicals.
So you can enjoy fresh healthy vegetables.
This restaurant is buffet style and you can use it in the morning (7:00 to 10:00), noon (11:30 to 14:00) and night (17:00 to 21:00)
Price for adult is 2200 yen (about $20) in the morning, 1980 yen ($17) 2980 yen ($26).
I think it is average price of buffet in Japan but if I give it a thought that this is locally grown vegetables without chemicals it might be reasonable price.
It is the price as of March 2017 that it can be changed.
Eco-Friendly
This hotel is not only focusing on robot but Eco-friendly way.
You can see it from the restaurant Aura as it focusing on locally grown vegetables that is grown up without using chemicals.
For energy, it applies latest radiation panels.
Radiation panels transmit heat to the object using microwave without effect by air.
This removes heat of human body when a person feels heat and warms the body up when the person feels cold.
It seems like the differences of temperature is less compared to ordinary cooling/heating system.
It is designed for human to pass time comfortably all season through the year.
This hotel also uses solar panels and hydrogen energy.
It's the first hotel using hydrogen energy in Japan.
This is all for cut down its emission of CO2.
Cross Laminated Timber technique which makes good use of wood is also applied.
Henn na items
Here you can buy Henn na items for souvenir.
T-shirt, key chain, towel, Henn na budge, Henn na bread, Henn na Popcorn, etc.
I'm especially curious about Henn na bread and popcorn.
I wonder what kind of bread and popcorn it is.
And how is the taste?
It might be a kind of challenge.
Aren't there any human stuff?
Actually that's not.
This hotel is not staffed only by robot.
Because there are some process they can't do and need help of human.
Like restaurant, they might be able to do main role of cooking but still need help of human for some delicate processes.
Robots of reception also can not reply all the questions which they can not imagine.
And when something unimaginable things happen, robot can not deal with all of them properly.
They do great works still not perfect that need help of human.
So there are 10 people for on-site stuffs at most.
When you need help you can ask real human stuff here, too.
Concept of Henn na Hotel
This Henn na Hotel is located in Huis Ten Bosch in Nagasaki Prefecture.
Huis Ten Bosch is a theme park like Disney Land although it is very different one.
It was made in 1992 under the concept of Eco-future city.
There are systems of recycle for water, electric power, garbage and Henn na hotel succeeded the concept of Eco-friendly as well.
And its another main target is improvement of productivity.
It reconsiders the work process and removes the inefficient work and process to offer the hotel at a reasonable price.
I thought this is an interesting idea to value robot or latest technology and Eco society at the same time.
Evaluation of guests who stayed Henn na Hotel
I checked impressions of guests that stayed this hotel and found both good and bad points of it.
Negative
I sometimes saw the comments that says it is not that close from the parking lot to the hotel.
There are 2 parking lots, one is paid and the other is free.
It looks like it takes about 10 minutes from free parking lot to the hotel.
There is also a paid parking lot in front of the hotel but it costs you 2000 yen, that is, about $18.
And other comments are about robot and censor inside room.
It looks like it is difficult to make robot understood the conversation sometimes.
And the motion censor of blue light inside room looks like lit each time people move by reacting subtle motion.
Some people say that is annoying and they can not sleep well.
Positive
I think most of all the people says quality of buffet is great.
Looks like taste of the food is very good and people are pleased to it.
And people say face censor system is handy and very convenient.
Some others say it is good there is also real human stuff inside.
And they are satisfied with the services stuffs offer.
This is my positive comment, I thought it was good the stuffs of the hotel replied every comments whether it is positive or negative very politely.
I could see some negative comments about inconvenience of the hotel but the stuffs face to the comment sincerely and admit the points if it is truly so with apology.
And not only that they shows their improvements concretely about the point in their reply.
They put them into real action for improvement.
I think that is very good thing.

Henn na Hotel 2 in Maihama

This Henn na Hotel opens second one by Maihama station.
Do you know Maihama station?
It is the place Tokyo Disney Land located.
Oh, Maihama, that is next station of my university, that's useless information, sorry.
But the hotel is located in opposite direction to Tokyo Disney Land.
What's the difference between the original and here in Maihama.
Robot itself is different.
Tapia sat inside room instead of Turi-chan.
Tapia is AI Robot that can talk and adjust air conditioning as well as turns the light up and down.
Its look is cute like an egg but great AI as long as I checked.
The number of the robot at the reception are just 2.
By improvement of work efficiency, real human stuff there are just 6.
I think there are other difference, too other than those things.
It opens on 15 March 2017.

Summary

Henn na Hotel was opened in 2015 and 2 years has passed since its opening.
They say they keep changing without rest taking in latest technology.
And I think that's true as it was about 30 people for real human stuff in the hotel first and now is already less than half, that is, 10 people at most.
The language robots speak was just Japanese and English first but now they can also speak Chinese and Korean, too.
For other thing, meeting customer's request, they equipped with refrigerator at every room inside.
It looks like the occupancy rate is almost 100% even now and opening of Henn na Hotel 2 proves it.
I've never been there as it is very far from my place but I might go see it after Henn na Hotel 2 opened.
I thought all of these kind of things happen in the far future after I left the world.
But it was not, looks like things going faster than ever.
I think this hotel will be staffed only by robots or with a couple of human stuffs in the near future.
This is not only for the things about hotel but many others.
I really think we were born in really interesting era!

Henn na Hotel
Address : Huis Ten Bosch Machi, Sasebo, Nagasaki 859-3243
Website : http://www.h-n-h.jp/en/