Dark Area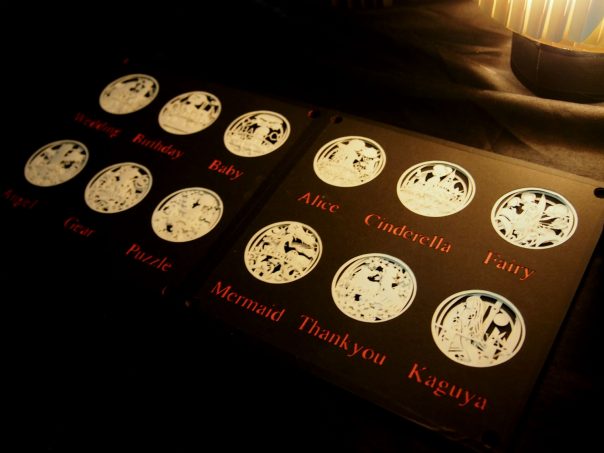 Going up by the escalator and what you can find ahead of you is Dark Area.
You can enjoy a different unique works which stand out against darkness here.
ORIGAMI DESIGN's Washi (Japanese Paper) Art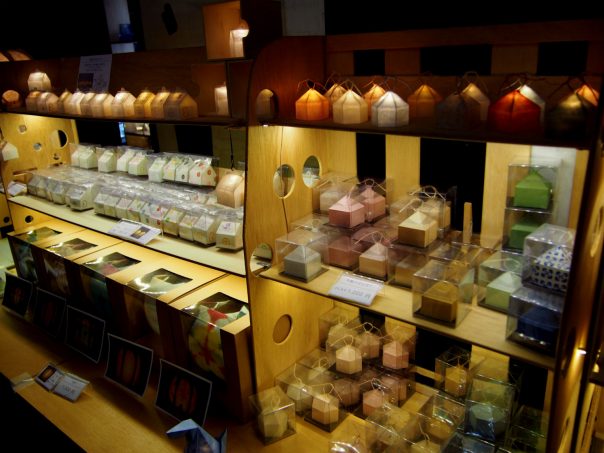 What I saw first in the darkness is this.
Mini lantern? What's this?
Anyway, the candle lit gently inside was very warming.
Kokeshi doll ver. is also cute and good, isn't it.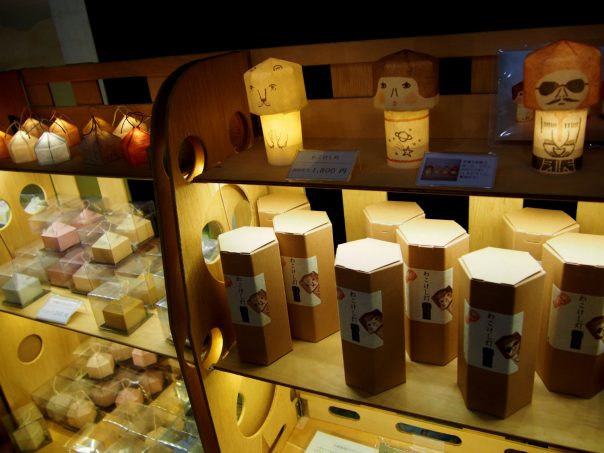 This is made of traditional Japanese paper called Oguni Washi which uses snow in the process.
The technique has been passed down from generation to generation in Oguni in Niigata Prefecture.
I've never heard of Washi used snow in the process.
Starting from hardware in Tsubame city, old traditional techniques are still alive in Niigata, aren't they.
Hero Hamaada's Treasure Box and Beer Mug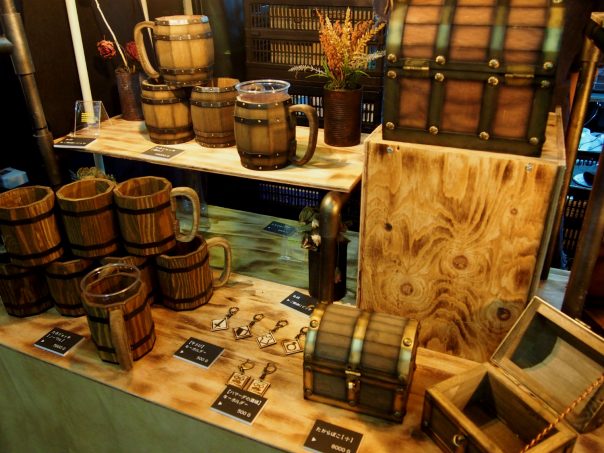 Hero Hamaada-san was easygoing person!
That's not surprising because he was a YouTuber.
And he actually opens his bar Hamaada's Sakaba in Takasago City in Hyogo Prefecture Σ(゚Д゚)
Anyway, did he make these beer mugs and treasure boxes which look like appear in Dragon Quest, well, maybe in Monster Hunter by himself?
I want to drink beer by this wooeden beer mug although I don't drink beer usually.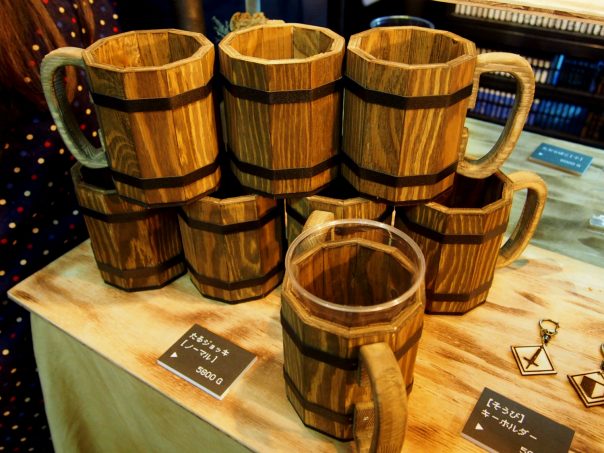 Manga meat which I wanted to try when I was a child.
Did he make it, too?
High Quality!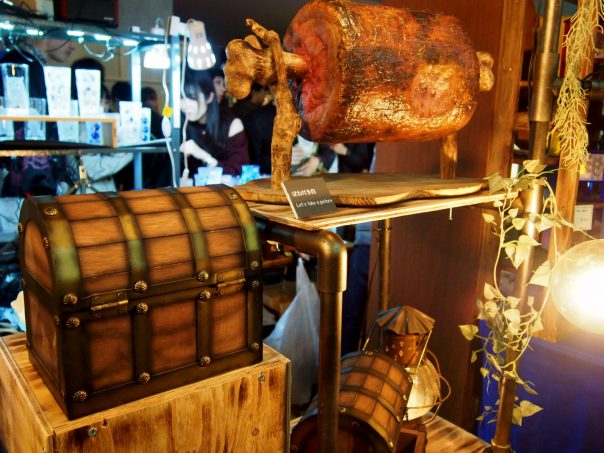 Seiji Tsukimoto's Pop-up Card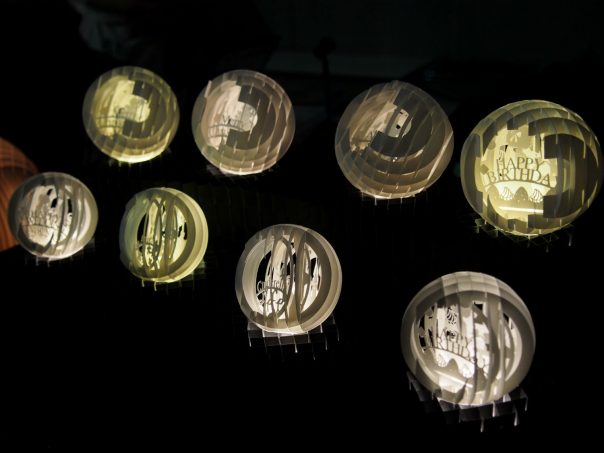 Here was very popular, so I was attracted and found that it was pop-up art.
This is surprising, everything was made of paper.
The artist who makes these arts is pop-up card & designer Seiji Tsukimoto-san.
If you pop flat-topped paper, hey presto, sophisticated spherical world appears in front of you.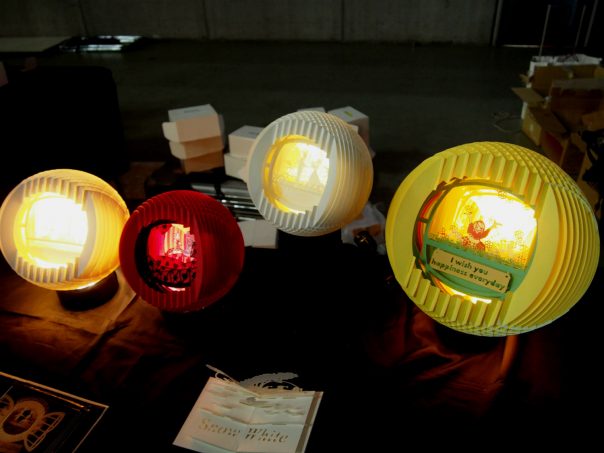 There was a variety of pop-up cards including message of HAPPY BIRTHDAY and MERRY CHRISTMAS against the 3D background inside.
Is this Cinderella?
This 3D art also appears when you pop the bottom of the flat-topped paper!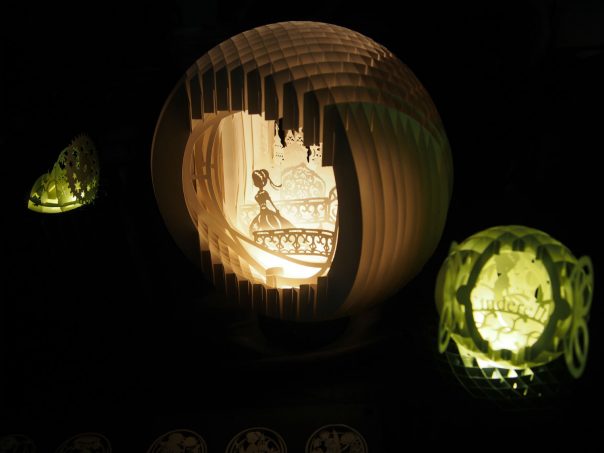 Everyone bought these pop-up cards, yes, including me.
Choconte's Lantern and Ore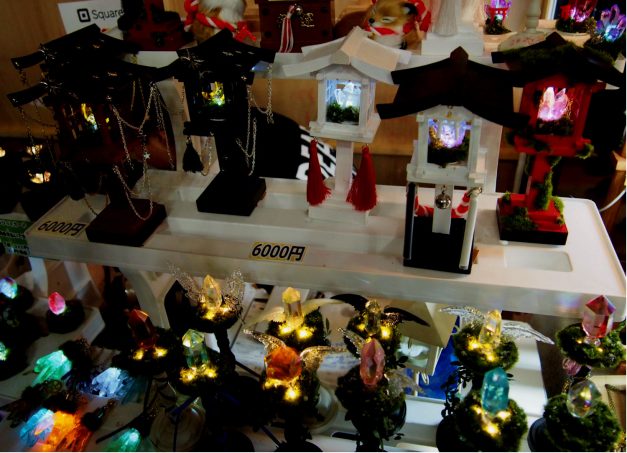 Interesting!
Mixture of Wa (Japanese style) and modern!
Inside of lantern is moon and ore.
It is very beautiful in the dark.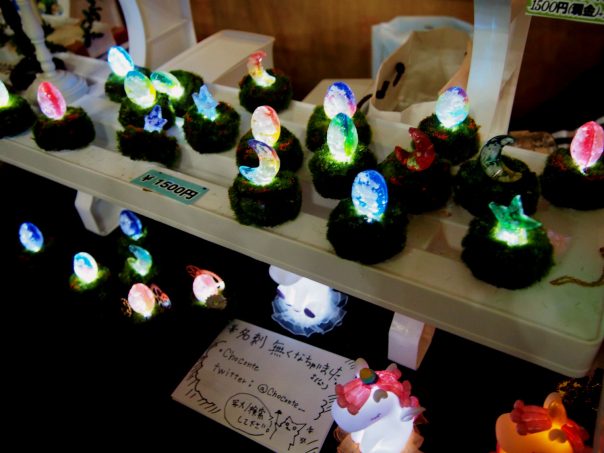 Michikusa's Moss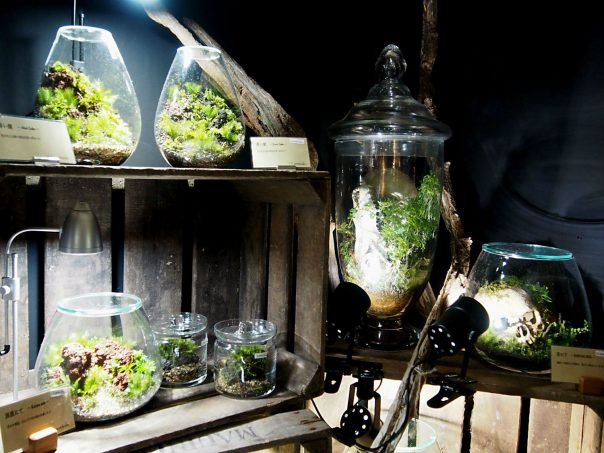 Moss, isn't it.
It is dreamy when shone in the dark.
Various types of mosses from a palm-sized one to a big one over 30 cm had been displaying.
This is Moss terrarium in which moss is grown in a glass container.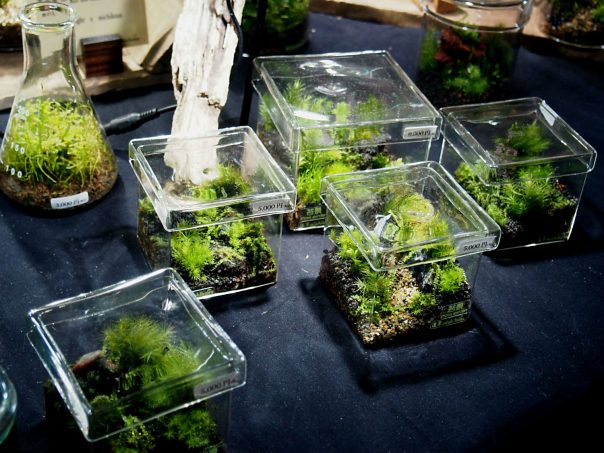 I could see Koke (Moss) Gashapon right next and there were people who challenged it.
Neko no Su's Accessory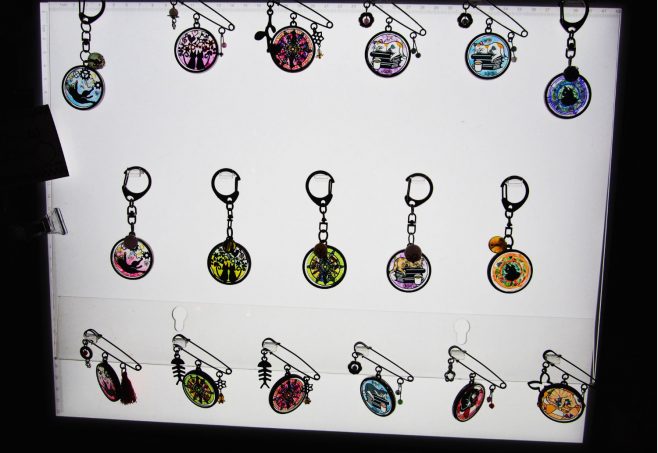 Cat is cute and fashionable!
They told me it is made of polyester.
These are handmade accessories and all of them are not exact same.
Each one is a bit different.
Shedding light makes the pendants made of resins all the more beautiful.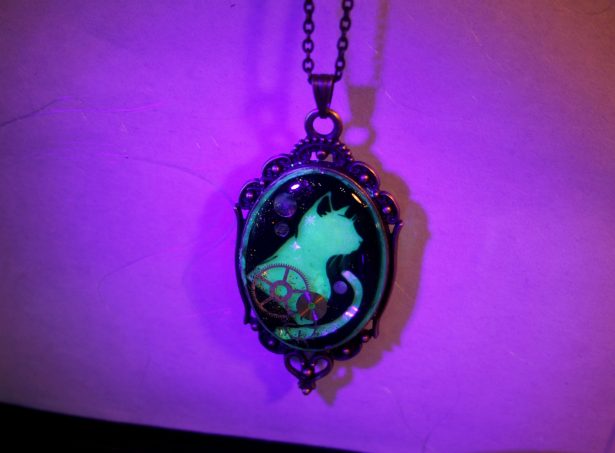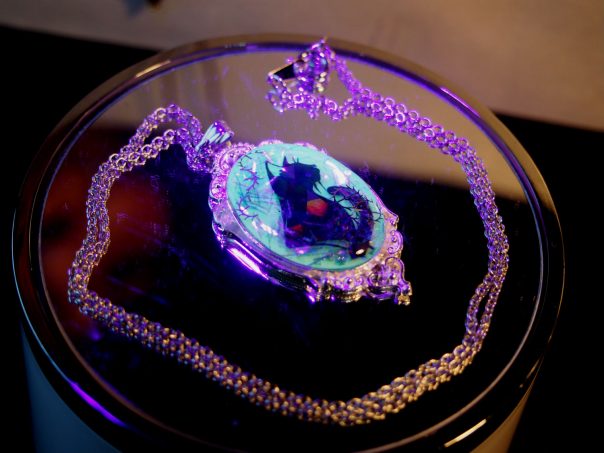 I asked if they are sold online and
"we sell only at an event like this"
they replied.
That's because the image on the internet and the one you see in real are bit different such as colors, the artist tole me.
Later, I heard that they start selling the accessories at a special grooming shop and hotel for cats in Chiba Prefecture as they received many request from other customers to sell the items in real shop.
At other real shops, they also start selling from now on.
So not only at event but in real shop, people can buy the items from now on♪
If you can read Japanese, check the details in Twitter.
Recommended for cat lovers!
Live Paint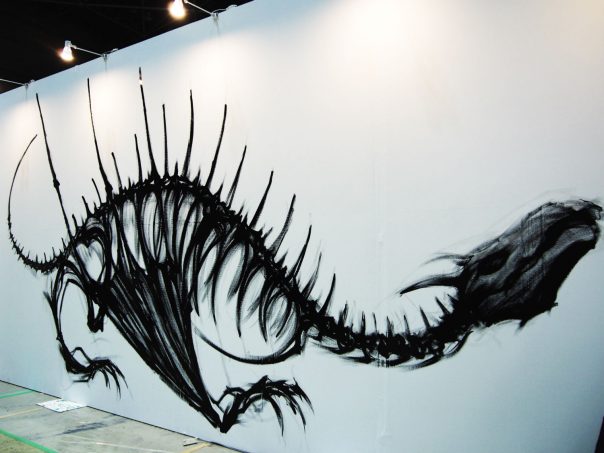 Live Paint, which is drawn and completed on the spot is also held here.
Interesting point of this Live Paint is the proceeding differs depends on the time you visit the paint.
Bio Love!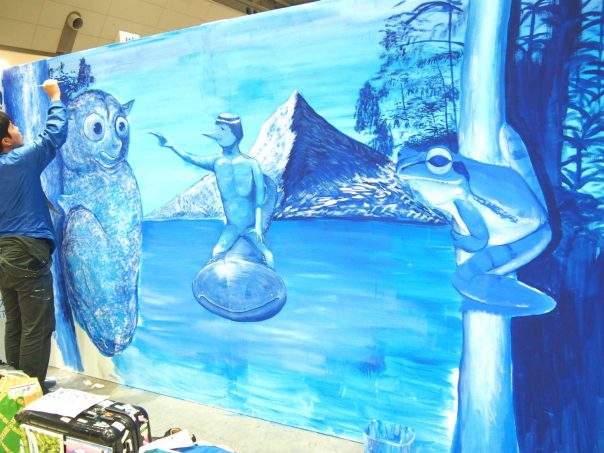 Beautiful blue color
I could see Kappa (Japanese Yokai) in the center and on what creature does he ride?
Imaginary creature?
Frog and tarsier on the left are good, aren't they!
Saki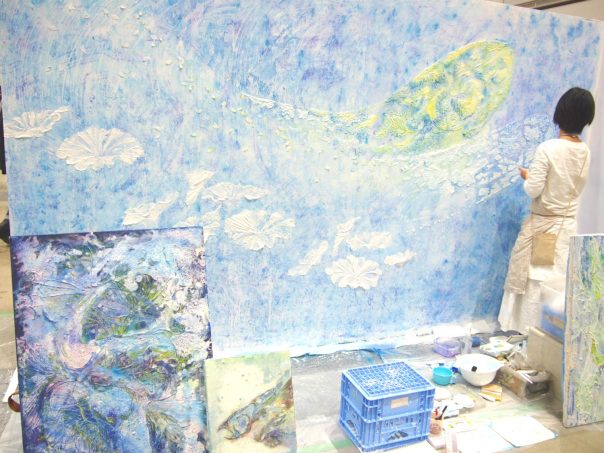 I was enticed by the beautiful pale tinge.
Artist is Saki-san.
It is a paper clay picture.
Including the surrounding atmosphere, I felt like I visited the workshop.
Shinnosuke Uchida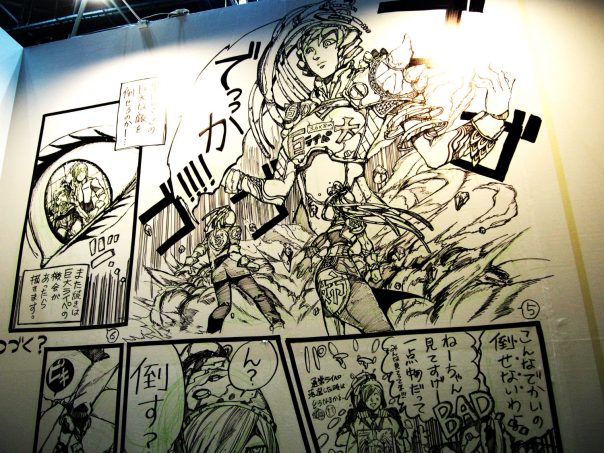 I think everybody thought like this (if you are anime fan), "Jojo"!
But it has a unique taste of the artist which is a bit differ from that of Jojo's.
Live painter of this art is Uchida Shinnosuke-san.
Live paint of Manga is innovative!
Here, readers of Manga become audience!
The artist was not there when I visited, but I wanted to see her drawing.
Isamu Katsumata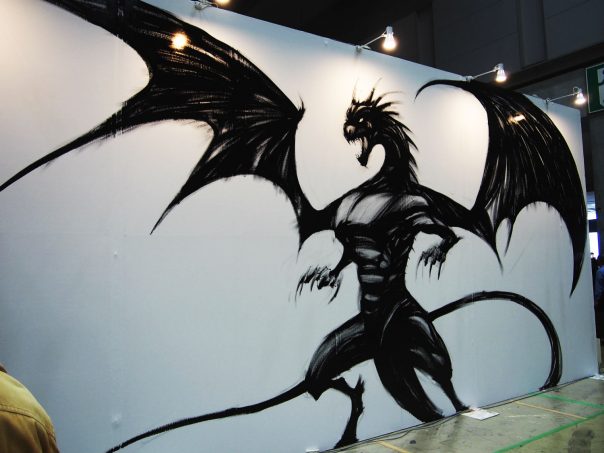 Bahamut?
No, it's Balck Dragon.
Really cool!
This is an ink painting.
Japanese style.
The artist is Katsumata Isamu-san.
It was an impressive art when see it in front!
Other Live Painters' Works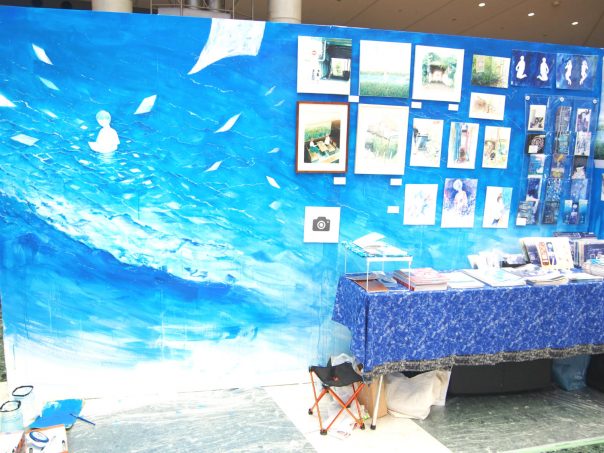 I should have asked and checked name or contact.
I completely forgot to ask name and contact of some painters….
But by what the painting is drawn?
Very beautiful.
Like the painting of Saki-san, this blue color reminds me of that blue city in Morocco.
I was curious about the finished art.
This art is reminiscent of Madoka Magica.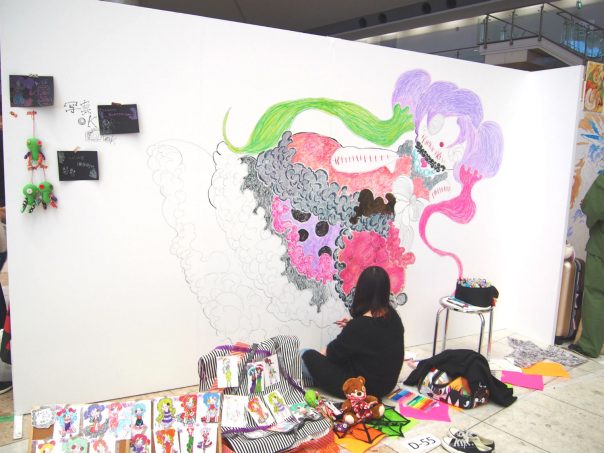 What I puchased
I rarely buy things even if I join an event but I bought items at 2 places this time.
One is postcard of Nakayama Satsuki-san as you can see it above.
Wanko Soba and Tanuki Udon I bought.
I rarely send a postcard but thought it'll make a nice gift for friends in overseas!
Other one is pop-up card of Tsukimoto Seiji-san.
What I bought is HAPPY BIRTHDAY ver.
It looks like just a thin paper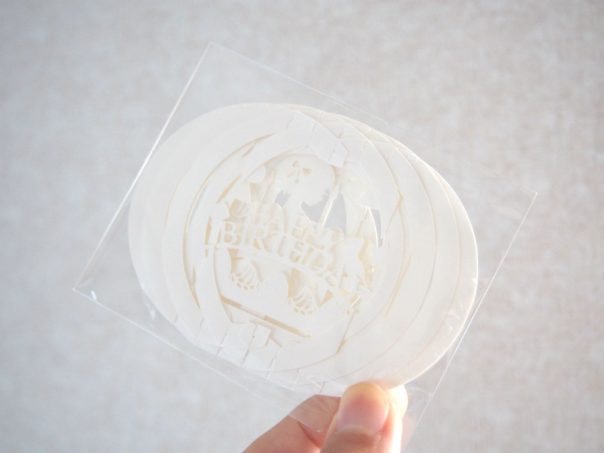 But when you pop the bottom and light it up, HAPPY BIRTHDAY appears in the sphere.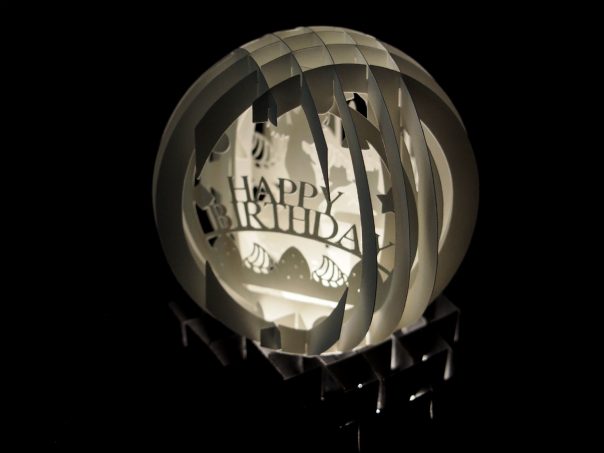 I thought this will also make a nice birthday present if I give it to a child of my friends.
Summary
I just stayed here for 3 to 4 hours and what I could visit was just a third of whole, I think.
Even so, I had a great time there.
I myself was inspired by looking at various arts and works here.
If you've never been to, DESIGN FESTA is highly recommended.
What I introduced here is just a part of works and the impression will be different when you see the them up close.
Now I feel like exhibiting works at this event when I make something in the future.
One more want-to-do thing added in my list!
DESIGN FESTA is held next year in spring and autumn, too.
I will visit it again!