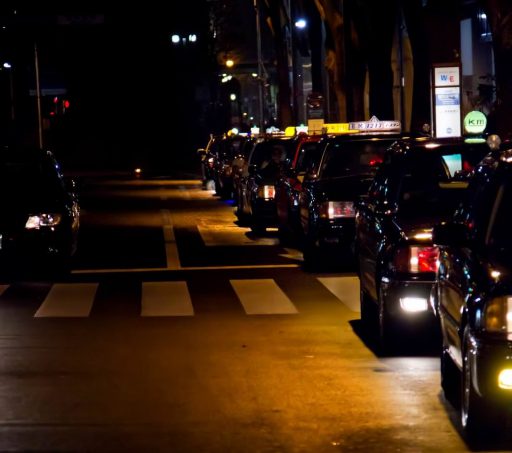 Sanwa Taxi drives around haunted places
Sanwa Koutsu is the first taxi company that launched the service of driving around haunted places.
It first started its tour in 2015.
The president of Sanwa Koutsu was searching for a new event that can PR Sanwa Koutsu in Summer.
You might imagine Summer is the season of fire work, festival, outdoor, etc. in Japan.
But Summer is also famous for the season of Ghost in Japan.
I don't know why Summer is the season of Ghost but anyway I myself often watched the scary TV and heard ghost stories a lot especially in Summer when I was little somehow.
It is natural that the word ghost came up with then.
And it launched the ghostly taxi tour in Summer in 2015.
You might imagine no one wants to join that kind of scary tour and it was same even to the people in Sanwa Kotsu.
They thought it would be only a few people that join this tour but the reality was opposite.
The reservation was full booked right away and there was even waiting list of cancellation.
This scary taxi's tour launched like that.
Summary of people participated in the ghostly taxi tour
Firstly you need to sign written oath.
You might surprise like why written oath just for riding on the taxi?
But no one can guarantee what happens to their customers or after the tour.
Of course they guarantee safety drive as they are professional drivers but when it comes to supernatural beings, they are not.
No one knows or guarantees what happens.
You also get insect-repellent sheet.
That means you need to walk around the spot that has nature.
Followings are the some of the spots this tour takes you to.
Haunted spots the taxi drives
Ruins of a castle
No one knows who built the castle and story says that 1500 people were killed in a single night.
Ghosts of defeated soldiers are witnessed here.
Tunnel to the funeral hall
There is a tunnel close to the funeral hall.
To go to the funeral hall all the people have to go through this tunnel.
But there are some taxi drivers that took the woman at midnight to the funeral hall.

One story is goes like this.

One night at 2 a.m. there was a woman on the street.
A taxi driver picked her up, asked her the place to go and she told this funeral hall.
The taxi driver got to the funeral hall and told her he can wait there and take her back home as there are no houses around funeral hall.

But she replied saying no problem as she has someone who picks her up.
Driver let her down the car but were still worrying if it is OK to leave her alone at this midnight at this place that he looked at rear mirror.

No figure there in the mirror anymore.
No hiding place or no time to leave but no one anymore there.

Grave yard and shrine gate
Around the tunnel there are grave yard and shrine gate.
Some people witness the ghost of an old woman running in her Japanese dress here.
Mountain Pass
There is a mountain pass where many people lost their lives because of accidents here.

Actually there are some places where young people rode on their motorcycle or car and competed their speed like this Mountain Pass in Japan.
So this might be one of them.

Some of them that lost their lives still appear here in another form.
It is said that people who have strong six sense can hear the sound of motorcycle or being spoken to by them.

This mountain pass is keep-out place now.

Tunnel
This tunnel is just a ordinary straight tunnel without any obstacle.
In spite of that many unreasonable accidents happen since a girl lost her life here.

Municipal governments prohibited to pass through this path in the end.
Still there are some people that witness a girl in the mirror at the corner or hear the voice of a man here.

Abandoned Hotel
This abandoned hotel is the last spot as long as I checked and dark figures are often seen to on the windows of the second and third floor.
Here taxi driver doesn't go inside together but customers have to go inside by themselves.

I don't know what happens or waiting there as I couldn't get enough information.
Anyway one thing is sure this is a tough challenge.
After the tour
You can get a certificate of completion after the tour.
And salt, too.
It is said that salt drives evil spirit away.
Tour of Sanwa Koutsu's Taxi in 2016
Sanwa Koutsu
Yokohama Ghost Spot Pilgrimage Tour
Departure Time : 8 p.m.
Departure Point : Yokohama Station
Price for 120 minutes : 10000 yen
Price for 180 minutes : 15000 yen
Tama Ghost Spot Pilgrimage Tour
Departure Time : 8 p.m.
Departure Point : Hachiouji Station
Price for 120 minutes : 10000 yen
Price for 180 minutes : 14000 yen
Tokyo Ghost Story Sites Tour
Departure Time (Day) : 12 a.m.
Departure Time (Night) : 8 p.m.
Departure Point : Tamachi Station or Hamamatsucyo Station or Shibakouen Station
Departure Point : Shinjuku Bus Terminal or Shibuya Station or Harajuku Station
Price for 120 minutes (Day) : 9500 yen
Price for 90 minutes (Night) : 7000 yen

※If you want to know further details, please check the name link of Sanwa Koutsu above
Summary
Actually I was worried if I should make the article of this tour of Sanwa taxi.
Some people say it is not good to use this kind of spots for business of taxi.
I also agree to it as these spots are not fictional spots but real, real people passed away there.
Those are not the places for business if I say it from a moral point of view.
There was even an objection to this tour in the company itself.
Either way it settled down now like this.
I only interested in Tokyo Ghost Story Sites.
I think this is the light tour that drives around fictional places in narrative story of Japanese ghost in around Edo period.
I didn't introduced the details here in this article but if you are interested in Japanese Youkai or Japanese traditional ghost since old days this might be better.
I don't have any six sense and I don't know if they really exists or not.
But I don't want people to regard ghost as just a separate scary thing and goes around the spots just for the interest or for the self-satisfaction.
They were exact same human beings as us that could smile, cry, surprise, get angry.
Some people really wanted to live and even those who committed suicide had a reason for that.
What do you feel if there is a world of ghost and you became the one of them one day and people thought or did like that to you?
Do we need to take the trouble to separate them?