Doragon Quest Walk finally started this month, didn't it!
I could not resist the appeal of Dragon Quest although I could win the appeal of Pokemon Go.
I decided to stop playing video game when I was in high school but, I, now over 30, got into it.
Dragon Quest became a big topic after releasing its 3D movie in August, so this time I went to LAWSON collaborated with Dragon Quest in Akihabara this time.
I introduce the atmosphere and goods inside.
Access
It takes 5 to 10 minutes from Akihabara station to LAWSON collaborated with Dragon Quest.
After exiting Akihabara station through Denkigai Exit , go straight to an intersection.
Cross the intersection and turn left and keep going until you hit an intersection.
Cross the intersection and turn right at the first street on the right side.
Keep walking for about 50 meterss, then there'll be LAWSON collaborated with Dragon Quest on the left.
1. Go straight until you hit an intersection after exiting Akihabara station through Denkigai Exit
2. Cross the intersection and turn left and go straight until you hit an intersection
3. Cross the intersection and keep walking and turn right
4. Keep walking for about 50 meters and you'll find LASWSON on the left
To Doragon Quest LASWON (Sotokaanda 3) in Akihabara
I feel like I go go Akihabara almost every week recently.
And this special LASWON collaborated with Dragon Quest opened 4 years ago, in 2015!
I myself go inside sometimes when I come to Akihabara.
This time I checked the atmosphere and the Dragon Quest goods, so I introduce them here.
Atmosphere inside of LAWSON and Dragon Quest Goods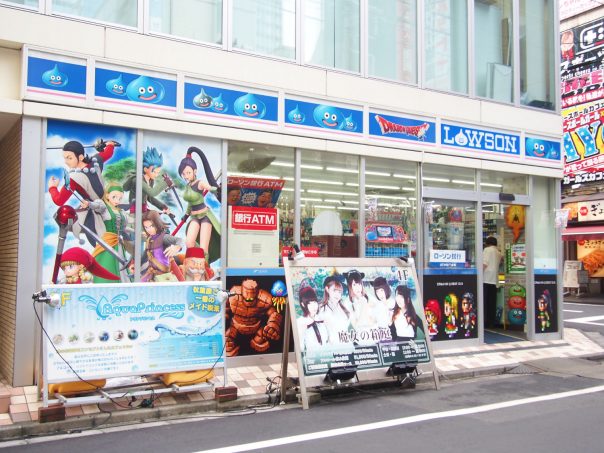 The LAWSON stands out in Akihabara with its Dragon Quest appearance.
Looks like it renewed the appearance for Dragon Quest SI S this 25th June.
What makes fans of Dragon Quest impressed the moment entering the shop first is the sound effects of Dragon Quest!
You can listen to the sound effect used in the video game such as entering the symbol mark of stairs when you enter the shop.
T-Shirt of Dragon Quest
Right after entering the LAWSON, you can see T-shirt of Dragon Quest.
Dot designed T-shirt of Toki no Keshin and Slime.
It is an official shop limited T-shirt.
Back of it are canned candies of Slime.
They are Kawaii.
Amulet Plate making Machine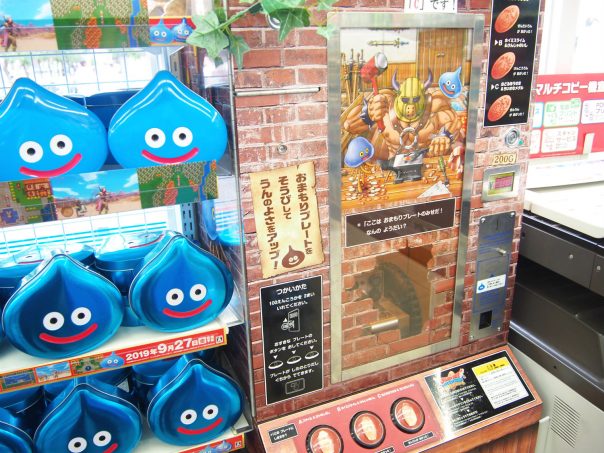 You can make an amulet plate right next to it.
Choose a plate from 3 designs and it makes an amulet plate.
You might be able to up your luck for about $1.8 (200 yen)!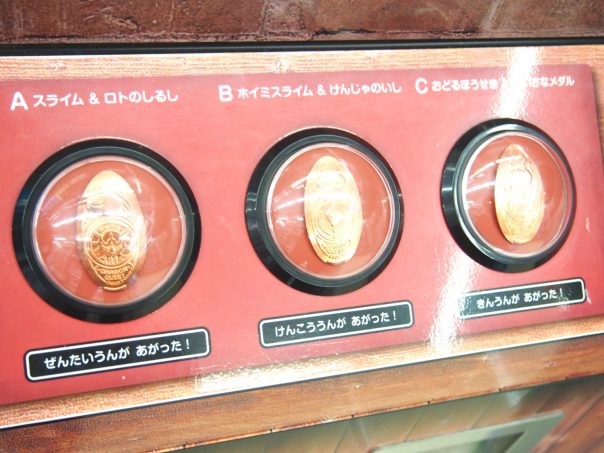 Dragon Quest ATM(DRAGON QUEST BANK)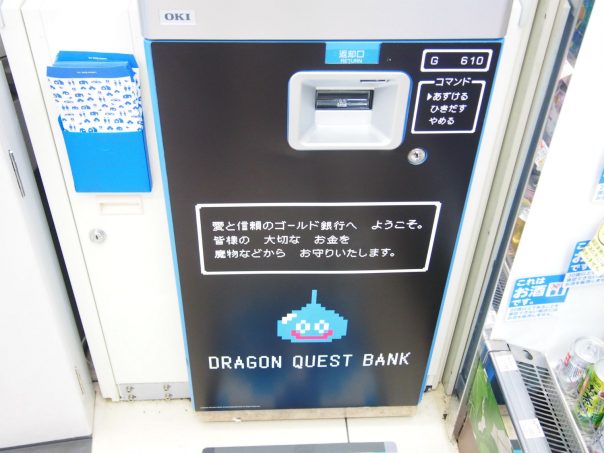 Next to it was a copy machine of Dragon Quest, then right next to it was an ATM.
DRAGON QUEST BANK
Japanese written on the machine says it protects your money from monsters.
It's reassuring!
In front of it is, as long as I remember, symbol mark of Rūra (Zoom)!!
If you stand on it, you can listen to the sound effect of Rūra, I think (I did not stand on it but I could hear the sound of Rūra while shooting in other place inside)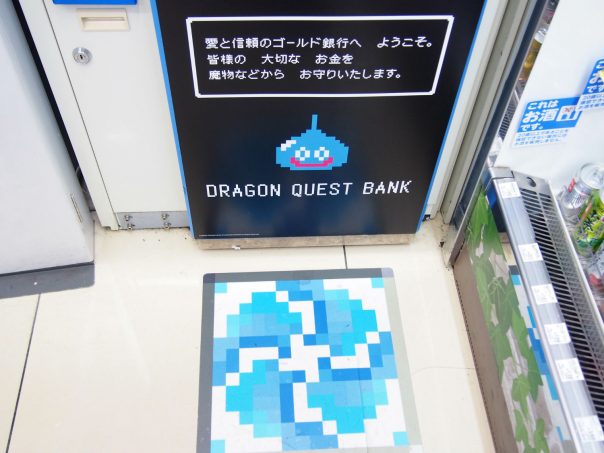 Magnet of Slime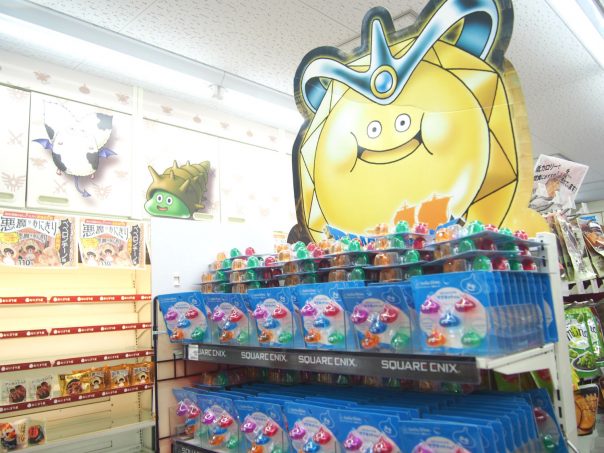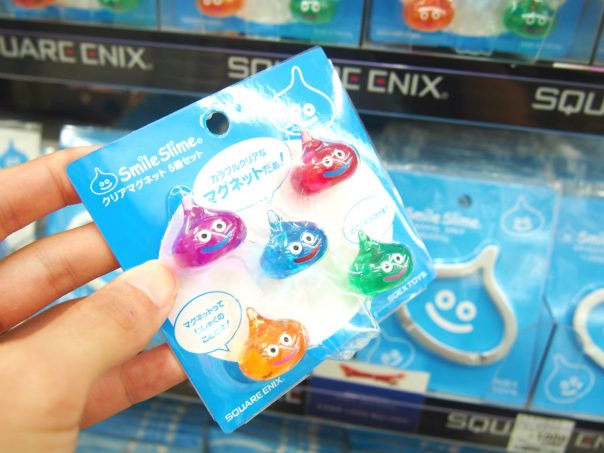 I don't know this big slime, which looks like combination of Rockbomb and King Slime as my last play was Dragon Quest 5.
Under it I found was magnets of Slime!
5 types!
I know I do not have any ways to use it even if I bought it, but I was torn whether or not to buy until the end.
Maybe next time when I come, I might buy it.
Cap of Slime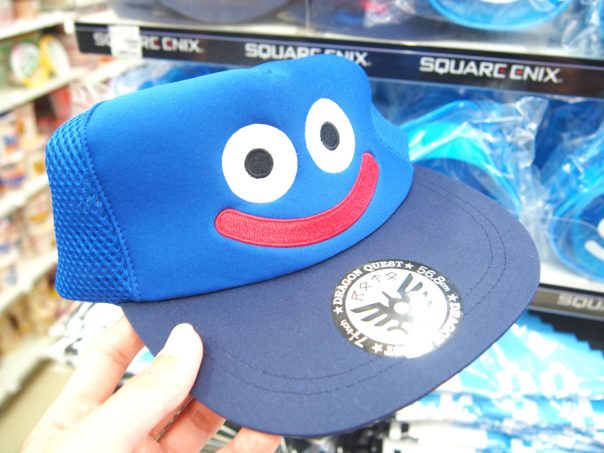 This cap of Slime is good!
You'll definitely stand out if you wear it even here in Akihabara.
Size was 56.8 cm.
Umbrella of Slime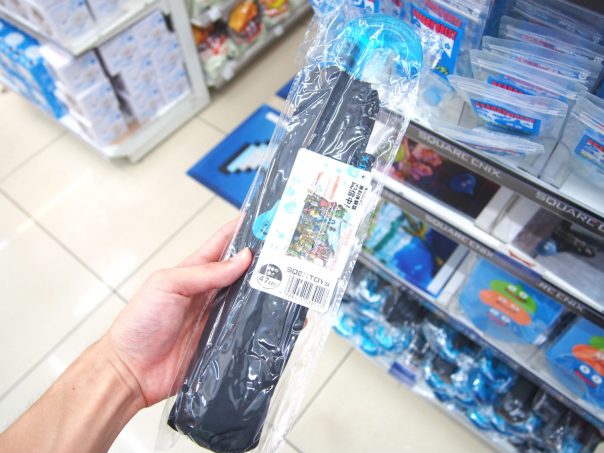 Even umbrella of Slime!!
I was interested in the design but couldn't find the picture around.
But it was sold in Amazon here.
This is also Kawaii design of Slime!
Eco-Bag of Slime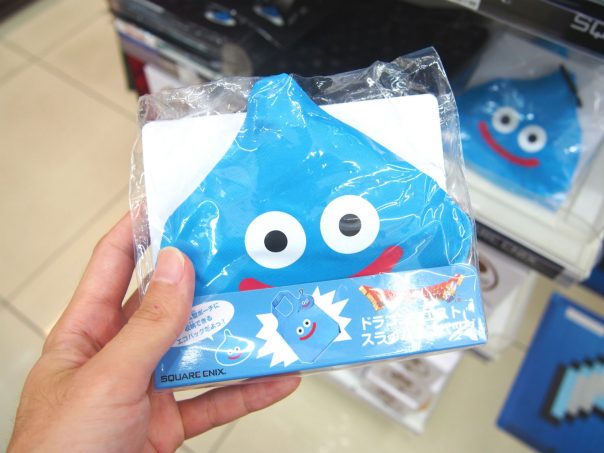 There is also an Eco-Bag of Slime!
Why don't you use it instead of plastic bag?。
Plastic Board of Dragon Quest XI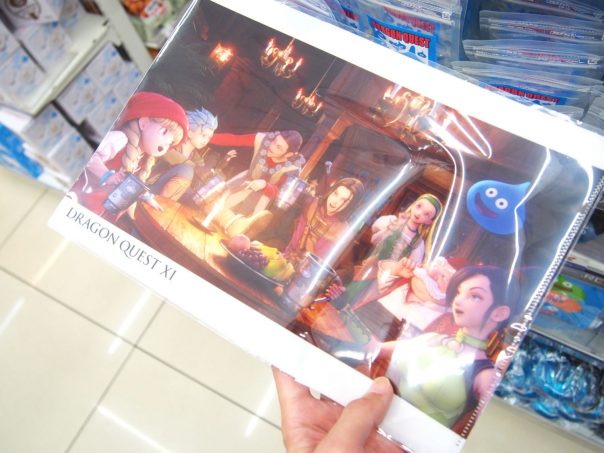 Plastic board also!
This is from Dragon Quest XI, isn't it!
Candy of Slime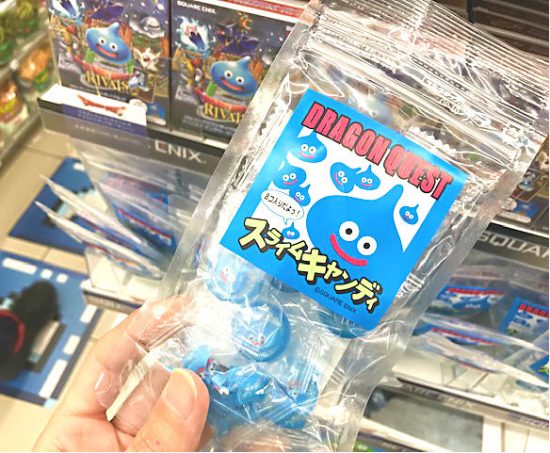 This is cute,Candy of Slime!
8 slime candies inside!
Ramune or soda flavor?
Atmosphere inside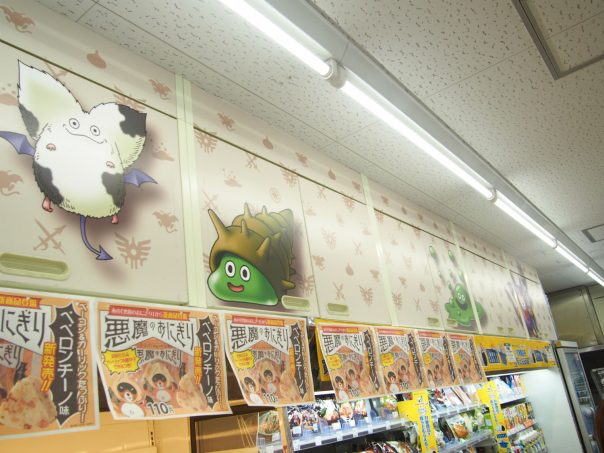 Inside of the shop is lively with various monsters!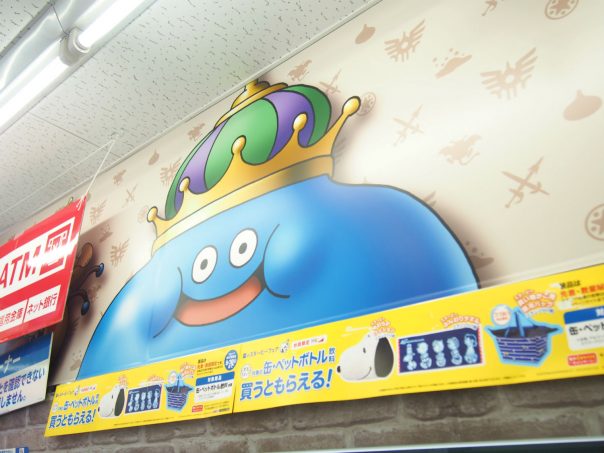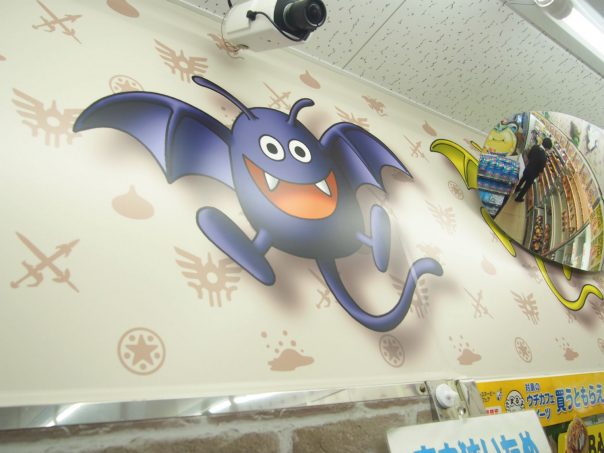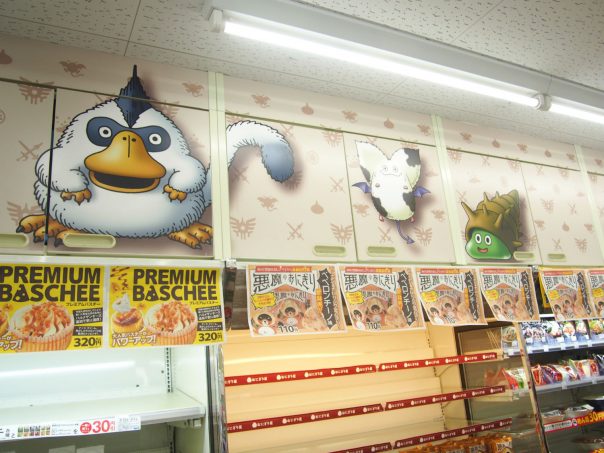 Once you get the goods of Dragon Quest, arrow marks on the floor lead you to the cashier.
There is a risk of getting poison on the way and can't reach to the cashier if you drop your guard, so let's make sure your steps and walk with care!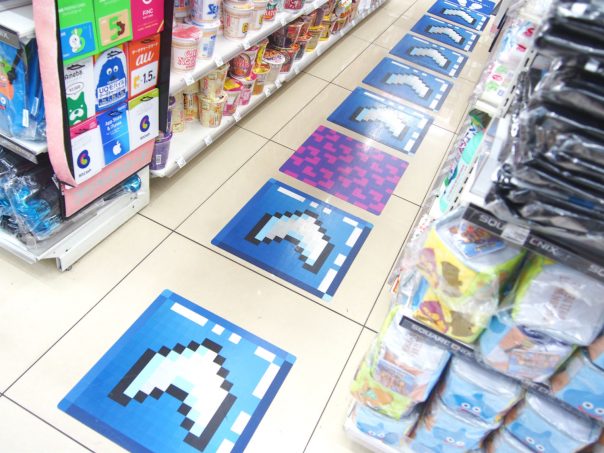 Slime Warabimochi Released
On 24th September, LAWSON started selling Slime Warabimochi
Warabimochi is a traditional Japanese dessert made from bracken starch, soybean flour.
It is usually covered with roasted soybean flour called Kinako.
Not only here at this special LAWSON of Dragon Quest in Akihabara but also at usual LAWSON all over Japan, you can buy this Slime Warabimochi.
3 types of Warabimochi, Slime, She-Slime and Metal Slime are sold.
The flavor is, ramune flavor for Slime, hyuganatsu (species of citrus) flavor for She-Slime and black sesame flavor for Metal Slime.
The price is 200 yen (including tax) for each flavors.
So, I bought it right away
Purchased simple taste of ramune flavor!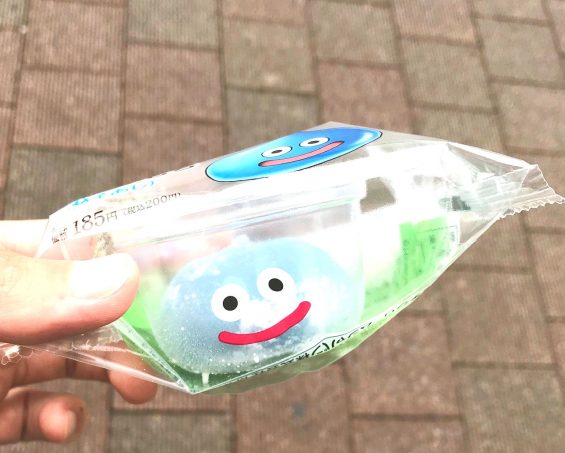 Just the package is design of Slime, but it looks Kawaii, anyway.
Summary
Actually to take a picture of items inside of a convenience store, much more uploading on YouTube, is usually NG (no good).
So, I thought my suggestion would be declined, but was actually OK to take a picture for my blog in the end!! Σ(゚Д゚)
Got carried away, asked "Is it OK to take a video for YouTube?", then the staff thought for a while like "Well", but gave me go sign in the end.
It was also luck of me that the full time staff of LAWSON happened to come at the back door!
That's just like LAWSON, which collaborated with Dragon Quest, having a generous mind and playfulness!
Thank you so much!! m(_ _)m
Drop by at LAWSON of Dragon Quest if you have a chance to come to Akihabara!
You can enjoy and immerse yourself in the world of Dragon Quest from the moment you enter the shop if you are a fan of Dragon Quest!
And this vending machine in Akihabara is also a kind of little-known-must spot.
Vending Machine in Akihabara was too strange and scary!! Bought some mystery items!!
PS. if you come to Tokyo and need help, I'll be a guide for free, so feel free to contact me from Inquiry
Dragon Quest Collaborated LAWSON (Kanda 3)
Address
3-1-10 Sotokaanda, Chiyoda-ward, Tokyo
Closest Station
Akihabara(Denkigai Exit)
Opening Hours
24 hours
Website of LAWSON(Japanese)
https://www.lawson.co.jp/index.html