I went to the popular Halloween spot, I mean Shibuya Scramble Crossing for the first time in my life in this 2016.
Actually I'm not good at dealing with party thing but I like watching it and thought Shibuya must be best spot to see lively atmosphere of Halloween.
Shibuya was actually a kind of chaos.
I'll write down what the Halloween in 2016 was like with the history of it.
Difference of Halloween between Japan and US
Big difference is there is no "Trick or Treat" in Japan.
I think that's the one of the main parts of original Halloween but I've never seen someone doing "Trick or Treat" here in Japan.
Halloween in Japan is rather all about cosplay and party.
Now Halloween became one of the biggest events in Japan.
But when it became popular and how it is like?
I write down the history of Halloween in Japan here.
When Halloween became popular in Japan?
Before 2000, Halloween was not that popular like today.
I've not seen or heard of Halloween event and people wear Halloween costume in Japan at least until 1995 in Japan.
People knew about Halloween but it was all about thing in overseas in those days.
So when it became popular and what made Halloween a big event like today in Japan?
As long as I can understand, it relates to business, marketing and cultural things in Japan.
Tokyo Disney Land and Universal Studio Japan played a big role in Halloween
First big event of Halloween took place in Namco WonderEgg run by Namco (Bandai Namco Games).
It was the first theme park run by a video game company in Japan.
Since then Halloween event was held there until its closure in 2000.
But most big effect that spurred Halloween boom must have been Tokyo Disney Land.
It first held Happy Halloween in 1997.
Since then Tokyo Disney Land has been holding Halloween and the scale became bigger and bigger with its special parade.
In 2002 it allowed visitors to wear costumes for Halloween.
Arrival of Universal Studio in 2001 in Japan also spurred the Halloween in Japan.
Since 2002, it has been holding Hollywood Halloween event every year.
Boom of anime cosplay
At the same time, cosplayers have been appearing in those days.
I think there were presence of Ganguro girls and Gothic & Lolita fashion in 1990s before cosplayer's appearance.
And cosplayers came to appear in 2000s.
The cosplay culture matched the Halloween.
Even ordinary people could wear cosplay costume like cosplayer in Halloween.
That made Halloween exciting thing.
Late 2000s, Halloween was already became popular and bigger and bigger with the time.
Confectionery Company adopted the concept of Halloween
Confectionery company adopted the concept of "Trick or Treat" of Halloween.
Big Japanese confectionery companies such as Glico, Lotte, Morinaga, etc. have come to sell special Halloween sweets and candy in since around late 2000s.
These special sweets and candy of Halloween helped raising the profile of Halloween.
Characteristics of Japanese and Japanese Culture
Original Halloween has religious meaning that if there was strong opinion about religion there might have not been this big boom in Japan.
But Japanese attitude towards religion is not that strict that's why we enjoy Christmas in December, go visit shrine during the new year in Shinto, hold funeral in Buddhism.
I think that kind of Japanese culture also made it possible.
Halloween 2016 in Shibuya
All of you might know what shibuya scramble crossing is like with a lot of people.
But the day of Halloween is far beyond.
So many cosplayers of Halloween and policemen to handle them.
Even after crossed the intersection, crowds of people are not end.
It keeps continuing along the street.
Actually even backstreet became pedestrian street by stopping the cars come in only this day.
Even motorcycle gangs pass through the crossing in their Halloween costumes and policemen handle them.
I really take off my hat to policemen especially for this day.
Popular Copsplay I found in Shiubya
There are many types of cosplayers there.
But what I found most was Zombie, Wally, Anime and video game characters.
Zombie cosplayer had quality make-up like real ones.
Both of men and women had it.
Wally was not alone, they were usually groups.
Red and white colors and unique hat were found easily.
For anime characters I met were One piece, Naruto, Spirited Away, Dragon Ball.
I could see cosplayer wearing police costume of Resident Evil sometimes.
I met with US characters, too such as Star Wars, Frozen and Pirates of the Caribbean.
Interesting thing is some cosplayers come together and take pictures together even though that's first meeting to them.
You know, if one is one of the anime characters and other's are different character but from the same anime, they can make the anime scene then.
That never happens in ordinary scene in Japan.
I found that's one of the good points of Halloween as you can have good communication with new people.
Some children also did cosplay of anime with their parents and they were cute.
Garbage after Halloween
What left after this kind of big Halloween event is garbage.
Some people discard empty plastic bag, can, bottle, etc.
Even if it is some people, it becomes heaps of garbage if the scale becomes this Halloween.
I half-expected this 2016 might not that much garbage like 2015.
But it was not.
Once I strayed from the main road to the small back street or path, there were cans and plastic bags that had been thrown away.
I wonder if they always throw away this kind of stuff in their daily lives or is it only at Halloween time?
It is always the locals and volunteers who clear them all in the early morning.
It is good thing to enjoy Halloween but let's think about not only enjoy oneself but also others'.
Where is the must-visit spot to enjoy Halloween
I think Shibuya and Roppongi is the biggest spots to enjoy Halloween with locals in Tokyo.
So many people wearing unique costume come together at these two spots.
It is almost carnival, especially for Shibuya scramble crossing.
Police also come just for control and safety for this Halloween.
DJ Police that control this kind of big event are famous for its unique remarks.
If you like big party thing these two spots are must-spots.
Unique and popular cosplay costume of Halloween in Japan
There are many unique cosplay costumes in Japan now.
These are some of the pictures of them.

Costume of Kiki from Kiki's Delivery Service
This costume of Kiki is set with headband.
I sometimes see the cosplay of Kiki these days.
It looks easy but cute cosplay.
Now what you need is that broom

Pokemon Pikachu Adult Cosplay
2016 was the year of Pokemon.
Just wear it and you can become Pikachu.

Himouto! Umaru-chan Cosplay Costume
Himouto! Umaru-chan is popular anime that aired in 2015.
It is a comedy anime between Umaru-chan and her older brother Taihei.
It might be good to use in one's room, too.

Inuyasha Kikyo Style Cosplay Costume
This costume is from anime Inuyasya.
It is the costume of a shrine maiden.
Traditional cloth of shrine maiden in Shinto.
It looks cool to me.

Super Mario Cosplay Costume
Super Mario was the first video game I played.
These days I could even see people who wear Super Mario character's costume such as Mario, Luigi, Princess Peach, Yossy, etc are driving down the street in their carts in Tokyo.
Mario is one of the famous character in the world.

Spirited Away No-face Cosplay Costume
Unique character of Spirited Away.
It is called Kaonashi in Japanese.
Kao means face and nashi means nothing that means No-face literally.
Am I the only one who remember movie scream?
Either way it is scary if it suddenly appeared at night.

Dragon Ball Z Goku High quality Mask
Mask of Goku.
It will be completed with the orange training wear.

Dragon Ball Z Freezer High quality Mask
Mask of Freezer must attracts people.
It looks real although I've never seen real one.

Tokyo Ghoul Kaneki Ken Cosplay Mask
I like this anime Tokyo Ghoul.
Ken Kaneki wears this mask.
It looks creepy but unique and cool in a way.
There is also a mask of centipede version of Ken Kaneki.

Code Geass Lelouch Zero Cosplay Helmet Mask
This mask is popular among fans of Code Geass.
There is also a display type that when you buy the mask check if it is for display or real mask for cosplay.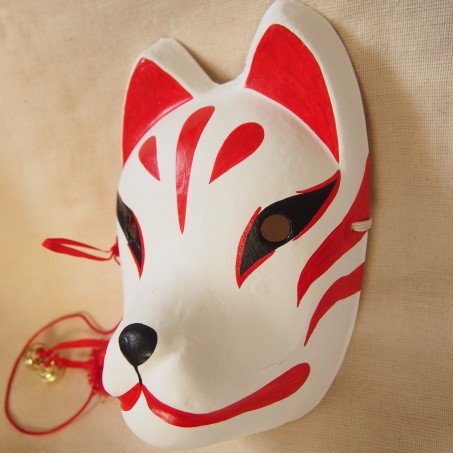 Japanese Traditional Fox Mask
Now this traditional fox mask of Japan is becoming popular.
I think the reason is many anime character and music band baby metal use this fox mask as a symbol.
Certainly it looks cool.
There is a God-related history for this Japanese fox mask.
Summary
Actually I didn't wear any costume as I was going to just watch and enjoy the atmosphere from the first.
I can say it was very fun.
I think if you like cosplay and wear costume you can enjoy more.
Halloween became a big event in Japan and it lasts even after mid-night toward morning.
It might not like real Halloween in Europe and US but you can enjoy only Japan Halloween here in Japan.