Have you ever been to Managa kissa?
As for me, yes yesterday I went to Manga kissa at midnight and stayed there till morning.
Now you can see Manga kissa everywhere in Japan.
Actually all the Manga kissa are great but if you come visit all the way to Japan, how about spending your time at unique Manga kissa instead of ordinary one.
What I introduce here is top 3 unique and popular Manga kissa in Tokyo.
These top 3 include also my own judgement.
Wa Style.Cafe Akiba (Akihabara)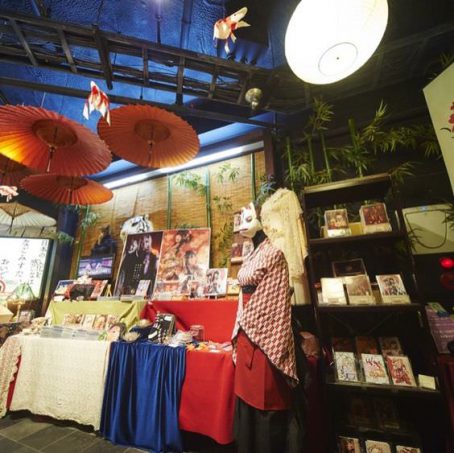 Source : Wa Style.Cafe Akiba
Actually this Wa Style.Cafe Akiba is most unique and recommended Manga kissa as far as I know.
I myself want to go there.
What you can enjoy here is Wa, or traditional Japanese atmosphere.
Theme of it is Ryokan (Japanese-style hotel) in Kyoto.
There is also a room of Tatami mat.
Girl stuffs in Kimono serve you.
Looks like they also have their music, photograph album, video, etc.
Idol group like AKB?
But this is not a maid cafe that you can enjoy Manga as much as you want.
For the price, 1280 yen (about $12) for 3 hours pack on weekday.
I felt like a bit expensive compared to ordinary Manga kissa but if taking this unique amenity or design into consideration, it might be appropriate price.
But morning pack between 6 a.m. to 9 p.m. is reasonable as just for 540 yen (about $5) it includes breakfast as well.
This is a popular cafe which 6000 people visit every month.
Certainly Akihabara is heaven for anime fan!!
Address
B1, 6-14-2 Sotokanda, Chiyoda-ku, Tokyo
Google Map: https://goo.gl/maps/oMMDW6Fs1Ar
Station
Akihabara Station (JR Yamanote Line, Keihin Tohoku Line, Somu Line, Chuo Line)
TEL
03-5812-9753 (+81-3-5812-9753)
Opening Hours
24 hours
Business Days
Everyday
Price
300 yen for 30 minutes (Weekday), 320 yen for weekend and holiday)
Amenity
Drink (free), food, shower, internet, wifi, video, video game, traditional sweets corner, etc.
Website
https://nagomi-cafe.com/english-2
BOOK AND BED TOKYO (Ikebukuro)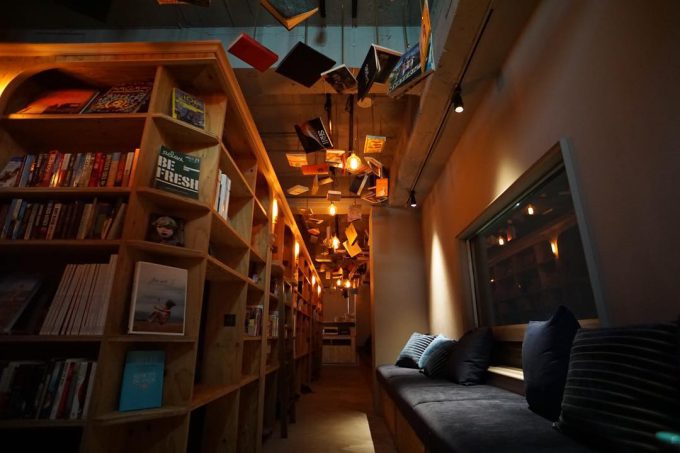 Source :
bookandbedtokyo(Instagram)
This place has no free drink or food, internet (it has only wifi).
But its fashionable woody design stands out among others.
This might be almost a kind of relaxing hotel and actually you can also use this place instead of hotel.
The concept of BOOK AND BED TOKYO is "Book shop where you can stay over".
If you use this place as just to read a book at daytime you can use sofa at a lounge.
But if you use this place as for staying over, the space to read the book is right next to the bookshelf.
Usually chair or booth for reading book is completely separated at Manga kissa so you need to go to your place with your book but here the space is right next to the bookshelf that you feel like reading a book in the bookshelf.
The size of the space is either 80 cm × 200 cm or 120 cm x 200 cm.
Each space has power supply and black light to read a book.
From English to Japanese, you can choose from among 3200 books.
Receptionists are proficient in English so you can ask anything.
It focuses on an experience of going to sleep while reading book that it doesn't have futon cover or memory foam pillow.
The theme is "Book shop where you can stay over".
Actually I recommend you to stay here if you stay capsule hotel as here is relaxing and cozy with almost same price as capsule hotel (although capsule hotel is certainly cheap and it also makes unique experience).
This is also one of the places I want to visit but this is very popular since its opening that you might need to book online in advance.
Address
7F, 1-17-7 Nishiikebukuro, Toshima-ku, Tokyo
Google Maphttps://goo.gl/maps/vcbbVi62Lg52
Station
Ikebukuro Station (JR Yamanote Line, Saikyo Line, Takasaki Line)
TEL
Please contact from contact page on its website
Opening Hours
For Day Time: 13:00 – 17:00
For Stay: Check in between 16:00 and 23:00
Business Days
Everyday
Price
Day Time (13:00-17:00)
500 yen (about $4.5) for 1 hour, 1500 yen (about $14) from 13:00 to 17:00
Stay (Check in from 16:00 to 23:00)
3500 yen (about $32) for compact type
4500 yen (about $41) for standard type
Amenity
Shower, wifi,
Website (Japanese)
http://bookandbedtokyo.com/en/index.html
Comican Polan Polan (Hachioji)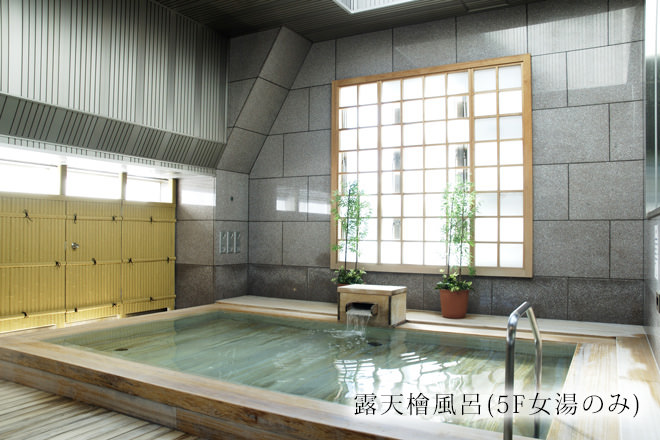 Source : Hachioji Onsen Yasuragi no Yu
This is the first Manga kissa where you can enjoy even natural Onsen or hot spring.
I knew shower rooms are equipped with most of all the Manga kissa but I never imagined Onsen.
Looks like it collaborated with Yasuragi no Yu which has Onsen.
Surprisingly it has 8 types of natural Onsen that you can choose any types you want.
The water is pumped from 1500 meters underground.
The price is separated from the price you pay for Manga kissa.
You need to pay extra 820 yen (about $7.5) on weekday or 1030 yen ($9.5) on weekend and holiday if you enjoy Onsen.
For the Manga kissa itself, it is big and holds no less than 60000 comic books.
For the drink, it has as many as 30 types of drinks.
But good point of it is food as you can enjoy quality food that is made by the chef at restaurant of Onsen.
It is not the simple ready‐made food but tasty meal that is cooked by chef at restaurant.
This Manga kissa is not located in the center of Tokyo so it might take a bit time still worth visiting if you like Onsen.
Address
3F, 2-1 Nakacyo, Hachioji-shi, Tokyo
Google Maphttps://goo.gl/maps/d14AZ9h84X62
Station
Hachioji Station (Keio Line)
TEL
042-660-8991 (+81-4-2660-8991)
Opening Hours
24 hours
Business Days
Everyday
Price
150 yen (about $1.3) for 30 minutes (Chair)
200 yen (about $1.8) for 30 minutes (private room)
1220 yen for 8 hours (Morning Pack) (for people who entered between 6:00 a.m. to 10:00 a.m.)
1350 yen for 10 hours (Morning Pack) (for people who entered between 6:00 a.m. to 10:00 a.m.)
1220 yen for 9 hours (Night Pack) (for people who entered between 7:00 p.m. to 6:00 a.m.)
1620 yen for 12 hours (Night Pack) (for people who entered between 7:00 p.m. to 6:00 a.m.)
Amenity
Drink (free), food, shower, internet, wifi, video, video game, etc.
Website
http://www.polanpolan.com/english/index.html
What is Manga Kissa?
Manga is as you already know comic and Kissa is a kind of small cafe where you can enjoy drink.
So Manga Kissa is Manga cafe.
But depends on the Manga kissa the taste is different.
Only for basic stuff such as free drink, food (only limited time some foods might be free), reclining chair, private room and shower room are common.
And the price is usually 300 yen ($2.7) or 400 yen ($3.6) per hour but depends on the place it gets a bit higher.
Either way I think it is a reasonable price as you can enjoy comic, online game, movie, internet, etc. with free drink less than $5 per hour.
Some places also includes morning set such as toast, hotcake, etc in the price if you stay in the morning.
Floor is also clean as the stuff always take care of.
I think it becomes 15 years since Manga kissa comes to appear in Japan.
Summary
I sometimes use Manga kissa but usually not for read comic.
And yesterday I had to go to there because of a kind of emergency.
I thought I found most scary black bug in summer in my room.
I think most of the people scream and run away the instant he or she saw it.
It was midnight and I thought I saw something black walking across the carpet and I jumped out.
I was going to catch it by a cup or something but nowhere I could see it anymore.
Still I wondered if I should give it a chance but it was too scary that I sprayed insecticide all the corner after all but it did not appear.
Was it just my imagination?
Now the choice left to me is go to sleep.
To sleep with it (if it was real) is too scary thought and then rang a bell, yes, there is Manga kissa close to my apartment.
I went outside and slept there until morning in the reclining chair in a private room.
Before I go to sleep I read several episode of Tokyo Ghoul there and it was interesting.
The price was 1300 yen (about $12) for 6 hours and I could enjoy morning set such as toast or hotcake set for free with the price if I stayed a little longer.
So you can use here as a kind of place to stay overnight and I sometimes used it when I lost last train in Tokyo in the past.
The one close to Shibuya station is recommended as I could also enjoy 2 types of soft ice cream for free.
It might be fun to experience several types of it and compare the differences.
Manga kissa is really recommended place for all the anime-lovers!! (And people who lost last train)